I love creating free content full of tips for my readers, you. I don't accept paid sponsorships, my opinion is my own, but if you find my recommendations helpful and you end up buying something you like through one of my links, I could earn a commission at no extra cost to you.
Learn more
Is making a knife your profession or a hobby? Whatever the case is, it involves intricacy and beauty.
A belt grinder/sander can make a huge difference between sleek perfection to blunt uselessness. The size also matters in the making process; I am talking about the grinders.
You might have to invest big when going professional with 2×72 inches, whereas the 1×30 inches make up for the hobbyists.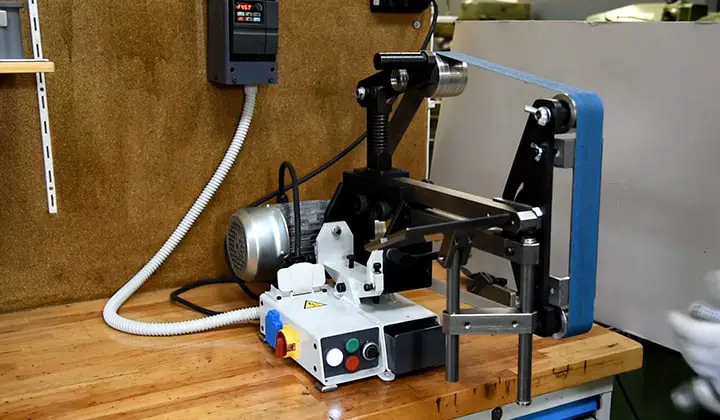 There are no specific taglines. It is all about owning the best belt sander for knife making with the right components according to your preference.
You will have to consider the motor, variable and belt speed, etc., as well to achieve perfection based on the knife type you excel at.
Learn more in the section below!
Benefits of Belt Sander
How did you think the samurais perfected their missions back in those battle days? Or the bayonet attached to the gun barrel. It could be a hunting knife too.
Perhaps it is the cutlery set that had been owned by dukes or kings! The reasons can stack one after the other till there is no room left about why you should get a belt sander instead of trying the traditional method.
Still, let me tell you some significant pros while we are at it:
It will provide more power, thus, faster way to complete a project
Stays consistent, resulting in the flat surface in knives without curves
Easier to balance and control
Eliminates chattering experienced from traditional grinding
Removes rough materials quickly
It is the ideal tool for bevel refining
Less chance of overheating the workpiece
Helps attain flawless design at knife forging
The only issue is that you will have to save up before getting a belt sander. The bigger the machine is, the higher the cost.
6 Best Belt Sander for Knife Making
Now that we are at the heart of choosing the belt sander for bladesmithing, this comprehensive review section will help you get the best out of the six. Good luck!
1. WEN 6515T 1 in. x 30 in. Belt Sander with 5 in. Sanding Discs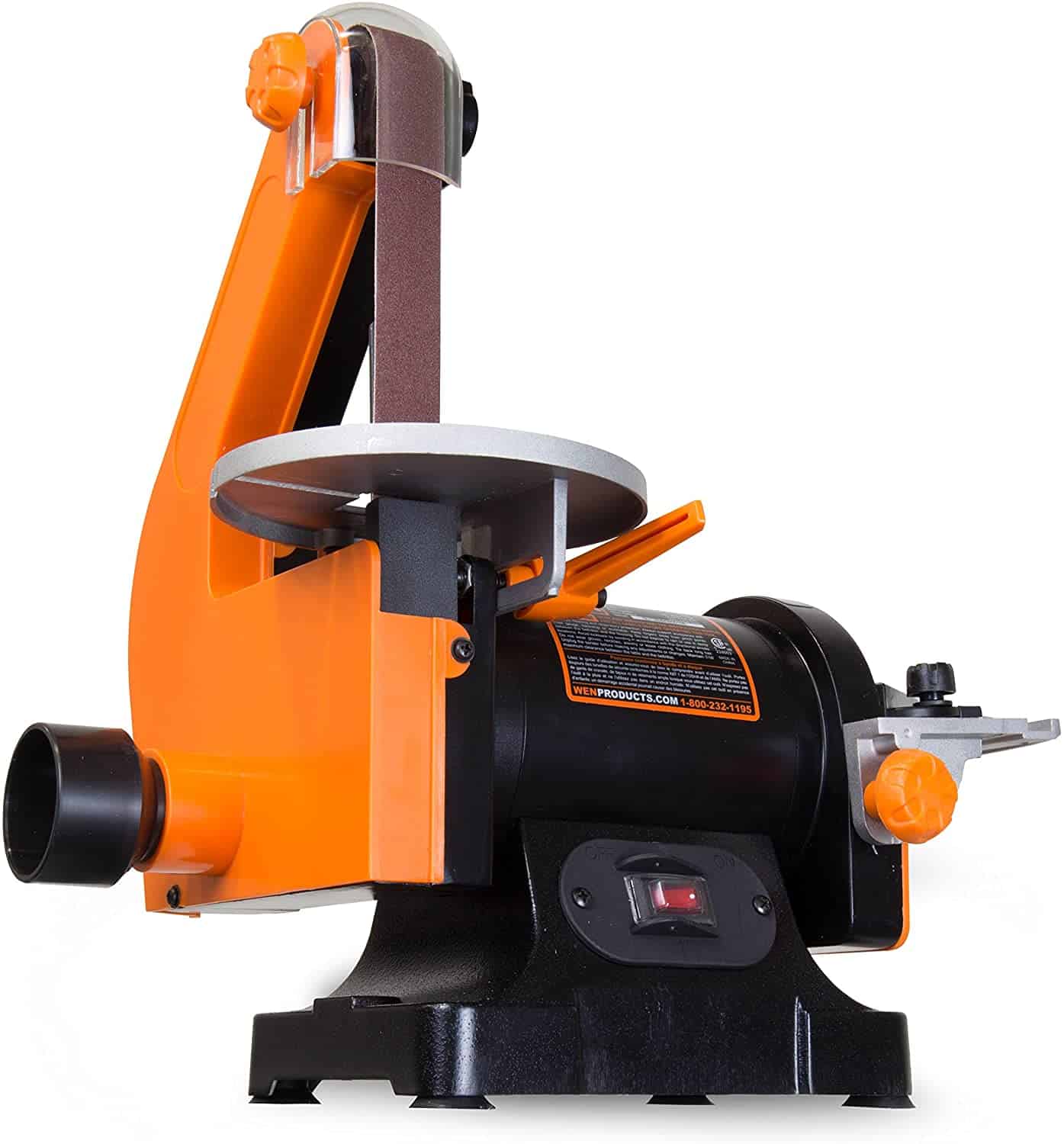 This is a 2019 model with 2-in-1 sanding incorporation ideal for rookies. Whether it is all about a hobby or you need a belt sander in the garage for polishing tidbits, you will not have to spend much.
If the dual featured sanding function makes you wonder about the quality, you need not worry at all. The 5-inch sander disc is equally effective as the belt.
While the machine is compact, it offers a 2.3-Amp motor. It might not be what you expect, but the anticipated speed on both belt and the disc is quite sensible.
Therefore, if you are okay with 3160 FPM on the belt and 3450 RPM on the disc, you are all set. Keep in mind that the unit is not suitable for heavy-duty grinding tasks.
Both sanding areas include beveling tables so that you can carry out the operation wherever is appropriate. Furthermore, you can work on beveling other materials as knife handles on these tables. They are flexible up to 45 degrees.
The sanding disc also comprises a miter gauge (so you don't have to buy a separate one) for additional preciseness. There is a belt guard situated atop the section for better security.
Most users have remarked on the two dust ports where you can attach vacuum hoses.
Pros 
Ideal for smoothening and deburring rough edges
Moderate speed
Easy to transport and store
Includes an 80-grit sanding disc and 100-grit sanding belt
Great dust collecting facility
Cons 
Verdict 
It could have ruled the world of hobbyists and beginners with the stable base and dual sanding properties. Plus, let us not forget the affordability!
However, is it really worth the value when it provides questionable endurance? I recommend it for the fresh learners who plan to upgrade to a bigger unit in the future. Check prices here
2. RIKON Power Tools 50-151 Belt with 5″ Disc Sander, 1″ x 30″, Blue
The biggest torment for novice knife makers is the selection of a good power tool. In this case, the beginners go through a terrible confusing phase when choosing the right belt sanders.
It is because the person might not know what to look for and how to determine if the given product is reliable as claimed.
Thankfully, everything checks out with the RIKON belt sander, which also comes with a sander disc. It is a compact model to assist you in training the basic operations before heading for the intricate grinding and polishing.
The machine is also lightweight in terms of portability and easy storage when not in use. This well-constructed unit has what it takes to improve your skills at sanding, sharpening metals, and more.
My only suggestion is to get the right sandpaper sheets specifically for sanding metals. Remember that various blade types or heads might need different gritting ranges.
Anyhow, the belt wheels have sealed ball bearings for better support. And the attached screws are made from metal and with perfect threads. You will not find anything of cheap quality despite the reasonable price value.
This is why many users hesitated before opting for the machine. However, the separate dust ports, friendly adjusting options, and the decent motor will help you accomplish any home projects with ease.
Pros 
Consistent function; does not vibrate during sanding
Ideal for sharpening, sanding, material-removing
A superb dust collection system
Excellent variable speed motor
Robust build with balanced weight for stability
Cons 
Changing the belt can be tricky
Verdict
If you want something that delivers steady performance without vibration, the RIKON belt sander can be the ultimate choice. It is capable of handling knife sharpening and excessive material removal right at home. Check prices here
3. BUCKTOOL BD4801 Bench Belt Sander 4 in. x 36
This is a belt sander for those who are looking for replacements. It is a perfect unit to present yourself as an upgrade as well.
The machine is designed with a heavy-duty build that promises resilience against wear and constant use. Its induction motor is powerful, with 1/3HP and 3.5-Amp.
You can practically do any craft works that involves sanding, grinding, and polishing various materials. However, it is heavy!
It is a trivial matter when the bigger picture entails superb material removal with plenty of other functions at hand. To summarize, it is an ideal selection for any knife builder who is willing to spend a little more.
While the belt delivers the speed of 4480 FPM, the wheel is expected to offer up to 3450 RPM. Other functions include a belt tracking knob, tension handle, LED light, adjustable eyeshield, low temp white grinding, safety switch, and so on.
Moreover, the belt ensures 0 to 90 degrees of tilting for convenient sanding. What you will find most satisfying is the majority of tool-free adjustments where it necessitates.
There are also two workbenches. One is constructed from cast iron and provides better support during metal works. The other table, big cast aluminum with a sturdy base and foot, is highly recommended for wood materials.
Pros 
Highly efficient with heavy-duty construction
Perfect for experienced knife makers
Excellent speed and sanding functions
Easy to use
Convenient with versatile materials
Cons 
Hefty; requires bolt down
Verdict
I will just request you to buy this unit before the market runs out of it. A good knife-making hobbyist or professional deserves a premium quality belt sander with ample features. And this product will meet all those demands without any hassle. Check prices here
4. Shop Fox W1843 Knife Belt Sander/Buffer
There are always those power tools that we consider as the best bang for the bucks. This is a 2×72 to 76 inches belt sander that comes with buffing features as well.
First of all, the 1HP motor with a single-phase design conveys nothing but power. It is the kind of unit the experts or seasonal knife makers should aim for.
The overall functions are not complex for beginners either, as long as they have prior experience with similar machines.
Its main focus is the 10 inches of the drive wheel with a rubber-faced surface and the sanding belt. You can utilize the belt above or along the platen to achieve free forming.
My favorite part is the lever that allows a quick belt-changing system. Not all hefty models as Shop Fox W1843 have such an upper hand. The sanding arm and the tool rest are super convenient with various adjusting facilities.
In a way, you will attain varieties of sanding operations in a single machine without much difficulty.
Now you will notice an auxiliary arbor or an extended shaft on the other section of the tool. This structure lets you set up buffing wheels, sanding drums, or flap wheels where woodworking applications thrive with precision.
Whether wood or metal, the belt speed of 4500RPM will sand, sharpen, buff, strop, etc., with dexterity.
Pros 
Powerful motor
Ease of belt changing function
Cast iron body with ball bearing construction
Belt tracking is very simple
Includes an extended buffing wheel shaft
Cons 
Verdict
Shop Fox W1843 is a great belt sander for those trying to venture out of the standard machines.
Nevertheless, it has a plastic power switch that a few users had issues with. It could have been a little tougher to level with the whole heavy-duty body. Check prices here
5. VEVOR 2Hp Belt Grinder Constant Speed 2 X 82 inch Belt Disc Sander with 3 Grinding Wheel 110V Bench Sander 12 inch Wheel and Flat Platen Tool Rest for Knife Making
There comes a time when the apprentice becomes the master after laboring training day and night. If you believe you are at that stage in knife-making skill, a beastly belt sander is inevitable to own.
By now, you have probably even sold your crafts to afford a better version of the machine. This is where the VEVOR belt grinder with 3 grinding wheels can back your talent.
It is also a solid upgrade for those seeking a replacement for older belt sanders. The unit offers one of the best motors I have witnessed that produces very little noise.
The copper motor delivers optimal power as it runs smoothly with 2800RPM. It even keeps the belt tracking stable by minimizing the vibration.
However, it has a fixed speed, which actually works amazingly when profiling, stock removal, satin/mirror finish, etc. All in all, it is easy to operate with this bench machine that is highly commercial for versatile material utilization.
The different grinding types, along with the non-slip design, save time and effort with impressive speed. Its 3 different grinding wheels beat the purchase of separate power tools.
Just change the corresponding wheel according to the grinding effect you seek, and you are good to go.
Pros 
Top-notch grinding
Robust construction
Powerful motor
Wide application with different grinding types
Offers a removable work table
Cons
Suitable for professionals/experienced only
Verdict
If you can obtain it, do so without a doubt in mind. The belt sander will last a long time while keeping everything cool. You will be able to hone your skill since it is suitable for multiple different materials. Check prices here
6. Happybuy 2 IN 1 2inch Belt Grinder for Knife Making 6inch 3450rpm per min Belt and Disc Bench Sander 90 Degree Belt Holder with Sturdy Base and LED Working Lamp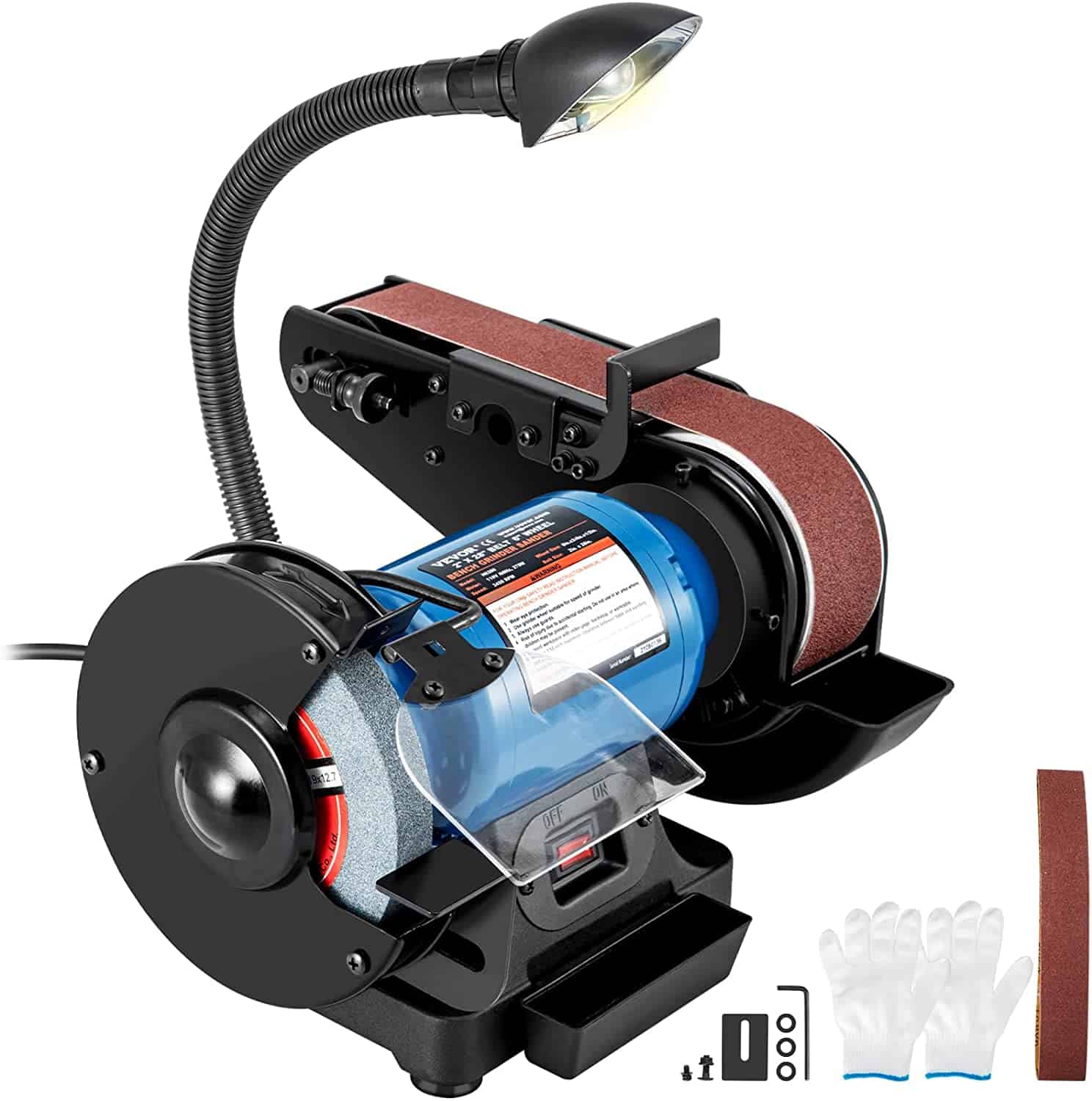 Here is another belt sander that offers a sanding disc as well. But it is the quality we should focus on first.
In that sense, I have to say you have stumbled on the right place if you wish to develop the knife-making skill from a hobby to a full-time gig. The 2×28 inches of the unit might appear compact, but it holds many aspects available in larger items.
So, let us get to the features now. An adjustable sand belt is something the users have found remarkable. Simply replace the belt to suit the material polish or grind, all the while maintaining the holder to 0-90 degrees.
The sanding disc is also replaceable when you see deemed. It even comes with a protective plastic shield to guard the eyes against debris or sparks. An LED lamp that is flexibly adjustable will illuminate the work area for better visibility.
Moreover, there is a removable sink at the base that collects post-grind materials for cooling. You can easily carry it to add water and attach it back.
This belt and disc sander are all about control and stability with maximum power a 250W motor can exert.
Pros 
Efficient in performance
Steady base
Well thought out design for durability
Easy to work with
Affordable
Cons 
Not fit for 2×27 inches of belts
Verdict 
Rookie or not, a knife maker should have a compact power tool like this one to ensure better flexibility during work. It will teach you how to deburr the jagged edges or help curve small knives right in the comfort of home. Check prices here
Frequently Asked Questions
What belt sander size is best for making knives?
The standard pick is 2×72 inches by the professionals despite its steep price. A seasonal or a beginner might try out from 1×30 inches to 2×42 inches for grinding and profiling.
Is a belt grinder the same as a belt sander? 
No, a belt grinder runs at twice the speed of a belt sander, and it is used to remove a substantial amount of materials. The belt sander, in contrast, sands the shaped metal/knife to get rid of unwanted edges and inconsistency.
Is variable speed important on a belt sander? 
Yes, it has the advantage of removing the material at a slow rate to work on the layers.
What is the ideal speed for a belt sander? 
The safest speed, after considering multiple factors, is around 3500RPM. It takes into account the material of the piece, grain abrasion, grit grade, and so on.
Can you use other materials besides metals for knives? 
Some commercial belt sanders are capable of polishing versatile materials aside from metals. You can sand various wood types, acrylic, etc., effectively.
Final Words
As you can see, you have to decide on a knife type first if you plan to try this out as a career. Of course, the field is widely popular for the experts and hobbyists to be versatile in tools selection as well.
Once you know what to look for, you can easily obtain the best belt sander for knife making and move on to the next step – design, create and unleash the talent.
I'm Joost Nusselder, the founder of Tools Doctor, content marketer, and dad. I love trying out new equipment, and together with my team I've been creating in-depth blog articles since 2016 to help loyal readers with tools & crafting tips.