I love creating free content full of tips for my readers, you. I don't accept paid sponsorships, my opinion is my own, but if you find my recommendations helpful and you end up buying something you like through one of my links, I could earn a commission at no extra cost to you.
Learn more
Block planes are the pocket-friendly version of power tools that smoothens the surface grains of wood. They offer the versatility of shaving off the end grains at different angles. It is quite easy to achieve a desirable finish with block planes.
They are primarily made of wood and steel parts. The best part about using them is you can single-handedly maneuver them with minimal hassle. Even though power tools seem easy to work with, best block planes will offer you optimal control and exceptional accuracy in case of paring the end grains of wood.
There is a plethora of options in the market available if you are out for a block plane. While among those, most of them will not offer you the best experience if you are planning to meld with your unique soon to be a masterpiece.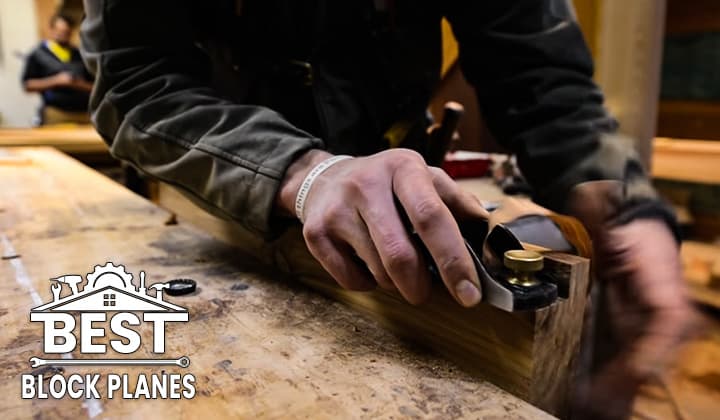 The ones that you should consider are the ones that will give you maximum comfort, compact, and will ensure a natural workflow. So, to eliminate your wrangle of finding the suitable block plane, we have huddled the best seven among all the other that are available in the market.
Top 7 Best Block Planes for Woodworkers
If you are baffled while venturing through all the block planes that are in the market, you would be delighted to know that now you can conveniently choose your next block just by going through the best seven-block planes that we have sorted.
Stanley 12-220 Block Plane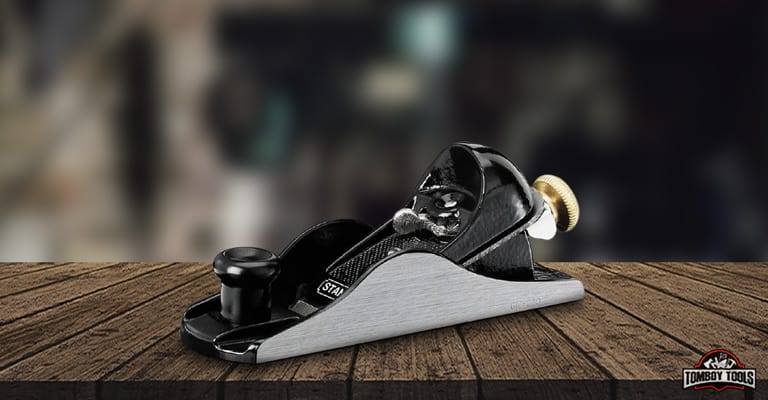 If you work with wood quite often and know other carpenters that share the same interest as you, you must have heard about Stanley's products at least once. They are one of the proprietors of premium carpeting tools.
Just like every other premium carpeting tools, they are also offering high-quality block planes, and 12-220 model is one of the solid ones. Once you get along with it, we can assure you that you will not look for any other block planes other than this.
It comes with a fully adjustable cutter. With this adjustability, you can precisely get the preferred depth of cut and alignment. It gives you the freedom to manually adjust the cutter through which you can change the thickness and smoothness of shavings.
The cutter rests at an angle of 21 degrees, and you can conveniently pare through cross-grains. You do not have to worry about changing the whole block while you are shifting from one type of grained wood to others. You can plane through cross grains at ease.
The base is cast iron, which pairs along precision-ground sides and bottom. You can even be assured of the durability as well. It boasts durability with epoxy coating. The finger rest is on the front, which ensures excellent comfort along with accurate control.
Highlighted Features
Built to deliver graceful and rigorous cuts
Coated with epoxy which assures the block to last long
Machined sides
Cast iron base with precision-ground sides
Compatible with cross-grained woods
Incomparable adjustability
Offers exceptional comfort and control
Great Neck 58452 3 Inch Block Plane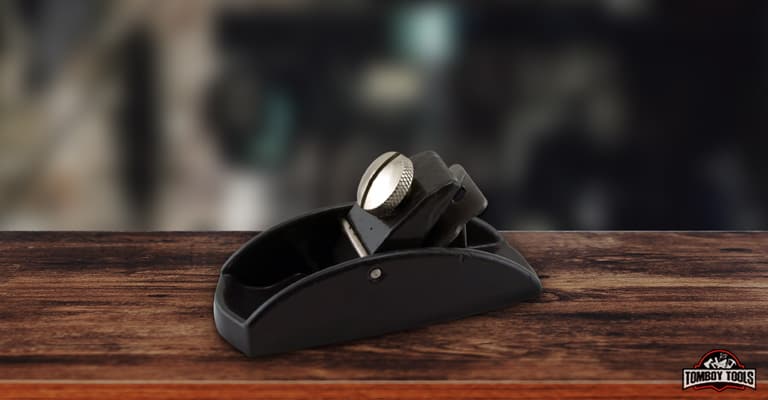 If you are looking for a compact and portable block plane that you can easily carry around in your pocket, then look no further, Great Neck is offering a small but mighty block plane by which you can do all your wood projects at ease.
You might get surprised by its size once you receive it. But we can assure you that you will be amazed after using it.
The Great Neck 58452 is a three-inch block plane that boasts durability with S2 steel. Even though the size is small, it will last ages if not abused. The body is also tempered and hardened to ensure longevity. You can be well assured of using it for an extended period in your life.
It offers the convenience of attaching it quickly. It comes with a chamfered drive end, which will allow you to connect it swiftly and efficiently. You can finish any of your wooden projects in no time because of this feature.
It sports a die-cast body that ensures durability. The whole unit is a two-piece design; this increases the strength even further. Along with that, the contoured shape of the body will let you comfortably grasp the whole block plane and work with it a steady flow.
Highlighted Features
Generous gripping support because of the contoured design
Chamfered drive end ensures swift and effortless attachment
Die-cast body adds to ease of use
S-2 steel construction
The two-piece design extends lifespan to another level
Hardened and tempered for additional durability
Stanley 12-920 6-1/4-Inch Contractor Grade Block Plane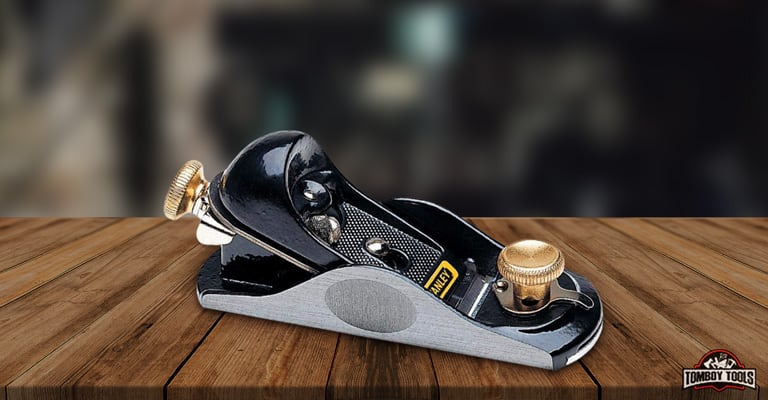 Stanley has many quality block planes to offer to carpenters who desire to get their work done without any hassle. Stanley 12-920 is one of the commendable offerings among all the other options that can comply with that desire.
Featuring a quick-release cam lock mechanism, you can effortlessly remove blades on the go. The edge is sharp enough that you can pan through end-grain materials at ease.
As the name states, the block plane lengths at 6-1/4 inch and comes along with a 1-5/8-inch cutter. The cutter is of high quality, and you will not have to worry about its durability.
The block sports a low 13-1/2 angle cutter that will ensure vibration at a bare minimum. You will be able to get an astounding finish after you pare through the grains.
The cutter rests at low 21 degrees and is fully adjustable. You have the full freedom of modifying it on the go at ease. You will get precise movement control and great depth alignment control.
It comes with a gray cast iron base that features precision-ground sides and bottom. The bottom is compatible with both end grains and plastic materials.
Handling the block is just a walk in the park, the finger grip machined into the sides make it very easy. You can easily use this single-handed. The body has an epoxy coating that makes it very durable. Along with that, hardened steel tempering of the unit will offer excellent durability. 
Highlighted Features
Highly adjustable cutter
Quick-release cam lock mechanism for easy blade removal
Coated with epoxy which assures the block to last long
Cast iron base with precision-ground sides
Offers extraordinary comfort and support
Premium body construction that is exceptionally durable
SENKICHI Kanna 65mm Japanese Wood Block Plane Carpenter's Tool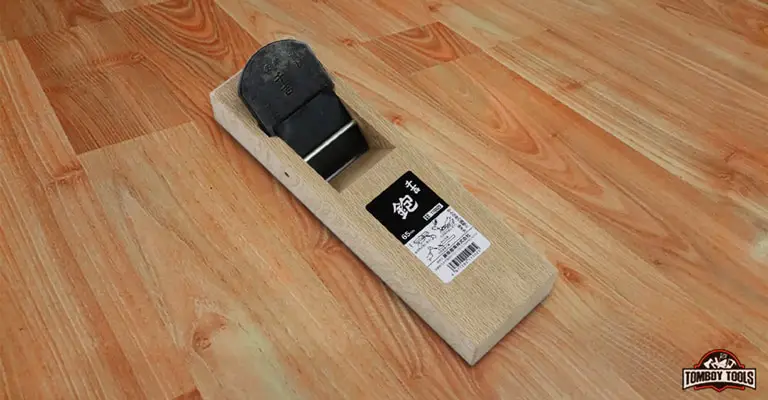 If you are out in the market looking for a perfect tool that is good at both reducing wood thickness and at the same time is excellent for smoothening, you might have stumbled upon the ideal tool to meet all your desires.
SENKICHI Kanna 65 mm is a Japanese made block plane. It comes along with a long durable hard oak wood body and targets towards beginners for being quickly set up able.
The body dimensions are 68 x 80 x 275 millimeters, and the blade is at 65 millimeters is capable of shaving paper-thin cuts. The whole unit is compact and pocket friendly. It might be tiny in scale, but do not let the size fool you, it serves its purpose quite well.
The finish that you will be able to achieve after using this to grain wood is mesmerizing. It gives you smooth and glass looking finish in the end. You will be able to hide the ugly hand saw marks efficiently.
The body is no less durable than the competitive metal ones that are available in the market, the Oak wood body both sturdy and rugged, which will last years if not abused. It also features the blade depth adjustability mechanism. This mechanism will allow you to change the blade angle on the fly.
Highlighted Features
Premium design
Compact and portable body
Blade depth adjustability
Durable and long-lasting
Easy to work with
Beginner-friendly
No.60.1/2 Block Plane + Pouch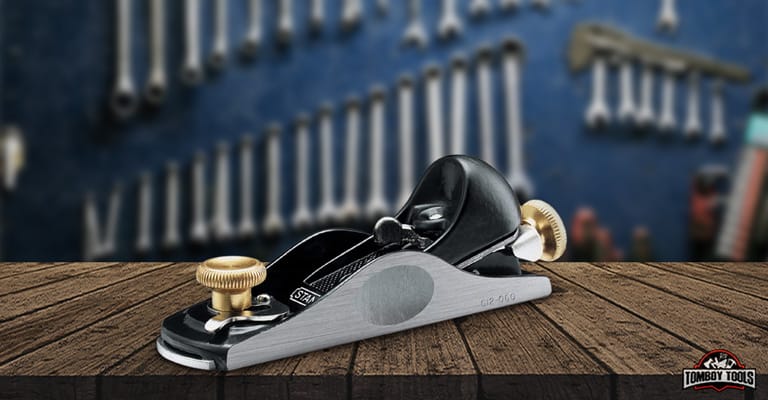 An excellent low angle block plane can make wood shaving feel like shaving butter off from a bar, and Stanley's are back at it again, offering a unique quality block plane to tick the preference of every individual carpenter.
With the construction of the body with extra thick 1/8 inches A2 steel, the unit offers superb edge retention. Not to mention the whole block is sturdy and durable, just like every other block plane that Stanley has to offer.
Wanting a block plane that can go through both end grains and plastic laminates is not too much to ask for with this unit. It can effortlessly go through both.
The cutter blade rests at a low angle of 12 degrees. You can single-handedly pane through end grains at a breeze. It also offers the flexibility of changing the alignment and the size of the mouth.
It comes with a Norris type adjuster, which features lateral locking. You can easily change the depth of the blade, and it will stay there while you work. It also sports solid brass hardware for smooth and efficient adjustments.
The base is of cast iron that is complimented by precision-ground ductile, which offers maximum accuracy. With epoxy coating, the durability is dialed up a notch. The block is very portable, as it only lengths at 6 inches. The shape is ergonomic and very comfortable to hold. It can be utilized single-handedly at ease.
Highlighted Features
Low angle cutter
Depth, alignment, and size of mouth adjustments
Excellent edge retention
Precision-ground ductile cast iron base for optimal accuracy
Lateral locking mechanism
Built to last
WoodRiver Low Angle Block Plane with Adjustable Mouth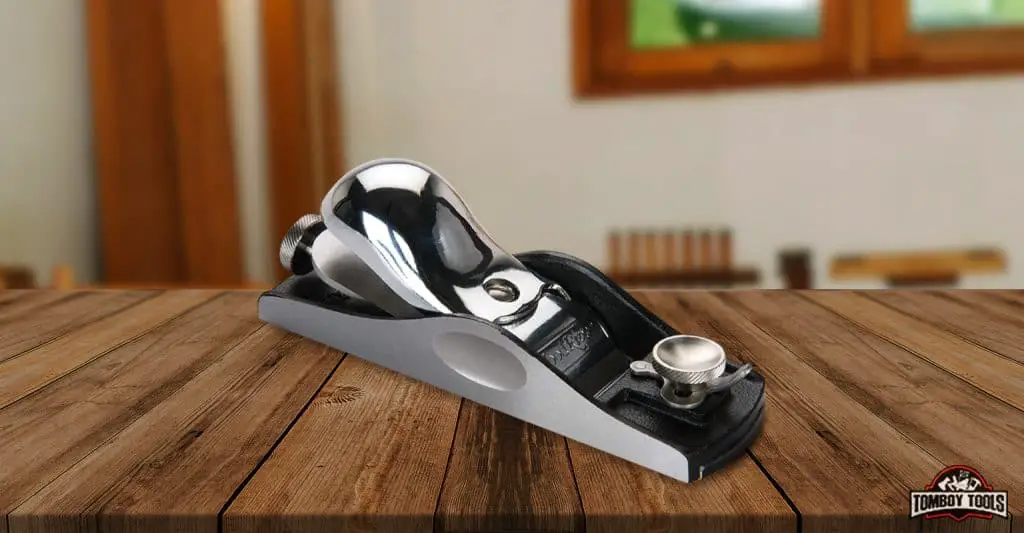 Want to go down the memory lane? Want to work with something that brings nostalgia? Fan of the classic old designs? Look no further. The WoodRiver Low Angle Block Plane will satisfy everything aforementioned.
The highlighted feature of this particular block plane is its classic design, the all-time favorite chrome-plated knuckle cap design. This design has been adored by many in the past and is the one that every veteran carpenter chooses.
But only a classic design body will not be enough to make you buy it, will it? Along with the antique design, the functionalities are just like what you could expect from any other good block planes.
Just like the name suggests, the block comes with an adjustable mouth. You can take full advantage of this feature by maneuvering the mouth for a plethora of operations. The adjustability knob is also smooth and fluid. The stress-relieved ductile iron castings are precision machined, flat, and square.
The unit's bed angle is 12 degrees, which you can work with the block efficiently. The blade rests at an angle of 25 degrees, which is of high-quality carbon tool as well.
The block lengths at 7 inches and is 2 inches in width. The blade is also remarkably sharp right out of the box. You do not have to worry about the durability as well. The whole unit is sturdy and will last if you use it properly.
Highlighted Features
Classis all-time popular design
Knuckle style lever cap
Durable
High-quality, sharp carbon tool blade
Exceptional edge retention
Adjustable mouth
Bench Dog Tools No. 60-1/2 Block Plane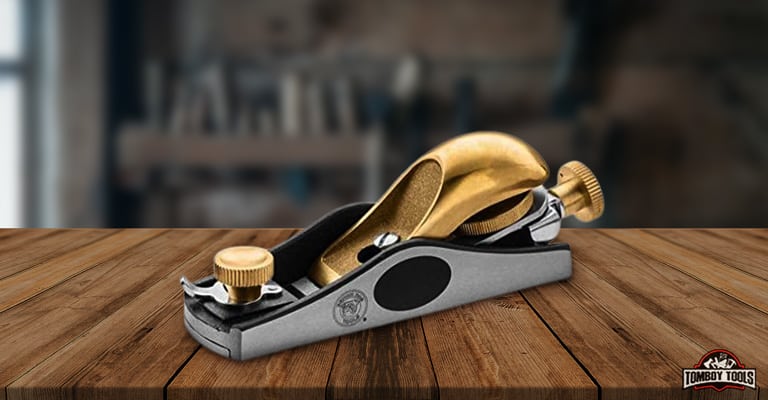 The last but not the least block plane from our recommended block planes is the bench dog tools No. 60. This specific block plane also features an adjustable mouth.
Bedding angle of the block rests at an acute angle, which makes it ideal for trimming and adjusting meters. You can also do joinery and fitting doors along with drawers as well.
The block plane is of ductile cast iron, which ensures exceptional strength and durability. The resistance to impacts is quite strong as well. The whole unit is one piece, and the blade is of 1/8-inch-thick metal. Bench dog assures virtual elimination of blade chatter.
As the mouth is adjustable, you can adjust it swiftly for any specific type of workflow. You also can narrow the blade opening to decrease the tear-out from shavings. It also features easy depth adjustments along with lateral blade adjustment.
You can expect smooth handling as the caps and the threading are of solid brass iron. The tolerances of the sole of the plane and the side are quite exceptional. The blade and the sole are both treated with a protective oil layer.
It requires minimal setup and is ready for action right out of the box. Each of the planes comes with a sock and case for your convenience.
Highlighted Features
Ductile cast iron body
Durable and is resistant to impacts
Adjustable mouth opening for flexibility
Depth of cut and lateral blade adjustment
Solid brass iron caps and threading
The blade is virtually shatterproof
Protective oil layer
Things to Know When Choosing the Best Block Pane
By now, you probably know a lot about block planes, and for which work they are required. However, in a nutshell, after the milling process of a wood piece, there resides a lot of rough machine marks, and the surface is left jaggy as well.
So, to remove the machine marks, the surface is smoothed with a block plane. You can also fix the angle of the edges using block planes.
Getting back to the topic, if you are out in the market looking for a block plane, these are things that we would suggest that should be kept in mind.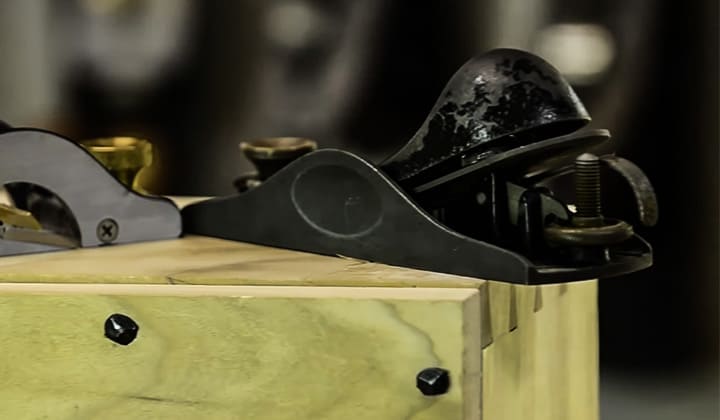 Type of Block Plane
Usually, the block planes that are available as of right now fall into two different types. The low angle and standard ones.
The low angle block planes have the usual 25 degrees, but the difference resides in the bed angle, which rests at an angle of 12 degrees. The total angle sums up to 37 degrees. The main thing that separates a low angle block plane from standard ones is that you will be able to shave off more wood per pass than the standard ones.
They are ideal for working with hard grains, but it requires you to be more cautious and accurate control over your hand.
The standard block plane, on the other hand, beds the blade at an angle of 20 degrees. The sharpened edge of the blade is usually at 25 degrees, the total accords for at 45 degrees. This type of block plane is effortless to control and cuts off little of the wood in each pass.
However, standard ones are not inefficient. Instead, they can be called forgiving. It is just you have to pan through multiple times on a single spot.
Quality
Block planes are mainly of wood or metal. Most of the veteran carpenters go for the wooden body because of getting used to the body finish and also for the nostalgic factor. They are more aesthetically pleasing and usually have a classic retro design that all carpenters love.
However, the wooden ones do not offer as much durability as the metal ones. But the ones that are of tough or hardwood is only going to decay when pared through wooden planes. Also, you are not going to shave off hardwood without power tools in the first place.
On the other hand, the planes that are of metal will offer more durability than the wooden ones, that's for sure. However, not all steel is the same. Also, each of the metal blocks built in different ways. So, you have to do your research before you select a block plane.
Frequently Asked Questions
Q: Power tool or a block plane?
Ans: Power tools make everything easier, but the control and the precision that you can obtain from block planes are unambiguous.
Q: Which type of block plane should I choose?
Ans: It all depends on you. If you are a total beginner, you should choose the standard one as they are remarkably forgiving and favors newbie the most.
But if you have enough experience in carpeting and have adequate control over your hands. You can safely go for the low angled ones.
Q: Wooden ones or the metal ones?
Ans: The wooden ones are more aesthetically pleasing, which is why they are chosen over metal ones many times.
However, if durability is a concern and if you think you are a little clumsy, you should go for the metal ones without any second thoughts.
Q: Which block plane should I go for?
Ans: Different manufacturers offer plenty of different models of block planes, which each has a unique set of features. So, choose the one that meets all your requirements.
Q: But what about warranties?
Ans: Each manufacture offers different warranty and return policy. You have to look for the one that you are going for by yourself.
Final Thoughts
To sum it all up, block planes offer much more flexibility and precision over power tools and mastering the control over block planes will give you a finish that can out beat any power tools.
While you are searching for a block plane to work for your wood projects, look for the one that ticks all the requirements you have along with the one you are more comfortable with.
We have sorted the seven best block planes here, so you will not go wrong picking up any of them that seems suitable for your workflow. We wish you good luck and hope all your projects turn into a masterpiece.
I'm Joost Nusselder, the founder of Tools Doctor, content marketer, and dad. I love trying out new equipment, and together with my team I've been creating in-depth blog articles since 2016 to help loyal readers with tools & crafting tips.