I love creating free content full of tips for my readers, you. I don't accept paid sponsorships, my opinion is my own, but if you find my recommendations helpful and you end up buying something you like through one of my links, I could earn a commission at no extra cost to you.
Learn more
Keeping tools within reach has traversed from comfort to a necessity. But on top of everything else using a carpenter's bag for a while keeps all of your tools within your intuition's reach. It makes you efficient and as always nullifies the time lag for searching for tools and all.
From what it's made out of to the no. of pockets there's indeed a lot to think about it. From biased reviews to fake specs there's a lot that might sway you from what you think you're getting. So here's a plethora of info on how you can get yourself the best carpenters nail bag in a more understandable fashion.
Carpenters Nail Bag buying guide
So here we have sorted out all the possible features and functions that you should and might be looking for in a nail bag to provide the best for you.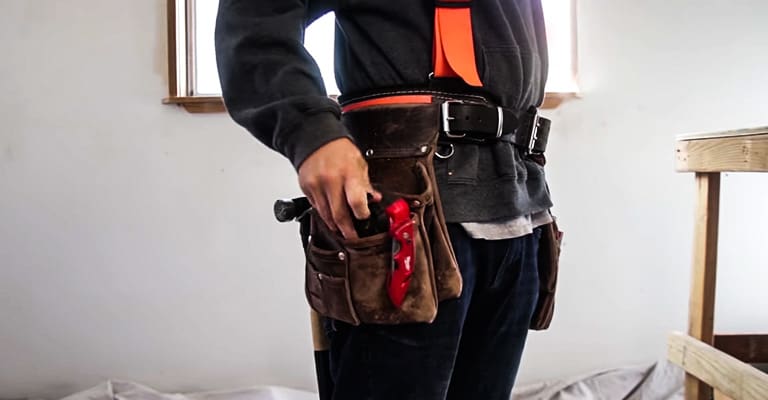 Fit and Finish
To put perfectness simply, the toolbelt must remain in par with your waist size. If your waist size is less than 34 inches then the single size is not for you. Basically, the belt cannot be too loose as well as too tight. Some of the belts have holes along it to make it easily adjustable which is a great option as well.
Pay attention to the measurement that ranges from minimum to maximum. Keep at least an inch or two extra if your waist is bulkier. Always give a trial of the tool belt, whenever you are going to buy one.
Number of Chambers
A higher number of bags and chambers should always top your priority list. But if you do not prefer having much load around you and work in a small workspace, grab a bag that claims "one size fits all". They usually come with a higher number of pockets.
Construction Materials
Most of the nail bags are mainly made of four types of materials- Nylon, polyester canvas, Leather and Suede Leather. You need to make sure that the material used is durable enough to hold up effortlessly requiring less maintenance.
Leather
Leather is the most common and strongest material out of the four materials to make a nail bag. If you intend to carry a lot of heavy tools then it's a great option for you. It can be used for a long time without experiencing any major wear and tear. But at the same time, they are quite heavy.
Polyester Canvas
The second most used material is polyester canvas which is much lighter and water-resistant. So it's more convenient and comfortable than other materials but tears easily.
Suede Leather and Nylon
Then there is suede leather which is softer than normal leather but isn't as sturdy as they are. Still, they are pretty durable, unlike nylon which is rarely used because of its poor durability and lightweight.
Comfort
To derive maximum comfort while using a tool bag, getting a belt that has padding on the interior lining is essential. Surely it will cost extra money, but your comfort will be worth it.
Suede leather is more comfortable as they are softer. But make sure that it's a bag that allows a moderate amount of airflow and doesn't dig into your skin. So a wider toolbelt is better even if it weighs more.
Specific Needs
Despite there being different features and functions there might still be some specific things that you need or especially prefer. For example, some might just be happy with a belt that has a lot of smaller pockets while some might prefer one with fewer but larger ones. It depends upon the tools you intend to keep.
Best Carpenters Nail Bags reviewed
To minimize your struggle in finding your nail bag, we have sorted out some of the products that are having an impact. And all you have to do is decide which one fulfills your requirements and grab it!
1. Bucket Boss Airlift 2
Aspects of Interest
If you are up for some serious DIY projects and need a tool bag for that then the Bucket Boss 2 is undoubtedly a great option for you.
This top-quality nail bag can be adjusted up to 52 inches using grommets made of steel. The bag's mainly made using 600 denier poly ripstop. On top of that, it's an on and off apron to make it easier to wear.
The tool bag comes with durable compartments. Its barrel-bottom roomy pouches have a great capacity for holding tools. On the other hand, the pouches have extra capacity that gives you the privilege to carry any additional tool.
The hammer holder is made of steel and an additional loop to carry any extra tools that have long handles. The pouches can be detached or repositioned to suit the user. The adjustable suspenders can also be detached from the bag.
Besides, there is a restraining strap attached to the chest that ensures safety and relaxation while working. Most importantly the tool bag is durable and sturdy enough to withstand any major wear and tear.
Pitfalls
The rigging system of the bag is not so good.
Some customers have claimed that the suspenders keep sliding down and the adjustments are not so secure
2. CLC Custom Leathercraft I923X
Aspects Of Interest
CLC Carpenter's tool bag is one of the best and most commonly used tool bags in the market. This beautifully manufactured nail bag is mainly designed for heavy-duty work. So if you are looking for one of the best tool bags for yourself then this is a great option for you.
The bag is made from top quality fine leather making it strong and sturdy enough for professional work. The suede leather makes it perfect for heavy-duty and gives the bag good durability so it doesn't tear and wear easily.
The bag contains 4 main pockets for the tools and 6 smaller pockets for smaller tools such as nail sets, pencils, and fit pliers. It also has a hammer loop made of steel and a metal clip to hold all the measuring tape sizes.
Besides, the pockets are wide and stay open enabling easy access to the tools. Moreover, it's not very expensive so it's getting really popular among the users.
Pitfalls
The bag is leather made so it's a bit heavy to carry.
The sewing rip opens after a few uses.
3. Bucket Boss 3
Aspects of Interest
Bucket Boss 3 is a premium quality carpenter's nail bag which is undoubtedly one of the best tool bags available in the market. So if you are looking for a tool bag for yourself this is a great choice for you.
The bag is mainly designed for heavy-duty work. It's made of high-quality poly fabric that makes it durable enough to last for a long time.
The customized pouches and suspenders can be detached or adjusted to suit the user. The bag uses thick steel grommets so it can be adjusted up to 52 inches easily.
The bag comes with 4 smaller main pockets to fit the tools. It also has 6 smaller pockets for smaller tools like nail sets, needle nose pliers, knife, pencils and more. There is a steel holder for holding the hammer and an additional metal loop for hammers or other tools that have long handles.
The pouches are of great capacity that ensures maximum tools holding. Also, a metal clip holds the measuring tapes of all sizes.
Pitfalls
The suspenders on the bag do not have moisture-wicking padding which is a bit of a hassle.
 Also, some users have complained about the suspenders that they don't hold the height.
4. Occidental Leather 9920
Aspects of Interest
In recent days, among a large number of tool bags available in the market, Occidental Leather 9920 is without any doubt one of the best carpenters' nail bags.
This premium quality tool bag is specially designed for heavy-duty usage. So, no matter whether you are professional or not, this tool bag is a great choice for you.
The bag comes with multiple pockets so it can carry a large number of tools easily. It's made of high-quality leather that gives it great durability so it can serve you for a long time without any major wear and tear. The bottoms are also well-equipped and heavily reinforced to ensure high performance.
There is a bull-pin loop on each side of the bag. It also comes with a tunnel loop on the back that can accept up to 3 inches work belt. On top of all these useful features, you can get them at an affordable price.
Pitfalls
The bag is a little bit heavier than other common nail bags in the market..
5. Style n Craft 98435 9
Aspects of Interest
Among the many products that are available in the market, Style n Craft 98435 is one of the most versatile tool bags. The bag is made of Cordura-Nylon 100% composition that offers great durability and strength.
It's also double stitched with durable nylon threads which ensure high performance for a very long period without experiencing any major wear and tear.
The bag contains 3 main reversed pockets for the tools. It also has 5 inside pockets. There is a metal buckle that can withstand high pressure and also the front is tapered. Also, the belt can adjust up to 3-Inches wide.
One of the most important features of the bag is that it's specially designed to ensure your safety and comfort. It contains a 5 inches cushioned pad for extra comfort. Besides, the pad ensures consistency which is much required for your security while working in dangerous situations.
Pitfalls
One of the downfalls is that the bag comes in fewer sizes.
The bag can carry a limited amount of tools.
Frequently Asked Question
Is Occidental Leather worth the money?
But that also contributes to their cost. Occidental Leather's products are also very, very expensive. … Occidental Leather designs look better, but a better looking design doesn't always mean a more functional, durable, or comfortable product. The user reviews I've seen are almost all extremely positive.
Are Diamondback tool belts worth the money?
Are they worth the money? Absolutely. All of the box store rigs will work for a year or two before you have to replace them. Most of the high end bags, occidental, diamondback, badger, etc will last almost a lifetime.
Which way do you wear a tool belt?
How do I choose a tool belt?
Tips for Choosing the Right Tool Belt
The foremost things to look for are durability and comfort. A good quality tool belt should be plenty sturdy. Leather tool belts are an excellent option, and thick nylon fabric is a very strong, choice, too.
Who owns Occidental Leather?
Darryl Thurner
of founder Darryl Thurner. Almost 40 years ago, building contractor Darryl Thurner of Occidental, California, got a little tired of dropping tools on the job.
Conclusion
Having the best carpenters nail bag will lessen your wastage of time by a big scale. Choosing a specific product among the many others in the market can be very tricky. Yet one of these products might just be the one you need.
If you are a professional and need to do some heavy-duty work then the Style n Craft 98435 and Occidental Leather 9920 are two great options for you. These two top-quality nail bags are gaining reliance from the users because of its high performance and longevity.
On the other hand, if you are planning to do some DIY projects then you have the Bucket Boss Airlift 2 can be a choice. It's one of the most commonly used tool bags among the customers and great for doing DIY projects.
However, no matter which product you choose, it's always wiser to get a reliable and useful one even if it costs an extra few bucks.
I'm Joost Nusselder, the founder of Tools Doctor, content marketer, and dad. I love trying out new equipment, and together with my team I've been creating in-depth blog articles since 2016 to help loyal readers with tools & crafting tips.