I love creating free content full of tips for my readers, you. I don't accept paid sponsorships, my opinion is my own, but if you find my recommendations helpful and you end up buying something you like through one of my links, I could earn a commission at no extra cost to you.
Learn more
If you work in an office, hospital or carry out any activity that requires moving loads from one place to another, you'll definitely appreciate the invention of casters.
We can't deny that asides from the ease in movement a caster makes us enjoy, we also enjoy the twirl and sometimes pretend like we're driving or in a race. Don't feel weird, we all do it.
Casters have been making mobility easy and possible for years and its demand and usefulness keep increasing.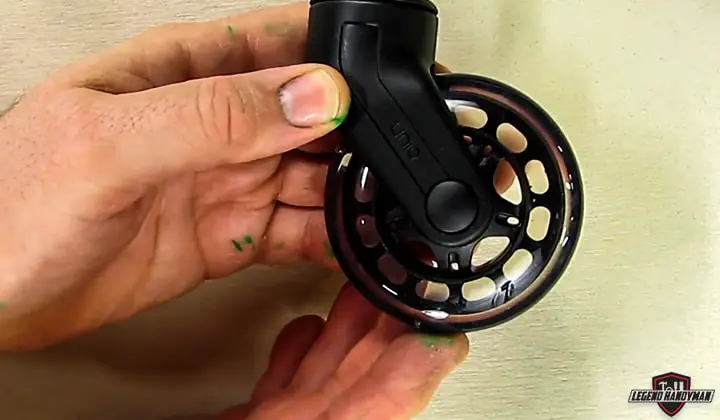 It is used literally everywhere, from our homes to our place of work and is mostly used in the manufacturing industries where heavy loads need to transport. 
This review will reduce your options and give you information on the best and the right casters for you no matter what you want to use them for or where you want to use them.
Best Casters – We Recommend
The whole idea of being able to move heavy or slightly light loads could be very comforting and stress-free, making any job you need to get done more fun than annoying. Just in case you haven't gotten a caster or need a quick replacement, these selected casters that have been tested and trusted will make mobility easy and fun for you:
Office Chair Caster Wheels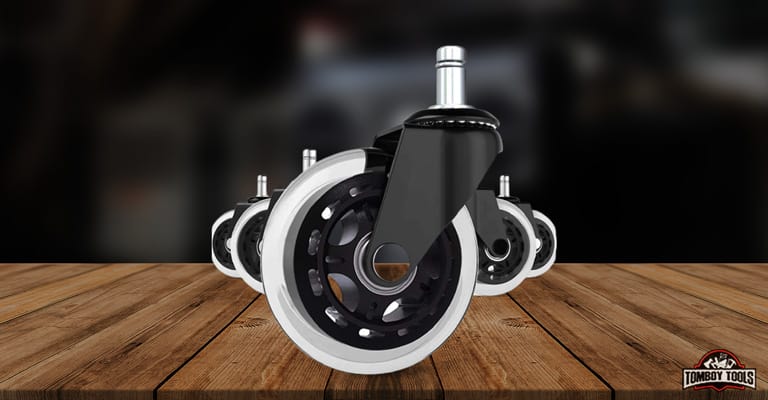 First, on our list, we have the Office Chair Caster Wheels, this caster was specially designed to prevent scratches on our floors amongst its other unique features. This caster is perfect for all floor types; tiles, carpets, hardwood, you name it! It will definitely keep your floor protected and you don't have to bother about fixing or replacing your floor every time.
The Office Chair Caster Wheels uses the rollerblade caster technology for your office chairs, keeping them silent and less squeaky with smooth movements – you don't have to cause any disturbance just because you want to move your load, Perfection!
This caster is very durable and you don't have to bother about replacing it every single time with its high-grade steel parts, you might only need to purchase it once in a lifetime. So, it also helps you save your time and money. It also possesses the universal standard size stem features that make it possible to install into any furniture without the use of any tool.
For perfect grip and heavyweight support, this is the perfect caster for you. It supports about 650lbs, literally the best caster deal you'll find in any store. So, it is not a surprise it has so many 5 star reviews and a large number of customers purchasing it every year.
Office Chair Wheels by Office Owl for Smart Home Offices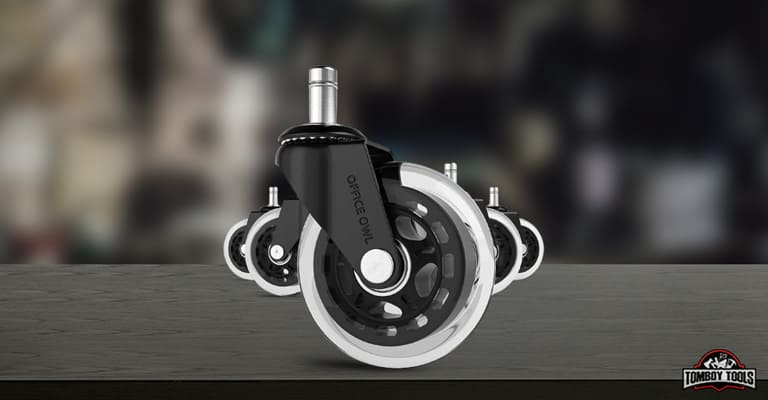 With a unique style that makes these casters aesthetically pleasing, the Office Chair Wheels by Office Owl adds style to your furniture and gives your offices or homes a cooler and more beautiful look. Asides from being extra stylish, this caster is also durable thanks to its high-grade steel.
You don't have to worry about fixing or replacements every now and then. The Office Chair Wheels by Office owl gives your floor the protection and respect it deserves with the Polyurethane wheels that'll keep it from damaging your floor or causing any scratch on it. It renders furniture mats useless, you don't need it anyways if you purchase this caster.
Replacing or newly installing this caster never felt better because of its ease and universal fit which fits perfectly into the stem of all standard chairs without having to compare sizes. It's precision ball bearings and Swivel bearing makes rolling and rotating smooth and easy just so you can have a little fun and move from cabinet to cabinet in style.
If you do a lot of moving in your office or switch positions a lot, this caster will make you move freely without drawing too much attention or causing any disturbance, they are incredibly silent.
Good thing is, you also don't have to worry about heavy loads because Office Owl Caster provides weight support of up to 650lb without the fear of it breaking or damaging completely.  Although some purchasers complained about it squeaking after a few days of purchase, it still remains a great caster.
Online Best Service 4 Pack Caster Wheels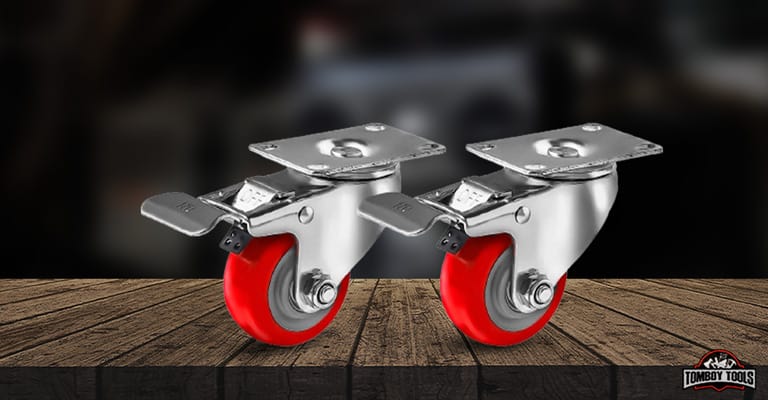 Next on our list is the Online Best Service 4 Pack Caster Wheels. This caster comes with a brake feature that locks both the swivel and the wheels which keep your furniture still whenever you want them to maintain a position. On the plus side, it makes your pretense driving more realistic.
This caster has no rotation limits and can rotate 360 degrees, a perfect combination of mobility and convenience together in four wheels. It is perfect for heavy-duty activities as it has a weight capacity of 250lbs each which makes it durable enough to move heavy loads.
If you like colors, especially red, this is the caster for you. It comes in shiny red for extra style. It is also smooth and keeps you in stealth mode when you have to move your things without drawing too much attention, especially if you're moving your things at night.
You don't have to worry about scratches and damages on your floor, the Online Best Service 4 Pack caster wheels are made up of Polyurethane that'll keep your floor from being scratched and saving you the cost of repairs and replacements.
With all its perfections, some users find it not as durable as it poses to be and there has been a complaint that it melts in hot weather. Despite all this, this caster is easy to lock, maneuver and use.
POWERTEC 17000 Workbench Caster Kit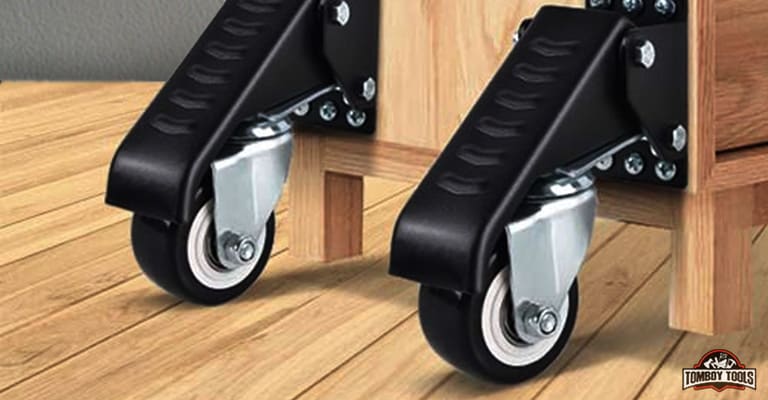 For our craftsmen and craftswomen who like to use the workbench to create magic, this is the perfect caster for you. The POWERTEC 1700 Workbench Caster Kit was specifically designed for your workbench and aids moving it from one work area to another.
 This caster is also very easy to install with its predrilled mounting holes that makes attaching it to your workbench a piece of cake. You also don't have to worry about scratches and damages of your floor, its Polyurethane wheels will make sure of that, also providing smooth rolling action with its 360-degree swivel.
If you're very concerned about its overall durability, the POWERTEC 17000 Workbench Caster Kit will be there for your workbench for a whole life-time with its extra thick solid steel caster body which makes it absolutely rust-resistant and prevents easy wear and tear. These wheels are capable of bearing loads that weight 400lbs i.e. each wheel has a weight capacity of 100lbs.
Its pedal mechanism is magnificent and makes moving your workbench easier and more convenient by simply pushing down on the foot pedals to lift your workbench off the floor and lifting up foot pedal to place your workbench back on the floor. This caster has no effect on the height of your workbench too, Awesome right?!
MegaDeal AC201710300001 12 Pack 2" Swivel Caster Wheels
We also have on our list, the MegaDeal 12 Pack 2' Swivel Caster wheels. This caster wheel comes with a top plate and with the ability to lift heavy weight loads from one place to another. Moving your piano, shelves and other furniture becomes way easier with these casters installed to them.
It possesses heavy duty capacity of lifting loads that are about 330lbs, making heavy loads as mobile as possible without having to call for help or purchase expensive and unnecessary equipment. This caster has no brakes so you have unlimited mobility with no stillness.
The MegaDeal AC201710300001 has rubber wheels that are perfect for indoor use just in case you have laminated flooring or any other fragile flooring and need to be extra careful to avoid scratches. These casters do not have holes where the stem of your furniture might be inserted, but it has a flat base plate that rests against the bottom of the leg.
However, these casters have screws that provide a good grip, so it doesn't slip away from the stem of your furniture. These casters are also ball bearing which keeps rotation smooth and easy, rotation is a complete 360 degrees.
These casters' body parts are also made of steel and do not wear and tear easily. The question of it being silent is dependent on the type of floor it is rolled on. This caster is made of hard rubber and wouldn't make any noises when rolled on concrete but is not completely silent when rolled across a textured floor.
Homhoo 2" Swivel Caster Wheels with Safety Dual Locking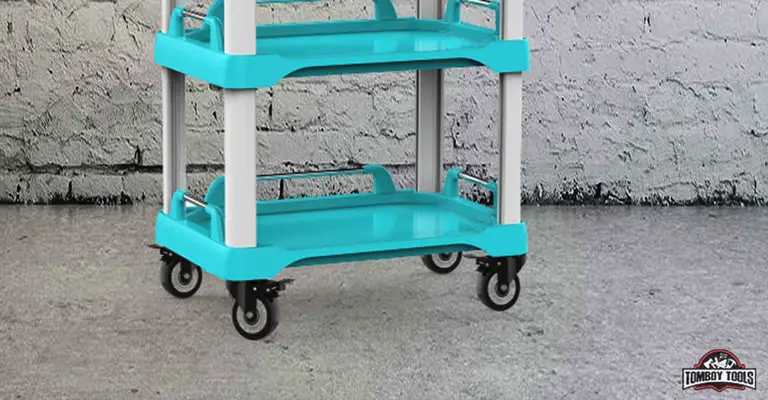 The 2" Swivel Caster Wheels is another amazing caster that combines ease with mobility and gives you top-notch convenience. This caster comes with an attractive package; I call it the first aid kit for this caster. It includes a screwdriver, four caster wheels, 16 screws, and washers, literally everything you need to install and maintain this caster.
It is also made up of a polyurethane rubber material, to avoid scratches or marks on your floors. This rubber material comes with anti-shock features and absorbs vibration too. This caster is very versatile as it can be attached to your speakers, cabinets, furniture and your flight cases amongst many others. This caster is a hard worker, no doubts.
Its dual lock features keep the wheels still, the swivel is also put on lock when this caster is kept on lock position, for total stillness and security. Rotating and turning are also possible and effective thanks to its swivel caster that is capable of rotating 360 degrees.
Durability is also one of the beautiful features of this caster, its body parts are made up of steel which makes it hard to experience wearing and tearing. This caster is also dirt resistant thanks to its steel parts. Let's not forget the heavy-duty bearings that give it a 600lbs capacity for all four casters.
The 2" Swivel Caster Wheels are also very quiet and run smoothly without annoying squeak every now and then. So far so good, most users find it completely satisfying.
3" Coocheer PVC Swivel Caster Wheels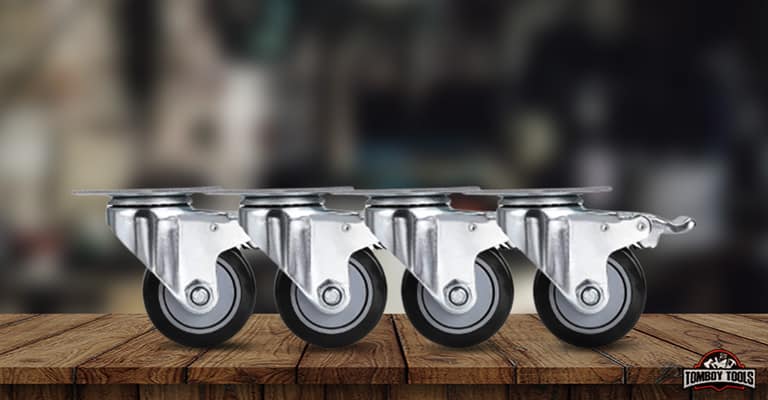 For the color lovers, this caster comes in both red and black, not a variety of colors but you get to pick this time. Before we talk about its uniqueness, this caster is perfect for industrial and residential uses – ranging from applying it to your shopping carts to attaching it to your workbench. It works for you, anytime, anywhere.
This caster can absorb shocks and vibrations, all thanks to its PVC rubber material which makes it quiet too with no squeaks. Moving your furniture and other appliances is easy with this caster as it runs smoothly and quietly. It comes with a rotation top plate for better maneuverability and flexibility.
Each wheel has its own brake that locks both the wheel and its swivel when putting in the lock position and there are four wheels in a pack. Each caster has a load bearing capacity of 250lbs, making it a total of 1000lbs for each pack. This caster is mostly used for domestic activities, like using on furniture and shopping carts.
Its steel body is enough reason why you should trust its durability because it is difficult to experience wearing and tearing when using this caster. Its steel body also makes it dirt resistant. So far, it has a lot of positive customer feedback just in case you need extra assurance.
Buying Guide for The Best Casters
There are a lot of features that are combined to create a perfect caster that is durable and of high quality. These features are what will keep you in track and bring you closer to your dream caster for easy mobility. If you want to avoid purchasing new casters every week or month, here's a list of caster features you shouldn't ignore;
Load Capacity
Every caster comes with a specified weight capacity clearly indicated. This shouldn't be overlooked because if you want your caster to fulfill other functional promises like being durable, you need to consider its strength. If you use a caster to bear a load way beyond its capacity or even slightly above its indicated capacity, the caster can't promise to be totally durable and fully functional anymore.
Most times, the heavier the load the larger the caster wheel, so bearing this load becomes physically possible; it looks the part and acts the part. Calculate the weight of the object you're installing your caster into, to avoid future failure.
Purchasing a caster that has a load capacity that is slightly above your actual load is still the best idea yet, for complete efficiency and longevity. Do not completely rely on the load capacity as the only feature to look after and end up buying a caster with the highest load capacity, it isn't rational as it will fail in its other functions.
Mounting Technique
This is another important feature that should be looked out for. Caster mounting comes in two main types:
Stem mount: this type of mount doesn't require bolts or screws to mount but a hole, where the furniture's stem is mounted upon for use.
Plate mount: this is different from the stem mount in every way. It comes with a top plate where your furniture or load is screwed for a tight grip.
When choosing a mount for replacement, select the same type of mount that was previously used but if you're using a mount for the first time, any mount goes; it all depends on you. Whatever choice you make, be sure it is the best option for the equipment or furniture it was purchased for.
Heavy duty casters most times require the plate mount for convenience and security, giving it enough surface area to rest on. This will help you trim down your long list of casters to choose from.
Floor Material/Wheel Material
Depending on where you choose to use your caster, the floor and wheel should be selected according to a material that match perfectly. This feature is really important, especially if you're trying to avoid scratches and extra expenses on maintenance and repairs.
These wheels are usually made of different materials from the floor. To choose a perfect wheel for your floor, always remember this:
Hard floors need soft material wheels
Soft floors need hard material wheels
It's simply picking a wheel that is the direct opposite of your floor material
Environment of Use
Casters are designed with certain materials that are perfect for some environmental conditions. Some casters are only good for domestic use while some are perfect for industrial use. Exposure to extreme heat can cause certain casters to melt or get damaged completely. So, when choosing a caster for industrial purposes or relatively hot environments, go for a caster with high heat resistance. Most of these casters are made of rubber that cannot withstand high temperatures, so using them in the offices and cool areas isn't a bad idea.
Brakes and frequency of use
These two work hand in hand, if you need your equipment or furniture to remain still whenever you want, consider getting a caster with brakes. For equipment that'll remain in a particular position for a long period of time like your shelves, casters with brakes are preferable but if you move this equipment or item a lot like your office chairs, brakes are not totally necessary.
Frequently Asked Questions
Here are the frequently asked questions and their answers, to help you clear all doubts
Q: Can I replace just one caster when it is damaged?
Ans: it isn't a bad idea to replace just one when the others are still functional but it is advisable to replace the complete set.
Q: Why are my casters difficult to move?
Ans: If your caster is properly lubricated and is relatively new, the only reason why it should become difficult to push is that it possesses a safety feature. This locks your Office chair casters and keeps them from rolling away without control whenever it is load-free. It is temporary and it goes back to its initial state (moves freely) when the load is placed back on it.
Q: Do spring-loaded casters cause more shock and vibration?
Ans: This is absolutely possible, especially if the wrong spring is used. It is good to have no spring at all than to have a spring with high constant and if the spring as a low constant, shocks and vibrations become stronger. However, using the right spring will prevent shock and get rid of vibrations.
Q: What should I consider before using my casters outdoors?
Ans: Some casters are fully designed and prepared to be tough enough to use outdoors but you should consider:
Environment: your casters can get damaged easily in harsh weather conditions e.g. rain, snow, extremely hot and dry weathers too.
Floor surface: most of the materials used to construct outdoor paths and roads are usually uneven and have high friction qualities. They also have debris that can puncture your caster and damage it permanently. So, purchase casters that are good for outdoor movements.
Q: What wheels are best for rough floors?
Ans: It is obvious that you can't change your entire floor because of a few wheels. Casters with larger wheel diameter make overcoming rough surfaces easier, the larger the wheels the better. In cases where larger wheels fail to provide a solution, purchase wheels made of rubber and polyurethane for a smoother run.
Q: Why are my casters fluttering and shaking while being drawn or towed?
Ans: Most of the time or all of the time, it is as a result of just 2 or 3 casters bearing the load. Extend the swivel offset of your caster and carefully watch and listen to all shaking and fluttering disappear.
You may also like to read – the best jobsite radio
Conclusion
There you have it, the best casters in the history of casters. You don't have to sprain your back or wear yourself out just because you want to move your things. I have carefully selected the best and convenient casters that are scratch-free, quiet, durable and smooth. Using these casters will increase productivity by saving time and cost. You don't have to waste your time and energy kicking these casters and forcing them to move.
I have also laid down a simple buyer's guide to help you make the right decision, so you don't end up making multiple trials that'll lead to unnecessary spending. All the above-reviewed casters are cost-friendly and easy to install, all you have to do is select your preferred caster and order up.
I'm Joost Nusselder, the founder of Tools Doctor, content marketer, and dad. I love trying out new equipment, and together with my team I've been creating in-depth blog articles since 2016 to help loyal readers with tools & crafting tips.