I love creating free content full of tips for my readers, you. I don't accept paid sponsorships, my opinion is my own, but if you find my recommendations helpful and you end up buying something you like through one of my links, I could earn a commission at no extra cost to you.
Learn more
Are you having a hard time doing the woodworking like creating fine work in joints for a timber cornice, cutting a range of wood, and cutting unusual shapes or curves?
If so, you need a coping saw. It's not a powerful tool like a 50cc chainsaw, however, a coping saw is useful for cutting shapes out of the middle of a piece of wood or other material.
To give your work a fantastic look and excellent finish, you need to give it a perfect shape, and for that, a coping saw is a must.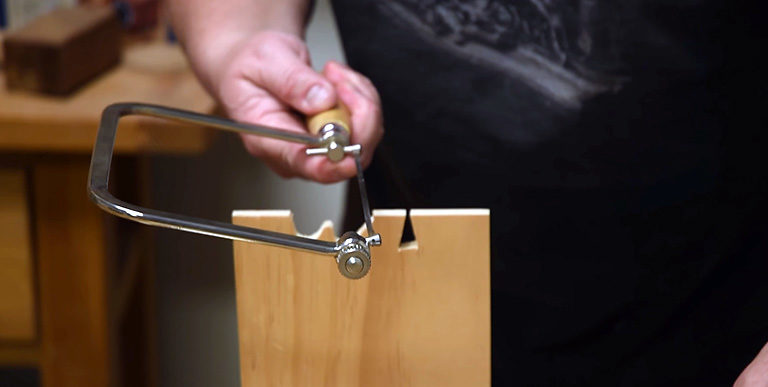 My top recommendation for a coping saw is the Robert Larson 540-2000 Coping Saw. Robert Larson is a world-renowned brand for providing good quality saws, and this one does not disappoint. You can easily adjust the blade tension, and you have the option to change blades in your saw, so you are not limited in the types of woodwork you are working with this saw.
I'll show you some more good coping saws options though and walk you through a buyer's guide and everything you need to know about purchasing a coping saw, like how to change the blades, and how to use them.
Finally, I will go into more detail about each of these saws and what makes them so great.
What to look for when buying a coping saw
Here are few key features to look at:
Blade components
Choosing blades will depend on the purpose of your work.
To deal with penetrating woods without breaking the created shapes and patterns, select the thinnest edge. Bigger blades can be relatively rigid, which can potentially result in breakage.
The throat's size—the span between blade and frame—varies from 4 to 6 inches, yet all coping saws use the same 63/8– to 6½–inch blades.
The coping saw's blade tooth count is a vital part of selecting the best one. The quality of your work depends on the tooth count, along with the alignment of blades.
Be careful while assembling the edges; make sure that the blades' teeth are facing the handle when assembling.
This placement should allow the blade to carve right when you start pulling it instead of when you're pushing it. Moreover, this levels up your accuracy while maintaining the blade's sharpness.
Material
In today's market, two popular alternatives for coping saws are steel-made and those crafted from carbon carbide.
The handle is perhaps the most important part of cutting with a coping saw, which is why they are made with a variety of materials. Wooden handles and plastic handles are generally used in a coping saw.
Before purchasing, you should verify the type of saw from the specification on your manufacturer's manual. The pricier ones almost always come with the most durable materials.
So, if you're willing to shell out, you're most likely in for a treat relative to your saw's materials.
Ultimately, go for materials you're most comfortable with rather than choosing an option that will make you uncomfortable in the long run.
Ergonomics
Make sure that the design you are choosing corresponds to your woodworking skills and also ensures your comfort level.
Tension adjustment: All blades are tightened by twisting the saw handle. Some saws also have a knob screw opposite the handle, which pulls the knife taut after the handle is engaged. The flap on the T–slot fitting makes it easy to adjust the blade's angle when necessary.
Rigid frame: A flat rim with a rectangular cross-section will hold a blade in greater tension than a round bar of the same width.
Slotted pins: With these, you can use blades with loop ends (see the tile–cutting edge at right) and the standard wood–cutting blades with pins in their backs.
A good handle will provide you with better control of the saw. Choosing an ergonomic handle design would be a good choice.
Plastic handles are often wrapped in rubber for gripping aids. Although some plastic handles are not wrapped with rubber, this wrapping helps greatly when your hands get sweaty, or in humid conditions.
Wooden handles don't normally come wrapped in rubber. They provide a solid grip without rubber.
Also check out my top 5 best jab saws for cutting drywall, trimming & pruning
Blade replacements
A coping saw is compatible with a special type of blade that is smaller both in width and in length. These blades are sometimes called slim blades because they are quite thin as well.
Check whether there are pins at the two ends of the blade or not. These pins are used to attach the blade to the frame of the saw and make sure it doesn't get lost.
If a blade has jaws at its two ends, then it's probably not for a coping saw. They are for the fret saw.
While some blades that come along with the saw are good, some are not up to mark at all. So make sure that the blades you have are good enough.
It's good news that the blades for a coping saw are not stuck to a particular brand. Most coping saws use a standard-sized blade, so someone can easily and cheaply switch out blades for one from another brand.
A useful tip is that blades with more teeth can cut tighter curves but cut more slowly and those with fewer teeth cut faster but can only cut broader curves.
There are various types of blades are available depending on the material:
Wood
For wood, you need to use a coarse blade, which has 15 TPI (teeth per Inch) or fewer, as it quickly removes the material to allow you to keep cutting on a straight line.
On the other hand, if you need to cut curved lines, you need to resort to blades with over 18 TPI, these blades are a little slower.
Metal
Cutting metal cutting requires a robust blade that's made of high-carbon steel which will allow you to cut through non-hardened or nonferrous metal in a comfortable manner.
Tiles
A tungsten carbide-encrusted wire is the most preferable blade for a coping saw to use on ceramic tiles or drain openings.
Plastic
Helical teeth blades are suitable for cutting through plastic smoothly. Nothing too fancy, but they excel for this material.
Blade rotation
The specialty of a coping saw is the ability to make angled cuts at intricate parts of woodworking projects. They can turn the angle of cutting, even while in action.
Because of the depth, you can angle your blade in the direction you want to cut and it will do so.
Detent system or quick release lever
The blade of a coping saw is held to its frame by small locking pins. These locking pins can be released to free the blade and allow for the reinstallation of the blade.
This feature is called detent. It is an essential feature in a coping saw.
A good detent feature in a coping saw will help make the unmounting and mounting operation of the blade much easier. Not only that, the firmness of the blade in the frame depends on the detent quality as well.
A weak and bad detent system in a coping saw means the blade might get detached anytime during work.
An advancement or upgrade of the detent functionality is the quick-release lever. As the name suggests, it's a lever that can be pushed back and forth for unmounting and then quickly mounting the blade.
This feature is particularly useful for people who constantly need to change their blades.
Changing the blade using the traditional detents works well, but it gets tiresome as soon as there are lots of different blades involved.
A quick-release lever can be a lifesaver in those situations. But this feature is not found in the majority of the coping saws.
Maintenance required
Maintenance is required for almost any device, and a coping saw isn't any different in this manner. But the amount of maintenance work can be reduced by following some strategies.
The first part is the blade. The blade must be protected from oil, grease, water, etc. to prevent rust formation. Also, remove any first from the teeth of the blade after work.
The frame of the saw, if made of high-quality material, won't need that much care because nickel coating is great protection against rust. Any other materials won't suffice that much. So you probably need to clean it after each use.
Why not try making a DIY Wooden Puzzle Cube as a fun project!
The best coping saws reviewed
As you can see, there's a lot to consider when it comes to buying a good coping saw. Now let's dive into the best options from my top list in more detail, keeping all the above in mind.
Overall best coping saw: Robert Larson 540-2000
The Robert Larson 540-2000 is one of the top choices as a coping saw and is manufactured in Germany. Robert Larson is renowned for producing good quality coping saws, and this model does not disappoint.
It's perfect for small-scale detail work. The small and compact design means you can use it for delicate projects.
It provides easily adjustable blade tension to fasten adjustments and save time and frustration for any project. This means you struggle less with your tool and can concentrate on your work.
This model uses blades with or without pins for more replacement blades and a maximum 5-inch cutting depth.
Having the option to install various blades in your saw dictates that you are not limited to doing a particular type of woodwork only.
They aren't the best for longevity compared to the other brands. The good things are that replacement blades are generally pretty cheap.
Most versatile coping saw: Olson Saw SF63510

The Olson Saw SF63510 is the right choice for every woodworker for coping joints for pine trim and gives you full control over each cut by allowing you to control the tension on both sides.
Very few brands other than Olson will enable you to maintain pressure on both sides. They are thus giving the user an all-around control over the blade's power.
The blade can also be turned 360 degrees, and both pushed and pulled, allowing you to saw in any direction.
The handle is made of hardwood to grasp the saw firmly and feel comfortable while trimming wood.
This finely finished wood handle provides sweat resistance and prevents the saw from slipping out of your hand. It also looks great and will appeal to all traditionalist woodworkers.
It often comes from the factory a bit twisted, making it extremely hard to align the first time and every time after that while changing out the blade.
This coping saw is suitable for light applications such as coping joints for pine trim and may not work as well for hardwood or complex operations.
Best compact lightweight coping saw: Bahco 301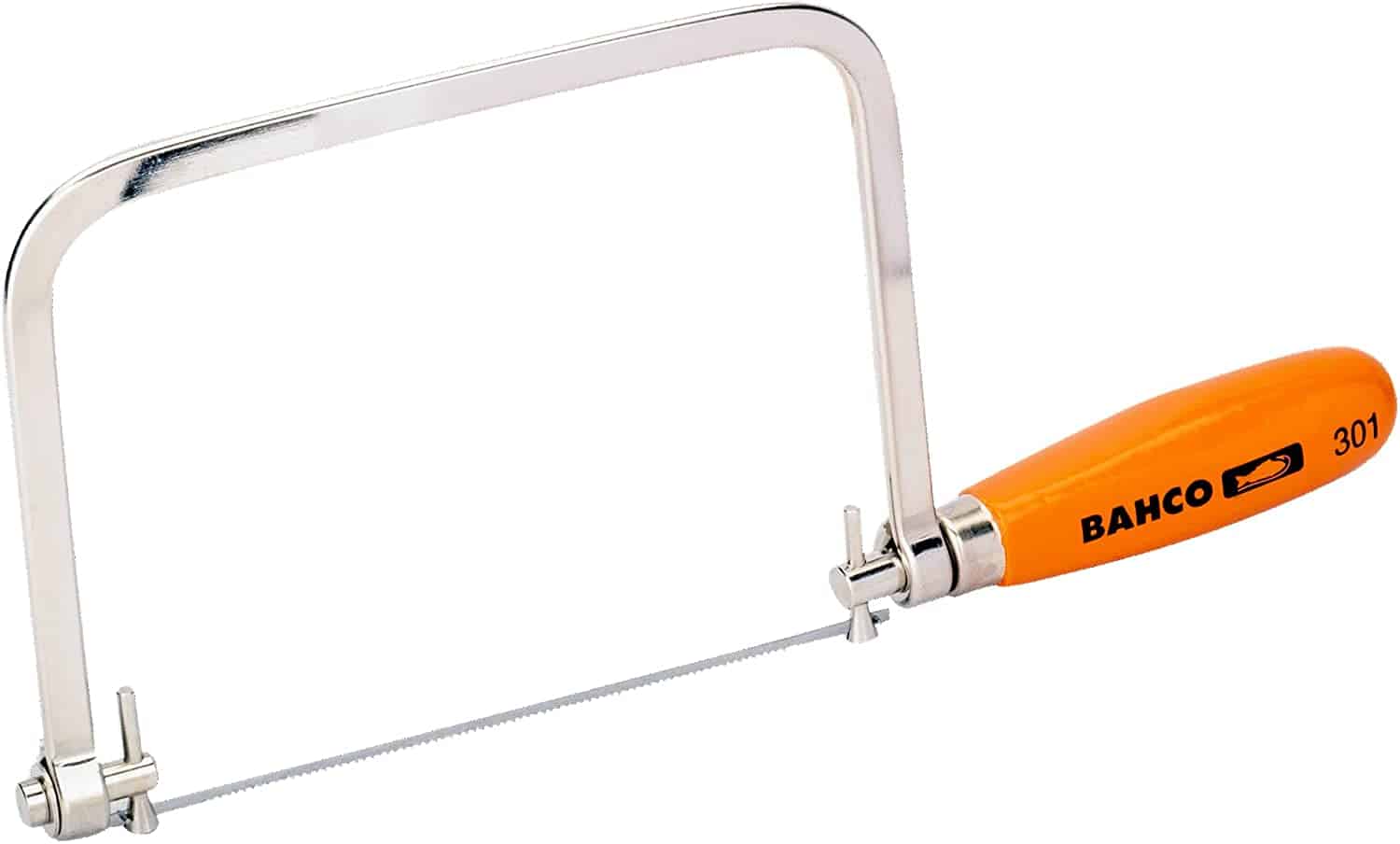 This six-and-a-half-inch coping saw from BAHCO is small, lightweight, and gets the job done on any delicate woodworking project. The saw weighs about 0.28 pounds, giving you the ultimate control over the tool.
It has a nickel-plated steel frame, which provides excellent steel tension and durability with nickel's rust-resistant properties. Nickel-plated steel is the best frame you can get on the market.
Blades are fitted using retaining pins and remain tight and sharp after several uses.
BAHCO's blades are so impressive that you can easily install crown molding or make a one-of-a-kind piece of furniture as they can cut through any material (wood, plastic, or metal).
In addition to the option of installing a variety of blades, you also can turn the edges 360 degrees. This provides fantastic scope for angular cuttings. The retaining pins are easy to use too quickly to uninstall a blade.
However, sometimes it isn't easy to adjust to the retaining pins and the angle.
Most durable coping saw: Irwin Tools ProTouch 2014400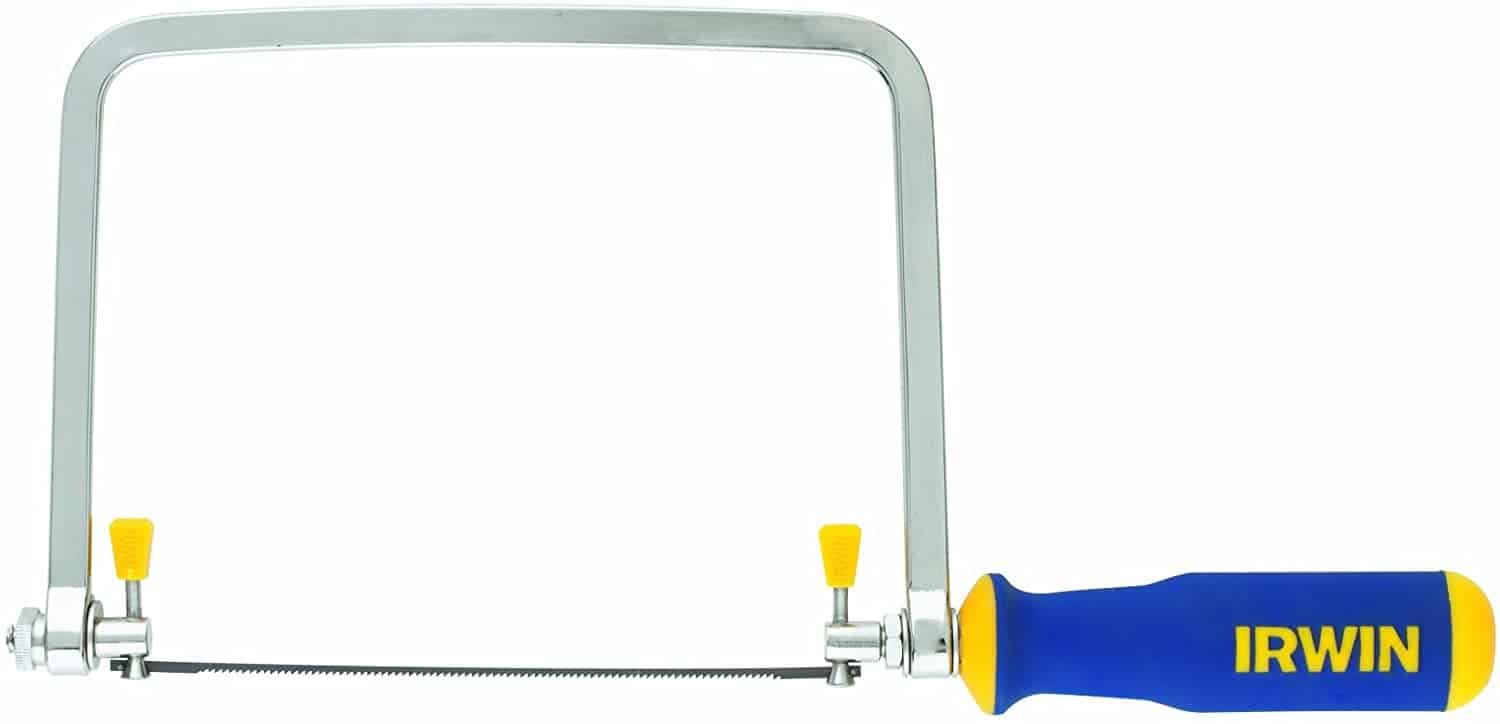 The ProTouch 201440 from Irwin Tools is yet another compact and lightweight coping saw, but one that is backed by a lifetime guarantee to ensure maximum durability.
It features a five-and-a-half-inch depth of frame and six-and-a-half-inch blade length. While the five-and-a-half-inch depth might not be suitable for all the carpentry works, it will serve you well on most small and delicate projects.
This ProTouch Coping Saw comes with a flat frame with two DuraSteel pins to fix the blade in place and high-speed steel thin blade that can rotate in any direction, giving you the ability to use the ProTouch for any delicate crafting purpose.
The out-of-the-box 17 pt teeth count of the blade enables it to make quick and precise cuts. The blade is made of steel only, but it is enough to cut through most materials with ease.
It has a handle with an ergonomic design that provides both comfort and control over gripping. Though it has a durable steel frame, it's not treated or nickel-plated so it may be damaged.
Most ergonomic coping saw: Stanley 15-106A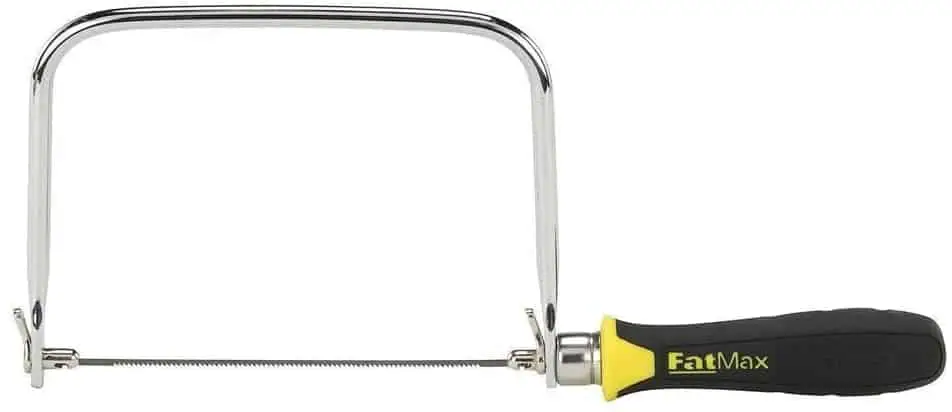 Stanley's 15-106A coping saw has an eye-catching silver coating design. It is not the largest of coping saws, but not the smallest one either. The frame depth is six and a three-quarter inches.
The blade length is about 7 inches. This averagely sized dimension makes it a versatile tool for different carpentry projects.
In addition to the silver-coated steel frame, the handle is made out of plastic with a rubber cushion covering it. The handle also features an ergonomic design.
All of these features of the handle make it comfortable to grip alongside providing a firm grip. On top of that, the cushioning helps to engage with sweaty hands or in humid conditions.
Its blades are made of the highest grade high carbon steel, hardened and tempered to give clean, controllable cutting action and are suitable for dense wood and more rigid materials, like plastic.
The handle not being made out of wood is sometimes an issue for some users.
Best heavy duty coping saw: Smithline SL-400 Professional Grade
This Smithline coping saw is branded as professional-grade, and the build quality doesn't seem to differ from this.
The saw's outlook reveals a small black frame thicker than other coping saws on the market, making it suitable for more heavy-duty work.
The thickness of both the frame and the blade gives the saw a robust nature and makes sure you can apply enough pressure while working without breaking the tool.
At the heart of the frame is steel. Although it is not nickel-plated, the color coating outside will provide better rust resistance than other mediocre ones.
The Blade length is six and 1/2″, and throat depth is four and 3/4″. It comes with four additional blades (2 medium blades, one slight edge, and two extra-fine blades).
It is made from top-quality materials for both professional and home use. The rubberized comfort grip confirms your level of comfort while working.
The striped design at the bottom of the handle prevents the tool from slipping out of sweaty hands or during humid weather. But the handle attachment is not as firm as the rest of the parts.
Coping saw FAQs
Now we have our favorite coping saw handy, let's look at some frequently asked questions about these tools.
How to change coping saw blades
While the blade provided by the manufacturer is often found to be in excellent shape and very sharp, it will not be in that condition forever.
Whether the stock blade is not particularly good, or you want to replace the current blade with the new one, this is how to easily get it done.
Remove the old blade
Hold the frame with one hand and turn the handle counterclockwise with the other. After 3 or 4 complete rotations, the tension should be released from the blade.
Now the blade should be released freely away from the frame.
Some coping saws have a quick-release lever at the two ends of the frame; you may need to unscrew the tightening screw from their first and then use the levers to release the blade from the spot.
Install the new blade
Position the blade's teeth downwards and align them with the two ends of the frame. Hook the pins on the blade into the cut-out at the two ends of the frame.
You may need to apply force and bend the blade a little bit to put it in its place.
After the blade is in its place, turn the handle clockwise to tighten the tension. If your saw has the quick-release lever feature, then you don't have to turn the handle.
Fix the blade in its place using the lever and tighten it using screws.
What do you use a coping saw for?
Although it might seem that a coping saw only has a limited number of uses, in reality, this number is more than you could guess.
We've saved you the burden of collecting information about these uses and prepared a list of important uses of the saw below.
Making coped intersections
This is the primary task for which the coping saw was invented. It can cope or saw the intersections between two twisted intersections or joints.
Other large-sized saws could not come close to cutting anything related to those intersections. That's why the coping saw is used here.
Creating different shapes
Coping saws are used to make small but detailed cuts in wood. As a result, it can produce different shapes in the wooden structure.
The tiny structure makes it possible to accurately produce ovals, rectangles, curves, etc.
Accuracy
A coping saw is used to gain the accuracy of cuts as well. When carpenters cut molds and join them at a 45degree angle, they cannot attain a fine finish in both the molds.
So, they use a coping saw to cut patterns in perfection so they can join easily and accurately with other pieces.
Reaching difficult areas
Carpenters often need to cut the wood where regular-sized and shaped saws cannot physically reach. Even if they could reach the spot, it will be difficult and a struggle for the carpenter to work.
The coping saw yet again comes to the rescue. With its small size, big depth, removable and rotating blade, reaching hard areas is its specialty.
How to use a coping saw safely
Like all other saws, operating a coping saw is risky for beginners. Even trained professionals are prone to making mistakes.
So I will give you an overview of how you can use a coping saw safely.
Tighten the joints
Before you begin cutting anything, make sure all the joints are tightened firmly. For example, you don't want your handle to pop off in the middle of your work.
Also, if the blades are not firmly attached at the two ends, then you won't be able to cut properly.
External cuts
If you are cutting on the outside of a body of wood, you don't have to do anything different from a normal saw. Just like any other regular saw, at first, select the location where you want to cut.
Then, apply a small amount of force downwards and move the saw back and forth. This will create the necessary friction required to cut.
Guided cuts
Drill into the wood to run your blade through the hole. After that, bring the coping saw around the wood and attach the blade like you normally do for any new blade.
Once the blade is firmly attached, it's the simple back and forth movement following any prior marks that will give you your desired cuts.
What's the difference between a fret saw and a coping saw?
Although the coping saw is often used for similar work, the fretsaw is capable of much tighter radii and more delicate work.
Compared with the coping saw it has much shallower blades, which are usually extra-fine, up to 32 teeth per inch (TPI).
Is a coping saw the same as a jeweler's saw?
Fret saws also referred to as jeweler's Saws, are hand saws smaller than coping saws and use shorter, unpinned blades intended for fast turns and maneuverability.
Coping saws are hand saws that are a bit bigger than fret saws.
Does the coping saw cut when you push or pull?
This rigidity allows the blade to travel on the up and downward stroke, but the downstroke is when the blade actually cuts.
Because the fretsaw looks like the coping saw, there is an assumption that this saw cuts the same way as the fret saw – on the pull stroke. Generally, this is incorrect.
Can a coping saw cut hardwood?
A coping saw uses a very thin metal blade stretched on a metal frame to make turning cuts on wood, plastic, or metal depending on the blade selected.
The U-shaped frame has a swiveling spigot (clip) at each end to hold the ends of the blade. A hardwood or plastic handle allows the user to turn the blade during the cut.
How thick can a coping saw cut?
Coping saws are special hand saws that cut very tight curves, usually in thinner stock, like trim molding.
But they'll work in a pinch for outside (from the edge) cuts on reasonably thick stock; say, up to two or even three inches thick.
For more heavy-duty cuts, check out the best 6 table top saws handpicked and reviewed
What is the best saw for cutting curves?
The first tool that comes to mind for cutting curves is a jigsaw, but if the curve is gradual, try a circular saw like one of these instead. It's surprisingly quick and easy to cut a smooth curve with a circular saw.
What is the main benefit of a bow saw over a coping saw?
With the bow saw that I built, I can put more tension on the blade than my old Stanley coping saw. It makes cuts in thicker wood easier and more accurate.
How do you use a piercing saw?
When you first start using the jeweler's saw, it's important to keep the frame vertical while sawing, to keep in control of what you're cutting.
When you first pierce the metal you want to start at a slight angle and saw downwards to allow the blade to 'bite' the metal, and then continue to saw vertically.
How long are coping saw blades?
The size of the throat—the span between blade and frame—varies from 4 to 6 inches, yet all coping saws use the same 6 3/8– to 6½–inch blades
How to use a coping saw on crown molding?
Choose a basic coping saw with not too many teeth. Many carpenters prefer to cut on the pull stroke (the teeth of the blade facing the handle), while others find it easier to cut on the push stroke (blade teeth facing away from the handle).
Choose the one you are comfortable with. To determine the best angle, practice first with a small, spare piece of molding.
Why is a coping saw good for cutting curves?
As a coping saw blade is removable by partially unscrewing the handle, the blade can also be rotated with respect to the frame to make sharper curves in the material being cut.
Can a coping saw cut metal?
A coping saw with the right blade can be used to cut through aluminum tubing and other metal objects. But it's not a suitable tool for this task.
Can a coping saw cut plastic?
Yes, it can. Helical teeth blades are most suited for this task.
Conclusion
Now that you know almost everything about a coping saw, you would realize that there isn't a "best" coping saw in general.
All of these are best in certain areas that may or may not fall under your requirements. But nobody can now mislead you into buying something that you don't need or something that doesn't fulfill your demands.
If you don't need something large for a big chunk of wood or so, then the Robert Larson 540-2000 could be a good choice for you. It is small, compact, and has a good grip. But the small and compact design hasn't stopped it from being robust.
For larger projects, you can go for the Stanley 15-106A. It isn't the biggest on the market, but it is more than enough to cut and bring into shape any big chunk of wood.
Read next: Must have DIY tools | Every toolbox should contain this top 10
I'm Joost Nusselder, the founder of Tools Doctor, content marketer, and dad. I love trying out new equipment, and together with my team I've been creating in-depth blog articles since 2016 to help loyal readers with tools & crafting tips.