I love creating free content full of tips for my readers, you. I don't accept paid sponsorships, my opinion is my own, but if you find my recommendations helpful and you end up buying something you like through one of my links, I could earn a commission at no extra cost to you.
Learn more
Demolition hammer symbolizes heavy-duty construction work. You'll see some guy heavily shaking whilst using one of these in all construction scenes of Hollywood. Breaking rock-solid concretes like butter is what you'd expect from the one you buy.
With hopes of giving your expectations a reality, we've listed down and talked about all the aspects of a demolition hammer. This way you can get yourself the most efficient one in your budget. We've indeed reviewed the best demolition hammers in the market.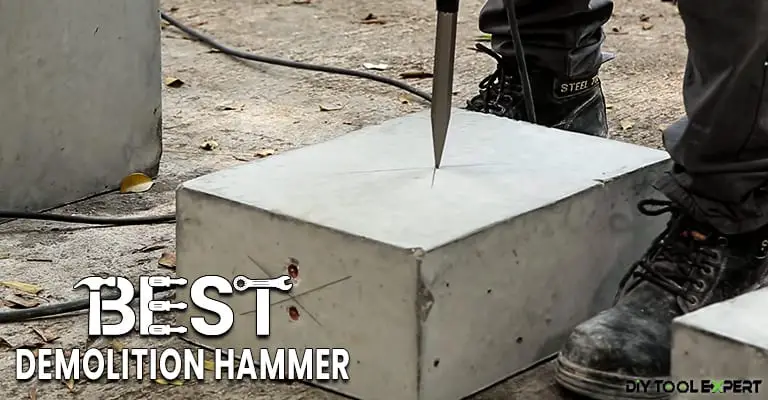 Demolition Hammer buying guide
Isn't it a hardship to ensure the proper impact on the solid plane that you want to be demolished? Among the innumerable features a demolition hammer may have, you need to take care of a few things we reduced down. Let's get to know them before ending up in a mess!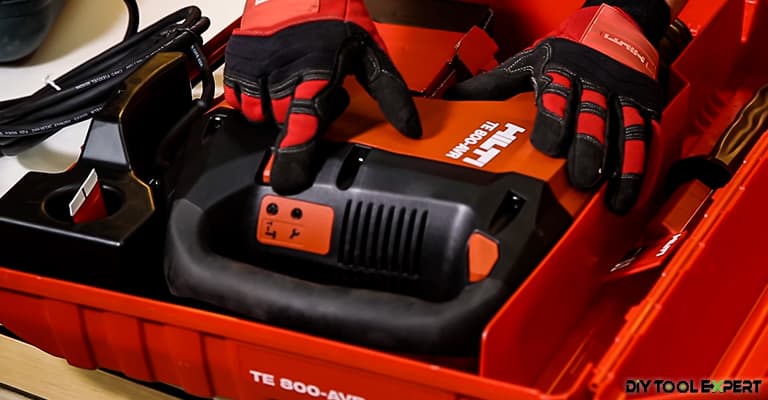 Power Rating
If you're up to big projects that require giant machinery, you can't be using a tiny demo hammer in that kind of project. On the other hand, you may need moderate power to be able to break down a workpiece that requires less effort to be demolished.
Then why waste more energy? You can obviously have smaller demolition hammers for that kind of project.
That's why you need to check whether the demo hammer you opt to buy can match your requirements. But here arises a question, how will you know that?
Higher power-hungry tools are for heavy-duty usages. For projects like road demolition, ones with a 3600W rating are preferable. Whereas, the lower ratings indicate that this machine is for lighter purpose, like those 1500W to 2000W watt ones.
Motor power is directly connected with the power ratings. If the motor delivers more power and enables you to do more 'n more projects that are quite big in size, obviously the motor will be power-hungry. It will require more amps to be able to run and operate.
Durability
Considering how expensive some types of power tools are, it's quite necessary that you consider how reliable and durable they are before you make a purchase after-sales services are something you should keep in mind.
Some of the key things you should make sure of before you go forward with the purchase include the build quality, make sure your device has a strong insulated exterior with a preferred metal body. So, you'll be keeping your device safe from the bumps and drops that might come by at a construction zone.
There's also the design, make sure the device features enough air vents, these vents are essential to disperse off the heat from the machine, a lack of these may cause the machine to heat up and breakdown, and in some cases cause a fire.
Another element to be in consideration of are safety regulations, make sure the device is certified by safety commissions such as the ETL, these will act as an assurance that all regulations are being met and the device includes all the necessary safety needs.
Handle
Of course, this thing helps you to get overall control of the project. When the motor begins to roar and runs at the top speed, surely, it's the handle that helps you to apply proper force in the correct direction. That's why this part of the machine requires extra care.
On a demolition hammer, generally, two distinct handles are available. They work together but in different positions along the body of the tool. That's why they add more ergonomic benefits and also ensure more safety. But, have you ever thought why two handles? Okay, let's dive deeper!
In most demolition hammer, a D-shaped handle is available. Manufacturers positioned them on the top of the tool and that's the reason they work as the primary handle. You can grip that handle and can steer it in the right direction.
The proper design of that part is an important role player in the precise application. Besides, it must be covered with soft materials to act as an anti-vibration material.
When it comes down to the materials that cover the handle, leather handles are most preferable. But, it is way too expensive than other materials.
That's why most of the manufacturers use nylon or vinyl handles to cut the cost. You should check the data provided by the manufacturer to get additional information about the handle.
What about another handle onboard? Yeah, the rotary handle. Usually, the manufacturer installs them on a demo hammer to ensure complete control over the tool. You can simply adjust the position of this handle according to your needs and thus able to ensure proper impact.
However, these two handles are installed to ensure grip even in extreme vibration.
Portability
Demolition hammers are a portable tool that can be carried away. You can pack it in a solid casing that often comes with the tool. That solid casing protects the tool from any risk regarding the weather or dust. Besides, it also enables you to carry it just wherever you want it!
But the primary obstacle is the 'weight'. Surely, you need a lighter one to carry it with you. That's why you need to check the overall weight of that demo hammer you're willing to pick up. If all the requirements of yours are fulfilled, then check the weight of the tool.
Accessories
You need some accessories that can be attached to the tool to accomplish the task properly. But isn't it a burden for you to buy those accessories all by yourself? That's why you need a complete set of accessories altogether. To save you from that hassle manufacturers to provide you those accessories.
Okay, what type of accessories do you need? Usually, you get one or two chisels along with the demo hammer.
Typically, one is flat and another is hex chisel. Besides, you get safety instruments, such as goggles, masks, earbuds, etc. with the demo hammer. Some may include power cables 'n chords to facilitate your task. Do check the list of accessories offered by the manufacturer for your benefit.
Safety
First, you need to ensure your safety. For that, you have to consider some features of the tool itself. You know demo hammer runs with the help of electricity. That's why you need to ensure that your demo hammer has the ability to protect itself from overcurrent.
You need to check whether that tool is equipped with a proper fuse system or not. You'll find this info from the specs provided by the manufacturer.
Vibrations
The vibrations made from these devices can be extremely strong, continuous use of power tools as such are a common cause of diseases such as carpal tunnel syndrome and Raynaud's disease, to prevent your workmen or yourself from facing such problems, it's wise that you put in a few extra dollars in for a vibration dampeners.
Vibration dampers are device or padding attached to or installed into the machine, in the form of internal shock absorbers or dampening handles. These may seem like very small additions; however, they can cut down the tremors felt by vibrations by a fairly large amount, giving users a smoother and comfortable experience.
Price
A factor like can be very subjective, considering it'll mainly be dependent on how much your budget is. Moreover, considering when you're buying power tools, you can expect them to be a bit expensive, make sure you consider the purchase as an investment, this will make evaluating the price easier.
However, if your main aim is to find a device that serves the purpose of mainly removing tiles, then you're better off considering one of the cheaper options, as that'll give you a better return for your money.
Brands
If you want a premium experience, you need to go with a renowned brand. You should go with a brand that is trusted over the years by many of the users of its better performance.
Besides, if you're a fan of any particular brand and that manufacturer can meet your needs, you should go with the deal. But do remember, sometimes you need to spend more money to get the best one.
Best Demolition Hammers reviewed
Now it's high time to reveal our list! Our experts have researched in the market for a long period and rigorously tested them in our facilities. That's why they've jotted down different aspects of these tools and have gone deeper. Hopefully, these reviews will help you to select the perfect one for you.
XtremepowerUS Electric Demolition Jackhammer
Why pick this?
When it comes down to this XtremepowerUS demolition hammer, we can say that it features solid construction with the simplest design. With a slick design, it can offer more ergonomics and thus better performance than most others.
The tool is available in six different variants ranging up from 2200 Watt to 2800 Watt with several modifications. But you get all these features at an affordable price!
This tool has a sturdy motor to facilitate the demolition purpose. 2200 Watt, the power rating of 5 out of 6 variants, produces enough force to chip or trench whether it be brick, block or concrete as like as a chipping hammer.
The motor can be turned on in 120 V and in 60 Hz. This rating is perfect for the USA and so you can use it in any power socket inside your home or industry.
It delivers 1900 impacts per minute on no load. It means you can get enough force to facilitate your purpose.
Moreover, you get a whole set of accessories to further facilitate the task. The set includes bull point chisel, flat chisel along with scrapping chisel, asphalt chisel and also scoop shovel.
A blow mold case is there to protect the whole setup. You can use them also use the case for storing the machine inside the hard casing. This ensures the longevity of the device. Besides, the overall performance of the tool will boast up for all of these premium features.
Glitches
People have complained about the overheating issues of the tool. Mainly, the reason is for the poor extension cord.
Key Features
Great Handling with 360 Degree foregrip
Comes with a variety of accessories
Large 2200watt motor
Runs at 1800 impacts per minute
A complete tool that can perform a variety of jobs
F2C Electric Demolition Jack Hammer
Why pick this?
If you are up to heavy-duty demolishing work and encounter bricks, concrete slabs or granite tiles, this tool can be a good consideration.
With its powerful strokes and easy-to-handle design, it can give you a suitable experience that can definitely lead you towards a delightful experience.
This tool comes in a complete set. You get a bull point chisel and a flat chisel with gloves and numerous other necessary accessories with this toll. Besides, all of these come in a hard casing.
It means you get more organized attire to work. The longevity of the tool is also be ensured as the blow mold case is here to protect the overall arrangement from any external dismay.
The mighty tool runs in 110 V and in 60 Hz frequency. This power input is suitable for using it inside your home or in the industry.
Wherever you need this, it ensures 1900 impacts in a minute in no load. Yeah, quite a strong feature for a regular demolition hammer.
You will be mesmerized by seeing the D-handle of the demo hammer. The overall ergonomics and hence the handling of the tool have been increased due to this slick design.
For further pleasure, an auxiliary handle that can be rotated 360 degrees is added. Altogether, the possibly most suitable output in ease is confirmed.
Glitches
Like the previous one, it tends to get overheated. That's why you can't work with this tool longer and hence the duty cycle is not so prolonged.
Key feature
2200Watt electric motor
Complete metal casing
Pair of chisels included
1900 impacts per minute at 40lbs
Comes with Blowmod case for movability
Mophorn Electric Demolition Hammer
Why pick this?
If you need extreme force to break a solid surface, this demo hammer can delight you with all of the power output it provides.
You can get the tool in two different variants. One is 2200 watt and the other is 3600 Watt. The bigger the number, the mightier the tool is!
With the impact frequency of 1800r per min, the jackhammer is sturdy enough to crush any solid surface that requires more power to deal with. Besides, this mighty hammer is equipped with strong core technology. This technology can meet the need of most power-hungry operations.
If you are thinking about how you will control this mighty monster, then there's good news for you. This machine has two different handles for comfortable handling. It starts with a 360 degrees swivel handle.
You get the opportunity to control the breakdown of any surface from any direction. On top of that, the rear handle is there to absorb vibration and thus to reduce operator fatigue.
When it comes to the chisels it offers, you will be pleased to learn about it. This tool comes to a 16-inch flat chisel and another 16-inch bull point chisel. Surely, bigger in size than most others offer.
If the chisels are clamped properly, it ensures zero risks to get dropped. Durability is ensured with a slick but sturdy enough construction. Besides, the lid comes with the vent is there to dissipate heat rapidly.
Glitches
You may face difficulties to understand the instructions and user manual provided by the manufacturer regarding the tool.
Key Features
D shape rubber handle for extra comfort
Solid Frame, with insulated interiors
Comes with dual 16″ chisels
3600watt electric motor
Includes safety and repair accessories
Makita HM1307CB Demolition Hammer
Why pick this?
Whenever Makita launches a tool, premium quality is ensured! They are a pro in making tools. This time they have come up with a mighty demolition hammer. Why this tool is in our shortlist? Simply because of its amazing features, starts from the power it delivers to the power it needs to run.
You simply get two different variants for the tool. One comes with a dust extraction bundle and the other comes without it. For the first variant, you need not be worried about dust.
The dust extractor comes with a tool that ensures a clean workplace by engulfing dust and debris inside. The remarkable fact is Makita's signature dust extraction technology is introduced here to ensure the best performance.
The mighty 14-amp motor of the demo hammer ensures a powerful impact needed for demolishing the solid objects.
The impact can be up to 25 lbs. On top of that, electronic speed control is on board to ensure additional power to maintain a constant speed. It detects the required power all by itself and acts thus. That's why you get an extraordinary power output.
To maintain the flow of work, you need proper control over the tool. In this case, you get that by the ergonomic design of the tool. With the help of the D-handle and a rotary handle in front, you can move the tool in every direction you want. A comfortable grip on the handle pushes the limit further.
Glitches
One of the very few downsides of this product is you need to pay more bucks to get the tool for you. Besides, if you are not familiar with heavy machinery, you're probably going to have a hard time.
Bosch 11321EVS Demolition Hammer
Why pick this?
Can a list of best tools be completed without a Bosch product? They manufacture the most necessary tools in the finest way possible. No difference in this time.
They have secured their place in our shortlist with the excellent features of their demo hammer.
Need to do some heavy crashing? Bosch demo hammer is here to ensure a heavy impact enough to crush solid concrete into dust.
The 14-amp motor is fitted to power the tool. This motor can deliver up to 1890 BPM, enough for tough jobs. But for different intensity, this tool offers 6 distinct speeds with an intensity control switch.
This demo hammer fits SDS-max bits. These bits can deliver better performance with their perfect size 'n shape and are available in most of the hardware stores.
These heavy-duty bits ensures better performance with their ability to endure high-torque and also ensures a longer life. That's how you get proper value for your money.
The handles are worth mentioning. This power tool ensures proper handling and proper control over it with its specially crafted handles. Soft padding on the handles ensures extra comfort and also max control.
The Vario-Lock which can be adjusted in 12 different positions is responsible for ensuring better grooving. With its relatively small size and perfect shape, it can be a good companion for your high-end projects.
Glitches
Despite all these brilliant features, it has some laggings. Some users have complained that the switch setup is not perfectly positioned and that's why unexpected turn-off is inevitable. Besides, you need to have a good budget to have the tool into your arsenal.
Key Features
13amp motor producing 2900bpm at 6.1ft/lbs.
Variable speed motor
Lightweight device
360-degree swivel handle for better control
Vario lock positioning system
TR Industrial TR89105 Demolition Hammer
Why pick this?
Want a companion in small size but with high efficiency? This tool can meet your needs as it's is quite lighter but effective for moderate demolish purposes. No matter if you are a noob or pro, you can use it to serve your purpose!
The 11-amp motor is equipped to render power. If you're up to a demolition work requires not so huge force to be done, then this motor can do its best. Besides, this tool saves some bucks for you as it saves electricity. If you don't need much power, then why pay much?
You get a massive impact rate! To be precise, it's 1800 per minute. Yeah, this rate is enough to serve. Though it has a motor that consumes less electricity, it provides as much power as others do.
This machine runs in 120 V, 60 Hz standard for the USA and so Home or industrial application is guaranteed.
Last but not least, the complete package includes not only the jackhammer but also the necessary accessories! The set contains two different sized chisel, one hex-pointed and another flat, two wrenches, an oil container along with safety instruments (safety goggles and a suede working gloves). Good value for money, right?
Glitches
Of course, the major flaw is it isn't that suitable for heavy projects. It just can't deliver enough power for heavy-duty demolition purposes.
Key Features
1240Watt Electric motor
Hex pointed and flat chisel included
Durable exterior to handle bumps and blows
360-degree swivel handle
ETL certified machinery
VonHaus Rotary Hammer Drill
| | |
| --- | --- |
| Weight | 9 Pounds |
| Dimensions | 16.7 x 13.6 x 5.5 |
| Voltage | 120 Volts |
| Speed | 850 RPM |
| Power Source | Corded Electric |
Don't let the small size fool you. VonHous's rotary hammer drill is a beast when it comes to getting the job done. The machine comes with a high performing 1200watt motor; this 10amps doesn't let anything stand in its way, so anything from a small DIY job to a huge contract job is no match here.
While this review is mainly focusing on tile removal, the rotary hammer from VonHaus has many more tricks up its sleeves; the machine features a 3-function switch. So, you're not limited to hammering; you can also use this machine as a drill or can have both working at the same time.
Not only does the device feature a powerful motor, but it also features a variable speed switch, this allows you to vary the impact per minute from a 0 to a whopping 3900. Meaning, the device not only supports intricate DIY jobs, but it can also handle what the bigger machines can't.
The low weight of the device does make it easier to control. However, paired with a 360-degree swivel handle, you get the ultimate control and comfort that can be achieved from a rotary hammer.
Furthermore, the device comes with an array of accessories, from SDS drill bits, SDS chuck, and a flat and point chisels. All these for a price that is below $100, and the top-quality functionality, really make the device worth the buck kind of situation.
Key Features
High-performance 1200watt electric motor
360degree swivel handle
SDS bits, chucks and chisels
0-3900 impact frequency
3 function mode
ENEACRO Heavy Duty Rotary Hammer Drill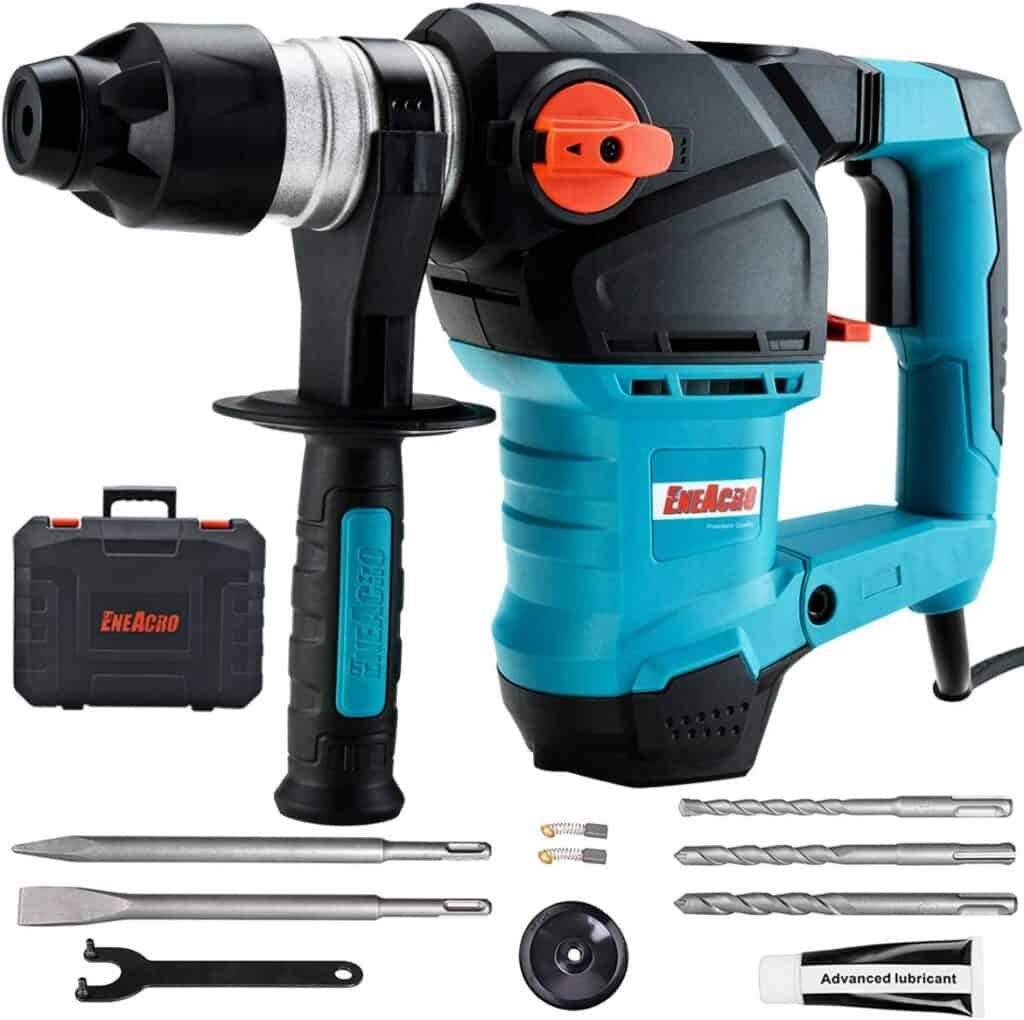 | | |
| --- | --- |
| Weight | 16.44 pounds |
| Dimensions | 15.5 x 10.48 x 4.3 |
| Color | Blue |
| Voltage | 120 Volts |
| Power Source | Corded Electric |
Designed solely for performance, the Eneacro rotary hammer drill has been quite successful in the market, mainly for the power motors this machine hosts. The specifications for this machine include a 13amp motor, producing about 5.6ft/lbs. of impact energy.
Packed and prepped to handle almost any construction situation, the motor is carefully designed to allow for rapid heat dispersion, with an anti-dust bottom structure, improving durability. The rugged build of the machine further helps enhance the machine's general life span.
Not only does the machine flawlessly complete a tile removal job, but it also comes with a few additional modes, from drilling, chiseling, hammering and hammer drill, these functions can be easily altered using the switch provides, making it great on spot switches.
Not only are you buying a machine that can do it all, but you're also getting one that is easily the most powerful, even though it makes a smaller impact the high impact per minute rating of 4200BPM makes up for it. So, you shouldn't really face a problem conducting a job on most forms of materials.
For better control, the device is installed with a 360-swivel handle; this paired with the lightweight makes it easier to use and control. Moreover, the vibration dampening technology included, absorbs most of the vibrations, leaving almost no chance for the machine to injure the worker.
Key Features
Vibration Dampening Technology
13amps electric motor
0-4200 Bpm producing an impact of 5.6ft/lbs
360-degree swivel handle
4 function modes
FAQ
Here are some frequently asked questions and their answers.
What is the difference between a rotary hammer and a demolition hammer?
Rotary hammers also feature a hammer-only mode for chiseling applications. Many of these tools can be found with SDS-plus and SDS-max bit holding systems. … A demolition hammer can't drill because there is no rotation of the bit, which allows the tool to focus on breaking, chipping, and chiseling concrete.
Which hammer is used to break concrete?
Rotary Hammer
Big rotary hammers are known as either SDS-max or spline-drive hammers, depending on whether they accept SDS-max or spline-shank bits. The versatility of the rotary hammer allows it to demolish concrete with a hammer only method, or to deliver rotary-hammer action for boring holes in concrete.
Can a rotary hammer break concrete?
Rotary hammers use an electro-pneumatic hammer piston to generate high impact energy, which allows it to drill or demolish concrete.
What is a Kango hammer?
Fortunately over the years the development in tool technology has come on leaps and bounds and the traditional pneumatic drill commonly seen breaking up tarmac on a road or sometimes heard waking you up at an ungodly hour in the morning is now available on a smaller scale; enter the Kango Hammer (or heavy duty breaker, …
What does Jack Hammer mean?
1 : a pneumatically operated percussive rock-drilling tool usually held in the hands. 2 : a device in which a tool (such as a chisel for breaking up pavements) is driven percussively by compressed air.
What is a demolition hammer?
A jackhammer (pneumatic drill or demolition hammer in British English) is a pneumatic or electro-mechanical tool that combines a hammer directly with a chisel. … Larger jackhammers, such as rig-mounted hammers used on construction machinery, are usually hydraulically powered.
Can you use a hammer drill as a jackhammer?
Another big advantage is that most rotary hammers have three settings: drill mode, hammer drill or just hammer, so they can act as a mini jackhammer.
How do I choose a hammer drill?
Before selecting a hammer for rotary drilling, determine the diameter of the holes you need to drill. The diameter of the holes will dictate the type of hammer and the bit holding system you select. Every tool has its own optimal drilling range.
How many joules does it take to break concrete?
27 joules
At 27 joules, it can be used for breaking light (thin) concrete, crumbling rocks as well as some brick work. 15kg Jackhammer: This jackhammer is the most common choice for contractors. The little bit of extra weight comes with increased joules at 33.8.
What is chipping hammer in welding?
The chipping hammer is used for the removal of slag after arc welding. The hammer is of robust construction and well balanced. When working on stainless steel, a chipping hammer made of stainless steel must always be used.
What does Rotary Hammer size mean?
The difference sizes like the 1 9/16″, 1 3/4″ that means the maximum diameter you can drill into concrete with that specific hammer. The RH540M is rated for a max diameter hole of 1 9/16″ into concrete.
How do I choose a rotary hammer drill?
Before selecting the best rotary hammer for drilling into concrete and/or masonry, determine the diameter of the holes you need to drill. The diameter of the holes will dictate the type of rotary hammer and the bit/tool interface system you will need to select. Every tool has its own optimal drilling range.
Q: How can I get the best performance from my demo hammer?
Ans: You need to equip your demo hammer with proper accessories (preferably, provided by the manufacturer) and maintain the quality of the demo hammer by routine maintenance. That's how you can get the best performance.
Q: How can I maintain my demolition hammer?
Ans: At first, you need to ensure that no dust is clogged inside your demo hammer. That's why you need to clean it each time after you use it. Besides, some demo hammer tends to get more heated during use.
You need to give them some rest after a short period during the operation. That's how you can ensure longer life of your tool.
Q; What type of engine oil should be used?
Ans: For the smoother running of the device, the company allocates oil caps on the device's body; these should help grease up the inner piston of the device, thus allowing for better functionality. Most devices use 40W grade of oil for their jackhammers; these should provide the perfect lubrication required to run the piston most efficiently.
Q: What Chisel Bit is required to remove tiles?
Ans: Most machines come along with two kinds of bit, a bull point chisel and a flat chisel, these can be used to breakdown tiles, however, if you're considering removing the tile cleanly, you'll want to consider the flex chisel bit.
Q: What kind of safety equipment should be used?
Ans: While using power tools its essential that you have safety gear on you at all times, although these come included in the box with some equipment, they tend to be of cheap quality so make sure to purchase your own.
Things that are mandatory to have on while using such big machines include hard hats, eye protection, safety boots, gloves, ear protection, and protective clothing.
Q: Are the attachments common for all devices?
Ans: Most devices use a 1-1/8″ drive to fit into the chuck of the machine; these usually apply for a large number of devices. However, larger company's such as Bosch, Makita, DeWalt produce their own chisels so these won't fit in other regular chisels.
Q: How are electric ones different than pneumatic jackhammers?
Ans: Pneumatic jackhammers use the force of compressed air to run the impact hammer, whereas the electrical hammers involve the use of electricity to turn the motor, which in turn caused the jackhammer to run.
Also read – best hammer tacker
Final Words
So far you have seen many of the exotic products in the market. We have, thereby, chosen some of the products according to their performance and price range.
This may lead to a step closer to the best demolition hammer. But the products we have listed are worth mentioning. That's why the choice is always yours!
If you need the premium experience, regardless of money, you can go with Bosch 11321EVS Demolition Hammer. But if you're up to lighter demolition work, TR Industrial TR89105 Demolition Hammer will be a good choice.
However, Mophorn Electric Demolition Hammer is there for empowering you in heavy-duty demolition.
I'm Joost Nusselder, the founder of Tools Doctor, content marketer, and dad. I love trying out new equipment, and together with my team I've been creating in-depth blog articles since 2016 to help loyal readers with tools & crafting tips.