I love creating free content full of tips for my readers, you. I don't accept paid sponsorships, my opinion is my own, but if you find my recommendations helpful and you end up buying something you like through one of my links, I could earn a commission at no extra cost to you.
Learn more
If you have tried a number of handsaws but are not getting that perfect touch of neat finishing to your workpiece, then a dovetail saw is highly recommended to you.
Though they're known primarily for their use in making dovetail joints on furniture, the best dovetail saw is useful for a variety of tasks.
It is the most commonly purchased backsaw since it is used so much in cutting dovetail joints.
No matter if you're a new woodworker or experienced, to create high-quality furniture or other wooden objects from your own home or shop, a dovetail saw can be an excellent tool to add to your stockpile.
The dovetail saw is really handy on both soft and hardwoods.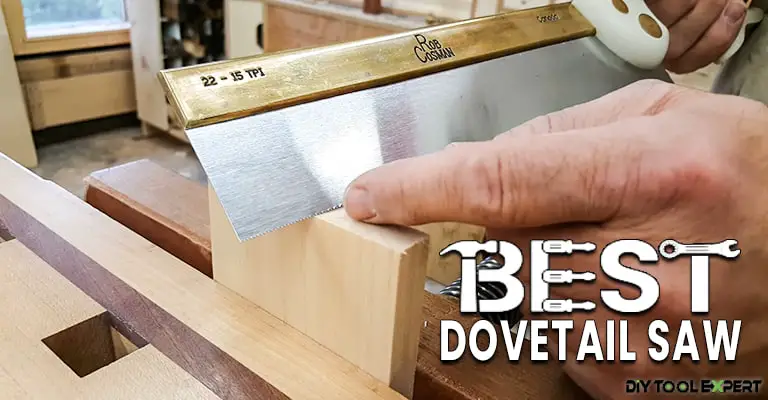 The accuracy and precision you'll achieve with this saw coupled with a decent dovetail marker are almost perfect.
It has a rip tooth configuration to cut with the grain but also works well at cutting across the grain on small cuts.
If you're doing a lot of heavier dovetail work, you can't beat this Crown 188 saw which features a full wooden handle, something not a lot of dovetail saws have these days. And it's not that expensive.
While not the best for small detail work, you'll be glad you at least got one saw with a full handle.
There are a few more options though. Let's look at your top choices real quick, then I'll get into them in more detail:
Dovetail Saw Buying Guide
Before buying a dovetail saw, there may be a thousand questions that arise you could ask yourself but there's no need to drive yourself crazy.
By concentrating on a few main points, choosing the best dovetail saw isn't as complex as you think. Several factors play into your purchase – here are a few things to keep in mind while shopping around for a dovetail saw.
Price:
Dovetail saws come at different prices but in general, they are not very expensive. Still, a good-quality dovetail saw will cost you a decent chunk of cash.
Remember that, when determining your budget and selecting a tool, don't go for a product that is not durable.
Performance:
Getting a saw which is easy to start a cut with its fine teeth is a key determinant of this.
Keep in mind that if you are cutting through hardwood, whether your aim is easy to start cuts or faster cuts overall, be sure to make analyses before you purchase one.
The blade:
The blade of a saw helps you achieve any cut you might want, from dovetail cuts to tenon cuts, to wood joinery, to precision cuts.
So, it is a major part of the saw. You should look for durable blades that won't get blunt easily or won't cost too much to replace.
Handle size and shape:
Before buying a saw, carefully check the handle or handle material. If you want to buy a saw online, read the descriptions carefully.
Because if your handle comes out of bad quality, then it will hamper your work.
Best Dovetail Saws reviewed
There is a lot of tool sales that take place online, and you can get confused about what to choose.
When shopping online, it is hard to figure out if you're getting a good deal or not because some of them estimate what their tools are capable of to drive more sales.
Here is a list of some of the best dovetail saw so that you can pick the tool that's right for you once you know what to look for.
Overall best dovetail saw: Crown 188 Full Handle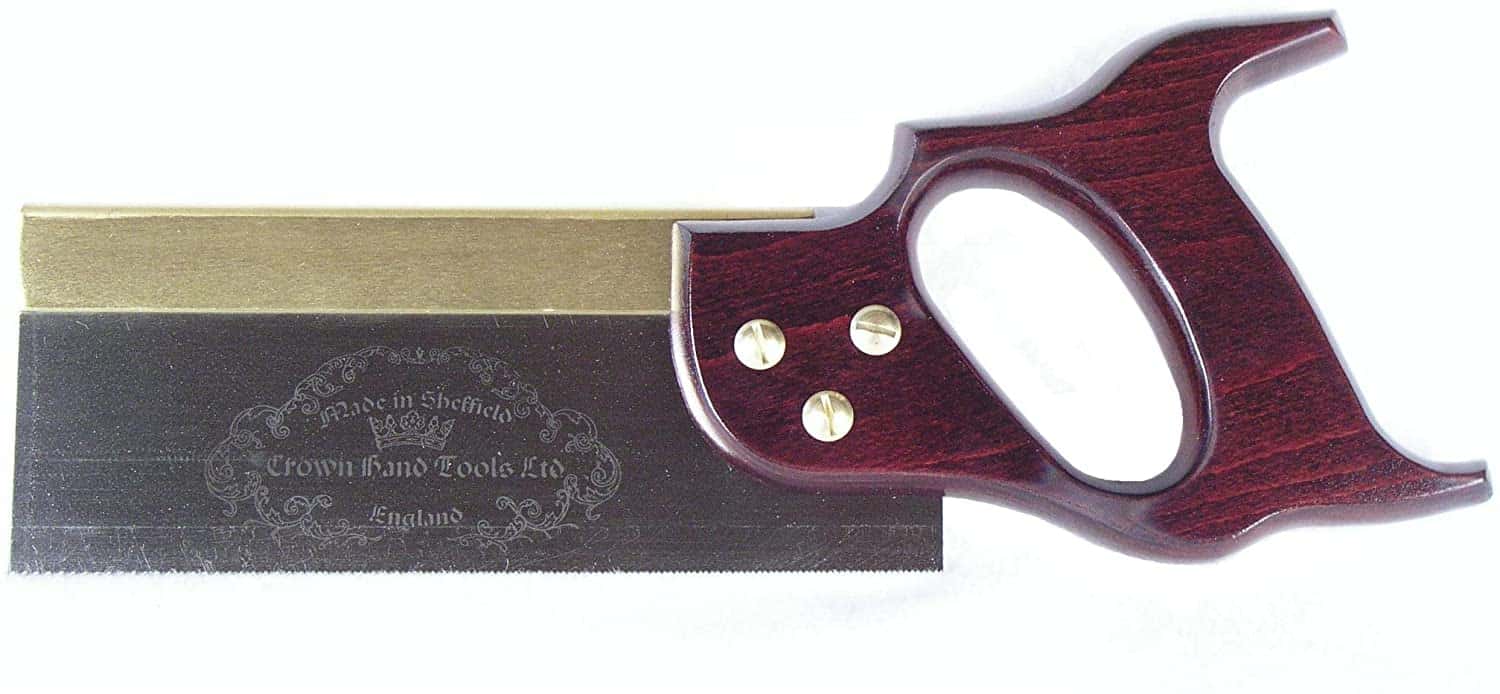 Crown is a great British-made dovetail saw. Like other British saws, it's a pull saw, which means it cuts materials by pulling. It is also manufactured of top-quality British steel, which makes the cuts from this saw very sharp.
This saw provides a whole new cutting experience to all woodworkers, whether for a beginner or a professional. It is a versatile tool to carry out a wide range of woodworking activities.
The blade coming with this saw is very long-lasting as a result of the rigid and strong spine.
The blade of this saw is super sharp and cutting through hardwood is easy. The blade of this tool does not rust quickly and so you do not have to change it often, which makes great value for your money.
Here's a video on the Crown line of handsaws:
If you do need to change it, the blade is very cheap. Thus, it makes more sense to replace it rather than sharpen it.
The height of each tooth is double, and the material is too weak to work with when it needs to work on harder grains and the teeth are not much forgiving when it comes to human error.
The teeth are easily bent and sheer right off the blade. The handle is made of poor-quality wood and it doesn't really conform to your hand. It also doesn't come with a blade protector.
But the handle is top-notch quality material and you'll be glad you have a full handle dovetail saw in your tool chest.
Check prices and availability here
Best cheap budget dovetail saw: Japanese Mini Dozuki Panel Saw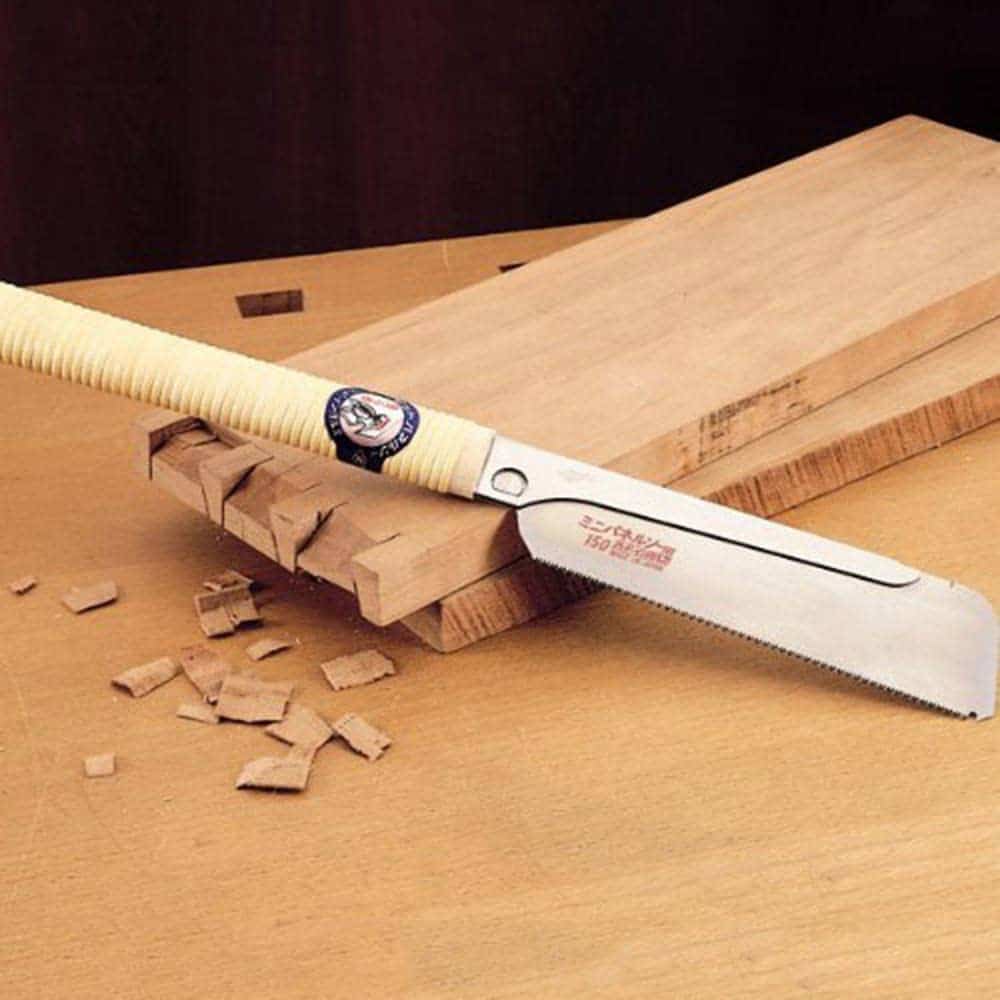 The Japanese Mini Dozuki Panel Saw is very much recommended for woodworking activities if you are new as a user of Japanese saw.
The saw is small in length, but you can effectively use it for scoring and cutting veneer or panels.
This saw has a blade which cuts with precision. The teeth of the blade are very sharp and cut very fast with thin kerf. The blade is rigid and very good for making dovetail cuts.
This saw works well even on hardwoods such as maple.
This tool is recommended because of the lack of noise of whirring blades or jigs. That's why it is very efficient for silent woodworking along with its great performance.
This Japanese mini saw helps you to get the exact amount of wood removal per cut.
The handle keeps the cuts straight and the grip of the handle is very good for both beginners and professionals.
This little saw is a crosscut saw that will rip thin softwoods such as pine. The saw leaves nice smooth crosscut in hardwoods but it is slow.
You can use a dust mask (here are top choices) to protect yourself from the fine dust.
Best dovetail saw for beginners: Dozuki "Z" Saw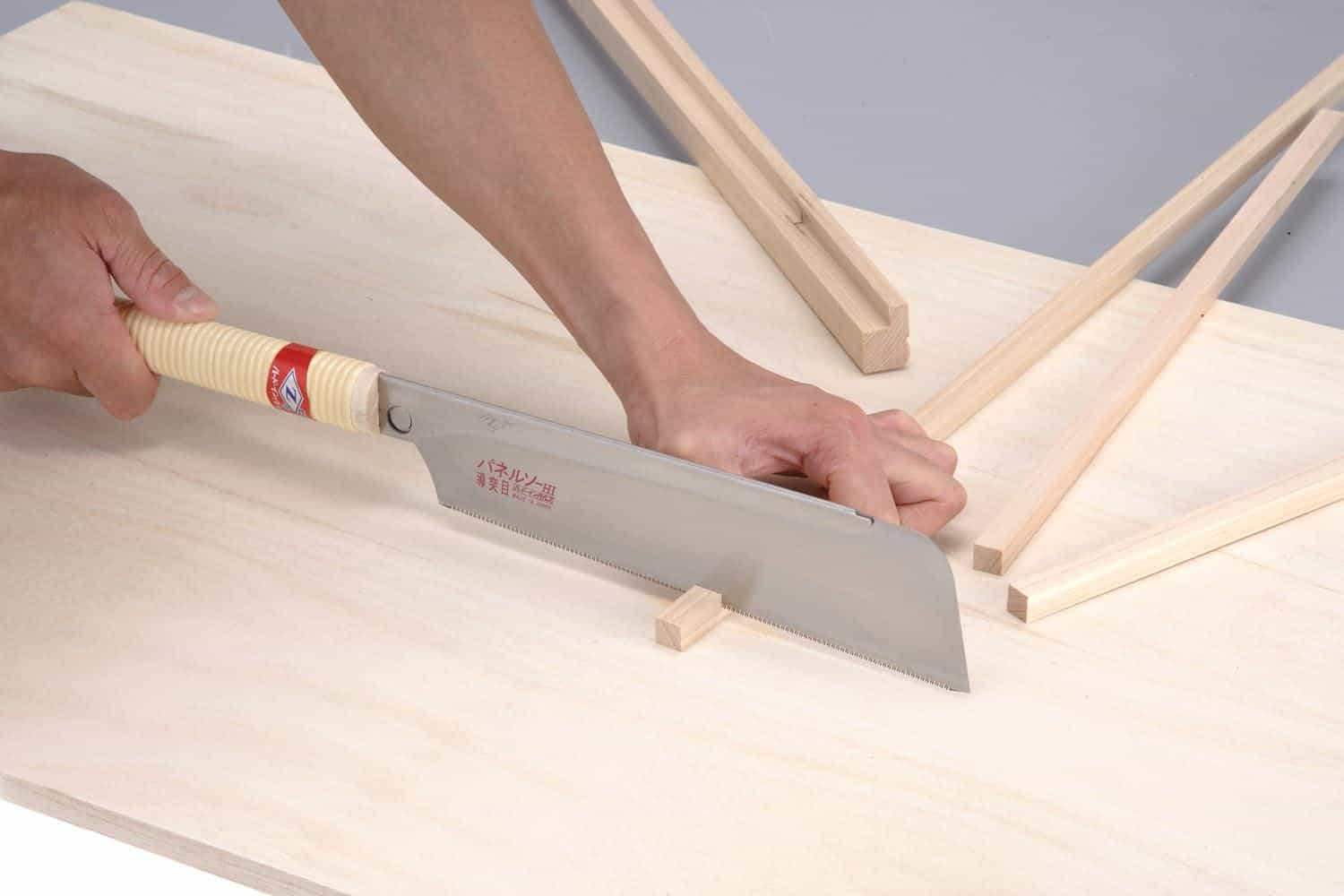 The Z-saw from Dozuki is one of the top-selling saws in Japan due to its cutting ability and blade durability.
It is a highly recommended saw which comes with a rigid blade back which reduces some of the complaints about extremely thin Japanese style saws.
The rigidity to the blade keeps it from flexing while you saw. You can use it by giving a little more pressure without worrying about bending or otherwise damaging the blade.
The durability of the blade is because of its tensioned high-carbon steel.
You can make longer, clean and precise crosscuts with ease cuts because of the design of the spine. The handle comes with it is very easy to grip and can easily be replaced if it gets worn out because it is easily removable.
This saw is highly durable and efficient for tight-fitting and precision joinery of wood.
The handle is made of cheap plastic material compared to a similar size wooden or metal handle.
The teeth cannot go all the way to the end of the saw, and sometimes come completely off while working with relative softwoods like Pine, so it's a good thing that you can change out the blades quickly.
Best double-edged dovetail saw: Ryoba 9-1/2inch

Ryoba Double Edge Razor Saw from Gyokucho can be your choice for the best dovetail saw.
This is the traditional Japanese dovetail saw and the modern variation of this pull-stroke does it all with less effort than a traditional western style saw.
This saw has impulse-hardened teeth for extended wear. It is not like other dovetail saws; this one has a thick and long blade that provides accurate cuts with much less effort.
This blade is two-sided, giving you the option to use one side for ripping and one for cross-cutting. This feature gives you a lot of control over the final product.
So, you only need one saw for all general woodworking tasks.
As it is a Japanese-style pull saw, it cuts when you pull back instead of when you push forward.
This process generally requires less force to use than an equivalent Western-style saw to cut accurately a wide variety of joints.
It also comes with a long handle that allows you to use two hands for an extra degree of control, or to add a bit more power when you need it.
You may have found some teeth broke off not long after started using this saw but If you can also have the option to replace blades.
Another drawback of this saw is it doesn't come with any English-language instructions. But, as it is a saw, you probably know how it works already.
Best dovetail saw for tenons: SUIZAN Japanese Hand Saw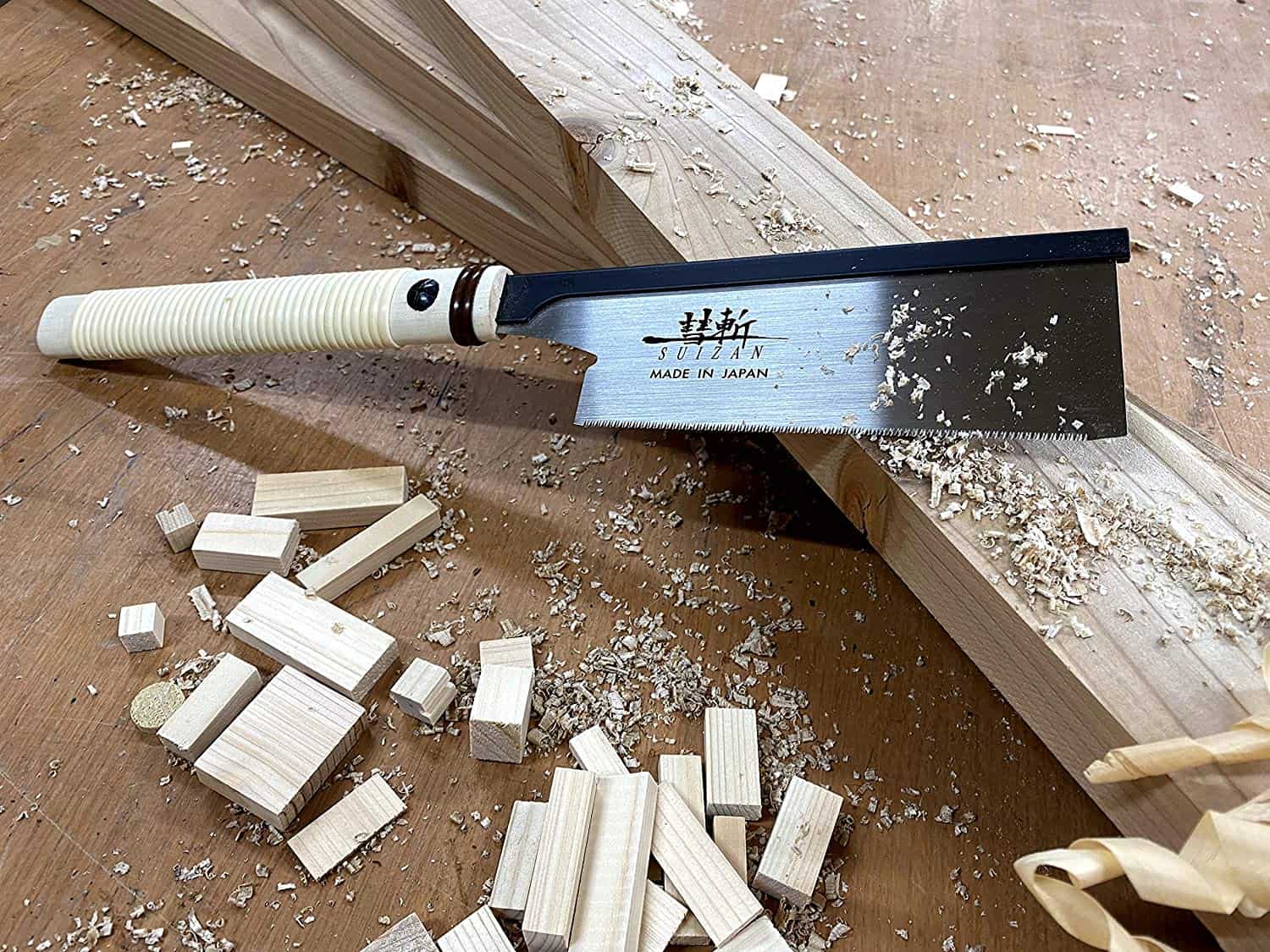 SUIZAN Japanese Hand Saw Dozuki Dovetail Pull Saw for woodworking activities is a Japanese style 'pull saw'. Japanese saws usually cut materials via pulling and so they are called "pull saws".
Push saws are lighter in weight, require less power, and the resulting edge is cleaner than pull saws.
This saw consists of top-quality Japanese steel, which makes cuts to be sharp. The blades are easy to interchange and remove. You can easily find blades in the online store or any local market.
If you are a master or a beginner in using saws, it provides you with brand new experience from using traditional western-style saws.
It enables you to make more verified woodworking products and thus diverse your woodworking life!
The handle of this saw is made of a plastic which feels kind of cheap, even as it keeps the overall weight down compared to a similarly sized wooden or metal handle.
The teeth of the blade are not so strong sometimes come completely off while working with relatively soft woods like Pine.
You may not keep this model out of first place, but it can still be a good buy if you want to save some money relative to our first pick.
Check prices and availability here
Best dovetail saw for woodworking: Suizan 9 1/2 inch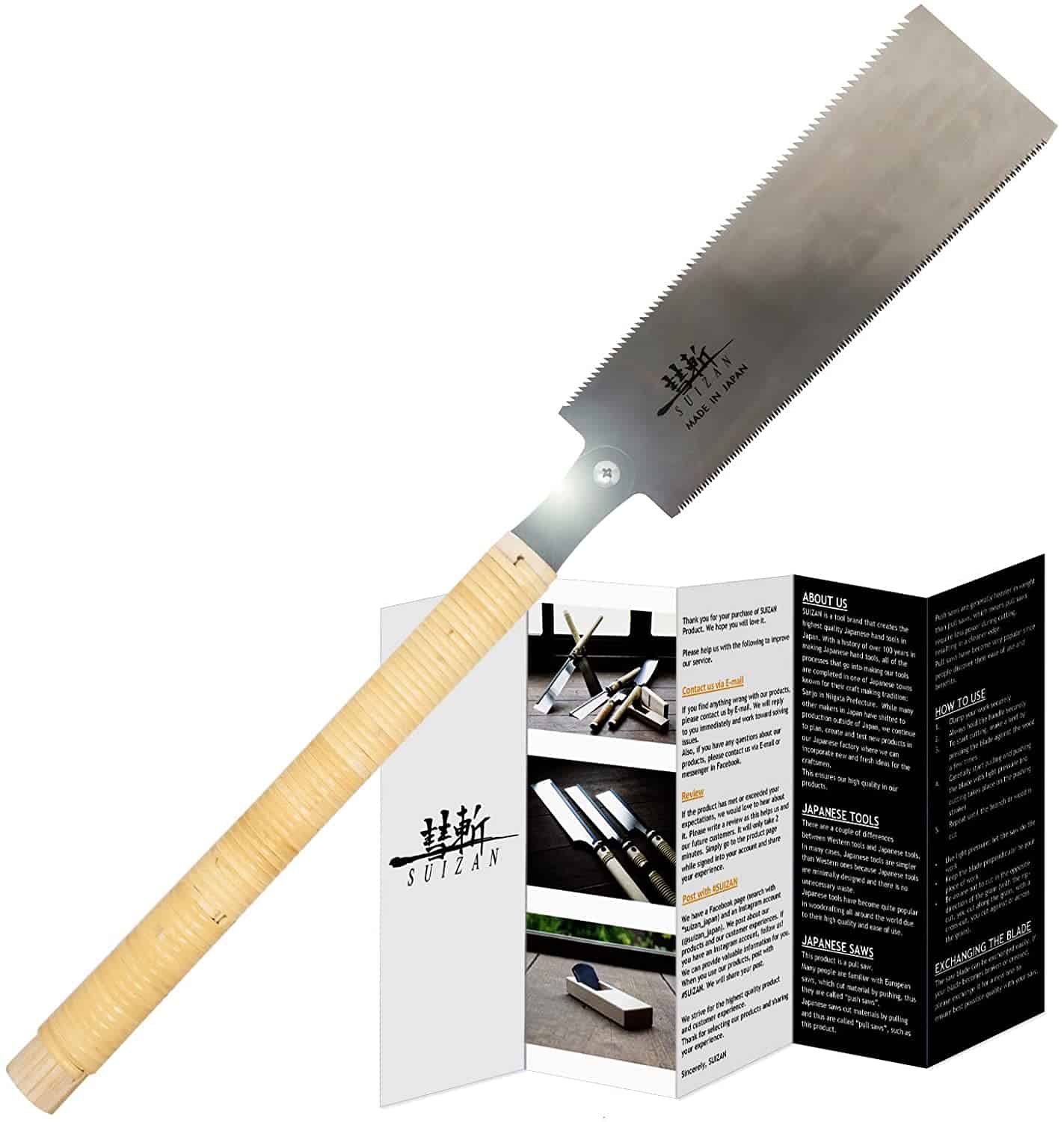 SUIZAN, a Japanese brand, is renowned for the highest quality Japanese hand tools. SUIZAN Japanese Pull Saw Hand Saw is made from high-quality Japanese steel.
It is a pull saw which means it cuts materials via pulling. It also requires less power to cut smoothly and accurately and results that the cutting-section is clean.
The thin, rugged, and sharp blade of this saw features several teeth per inch than comparable saws of its size. It comes with the best handling size for high precision work.
They are easily removable and interchangeable, and they are also available in any local or online market. The resulting edge is cleaner, and it has a very narrow kerf.
This lightweight saw can diverse your woodworking activities into professional work.
This Japanese saw gives you a new experience from using traditional western style saws. It comes with a guarantee of 100% satisfaction.
The blade was so thin that it bends a lot when pushed. The handle is too smooth that hard to hold on and slips sometimes.
Some customers have complained that they arrive with one tooth missing and several other teeth on both sides of the saw cracked and about to fall off though the packaging was completely undamaged.
Best precision dovetail saw: Gyokucho 372 Dotsuki Takebiki RazorSaw

Gyokucho Razor Saw Dotsuki Takebiki Saw is another amazing product from the Gyokucho company which is known for its quality, and its hard-coated blade.
Your cabinet and furniture work can easily be done effectively with this saw.
These Gyokucho Dozuki Saws are known as the finest cutting replaceable-blade saws made. The blades are very thin and are very efficient at making sharp, precise cuts with its teeth set.
They have a hard spline of metal which is attached to the top edge and it helps to keep the saw from straight during use.
The blades are hard coated to reduce corrosion, which increases the durability of the tool. The handle of this saw is covered with rattan for a firm grip.
This tool provides you with the finest miter, tenon and crosscuts.
The impulse-hardened teeth ensure extended durability and they are great for cutting hard and softwoods. They give a glass-smooth finish on all hardwoods.
You will find the replacement blade in any local or online market, but it is quite a price. Some customers have complained that the blade of the saw sometimes came bent.
Best small dovetail saw: IRWIN Tools Detail Saw

IRWIN Tools Dovetail Pull Saw is the dovetail saw for interior trim work and detailed work around windows.
It is the first Western dovetail saw and a pull saw like the other entries, which means it maintains the ease of use that you get with a pull saw.
The blade is very flexible on this pull saw and does great for flush cuts on dowels. It has induction-hardened teeth on the blade.
This pull saw comes with a polymer handle which gives a comfortable, stable grip, even during long sessions. This plastic handle, which is reasonable given the price point.
This saw comes with a confusing blade release button. This button is confusing because you can't buy replacement blades for this model from IRWIN, that's why you have to replace the entire knife when the blade wears out, which seems like a waste.
There is no need to have a release button if there's no reason to remove to the blade.
This saw is better for crosscuts than for rips, which is also a weakness. Overall, this model is not a good option if you are going to use it for a long time.
It is best if you're only going to use it for a project or two or want something you can use and then toss.
What is a dovetail saw?
A dovetail saw is a small backsaw with a thin blade, fine teeth, and straight handle used for accurate woodwork. It is named so because it's most commonly used for making dovetail joints.
A dovetail saw is very similar to tenon saws, except that they tend to have a thinner blade with more teeth per inch.
A dovetail saw is used for joint-making, particularly dovetail joints, where two pieces of woods must fit together precisely especially hard and softwoods.
It is used for applications that require small, very precise cuts or when an extremely neat finish is required.
Dovetail Saw vs Tenon Saw
If you look at the options available in tenon and dovetail saws, you may find that they look alike in the list or display case.
But if you look closely at the joinery that each tool is designed to create, the exact differences in each saw begin to make more sense.
A tenon saw can be used to make a dovetail joint and vice versa, but as they are two individual saws, both of them have specific features designed to make their particular task much easier.
It is designed to shape the cheeks and shoulders of a tenon joint on the end of a piece of wood.
It is said that the dovetail saw is the tenon saw's little brother.
Although their appearance looks similar, dovetail saws have comparatively thinner blades with more teeth per inch, so they do not remove as much material at one time compared to a tenon saw.
It is meant that you can make small, fine and delicate cuts required for a dovetail joint, and because it takes time to cut, you have more control over each stroke.
How to Use a Dovetail Saw
Before you begin
Dovetail saws can cut on both the push and pull stroke. If the saw cuts on the push stroke only, you have to apply pressure to the saw when pushing it through the material.
If you use pull saw, then you have to apply force to pull the saw. But, if you have to apply a lot of force when pulling the saw as well, it won't cut any quicker and you will simply tire yourself out.
Starting your cut
Once your material is in place and you have to mark out the area you want to saw. Some people use their thumb by placing along the line they want to cut, resting the blade against their thumbnail.
This helps to control the saw, but great caution must be taken when doing so.
Place the blade against material
First, hold the saw parallel to the work surface and place the blade lightly on the surface.
Pull the saw towards you
Then, pull the saw towards you by applying very little downward force, in one long and slow stroke.
Use the force but not too much
As you start to cut, the sawing process will become easier. But you need to work slowly at first and make gentle strokes with the saw to ensure you stay on course.
Frequently Asked Questions
Here are some frequently asked questions and their answers.
What Is the Best Dovetail Saw?
If you're looking for a tool that can take your woodworking to the next level, then the Suizan Dovetail Handsaw is a good option. It is designed as a pull saw, so the teeth are structured to create a precise cut when you retract the saw.
What Is the Difference Between a Tenon Saw and Dovetail Saw?
A well-sharpened well-set dovetail saw is used as much for other cutting alongside its larger cousin the tenon saw, which also is not a dedicated use saw either. Most tenon saws are sharpened for aggressive rip cut, which is exactly what you need for cutting the cheeks of tenons.
What Is the Best Tenon Saw?
Top 5 Rated Tenon Saws
| | | |
| --- | --- | --- |
| Rank | Name | Rating |
| 1 | Irwin 10503534 Jack Hardpoint Tenon Saw 12 inch | 4.8 |
| 2 | Draper Redline 80213 250 mm Soft Grip Hard Point Tenon Saw | 4.8 |
| 3 | Spear & Jackson B9812 12-inch Predator Tenon Saw | 4.7 |
| 4 | Spear & Jackson 9550B 12-inch Traditional Brass Back Tenon saw | 4.6 |
What Do You Use a Dovetail Saw For?
Dovetail saws are used for applications that require small, very precise cuts or when an extremely neat finish is required. They are typically used for joint-making, particularly dovetail joints, where two pieces of wood must fit together precisely.
How Many Teeth Does a Dovetail Saw Have?
Dovetail saw – a small backsaw used to cut dovetails. These saws will usually have a higher number of teeth per inch (around 15 – 20 T.P.I.) with teeth sharpened in a rip tooth pattern and minimal set to leave a narrow kerf.
This fine rip tooth pattern also works well in cross cutting operations.
What Is a Gentleman's Saw?
The "Gentleman's Saw" is a western type back saw. It was generally of a smaller size and features a simple turned handle. It cuts on the push stroke and has a brass spine to keep the blade straight and stiff. … The Gent's saw also excels at dovetail cutting for the same reasons.
Why Do Saws Have a Brass Back?
Back Saws get their name from the steel or brass back (labelled on the diagram). The heavy back gives the saw its weight which is useful when sawing wood. The weight of the saw along with the forward sawing motion allows the saw to cut through woods relatively easily.
Why Does a Tenon Saw Have a Brass Back?
The brass or steel back stiffens the blade and provides sufficient weight to cut. This increases the accuracy of the cut. The tenon saw is used to cut small pieces of wood and most joints.
What Is the Meaning of Dovetail Saw?
a small backsaw with thin blade, fine teeth, and straight handle used for accurate work (as in cabinetmaking and patternmaking)
Why Can't You Sharpen a Hardpoint Saw?
Hardened teeth (also called 'hardpoint' teeth)
Some manufacturers harden the entire blade, including the teeth. More commonly, only the teeth are hardened, and will often be blue or black in colour. Because they have been specially hardened, these teeth are too tough to sharpen with a regular file.
Q: How does a dovetail joint work?
Ans: The dovetail joint is generally used to attach the sides of a drawer to the front, by pulling apart its resistance (tensile strength), series of 'pins' cut to extend from the end of one board interconnected with a series of 'tails' cut into the end of another board.
Q: Between pushing saw or pulling saw, which is better?
Ans: It is dependent on personal preference. Some have better control over pulling saw and some have on pushing a saw. So, you have to know what works for you and use that.
Q: How many teeth does a dovetail saw have?
Ans: The Teeth Per Inch of a dovetail ranges usually from 14 to 20
Q: For new users of Japanese saws, which dovetail saw is recommended?
Ans: For a completely new user of Japanese saws, the Japanese Mini Dozuki saw is strongly advised.
Q: What is the advantage of a dovetail saw?
Ans: Dovetail saws have many advantages. But one of the significant advantages of a dovetail saw is that it cuts very rigid joints due to the interlocking option, large gluing area, appealing looks and good resistance against being pulled apart.
Conclusion
As a woodworker, if you want to achieve very neat finishing with accurate cuts, then you should go get a dovetail saw. It is intended to make rip cuts with a narrow kerf and high precision.
There are many Western saws on the market, but Japanese saws are also a popular option these days.
If you are a new Japanese saw user, then the Japanese Mini Dozuki saw is recommend.
The Ryoba 2436515 is the best dovetail saw for you if you want a clean, precise cut, and want a saw that can be had for a reasonable price, too.
The Dozuki Z-saw is a runner-up saw due to its easy-to-change blades and strong design.
SUIZAN Japanese Hand Saw Dozuki Dovetail Pull Saw can be your choice for the best value, including a sturdy blade with a woodpecker tooth and rigid back, all for a great price.
The IRWIN Tools Dovetail is a Western-style model that is reasonable but doesn't have a replaceable blade.
I'm Joost Nusselder, the founder of Tools Doctor, content marketer, and dad. I love trying out new equipment, and together with my team I've been creating in-depth blog articles since 2016 to help loyal readers with tools & crafting tips.