I love creating free content full of tips for my readers, you. I don't accept paid sponsorships, my opinion is my own, but if you find my recommendations helpful and you end up buying something you like through one of my links, I could earn a commission at no extra cost to you.
Learn more
Worried about the finishing of your newly applied drywalls? So many problems after installing the drywall on the walls or ceilings including the excessive dust of the walls.
You have to apply the layer of mud or coating for the final touch. But this can eventually lead to uneven walls or patterns of dust leading to decreasing the beauty of your new walls.
The best drywall sanders can lead you to solve all your problems regarding this. Instead of getting the walls even with a sanding paper every spot by spot, using a sander can save a lot of time and energy.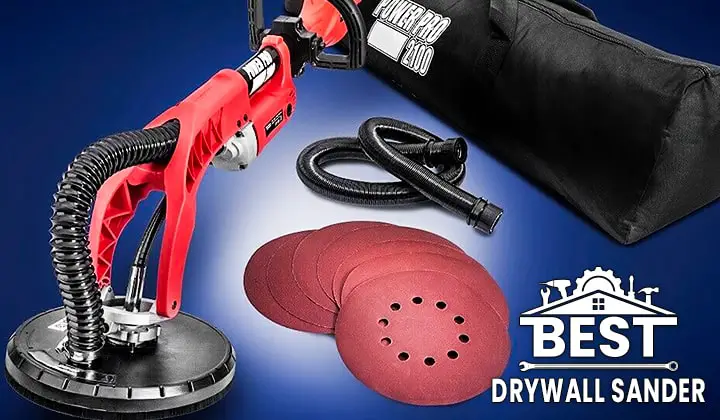 You can reach high places without even moving a finger let alone use a ladder. There are drywall sanders that have building vacuums allowing you to easily suck the dust.
So, we brought to you a detailed buying guide. After reading the reviews there might be a lot of questions in your mind, that's where the FAQ section comes in play. We have also given our side of the verdict on the matter in the conclusion.
What is a Drywall Sander?
Before getting to know about drywall sanders it is impeccable that you get some knowledge about drywalls. Drywalls are something you go past every day around your workspace or home or restaurants. Before the use of drywalls, everyone used to plaster walls. But it is expensive & time-wasting to plaster walls as it takes up a lot of time for drying.
After installing these Drywalls, you have to apply layers of Mud & coatings. Here comes the job of Drywall sanders, as they help to smoothen these walls from any defects or any uneven positions. In this process a lot of dust is produced, so as a result these sanders can come with installed vacuum allowing you to dust clean the area as well.
Vacuuming up the dust is a very hefty job after a long sanding task, so sanders are the solution in this regard. You can even smoothen the higher ceiling or walls as some sanders come with a high reach. You can even finish the corners with professional sanders.
Chosen Products for Best Drywall Sanders
Here we have assembled some of the best drywall sanders for you to consider. They are all organized in such a way that you will find all their specifications with the drawbacks too. So let's jump into them.
WEN 6369 Variable Speed Drywall Sander
Why invest in this?
It's rare to find better things at a reasonable price these days, but the WEN 6369 Drywall Sander is one of them. Wen offers a 5-amp head-mounted engine to its users to achieve maximum torque on the plate. You can easily vary the speed of the tool which ranges from a minimum of 600 and ends up with a maximum of 1500 RPM.
With a lightweight telescopic body of 9 pounds will give you 5 feet reaching range to the walls. The corners of walls can easily be dealt with an 8.5-inch pivoting head swirling in all directions. The set of this sander comprises six pieces of the hook. The loop sandpaper disks, on the other hand, have a variety of from 60 to 240 grits on.
There is also a Vacuum tube that comes with it, reaching max 15-ft for dust removal. The hook & loop-based pad of the sander makes changing sandpaper very easy. If you are new at this job, then the WEN 6369 is perfect too for you to work with. It comes with a two-year warranty.
Drawbacks
This is really not a tool for professional users to work with. It has an issue with a significant amount of Vibrations & wobbling causing hamper to the walls.
Toktoo Drywall Sander with Automatic Vacuum System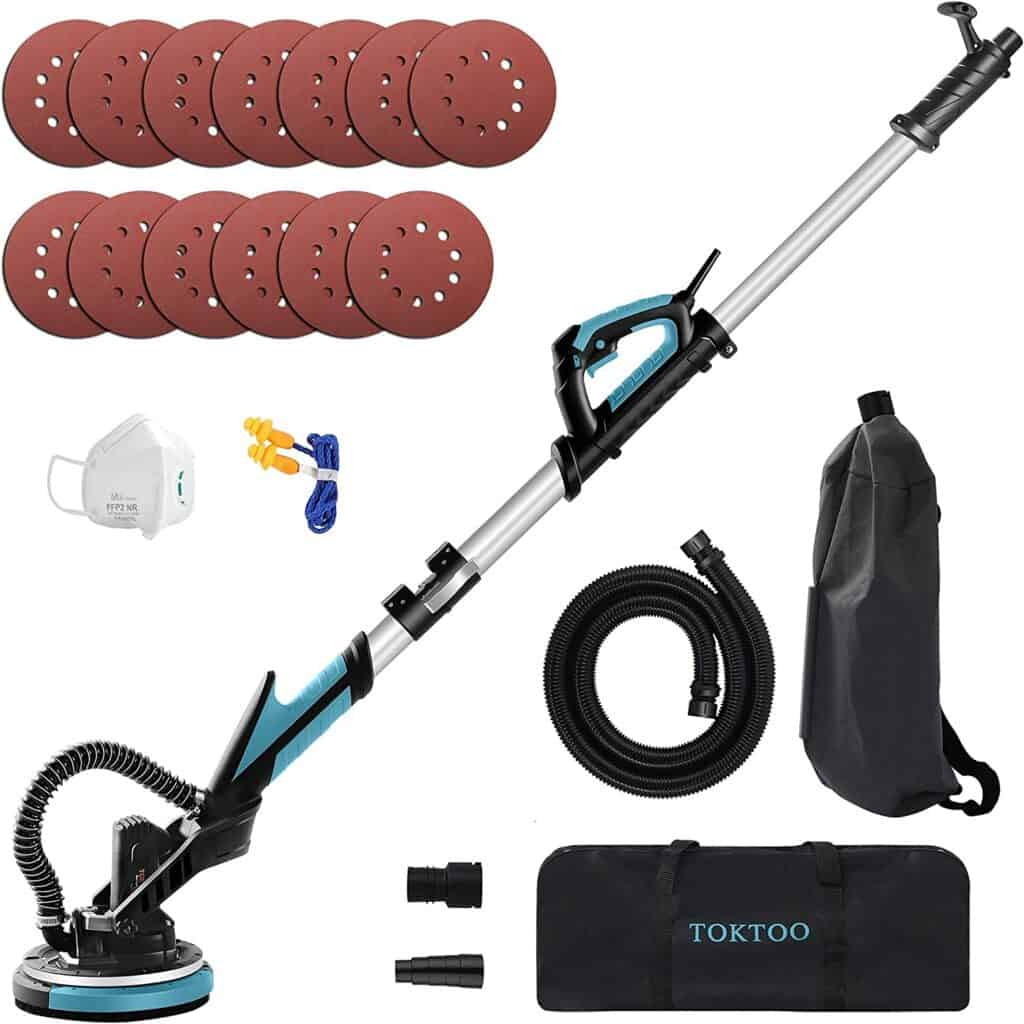 Why invest in this?
Toktoo have committed themselves in delivering the best tools to the mass people all around for the improvement of lives. The TACKFIRE Drywall Sander is nothing less as it provides a 6.7 Amp, 800W powerful motor to do a more superior job than others. The speed varying operation around 500 to 1800 rpm help to achieve their motto to ease the job of sanding ceilings & walls.
It has an automatic vacuum system that can easily absorb most of the dust. The LED lights around the bottom plate allow users to easily work in dark environments. The package includes a 12 piece 9-inch sanding discs of 120 & 320 grit & a dust bag. You can easily attach the discs via hoop & loop fasteners in the head position of the sand.
The 9-inch head of the sander is also adjustable at various angles making it easy for you to reach the corners & giving it a smooth finish. The extendable handle of the sander is 1.6-19m & the power is almost 15ft allowing you to have a wider range of work with. It has a little ball in the bottom plate that reduces friction, helping you get around those tricky corners easily.
Drawbacks
The vacuum of the sander is to not function properly. As a result, the suction power is not satisfying at all. Toktoo should see this as soon as possible.
Excited Work Lightweight Drywall Sander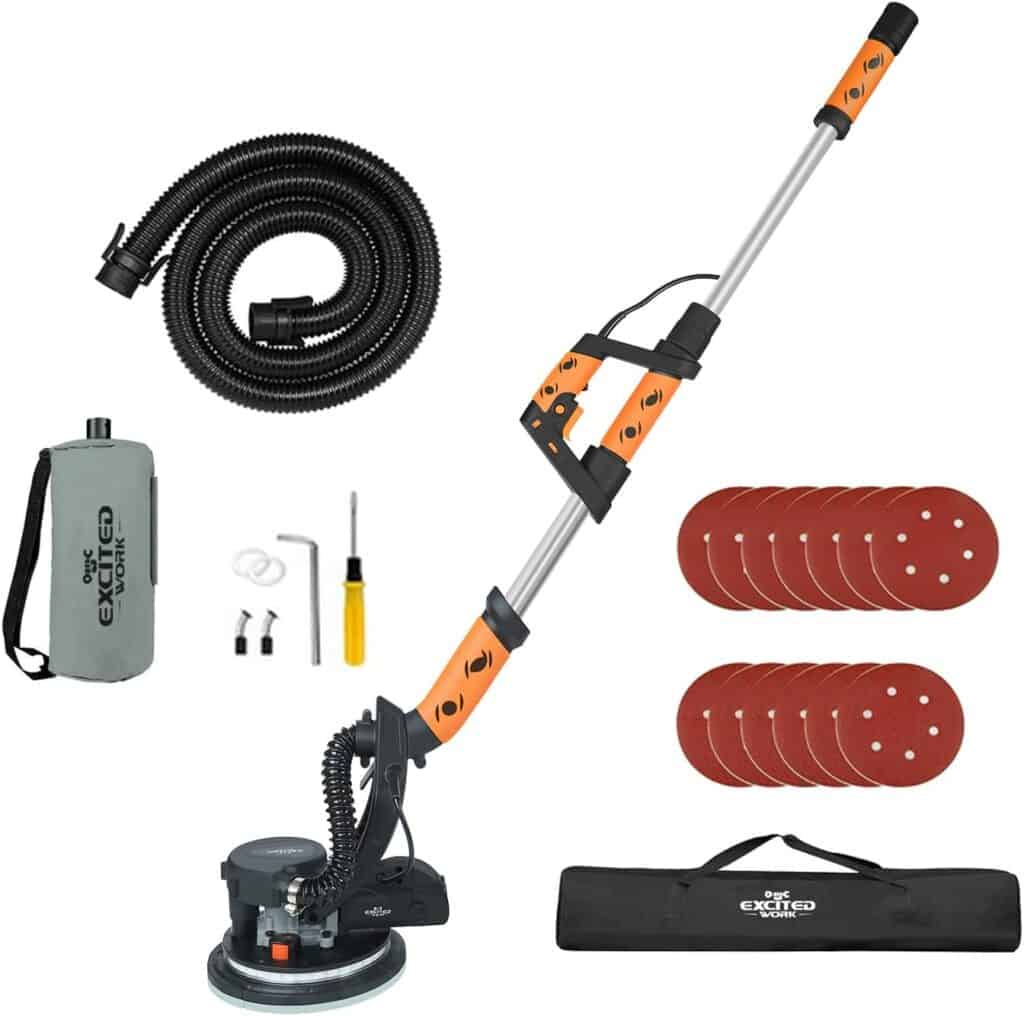 Why invest in this?
ALEKO DP-30002 has one of the best designs for the convenience of all its users.  It is equipped with an 800 W & Voltage 120V powerful motor to give you the full authority in doing the job. You can adjust the speed from 800 rpm to 1700 rpm range to ease the task of adjusting the tool.
The best feature of the sander may be the foldable design it is built with. This design provides all the users with a comfortable way of storing it. The package of the sander includes one instruction bag, dust bag, carbon brush, rubber washers, iron washers, hex key, connectors & a 2-meter collecting pipe. There are also 6 sanding discs of 60 grit, 80 grit, 120 grit, 150 grit, 180 grit, and 240 grit.
The lightweight characteristic of the drywall sander doesn't allow the handers of the users to wear out easily. It also keeps the dust minimal around. There is an LED light on every side that can be adjusted to work in dark environments. It is ideal to use to sand drywalls & ceilings with minimal ease.
Drawbacks
The vacuum is directly in series with the motor. if you slow down the motor, the vacuum loses a lot of suction power.
Festool 571935 Drywall Sander LHS-E 225 EQ PLANEX Easy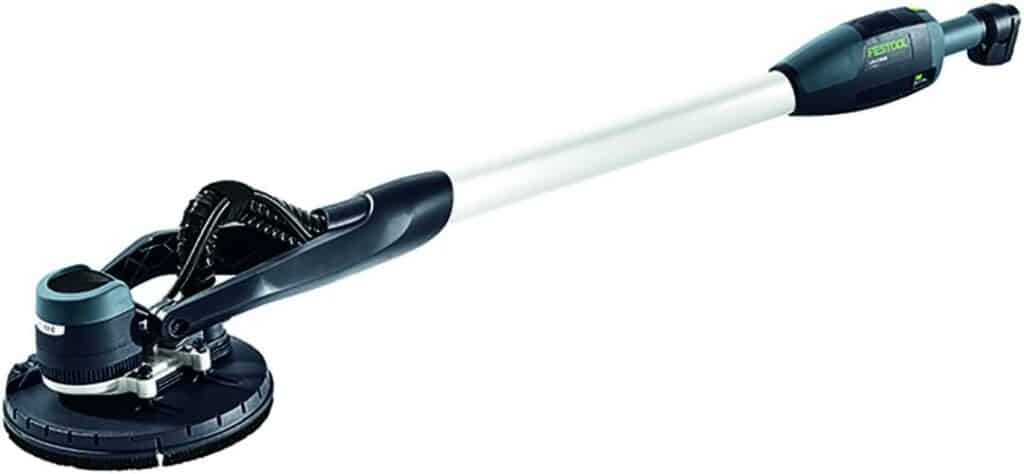 why invest in this?
The new Festool 571935 or more known as PLANEX Sander is well known for its maintenance-free lightweight design. It has a weight of only 8.8lb or 4 kg, as a result, it reduces your arms stress to work a long time without feeling any fatigue. The motor of the PLWNEX has a power consumption of 400 watts.
An integrated dust extraction design allows the sander to make the environment cleaner being attached to a dust extractor. The upper part of the sander is removable, so you can do close jobs on surfaces easily. The EC TEC brushless motor & flexible head joint gives you greater control & movement over the sander.
The sanding pad has a diameter of almost 215mm. You can vary the engine speed in the 400-920 RPM range. The length of the sander power cable is almost 63 inches or 1.60 meters. The combination of lightweight design & mobility of the sander allows you to easily perform your tasks.
Drawbacks
It is a low profile & amateur tool. It has a less capable motor, so you will be able to perform the low key tasks. This is not a professional tool.
Hyde Tools 09165 Dust-Free Drywall Vacuum Hand Sander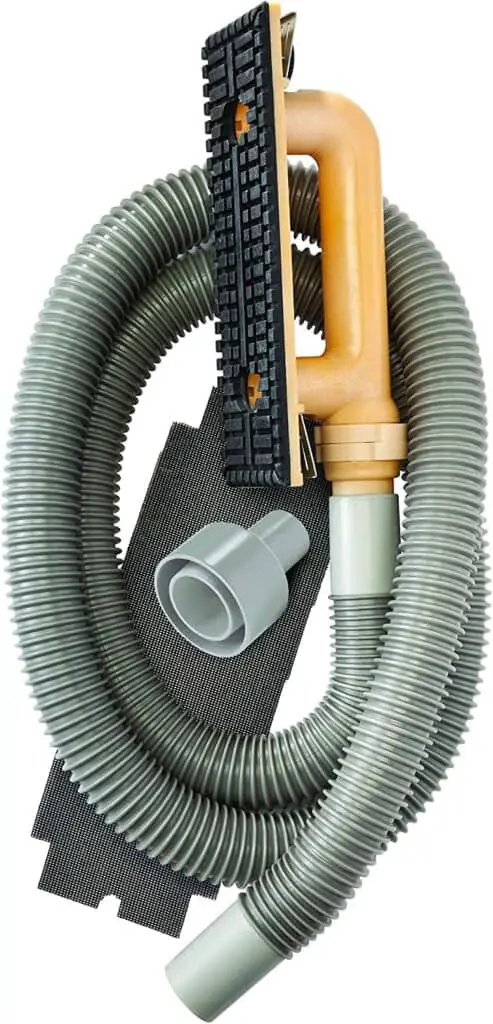 Why invest in this?
Hydra Tools have produced an amazing drywall sander to compete with others in the market. This is a hander sander so you will have to work with it manually without any motors or anything. You can attach it with any wet or dry vacuum so that the sanding doesn't create any mess around the workspace.
It has a unique Easy Clamp system that allows the users to replace the sanding screen very quickly without any hassle. There are a 6 feet long flexible hose & a universal adapter that comes along with this tool. This adapter will fit almost all hose sizes including 1 3/4″, 1 1/2″, 2 1/2″ sizes.
It also has a one-sheet reversible sanding screen that is washable & lasts longer than normal sandpaper.  The dust around is almost nonexistent. This way it protects your furniture, floors, electronic equipment, accessories & the most important thing your lungs from the dust.
Drawbacks
Again you need to know that this is a hand sander, so you are going to get exhausted while sanding. This will also take up a lot of your time too. The hose is also not durable that much.
Things to Consider for Best Drywall Sander
Sanding is easy and we're here to purchase that 'ease'. But to deliver the comfort we have left no stones unturned. We have brought you a complete guideline to purchasing profound sanders. You have to consider some factors before purchasing as there are some types of sanders & every one of them is designed for a specific purpose.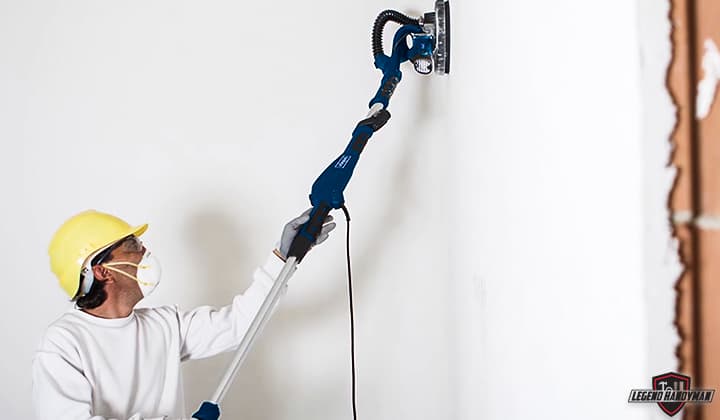 Weight
In our perspective, weight is one of the most important factors while considering purchasing a drywall sander. No matter what type of sander you purchase, you have to ultimately wield the tool on your wall & over your head while doing your ceilings. This means almost an hour of holding a sander.
So ultimately you need enough arm strength to hold the sander for this long. The lighter the tool is, the more you can get done before your arms get sore. But you need to keep in mind that the more professional the tool, the heavier it gets. So, sanding professionally is solely for the strong & fit. Target a weight for your sander that is appropriate for your arms to handle.
Power & Speed
Most drywall sanders come with motors. So, where there are motors, you will have to see the power of the motor & the amount of speed you can adjust. The more speed you can adjust in a motor; the better work you can get done by it as you have to do a lot of types of walls. Most professional drywall sanders come with the feature of adjusting speed in a larger range.
Dust Collecting
The most annoying part of the sanding drywall may well be the dust it produces in the process. It completely destroys your surroundings. It can even go to your lungs causing you a lot of internal problems unless you are wearing a mask. But most sanders these days are equipped with a vacuum & a hose to collect the dust. This hose will collect all the dust that is produced here.
Some sanders don't come with vacuum, but you can attach one externally. The downside of this process is that you have to stop to collect the dust. It is advised to look for a drywall sander that comes with its own built-in vacuum & hose.
Length
There are a lot of lengths while considering the lengths of the drywall sanders. If you are working with high ceilings & walls then have to consider the option of longer arm lengths. But if you are sanding a half wall then this length will not matter to you. But if you are a short person & handling with higher walls then go for longer length drywall sanders.
Sandpaper Types
The sandpaper types of sanders come in a variety of grit options. You have to use different types of sandpapers on different walls & tasks. Most drywall sanders use 120 or 150 grit sandpapers. They do the jobs almost fine. But be sure to not use heavy sandpapers in this regard. Often some of the drywall sanders offer a lot of options in sandpaper grit.
Design & Portability
If you are thinking about the design of your drywall sander, then also think about its portability & storage. There are some sanders that provide a foldable design to meet your storage needs. Some come with their own bag to transfer from one workplace to another. But if you are working in one place then that won't be a problem.
Finishing Edges
You can see that the drywall sander head is round. So, you may have a question of how to finish the edges of the walls. You won't be able to get the sandpaper to those edges, so you will have to use your own hand for doing sanders on the edges.
But some drywall sanders allow users to even finish the corners without any hassles. But you will have to require a steady pair of hands or else you may end up gouging the other wall instead. If you are an amateur, then it is better to use hand sanders in this case.
FAQ
Q: Can I use sanders on wet walls?
Ans: No, you can't use drywall sanders on a wet wall. Because using it on wet walls will not allow you to even the wall or to remove the dust from the wall properly. So always remember to use a drywall sander on drywalls.
Q: Why should I need a Drywall Sander?
Ans: Without a drywall sander, you will have to do the job of sanding your walls & ceiling by hand using sandpapers. You will have to tackle the dust that is produced all around after finishing the wall. This will require a lot of energy & a lot of time. But a Drywall sander will relieve you from all this energy & time-wasting. It will make your overall sanding task so much easier.
Q: Are Drywall sanders usable for plasters?
Ans: Yes, it is possible to use a drywall sander on plasters. But you have to ensure that the walls of the plasters are dried & cleaned well. Then you have to use a sander according to your purpose of use on the walls.
Q: Does motor power matter in collecting dust?
Ans: Well, it really does not matter that much if you are considering the dust collection. But the thing that will matter here is the correct type of filter that is used here. If the filters clog easily then it will hamper the vacuum to collect dust.
Q: What is a Grit?
Ans: There are a number of edges on the sandpaper. These abrasive edges decide the number of sandpaper grit. You have to use the right grit size for different types of materials surface. Grit can be considered as the number of sharp particles per square inch. Usually to smooth surfaces smoothly & get rid of small imperfections 100- 130 grot is used while sanding walls.
Q: Is the drywall sanding dust dangerous?
Ans: Being in contact with these specks of dust can become very harmful as it contains materials such as Mica, Calcium. Gypsum. If these materials get in contact with the respiratory system, then it can cause a lot of infections & even lung failure. So it is important to wear a mask in such sanding tasks.
Conclusion
Every company tries to give its customers 100% satisfaction with all their features in their products. Every product that has been mentioned with detail has been chosen for the specific feature that makes it greater than the other. With so many things to consider it can get difficult with so many options with so many other functionalities.
But if you want to hear our side of the story, then we would have to say that the PORTER-CABLE 7800 covers almost all the aspects you have to consider while purchasing a drywall sander. But you should remember that it is a professional tool. If you are an amateur considering for a sander to do your job, then the WEN 6369 & the Festool 571935 will be perfect for you to do so.
You have to consider all your needs into account if you have to purchase the perfect sanding tool for your drywall. We have made our choices according to our views & perspectives. These may not match your needs. So always prefer your needs first & ask yourself if it is the right one for you. Read through the whole article carefully to get the best drywall sander.
I'm Joost Nusselder, the founder of Tools Doctor, content marketer, and dad. I love trying out new equipment, and together with my team I've been creating in-depth blog articles since 2016 to help loyal readers with tools & crafting tips.