I love creating free content full of tips for my readers, you. I don't accept paid sponsorships, my opinion is my own, but if you find my recommendations helpful and you end up buying something you like through one of my links, I could earn a commission at no extra cost to you.
Learn more
Electric handheld planers are the most commonly used planers today. They are portable and easy to use. Unlike the manual planers that require your own energy and muscle power to function, electric planers have electric motors that power these planers to get the job done.
Electric handheld planers come in different brands, sizes and models. Finding the perfect one for you could be very difficult, take a whole lot of your time and stress you out.
Purchasing just any electric handheld planer might not be the best thing to do either as you might end up wasting your time and money.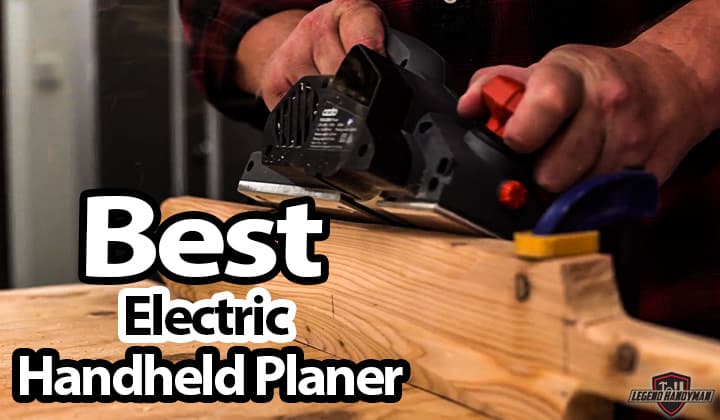 Selecting the best electric handheld planers was quite difficult and time consuming but it was worth the whole test running and energy consumed. So, you wouldn't have to worry about the stress and time it'll take, I already did that for you.
If you really want to trim and shape your projects or woodworks with ease, comfort and little or no fatigue or regrets, sit back and read carefully as I give you reasons why these electric planers are the best electric handheld planers in store today.
Best Electric Handheld Planer
Selecting the perfect electric handheld planers would be possible once you're done reading this article.
Let's begin!
WEN 6530 6-Amp Electric Hand Planer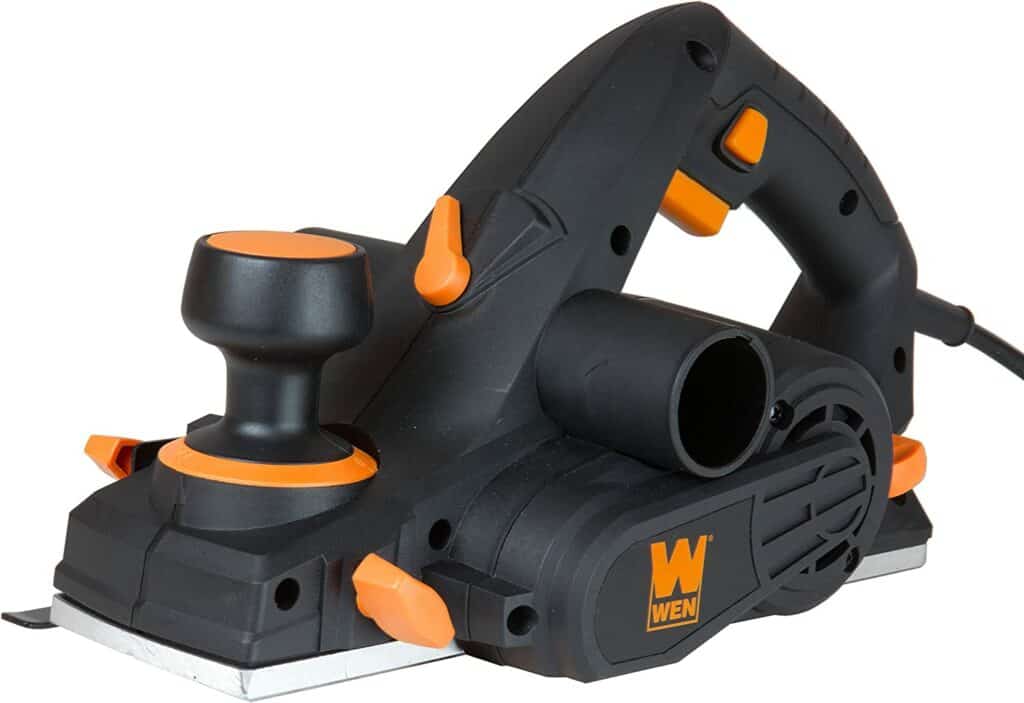 First on our list, we have the WEN 6530 6-Amp Hand Planer. It is no surprise that this planer is our top choice and has so many positive feedbacks from users, it has so many amazing features. This planer comes with a 6-amp motor that ensures that the surface of your woodwork is perfectly smooth, delivering about 34,000 cuts per minute.
This planer possesses an adjustable depth gauge that can help you cut and trim your woodwork faster with a maximum cutting depth of 1/8 inches and help you cut wider with a cutting width of 3 ¼ inches. Cutting and trimming a large project becomes easier when you use the WEN 6530 6-Amp Electric planer.
Talking about accuracy and making accidents less likely to happen, this planer comes with its own protective kickstand, which prevents any accidental cuts by keeping the blade away from your woodwork when you don't want to make any cuts on it.
For a more accurate and straight cut, this planer has its own parallel fence bracket that is very effective when planing door edges and boards making sure each stroke is parallel to the edge of the wood. It also possesses a multi-directional dust chute that makes your workspace neat and makes working more convenient by selecting where all sawdust and chips should go.
It's base plate has a v-shaped groove that makes chamfering easy when working on sharp corners and a rabbeting guide that creates rabbets of about 7/10 of an inch. The WEN 6530 6-Amp Electric handheld planer weighs up to 7 to 8 pounds which makes it easy to carry and work with.
PORTER-CABLE PC60THP 6-Amp Hand Planer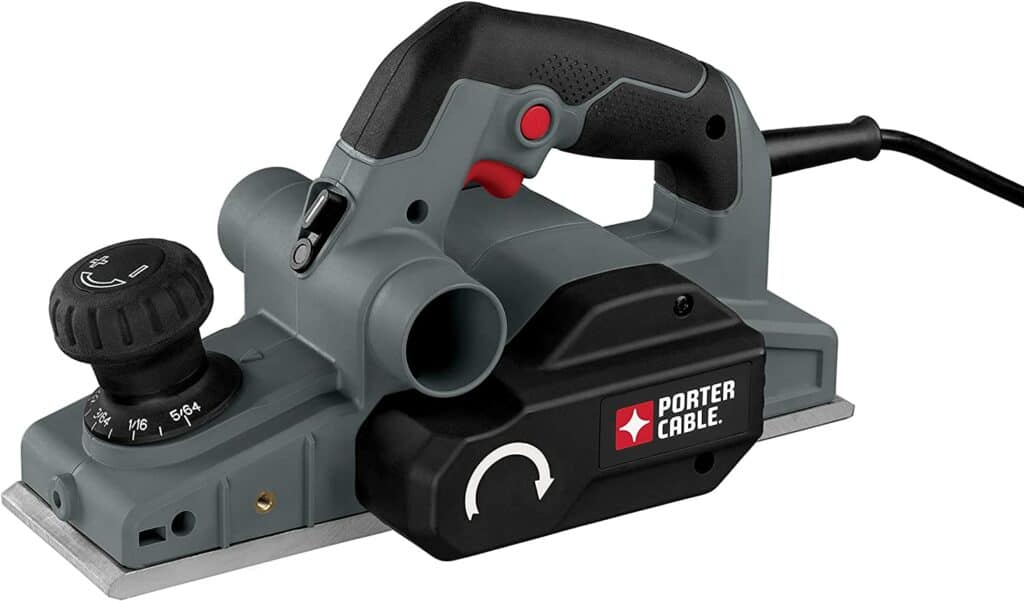 Right here we have another heavy duty 6-Amp electric handheld planner. The PORTER-CABLE PC60THP planer is easy to work with and has so many exceptional features. Let's begin with its 6-amp electric motor that allows you to cut hard materials at a maximum speed of 16,500 RMP for a smoother and faster operation.
This planner is not only a hard worker, it is also aesthetically pleasing with an 11.5 inches cast aluminum shoe that makes it easier to control. It also comes with 3 chamfering grooves that provide a variety of edge chamfering options.
The PORTER-CABLE PC60THP also has an over-mold depth knob with 10 positive steps that give you a variety of cutting depth that best suits your project. It also has a cutting depth of about 5/64 inches to help you shave unwanted wood and give you your desired wood size.
Let's not forget its dual side dust extraction design that makes this planer easier and convenient to use. This dual side extraction design increases work flexibility, helping you pick a more suitable side to dispose of sawdust and chips that make working on your project easier with no visual obstructions. It also keeps your workspace neat and saw dust free.
You don't need to worry about where to keep this planer because it is very portable and handling it wouldn't be so difficult because it is light, weighing about 8 pounds, helping you carry it from one place to another without experiencing extreme fatigue.
Jellas 7.5-Amp Electric Hand Planer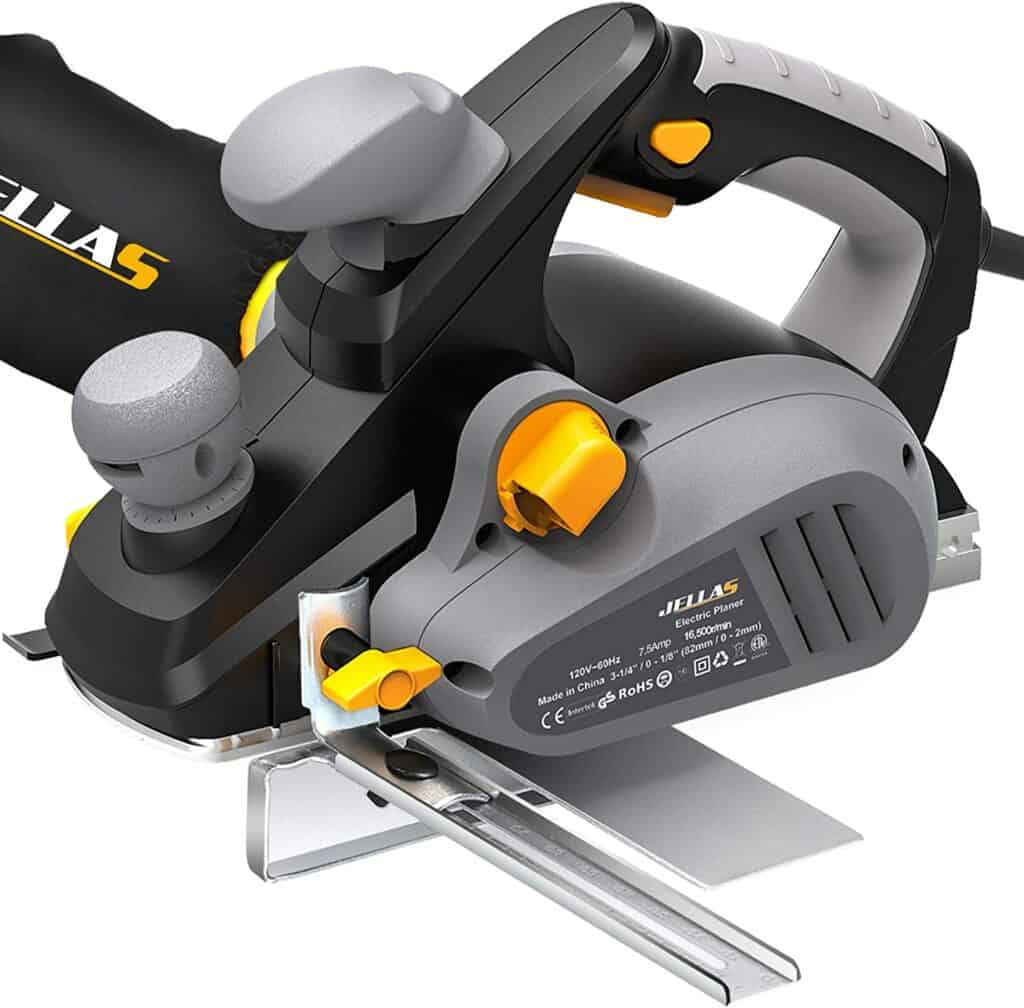 We also have the Jellas 7.5Amp Electric Hand Planer here on our list. If you're quite familiar with planers, you'd have heard so much about this planer, its reputation precedes it. This planer has a 7.5 Amp electric motor that smoothens your projects fast and effectively, providing 32,000 cuts per minute.
This heavy-duty planer possesses an adjustable cutting depth with 12 positive steps that help you adjust to a maximum cutting depth of 1/8 inches. This gives you a variety of cutting depths with the opportunity to choose which one is perfect for your project. Cutting your woodworks becomes easier using this planer.
Its unique v-shaped base plate also makes chamfering the edges of your woodwork accurate and easy. Cutting large projects won't be so difficult either because this planer has a cutting width of 3 ¼ inches, helping you cover a large surface area at once, easily.
Its ergonomic design is over the roof with a handle covered with soft rubber, for an easier and firmer grip. It has a long power cord of about 9.84ft to help you reach your project without worrying too much about where your wall outlet is located. Working from a long distance wouldn't be a problem.
It also comes with a rabbeting guide that can make rabbets of up to 4/5 inches and a parallel fence bracket that makes working on door edges more accurate. This planer has just one dust bag for collecting sawdust and chips. This planer is very durable as its double blades are made up of 65 Manganese steel, cutting through any wood material being used.
Makita KP0800K 3-1/4-Inch Planer Kit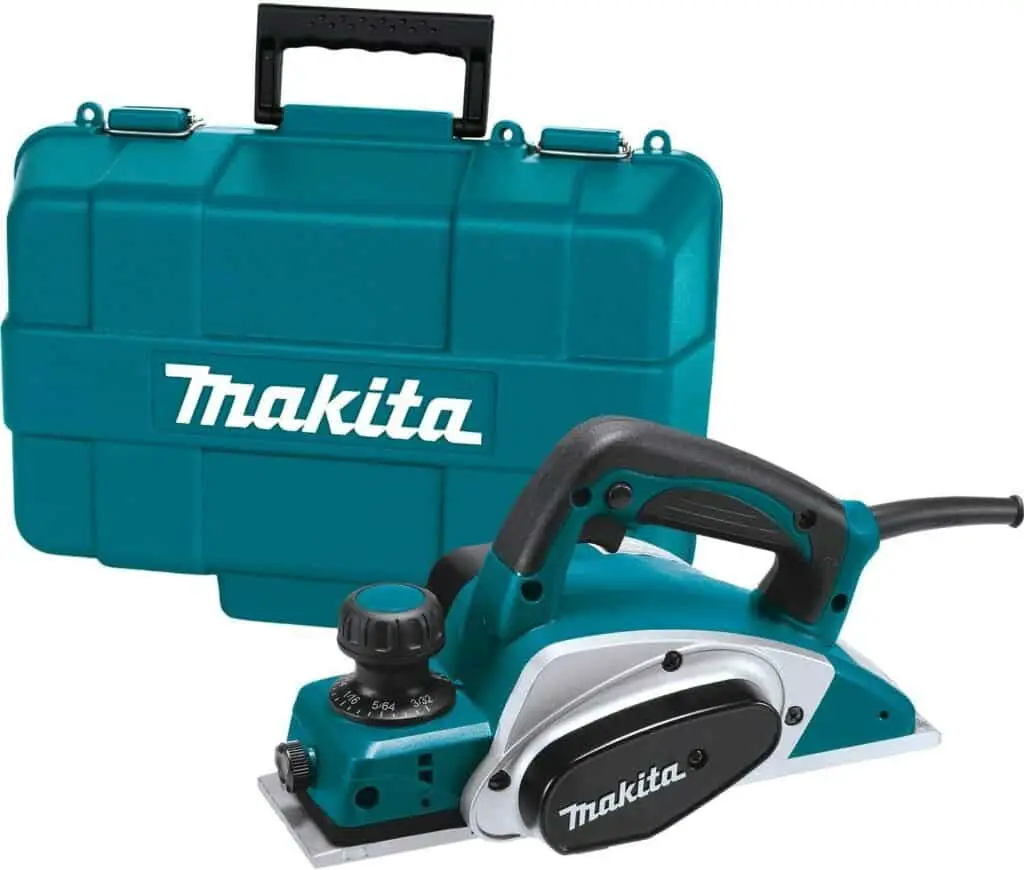 The Makita KP0800K 3 ¼ inch Planer is your ideal planer for professional construction and woodworks. This planer has a 6.5-amp electric motor, delivering enough output power to cut any wooden material being used. With its two-blade cutter head and a maximum speed of 17,000 RPM for fast and smooth operation.
This planer possesses a double-edged carbide blade for better operation with a maximum cutting depth of about 3/32 inches, for cutting and smoothing as fast as you desire to cut. Working on large projects becomes easy too with its cutting width of up to 3 ¼ inches.
Using this planer brings both convenience and ease to your work with its machined aluminum drum that reduces vibration when you cut and a spring-loaded stand that keeps the blade away from your project whenever you want to. It also weighs about 5.7 pounds, so it is easy to move about and work with.
The Makita KP0800K 3 ¼ inch Planer can also help you plane for long hours with its lock-on button and its overall capacity to do so. Installing another set of blades for this planer isn't tough to work because it has an easy blade setting system.
It is not a surprise that this planer has so many great features and ended up on our favorite list. The Makita Company is a reputable one with so many exceptional technological innovations and a wide variety of amazing power tools they produce. Durability is rested assured.
Bosch PL1632 6.5 Amp Planer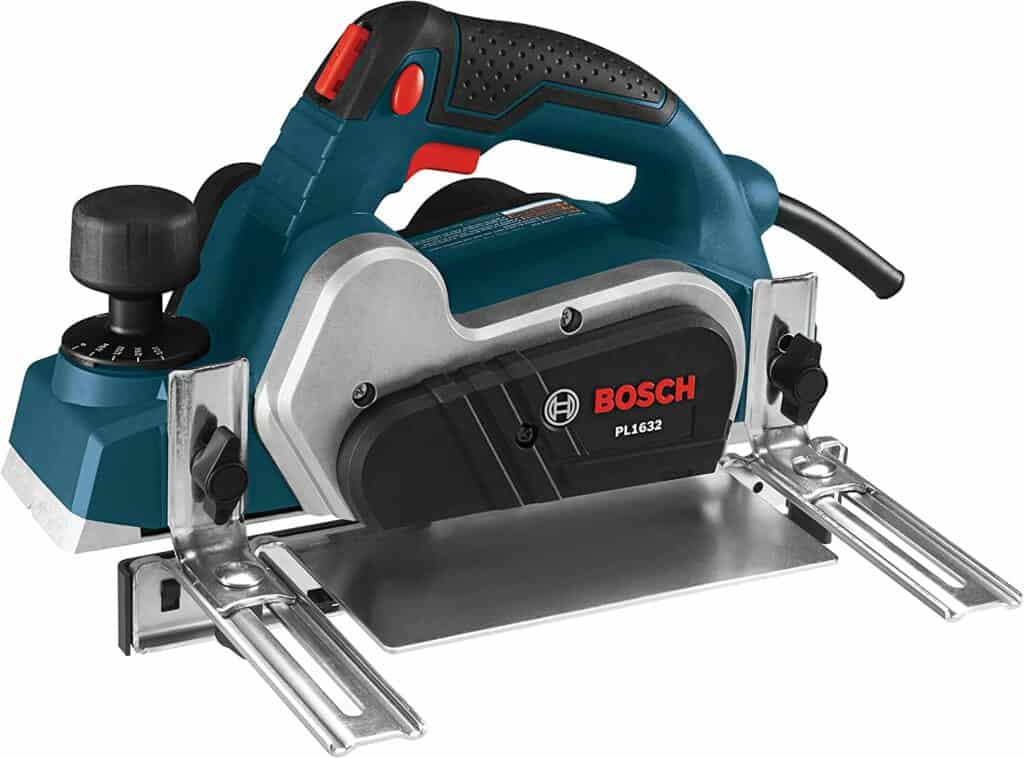 Next on our list, we have another hard worker, the Bosch PL1632 6.5 Amp planer. This planer has a powerful 6.5 Amp electric motor with a maximum speed of 16,500 RPM, to cut and trim off your woodwork quickly, leaving it extra smooth and leveled. It doesn't really matter if you're working with hard or softwood material.
For additional ease and comfort, this planer comes with an ergonomic handle that gives you a tighter and firmer grip while working, at the same allowing impact absorptions and reducing vibrations. This planer also comes with a spring-loaded stand that keeps the blade from coming in contact with your project, to avoid unwanted cuts.
Cutting with this planer reduces the chances of any form of accidents happening. It is equipped with a lock-on and lock-off button that'll prevent this planer from running on its own and also help you use it for a long period of time, non-stop.
The Bosch PL1632 6.5 Amp planer has its handle optimally angled, to allow you to move the planer in a forward motion while gripping softly. It also has a dual-mount guide fence that helps you plane your door edges without marring its surface.
You don't have to start planing from one end when using this planer, its unique shape makes it possible to start planing right from the middle easily. Its single wood razor micro-grain carbide blade is both reversible and resistant to being fractured by nails.
DEWALT Hand Planer, 7-Amp, 3-1/4-Inch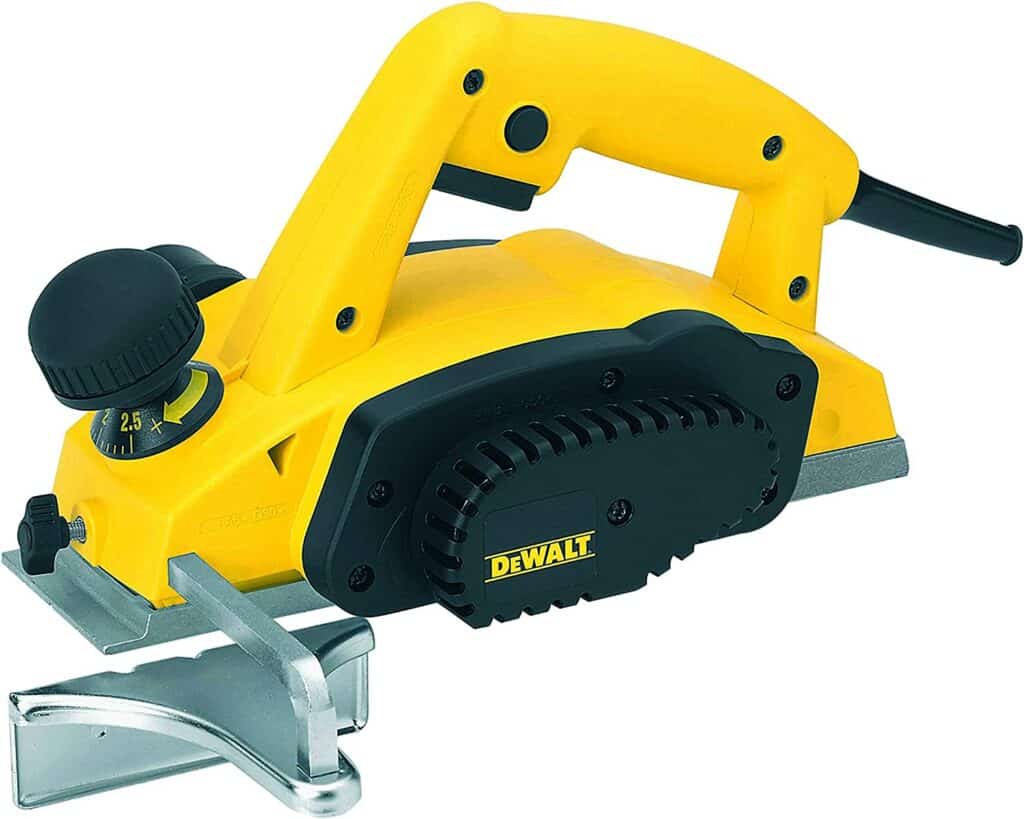 Last but not least, we have the DEWALT Hand Planer 7-Amp, 3-1/4-Inch. This planer is a durable heavy-duty planer with a 7-amp electric motor that produces a maximum speed of up to 15,000 RPM steadily, helping you trim and cut smoothly, fast and effectively.
For accurate depth settings, this planer comes with a calibrated depth adjustment knob right at its front. With this calibrated knob, shaving your woodwork becomes more precise and even all through and you don't even have to re-zero your depth.
This planer has a maximum cutting width of 3/32 inches, covering a large surface area at once and reducing the amounts of pass you have to make on your project. This makes it suitable for working on large projects. It also has 3 chamfer grooves which makes smoothing and working on edges easy and effective.
It accepts large high-speed steel blades that can be sharpened again when blunt for straight edging and working on frames. It also accepts reversible carbide blades that give your project more details and make it even more accurate.
The DEWALT Hand Planer 7-Amp, 3-1/4-Inch also comes with a precision-machined shoe for making perfectly squared rabbet joints and a leveled finish. This planer is durable all thanks to its high steel blades that can work for a long period of time.
A Buying Guide for Electric Planers Making the Right Decision
There are lots of features that are combined to make a great planer. These features should be what you look out for when selecting a planer to use for your project. Just in case our best planer list doesn't suit you or is way beyond your budget, look out for the following features when making your own selection:
Speed and Power
When working with a planer, you need it to work at the same speed and energy it started with so you can have a smooth and even work without having to go through any additional stress.
Putting the output of a planer into consideration is really important, so you don't have to work with a dying planer or one that frequently breaks down and requires fixing every now and then.
The power of an electric motor will help you cut faster in one passing, producing quality work with good finishes. If you're working with softwood a planer with lesser power would cut it just fine but when working with hardwoods, a more powerful planer would be perfect without excessive wear and tear.
Ergonomic Design
Always lookout for the ergonomic design of planers before purchasing them. The comfort a planer gives you is undefeated and even if the planer can keep cutting for longer periods of time, you as the operator will definitely experience fatigue easily if the planer isn't convenient enough.
Watch out for its handle design to prevent any form of slipping when you are working to prevent accidents and also watch out for its weight, if you needed to build some muscles you'll hit the gym, heavy handheld planers increase fatigue.
Durability
Choose an electric handheld planer that would be yours for life. You don't have to purchase a planer that you'd have to replace monthly or yearly. Make sure its blades are made of high-quality steel, get a rugged planer.
Look out for electric hand planers with cast metal plates that'll keep your planer running in good shape even in heated conditions. A lot of heat is generated when using the electric hand planer, so purchasing one with a cast metal plate shouldn't be ignored
Dust Collectors
Working with an adjustable dust collector is way better than working with a fixed one. Dust collectors really come in handy, especially when you want to work for hours, so you don't have to leave every single time to dispose of sawdust and chips. It'll wear you out and reduce your focus.
Using a multi-directional dust chute is also a good decision because some projects require full visibility and changing the direction of the dust collection can prevent obstructions depending on the kind of project.
Price and Value
Everything you buy should be worth your money. Not all expensive planers deliver as expected and not all cheap planers are completely worthless. Whatever your choice may be, make sure it is worth it.
Frequently asked questions
Q: what is the difference between the Corded Planer and the Cordless Planer?
Ans: if you work in an industry with so many woodworkers using an electric planer, it is advisable to get the cordless planers to reduce the amount of wires laying around which could can cause you to trip.
The corded planer provides an unlimited power source, keeping your planer running for a long period of time with the same energy, unlike the cordless planers that need to be recharged.
The cordless planer can also be used literally anywhere while the corded hand planers need a power source to function and would fail when you need to work outdoors.
Q: What is the function of an electric handheld planer
Ans: This power tool is basically used for smoothing and trimming rough wood grains to make your project easier to work with and aesthetically pleasing
Q: Which blade size is perfect for larger projects?
Ans:  most planers come with the standard 3 ¼ inches blade which is perfect for DIY enthusiast but for professional and larger projects a blade size of 6 ¾ inches will definitely get the job done.
Q. What are the other types of planner?
Ans: There are different types of wood planers, we talked in detail here
Conclusion
There you have it, the best electric handheld planers that is worth your time and money. These selected planers are durable, very efficient and easy to use. Ranking these planers was a tough one but the WEN 6530 6-Amp Hand Planer impressed us in so many ways ranging from its functionality to its price, every bit of this planer is worth it.
I hope you found these reviews really help and I hope you make reference to them anytime you go planer shopping. I hope you have a great planing experience too.
I'm Joost Nusselder, the founder of Tools Doctor, content marketer, and dad. I love trying out new equipment, and together with my team I've been creating in-depth blog articles since 2016 to help loyal readers with tools & crafting tips.