I love creating free content full of tips for my readers, you. I don't accept paid sponsorships, my opinion is my own, but if you find my recommendations helpful and you end up buying something you like through one of my links, I could earn a commission at no extra cost to you.
Learn more
Being part of a demolition crew means that you get to break down a bunch of stuff, a job almost any stressed-out human would love to have. The ability to destroy things start with the likes of a handheld hammer, although if you want to beef things up, you'll have to consider the Jack Hammer.
When you're going in for something this beefed up its likely that prices are going to skyrocket, so make sure you're buying the right product that'll best fit your requirements we've planned out a small review article, this should help you find the best electric jackhammer that'll fit in snuggly with your other tools and equipment.
The review is going to be broken down according to different models available in the market, listed with their key features, and a buying guide at the very. So, if you're just stepping into the construction market, there's no reason to worry because we've got it all covered.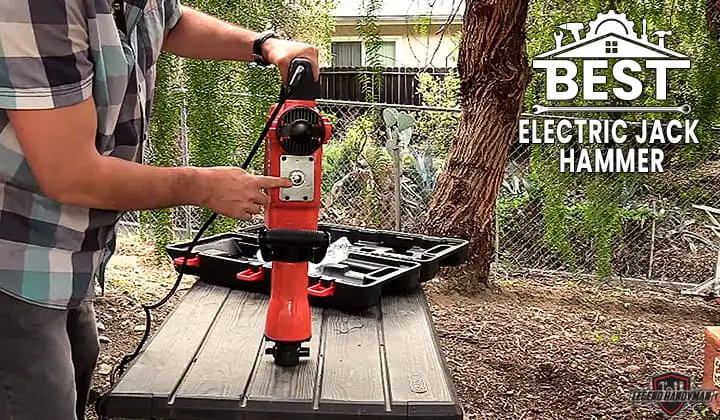 Best Electric Jack Hammers Reviewed
While the markets flushed with construction tool companies, it's not easy to identify a particular product and have it gone right for you on the first try. This is why we've carefully selected a range of only the best machines keeping some key factors in mind.
Xtreme Power US Heavy-Duty Electric Demolition Hammer
For people in the US 'the bigger, the better', is a rule that they love to abide by, and something that shows in the products they end up designing. Xtreme Power is one of those companies that takes this seriously, the proof of which comes in the form of a 2200Watt machine.
Using a machine like this, you'll surely be seen taming a beast, it's high-powered motor clocking in at least 1800BPM with an impact of 55ft/lbs. Thus, it is devised to be able to break through almost anything, may that be a concrete slab, block, brick, oil chimney, or something even bigger.
For your comfort, and to allow for better quicker usage the machine comes with an adjustable 360-degree foregrip, thus letting you adjust the hold according to your convenience. As your grip improves so does your control, this should allow you to complete your job precisely with better accuracy.
Talking about control, the device further uses an anti-vibration device, this ensures the recoil experience from the hammer does not in any way affect your work. Although with this much electrical power being operational at the same time make the device prone to heating.
Regardless of that little flaw, the device makes up for it with the addition of a 2 x 16" chisel, protective gear and hex wrenches within the packaging, all this paired with its affordable pricing, really make the device a bang for the buck kind of product.
Key Features
High-Quality Plastic device casing
2200W motor with high impact speeds of 1600BPW
Complete protective insulation installed
Anti-Vibration system for better control
Varying Speed change.
Vevor Electric Demolition Jack Hammer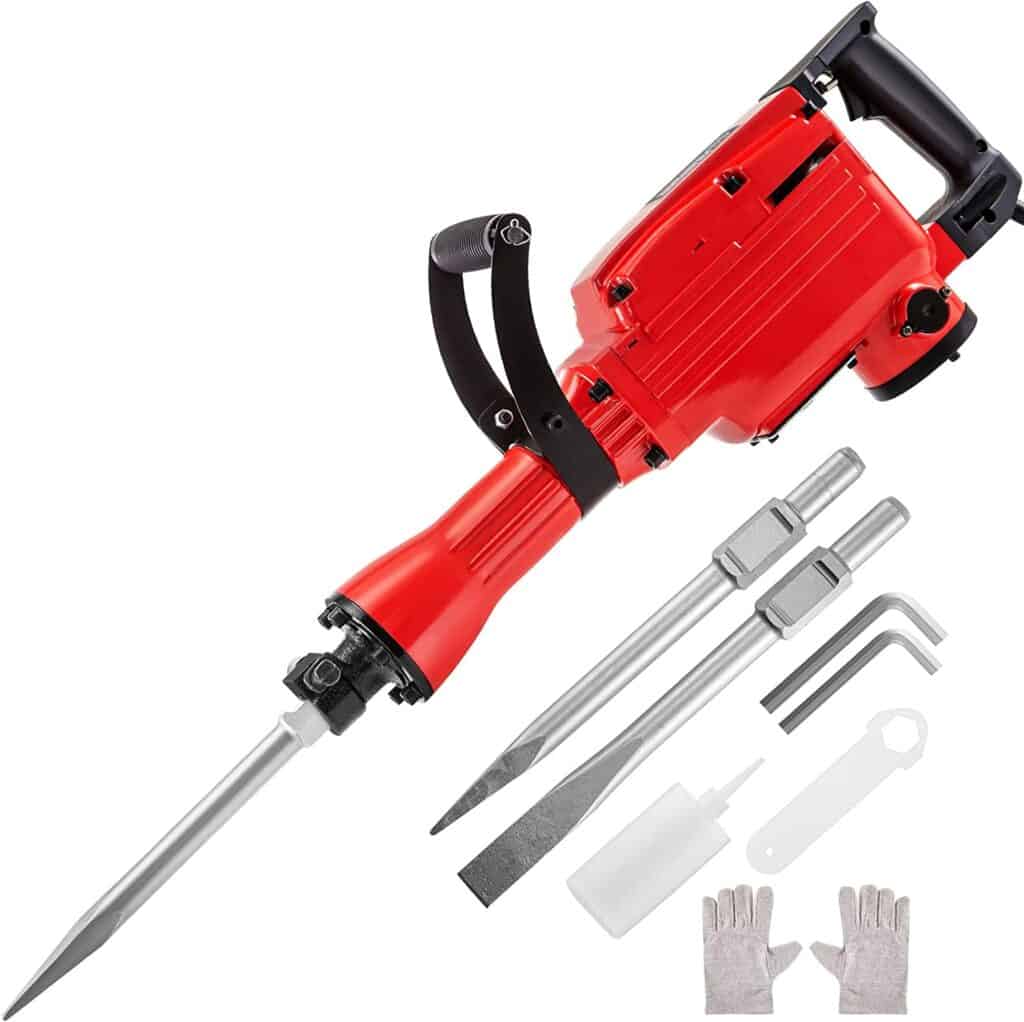 One of the bigger players you're going to find in the construction tool industry would be Neiko, a substantial brand based in Taiwan producing high-quality equipment. Having a Brand as big as this by you is always a source of assurance and reliability, although the Electric Jack Hammer they make really speaks for itself.
With a 1240Watt electric motor installed into the machine, we can assure you that you'll be holding some serious power in your hands. While that is true, it is also true that the device comes with a helical gear system, meaning the device will handle much more smoothly and quietly than most other hammers.
Moreover, the device will be operating at over 1800 impacts per minute at a force of 45 joules, which means you'll be able to break your way through any concrete block like its butter. To counter this high impact rate, the company has included a 360degree non-slip handle swivels, giving users better control and comfort.
The machine also comes with some of the highest quality chisels, these chisels are drop forged and heat-treated to ensure longevity; the 16"-point chisel and flat chisel should be enough to deal with almost any hammering situation.
Lastly, the entire package comes with a few extra's to really be worth the price you're paying for it, you'll be getting 4 extra carbon brushes, 3 wrenches, safety goggles and glove, and a case with wheels to carry it all in.
Key Features
Helical gear system
Dual heavy-duty Chisels
1240-watt electric motor
360-degree non-slip swivel auxiliary handle
Complete metal casing body
TR Industrial-Grade 4-Piece Demolition Jack Hammer

One of the prominent names in the industry comes from TR industrials, known for their exceptional quality equipment, that cross the charts when it comes to performance. A great example would be their TR-100 series demolition hammers, these are classified as one of their most heavy-duty equipment for extreme jobs.
The machine comes with a 1-3/4 HP motor working at 1240watts, so you can be sure that you'll be handling some serious power; using such high powers the machine is said to run at over 1800BPM producing 31lbs of force, this means you'll be able to demolish almost any material with ease.
Incased inside a complete metal casing, the hammer is built to take most rugged of construction scenes, so you can be sure the machines going to last you a few years. Moreover, it includes all the essential safety regulations, keeping you safe from electrical shocks and electrical fires.
You'll also be getting a 360degree swivel auxiliary handle installed onto the device, this should help you improve your handling and control of the device, allowing precisions and accuracy in your demolition, so staying inside the box shouldn't be a problem.
Additionally, with the device you'll be getting a three-piece chisel set each made using hardened chrome vanadium steel, you'll also be getting a steel storage case, allowing you to carry the machine from one site to another without getting it damaged.
Key Features
3-piece chrome vanadium set
1240-watt electric motor
Comfortable handling system
Metal housing
1800 BPM with 31lbs of force
Mophorn Electric Demolition Hammer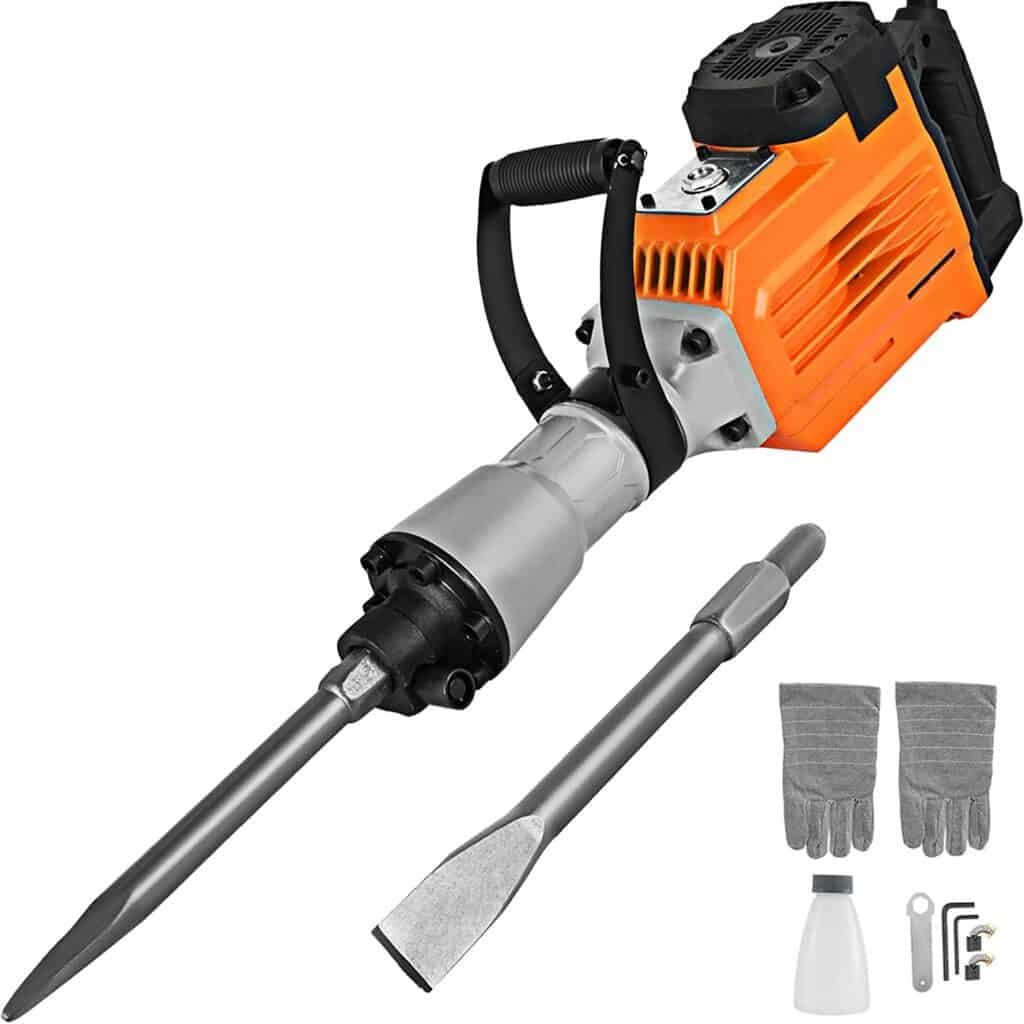 The Germans don't like falling short on anything; from their cars to their beer, everything is designed to exceed expectations, and the Mophron Demolition Hammer in no way falls short.
Being one of the most powerful hammers we'll be reviewing in this article, surprisingly Mophron is also one of the quieter ones. Installed into the machine is a humungous 3600watt electric motor, pumping out power through its copper-core and steel alloy cylinder, allowing the motor to run smoothly for a long time.
Designed by keeping durability in mind, the company has made sure almost no workplace accident can break down this hammer, they've carefully chosen the outer material to be able to be both drop and corrosion-resistant. With the inner metal having gone through secondary quenching to keep the machine running efficiently.
The added 360-degree rotary ergonomic handle helps adjust itself to the preferred side of the worker, the extra handle also allows for better gripping and control over a machine that can operate at more than 1800 impacts per minute.
With the machine, you'll also be getting dual chisels, a 16″ bull point and another flat, these should allow you to work on most projects, may that be demolition, chipping, or trenching. All this for an unbelievable price really helps make the machine one of the best in value machines available.
Key Features
3600watt electric motor
360degree rotary handle
A highly durable and safe outer casing
Dual chisels included in the pack
Copper core motor, with effective ventilation slot
Bosch 11335k Jack Hammer Kit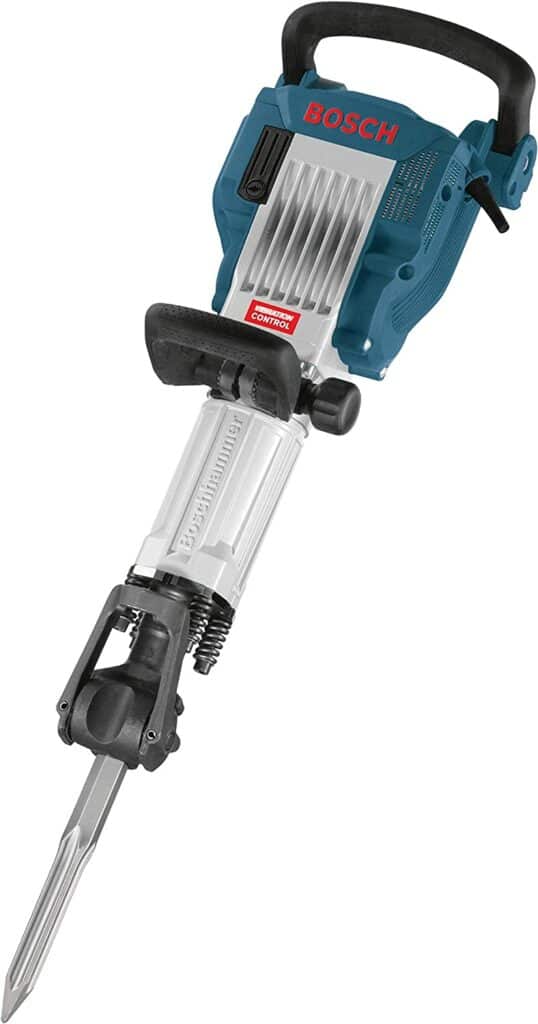 If you're considering buying from what can only be considered the king of construction equipment, then having to empty your wallets becomes a given phenomenon. Made using the same German spirit that we've mentioned earlier, Bosch is one of those companies that have really ser a mark.
And the 11335K from Bosh is much more likely to leave a bigger mark on the slab of concrete you're planning to demolish, while also being extremely simple to handle. This comes to life due to the weight to power ratio of the device being at 22ft-lbs for a device weighing only 38lbs.
One of the major reasons this hammer set's itself apart from the rest of the market is the active vibration control handling, by using two unique flexible handles the machine can cut down vibrations by almost 40%. So, working the device is far quicker and much more comfortable than any other machine in the market.
Durability is also an area that the device resides under since you agree to pay so much for a product you expect it to last much longer than its competitors; for this reason, the device is housed in a complete metal frame keeping it away from harm's way.
With the device, you'll also be getting a pair of the highest quality chisels in the market, a hex steel chisel, and an air steel chisel designed to able to work on the highest variety of surfaces possible. Additionally, you'll also be getting a case that allows you to keep the machine safe and help you carry it around from place to place.
Key Features
Best power to weight ratio available
Complete metal housing for extra durability
Vibration control technology
High-Grade Dual Chisels
Other repairing accessories included
Buying Guide to Best Electric Jack Hammer
For beginners coming into the construction scene, it's quite obvious you won't be familiarized with the ins and outs of the industry, which is why we've developed this descriptive buying guide to allow you to better chose a device that fits you best.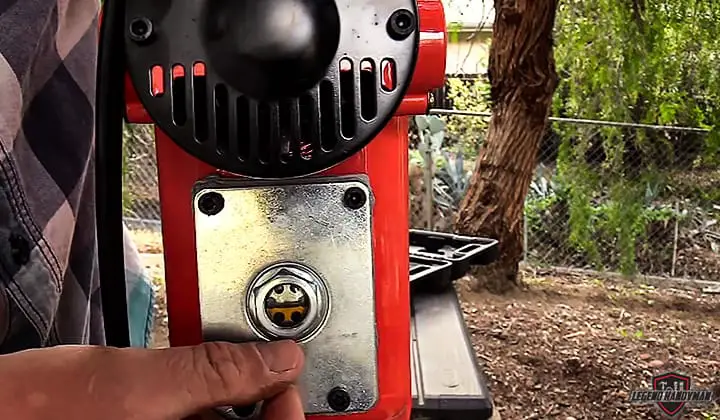 Noise Level
With construction sites, noise levels are a huge issue mainly for sites located near to urban populations, moreover, the loud sound of a Jack Hammer running can badly affect the hearing of your construction workers.
To avoid getting a lawsuit from your construction workforce or the neighbors, you might want to consider buying a machine with a lower noise level. Keep an eye out for machines with highly padded cases; these help in keeping the decibels at minimum.
Power
Before making your purchase make sure you're aware of the power requirements that apply to your site, you want to purchase a machine that offers enough power to break through any material, while also being economical in its voltage consumption.
For regular hammering work, we would recommend a machine running at 1200watts, these machines do not drain out your generators while also running at a steady speed of around 1800 impacts per minute, this should be enough to run through almost any material. However, if you're looking for something that works faster, you might want to look for a machine with a higher wattage.
Vibration Control
Machines working at over almost 1800 impacts per minute, require an insane amount of strength to handle, however, it's quite unlikely that all your construction workers will be built like Dwayne Johnson. For these workers, you'll want to consider having a device that can lower down the recoil impact.
Moreover, having to continuously handle such extreme levels of vibrations could contribute to your construction workers facing Raynaud's disease or carpal tunnel disease.
To help cut out on this, some devices come with anti-vibration systems, these include things such as internal shock absorbers, and dampening handles. Before making your purchase, we highly recommend you make sure your device includes these to allow for better control and convenience in usage.
Durability
With prices of construction equipment being what they are, you don't want your device breaking down within a few months of use. Due to the environments, these machines work in breaking down isn't something that'll come off as a surprise, however, companies have found a way to prevent this.
Check the machine for airflow outlets, one of the major reasons that lead to breakdowns are the absence ventilations, these machines tend to heat up to some great extents while working, efficient cooling becomes key to their survival.
Furthermore, a plastic casing may be insufficient when it comes to handling the extreme pressures faced at a construction site; these tools are prone to constant bumps and drops. Making sure this doesn't affect your tool is important, which is why we recommend that you purchase one with a metal body.
Another factor that comes to mind while dealing with electrical equipment is the addition of the correct fuses and safety switches. Most companies maintain international safety regulations; however, it's your responsibility to make sure the right seals are there on the device as a show of assurance and guarantee.
Adaptability
How adaptable the hammer plays a crucial role in making the purchase, you need to make sure that the demolition hammer supports a universal chisel system, this will allow you greater variety and will not chain you up to purchasing the same chisels every time.
Make sure, while making the purchase the products description mentions, it supports universals chisel attachments, or at least multiple ones.
Price
Now, this is a subjective front that you'll be dealing with, however, most construction tools can be pretty pricey, so if you do find a tool that's up for very cheap, there's a high chance that there's something wrong with it. However, if you are going to make a purchase, most tools shouldn't cost you over $250.
FAQs
Q: What should I use for safety?
Ans: When using construction equipment, you must have safety gear on at all times, some machines come with these included in the box, however even if they don't make sure to purchase them beforehand.
Safety equipment such as Eye Protections, Safety Boots, Gloves, Ear Protection (earmuffs), and Protective Clothing are essential while handling heavy equipment.
Q: What attachments do I have to buy?
Ans: The answer to this will depend on the type of job you're conducting. There's an entire range you can choose from, including chisels like flats tips, spade, flex, strake driver, point, etc. Most devices come with the standard point and flat chisel; these should allow you to get through with standard demolition jobs.
Q: Difference between electric and pneumatic hammer?
Ans: While both produce the same output, they require vastly different inputs; the pneumatic hammer uses the power of compressed air to do the job, whereas the electrical hammer relies on electricity.
Q: What is the purpose of the oil chamber?
Ans: The oil chamber is extremely important to the functionality of the device; the oil camber must be regularly filled in with the specified oil; this will help lubricate the piston for smooth and uninterrupted functionality.
Q: What type of oil is used in the oil chamber?
Ans: Most companies will have their required oil specifications printed on the device or the manual; however, most devices use a 40grade engine oil, the 15w-40 should be the perfect fit.
Outro
Buying construction equipment for home use or for your company can be a pretty expensive investment, making the right one is necessary to ensure the highest quality output that is achieved in the shortest amount of time.
We hope this review helps you find the best electric jackhammer, that not only meets all your functional requirements and also fits into your budget.
I'm Joost Nusselder, the founder of Tools Doctor, content marketer, and dad. I love trying out new equipment, and together with my team I've been creating in-depth blog articles since 2016 to help loyal readers with tools & crafting tips.