I love creating free content full of tips for my readers, you. I don't accept paid sponsorships, my opinion is my own, but if you find my recommendations helpful and you end up buying something you like through one of my links, I could earn a commission at no extra cost to you.
Learn more
Getting power in a distant position isn't easy. People working with power tools and large equipment at an automotive garage or getting some installation done around the house or office need power at a long distance. Certainly, you will not get power sources everywhere. So the best solution for this problem is the best extension cord reel.
Extension Cord reels help you work effortlessly. Many extension cord reel has a retractable feature. Most of them have multiple grounded power outlets for using multiple devices at a time.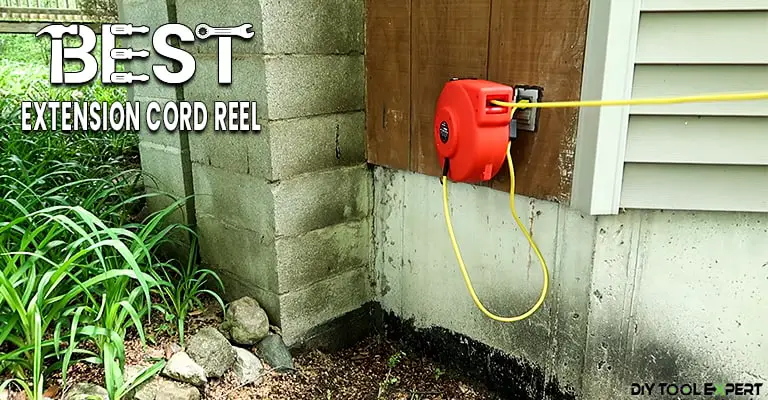 Some extension cord reels come with a  mounting bracket system, making it able to be hung on the wall. Most of the cord reels are highly durable, water and oil-resistant and have a few different color variations. So you will get a long-lasting and artistic service out of these devices.
Having a circuit breaker in many of these devices nullifies the chances of fire hazard or having a shock. If you are looking for a highly durable and reliable extension cord reel we've chosen the front-runners of the market to review.
Extension Cord Reel Buying Guide
Imagine buying a cord reel kit and then finding out you could have additional features and you really need them! We are not gonna let you face that and that's the reason we welcome you to this section. Know and mark the following parameters you don't wanna miss at all.
Length of cord
The length of a cord can be up to 80 ft. Such a long cord can be at a time useful as well as can create a disturbance. The long cord can help you to work at a long distance at a time someone can trip over it also. Keep a track of the distance from the power outlet to your comfy zones. Hit the farthest point and that's the length you need.
Length of lead cord
From the power outlet to the reel, this region is known as the lead cord. So, it depends entirely on you to choose this. But these are cord reels getting one with a longer cord won't be creating a mess.
But if you're into some heavy-duty works and consuming a lot of power, you'll have to unwind the entire thing due to overheating issues. In such scenarios, the longer lead cord will only create a mess.
Cord Material
The cord is mainly made from "strong PVC" material. But when you buy a cord reel make sure its water, oil, and sunlight resistant. If you have to work in cold places it's wiser to have a cord which remains flexible in cold weather.
Casing
The casing is mainly made of plastic or metal. Polypropylene made casing are highly durable and powder coating casing are highly smooth textured which gives an aesthetic look. Some casing offers portability by having a handle. The fundamental thing to keep in mind about casing is it must be lightweight and easily portable.
Number of outlets
The outlets vary from model to model. Most of the reels have up to four outlets. A rule of thumb about this is, the more the better. The more you have the more devices you can plugin as long as you don't exceed the power limit specified.
Circuit breaker
A circuit breaker is a vital safety system for cord reels. Every circuit breaker has a fixed and rated current i.e. Amps. If you're to exceed it, it'll trip off. The thing about having this is that if someone's getting shocked, he'll definitely be consuming more Amps than rated and trip off the breaker, so it'll save his life. And even at times if the voltage spikes and your devices start to take in more Amps, it'll trip off and save your devices too.
Power light
Power light is a handy feature to have, you'll know if it has power at the moment or not. So, you won't get shocked unknowingly. Besides, it acts as a troubleshooter for knowing if there's anything wrong with the wire.
Mounting brackets
This useful feature is needed to fix the reel at the ceiling or wall. This feature keeps the cords out of the way and makes the working place a lot safer and less messy.
Swivel feature
Well, its what it says, having one with the swivel will be a hell of a lot of trouble saver. You won't be creating knots with your wires anytime soon.
Retractable vs Manual reels
Retractable reels automatically pull back the cord, this way you won't have to be spinning the handle manually, a great time saver and really handy. Ones with the manual reel are a bit cheaper though.
Best Extension Cord Reels reviewed
There are different types of extension cord reels. Some are retractable and some are non-retractable. All the reels are not made of the same materials and their cord length, safety system, mounting system, etc. also different. Every reel has some unique features on its own.
In this article, we write about 7 top choices reels on the market. Choose the best one which is perfect to fulfill your personal needs.
1. Bayco SL-2000PDQ 4 PLUG CORD REEL
Why should you buy it?
The first thing you should know about Bayco SL-2000PDQ 4Plug Cord Reel is that it is designed in the USA and made with quality material. Shatter and polypropylene are used to make this reel which makes it durable and gives it a long life. It is also temperature resistant.
4-Grounded outlets and 15-Amp circuit breakers make it a safer instrument at the work. As safety is the biggest issue for those who work in such a place where electric shock takes place randomly, this cord reel will be a perfect solution for them.
You will get two different ranges of the cord. One can hold up to 100-Feet of 14/16 Gauge and another one can hold up to 75-Feet of 12 Gauge. You will get power at a long distance at work. It can work with a most single outlet extension cord. It has a wide steel base which keeps the cord storage reel stable that's why you can work comfortably without any shakiness.
It has a side-mounted handle which gives you a better experience to roll up the cord easily and quickly. You'll get it in two different colors Yellow and Black with 1-year Limited Warranty.
Some Disadvantages
Sometimes the reel turns too easily in its axle. As a result, if you start to unroll the reel will spin just too quickly,  which can be irritating. If you are to work for a long time in high current, you'll have to unwind the entire cord. Otherwise, it'll start to get overheated.
2. Masterplug 80ft Open Extension Cord Reel
Why should you buy it?
Masterplug 80ft Open Extension Cord Reel will give you a whole 80 feet long cord. So, it'll cover a larger region. You can use it in any workshop and it has a high enough capacity for outdoor power tools at 120V and 13amp.
Has 4 built-in electrical outlets give you extra options to do your job. It has an ON/OFF switch and a power light indicator that gives you the instant switching option as well as the information whether there is power or not.
An easy-grip handle to carry it around easily helps more than we'd think of it. A robust stand makes pulling out the cord way easier. For safety issues this device has built-in over-load, reset button and childproof sliding outlet covers which'll give you extra safety. To easily wind and unwind the cord, there's an integrated cord guide.
Some Disadvantages
If you leave it in a small space for more than an hour then the wires become extremely hot. For 15 amp tools, the gauge of the wire isn't a good idea. High power consumption through it for an hour will surely overheat the cord.
The cord is not so compact as a result when the cord winds it does not stay tight. So when you will wind the cord from distant it will be twisted.
3. 30Ft Retractable Extension Cord Reel
Why should you buy it?
30Ft Retractable Extension Cord Reel has an automatic retractable mechanism. With this mechanism, you can automatically unwind the cord easily and smoothly.
You will get a three-prong grounded plug for extra safety. It has a mounting bracket system. With this system you can easily fit it to your ceiling or anywhere as you want. The prongs are reinforced and so it is long-lasting and bending or breaking resistant.
The three outlets are in one place, so it is easy to connect multiple loads in one place.  The reel has a flexible vinyl covering protector which makes it water-resistant and it also protects the reel from abrasion and sunlight. The design is made slip-resistant so that you can use it without any irritation.
It has a red light indicator which will give you the information about its power is on or off. You can use this up to 10amp, 125 volts safely. You will get two different colors yellow and black with a LIFETIME REPLACEMENT WARRANTY.
Some Disadvantages
The mounting screw which they provide is not good enough. It is very weak to hold all the loads of the reel. So you may have to buy an extra-strong screw for this device. The cord length is a little bit short compared to other devices in the market. The cord locking system is poor in this device.
4. Flexzilla ZillaReel 50 ft. Retractable Extension Cord Reel
Why should you buy it?
The Flexzilla ZillaReel 50 ft. Retractable Extension Cord Reel has the adjustable cord stopper system. With this locking system, you can easily stop rolling out the cord while winding it from the storage. This device provides about six feet long longer cord to the plugin to get power at the remote place you want.
It has a triple illuminated outlet which gives you plenty of capacity and includes grounded 4.5' lead-in cord. The safety system of this device is very high with a   circuit breaker. This built-in circuit breaker has a reset button that makes this device extra safe for you at work.
In this device, the 14/3 AWG SJTOW cord is used which is oil and water-resistant. Moreover, there is no effect on sunlight as well as flexible low temperatures. Even If you work in very cold weather then you don't need to be worried about this item. A swivel mounting bracket system used in this device which gives it 180-degree rotation and it can be mounted on the wall or ceiling. Additionally, You can use the fish tape to draw wires through walls
Generally, people do not face any kind of technical problem with this device. But if you face any you will get 1 year of WARRANTY.
Some Disadvantages
The triple outlet part is so hard and brittle. So if you drop it down anyway on concrete or other hard materials it can break. The circuit breaker system also malfunctioned sometimes. Though they said it can work in 15amp, sometimes it breaks the circuit at 13amp.
5. Alert Stamping 5020TFC Industrial Retractable Extension Cord Reel
Why should you buy it?
The casing of the Alert Stamping 5020TFC  device is made from powder-coated steel which gives it an extra smoothie and aristocratic looks. The cord of the device is 12/3 SJTOW which is oil resistant and cold weather flexible cord. If you work in an oily and cold place then it is made for you.
It has some advanced safety features, a 5-20R grounded outlet with power ON indicator light. A 15amp built-in circuit breaker with a reset option is used in it so that you can use this up to 15 A and 125 volts safely.
The cord locking system is also used in this device. You can easily pull out the cord from the storage and with a little shake, you can send it back to the storage.
There is an eye hook with the casing with which you can easily mount it with ceiling or anywhere you want. The female plug illuminates so nicely that it can be visible in low light. If you need to work in a low light area like under a car or anywhere it will be good for you.
Some Disadvantages
It may create some disturbance when you will rewind the cord. Due to the automatic locking system, the cord piles up on one side. Sometimes the female plug does not fit tight and heated-up for longer use.
Moreover, it has only one outlet so you cannot use multiple devices at a time.
6. ReelWorks Heavy Duty Extension Cord Reel
Why should you buy it?
The Reel Works Heavy Duty Extension Cord Reel is made of polypropylene material which makes this cord highly durable. This cord reel is impact resistant. You can use it for a long time without any disturbance.
You can use this up to 15 A safely. It has a triple outlet system that will give you the experience of using multiple devices at the same time.  It has a swivel bracket system to easily mount at ceiling or wall. It will help you keep electrical cords out of the way when not in use.
The storage system is very much flexible here. You keep the cord where you want with the help of spring-driven retractable feature with latch. The safety system is also good here. It has a built-in circuit breaker with a reset button ensuring extra safety. In this cord reel, 65 feet and 12 Gauge SJT cord are used which is water, oil resistant.
Some Disadvantages
The triple outlet cannot grab the things unless you will plug-in tightly. This device has some fire hazards. If you mount it at the wall and plug it in, then when you will pull the cord sometimes it sparks out. It can be dangerous and causes a fire incident.
7. 50+4.5ft Retractable Extension Cord, TACKLIFE Cord Reel
Why should you buy it?
This 50+4.5 ft Retractable Extension Cord Reel, TACKLIFE Cord Reel has covered all the prominent features that you will look for. It is made of polypropylene material which gives it extra durability. In this cord reel 50 ft 14AWG3C-SJTOW cord is used which is oil, water-resistant and also able to work at low temperature. The lead-in cord is 4.5' which comparatively longer than others.
It has a swivel bracket system which gives it 180 degrees of rotation.  The bracket is made of stainless still. There is a built-in circuit breaker with the reset button to protect you and the device if the voltages exceed the circuit breaker will automatically disconnect the connection and save all.
It has a triple outlet system that will give you the experience of using multiple devices at a time. You can use it up to 15 A, 120 volts and 1500 watts safely. The locking system of this device is also advanced. In this device, you can keep your cord anywhere as you want. Moreover, you will get 12 months of warranty.
Some Disadvantages
The mounting shows some difficulties because the bracket is wider than the common one and the screws are very cheap. The rewind system sometimes remains weak. You will face that the rewind spring is not strong enough.
Another problem is the cord keeps bind up. You have to take off the cover and feed it the right way.
FAQ
Here are some frequently asked questions and their answers.
Which is better 12 gauge or 14 gauge extension cord?
14-Gauge Cords: Any 14-gauge cord between 0 and 50 feet long will adequately handle loads between 10 and 15 amps. 12-Gauge Cords: If your tool load is between 10 and 15 amps and the length of the cord is 50 to 100 feet, you need a 12-gauge cord to safely power any tool. This is a great extension cord for many purposes.
Is it cheaper to make your own extension cord?
In that time, he said he has learned that making his own extension cords to fit the display's requirements is easier and cheaper than buying cords from the store. … Baker cuts the wire to the desired length and attaches "vampire" plugs to the ends, creating his own custom extension cords.
How long do extension cords last?
Extension cords and power strips: While extension cords and power strips don't come with an expiration date per sae, they do have a limited lifetime use. These items are only designed to handle so much juice over the years and will eventually short out or lose effectiveness.
Why do extension cords get curly?
If the cord is actually twisted inside the plastic coating the cord is being used inappropriately. The cord is too long and too small a gauge to handle the load on it and it is heating up. This is commonly seen with electric lawnmowers and the cheap, cheap cords people use to power them.
What is considered a heavy duty extension cord?
A 10- to 12-gauge cord is for heavy and extra heavy duty applications (chainsaws, circular saws, shop vacs, air compressors, etc.).
What gauge extension cord do I need for a refrigerator?
Extension cords with a lower gauge number—like 10 or 12 gauges—are considered heavy-duty cords because they have a higher capacity to deliver power. Since the 10-gauge cord is an extra heavy-duty extension, it makes the best choice for big power loads like a refrigerator.
How do I choose an extension cord gauge?
The lower the number, the bigger the gauge and the greater the amperage and wattage is. In addition, a cord with a larger gauge will carry power a greater distance without dropping as much voltage compared to a cord with a smaller gauge. Voltage drops over distance, so to offset this, choose a cord with a larger gauge.
What does 12/3 mean on an extension cord?
These are the gauge of the wire and number of conductors (wires) in the cord. So, a number like '12 3′ means the cord has 12 gauge diameter wire and 3 wires.
What do extension cord colors mean?
The green wire is the ground wire, the white wire is the neutral wire, and the black wire is the hot wire.
Can I make my own extension cords?
Not only can that get frustrating, but it can be dangerous as well. One way you can solve that issue is to simply make your own custom extension cord. Not only will it serve your purpose better, but it will actually be higher quality than one you can purchase at the hardware store.
What is SJ cord?
SJ – Hard Service. Also called a "Junior Jacket," this cable is rated for 300V service. … These cables are made with PVC. O – Oil Resistant. Just like it sounds, the outer jacket of the cable is oil resistant.
Are extension cords safe in the rain?
Use Outdoor-Rated Extension Cords
And they're definitely not made to stand up to getting wet. Buy and use only outdoor-rated extension cords for any temporary lighting you're connecting outside your house.
Q: How can I mount an Extension cord reel?
Ans: You can mount an extension cord reel with the mounting brackets at the ceiling or wall.
Q: What type of cord should I pick?
Ans: You should pick that type of cord which is oil, water, and temperature resistant and UV protected as well. At the same time, It needs to work good at low and high temperatures.
Q: Which casing is better Metal or Plastic?
Ans: Both are good but plastic is more preferable than metal. Because plastics are low-weight, easily portable and shock-proofed.
Conclusion
There are a number of brands having varying features available in the market. All the features do not suit you. Some unique features should not be the decider to buy that product. You must choose the one that can really meet your needs.
But at the buying moment, you should keep the common features like the length of cord, the material of cord, casing, safety issue, etc. in mind. Taking all the aspects into consideration the 50+4.5 ft Retractable Extension Cord Reel of TACKLIFE can be a great choice.
The Reel Works Heavy Duty Extension Cord Reel is a lovely addition to your equipment when greater duty cycle and heavy usage are your focus. But if your budget is low and you want non-retractable cord reel, then Masterplug 80ft Open Extension Cord Reel should suffice you. Because it is enough long along with the smooth manual retracting system.
I'm Joost Nusselder, the founder of Tools Doctor, content marketer, and dad. I love trying out new equipment, and together with my team I've been creating in-depth blog articles since 2016 to help loyal readers with tools & crafting tips.