I love creating free content full of tips for my readers, you. I don't accept paid sponsorships, my opinion is my own, but if you find my recommendations helpful and you end up buying something you like through one of my links, I could earn a commission at no extra cost to you.
Learn more
Whether you need to inspect a small circuit or connection ranging from an easy to a complex set of electrical components, multimeters come in handy and work like a breeze. In the electrical field, a multimeter is the single all-purpose tool for the operators. Be it taking voltage, current or resistance reading, a multimeter is there for the enhancement of quality in tests.
Fluke is the name of the unparalleled brand of assurance producing quality multimeters. If you have set your sights on buying a multimeter, chances are you'll end up grabbing the best Fluke multimeter. We are here to guide you through every step.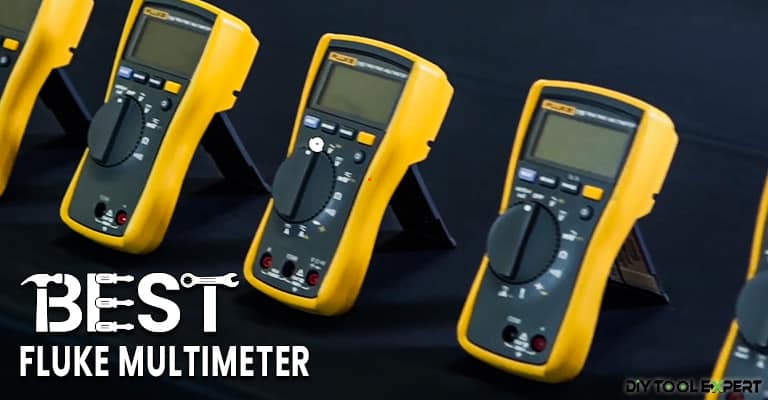 Fluke Multimeter buying guide
Fluke's multimeters do justice to their name. But knowing about the right features suitable for your need can be a hassle. Here we have sorted out the aspects you need to consider before buying a multimeter. Follow along and you won't need to bang your head later.
Measurement Versatility
A multimeter should be able to carry out basic functions like the voltage, current and resistance measurement. You have to make sure your multimeter is capable of at least these three operations. In addition to these, diode test, continuity test, temperature measurement, etc make up for a decent multimeter.
Range of Measurement
Along with different functions of measurement, the range is also an important matter of discretion. You have to make sure that your multimeter is able to measure at least 20mA current and 50mV voltage. The maximum range is 20A and 1000V respectively. As for resistance, it should be able to measure 3-4 MΩ.
The range is totally dependent on your field of work. Although wider the range, better it is.
Supply Type
Be it AC or DC supply, a multimeter should be able to provide readings in both cases. A digital multimeter is able to test whether the load is AC or DC. This is among the basic features a multimeter can cover.
Backlight and Hold Function
LCD backlights enable you to read in low light conditions. In the case of multimeters, a decent backlight allows it to be more versatile and readable from different angles. It is an important factor you need to consider if your work involves industrial troubleshooting or heavy electrical operations.
On the other hand, the hold function allows you to set a reference point to compare it to the next readings. In other words, this function captures a fixed measurement for you to access.
Input Impedance
Most people overlook this aspect, but you must not. An out of range impedance can cause the circuit to overwrite entire impedance reducing the resistance and cause major problems. You must make sure that the multimeter you are buying has at least 10MΩ of input impedance.
Resolution
The resolution mainly refers to display counts or the total number of digits that can be shown in the display. Higher the number of counts, the better. The most versatile multimeters have generally a display count of 4000-6000. If the count is 5000, then the display might show you a voltage of 4999.
A better resolution of the display makes it easier for you to conduct an acute inspection and gives a better output.
True RMS reading
True RMS multimeters can read both AC or DC voltage and current. The worth of an RMS multimeter really comes to pass when the load is nonlinear. This feature enables a multimeter to read spikes or distortions along with accurate measurement of current and voltage. Motor drives, power lines, HVAC (heating, ventilation and air conditioning), etc require true RMS reading.
Safety
The safety of a multimeter is rated by CAT ratings. CAT categories come in 4 types: I, II, III, IV. Higher the category, superior protection it provides. Most of the Fluke multimeters are CAT III 600V or CAT IV 1000V rated. The voltage number basically represents the transient withstand rating. Higher the voltage in the same category, safer it is to operate.
You must select a meter with the correct CAT rating which is suitable for the location you are gonna use it at.
Warranty
Some of the Fluke multimeters have lifetime warranty features. For the rest of them, a couple of years of warranty is provided. It is always safer to look for warranty offers as the product you order might face some dysfunction at the start which you can always counter if you have a warranty card.
Best Fluke Multimeters reviewed
Fluke is well known for its electrical devices and instruments all over the world. In the case of multimeters, they manufacture quality products. We have picked out the best ones you can grab among multimeters they manufacture. Read along and sort out which one suits your needs.
1. Fluke 115
Assets
Fluke 115 is one of the most standardized multimeters you can find in the market. The price it costs is totally reasonable considering the wide range of features it covers. The multimeter can perform basic operations like voltage, current and resistance measurement with sublime accuracy.
In addition to the features, it can operate the diode test and check continuity and frequency. The 6000 count resolution provides you with an accurate measurement, making it easier for field operations and troubleshooting.
The multimeter gives you true RMS reading allowing you to measure both sinusoidal and nonsinusoidal waveforms. Be it AC or DC supply, a maximum of 600V range can be assessed. In the case of current, 10A is the allowable limit for continuous measurement.
The large wide LED backlight gives you a proper view of the reading from different angles. The product itself is tested in extreme conditions so its accuracy, precision, and efficiency leave no room for doubt.
Fluke's 115 multimeters have been CAT III 600V safety rated. They also have 3 years warranty feature. Whether you need to eliminate residue voltages or perform a regular check of an electrical instrument, this product does a fine job owing to its compactness, lightweight and precision in measurement.
Drawbacks
The rotary knob might be a bit hard to rotate. Also, the display has been reported as not up to the quality in some cases.
2. Fluke 117
Assets
This unique digital multimeter has a VoltAlert system allowing you to detect voltages without any contact occurred. Apart from basic measurements, the additional capabilities it has are the diode test, low input impedance, and frequency.
Fluke 117 saves you the hassle from the chances of false readings due to ghost voltages. The product has an astounding resolution of 0.1mV. The count resolution is 6000, allowing your measurement to be more precise. In addition, you will not have to face problems working in low light conditions thanks to the integrated LED white backlight.
For AC supply, true RMS reading is utilized in this multimeter. The battery life is decent, 400 hours without backlight. The DMM itself is eligible for one-handed operation, compact and versatile.
In other words, Fluke 117 is an investment to quality and accuracy making it an indispensable tool for electrical activities for the electricians. Safety is not an issue worrying over as it is certified up to 600V by CAT III.
Drawbacks
Some of the consumers reported that the backlight is not nearly even. The display brightness and contrast are also some of the issues to address.
3. Fluke 117/323 KIT
Assets
Fluke's combo kit comes with a 117 DMM and a 323 clamp meter. The 117 multimeter measures voltages regardless of the supply being AC or DC. On the other hand, the clamp meter gives true RMS reading of the nonlinear loads.
The 117 multimeter utilizes a transformer for a non-contact voltage detection allowing you to do your job faster. False readings are reduced to a minimum with the low input impedance feature. The additional 323 clamp meter measures true RMS voltage and current for more accurate measurement. Its 400A AC current along with 600V AC or DC voltage measurement gives you an upper hand.
The clamp meter also measures resistance up to 40 kΩ along with continuity detection. Moreover, the 117 multimeter measures up to 10A of current. Such a wide range of basic measurements allows you to use the set in demanding settings.
You are guaranteed safety with CAT III 600V safety certification. Be it eliminating ghost voltages, troubleshooting or any other electrical activities, this unique combo set is just what you need. The ergonomic design along with the compactness it delivers will surely sway you into a new experience.
Drawbacks
The 323 clamp meter is basically a clamp ammeter. It doesn't have a backlight or max/min feature which in some cases can be regarded as a major insufficiency.
4. Fluke 87-V
Assets
This unparalleled digital multimeter is convenient for any kind of use ranging from electrical instruments to industrial troubleshooting. The durable design of 87V DMM always answers productivity by measuring accurate voltage and frequency whenever you need it.
A feature that would definitely amuse you is that it has a built-in thermometer keeping you from the need of carrying a separate thermometer. The display has decent brightness and contrast to it. Large digit display with two-level backlight enables comfortable use.
For AC supplies, Fluke's 87V gives you true RMS reading for both voltage and current. The 6000 counts resolution allows you to take measures with more precision and accuracy. For digit resolution, the number is 4-1/2.
Apart from measuring AC/DC voltage or current, you can measure resistance, detect continuity and conduct diode tests. You can perform even the shortest test catching glitches inside 250μs thanks to its strong sensitivity. The product has been verified for safe use in CAT IV 1000V and CAT III 600V environments.
Fluke 87V multimeter has been proven to be an indispensable tool for electrical operations. Whether the operation is installing electrical instruments, maintaining or repairing, from small to large scale, this DMM is reliable and efficient. The lifetime warranty feature leaves you no room for worries.
Drawbacks
The case that is provided looks cheap. For professional use, the weight could be an issue. In addition, the battery is devoid of solid terminals.
5. Fluke 325 Clamp Multimeter
Assets
Fluke 325 clamp multimeter stands out due to its versatility and reliability. It really makes your inspection effortless as the clamp is tiny and very easy to use. The product covers almost all the basic properties a digital multimeter can possibly have.
True RMS AC voltage and current are provided by this multimeter for fluctuating loads. 325 can also measure AC/DC current and voltage up to 400A and 600V respectively. Temperature, resistance, continuity, and capacitance are measured in a range that is satisfactory to most of the customers.
This unique clamp meter measures frequency from 5Hz to 500Hz; relatively large range compared to other contemporary products. The backlight is decent and the hold function along with backlight gives you the reading.
You just cannot question 325's adaptability and compactness. Starting from basic operations to troubleshooting industrial components, you can do it all. The product gives you the best features within a small form factor.
In addition, you get a 2 years warranty with this best clamp meter. The design is ergonomic, the structure is slim and comes with a soft case which altogether really gives you a good feel.
Drawbacks
A pretty basic feature is missing which is the diode test. Moreover, no power factor measurement feature is added either.
6. Fluke 116 HVAC Multimeter
Assets
Fluke 116 is mainly designed for HVAC (Heating, ventilation and air conditioning) professionals. Its uniqueness lies in troubleshooting HVAC components and equipment and flame sensors. Apart from these, a full-fledged true RMS 116 measures all the other basic operations as well.
There is a built-in thermometer which is especially for HVAC operations but can be used for other purposes as well. It measures up to 400 °C. In order to test flame sensors, there is a microamp facility. The multimeter can measure voltage and current for both linear and non-linear loads. The resistance measurement range is a maximum of 40MΩ.
The additional features are what make it a complete multimeter. Frequency, diode test, low input impedance for ghost voltages and analog bar graph allows you to take it to all kinds of electrical operations or troubleshooting.
Not to mention, the white LED backlight provides a better view of your work involves poor lighting conditions. The product itself is compact, making it eligible for one-handed operation. A 3-year warranty card comes with Fluke's 116. As a whole, the multimeter is safe, reliable and just the type of tool you can bring along for any electrical operations.
Drawbacks
There have been reports on the display not being clear and bold enough. Also, the thermometer setting is found to be out of calibration in some cases.
7. FLUKE-101
Assets
If you are looking for a DIY multimeter for basic electrical tests, Fluke 101 is the best choice for you. 101 is affordable and the perfect instrument for both daily use or professional use.
The product itself is compact and the design is ergonomic. You can hold it in your palms while inspecting operations. It is rugged enough to withstand your concentrated usage and handling.
101 can measure AC/DC voltage up to 600V. The range of measuring is acceptable for frequency and capacitance. You will also be able to conduct the diode test and continuity test with the help of a buzzer. The product turns off automatically after some period of no usage thus saving battery life.
The basic DC accuracy it offers is 0.5%. You will definitely be content with the reliability and efficiency it offers. It is rated for safety use up to 600V in the CAT III environment.
In other words, if you are looking for simplicity and easy handling within a digital multimeter, there is just no other replacement for Fluke 101. The accuracy and precision it provides really speaks for itself.
Drawbacks
There is no backlight system for this device. In addition, it cannot measure current either.
Frequently Asked Questions
Here are some frequently asked questions and their answers.
Are Fluke multimeters worth the money?
A brand-name multimeter is absolutely worth it. Fluke multimeters are some of the most reliable out there. They respond faster than most cheap DMMs, and most of them have a analog bar-graph that tries to bridge the graph between analog and digital meters, and is better than a pure digital readout.
Is fluke made in China?
Fluke 10x are designed and built in China for Chinese and Indian markets, they are built to very high safety standards and very low price, but as a result, functionality is not that good. You don't get any bells and whistles.
How much should I spend on a multimeter?
Step 2: How Much Should You Spend on a Multimeter? My recommendation is to spend anywhere around $40~$50 or if you can maximum $80 not more than that. … Now some Multimeter cost as low as $2 which you can find on Amazon.
What is the easiest multimeter to use?
Our top pick, the Fluke 115 Compact True-RMS Digital Multimeter, has the features of a pro model, but it's easy to use, even for beginners. A multimeter is the primary tool for checking when something electrical isn't working properly. It measures voltage, resistance, or current in wiring circuits.
Do I need true RMS multimeter?
If you need to measure the voltage or current of AC signals that are not pure sine waves, such as when you're measuring the output of adjustable speed motor controls or adjustable heating controls, then you need a "true RMS" meter.
Is Klein a good multimeter?
Klein makes some of the sturdiest, best DMMs (digital multimeters) around and they're available for a fraction of the price of some of the big name brands. … In general, when you go with a Klein you can expect a high-quality, inexpensive multimeter that doesn't skimp on safety or features.
Is a clamp meter better than a multimeter?
A clamp meter is built to measure current; they can, however, measure other electrical fields like voltage and resistance. Multimeters provide a better resolution and accuracy than clamp meters, especially on functions such as frequency, resistance, and voltage.
What is the difference between Fluke 115 and 117?
The Fluke 115 and Fluke 117 are both True-RMS Multimeters with large 3-1/2 digit / 6,000 count displays. The major specifications for these meters are almost exactly the same. … The Fluke 115 does not include either of these features – this is the only real difference between the two meters.
How do you use a Fluke 115 Multimeter?
Is fluke made in the USA?
Yeah its still made in the USA.
Are there fake Fluke meters?
fakes are way way cheaper than the real thing. I have never heard of an actual fake Fluke meter, i.e. one that didn't come out the Fluke factory. The "clones" are easily identified as being different. There are tons of grey market genuine ones though.
Q: Why is it that multimeters have high resistance?
Ans: Higher resistance means lesser load, thus it will affect the circuit under test.
Q: What is the difference between clamp meter and multimeter?
Ans: You have to break the circuit to insert a multimeter in order to measure AC/DC current. For a clamp meter you just simply have to clamp around the conductor.
Q: How accurate is the resistance reading?
Ans: Generally, accuracy increases with the cost of the multimeter. From the technical point of view, the accuracy of reading depends on the range you select.
Conclusion
Choosing the appropriate multimeter is not an easy task, especially when you are determined to get one from Fluke. Owing to the fact that a multimeter has many specifications to deal with, even a professional might become clueless. So it needs a clear head and understanding to get to the best ones.
Among the above-discussed multimeters, Fluke 115 and 87V digital multimeters have caught our attention due to their wide range of features, compactness and multipurpose usability. Their design, uniqueness, and ruggedness make them the best among the bests. In addition, Fluke 101 is worth mentioning due to the fact that it is lightweight and effortless to operate thus making it usable even for the novices.
To conclude, It is advisable to devise what kind of use you are gonna make out of a multimeter. Once you have that figured out, it will be a piece of cake to sort out the one you need. These reviews will guide you to the best Fluke multimeter of your choice undoubtedly.
I'm Joost Nusselder, the founder of Tools Doctor, content marketer, and dad. I love trying out new equipment, and together with my team I've been creating in-depth blog articles since 2016 to help loyal readers with tools & crafting tips.