I love creating free content full of tips for my readers, you. I don't accept paid sponsorships, my opinion is my own, but if you find my recommendations helpful and you end up buying something you like through one of my links, I could earn a commission at no extra cost to you.
Learn more
There are some traditional carpentry tools that have been around for decades and the reason they are still in demand is that none of the modern tools has replaced their usefulness.
There are a lot of different measuring tools on the market, but the framing square remains a favorite with all woodworkers because of its simplicity, versatility, and ease of use.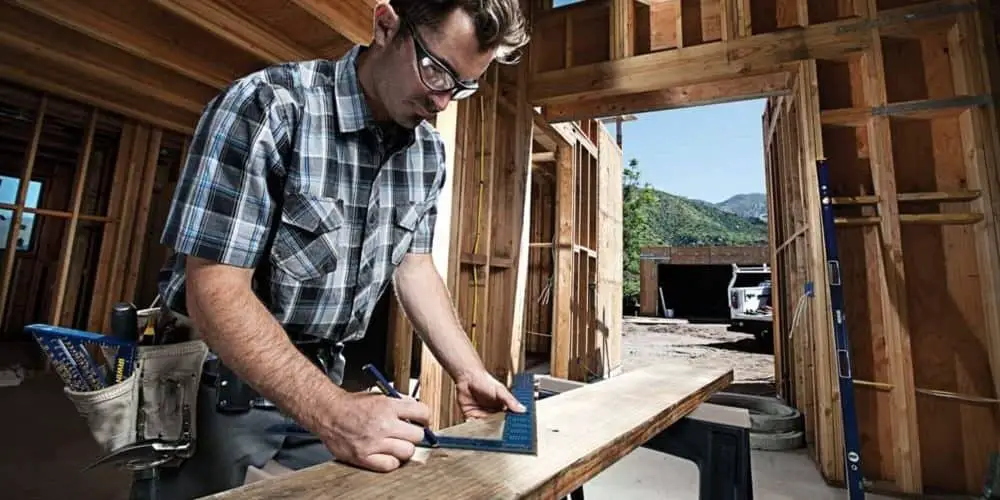 After researching the range of framing squares available, my top pick is the Vinca SCLS-2416, for its accuracy, durability, good value for money, and suitability for DIY as well as professional use. 
If you are looking to purchase a new framing square or to replace a lost or worn-out tool, there are a few things to keep in mind though.
The following is a short guide to the framing squares that are available, their various features, and their strengths and weaknesses.
This information should help you to make the right choice of framing square for your needs. 
The best framing square – buyer's guide
A good framing square, also called a carpenter's square, should be large, sturdy, and of good quality, so it does not break easily.
It needs to have an accurate blade for measuring purposes and easy-to-read gradations.
These are the features you should look at when purchasing a framing square, to ensure that you select the best possible one for your needs.
Material
The sturdiness, accuracy, and durability of the square are largely dependent on the material it is made from. Most squares today are made from stainless steel, aluminum, or polymers. 
The tongue width should be comfortable to hold and have an easy grip. Most importantly, it must be square with the blade.
Accuracy
Accuracy is the most important factor to consider when selecting a framing square. Exact measurements are essential for any kind of woodworking.
To check the accuracy of a framing square, place it with a ruler and check the markings. If they match, then draw a line with the square to know whether it's straight or not. 
Readability
When choosing a framing square, look closely at the marking and graduation to make sure they are easy to read.
It can be hard to use a framing square in low light and some markings wear off or fade, which makes the tool useless.
Most manufacturers stamp the gradations on the tool or use lasers to make the marks permanent.
The color of markings should contrast with the color of the body to ensure good visibility. 
Durability
The durability of these instruments depends on the material used for construction and the depth of the gradations.
If the material is not sturdy, the parts can bend which will result in wrong measurements. Gradations must be deeply etched to ensure that they do not fade with use.
The color combination should be such that they are easily readable. 
Measurement system
Different framing squares have different measurement systems, and you need to check them before buying one.
The measurement system of a framing square depends on inch divisions and conversion tables. 
Did you know there are many different types of squares? Find out which one is best for your project here
Best framing squares available 
To compile our list of the best framing carpentry squares, we've researched and evaluated a range of the best-selling framing squares on the market.
Best overall framing square: VINCA SCLS-2416 Carpenter L 16 x 24 inch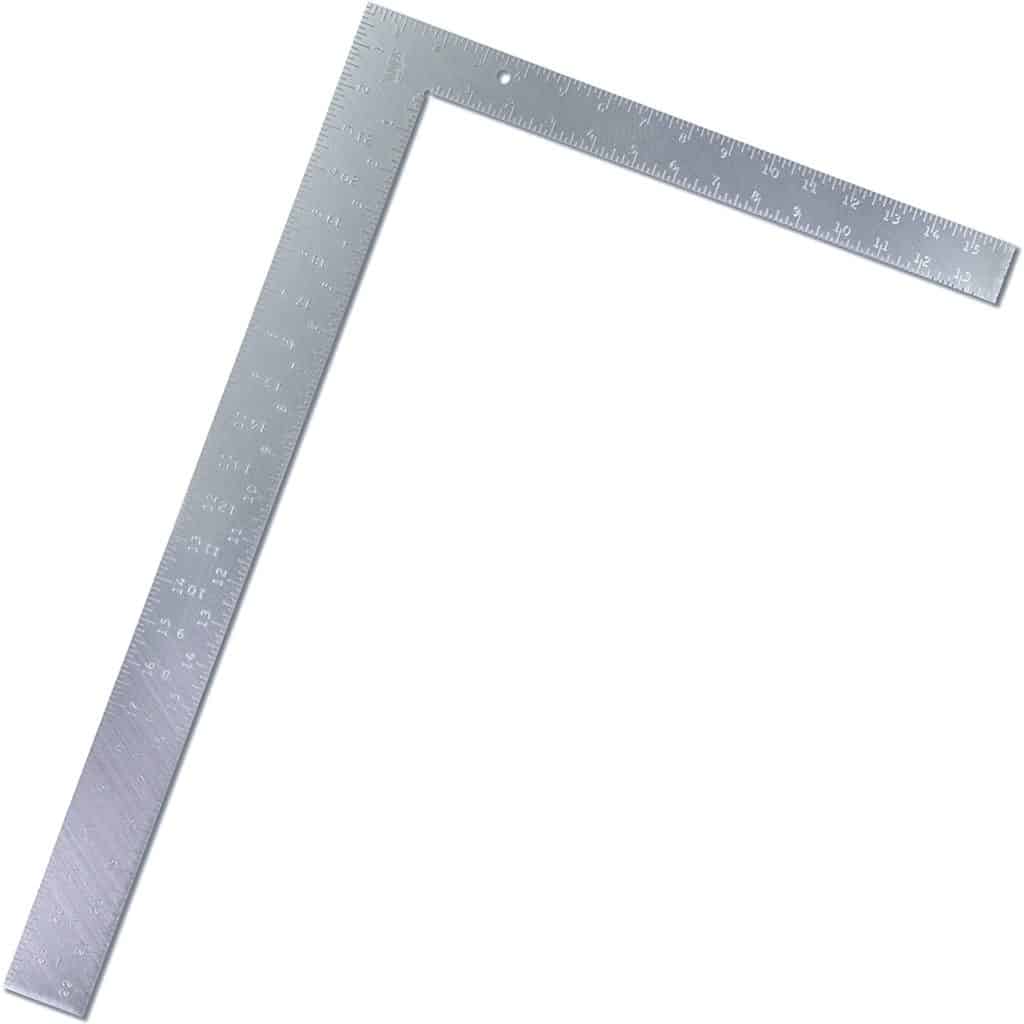 Accuracy and durability, good value for money, and suitable for DIY as well as professional use.
These were the features that made the Vinca SCLS-2416 framing square our top pick. 
The accuracy of this square is around 0.0573 degrees, so it offers precise results.
The gradations are 1/8-inch and 1/12-inch on one side, and millimeters on the other. They are press "stamped" in the steel and are all crisp and clear and easy to read.
This square is made of high-quality heavy steel, which gives it some extra weight and stops it from shifting while working with it.
It is coated with extra rust-proof epoxy for protection and durability. 
Features
Material: High-quality heavy steel with rust-proof epoxy coating
Accuracy: Accuracy of around 0.0573 degrees
Readability: Press stamped gradations, for clarity 
Durability: The press stamped gradations ensure durability 
Measurement system: Both imperial and metric measurements
Best budget framing square: Johnson Level & Tool CS10
Looking for a basic, sturdy tool that does the job but won't cost you an arm and a leg?
The Johnson Level and Tool CS10 Carpenter Square is a simple, standard tool that offers great value for your money. 
Made of high-quality steel, it is lightweight yet sturdy enough for heavy-duty use.
It can stand up to the toughest of work environments. It has a low-glare, anti-rust coating, making it durable.
This square has permanent, easy-to-read 1/8- inch and 1/16-inch gradations for accurate measurement. The gradations are heat bonded rather than etched.
The forged tip allows for optimum contact and a firm grip, eliminating stripping.
It's great for measuring inside or outside the square, as well as checking table saw adjustments.
Features
Material: Made of high-quality durable steel
Accuracy: This is a simple tool, but a very high-quality one.
Readability: Easy to read 1/8- inch and 1/16-inch gradations
Durability: Low glare, anti-rust coating
Measurement system: imperial measurements
Best small framing square: Mr. Pen 8-inch x 12-inch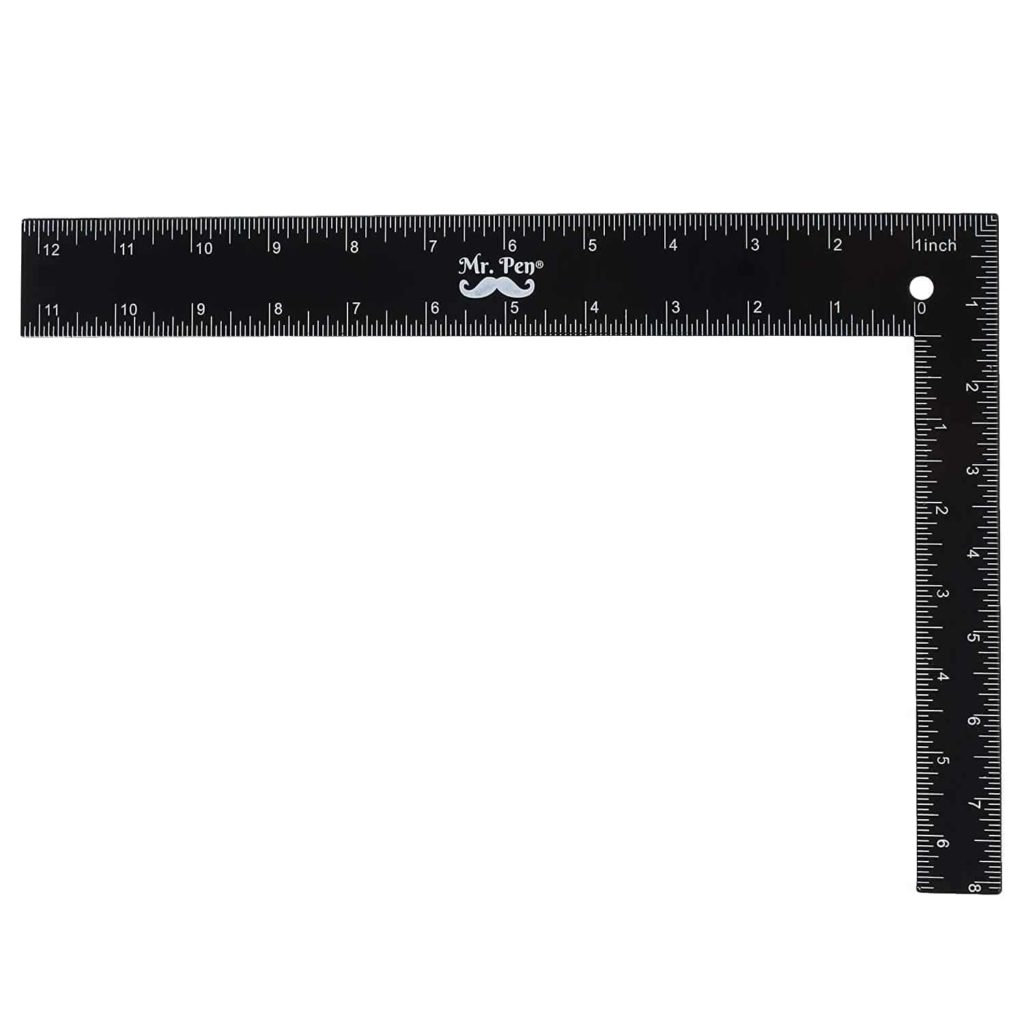 Smaller than the standard framing square, the Mr. Pen Framing Square is a compact tool that is both durable and affordable.
Ideal for framing, roofing, stair work, for making layouts and patterns.
Made of carbon steel, it is lightweight and will not bend. It carries Imperial units on one side, with 1/16-inch gradations, and metric units on the other side.
The gradations are bright white on a black background and are easy to read even in dim lighting.
The shorter leg measures 8 inches outside and 6.5 inches inside. The longer leg measures 12 inches outside and 11 inches inside.
The square can also be used as a straightedge for determining the flatness of a surface.
Features
Material: Made of carbon steel
Accuracy: Highly accurate
Readability: The gradations are bright white on a black background and are easy to read even in dim lighting
Durability: Although it is small, it is made of durable carbon steel
Measurement system: Imperial and metric measurements
Best framing square for beginners: Starrett FS-24 Steel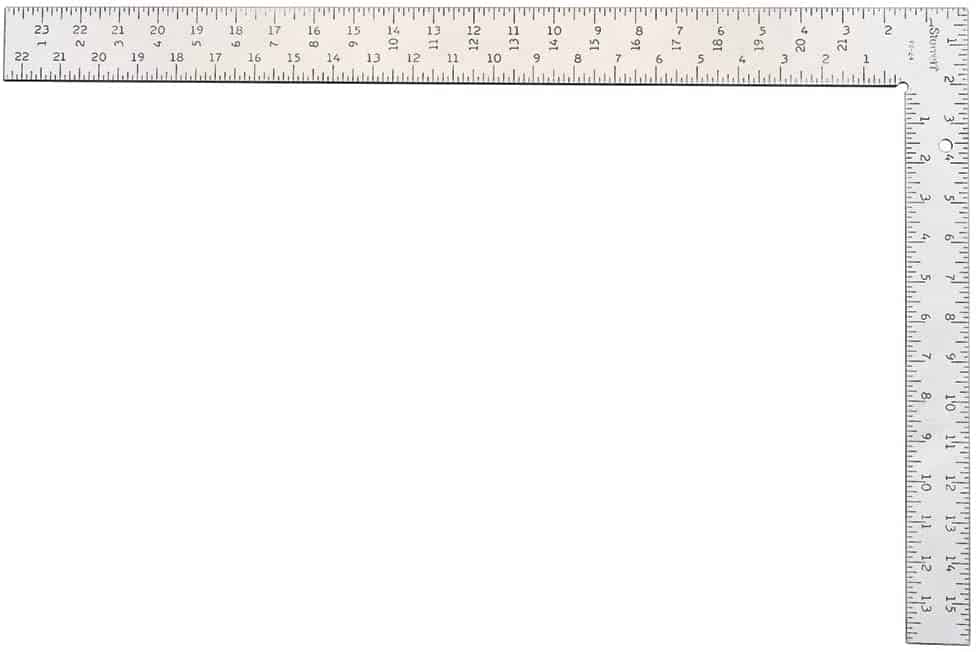 This framing square by Starrett is a simple, standard square that is ideal for beginners. It is a robust tool that offers all the basic features without any frills. 
This one-piece framing square is made of tempered steel and features a 24″ x 2″ body and a 16″ x 1-1/2″ tongue.
It has permanently stamped gradation marks of 1/8 inch on both the front and the back. 
It has a clear coating which makes it rust-resistant and durable.
Though it does not offer any adjustable sliders or extra scales, it is an excellent choice for beginner architects and woodworkers.
Features
Material: Made of tempered steel 
Accuracy: This is a beginner's tool. Some reviewers say it was not entirely accurate, but is good enough for beginners who aren't working with extremely precise angles and sizes 
Readability: Permanently stamped gradations
Durability: Durable and damage resistant
Measurement system: Imperial
If you are looking for the king of all framing squares, the IRWIN Tools 1794447 Framing Square is the one for you.
This multi-functional tool offers rafter tables, brace and octagon scales, and Essex board measurements.
It has multiple scales, and it can also be used as a protractor, saw guide, and ruler.
All these features, however, come at an additional cost, so be prepared to pay more for this quality tool. 
Made from aluminum, it is durable, rust-resistant, and accurate.
Designed with a dark blue background, the yellow gradations are deeply etched, which makes them easy to read and durable.
It offers multiple scales – 1/8-inch, 1/10-inch, 1/12-inch, and 1/16-inch. At 12.6 ounces, this is a lightweight and easy-to-use square. 
Features
Material: Made from aluminum
Accuracy: Extremely accurate, high quality
Readability: Yellow gradations on a dark blue background
Durability: Highly durable aluminum 
Measurement system: Multi-functional with rafter tables, and multiple scales. Can be used as a protractor, saw-guide, and ruler
Frequently Asked Questions
In case you are still looking for more information on framing squares, I've answered the most commonly asked questions about this tool.
What is a framing square?
Originally known as a steel square, because it was invariably made of steel, the framing square is now more commonly known as a carpenter's square, a rafter's square, or a builder's square.
As these names suggest, it is the go-to tool for framing, roofing, and stair work (like building these wooden steps).
These days framing squares are often made of aluminum or polymers which are lighter than steel and resistant to rust.
The framing square is shaped like an L.
The longer, generally two-inch-wide arm of the square is the blade. The shorter arm, often one and a half inches wide, is called the tongue.
The outside corner, where the blade and tongue join, is the heel. The flat surface, with dimensions stamped/ etched on it, is the face. 
A standard model framing square measures twenty-four inches by 16 inches, but sizes can vary. They can be twelve by eight inches or twenty-four by eighteen inches.
The most common use for the framing square is for laying out and marking patterns in framing, roofing, and stairway work.
The square can also be used as a straightedge for determining the flatness of a surface. In the workshop, it's a handy tool for marking cut-off work on wide stock. 
The calibrations on a square vary, depending on its age and the purpose for which the tool was designed.
Early handmade models tend to have fewer markings scribed or inked onto their surfaces.
The newer, factory-made squares may have various calibrations and tables stamped onto their faces.
Virtually all squares are marked in inches and fractions of an inch.
What do you use a framing square for?
Basically, framing squares are used for measurements and layouts on a right angle or other types of pitches.
You can find other uses for a framing square if you are a carpenter, furniture maker, or even a DIYer such as basic measurements and miter saw lines.
Overall, it is meant to provide more functionality in your work.
What is the best type of metal for a framing square?
This all depends on the type of project you have planned.
Usually, a framing square is made of either aluminum or steel. Steel squares tend to be more durable as well as more accurate.
In comparison, an aluminum framing square is a better choice for a handyman or DIYer since it is more lightweight.
How accurate are framing squares?
Used to solve construction problems and in many of the most practical building purposes, a framing square is not really square.
To get an accurate reading when working on a woodworking project, it can be best to hammer the blades to square so that it doesn't move.
To ensure you had an accurate reading from the framing square during extensive work, you may want to double-check your reading with another marking tool.
How do you use a framing square?
Convenient measurement tools, a framing square have even more uses when you consider the newer models on the market.
The basic use of a framing square is to measure cuts.
The first thing you do is measure the cut with the framing square by lacing the blade of the square parallel against the material's surface.
Next, mark the cut line and read the marking to ensure its accuracy before cutting along the mark.
Why are framing squares usually 16-inches?
Typically, a framing square will have a 16-inch tongue and a 24-inch body.
Since this is a standard proportional length, 16-inch squares are pretty common since they make the tool durable and easier to read.
Why is important to have pressed markings?
While you may not think this is very important, it really is.
Since the function of the framing square is to provide accurate measurements and angles, the tool is pretty useless if you can even read the gradations or numbers.
Look for higher quality framing squares from brands that have laser etch or hard-press measurements in the metal that won't wear off.
And, if you can find one, look for a framing square that has a contrasting number color to the metal that makes it easy to read in low light.
How do you know if a square is accurate?
Draw a line along the edge of the long side of the square. Then flip the tool over, aligning the base of the mark with the same edge of the square; draw another line.
If the two marks don't align, your square is not square. When buying a square, it's a good idea to check its accuracy before leaving the store.
What is another name for the framing square?
Today the steel square is more commonly referred to as the framing square or carpenter's square.
What is the purpose of the hole in the tongue?
This tongue is to hang up the tool on any wall. Simply put a nail or hook in your tool pegboard and hang up your framing square.
What type of measurements should a framing square have?
Another very important question that is again dependent on the type of project you have planned.
All framing squares are universally designed with the American measuring system, but some also include the metric system.
If you don't know which of the measurement systems you will need, choose a square that has both types so you will not be caught without the measurement system that you need.
What are scale ranges and gradations?
The gradations on a framing square refer to the amount of space in between each of the markings.
Typically, you will see options that range between 1/8, 1/10, and 1/12-inches gradations. Which gradations you require will depend on how precise you need to be for your project.
The scale range is also important, but it isn't as easy to spot when you are looking at different brands.
A scale range is necessary when you are creating octagonal, square, and hexagonal shapes.
Check for descriptions that include octagonal and square scales, but whether you need them will still depend on the need of your project.
Can framing squares be used for metalworking? 
Yes, obviously you can use a framing square in metalworking.
One thing to keep in mind though is that as these tools are made of aluminum or thin steel, it's better to keep them away from sharp metal tools. 
Takeaway
Now that you are aware of the range of framing squares available, their various features, strengths, and weaknesses, you are in a good position to decide which is the best tool for your needs.
Whether you need something for woodworking or architecture, there's a perfect framing square on the market for you.
Just be sure to check the features to make sure it suits your project. 
Now get to work with these 11 Free Standing DYI Deck Plans (& how to build one)
I'm Joost Nusselder, the founder of Tools Doctor, content marketer, and dad. I love trying out new equipment, and together with my team I've been creating in-depth blog articles since 2016 to help loyal readers with tools & crafting tips.