I love creating free content full of tips for my readers, you. I don't accept paid sponsorships, my opinion is my own, but if you find my recommendations helpful and you end up buying something you like through one of my links, I could earn a commission at no extra cost to you.
Learn more
Who doesn't want to grab the best product? But many of us do not possess a crystal clear conception of the product we are about to purchase.
As far as the best garage heater is concerned, you should know their types and be in a state to choose the right one to serve your purpose. With a view to this very aspect, the following sections are arranged.
Not just information and specifications, you will also come to know how to deal with different heaters as well as the reasons why you may avoid the same product revealing its shortcomings. Finally, you shall be able to identify the type and ins and outs of the garage or your target location and determine the product you should have through calculations and factual reasoning.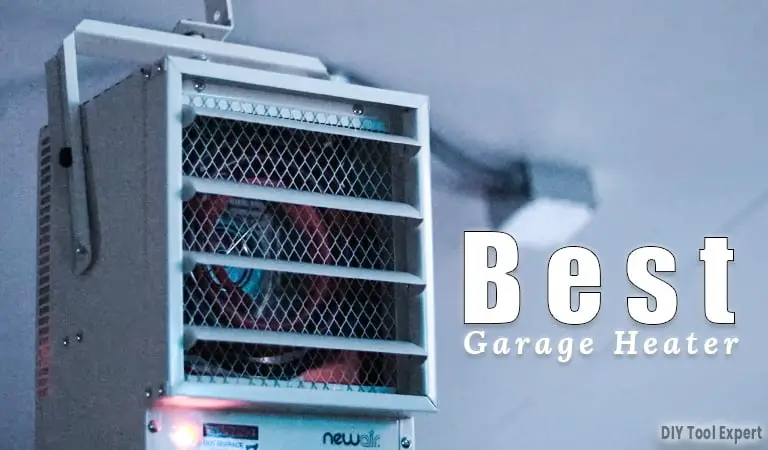 Now let's dig into the facts and find out the best garage heater for you.
Understanding the Types of Garage Heaters
To find the best garage heaters among those are available in the market, what you need to know first is of their types. Like other indoor heating or cooling system, all garage heaters do not function the same way.
Focusing on the style they would heat up your vicinity, garage heaters may be classified into 3 fundamental categories:
Forced Air Garage Heaters:
This type of garage heaters is the most popular ones. Heat, emerging from electricity after conversion, is blown to the surrounding.
A fan fulfills the purpose of drawing the cold air from the surrounding. The air is warmed when it resides on the heating surface and once it is done, the warm air is then blown out.
Probably it is the most popular and can be considered best due to two reasons. They heat the garage within minimum time and produce much heat.
Radiant Garage Heaters:
Using infrared (IR) for the heating purpose is a method we learned from nature. Radiant garage heaters use this technology. It heats up its neighborhood as the sun does to the earth.
Such garage heaters direct the produced heat towards the objects that are nearer. So you would get decent and comfortable warmth if you sit close to it. But, it lacks to provide the same to farther objects. Thus they stand behind fan forced garage heaters when distant heating is your concern.
Convection Garage Heaters:
The heating mechanism of this kind of garage heaters depends solely on some enveloped burning flame or some other heating element. This heating unit would heat up the existing air and the warmer heated air, being light in weight, would move upwards leaving a vacant space below. As a result of the process of convection, the remaining colder air gradually heats up too.
The convection garage heaters do not contain any fan inside it. Hence they become the most affordable garage heaters. But their drawback is that they require a hell lot of time to attain the desired warmth.
They are on both portable and mounted. Baseboard convection heaters are to be mounted.
This criterion of garage heaters also includes those heaters that use water and oil-filled radiators.
If you consider the source of power extraction of the garage heaters, then they may be classified into 2 classes:
Fuel Powered Garage Heaters:
This class of garage heaters varies in the fuel it consumes. The fuel may include liquid or gas fuels, for example, natural gas, kerosene, diesel etc.
Gas garage heaters are more popular. Propane garage heaters are the best among the garage heaters to some individuals due to their high portability and quick service. They are also recommended to use when you have a large area in the back of your mind to cover.
In spite of all these good offerings, gas garage heaters can be way too dangerous. They are not suggested to be used in enclosed regions. They may explode if handled improperly.
Electric Garage Heaters:
The name reveals all. Electricity is the source that they use to power them up and discharge their heating duty. It requires a bit of time to heat up but has no significant fire hazards except that are related to electricity hazard of common home appliances.
Portability is an important feature as far as thermal units are concerned. Of course, you do not have an all-year winter unless you are in a polar region.
Depending on the presence or absence of the feature of portability garage heaters are again of two types:
Portable Garage Heaters:
You don't want to heat up your garage when it is scorching sun out in the sky. Portable garage heaters should fall in your choice features if you are engaging and smart in handling space of your garage or room.
Ceiling or Wall Mounted Garage Heaters:
Space is not your headache always. Rather you may want an instant supply of heat. If you are in the same harmony then buy a mounted garage heater.
Garage Heater buying guide
The market tenders you hundreds of garage heaters each varying in their features and specifications. It is not an exceptional fact that you would find yourself intimidated while finding the best garage heater that serves your purpose. Do not forget to consider the following parameters while choosing your best garage heater:
Type of Garage Heater:
There are various types of garage heaters. What you need to do is to understand your circumstances at first. Give a quick scan to the section above containing the types of garage heaters unless you have already done so.
Try to answer some basic classical questions: What place am I considering to keep warm? Is it large or small? What should be the heating period? Do I mind a delay in heating initialization? Can I afford space to mount the heater?
 Power Requirement:
Garage heaters come up with a power rating. You will find it both inscribed on their body and in the specifications. The power rating is usually provided in BTU (British thermal unit). It may also be given in Watts.
Remember the simple equation: Higher the power ratings, more powerful the heater and greater the region would it cover. Also, do keep in mind that the inscribed power rating is referring to the best possible scenario. So buy the garage heater that would read its power rating a bit more than that you require.
If your garage is small, then you should purchase an infrared or radiant heater. They are best for such surroundings since they love to warm people and objects more than heating up the air. A fan-forced garage heater may also be suggested in this circumstance. But keep the size of the heater small to medium.
For larger spaces heaters of 4 to 5 kiloWatts are the best. But to cover a smaller volume, keep the power rating around 1500 Watts.
The Power Requirement Is Again Dependent on the Following Factors:
One Car or Two-car Garage:
To heat a specific region of your garage, select the power requirement for smaller garages.
The Height of the Ceiling :
Note that the garages having a taller ceiling should be considered large, even if the area is not that bulky.
Temperature Rise:
Power rating should be chosen keeping the outdoor temperature in mind. The desired temperature is certainly higher than the existing outdoor temperature. The difference is the "temperature rise". Smaller garages may require garage heaters having higher BTUs for colder countries.
Insulation on the Spot:
Insulation refers to good quality walls, windows, and doors that are heat resistant. Places having sufficient insulation would require heaters of slightly less power rating. But for insulated structures, heaters need additionally more power than calculated.
Electrical Specifications:
Once the power consumption is calculated and sorted out, just don't buy a garage heater and plug that in; it may not work. As industrial units require more power, many industrial heaters require 220 to 240 volts instead of standard 110 to 120 volts.
Before you buy a garage heater check the required voltage since that having higher voltage ratings won't work at all in residential plugs. But don't worry about it. You should not hesitate to purchase the higher voltage rated device if, fortunately, your industrial place has got a 240 volts outlet.
Almost all the heaters would show up amperage rating ranging from 15 to 20 amps. Ensure that the electrical socket you have can afford the volts and amps your heater demands.
Hardwired or Plugin:
Electric garage heaters come up in both the forms- hardwired and plugin. Both have their individual pros and cons.
The hard-wired ones are more efficient in terms of power delivery and area of coverage. They often lack mobility and portability. On the other hand, the plugged-in ones may offer you a good deal of flexibility, but won't let you heat a big space.
Safety Factors:
Count the safety factors a garage heater provides, for the quantity itself, will reveal all. Safety factors include a few parts of the device itself.
Thermostat and Regulator
The thermostat controls the temperature at which the user wants the temperature to get stabilized. It is a part and parcel of an electric heater. In most case, there is a knob that can be rotated within some gradations including high and low extremities. It is known as a regulator.
The thermostat together with its regulator prevents the device to get overheated. Otherwise, the heater may get burnt and cause a considerable loss of health and wealth.
Automatic Safety Shut Off
Almost all the modern garage heaters do possess this feature. This feature enables the heater to shut off immediately as soon as the thermostat operates. Don't purchase a garage heater without ensuring that it has this feature within it.
Caution Indicator
Many garage heaters possess a light (often an LED) to indicate any kind of caution or hazard situation. This may happen due to a number of reasons. You need to plug out, switch off or put off the heater as soon as you see it lit up.
Best Garage Heaters reviewed
Among gas garage heaters propane heaters are most popular. They are of variety by themselves. Pros and cons are always there when you inspect a particular product. This section and the followings would focus on both the aspects and reveal the realistic flavor of them.
1. Dyna-Glo RMC-LPC80DG 50,000 to 80,000 BTU Liquid Propane Convection Heater
The CSA approved propane convection heater of Dyna Glo is manufactured to provide you quality heat with safety assurance.
Features and Advantages:
Heating Area:
Keep yourself and your belongings warm and active. This convection heater would heat its surroundings up to 2,000 square feet of area.
Heating Period:
This mighty heater warms for 15 to 144 hours. The heating period depends on the BTU level you have selected and the volume of the propane tank with it.
Indoor or Outdoor
Do not worry at all about using it outdoor. It is equally useful for both indoor and outdoor. It can serve both in your house as well as your office. You only need to ensure some good and adequate ventilation.
Safety
Dyna Glo has kept one thing in their concern with great care. That thing is safety. The huge robust base that has been added to its bottom is a confirmation of that. Moreover, it has got an Auto Safety Shut Off technology to boost up the safety level to some extent.
Controls
Where can its heat not reach? The heating radius extends all the way 360 degrees to heat all that fall under the range of operation. The BTUs of the device can be varied with no discontinuity in every direction. This would amaze you!
To surrender its control to you and perform some thermal charisma it has a regulator with it. So, the regulator and a ten feet long hose pipe are included.
Service Location
It offers its service in almost all the sectors where ventilated spaces are available. This criterion includes industrial environments, construction sites, agricultural edifices and all other similar places.
Portability
This product of Dyna Glo may rank as one of the best garage heaters. It is a portable forced air heater with a year of warranty. Thus it protects from any defective element in materials or in workmanship.
Drawbacks:
This heater bears only one month of the return policy. Complaints are often found after a few months (2 to 3 months) of usage.
Among the consumer reviews quitting of the temperature, the regulator is observed most often. Many of them find the hose and regulator missing. The propane continues to flow even when the heater unit does not ignite.
2. Dyna-Glo RMC-FA60DGD Liquid Propane Forced Air Heater
Features and Advantages:
Fantastically manufactured garage heater it is. Dyna  Glo is outstanding in producing this forced air heater.
Heating Angle:
This potential helping friend of yours will warm you and your garage up the way you want it to. Most interestingly, you can adjust the angle of heating. Not too many garage heaters allow you that wonderful handiness.
Portability:
This Propane-fueled air forced heater is so functional and convenient to use that you can easily carry it to places you want. It is greatly portable. And its portability is extended to greater dimensions due to its cozy handle.
Cozy Handle:
It has a swivel carry handle. So, don't think of how to move the heater, just focus on where to transport.
Blowers Inside:
Blowers are embedded inside the case. Now just ponder upon the fact how congenial the moment is when you will be having it in your garage when the winter is at its peak.
Directing the heat in a certain direction is awfully important when the garage is your spot of application. The comfy warmth would spread out due to strong blowers inside the device.
Safety Issues:
Two useful switches are there to ensure safety. One of them is the backpressure switch while the other one is tip-over shutoff switch.
Limitations:
Often first power up initiates terrible noise. This is due to the fact that many devices contain fans whose blades touch the housing. As a result, the noise originates.
This problem may be eliminated if the motor assembly is remounted correcting it from it's of the center position.
3. Mr. Heater F232000 MH9BX Buddy Indoor-Safe Portable Radiant Heater
To get some readily available heat and warmth the moment you want it, Mr. Heater is ready to give you pal. This propane heater is the most popular one among the portable propane garage heaters in North America. Propane is the source of the heat you want.
Features and Advantages:
Clean Burning:
The burning of the fuel is so clean that it can be considered that the whole energy produced is delivered. So you are free to use it both indoor and outdoor. So, summing everything up, isn't the device almost 100 percent efficient?
Portability:
Mr. Heater is totally portable. You need no wires to connect. What you need to connect is to a cylinder of 1 lb propane.
BTU Rating:
The radiant heater is of about 4,000 to 9,000 BTU power rating. Calculate the amount of heat you require and then look for the right heater with a right power rating.
Area of coverage:
Garage heaters of this kind may serve your purpose up to 225 sq feet. This radiant garage heater of Mr. Heater is a perfect friend of yours if you are ready for hiking or stuff like that. It has the ability to heat enclosed spaces of the area about 200 square feet i.e. large tents etc.
Ergonomic Folding Handle:
What can one comment about its handle? To your utter surprise, it is a fold-down type handle. This would surely maximize its utility and your experience of heating your surroundings.
Heat Regulator:
It has a regulator to keep you track with its heat flow. But you will need to buy a hose and filter. You may use gas supply from a distance as well as control the gas flow.
Integrated Sparking Mechanism:
In order to light the unit, if you want, just do two things: rotate the knob and direct it towards the pilot and then apply a gentle push. You are done. Now the embedded mechanism of sparking called Piezo will work for you.
Safety:
Find yourself relieved with this machine. To ensure your comfort and to "fortify" that comfort to an extended level Mr. Heater is always tensed. The accidental tip-over safety shut off and the ODS (Oxygen Depletion Sensor) are their two exclusive innovations on safety. Hence, it would auto shut off if the oxygen level is detected low or if it is tipped over.
Drawbacks and Complaints:
Altitude Limit:
The garage heater may shut off as soon as the altitude exceeds 7 thousand feet above sea level.
Produces Carbon Monoxide:
Some users came up with information that the heater produces carbon monoxide of some considerable level. It may turn out to be a rumor, but there is no loss to take a precaution.
Bad Customer Service:
Many find it catching fire. The customer service is not up to the mark.
4. Comfort Zone Industrial Steel Electric Ceiling Mount Heater [A]
Get deluxe comfort through the thermal control by Comfort Zone Heater.
Features and Conveniences:
Standard Power Ratings:
Select the power rating you require. Do not forget to do some calculation on what amount of heat you require. The power ratings range in steps from 3, 4 to 5 kiloWatts. So choose instantly the heat you need to thermally agitate your room.
Electrical Specifications:
The electrical connection specification type is standard single phase 60 Hz 240 volts. Mark the voltage, it is not 120 volts. So, do not just plug the plugs into any wall out.
Adjustable Thermostat:
Don't you want to keep the heat up to a certain limit? This electrical heater has an adjustable thermostat. You can set the level of warmth you need and it would not heat you exceeding that boundary. Plus, you will have an upper hand over the bill it would cost for that extra heating.
High Output:
The heater is hard-wired for 208 or 240 volts connection. Thus you get flexibility for any power swing – low or high voltage. Then, what you get? The output is high.
Sturdy Body:
The body is made of heavy gauge steel. This makes the body yet more durable.
Removable Front Grille:
For cleaning purpose the front grill is something that you can detach. This comes to a lot of handy when you intend washing it.
Fan Forced Heating:
We buy heaters to cover all the area we need to heat up. Who would leave the opportunity to heat a wide area through the process of circulation? This wall mounted electric heater is set up to do that.
Adjustable Louvers:
There are louvers that are adjustable to direct to a particular level of output. The installation angle is also subject to calibration.
Safety:
Safety is always at the peak of your priority list. If not, put it so. And give that responsibility to the Comfort zone garage heater since it has a switch dedicated to tip over power cut off. Moreover, there are indicator lights for power and caution. It works smoothly on low 208 volts.
Drawbacks and Complaints:
May Generate Noise:
A few individuals may generate noise. Often the noise is of high pitch.
Lacks Mobility:
This ceiling-mounted heater lacks mobility and portability.
Low Performance:
A handful portion of the customers is not satisfied with its performance. They claim that the heat it produces is not up to the expectation.
5. Fahrenheat FUH54 240-volt Garage Heater, 2500-5000-watt
Features and Advantages:
Sturdy Body:
This robust garage heater has sturdy stature. It's toughly built, the surfaces are rugged. Overall, a heavy-duty heater it is.
Adjustable Thermostat:
This is basically an industrial type heater. Temperature control is fun with it. Well, that is possible due to the single-pole thermostat which is built-in in it. You can playfully adjust the temperature and hence heat. The temperature controls range from 45 degrees to 135 degrees (both in Fahrenheit scale).
Ceiling Mounted:
The heater will hang from the ceiling. It is ceiling mount in structure. But don't worry if you are determined to put one on the wall. You have your solution.
Wall-mounted:
There is a ceiling mount bracket that is built-in. So all the trouble of yours of mounting the heater the way you want has gone. Now you can mount it both vertically and/ or horizontally.
Hardwired:
This garage heater is completely designed and manufactured to be hardwired. If you have intended to purchase it and expect to plug it in after you have unboxed it, please get clarified.
Warm, not Hot:
Note a fact, the air that leaves as output is warm. You cannot call it hot or heated. It would provide you warmth and not overheat you. Before you buy and install, do think for a while, what do you need.
Drawbacks and Complaints:
Blower Difficulty:
The blower does not run until the temperature rises 55 degrees. Overheating is an issue that tops the complaints.
Noisy Crap:
The fan produces a noise. The noise, in some instances, is so vibrant and propagating that it circulates around the compound it is put into.
Slow Heating:
Your garage will be heated. Do not worry. Just worry the time it will take.
Bad Thermostat:
The level that the thermostat indicates is more than what it produces. In addition to that, there are no temperature labels. You just need to figure out what works for you. This may absolutely annoy you.
6. Dr. Heater DR966 240-volt Hardwired Shop Garage Commercial Heater
Dr. Heater is perfectly equipped to offer you some comfortable, safe and quick heat. It provides heavy-duty performance.
Features and Advantages:
Variable Heating Power:
It has two phases of power heating. It heats surroundings at 3000 or 6000 watts according to your choice. You certainly know what garage you are intending. Again, you may change your destination. Hence a variable heating power is certainly important.
240 Volts, Hardwired:
This is a heater of the kind that requires 240 volts, not the typical 120 volts line we use. The whole system of it is electrical and hardwired. Unfortunately, you have to manage a power cord by yourself.
Reasonable Size:
Some specifications on size would help you visualize this comfy friend of yours. The overall height and depth from top to bottom and front to back respectively are 14.5 inches each. But the side to side width is slightly less by mere 1.5 inch.
Ceiling or Wall-mounted:
This electric heater is stunning since it can be mounted on the ceiling as well as UL or CUL listed walls. Note that bracket is included with the product for safe and simple mounting.
Adjust the Thermostat:
You have an adjustable thermostat. It is accessed through a knob rotating between high and low extremities. You will not observe the temperature and you need not to. Just rotate the thermostat knob and fix it up the temperature and you want.
Heat Spreader Fan:
Heater coils of the fan are heated by the electric process. The coils are backed by a fan. This 8-inch blower blows the produced heat out of the heater.
It is dynamically designed to spread the warm air with maximum flow. It prevents any kind of turbulence and noise possible. Finally, you find your area warm enough to continue your life as usual.
Louvers to Direct:
Directing the airflow is an amusement. 5 louvers are busy as soon as you turn the heater on to send the heat up to your position. The louvers are adjustable too!
Drawbacks and Complaints
No Power Cord Included:
The power cord is not a part of the unit that you will be provided with. So, you'll have to manage one.
Expectation vs Reality:
A lot of customer reviews would compel you to leave this product. The heat output is very poor. A couple of this device may suffice your need and fulfill what it promises. Blows away cold air, complain many.
7. NewAir G73 Hardwired Electric Garage Heater
Features and Advantages:
Built-in Thermostat:
NewAir electric heater has do not leave safety just like another aspect of construction. This is something more. A thermostat controls the overheating of the device.
Automatic Shut Off:
What you have next? An automatic shut off is there to protect the overheating and prevent the device to get to that situation.
Sturdy Body:
The body is constructed much hard with stainless steel. This of course ensures and expands the durability of the heater. More a device lasts, less does it go through wear and tear conditions, and more does it saves your penny. NewAir ensures that.
Splendid Finish:
Just not the material, it is the finish of the manufacturer that would lock your eyes to this mighty heater. It is rugged and has a powder-coated finish: an addition to the magnificence of power heating.
Hardwired:
Other heaters like those which use propane to run are absolutely messed when you handle the maintenance issue of them. Electrical heater it is that is away from all these. NewAir is totally hardwired. It is not as other traditional appliances you have in your house.
A Substantial Area of Coverage:
750 square feet of the area! Yes, NewAir electric garage heater is able to manage that much of area for sure! Certainly, that is the measure of many of our shops, workplaces or garages. That's more than a 2 car garage.
A hearty recommendation: Do call an electrician for a profession hardwired installation of the garage heater. Keep in mind: 240 volts and 30 amps are all that these fellow heaters consume. This may come up handy while installation.
Colossal Heating Figure:
It serves you warmth with its 17,060 BTU of heat. That's much heat to keep your garage or warehouse up and a lot convenient than those mammoth gas heaters.
Swivel Bracket:
No problem in mounting on the ceiling or wall. The included swivel bracket will assist you since that is why they are manufactured and attached. Then why hesitate to heat the spot you specifically want?
Drawbacks and Complaints:
Heats Up Slowly:
The blower fan is the main suspect. Had it moved with a degree more speed, the hot wind might spread out quickly. But it's nice as soon as it is heated.
Not Really a 2 Car Heater:
The BTU rating was high enough to consider the heater to be a 2 car heater. But the product of this world of commercial markets functions little compared to that inscribed. NewAir G73 is not an exception. It works as a 1 car garage heater.
Unexpected Thermostat Trip Off:
This is rather an issue of a few individuals. These customers get distressed with the often overheating of the heater body itself. The result is thermostat tripping off.
8. King Electric GH2405TB Garage Heater with Bracket and Thermostat
Features and Advantages:
Elegant Look:
Other garage heater manufacturers may envy King for the design and texture of their product. The stunning black body would catch any customer with a decent choice.
Finned Steel and Spiral Elements:
It ensures total fairness in air distribution. In this regard, the quality steel elements and their spirally arranged elements play an absolutely significant role in integrating with a substantial blower.
Universal and Comprehensive bracket:
This is the most fabulous fact about this individual item. The universal mounting bracket is a perfect dude for easy and effective mounting.
240 Volts Demand:
For high heating, it is designed. Thus draws more to heat more. As a result, it requires 30 amps and 240 volts, just like most other electric garage heaters.
Swift Heating:
Fantastic heating it awards with short time quick action. You no need to chill in winter and wait for the garage heater to heat you in the first place.
Easy to Install:
Handy size and efficient configuration make the installation procedure a child's game. Additionally, the universal mounting brackets lock the electric heater at a perfect position if well executed.
Area Coverage:
It gently covers 500 square feet of area. It is nice to meet your wish of being in the sleeves like summer while it is howling 0 degrees outside.
Drawbacks and Complaints:
Poor Assembly:
Users observe the unit badly assembled. The wiring often found to be a mess.
Garage size and heater power rating
It is a simple and practical fact to realize is that if you buy an enormous garage heater for a tiny garage that you may have, then the bills that you would need to count may compel you to lose your interest to heaters. To ensure that this is not your case you need to know some facets of garage heaters regarding the size and power of the heater you should buy.
BTU-Watt Conversion
Garage heaters are rated in BTU and/ or Watts. Both are units of power consumption or capacity. A certain heater may be rated only in one unit while you may require the other equivalent in practice. Use these two simple conversion techniques-
Watts x 3.41 = BTUs
BTUs / 3.41 = Watts
Determining Garage Heater Size and Power Rating
The size of your required garage heater is dependent on a number of parameters. The parameters include the degree of insulation, the desired temperature rise, outside temperature and the most importantly the volume of your garage. Note that the volume of the garage is again the area of your garage times the height it stands.
Approximate Power Calculation:
Well, it's a heck lot of things to consider. Forget all. To keep it simple but still working, consider 10 watts against each square feet of floor to cover. So it comes up to the approximation of the following equation-
Watts required (approximately) = length x width x 10
For an instance, if your garage covers 26 ft x 26 ft (a 2 car garage)or 676 square feet of floor area then the wattage of the required garage should around or greater than 6760 Watts.
Precise power calculation:
There's no better option other than a precise calculation. To do so, take all considerations back to the calculation.
What's a temperature rise?
The terms "temperature rise" means the difference between the temperatures you want inside the garage and that of the outside environment. For power calculation, take temperatures in the Fahrenheit scale.
What about insulation?
The extent of insulation can be measured by checking the R-value. It is the thermal resistance of the materials and refers to the degree of trapping and retaining heat. Higher the value of R, better they preserve heat, better insulation they provide.
For heavy and average degrees of insulation the rating is to be considered 0.5 and 1 respectively, whereas, for low isolation, it is to be reckoned rated as 1.5. If no isolation is there, we need to consider the rating to be 5.
The Ultimate Equation:
The final verdict comes up in the form of the equation below:
(Insulation rating x volume x temp rise) / 1.6 = BTUs
Finally convert the BTUs into Watts using former equations, if needed.
An Example:
For instance, if it is a 2 car garage with 8 ft height,
Volume = area x height
=676 x 8 cubic ft
=5408 cubic ft
Temp outside: 70 degree Fahrenheit, Required temp: 50 degree Fahrenheit
Temp difference: (70 – 50) = 20 degree Fahrenheit
Insulation type: average (rated 1)
Then the required BTUs,
BTUs = (1 x 5408 x 20) / 1.6
= 67600
In watts,
Watts = 67600 / 3.41
=19824 (approx.)
Garage Heater Safety Measures
Any thermal system you buy, there remains a bunch of hazard possibilities. Let's draw our attention to some of them.
A Stable Base:
Don't get relaxed just turning your garage heater on, whether it be a gas or an electric heater, especially if it is a portable one. Make sure that you put your heater unit on a solid and firm basement and stable enough to absorb any vibration produced by it.
The same goes for ceiling or wall-mounted ones; rather it is more important for them since they may produce a greater impact if ill-treated. Avoid any chances of knocking it over.
Keep Clearance:
Keep enough space around the garage heater to allow clearance. Not caring about this particular act may result in burns and bruises. You may lose yourself completely as many electrically powered units connect 240 volts.
Fire Hazards:
Gas heaters have greater threats. A trace of flammable or combustible materials in its vicinity may bring about a fatal situation. So, keep it away from solvents, gasoline, paints, etc. Besides, papers, blankets, bedsheets, and curtains are some other things that you don't want to burn as well. Keep them away!
Kids and Pets:
Kids are notorious when hazardous stuff is around them, so they are pets. Warn and supervise them enough to ensure that they won't bump the heater away!
No Blocking of Valves:
The intake and exhaust valves are of great importance because they are the key path of gas movement. Any blocking may lead to a severe accident.
Only Intended Use:
This is a space heater, not a dryer of shoes or clothes! Try to use it as they are intended.
Cleaning and Maintenance:
Take great care in order to clean or maintain. Turn it off and disconnect the power supply. Give the heater some time to get back to a cool state.
Repairing and Modification:
An electrician or technician is recommended for any repair. Please do not attempt to modify it by yourself.
Do Not Leave in on the State:
Do not leave your heater turned on while you are not intending to use it. Turn it off and if possible disconnect the supply while going somewhere else.
FAQ
Here are some frequently asked questions and their answers.
How many BTU does it take to heat a 2 car garage?
45,000 Btu
A basic rule of thumb for forced-air heaters is 45,000 Btu to heat a two- to 2-1/2 car garage, and a 60,000 Btu garage heater for a three-car garage. The makers of low-intensity infrared tube heaters say that 30,000 Btu can heat a two to 2-1/2 car garage, and suggest 50,000 for a three-car garage.
What size heater do I need for a 2 car garage?
Two-car garages (450-700 sq ft) require a 3600-7000 W unit (electric heaters) or 12,000-24,000 BTUs/hr (for the propane ones) Three-car or bigger garages (700-900 sq ft) need a 7000-9000 W unit (or 24,000-31,000 BTUs/hr).
Where should heater be placed in garage?
To be most effective, garage heaters should be placed in the coldest corner of the room and directed towards the center.
What is a good temperature for a garage?
What temperature should you keep your garage at? It depends on how you use your garage and where you live. A good rule of thumb is to always keep your garage above the average dew point so condensation doesn't form. This is usually around 40°F for inland states and around 65°F for coastal states.
Can you heat an uninsulated garage?
So what's the best way to heat an uninsulated garage? Use propane heaters for high powered, silent and odorless heat. Opt for a radiant style for a small-medium garage, or a torpedo style for a larger space. For an electric option use infrared heating as it's more durable.
Is it OK to use propane heater in garage?
Propane heat is an economical and safe means of heating your garage without breaking your budget. Small garages of 1,000 square feet or less can use a shop heater with a rating of 45,000 to 75,000 BTUs per hour. Larger garages will need the power of a forced-air propane system rated at 60,000 BTUs per hour or more.
Are infrared heaters good for garage?
Garage heating is the solution. They work great for an out-building or detached work shed. Plus, an infrared garage heater helps the rooms above your garage stay warm too. An infrared garage heater directly heats people and objects, thereby heating the surrounding air to the set temperature.
Are torpedo heaters safe for garage?
Torpedo heaters in the garage can be more dangerous than other types of garage heaters because they operate on various types of fuels but most used are liquid propane, kerosene, and diesel. CSA Certificate will confirm that the torpedo heater is safe to use in the USA because it has good construction and performances.
Can a garage heater be too big?
Too small, and it will run up your power bill trying to heat a space beyond its capacity. Too big, and you'll waste money on heating power you can't use. Garage heaters also become physically larger as they increase in size, and a large heater in a small space is cumbersome and difficult to mount.
How many square feet will 40000 Btu heat?
To heat a 2,000 square foot home, you will need approximately 40,000 BTU's of heating power.
How much does it cost to heat a 2 car garage?
To heat an average, two to two-and-a-half car garage you will spend between $600 and $1500.
Which is better gas or electric garage heater?
Electricity is generally more expensive than gas in most all of North America. If we compare the cost of heating a typical two-car garage, the electric heater can cost as much as 20% more to operate than a vented forced air gas heater and 40% more than a vent-free infrared gas heater. 240 volt power is required.
Q: What does a "2 car garage" mean?
Ans: 2 car garages are a model of measurement. It is customary to express the dimensions of a garage in terms of cars it can accommodate. Well, it's not a strict measuring yardstick.
According to this yardstick, a 2 car model has 26 ft x 26 ft of dimensions. This is just 676 square feet of area. A Four car garage encompasses, on the other hand, a 48 ft x 30 ft or 1440 square feet floor.
Q: What is the BTU requirement for a 2 car garage?
Ans: If you have a forced-air garage heater then a 45,000 BTU heater is enough. This would rather make a garage of 2½ car-sized. A 60,000 BTU power rated heater is perfect for 3 car garage. Keep this, perhaps you intend to extend your garage later.
But the scenario is quite different for IR tube heaters. A heater of such kind would require merely 30,000 BTU for 2½ car garage. For 3 car garage, the value is 50,000 BTUs.
Q: What is the wattage of garage heater one needs to heat a garage?
Ans: A 1.5 kiloWatts of space or garage heater is capable of heating a garage of 150 square feet. To heat up 400 square feet of the garage area, a 5 kiloWatts garage heater is recommended. Now calculate the power demand of your garage.
Conclusion
You have a number of options in your hand. Now choose wisely the best garage heater for your site. Remember, each and every type has its own degree of shortcoming. Compare the pros and cons in the view of your situation.
A heater may be rejected by one due to its drawbacks, but think whether that's going to affect you or not. The same one may be the best garage heater for you.
I'm Joost Nusselder, the founder of Tools Doctor, content marketer, and dad. I love trying out new equipment, and together with my team I've been creating in-depth blog articles since 2016 to help loyal readers with tools & crafting tips.