I love creating free content full of tips for my readers, you. I don't accept paid sponsorships, my opinion is my own, but if you find my recommendations helpful and you end up buying something you like through one of my links, I could earn a commission at no extra cost to you.
Learn more
Nothing is more depressing than working for days on a project only to discover slanted alignments afterward. The remedy from such an error is not only tedious and time-consuming but also costly. However, old school levels can help you avoid this, but instead of removing hassles, they bring in a lot more of it.
Why bear all these curses when all you have to do is upgrade to a laser level? A top-notch laser level projects bright horizontal and vertical lines that automatically level in the blink of an eye.
Once you've got one of these on your site, you'll get the highest accuracy in tasks like point shifting, leveling, aligning, and so on. Here's a quick how-to on getting the best laser level for builders just like you.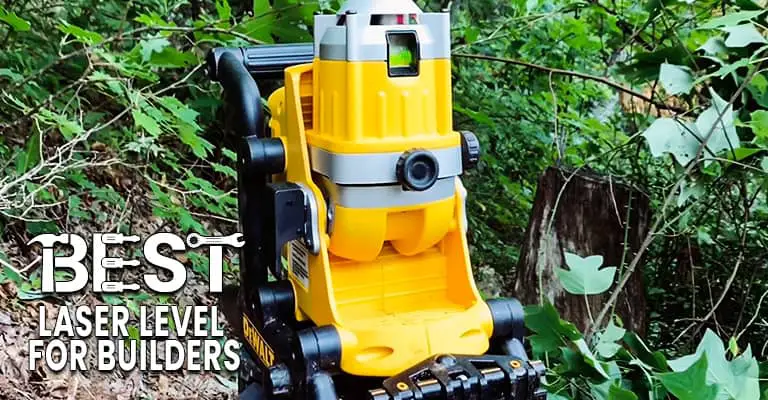 Best Laser Level for Builders buying guide
Just like any other tech, investing in a laser level without getting a proper understanding is nothing less than gambling with your money. With a view to stopping you from making such a mistake, here are a bunch of factors that our experts believe you should consider before placing an order.
Type and Color of Laser
There are three basic types, including line, dot, and rotary lasers. Since construction or renovation works require longer lines for alignment, line lasers show better results. And speaking of color, green lasers being more visible will give you outdoor privileges while red ones are better for indoor projects.
Accuracy
Try to make sure the level you pick projects horizontal and vertical lines of accuracy anywhere between ¼ to 1/9 an inch at 30 feet. However, 1/8 to 1/9 an inch at 30 feet is the optimum range for achieving precise measurements.
Working Range
Unless you work on large outdoor projects, a laser level with a working distance of 50 feet would do quite well. Otherwise, if you tend to use the level outdoors, it is recommended to go for a range from 100 to 180 feet. Nevertheless, bagging one that offers range extension with a pulse mode will be a secure move.
Self-Leveling Capacity
A self-leveling mode that levels the lines within 0 to 5 seconds will come handy when you don't have time for leveling manually. Also, make sure the auto-leveling error stays between +/-4 degrees. Some top-notch units also offer a warning alarm that beeps when not in level.
Mounting Threads
The most valued laser levels come with a strong magnetic pivoting base that allows you to mount the device easily. Also, you should look for ¼ or 5/8 inches mounting threads for use with a tripod.
IP Rating and Durability
Since construction sites comprise of humid and dusty conditions, you should look for a level that is at least rated IP54 or higher. Such a rating will ensure that your device won't get damaged from water splashes or dust particles. Then an over-molded housing along with a locking pendulum will assure durability.
Ease of Use
A laser level should be easy to use and have a smaller number of switches and modes to save you precious time. Look for a standard three-mode setup that allows intricate jobs by projecting lines separately or together.
Battery Backup
It will be wise to check if the device uses its battery efficiently for longer power backup. A battery backup of anywhere between 6 to 12 continuous hours is what you should search for in your unit.
Operating Conditions
Regardless of extremely low or high temperatures, a top-notch laser level will keep operating for hours. Check if the unit you choose can withstand –10 to 50 degrees Celsius and operate smoothly.
Best Laser Level for Builders reviewed
Due to the ever-increasing popularity of laser levels, the market is flooded with tons of different options, each offering new features. Such an abundance of products makes the task of picking the right tool more daunting. To make this tricky task easy, we present you seven of the most valued laser levels till today.
1. DEWALT DW088K
Favorable Factors
Whether you're tasked with residential or commercial applications, DEWALT DW088K due to its high accuracy can indeed be an ideal choice. Its extra-long-range laser with self-leveling has been explicitly designed for builders offering more than that by a laser level for homeowners.
Speaking of long-range, it comes with a full-time pulse mode that allows use with a detector, retaining full brightness for visibility. With the help of this mode, you can extend the working range of the laser, boosting it from 100 feet to 165 feet.
Most amazingly, its laser can project bright crossing horizontal and vertical lines with accuracy within 1/8 of an inch at 30 feet and +/- ¼ inch at 100 feet. As a result, installing floor and wall tile or mapping wall layout becomes easy as pie.
Moreover, you can easily mount this device on metal surfaces due to its built-in magnetic pivoting base and ¼ inch thread. Also, there are individual buttons on the side control panel so that you can operate all three beams with total ease.
Apart from these, DW088K features a durable over-molded housing that makes it withstand tough conditions. It is also IP54 rated, meaning water splashes or dust, which is very common at building sites, can't cause any harm to it. Finally, to help you buy with confidence, DEWALT offers a 3-years limited warranty.
Weaknesses
Visibility is a bit low in direct sunlight.
2. Tacklife SC-L01
Favorable Factors
The Tacklife SC-L01 is a pretty handy device due to its compact and lightweight design. However, it's large enough to sit stably onto a tripod or affix to most metal surfaces using its 360-degree rotating magnetic bracket and ¼ inch thread.
On top of that, this small yet powerful device comes with a smart pendulum leveling system. Such a system will help its laser beam to automatically level when you place it within 4 degrees of horizontal or vertical.
When it comes to precision, it's hard to find a competitor for its laser that projects cross lines with high accuracy of +/- 1/8 of an inch at 30 feet. So, you'll find it best for tasks like tile alignment, wall studding, and installing windows or doors.
Furthermore, with and without a detector, you'll get a working distance of 50 and 115 feet, respectively, which is pretty impressive from such a compact device. Besides, this smart tool will eliminate all your worries about setting it too far. Because whenever you're out of range, the laser beams will flash to alert.
Feel free to use it in tough environments, as it can operate for 12 continuous hours at –10 to 50-degree Celsius. Not only is it rated IP54 for water resistance, but also it comes with a soft pouch for keeping dust particles out of sight.
Weaknesses
Range without a detector could've been a bit longer.
No products found.
3. Huepar 621CG
Favorable Factors
Unlike most other conventional laser levels out there, the Huepar 621CG provides an all-around leveling coverage by projecting a 360° horizontal and a 140° vertical beam. As a result, you'll find it ideal for use in large building sites.
Furthermore, 621CG comes with unique up and down vertical spots to help you with tasks like points shifting, leveling, aligning, plumbing, and so on. And with its five easy-to-select modes, decorating walls or constructing roofs will seem almost effortless.
Aside from its unique features, it projects beams with an accuracy of +/- 1/9 and 1/9 an inch at 33 feet for lines and dots, respectively, helping you create flawless projects. The self-leveling green beam is far brighter than standard laser ones, which increases the outdoor visibility.
Moreover, the working distance of its laser can be upgraded to 180 feet using an additional laser receiver by switching to its pulse mode. You'll also find this device easy to set up since it offers a sturdy magnetic pivoting base, followed by 1/4inch-20 and 5/8inch-11 mounting threads.
Huepar has surely built this one for working in hazardous conditions, as it has an over-molded metal top design. They've added a finishing touch by making it water and dust resistant to some extent, further assured by an IP54 rating.
Weaknesses
The battery backup is only 4 hours with all laser beams on.
4. Bosch GLL 55
Favorable Factors
While red laser beams featured in typical laser levels are poorly visible, Bosch GLL 55 takes visibility to a whole new level. Since it features Bosch's unique visimax technology, you'll get bright beams of maximum visibility, ranging up to 50 feet in standard working conditions.
Although brighter beams give birth to heating issues, the GLL 55 produces ultra-bright lines and still protects the laser from overheating. And due to its three simple modes, you can project two lines separately or together with an accuracy of 1/8 an inch at 50 feet.
Furthermore, it comes with a smart pendulum system which helps it automatically level or indicate out of level conditions. As a result, you'll get precise results every time you decorate or construct. You can also use its manual mode for custom leveling at any angle by locking the cross-line.
The most amazing fact is that the system locks the pendulum when turned off so that it stays secure while transporting. Further security comes from a strong magnetic L mount that sticks the device firmly to metal surfaces.
Apart from that, tough job site environments can hardly cause any harm to it, as it is IP54 rated. Lastly, to make sure it endures tortures from everyday work, it has a sturdy over-molded construction backed up with a 2-year warranty.
Weaknesses
It doesn't have a pulse mode to increase range.
5. Tavool T02
Favorable Factors
Tavool T02 is a perfect blend of affordability and high quality since it brings top-class performance and costs less than half of the conventional products. Speaking of performance, the red beams it projects have high visibility up to 50 feet even on bright sunny days.
On top of that, using its self-leveling mode that automatically levels when located on an inclined surface within 4°, you can work with pace. Also, it will warn you about out of level conditions and therefore make it easier for you to readjust.
Whether you're hanging the ceiling of the basement or tiling on the floor and wall, you can lock the cross lines with a simple click and take quick measurements. And to make sure you get accurate results, its error range is well within +/-4°.
Moreover, even while projecting bright beams, T02 makes the optimum use of its batteries by reducing the consumption rate. As a result, you'll get up to 15-20 hours of uninterrupted battery backup.
Apart from all these features, you'll find it easy to set up on metal surfaces using its magnetic base. Besides, it comes with an easy to carry bag, which adds more protection to its waterproof and dustproof construction.
Weaknesses
It doesn't come with mounting threads for the tripod.
6. DEWALT DW089LG
Favorable Factors
With its green beam laser technology that is four times brighter than the traditional red ones, the DW089LG is born for professional builders. Since the human eye detects the color green more easily, it can be a perfect choice for outdoor projects.
Most amazingly, it comes with three 360-degree line lasers that simultaneously project on the room surfaces so that you can work on full layout applications. Moreover, all its lasers have an accuracy of +/-0.125 an inch, which allows you to measure as precisely as possible.
When it comes to indoor operations, you'll get crystal-clear visibility from up to 100 feet distance. And for outdoor projects, you can extend the range to 165 feet, switching to its pulse mode with an additional detector.
Although DW089LG is a bit pricey, you won't regret spending the extra money, as it's built to last for decades. It's rated IP65 to ensure that it will withstand humid and dusty work conditions. Besides, when switched off, its locking pendulum and over-molded housing keep internal components safe and sound.
Moreover, to make sure you have no issues with secure mounting, it has an integrated magnetic bracket with 1/4 and 5/8inch threads. This device comes with a 12V Lithium-ion battery to keep you backed up for hours. Lastly, a limited 3-year warranty from DEWALT makes it worth a purchase.
Weaknesses
It lacks a micro adjustment dial.
7. Makita SK104Z
Favorable Factors
SK104Z, the last product on this list, is ahead in the competition because of its ultra-fast self-leveling mode. With the help of this mode, you'll achieve increased productivity, as it projects automatically leveled cross lines within 3 seconds. The self-leveling works equally on uneven surfaces as well.
The most intriguing fact is how high accuracy it offers along the vertical line it projects. The vertical line has an accuracy of +/- 3/32 an inch while the horizontal line has that of +/- 1/8 an inch, both at 30 feet.
Moving on to visibility range, you'll find its beams easily visible from up to 50 feet distance. As a result, most of the large rooms will be well within its range. Besides, its bright 635nm laser will offer you the maximum visibility in moderate ambient light environments.
Makita SK104Z also features an integrated pendulum lock that enables slope incline applications so that you get more versatility. You'll get a magnetic mounting adapter and three independent modes for the same reason.
Apart from that, you'll get up to 35 hours of continuous run time operation since its pulse mode conserves and extends battery life. Moreover, it has recessed laser windows and a full rubber over-mold for fracture and drops protection.
Weaknesses
The presence of an IP rating is not specified.
Frequently Asked Questions
Q: How often should I calibrate a laser level?
Ans: Well, it solely depends on how frequently your laser level is being used. However, a regular calibration should be done every six months for achieving the utmost accuracy.
Q: What is the lifespan to expect from a laser level?
Ans: Although there isn't a fixed numeric value, a laser level is assumed to work well for more than 10,000 hours. Because after that mark, the brightness of lasers seems to degrade as time passes.
Final Words
By eliminating the tedious conventional methods of getting a straight alignment, laser levels have unparalleled popularity among builders around the globe. We believe that the above review sections helped you find the best laser level for builders. However, if you're still puzzled, we're here to sort things out.
We found that the DW088K from DEWALT can be an ideal pick since it has an extra-long working range for large schemes. And if you're low on budget, we recommend the Tavool T02 because of the unbelievable accuracy it offers at such an affordable price.
On the other hand, if you're willing to get the most out of your investment, you should definitely consider the DEWALT DW089LG. Due to its highly visible green laser and a sturdy build, it will outperform most other levels when it comes to outdoor projects.
I'm Joost Nusselder, the founder of Tools Doctor, content marketer, and dad. I love trying out new equipment, and together with my team I've been creating in-depth blog articles since 2016 to help loyal readers with tools & crafting tips.