I love creating free content full of tips for my readers, you. I don't accept paid sponsorships, my opinion is my own, but if you find my recommendations helpful and you end up buying something you like through one of my links, I could earn a commission at no extra cost to you.
Learn more
Laser levels funded its market share from its efficiency and competence over the usual torpedo level. Shooting lasers out in both horizontal and vertical directions, it can maintain laboratory precision when hanging that family picture in your living room or a bookshelf in your study or installing a door latch.
Torpedo levels or bubble levels can never offer that precision that you'll get from these. The best laser level for homeowners obviously comes in a budget and is oriented towards ono-professional applications that you might require. Keeping the operating system simple and intuitive, it'll obviously cater to your specific set of needs.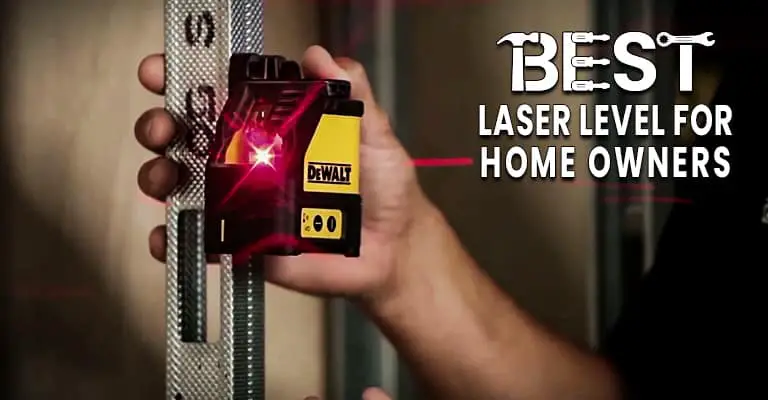 Best Laser Level for Homeowners reviewed
After knowing all the most important aspects while choosing the most useful one, it is equally essential to gather knowledge of the few finest laser levels in the present market. In this section, we will give you a quick review of some of them covering both good and bad aspects.
DEWALT DW088K Line Laser
Strengths
To start this list we have a convenient yet powerful line laser from one of the most reputed companies on the tool market. This top-notch product will cater to all your leveling and layout needs owing to its bright horizontal and vertical bright pulsating lines. It is highly accurate as well with accuracies up to 1/8 inch at 30 ft.
This laser level includes 3 laser lines and green pointers to produce brighter lines in different lighting conditions. Its full-time pulse mode maintains maximum brightness level at an extended range of 165 ft. Nevertheless, the set of AA batteries will provide up to 20 hours of continuous usage.
For strong and long-lasting performance, it is covered in an over-molded housing. That's why the line laser is water, dust, and debris proof and can withstand harsh weather with ease. Moreover, the hard plastic storage case on this model is small enough to carry easily as well as durable enough to protect the tool for a long time.
Shortcomings
The vertical laser is not as enduring as the horizontal laser.
There is no definite way to see the laser line on a bright day.
It doesn't provide a 360-degree projection option.
Qooltek Multipurpose Laser Level
Strengths
Qooltek Laser Level is a must-have laser level if you want efficiency and convenience in one package. This nifty tool is great to have around your house for various DIY projects. It comes equipped with 3 useful features: a bubble level, a laser level, and a measuring tape to ensure accurate measurement every time.
The 8-foot laser tape measure is highly effective in metric or imperial measurements. A user-friendly ON/OFF switch is provided to make the whole process easier. Additionally, with its 3 AG13 batteries with a backup battery, you can keep the device running even after the main batteries are drained.
This class IIIA laser level has a ranging error of +/- 2mm at 10m and 25m which is quite impressive at this price point. Though it is made out of hard plastic material, it is utterly lightweight. Therefore, it is easy to handle and ideal for carrying one place from another.
Shortcomings
It doesn't have any magnetic brackets.
Its measuring tape is flimsy
There is no tripod mounting hole.
BLACK+DECKER Laser Level
Strengths
Next, we have a versatile laser that is perfect for all your basic leveling and alignment applications. Unlike the laser tapes for builders, BLACK+DECKER Laser Level is one of the lower-cost lasers but fast and highly accurate additions to your toolbox. It comes equipped with two built-in bubble vials with backlights for brighter and prominent visibility.
What makes this laser level stand out from others is the 360-degree rotating base which can be mounted on a wall or floor. The wall mount allows you to reach tight spots like up along stair rails or inside of a closet. For more precise and straight measurement, you get a spike so that it can be fixed into sheetrock.
This laser comes with 2 AA batteries which are more than enough for house jobs. You can even use this to refine calligraphy projects. Aside from these, it is small enough to fit in your pocket and hold in the palm of your hand. On top of all, this model is classified as a Class II type of laser which is considered to be safe.
Shortcomings
This laser level lacks self-leveling features.
You cannot use this with a tripod.
It is short-ranged.
Johnson Level 40-0921 Laser Level kit
Strengths
Now we have an effective laser level from Johnson which is quite handy for tackling all of your leveling needs. As a self-leveling laser level, this is specialized to project bright vertical and horizontal laser beams lines simultaneously. This capability lets you measure from a greater distance with optimum accuracy.
With an interior range up to 100 ft., it works well both indoor and outdoor jobs. The 360 degrees graduated base makes it effortless to work in various angle layouts. At the same time, there is a single-level power switch to lock the pendulum when it is not in use. This feature is quite helpful while traveling.
This laser automatically self-levels within 6 degrees so that you can get an exact-level line with few minor adjustments. It also has a visual indicator that lets you know when it is on off level. Most importantly, this whole unit comes in a rigid carry case for easy transportation and utter protection against harsh realities.
Shortcomings
This laser level is not water-resistant.
The laser becomes invisible in bright light conditions.
It uses a proprietary mounting thread.
SKIL Self-Leveling Red Cross Line Laser
Strengths
To finish off the list, we have a mildly priced piece that plays a critical role in several household leveling tasks. SKIL line laser is powered by a powerful lithium-Ion battery that has a USB charging port for convenient recharging. Thus you won't need to change the batteries constantly like others.
Additionally, this versatile laser can project two highly visible lines to construct an ideal cross line projection. The bright red laser beam is visible for 50 ft. indoor, boosting accuracy of 3/16 inch at 30 ft. Other than that, a clamp is provided which can be attached to the top or bottom of this product for a stable position.
For further accuracy in measurements, it includes an integrated locking mechanism to carefully position the projected line from any angle. Not to mention, its self-leveling capability kicks in within 4 degrees. Therefore, you can be confident with its measurements even if you don't have time to manually level.
Shortcomings
This laser level is not rated for outdoor use.
Its laser beam is not bright enough
You won't get any tripod with it.
Tavool Self-Leveling Laser Level – 50ft Cross Line Laser level Laser Line leveler Beam Tool
| | |
| --- | --- |
| Weight | 11.2 ounces |
| Dimension | 3.5 x 2.2 x 3.15 |
| Style | Line laser |
| Material | ABS |
| Description Pile | AA |
Next up, we have a unique self-leveling laser level by the brand Tavool. The unit comes equipped with three laser beams to handle vertical, horizontal, and even cross lines. So, you can be sure that when you are using this tool, your alignment will be precise and to the point.
It has a maximum range of 50 feet, which is suitable for most projects. Because of the large range, you should have no trouble using it in an outdoor environment. The unit also is capable of self-leveling when placed in an incline of up to four degrees. As a result, getting a perfectly straight line is no trouble for it.
The laser level also has two functional modes, locked and unlocked. In both modes, you have the choice of switching among horizontal, vertical, and cross lines, which speaks highly for its versatility. It has a very intuitive design that makes it easy to use to even a tech newbie without any hassle.
This laser level requires four batteries to function, which is included in the package. You also get a magnetic base, and a handy carrying bag to keep everything in place. Despite the amazing features, the cost of the unit is surprisingly low, which means you can buy it even if you are on a tight budget.
Pros:
Self-leveling laser level
Three distinct beams
Includes all accessories.
Durable build quality
Cons:
No apparent cons
Huepar 902CG Self-Leveling 360-Degree Cross Line Laser Level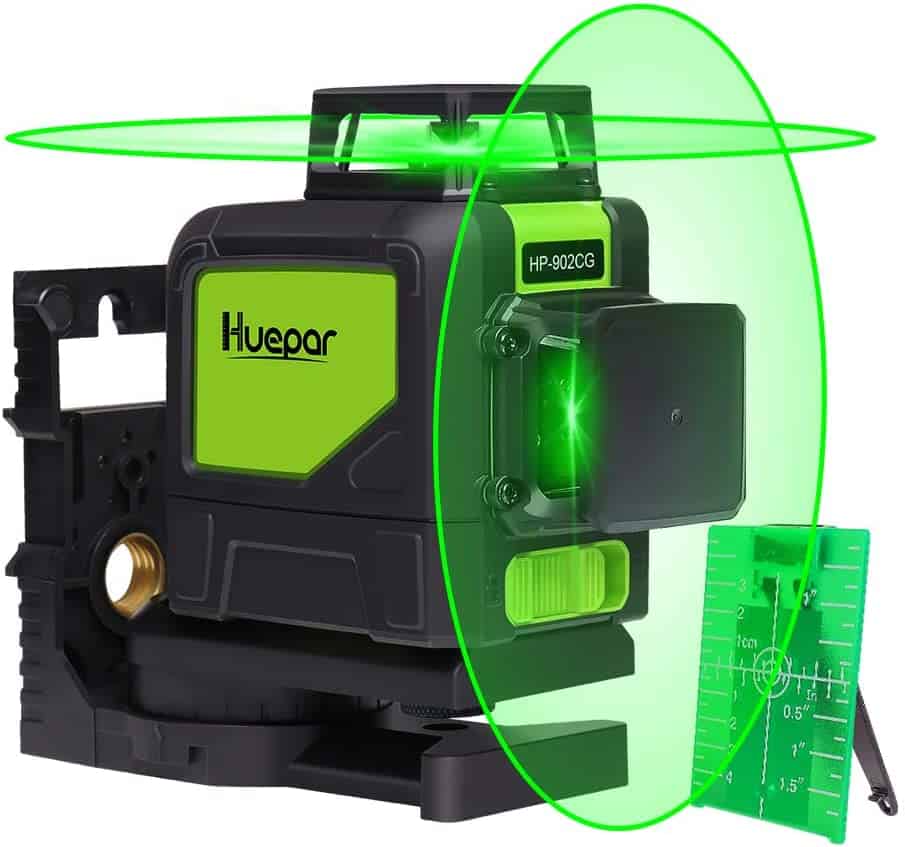 | | |
| --- | --- |
| Weight | 1.98 pounds |
| Dimension | 5.9 x 6.69 x 2.9 |
| Material | ABS |
| Batteries | 4 AA |
| Cell Type | Alkaline |
For people who want to settle for nothing but the best, the Huepar laser level might be just the thing. It is packed with many high-end features to ensure that your project goes smoothly. Although it is a bit on the pricier side, its excellent performance more than makes up for it.
The error margin with this laser level is around ­+­1/9 inch at 33 feet, which is pretty minimal and acceptable enough for most projects. It also has a wide range of 133 feet. So you are not essentially limited to working in an enclosed room all the time and can take on projects in open hallways or outdoor environments.
To add further utility, the unit emits green laser which, as you know, is easier to detect in outdoor conditions. The light is emitted at a 360-degree angle both vertically and horizontally. So you do not need to address the alignment of one side at a time, saving you a lot of tedious work hours.
It is also a self-leveling laser level and can adjust the angle easily. With the one-button operation, you can emit lines independently or together easily. The package contains the laser level itself along with a magnetic base, four AA batteries, a handy carry case, and a target plate card.
Pros:
Excellent build quality
Amazing 360-degree lasers
Extremely versatile
Massive range
Cons:
Might not be affordable for everyone
Bosch Self-Leveling Cross-Line Red-Beam Laser Level GLL 55
| | |
| --- | --- |
| Weight | 1.08 pounds |
| Dimension | 4.4 x 2.2 x 4.2  |
| Material | Plastic |
| Power Source | Battery |
| Wattage | 1 watts |
In the world of Handyman tools, Bosch is a beloved name. The brand has been a constant presence in the industry because of its high-performance tools in many sectors. This self-leveling laser by the brand is just another example of what you should expect when looking at their product.
The unit has a maximum range of 50 feet and emits a bright red laser across the surface suitable for most standard conditions. It features high-quality diodes that do not overheat, ensuring your product will be in working order for a long time. You can even mound it easily and safely if you want to go hands-free.
The device is capable of producing horizontal, vertical, and cross lines either independently or together depending on your requirement. Featuring an intuitive design, you can easily adjust the system to serve you exactly the way you want. It also features a smart pendulum system to level the lines automatically in slanted locations.
Furthermore, the machine has a water-resistance rating of IP54, which ensures that it can withstand harsh weather conditions. It is a class II laser level with a maximum power output of less than 1mW. For people who do not want to make a compromise, this is a perfect choice.
Pros:
Excellent build quality
IP54 water-resistant
Intuitive design
Includes a high-quality mount
Cons:
PLS 4 Red Cross Line Laser Level with Plumb, Bob and Level, PLS-60574
| | |
| --- | --- |
| Weight | 4 pounds |
| Dimension | 13.78 x 11.81 x 4.72 |
| Material | Plastic |
| Power Source | Cordless-electric |
| Warranty | 3 Years  |
People often wonder what the best laser level for builders might be. Well, to answer that question, we bring you the PLS 4 by the brand Pacific Laser Systems. It is packed with professional-grade features that can make your time on the construction site all the easier.
The unit is extremely precise and boasts point to point accuracy of +1/4 inch at 100 feet and cross-line accuracy of +1/8 inch at 30 feet distance. Since it is aimed at the professional, the precision is expected, and thankfully, the machine delivers superbly when it comes down to it.
As you might expect, this is a self-leveling model and can eliminate all the guesswork from your project. Because of its sharp and bright reference points, you can easily mark out your required positions without any hassle. On top of that, the unit is built like a tank and can easily withstand the harsh on-site condition.
It is a class II laser and has a power output of around 1mW. Everything you need with the unit is included with the package. You get a floor base, a magnetic wall bracket, a small pouch, and a carry case to easily transport the device from one location to another.
Pros:
Built for professional use
Extremely accurate
Includes a lot of accessories
Bright laser lights
Cons:
Not suitable for everyone.
Spectra LL100N-2 Precision Laser Level
| | |
| --- | --- |
| Weight | 29 pounds |
| Dimension | 47.5 x 14.3 x 9.3 |
| Color | Yellow |
| Power Source | Battery |
| Material | ABS Plastic, Aluminum, Steel, Laser components |
The last product on our list of reviews is a top-notch, state of the unit in the market. It does come at a hefty price, but there are hardly any units that can match its performance if you have the money. The Precision laser level by Spectra is truly a beast of a machine.
With the laser level, you get the light at a 360-degree angle. So, you can take charge of the entire room at a go without having to work with one side at a time. It also has a massive range of 500 feet. Whether you are working indoors or outdoors, the unit can handle it effortlessly.
Furthermore, the machine is quite user-friendly and does not require too much in terms of user skill. It is built like a tank and can handle drops on solid concrete from a height of 3 feet. It uses high-performance alkaline batteries, which means you get a better uptime with each set of cells.
The package includes a complete solution to all your leveling needs. It contains a tripod, a receiver, and clamp, a grade rod, alkaline batteries, all enclosed in a portable hard shell. So, it is safe to say that you do not need to spend another buck for any accessories when you buy this complete solution.
Pros:
Premium build quality
Massive range
360-degree laser level
Complete leveling solution
Cons:
Too expensive for an average user
A Complete Guide to Select the Best Laser Level for Homeowners
As a homeowner like you, accuracy should not be the only feature to look for in a laser level. You should take into account a few different characteristics as well. This process can be overwhelming, especially if you are new to laser levels. Our well-informed guide will surely lessen your difficulty.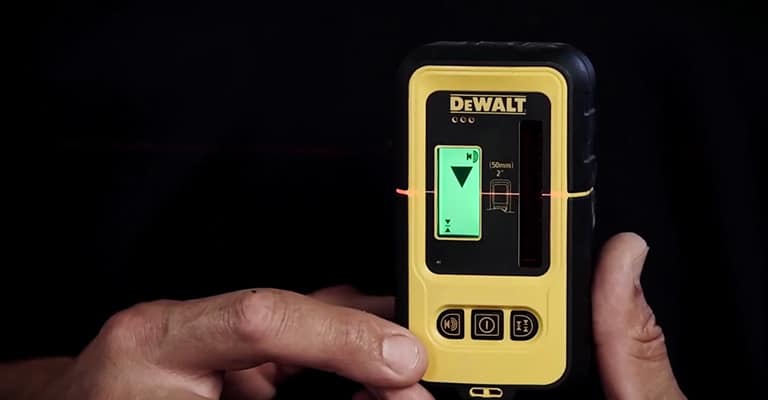 Laser Type
When it comes to laser levels, there are three types to choose from; line laser, dot laser, and rotary laser.
Line Laser
Line lasers are the most common among them. At once, it can cast a vertical or horizontal line onto the targeted surface. They are mostly used in house fixing and leveling jobs.
Dot Laser
Dot lasers are used to project a dot of light on the aimed plane. You can use them for various jobs like plumbing installation, framing applications, and more.
Rotary Laser
Lastly, we have a rotary laser level which can project a single line like line lasers. But they are highly efficient for heavy-duty jobs like grade works, foundation digging.
Laser Class and Safety
The class of lasers is a numerical assessment of it being potential to an eye injury. Though they are classified into 4 classes, in laser levels class II and IIIA are found, basically. Along with that, the frequency range should be from 630 to 680 or so to get a decent red beam.
Class II
Class II beams won't do any damage unless you deliberately stare at them for long. No sane guy does so, but children should be made aware of that. They consume battery less as such lasers are at best 1 milliWatt.
Class IIIA
If you require for doing quite precise leveling tasks, class IIIA ones are the sure recommendation. But it will cost you a greater number of batteries as they gobble up 3 to 4 mW power. Beware, an exposure of over 2 min may invoke an injury.
Accuracy Level
A top-quality laser level for homeowners should at least have an accuracy rating of over 20 feet and tolerance of more or less four degrees. Now, most laser levels include two types of accuracy levels: preset and self-leveling.
Between these, the self-leveling feature works best to find true level and accuracy. However, they are quite expensive. If you are not willing to spend too much money for home use, there is no harm going for a preset model. Make sure it has at least six degrees of accuracy.
Mounting Options
Some laser levels can mount on tripods, some come equipped with clamps while others come with a magnetic base. Regardless of what you choose, make sure it can mount different surfaces.
Among these, the tripod is most convenient and effective. It is quite handy for transportation. Even if you are working in a tight position or need to reposition periodically, tripod ensures stable results. On the other hand, the mounting base works best for an angled shot. It also allows you to stick to a metal track directly.
Laser Color
For laser color, you will be given two options to choose from. One is red and the other one is green. Red lasers are better suited to low light situations and provide less power. For indoor house jobs, it is best suited. The green lasers are most preferred for outdoor home use, as they are far brighter under natural lightings.
Beam Type
Beam type can be classified into two categories: horizontal beam and vertical beam. There are dual beam lasers that can provide both simultaneously. They are way expensive than single beam lasers but more suited for heavy-duty house jobs.
Visibility Range
Visibility range is the best way to describe the accurate distance that you can see the laser with your bare eyes. Normally, 50 feet is enough, if you are working on small to mid-scale jobs like picture hanging, getting absolutely level countertops, etc. Otherwise, you have to buy one with a higher range.
Power Source
All laser levels operate on some sort of battery power. It varies from standard AA or AAA batteries to rechargeable ones. If the price is not an issue for you, then you should settle for rechargeable ones. They are far more reliable and long-lasting. Yet, standard batteries are cheaper and simple to switch out.
Battery Life
The overall battery life of your choice solely depends on two factors: type of battery and how often you are using. If you use your laser occasionally, then it makes more sense to get the standard one. Otherwise, you should buy rechargeable ones. On one charge, some models offer up to 30 hours of runtime
IP Rating
IP rating short for ingress protection rating, used to describe the degree of effectiveness in protecting against foreign objects like dust and water. An IP rating consists of two digits where 1st digit is used to describe resistance against dust and 2nd one is used to denote resistance against moisture.
The 1st digit is rated a scale from 1 to 7 and the 2nd digit is from 1 to 9. The higher the number, the more capable it is to protect against dust or water. They are the most durable and long-lasting as well.
Laser Detectors
Laser detectors are common features among top-tier laser levels these days. Especially, if you intend to use a rotary laser outside, this feature is a must-have. Besides, it enhances your level's working range and releases certain sounds to assist you to get the desired level.
Self-Levelling
A laser level that has a self-leveling feature is an excellent investment. It is one of the best features that you can find in this tool. With this, your job becomes a whole lot easier as it takes away a lot of the calculations and stability from your hand. However, not all laser levels come with this option.
If you find a unit that has this feature, you should strongly consider buying it. A unit with self-leveling ability, will automatically adjust the angles and give you a straight line wherever you place it. Even when mounted on a tripod or mounting bracket, you will get a hands free leveling experience as it will constantly adjust the line to keep it straight.
Number of Beams
If you are a casual user and want your laser level occasionally for small projects, you can safely skip this factor. For a casual DIY user or homeowner, a basic unit with a single beam of light should be enough to handle all of the basic tasks adequately.
However, if you are an advanced user, your device should also be advanced in terms of functionality. Buying a unit that gives you an additional one or two beams of light can enhance both your work speed and process drastically. Although it might cost a bit extra, the utility you get is indisputable.
Easy to use
Even if you buy a high-end laser level, if you cannot use it, there is no point in buying it in the first place. Although there is not much to using this device, you should make sure that the basic functions of the level are accessible to you. Investing in a simple laser level is better than buying a complicated one that you cannot use.
However, if you are a professional contractor, you might prefer buying an advanced unit. If you are well-versed in the different intricacies of the machine, then it would not be much of a deal-breaker for you. In that case, you should be fine even if your unit is not very easy to use for a beginner.
Durability
No matter what we are buying, we want it to be durable and sturdy. The same goes for your laser level. If you want to ensure that your device survives a long time, you need to check its build quality carefully. When you are shopping in a budget, durability becomes a questionable factor.
One way to make sure you are ending up with a durable product is to check the manufacturer's warranty. It gives you an idea about the manufacturer's confidence in the build quality of the products. You should check for defects in the unit's construction before taking out your wallet.
FAQ
Q: Can laser level harm your eyes?
Ans: Generally, class II laser levels don't emit harmful beams but other types do. Thus it is always safe to wear protective goggles. Try to avoid looking at the source of beams directly.
Q: How often should you calibrate your level?
Ans: Primarily your laser level should come with presale calibration with an accuracy check. If you use your laser level every day, make sure it is calibrated once every six months. Otherwise, doing so after one or two years is enough.
Q: Should I buy a Green Laser Level or a Red one?
Ans: The color green is easier to catch in a brightly lit environment. If most of your projects require you to step outdoors, it might be a better idea to go with a green laser level. For laser levels with red beams, it is better to keep the project indoors.
Q: Is a laser level worth it?
Ans: If you are into construction works, or just occasionally dabble with DIY crafts, then yes, a laser level is worth buying. Even for an average homeowner, a line laser level presents a lot of utility. It allows you to ensure that the objects you are working with are properly aligned and do not mess up the surface's design.
Q: How often do I need to calibrate my laser level?
Ans: If you use your laser level frequently over time, it might become accurate. There is nothing to worry about, as it is completely natural. When this happens, all you need to do is recalibrate your unit. Ideally, you should recalibrate your laser level every six months if you use it regularly.
Q: Is a bubble level better than a laser level?
Ans: No. A bubble level is an affordable way to check the alignment in the room, but there is a lot of room for errors with this device. With a laser level, you get a much higher level of accuracy and reliability that a bubble level cannot match.
Q: Are there any safety issues I should worry about when using a laser level?
Ans: Typically, class II laser levels are quite safe. However, you should never stare directly at the beam regardless of the class. It might hamper your eyesight even though it is not appear instantly. Just to be safe, you should always wear safety goggles when working with a laser level.
Conclusion
When it comes to selecting the best laser level for homeowners, you need to look for those that can easily handle house-based jobs. Hopefully, you can find the most suitable option within your budget from our informative guide and brief itemized review.
Among others, DEWALT DW088K Line Laser is certainly our top pick due to its amazing accuracy, long-range and self-leveling features. Though it can be a little expensive, it is certainly worth your investment.
Other than these, if you are opting for an inexpensive piece and packed with valuable features, then SKIL Line Laser is hard to miss. With auto-leveling, rechargeable battery, and excellent accuracy, this is hands down the best value for your money.
I'm Joost Nusselder, the founder of Tools Doctor, content marketer, and dad. I love trying out new equipment, and together with my team I've been creating in-depth blog articles since 2016 to help loyal readers with tools & crafting tips.