I love creating free content full of tips for my readers, you. I don't accept paid sponsorships, my opinion is my own, but if you find my recommendations helpful and you end up buying something you like through one of my links, I could earn a commission at no extra cost to you.
Learn more
You're an architect, you're an industrial worker, a mechanic, a carpenter, or maybe DIYer. To apply any kind of work in your level of job you first need to measure the range and find the targeted piece. The old fashioned way of measuring values is tiresome indeed and also doesn't assist you to have an appropriate result.
However, the primitive ways need more than one person to calculate measure and there is this inaccuracy. So where's your flexibility here? Either way, you are not getting the cut to cut details, also this unnecessary pain.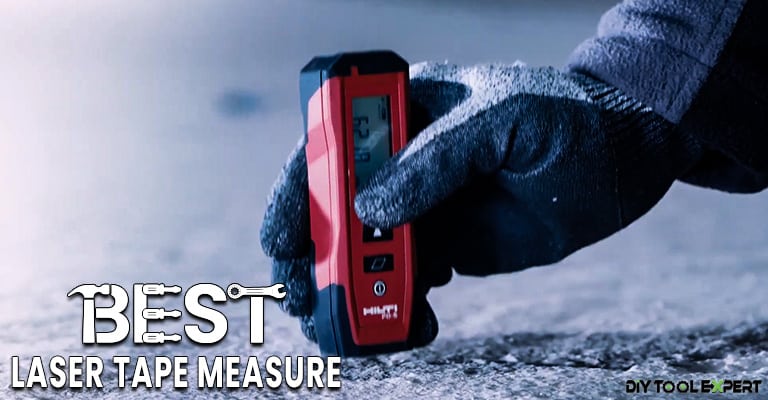 The innovation teams are working every now and then to make your work efficiency better than ever before. Guess what! Here we are to assist you in having proper measurement modules with the help of the best laser tape measure tools.
You'll not have to look for others to hold the meter scale, won't be agitated with the results of multiple trials, and more precisely it saves your valuable time!
Laser Tape Measure buying guide
While you are buying a thing from a shop, first of all, you need to know if you actually need this and will it satisfy your necessity. Variances in the samples will definitely make you confused and so here we are to make a path for you.
To select the best laser tape measure you firstly need to be confirmed about the range that it can cover up and then the precision level. Your purpose of use also to be noticed. If you are an outside worker some specifications being of best qualities might not be your favorite.
The key feature briefed here will give you a satisfying view of choosing the perfect one for you. So hop along with us and let us assist you!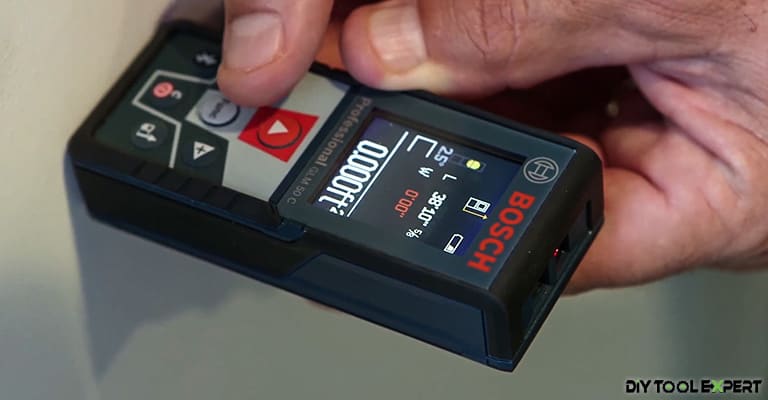 Range Ranged!
One of the very main functions of a tape measure (these ones are great!) or any laser tape is the wide reach it can go. In most cases, we see the average range is about 40-50 meters and that is really a convenience. No no! This range is for the lasers to get grip on but the tape blade scales have a poor distance to deal with. There's the reason of course.
The blades, however, are metallic components and mostly fabricated with nylon compounds so it can fight wears. However, they have this weight that after a certain range makes them get bent. So even if we are notified about this standout limit we cannot single-handedly make it work for far regions.
And as for the lasers they basically have no constraints in this regard. Even it can reach those points where you cannot even make it.  So lasers are quite a forte.
Let's now check a little more detail than the 2 in 1 tool has an average range of laser measure while the only laser tapes work with more coverage. But it is also a thing to notice that the 2 in 1 can be used regardless inside or outside and the exclusive laser might give irritation. Sunlight blocks and interrupts the wavelength of the laser precisely.
Target surface
Here we go for the surface that needs to be targeted and marked precisely. The laser is basically a beam of light and the reflection mechanism is the core process while calculating. So the surface needs to be less shabby and more fresh and clear and a little more like a body that can reflect the lasers and have less time to calculate results.
The measuring time not only depends on the laser's promptness but also on the composition of the surface. So it is highly recommended to check the marking surface.
HOOK UP HOOKS 
For the tape, scale to work efficiently and on one hand, there are magnetic hook systems and also foot hooks. The magnetic hooks allow you to have accurate work experience in a metal sheet or surface. And foot hook to hold the target with a strong grip.
Display 
The display system is an important issue because the results that are shown need to be visualized. If the lighting system is not of quality then the inconvenience stays. So LCD displays are more of a choice with operation reference from front and rear.
Multi-Functionality
The major purpose of this tool is to assess distances. But if they are capable of making other measurements and calculations, it would certainly improve your experience.
Some devices can quantify volume, area, and even minimum and maximum values. Others can subtract or add the values for better results.
Indoor Vs. Outdoor Use
There are some best laser tape measurers made specifically for outdoor use can also be used indoors to measure distances. Outdoor laser measurements work well over longer distances because the laser light does not change with distance.
However, with an outdoor laser measure tool, the body must be tough. The best laser tape measure should have a durable design tough enough to endure rain, snow, and fluctuations in temperature.
A tightly sealed case that prevents moisture buildup also protects the tool's interior from being damaged by moisture. However, a laser measure with an upgraded case will cost more, so users can expect to pay more.
Measurement Modes
Other than that, make sure laser tape measures can convert units. You wouldn't want to be stuck with feet or inches solely for volume measurements. Although most tools already have this feature integrated, it's still better to be cautious.
Connectivity And Storage
A good laser tape measure will include a continuous measurement function as well as the ability to transfer data to a computer. Besides having a larger measuring range, upgraded models may feature Pythagorean measurement functions for indirect measurement, so all data is kept on-device.
With Bluetooth connectivity, laser distance meters can also wirelessly transfer stored measurements to smartphones and tablets, saving time and effort. Be sure to follow the instructions provided by the manufacturer so that your laser tape measure is properly connected.
A lot of these tools don't offer Bluetooth connectivity. As sad as it sounds, in most cases, you don't need this feature. However, it is necessary if you are looking to transfer data constantly to other devices. Hence, go for tools with this feature only if you need them.
Additional Features Of Laser Distance Measures 
A laser measuring tool that is most effective is equipped with more than the basics. Additionally, they can also include various additional features such as an indicator of the battery life, sound alerts, automatic shutoffs, and even holsters to help make using the laser measure more convenient.
Although laser measurer holsters do not increase its functionality, they make the device easier to carry, put away, or take out when needed.
Laser measures have an automatic shutoff function simply to conserve battery power. In order to save energy, the tool will shut down when it hasn't been used for a while, but typically it will store the last reading.
When the battery gets too low, it will typically begin flashing or triggering a sound alert to alert the user. From their perspective, battery life indicators are merely simple visual symbols displayed on the screen to inform the user how much battery life remains.
In addition to alerting the user when a battery is low, the device is ready to take a measurement, or if the laser measure succeeds in taking the intended measurement, users can also hear a sound. Compared with previous generations of laser distance meters, the current generation offers excellent value for money.
Let's measure!
Most of the devices calculate in metric style. But plenty of them has a conversion mechanism in meters, feet, and inches. Guess what elementary style of measuring only heights and distances are over. And you can measure angles, areas, and volumes even with the Pythagorean Theorem. Smart right?
Why Use a Laser Tape Measure?
Accuracy is a very vital part to have a perfect work output. We have determination, we have hard work, but the miscalculations will always end up hindering our results. This is the only major reason for us to use a laser tape measure.
It is not possible for the tape blades to calculate a very further length or distances that is because they have a standout limitation. As a result, we focus on the laser specifications that basically have no demerits other than operating in sunlight.
The lasers, however, maintain a very optimum level of power and are red in color. So the wavelengths are locked and ready to go. The laser gets hit by the target sounds "Beep" and you are good to go calculating the measures.
So this is how the operations show that it is easy and no prerequisite is necessary for you to reset and use. For proper results and accurate work experience, along with a laser level in worksite or home, a laser tape measure is all you need.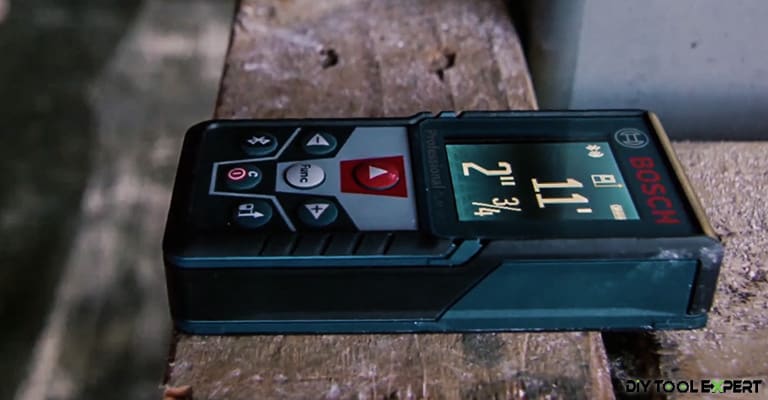 Advantages Of Using A Laser Distance Measurer
Many home renovation projects are easier to complete when you have a laser distance measurer in your toolbox or workshop. When properly supported at both ends, a laser measurer can provide accurate measurements even at long distances, without slipping or sagging like a metal tape measure.
In addition to being more accurate than traditional tape measures, these devices can also be calibrated. They are also easier to use even in direct sunlight. A laser distance measure might be able to measure an area, a volume, or even triangular shapes. They are also easy to store, transport, and use due to their compact size. 
Tips For Using A Laser Distance Measure
The advantages of laser measures include making long measurements more straightforward. The laser measure can, however, become inaccurate as the distance between objects grows. You might want to use painter's tape or a piece of sticky note as a target to make sure your laser measure is positioned properly.
Indirect sunlight, the laser tape measures can also lose their focus, making them hard to see if it is properly oriented during outdoor measurements. Identifying and lining up a laser measure can be made easier with an internal or external viewfinder.
Once you have used the laser tape measures to measure distance, ensure that it is cleaned properly. The accuracy of these tools is vulnerable to any dirt or debris that might block a portion of the laser, thus decreasing its effectiveness.
Consider using a small, opposing target, such as a sticky note, to ensure accurate measurements. Track the laser on the surface of the target with a viewfinder in bright light. If you want to continue getting the best results from the laser measure, clean it before storing it in a toolbox.
Best Laser Tape Measures reviewed
To get tech touch in your measurements picking up one from the list of top laser tape measures would really worth it. And why not when the experts chose them and proclaimed: have a go!
General Tools LTM1 2-in-1 Laser Tape Measure
Why my choice?
The General Tools 2 in 1 Laser Tape Measure is not a tool that only facilitates laser measurement but also the primitive way of measuring. The manufacturers make sure to give the tool a light weighted configuration of having only 12 ounces and a very smart outlook preserving the dimension of 6.30 x 2.40 x 7.10 inches in length, width, and height.
The product follows the metric style of measurement for 2x further grips and the inclusive 2 AAA batteries allow you to have 10x faster-working experience. The laser can calculate up to a minimal range of 10 inches and a maximum of 50 feet. The laser accuracy is ensured till ¼ inches and the battery life is measured by 3,000 measurements. The laser output is of class 2 type and is less than 1mW and that is 620-69nm.
This has a limited length of blade that is about 16 feet and width is ¾ inches. The standout limit for the tape blade is 5 feet and as a result, you can easily measure up to this extent without the blade get bent.
With an LCD display, the tool is a great handy for DIYers and carpenters for a very optimal distance to calculate. If you think of getting the facility of both the tape blade and a laser this might be a good collaboration.
Rethink
Even if the distance calculation is ensured but this one cannot ensure measuring other-dimensional calculation. Besides the length range for the laser is not too ample and so not a better choice for all-purpose work.
DTAPE Laser Tape Measure
Why my choice?
DTAPEs 2 in 1 measure tool is expertise for DIY works and the whole body is nylon coated. Being waterproof and dustproof the tool simply shows its superiority and weighs only 275g. Not forgetting to mention that the display system is quite friendly named white-on-black display. The operating reference is at the rear.
The measuring system is by the metric style and by default it is in meters. But can be altered in feet and inches with the mounted button systems according to usage. The overall distance measuring length is about 5m and the standout limit is 1.8m. The accuracy can be added or subtracted by 1.5mm and the blade's width is 19mm only.
Maintaining the class 2 laser type it generates less harmful lasers of wavelength 630-670nm. The laser's measure range is up to 40m and that is quite a good measuring capability for an ample purpose of work. The tool also enables two modes of the working segment that is distance calculation and area calculation. The laser automatically turns off in 30 seconds and the whole device in 180 seconds for power saving.
The operating temperature that is needed to be kept in check is 0-40 degrees Celsius. One of the great features that differentiate this is because it has a high battery life that can provide power for up to 2 years. The lithium batteries are high in work efficiency and can run up to 5 hours at a streak.
There are a USB port and charging equipment that lessens loads on batteries. Designed with a magnetic claw that can be absorbed in metal materials with an adsorption force level up to 1.5 kg. This can be easily mounted in your work-belt or other places with its back steel plate.
Pros
It contains both laser and tape measure
Rechargeable lithium battery
Clearer color LCD display
Can resist both water and dust
Shuts down automatically to save power
Cons
Units cannot be converted
No fractional value in measuring tape
Rethink
This tool is not suitable for outdoor works as the sunlight might affect the lasers and you might end up getting inaccurate results.
BEBONCOOL Laser Measure
Why my choice?
The BEBONCOOL measure tape is lightly weighted (3.2 ounces) and portable one that easily reduces your indoors measuring works effectively. This tool enables 3 modes for work, it can calculate distances, areas, volumes and in this regard, it uses the Pythagoras theorem to calculate. The two-line display system has a dark background that focuses on the result more in a highlighted way.
The accuracy that the tape ensures is almost +/-3mm and overall it can be LASERed up to only 98feet. The unit can be set in meter, inches, feet, and inch-feet. As this doesn't provide a regular tape measure option it has worked with the laser facility and it has a built-in optical sensor. It also enables two measuring references that are from the front and rear.
The auto power-saving mode easily reduces the wastage of charges and shuts down in 3 minutes of halt. The operation procedure initiates with the press at the button plated. Also measuring the laser at a surface also needs to be set by the click. It is slim and compacted and easy to carry in your pocket without any complications.
Rethink
Despite having the coolest features this is still not a suitable choice for outside workers. The laser can be disrupted by sunlight and might give you a painful job experience.
LEXIVON 2 in 1 Digital Laser Tape Measure
Why my choice?
The 2 in 1 tape measures always give a wide range of working solutions and the LEXIVON is definitely here to compete. This specification undoubtedly has a wide range of cover-up in case of measurement. It also allows you to have a tape measure that can help you in outside work as well with just one tool.
The laser can reach up to 40 m without any disruption and the tape measure blade up to 5 m. For precise results, the fractional accuracy level is about +/- 1/16 inches. But make sure to mark the ground level, perhaps by using a torpedo level, before questioning accuracy. The long reaches are calculated in the metric system but it can easily be converted into the meter to feet and vise-Versa.
This remarkable tool has an ABS case that is rubberized that is highly impacted by anti-skid components and nylon coated scale. As a consequence, the sturdy and heavy field works has less disturbance on the measuring tape and also ensures an easy and compacted grip for quality work. The blade has a ¾ inches two-sided marked scale with a true-zero magnetic hook. So you can work on metal surfaces along with the other types.
The inclusive 2 AAA batteries ensure a longtime working capability and a year's warranty. This tool has this unique system of auto-locking the targeted area by the single button operation and after showing the result in the display portal it automatically turns off. You can easily carry it in your belt pocket and you are ready to roll.
Rethink
The manufacturers could have worked on the display system a little more and also with the unit switches. Plus all dimensioned measurement is not certain.
TACKLIFE TM-L01 2-in-1 Laser Tape Measure
Why my choice?
The Tacklife Laser tape measure is a class 2 type tool which gives you a power supply less than 1mW. Some tools are basically through scaled lasers but in case of this one, we see just a beam that is fast. The range for measurement is 131 feet approximately 40m with accuracy assurance of +/- 1/16 inches that practically covers your pain.
Now let's check the button processes, there are 2 basic buttons and one to switch units and another one is the red button you need while targeting the location. However, the "UNIT" button needs to be held for 2 s to change the unit.
The device gives 3 modes of unit exchange (m/feet/inch) and two styles of measuring scale the metric and the imperial having default unit meter. While pressing the "UNIT" and "READ" button together for 2 sec turns the item off. Two operations reference the front and rear.
Indeed combined with anti-fall mechanism and the ABS cases enable a great grip and ensure heavy-duty workability. The nylon coated, double side printed 16 feet scale blade is anti-corrosive and gives you the most accurate outcomes. This has a magnetic hook to draw the metallic body works and also an adjustable foot hook. The type of bulb they use is LED and the display is on LCD.
A self-calibration tool with an inclusive 2 AAA battery to extend your work hour and meet up your satisfaction by 8000 single measurements. It can be placed in your work belt or you can carry with the wrist straps. Overall suitable for both outdoor and indoor works.
Rethink
You can basically calculate distance and heights but the area and volume outputs are not promised. The sunlight might be problematic for operating.
No products found.
Laser Measure, GALAX PRO Laser Distance Meter 196ft/60m Digital Tape Measurement
Why my choice?
Let's check out for a wider range tool that is the GALAX PRO Laser Tape measure that targets up to 196 feet almost 60m. It doesn't come with the contemporary style that other manufacturers allow. This means it is only facilitated with the laser shots for measurement and indoor expertise to be precise.
With the accuracy of 2 mm, the device gives you more accurate results in just 0.1-3 s. The minimum measuring range for the laser measure is 0.03m so it gives you a bump up from a lower region. The flexibility is here that it can measure height, distance, length in meter-feet-inch, areas in sq. meter-sq. feet and volumes, also the angles are determined precisely and the Pythagorean system is preserved.
The 2 1.5v AAA battery ensures 2 year's warranty and the battery life is 5000 single shots. The whole device only weighs 120 g. it operates automatically and also manually so gives you a painless procedure. However, it takes 60 seconds to turn off the laser and almost 8 minutes to power off which is a good amount of time. This has a 4 line output backlit display.
It can store 20 individual groups of data at once. The class 2 type of laser generates power less than 1mW and is harmless unless it targets your eyes. Also, it is IP54 splash-free and dust-free with a handy and compact design. There are inclusive wrist or hand straps for portability. Maintains a one-hand operation and allows mounting on tripods for better possibilities in long reach distances.
Rethink
As it is fully designed for laser measurement so outdoor usage is not welcomed. It can be of great use in industries and for the architects. An even and flashy surface gives a better laser. So no facility to work outside.
DEWALT Digital Electronic Bright LED Laser Distance Tape Measurer Device
Why my choice?
According to the visible size, the device is apparently a little bit weighted almost like a brick. This has a coverage range of 165 feet and the laser generates LED signal lights to mark cutoff targets. The Dewalt is the professional's choice basically for its good gripped size.
Having the accuracy rate up to 1/16" additive or subtractive the device has an area and volume coverage near 30ft that is very helpful. This has a rugged appearance and is a better choice for mechanical, electrical and plumbing job sectors.
The DEWALT has an inclusive 2 AAA battery and the warranty is up to 3 years. Though it has multiple working functions it is very named for distance calculation even if there are obstacles in between the device and target. Then again the laser type is class 2 and the wavelength is nearly less than 700nm so the power generation is less than 1mW.
Stores fewer data more precisely the last 5 records. 3 line backlit display, and by most reviews, the display is visible in sunlight and also in dark rooms. The built-in inclinometer provides continuous height and distance calculations and precisely it is durable and user-friendly.
Rethink
The storage system is not too high and displays less information. Weighs almost like a brick. No holder or back-plate mounted for portability but the small size can be easily placed in your pocket.
Bosch GLM 50 C Bluetooth Enabled Laser Distance Measurer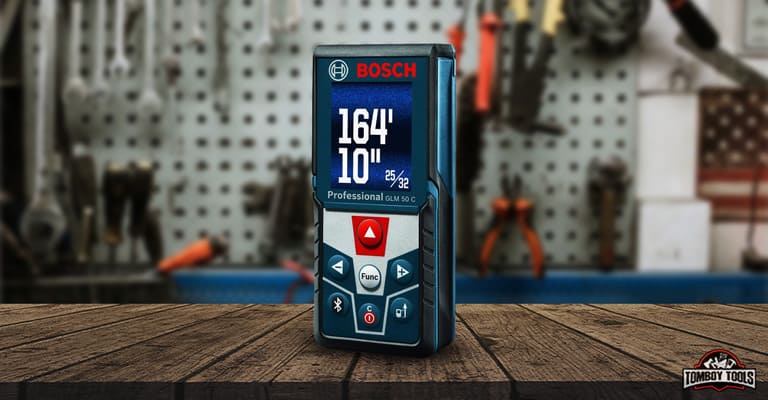 When it comes to choosing the best laser distance measurer, 100% precision and accuracy are always appreciated. Hence, you will love this best-rated laser distance measuring tool a lot. Not only does it provide on-point measurements, but it also promises to ensure durability, and it's also one of the most affordable laser measure products on the market.
Speaking of accuracy, it happens to be one of the sectors this product will never fall short on. Not only can it measure a wide range of distances, but it can also assess the smallest of values. You will never miss your measuring tape with this. It can provide similar facilities. Such as, it will adjust if you move away or closer.
Also, you will be amazed by how easily portable this laser measuring tool is. Its small body and lightweight design will let you keep it in your pocket. But don't be fooled by its size. It comes with amazing features such as a built-in inclinometer, indirect measurement, built-in level, and more.
It is sturdier than you think; as, it can last long enough for you to stop worrying about getting a replacement anytime soon. On the other hand, the one-milliwatt power output will let you operate it for long periods. The upgraded version of this tool features angle measurement. 
It offers a Bluetooth connection, which will let you store all the measurements from the tool to any output device such as computers, smartphones, etc. Along with that, the color display has just gotten better to increase visibility for its users.
Unfortunately, its battery dies after a short period of usage. So, you may have to replace it from time to time. Moreover, a lot of devices cannot be connected with this tool via Bluetooth for transferring measurements data. So, you have to make sure whether your smartphones/computers are compatible with it or not.
Pros
Can measure a wide range of distance
100% accuracy and precision
Color display for better visibility
Bluetooth connectivity
Durable and compact design
Cons
Short battery life
Incompatible with many devices
Mileseey 165 Feet Laser Measure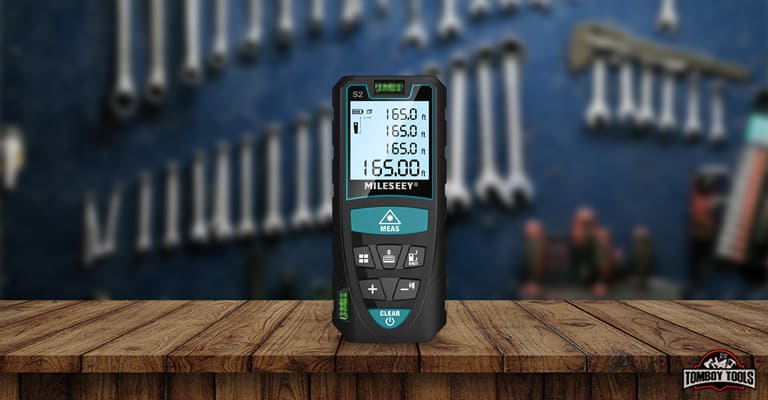 Without a doubt this is the best laser distance measurer for budget DIYers. The backlight allows accurate measurement even in low light conditions. It is a powerful laser measuring tool that fits in your pocket and has many modes and calculations. At a fraction of the price, it can do just about everything more expensive brands do.
The unit can be easily switched from front to back for measuring. All it does is add length to the device. It is also capable of measuring in multiple modes. With this program, you can measure inches & feet infractions, feet in decimal figures, and meters in three decimal places (mm scale).
Factory calibration has been performed on the laser rangefinder. Turning on/off the feature for interior measurements is possible to allow the user to see the device's length. The small body fits perfectly in your hand, gives you convenient use; you can easily carry it with you.
It would be great if inches were also available with decimal places, but I know that's not very common. Having access to the metric system is very convenient for me since I use it from time to time. It is also nice to have the ability to display the liquid level.
IP54 waterproof level offers maximum protection to laser distance measurement, thus allowing for various environmental work. It gets you smart volume measurement and area calculations based on the length, width, and height measurements, eliminating the need for manual calculations.
Pythagorean theorem is used to measure directly. An optical lens and two photosensitive holes make quick measurements possible. Under bright sunlight, the screen can still be read clearly despite strong light interference. As a result, it provides more accurate and stable measurements.
Pros
The device features quick measurements in 0.5 seconds and a large backlit display measuring 2.0 inches
Uses Pythagorean mode for automatic calculation and accurate measurement.
Four different measurement units can be converted to suit your measurement needs.
It is possible to measure more precisely with two bubble levels.
Class II laser level, 635nm wavelength.
Accuracy up to ±1/16inch thanks to its laser precision technology.
Cons
Nothing to nitpick about.
BOSCH GLM 20 Blaze 65′ Laser Distance Measure
With the Bosch GLM 20 Blaze, you can measure the distance to within an eighth of an inch up to 65 feet. In addition, it has extreme accuracy when measuring long distances. Only meters, feet, inches, or inches can be measured with this tool. The one-button operation makes it easy to use as well. Once the button is pressed, the measuring process begins.
Real-time measurement, which adjusts as you approach and move away from the target. It measures the distance as if it were a tape measure. Despite its small size, the GLM 20 fits into any pocket. Its backlit display makes it easy to read measurements even in dark areas.
Precision laser technology provides users with greater productivity, accuracy, brighter laser light and precision on the job site. In order to calculate how much a device is, the GLM20 measures the back of the device. Meters and feet will be measured, not centimeters. It does not measure centimeters.  
Indirect measurement is not available on the GLM20. Using similar proportions and figures, indirect measurement is what the GLM35 does. A laser measurer's battery life depends on how frequently you use it. Both the GLM 15 and the GLM 20 have different battery life.
If you are looking for the best laser measuring tool for appraisers that is affordable and also reliable, this is it. While the measurement accuracy is good, it might not be the best for larger areas. It's an ideal tool if you want to do light measuring without buying an expensive one.
Pros
The real-time length measurement mode
Measures surfaces such as walls and other surfaces as you walk off.
Comfortable to hold and easy to tuck into pockets.
Laser measures are easy to use.
You can get accurate measurements within 1/8 inch by pressing just one button.
Cons
It doesn't feature indirect measurement.
Laser Measure Advanced 196Ft TECCPO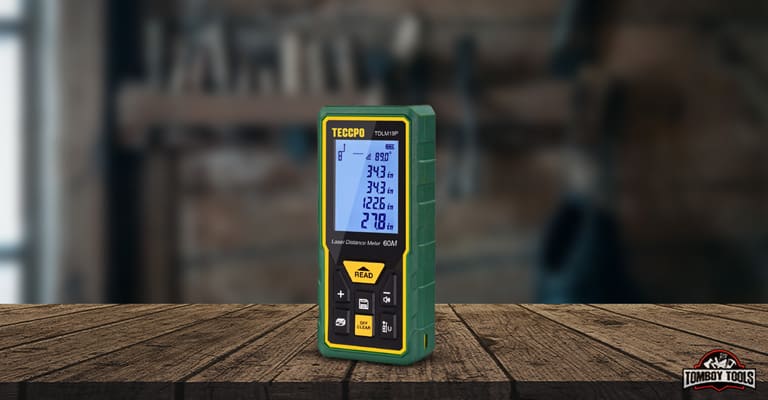 If you are looking for a tool that is different but gets the job done nonetheless, then here's what you should go for. It's normal to want something unique amidst so many similar products. Therefore, you can get this, because not only does it look innovative, but it also includes modern features.
Firstly, it contains diverse functions. It can be used to measure a range of long distances in different units. It also computes the area, volume, minimum, and maximum values, or indirect Pythagoras function for you. Hence, you can use them in different environments, starting from labs to construction sites.
You will be astounded by its accuracy. Not only does it ensure 1/16 inch of precision, but it also provides unambiguous reading through its lucid and innovative display.
You can measure both small and large values, and it will let you read all the fractional numbers with ease. Its backlight screen is so large and bright that you will face no problem even under sunlight.
You won't have to think about the replacement of this sturdy product anytime soon. Its outer layer is made of soft rubber, making it comfortable to hold yet resistant to weariness. On the other hand, little to no damage will be done even if it slips and falls.
Sure, it is easy to use; but some practice is required to get to that point. Some users may find it a little hassle some to handle, but it gets better eventually. Also, it does not come with a Bluetooth connection to transfer measurement data. Hence, transferring measurement data to other devices may not be possible.
Pros
Multi-functional
Innovative and large backlight display
It can be used under sunlight
Long-lasting build quality 
Dust and waterproof
Cons
It is difficult to handle at first
No Bluetooth connectivity
FAQs
Here are some frequently asked questions and their answers.
How accurate is a laser tape measure?
Most construction lasers will be accurate to 1/8 or 1/16 of an inch. For basic estimating, a laser measuring tape with a 1/8-inch accuracy will work fine. And even if you don't need to bump the tool up to 1/16-inch accuracy, longer-range models will have it available.
How accurate is Bosch laser measure?
The laser measure is accurate to within 1/8″ and measures to 50 feet. It makes this measuring tool more accurate, easier and faster than a tape measure.
What is the most accurate tape measure?
The BEST tape measure overall was the Stanley FATMAX. The FATMAX had the highest score in magnetic hold, debris testing, drop testing, hook durability and blade thickness.
Are laser tape measures dangerous?
Laser Tape Measures use laser light to measure distances. But, like most things in life, they are only dangerous when they are being used inappropriately. Most laser tape measures use a class 2 laser. This means that the laser beam maybe hazardous to eyes.
Do laser tape measures work?
Laser tape measures are alternatives to traditional metal tape measures; they're used to calculate lengths, widths and heights of up to about 650 feet (198 meters). They're generally considered accurate to within an eighth of an inch (3 millimeters) when measuring a distance of up to 300 feet (91.5 meters).
Can I use my phone as a measuring tape?
Google AR 'Measure' app turns Android phones into virtual measuring tapes. … Using the app appears to be rather simple. Simply launch Measure, point the phone's camera to an object, then pick two points to measure the distance in between. The virtual tape measure can measure either height or length.
How does a digital tape measure work?
A Laser Distance Meter sends a pulse of laser light to the target and measures the time it takes for the reflection to return. For distances up to 30m, the accuracy is É3mm. On-board processing allows the device to add, subtract, calculate areas and volumes and to triangulate. You can measure distances at a distance.
How does a laser measure work?
In a nutshell, laser measurement tools are based on the principle of reflection of a laser beam. To measure a distance, the device emits a pulse of laser in the direction of an object, for example a wall. The time necessary for the laser beam to get to the object and go back determines the measurement of the distance.
How do you read a laser tape measure?
What is Bosch GLM 25 Prof laser measure?
The Bosch GLM25 Laser Distance Meter 0601072J80 is an easy-to-use, affordable laser tape measure. This laser measuring tool features one-button operation for a lightning-fast learning curve. Just point and click to start measuring.
How do you use a Bosch laser measure?
Do laser measuring tools work outside?
All laser distance measure can operate outside but, and it a big BUT, the reality in the field can be a hit and miss affair literally. First of all, a laser distance measure works by emitting a laser dot. This then reflects off a surface and the device calculates the distance from that reflection.
What is the tape measure trick?
Here is how the trick works. Pull out the tape measure and fold in half so that the metal end of the tape measure is lined up to the current year. Your tape measure should be doubled back on itself. Since it is 2011, you need to line up the end of the tape with 111.
Q: Does the laser affect the targeted surface?
Ans: No. The laser used has an optimum level of energy and so it is safe to use without having the tension of having wears.
Q: How do I know if my mark is locked?
Ans: When the laser hits the obstacle it sounds a beep and you are confirmed.
Q: Can I get continuous measurement facilities?
Ans: Yes, some tools have angle calculations, so yes until you press the halt button you get a continuous measure and finally beep.
How accurate are laser measuring tools?
Most of the average laser distance measurer are very accurate. However, this characteristic varies from brand to brand. A lot of factors affect accuracy, as well. If all the factors are in place, they will be as accurate as you need them to be.
Laser distance measurers are highly accurate, but how accurate are they?
In the average laser distance measurement system, a distance can be measured within an eighth of an inch or even a sixteenth of an inch from about 50 feet.
Is a laser measuring tool dangerous?
An average laser distance measurer can be dangerous if used recklessly. Such as, you should make sure they don't get to your eyes. Other than that, they are pretty safe to use for fast and accurate measurements. 
Is it possible to replace a tape measure with a laser measure?
Hybrid laser measures incorporate a traditional tape measure into the laser measure, providing users with the best of both worlds. Rather than relying on a traditional tape measure for short measurements, hybrid laser measures offer users the best of both worlds.
Compared with previous generations of laser distance meters, the current generation offers excellent value for money. 
How to measure distance using a laser tool?
It's pretty simple. All you have to do is turn the power button on and then position it. Then you need to line and direct the beam. After you have done so correctly, release the measure button, and it will do the job. But do not forget to calibrate the laser before starting your operation.
What is the calibration process for a laser distance meter?
Refer to the manufacturer's guidelines when calibrating a laser distance measurer. A different calibration method may be used for each model, such as an automated or manual process. Professional calibration may be required for some laser measures.
Can you use a laser distance measurer outside?
Laser distance measuring equipment can be used outside, but bright sunlight can impair the visibility of the laser dots. Furthermore, falling leaves and blown debris can interfere with the reading. A tripod or a targeting camera will produce better results if you use a telescopic optical viewfinder.
Can laser measuring tools assess anything other than distance?
Yes. Some of them can assess volume, area, min/max values, and indirect Pythagoras mode.
Conclusion
Not necessarily all kinds of specifications will make your work effective and also they are not manufactured with the vision to meet up your individual needs. It is produced bearing this in mind that a large group of people will be benefited. So then it is a tough job for you indeed to choose your forte one.
Here we enlighten you with the most choice worthy selection, though every tool has its own reason to be a type. Therefore the best laser tape measure may vary to be named the best. In the vast selection of tools the most featured and work affordable ones seem to be the 2 in 1 specification.
The LEXIVON distance tape measure is a smart choice for its versatile usage and it is seen that the range for it to navigate is quite ample. More or less all tape blades have a range of 16 feet and that is also a handy trait if you are finding a tape to couple-up with the laser levels for outdoors. Because the laser tape might get disrupted on a sunny day and for alteration, it's very easy. It has a good competitor here that is the Tacklifes measure tool because it can shoot up to 8000.
Another kind is the only laser tapes and here the tape blade is omitted. But they have a good range to cover and also a mechanism to result in the areas and volumes. We basically like the GALAX PRO laser tape measure as it can record up to 20 groups of data which is very convenient and also covers a very ample range up to 60m than any other device.
The choice is still yours. We are just focusing the ultimate coverage assurance that is also by the users and honest opinions. The Tacklife, LEXIVON and the GALAX PRO are henceforth the smart choices.
I'm Joost Nusselder, the founder of Tools Doctor, content marketer, and dad. I love trying out new equipment, and together with my team I've been creating in-depth blog articles since 2016 to help loyal readers with tools & crafting tips.