I love creating free content full of tips for my readers, you. I don't accept paid sponsorships, my opinion is my own, but if you find my recommendations helpful and you end up buying something you like through one of my links, I could earn a commission at no extra cost to you.
Learn more
Being an electrician you'll always find yourself with your multimeter. Regardless of the task at hand, you'll find yourself using the multimeter every now and then. With these, you won't have to depend on any assumptions. You'll get to know what's actually going on inside the circuit.
Choosing the best multimeter for electricians can turn out to be a nightmare as manufacturers leave very few differences these days. Our intensive study of featured tools with a thorough buying guide will give you a clear view of what you should be aiming for to choose a top Multimeter.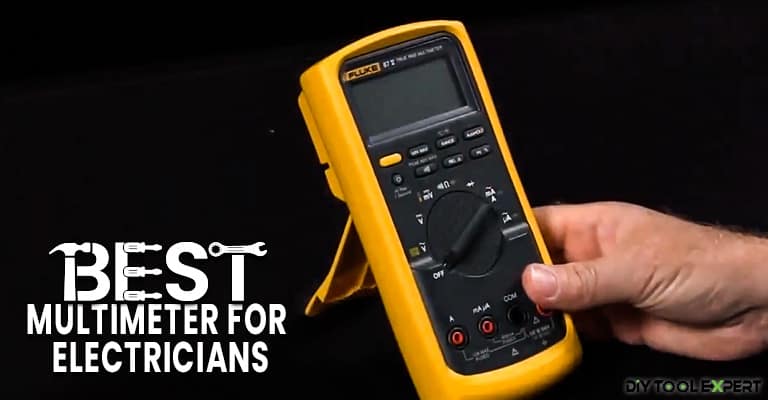 Multimeter for Electricians buying guide
Electricians know the aspects and factors. We, here, will be shedding some light on each of them just to make your way smoother. This will allow you to match your needs with what you have to look for.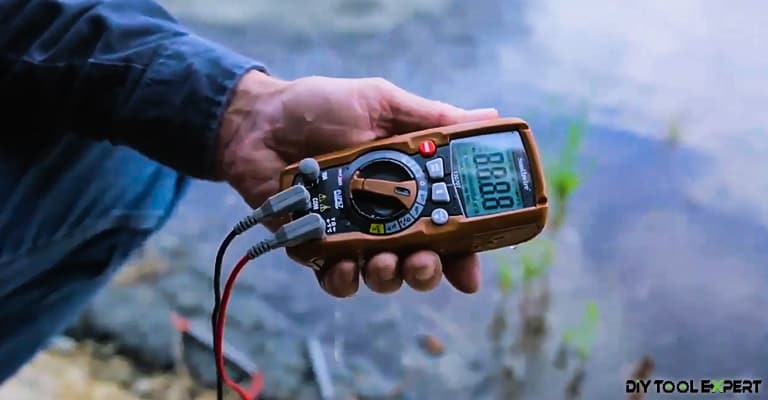 Build Quality
A multimeter must be rigid enough to withstand any average drops from hands. High-quality multimeters have a shock-absorbing body or a case that protects them from any average drops. The external body cover is usually of two types – rubber and plastic.
Cases having rubber components are more premium in quality but adds more to the budget. On the other hand, plastic ones are cheaper but are more prone to cracks on a slip of hands.
Analog Vs Digital
The Multimeters that have been rocking the market both online and offline are digital ones. One may wonder why not the analog ones. Well, analog ones do show the change in the values more clearly with the needle changing. But in a digital world accuracy is the more important factor especially handling electronics circuits. Digital Multimeter will give you more accurate results.
Auto-ranging
A multimeter that has auto-ranging feature can determine or specify the range of the determinant resistance or voltage or current without the user having to specify anything. This saves a lot of time for amateurs who are new to the device. Top Multimeter for electricians should have this feature.
Auto-ranging is much easier unlike manual ranging where you need to input the ranges & you need to adjust them. But in the case of auto-ranging, it does take time for the Multimeter to produce results.
Safety Certifications
Multimeters usually have CAT level certifications as safety features. There are 4 levels of CAT certifications. The most secured ones are CAT-III and CAT IV levels.
CAT III level indicates that the multimeter can be operated with devices that are directly connected to the source. If you are working with one of CAT level IV then you're in the safest zone, as you can even operate it directly to the power source. This should be the multimeter for electricians.
True RMS Technology
In AC or Alternating current measure of the current is not constant. If the graphical representation is drawn, it will be a sine wave. But with so much machine connected, it is rare to find perfect sine waves in-home or industry. That's why normal Multimeter for electricians does not give accurate values.
That is where RMS technology comes to rescue. This technology tries to adjust this wave for AC current or voltages i.e. generates equivalent perfect sine waves so that the Multimeter can deliver the most accurate result possible.
Accuracy
This is one of the key aspects electricians aim for while working with circuits. The more accurate the result is, the more efficiently the circuit will work. Look for True RMS Technology so that it can give you precise values. The display count also helps in achieving greater accuracy in Multimeters for electricians.
Measurement Capabilities
Voltage, resistance, current, capacitance, frequency are common functionalities that a Multimeter should have. Having the capability to test diodes, test continuity & even temperature would give you a great advantage in the field. It's not anything fancy to have all these rather it's a norm and that too for a reason.
Display
Seeing is believing. So, the display should be of good quality and easy to read. With a decent size, the display should have at least four digits. In which two of them will be full number and two will be for the decimal fractions
Working in different lighting conditions becomes a hurdle unless the display features back-light. Especially if you often do measurements in darker or dimmer environments, there's no way you can miss a backlit display.
Weight and Dimension
A multimeter is a device that has to measure various parameters of various devices. For comfort use, a multimeter should be easy to move around with.
Good multimeters' weight varies roughly from 4 to 14 ounces. Surely too big and too heavy ones will just slow you down. But some features like AC current measuring clamps add to the weight and you may badly need that. In such cases focus more on features and less on weight.
Resolution
The term resolution represents how much precise value can be obtained. For a multimeter under 50, the lowest resolution for voltage should be 200mV and for current lower than 100μA.
Measurable Parameters
A multimeter's basic requirement is that it should measure at least three parameters which include measurements of current, voltage and resistance. But that's not all to be a contender for the best choice. Continuity check is a must-have feature and it should be backed by a good range of voltages and current ranges.
Additional features like frequency and capacitance measurements are common too. But if it adds to the budget and you do not require them truly, then missing them out isn't a matter.
Saving Feature
It is great to have a value saved for working later. The data holding feature does the trick in this and if you do a lot of quick measurements. Some multimeters come with maximum data holding feature which is another cool value to be added especially if the comparison of data is your job.
Polarity Determination
Polarity refers to the correct setup direction. Multimeters mostly have two probes having different polarities and while measurement a mismatch in the polarities would result in a minus before measured value. This is a simple yet fundamental feature and nowadays almost no good meters come devoid of it.
Measuring Range
The more the measuring range, the more varieties of instruments can be measured. A number of Voltages and current ranges are found for multimeters having no auto-ranging. To increase the chance of measurability higher range is to be preferred. But again, give a check to your affordability and need.
Auto-ranging
Measuring is done in various ranges. Thus to cope with ranges multimeter uses range sectors that need to adjust by the indicator. Note that, measuring in a lower range would surely affect the health of your device.
A feature of auto-ranging helps automatically adjusting the range and saves time. Of course, non-auto-ranging meters are cheaper but the difference is insignificant compared to the ease and smoothness you get.
AC/DC Allowance
For circuits that use alternating current, buying only DC measuring multimeter will just count as giving charity to the seller and vice versa. The measurement of AC current often invokes the use of clamp meters and increases both weight and budget. But, that's totally okay if AC measurements are what you need. DIYers and small project builders may not need AC current measurement.
Working Environment
Electric components are used everywhere including darker areas like underground and basements. A screen without self-created light will not be effective as you will find it hard to read the values. A backlit feature is required to tackle the problem.
Safety
Lack of proper insulation on the probes or the alligator clips might get you dead if you are working with an electric supply line. Dual fuse with dual insulator and overload safety on all ranges should be checked for safer use. Also, for device safety drop protection and corner protection is important since you want it last.
Error
The error indicates the accuracy of the meter. Higher the error, lower the accuracy. You'll rarely find any manufacturer specifying the error percentage in these under 50$ multimeters. Buy the lower the better is the rule of thumb in this case.
Battery & Battery Indicator
It's very irritating to have the meter go dead while you're in the middle of something. That's why you'll see a lot of meters with an in-display indicator or an external LED indicating the charge of the battery.
And about the battery, all multimeters under 50 that I've encountered use a replaceable 9V battery. Some brands provide a free one with a multimeter.
While being a lite power user battery is important as it determines the lifetime of the multimeter. Some multimeter under 50$ provides a battery indicator to work without the tension of instant power out.
Best Multimeters even the electricians use reviewed
We have come up with the most prominent Multimeters for electricians in the market to work with. They are organized in an orderly fashion with all the features & laggings they offer. Let's get to study then.
Fluke 117 Electricians True RMS Multimeter
Standout features
As a part of the Fluke 110 series, the 117 model has a great build quality to survive in rough conditions. Being built with the best of materials it is shock resistant from normal drops. The ergonomic design gives everyone a nice grasp & fits well in your hands. This makes operating the device comfortable.
This lightweight Multimeter has a non-contact voltage detection feature that stands as a safety feature for you to rely on. The auto-hold feature allows you to store the results while you can perform your next observations. As an electrician you would want the most accurate result you can get, True RMS feature of the Fluke gives you that advantage.
High resolution backlit LED display allows you to take the reading with no stress on the eye even in the dark working conditions. Low input impedance prevents disallows any sort of false reading. The unit has a CAT III safety rating.
Not only basic electricians but also light industry & HVAC technicians can also use this machine for their job. You can get average readings of current, voltage, capacitance & frequency values with great accuracy. Not to mention it comes with a 3-year warranty that makes it reliable.
Laggings
You have trouble measuring current at low values such as microamps or milliamps. The display also loses some contrast in certain angles. It also doesn't have CAT IV safety ratings.
Amprobe AM-570 Industrial Digital Multimeter with True-RMS
Standout features
The Amprobe AM-570 is an excellent all-round device with the solid build quality. It can measure AC/DC voltage up to 1000V along with capacitance, frequency, resistance & temperature. The Dual Thermocouple feature allows it to take temperature readings for HVAC systems.
Non-contact voltage detection feature has been introduced by Amprobe as a safety feature. Low pass filters are also present to block any AC voltage frequency of over 1kHz. Low impedance mode allows you to detect ghost voltages & dismiss them.
The backlit screen displays you to 6000-count. There is a dual display mode where users can compare previous results with their present values. Max/Min mode gives you the higher & lower values, this also applies to temperature as well.
The Multimeter has a CAT-IV / CAT-III safety level. With true RMS features, the device gives results in great accuracy. It also has an LED flashlight too. This is the perfect device to keep your company in any house or light industry environment where you can work in various chores with only one device.
Laggings
The non-contact voltage detection feature is great to have but it ranges to only 8mm, which is very less than that a clamp meter provides. Auto-ranging is also observed to work slowly. Backlight sometimes temporarily goes down.
Klein Tools Electrical Test Kit with Multimeter
Standout features
Klein, be one of the best manufacturers for measuring devices, never compromise with the quality and features. In the mentioned multimeters, they added a bunch of features that might be the most thing for any electricians. First of all, this meter is capable of measuring any form of current and voltages like AC or DC voltages, DC current, and resistance.
The first thing will arrive in your mind is the safety of the tool while using it. Klein ensures safety with CAT III 600V, Class 2 and double insulation protection that means you are all safe whether dealing with lower or higher current.
The best part is the green bright LED, it indicates whether the multimeter is working or not. This LED turns into RED when the meter detects any voltages. it also produces a sound so the detection becomes very much easier.
It uses a powerful battery, to extend the battery life there is an auto power-off feature that turns off the tool when you are not working with the multimeter. the digitally-controlled ON/OFF button provides more control over the tool.
Some of the mentionable features are like wiring tester to check whether any wiring is good or faulty, identifying open ground connection or open neutral connection. It will also ket you know about open hot conditions and also hot or ground reverse when needed.
 Laggings
The bad thing is you will not get any clear or proper instruction from the manufacturers about operating the meter properly. The leads are cheap and sometimes they came with defects.
No products found.
BTMETER BT-39C True RMS Digital Multimeter Electric Amp
Standout features
BTMETER has a wide range of applications in the electrical field for technicians. The meter can accurately measure DC voltage in a range of 6000mV to 600V, AC voltage up to 6000V, capacitance 9.999nF to 99.99mF, resistance, duty cycle & even temperature too. Continuity Tests can also be performed using this device.
The display has an adaptive brightness control feature that will adapt the light of the display as per the environment automatically. The present environment temperature can also be accessed by the press of a button. Auto shut down feature saves power of the battery in case you forgot to turn it off.
Zeroing feature is introduced here while working with micro reading zeroing feature will give you a more accurate result. Overloaded protection is present for overload situations. You can hold data of the previous results to compare it to your existing one.
True RMS technology gives the meter a great level of accuracy. The attached magnet on the back allows the user to hang it on metal surfaces. This Multimeter has been developed especially for home applications, school & even industry level usage.
Laggings
In auto-ranging mode, the device seems to work a bit slowly. The side probe holder does seem to be inconvenient, but that varies from people to people.
Bside Electricians Digital Multimeter 3-Line Display Large Screen True RMS 8000
Standout features
Bside digital Multimeter has a high-resolution screen that allows you to see the test results in three different lines. You can see resistance, frequency & voltage or temperature at the same time in 3 different positions. It also has EBTN standing for enhanced background twisted nematic LCD display that treats your eyes with fewer irritations.
The device can measure AC/DC voltage, current, resistance, capacitance, frequency, Diode test, NCV & duty cycle at a wide measuring range. One of the standout features of this machine is the VFC function that is capable of measuring the output voltage of inverters.  True RMS technology ensures maximum accuracy with all the values achieved.
Data can be held on for further analysis with the present value that is obtained. It also has a low battery indicator so that you can replace it when it's necessary. You can obtain a pulse of up to 5MHz using square wave generators. The Dual probe holder design at the back gives you an advantage.
Laggings
The instruction manual seems to lack information about the whole unit. It also has been seen by some users that without the constant use of the device, it malfunctions sometimes.
Best multimeter under 50: INNOVA 3320 Auto-Ranging Digital Multimeter
Advantages
With small dimensions that can fit in hand and 8 ounces in weight, the multimeter is good to move around with. Drop protection is provided by rubber corner guards along with high impedance of 10 Mohm which is safe for both electrical and automotive purposes. The multimeter can measure current, voltage, resistance and so on regarding both AC and DC current.
Being a multimeter under 50$, this product does come with special features such as auto-ranging. If you are a novice or having a hard time adjusting the range manually, this product should be handy for you. Another service this multimeter provides is the auto-off system which automatically turns off after being left unused for sometimes.
The device is run by AAA batteries and with a feature of red LED indicator easily indicating the battery status. Like the previous product, it comes with a wrist and stands strap which allows hands-free working.  Again the product is verified safe by UL. So, safe usage is guaranteed.
Defects
The battery indicator sometimes fails to provide with correct battery condition. The minimum range of 200mA has been a problem for a lot of users as the sometimes lower current is needed to be measured. Also, no polarity indication which gives miscalculated value for the incorrect connection.
Best budget multimeter: AstroAI Digital Multimeter with Ohm Volt Amp
Advantages
Having a small pocket-sized dimension and weighing only 4 ounces this multimeter can give you the ease of ease. Safety properties like rubber corner guards and a built-in fuse for all range secure day to day monitoring of electricity usage. The provided services include measuring AC DC voltage, continuity, diodes, and others which should cover all of your daily necessities.
Covering all that this device comes with features like holding data which comes a lot of handy when you are in a rush of measurements. Also, it has a low battery indicator which lets you know when you need to change the batteries. The backlit light feature is added to the display for comfort in use in dark conditions.
For low voltages, the device gives a great resolution. The multimeter also comes with a pre-installed back stand which allows the users for working hands-free. Powered by a 9V 6F22 battery, the multimeter has a decent life to work. Being a multimeter under 50, all of those features does make this product a contender of the topmost.
Defects
In high voltages, this product has some issues in resolution. The standout lacking is it can't measure AC current. Complaints are present that the build quality of this product is cheap. So long term usages might not be available as far as this device is concerned.
Etekcity Auto-Ranging Clamp Meter, Digital Multimeter with Amp, Volt, Ohm, Diode
Advantages
Decent dimension with double insulation and over-voltage safety, the multimeter is issued safe for the uses of household purposes. In fact, it's one of the top-class automotive multimeters. Measurements of AC/DC voltage, AC current, resistance along with diode and continuity is possible by this device.
Like the previous one, this multimeter has auto-ranging which saves the time of changing range for various measurements. A special feature it comes with is the jaw opening clamp which can fit up to 28-millimeter conductors. This feature helps a safe measuring without altering the base circuit. Also, this multimeter has data holding and max value service for comfort in measurement.
Run by 2 AAA battery, this multimeter gives a lifetime of 150h, which is pretty long. The auto-off system is enabled in 15mins to save battery. The display of the device is pretty big for easy data reading. The sampling speed of this device is pretty high which is 3 samples per second.
Defects
Not good for low light working environment as no backlit feature is added. It doesn't measure DC current which is a big drawback. Some users found issues with the build quality of this multimeter. High weighing of 13.6 ounces this multimeter is a little bit heavier than others.
Neoteck Auto-Ranging Digital Multimeter AC/DC Voltage Current Ohm Capacitance
Advantages
Decent dimension and weighing only 6.6 ounces this multimeter is ok for carrying. Drop protection is provided with a non-slip soft plastic cover that protects the whole body. Adding to that, double insulation security is provided for safety from shock. Most types of measurements can be done in this multimeter like AC/DC current, voltage, resistance, capacitance and frequency.
Just like others mentioned above, auto-ranging is available on this device. In this multimeter under 50$, a buzzer is added for continuity tests for easier testing. Also, the data holding and max value saving option is available too. Hands-free usage is provided by a built-in stand. Along with those, auto polarity detection helps you to work without thinking about rotating connections.
Without a 9V battery included, the multimeter remains dead.  The display has a backlit feature added for working in low light areas. The resolution and range of this multimeter are most than the others mentioned above. Low battery indication is added which will erase the tension of battery outage while working.
Defects
A variety of measurements brings variety in errors. So, some features might be defective.  Sometimes, the readings are inconsistent. Has issues with the build quality.
FAQ
Here are some frequently asked questions and their answers.
What is the easiest multimeter to use?
Our top pick, the Fluke 115 Compact True-RMS Digital Multimeter, has the features of a pro model, but it's easy to use, even for beginners. A multimeter is the primary tool for checking when something electrical isn't working properly. It measures voltage, resistance, or current in wiring circuits.
How much should I spend on a multimeter?
Step 2: How Much Should You Spend on a Multimeter? My recommendation is to spend anywhere around $40~$50 or if you can maximum $80 not more than that. … Now some Multimeter cost as low as $2 which you can find on Amazon.
How do you use a cheap multimeter?
Are cheap multimeters any good?
The cheap meters are certainly good enough, even though you do get what you pay for, as you might expect. As long as you have a meter open, you might as well hack it to have WiFi. Or, if you prefer, a serial port.
What is the easiest multimeter to use?
Our top pick, the Fluke 115 Compact True-RMS Digital Multimeter, has the features of a pro model, but it's easy to use, even for beginners. A multimeter is the primary tool for checking when something electrical isn't working properly. It measures voltage, resistance, or current in wiring circuits.
Do I need true RMS multimeter?
If you need to measure the voltage or current of AC signals that are not pure sine waves, such as when you're measuring the output of adjustable speed motor controls or adjustable heating controls, then you need a "true RMS" meter.
Are Fluke multimeters worth the money?
A brand-name multimeter is absolutely worth it. Fluke multimeters are some of the most reliable out there. They respond faster than most cheap DMMs, and most of them have a analog bar-graph that tries to bridge the graph between analog and digital meters, and is better than a pure digital readout.
What is the difference between Fluke 115 and 117?
The Fluke 115 and Fluke 117 are both True-RMS Multimeters with large 3-1/2 digit / 6,000 count displays. The major specifications for these meters are almost exactly the same. … The Fluke 115 does not include either of these features – this is the only real difference between the two meters.
Should I buy a clamp meter or multimeter?
If you simply want to measure current, a clamp meter is ideal, but for other measurements such as voltage, resistance, and frequency a multimeter is preferred for better resolution and accuracy. If you are all about safety, clamp meter might be the best tool for you as it is safer than a multimeter.
Which is better analog or digital multimeter?
Since digital multimeters are generally more accurate than analogue counterparts, this has led to the popularity of digital multimeters rising, while the demand for an analogue multimeter has declined. On the other hand, digital multimeters are generally much more expensive than their analogue friends.
What does TRMS 6000 counts mean?
Counts: A digital multimeter resolution is also specified in counts. Higher counts provide better resolution for certain measurements. … Fluke offers 3½-digit digital multimeters with counts of up to 6000 (meaning a max of 5999 on the meter's display) and 4½-digit meters with counts of either 20000 or 50000.
What is true RMS of a meter?
True RMS responding multimeters measure the "heating" potential of an applied voltage. Unlike an "average responding" measurement, a true RMS measurement is used to determine the power dissipated in a resistor. … Only the "heating value" of the ac components of the input waveform are measured (dc is rejected).
What does true RMS mean in a multimeter?
True Root Mean Square
February 27, 2019. RMS stands for Root Mean Square and TRMS (True RMS) for True Root Mean Square. The TRMS instruments are much more accurate than the RMS when measuring AC current. This is why all the multimeters in PROMAX catalog have True RMS measurement capabilities.
Is Klein a good multimeter?
Klein makes some of the sturdiest, best DMMs (digital multimeters) around and they're available for a fraction of the price of some of the big name brands. … In general, when you go with a Klein you can expect a high-quality, inexpensive multimeter that doesn't skimp on safety or features.
How do I test if my multimeter is working?
Turn the dial on your multimeter to set it to measure voltage rather than resistance. Place the red probe against the positive terminal of the battery. Touch the black probe to the negative terminal. Ensure that the multimeter provides a reading of 9V or very close to it.
What is the continuity test?
Ans: Whenever there is a complete path for the current to flow, this scenario is referred to as a continuity test of circuits. Nowadays Digital multimeters can easily test the continuity of the circuit. Fuses or switches or electrical connections have continuity in them. Usually, an audible beep from a Multimeter represents a continuity of a circuit.
Not all Multimeter can perform a continuity test.
Ans: There are several techniques. At first, you can test your multimeter by setting it to the lowest resistance then you have to make the red & black probes in contact. It should have the reading "0", then it is working fine.
You can also find the resistance of a known resistor. If the Multimeter has shown the value very close to the actual one, then it is working fine.
What does the 'count' feature of display refer to?
Ans: In general terms, it can be said that the higher the count value the more accurate the value will show for the Multimeter.
Conclusion
Manufacturers have not given any room for the users to make a decision for the best multimeter for electricians They have added so many exclusive and important features & are continually working day & night in the R&D to improve the performances of the devices. We are here to help make your mind with our expert perspectives.
If we really had to pick one out of the lot, then the Fluke 117 would be a fine choice. With an amazing construction, various applications & 3-year warranty Fluke certainly delivered with the best of this budget. The Amprobe & BTMETER is right behind fluke with similar features as well as reliability to give you the ultimate satisfaction.
For special usages like measurement of any part of a connection Etekcity Auto-Ranging Clamp Meter, Digital Multimeter with Amp, Volt, Ohm, Diode is the product you should look for. Again, if measuring capacitance is important for you than look no more than the Neoteck Auto-Ranging Digital Multimeter AC/DC Voltage Current Ohm Capacitance.
All the Multimeter featured above has really thin differences between them. So ultimately it comes down to you to make a choice. The main importance you should give is the type of work you will be doing & the features that will be useful to you. Analyzing your needs is the key to choose the top Multimeter for electricians.
I'm Joost Nusselder, the founder of Tools Doctor, content marketer, and dad. I love trying out new equipment, and together with my team I've been creating in-depth blog articles since 2016 to help loyal readers with tools & crafting tips.