I love creating free content full of tips for my readers, you. I don't accept paid sponsorships, my opinion is my own, but if you find my recommendations helpful and you end up buying something you like through one of my links, I could earn a commission at no extra cost to you. Product prices and availability are subject to change. Any price and availability at the time of purchase will apply.
Learn more
If you are a student who has a woodworking project coming up or a professional craftsperson who happens to work with wood, you should know the sheer frustration of managing sheets of custom thickness. The easiest and simplest way to transform your boards is using a planer (like these types) and a planer stand makes the work much more efficient and comfortable.
While a planer is necessary equipment in any woodworking site, many do not consider using a planer stand. However, a planer stand ensures the safety and longevity of your planer.
At the same time, it reduces the hassle of bending and moving with the heavy tool. Using a planer stand takes your professionalism on a different level.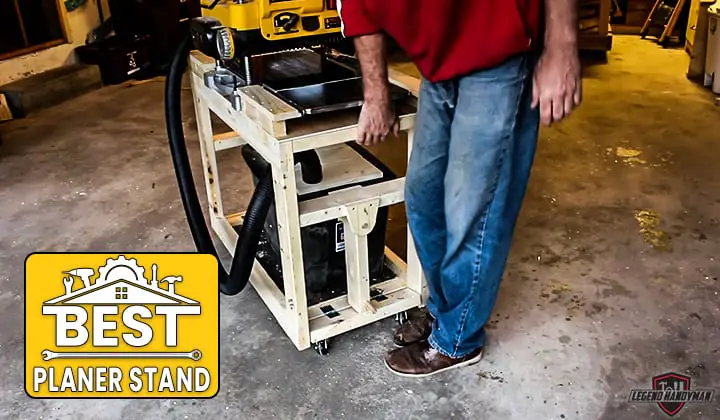 What Is A Planer Stand?
Simply stated, a planer stand is a platform to put your power tools on. Sometimes, the wood planer stand contains infeed and outfeed table and also dust collector to keep the work organized and reduce the mess. Mobile planer stands are really handy when it comes to using a heavy planer. You can simply put the planer on top of the stand and transform the height according to your necessity.
A durable and flexible planer stand can increase your efficiency as well. Therefore, some common features to look at while getting a planer stand are sturdiness, portability, durability, versatility and storage space. While looking for a perfect stand, you must identify the necessary features required for your planer.
Wood Planer Stand Review
The shape, size, and features of your planer stand depends on the planer you use in your woodshop. Here is a list of best planer stands that are equipped with useful features to help you with your next wood project.
1. DEWALT DW7350 Planer Stand with Integrated Mobile Base
If you are a craftsman who needs to work with heavy thickness planers and tools on a regular basis, The DW7350 Planer Stand is an ideal stand for you. It is made of tough gauge steel brackets that can withstand the bulkiest load with acute stability. In fact, this particular planer stand is suitable for any DeWalt planer (although this model comes with a stand) because the fiberboard top is pre-drilled for easy installation.
The stand has an integrated mobile base that ensures easy movement of both the planer and the stand. A foot pedal is installed that can be used easily to lower the stand or to raise it up. It provides a compact storage and easy maneuvering in the worksite.
Being heavy-duty size of 24 x 22 x 30 inches, the stand can roll around your hefty planer in the workstation smoothly. In a nutshell, the stand includes a mobile base, hardware, MDF top, stand, and metal shelf. It comes with a user manual that helps you assemble the cart pretty easily.
Simply put, this planer stand provides dependable support for your planer while keeping it portable. While it has pre-drilled holes for any DeWalt planer, you can always drill new holes to line up with your existing planer. The wheelset is probably the most innovative feature of this whole set-up since it can be engaged and detached according to the user's need to make it portable instantly.
Highlighted Features:
Durable and stable under weighty planers
Maximum versatility
Potability and adequate storage facility
Includes mobile base, MDF top, metal shelf, stand and hardware
Comes in heavy-duty size
2. POWERTEC UT1002 Universal Tool Stand
This tool is probably the simplest and most affordable tool in the market right now. Despite the simplicity, it has the aptness to carry small, sturdy, and frequently used equipment. The strong steel-built body and heavy-gauge metal pyramid-shaped base makes it capable to carry planers and tools of different sizes and shapes. As you can guess from the name, the stand is universal, and you can mount any tool on it.
The MDF split top is expandable and has pre-drilled holes which makes it easier to set up your planers on it. However, if any particular equipment does not align with the drillings, it is very easy to drill new holes on the wooden surface. It does not have pre-installed casters in the base and thus, it is not mobile. But you can always get casters separately if you want to make it portable.
 The frame is made of powder coated cast iron and it makes the stand water-resistant. This, however, is not the only unique feature of this tool. Another one is the adjustable footpads coated with non-slippery rubber. These footpads are not only smooth on the surface but also provides even further stability.
The dimension of the tool is 32 x 10 x 3.5 inches which is suitable for any planer's foundation. The base of the tool is more than 30 inches, which is quite larger than other stands. However, it allows the stand to withstand more tool vibration.
Highlighted Features:
Pyramid-shaped base for better stability
Metal frame with water-resistant quality
Expandable and pre-drilled wooden top
Non-slippery foot pads to diminish floor damage
Simple, light and easy to assemble
3. Eastman 86278 Water Heater Stand 30-60 Gallon, Silver
The Eastman 86278 Water Heater Stand is a water heater stand that safely elevates the heater a code-compliant height of 18-inches from the ground. This minimum height is required to store any water heater to diminish the risk of explosion from the flammable fumes of the heater. Therefore, a stand to mount your heater on is a must.
Built with high-quality galvanized steel, the Eastman stand is strong enough to sustain the bulkiest water heaters. Galvanized steel is well-known for its sturdiness, safety, and easy-to-install features. With the dimension of 21.5 x 21.5 x 18 inches, the stand can hold up to 60-gallons. 
Pre-attached safety clips of the stand ensure complete protection from any sort of damage to your water heater. You can fasten the stand with the wall or the floor using the safety clasps. This way, your heater stands in place firm and secured, with no risk of catastrophe.
The simple yet flawless design of the Eastman 86278 Water Heater Stand makes it the ideal stand for any household. Even with kids around, your water heater is safe from getting damaged or causing one. Moreover, the stand is very durable due to its high-grade construction materials. It will provide you the best service for a very long time.
Highlighted Features:
Top-grade galvanized steel made
Strong enough to carry heavy-duty water heaters
Plumbing code-compliant height of 18-inches
Installed safety clips to fasten the stand
Long-lasting performance
4. DELTA 22-592 UNIVERSAL Mobile Planer Stand
If you are looking for a mobile planer stand, Delta 22-592 stand is one of the most equipped ones. It has a sturdy frame that provides stability for heavy-duty planers as well as the small ones. Even though the top of the stand matches the base of any Delta model planers for easy and fast installation, the stand can carry benchtop planers of almost any design.
The casters attached at the base of the stand gives it very smooth mobility around the site. It has a quick foot action lock in the wheels. Therefore, you can keep it stand firmly by locking the casters. While working in the shop, releasing the foot pedal will give the stand a comfortable maneuvering feature. The foot pedal will also raise the height of the stand according to your requirements.
Pre-drilled holes on the top of the stand aligns with the Delta planer of model 22-590. However, if you are not using a planer of the Delta brand, you can still utilize the stand to its full potential. Drilling new holes aligning with your planer is very easy and affordable.
Features like stability, mobility, and ability to carry any benchtop planer make the Delta stand an ideal one for any woodshop. The stand will increase your productivity a great deal in exchange for a very affordable price range.
Highlighted Features:
Exquisite framing for heavy-duty planers
Adjustable casters for easy mobility
Accepts most benchtop planers
Pre-drilled holes for easy installation of planers
Foot pedals will quick-lock mechanism
5. WEN 6588T Multi-Purpose Planer Stand with Storage Shelf and Rolling Base
Storing and moving your thickness planer might be a chore if you don't own the right tools for them. In most cases, benchtop thickness planers can be pretty heavy to carry around your shop and hold you back from unleashing your full efficiency. With the WEN multi-purpose stand, you do not have to worry about your planer's storage and mobility anymore.
WEN planer stand is compatible with the WEN thickness planer series. Nevertheless, the top is designed with universal mounting slots. So, thickness planers of all sizes and designs can be installed very quickly and easily. Furthermore, you do not even have to drill any new holes to fit your planers on it.
The 23.8 x 20.8-inch tabletop can handle up to 220 pounds of weight. Apart from thickness planers, sanders, grinders, jointers, and many other tools can be mounted on this stand and give them mobility at any time of the day.
Swivel casters at the base of the stand give them smooth mobility around the worksite. The most unique feature of these casters is that they are retractable. So, the casters can be retracted any moment making the stand stationary and ideal for storage. While working in the shop, the stand can go mobile again by modifying the casters.
Highlighted Features:
Stable and mobile for thickness planers
Modifiable swivel casters 
Universal mounting holes compatible with all benchtop planers
Usable for other tools and equipment
 Compatible with WEN thickness planer series
FAQ
While looking for the perfect stand for any planer, some common questions are always asked.
Q: Is the planer height enough appropriate for working comfortably?
Ans: Most mobile planer stands' heights are adjustable. In the case of stationary planers, you can always pick a moderate height that is compatible with your worktable.
Q: Is the stand sturdy enough to mount heavy planers or other tools?
 Ans: Thes best stands, the ones mentioned in this review, are all equipped with features to carry the heavy-duty load. So, whether it's a heavy water heater or a benchtop drill press, you are all set with a strong, well-designed stand.
Q: How will I assemble the stand?
Ans: All of these planer stands come with an instruction manual and all the necessary instruments to assemble the stand. The manuals are easy to use, written for common people.
So, if you know the basics of craftsmanship well enough to be needing a planer stand, you have enough knowledge to decipher the instructions and construct the stand without any hassle.
Final Words
A Planer stand is essential to keep your work tools safe and protected from any unwanted damage. It also makes the work a lot more efficient with less physical labor. With a planer stand carrying your planer around the shop, you get more opportunity to focus on your creative thinking and intricate details of your project.
Hopefully, this review will give you a good idea about the available planer stands in the market, how to choose the right one for you and how to utilize them properly.
Joost Nusselder, the founder of Tools Doctor is a content marketer, dad and loves trying out new equipment, and together with his team he's been creating in-depth blog articles since 2016 to help loyal readers with tools & crafting tips.
Product prices and availability are accurate as of the date/time indicated and are subject to change. Any price and availability information displayed on Amazon.com at the time of purchase will apply to the purchase of this product.