I love creating free content full of tips for my readers, you. I don't accept paid sponsorships, my opinion is my own, but if you find my recommendations helpful and you end up buying something you like through one of my links, I could earn a commission at no extra cost to you.
Learn more
If you have done any woodworking at all, regardless of your level of skill, you have probably heard of a spokeshave even if you haven't actually used one.
If you are an experienced woodworker, you will know that, although you may not use one on a daily basis, there are certain woodworking tasks that only the spokeshave can do.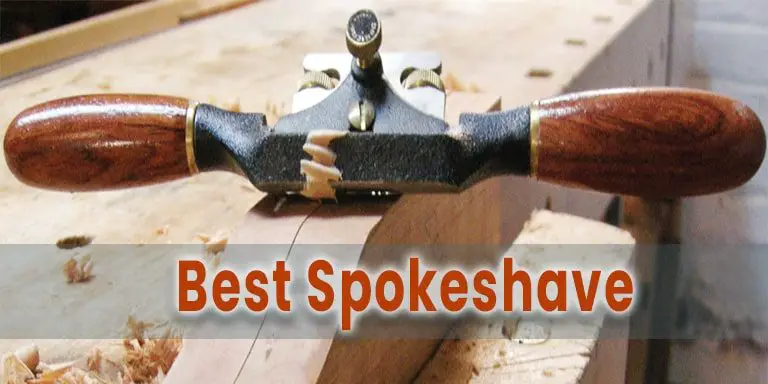 You will also know that you often need more than one spokeshave for a single project, to produce the different curves required.
There are a variety of spokeshaves available, each one suited to a different type of curve.
After researching and comparing the various spokeshaves on the market, and looking at their strengths and weaknesses, my top pick is the Anndason 2 Piece Adjustable Spokeshave with a flat base. It is affordable, effective, and good for both experienced woodworkers and beginners.
But to really complement your woodworking toolkit, consider all the top choices below.
What is a spokeshave?
The name spokeshave comes from this tool's original use which was, literally, to shave the spindles or spokes of wooden wagon wheels.
If you are not familiar with it, this simple hand tool is used in wood carving for cutting and shaping. It has two handles in line with each other on either side of the blade.
It works similarly to a bench plane, but, because of its shape, it can carve rounded surfaces. It is particularly handy when making chairs, bows, canoe paddles, curved handrails, and axe handles.
In fact, it's useful when working on anything with a curved wooden surface.
More woodworking tools to have in your arsenal: these are the best Wood Carving Tools for Handicrafts
Spokeshave buyer's guide – keep this in mind
Before I go into detail about why I chose these items for my list, I've highlighted some of the most important things everyone should know about spokeshaves below.
This will help you make the right choice when it comes to buying one for your particular needs.
Here are some of the things that I would advise you to look at before making your final purchasing decision.
Handle length
The handles of a spokeshave extend like wings from both sides of the tool and they're an important part of maintaining control and stability when angling a cut.
If the handles are too long, they can be uncomfortable to work with but if they're too short they'll make it hard to judge the angle.
Blade quality
The blade should be made of hard, durable material. You're looking for something that is easy to sharpen and will hold an edge.
Check the thickness of the blade and remember that bigger is better in this regard. With time, you'll need to keep sharpening it and thus grind it down in the process.
A thicker blade makes for longer use.
The bevel of the spokeshave blade should be sharpened at a 25-degree angle. Most blades come barely sharpened so you'll need to hone it before judging whether it can do a good job or not.
Always a good idea to even the bed of the blade so that the blade doesn't rock in place.
Adjustment mechanism
You should also pay attention to how adjustable the blade is. Especially as a beginner, it is great if you don't have to fiddle around with the tool too much.
By using the screws on the top of the spokeshave's body you can adjust the depth of the cut, making for bigger or smaller shavings depending on how much material you want to remove.
These screws should be easy to turn and feel sturdy.
It's important to familiarise yourself with the adjustment mechanism before using the tool on an actual project because the depth measurements can vary depending on the manufacturer.
Best spokeshaves for your projects reviewed
I've analyzed some of the spokeshaves available on the market below. I've checked their best features and looked at all the factors that buyers should consider before deciding which product to buy.
I hope that my extensive research helps save you some time, and helps you purchase a spokeshave that will meet all of your needs.
Best overall spokeshave: Anndason 2 Piece Spoke Shave Plane
This two-piece flat-bottomed set is suitable both for the experienced woodworker and for someone who is new to woodworking and who doesn't want to spend a fortune on tools.
It is effective but also affordable and provides the ideal opportunity for a beginner to learn the skills of adjusting, sharpening, and shaping.
This is why it's top of my list, as it is great quality and there are two tools in one pack.
The contoured handles are easy to operate and offer good control over the angle of the cut. It is easy to control and to maneuver and achieve nice clean cuts without too much effort.
The tough carbon 9-inch blade (hardness of 58-60HRC) holds its sharpness well.
The sole may need some sanding in order to flatten it and the blades may need regular sharpening, but this is an excellent budget tool for most applications.
The precision adjustment knobs for changing the depth of the shavings are sturdy and easy to use.
Because there are two tools in this set, it would be a good idea to adjust one of them for a coarser cut and the other for a finer shave.
Features
Handles: The contoured handles are easy to operate and offer good control over the angle of the cut.
Blade: Has a tough carbon 9-inch blade that is easy to sharpen and can be replaced.
Adjustment mechanism: The adjustment mechanism is sturdy and easy to use.
Best flat bottomed spokeshave for durability: ASTITCHIN Adjustable SpokeShave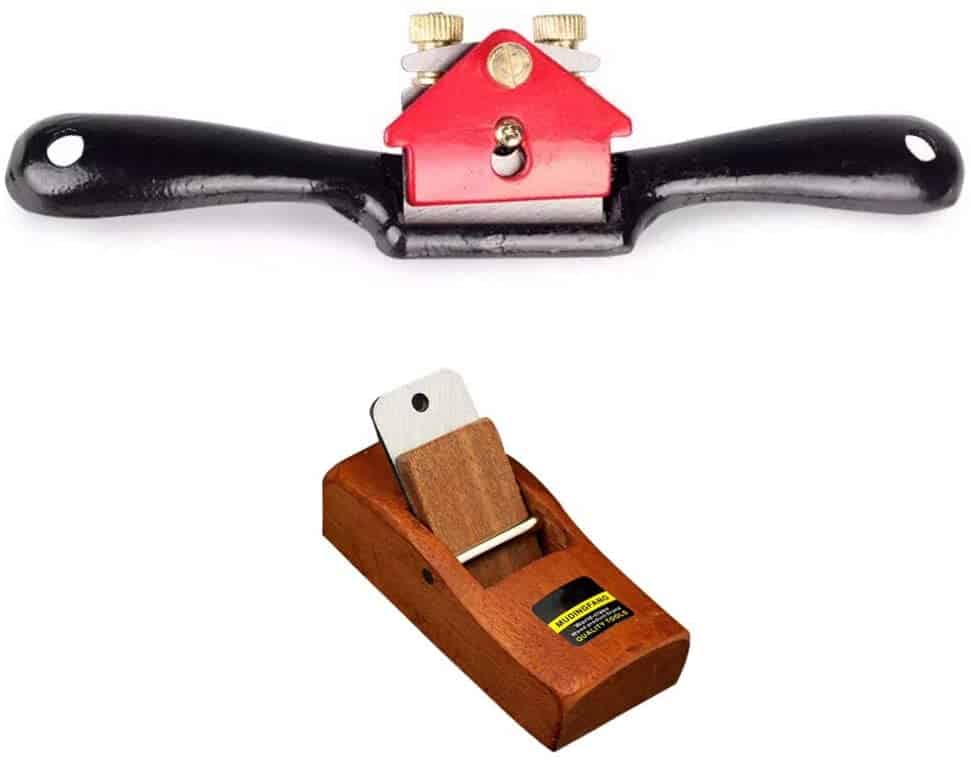 If you are looking for a tough, durable and reliable spokeshave, this is it. It is a strong, solid tool made with wear-resistant materials, but at the same time providing the precision you need for fine detailed work.
It has a carbon steel blade and comfortable double handles for efficient control. The double screw adjustment is easy to use and will help you get the perfect shaving size you require.
It is the ideal tool for planing complex surfaces and irregular patterns, such as arcs and curves.
This versatile spokeshave is easy enough for a beginner to use, but the quality and durability of the tool makes it a good addition to any seasoned woodworker's collection.
This spokeshave has a corrosion-resistant epoxy coating, which makes it long-lasting and wear-resistant.
Features
Handles: Comfortable double handles for easy control.
Blade: Tough 44mm carbon steel blade which is replaceable.
Adjustment mechanism: The double screw adjustment is easy to use.
Best round-bottomed spokeshave for professional woodworkers: Taytools 469577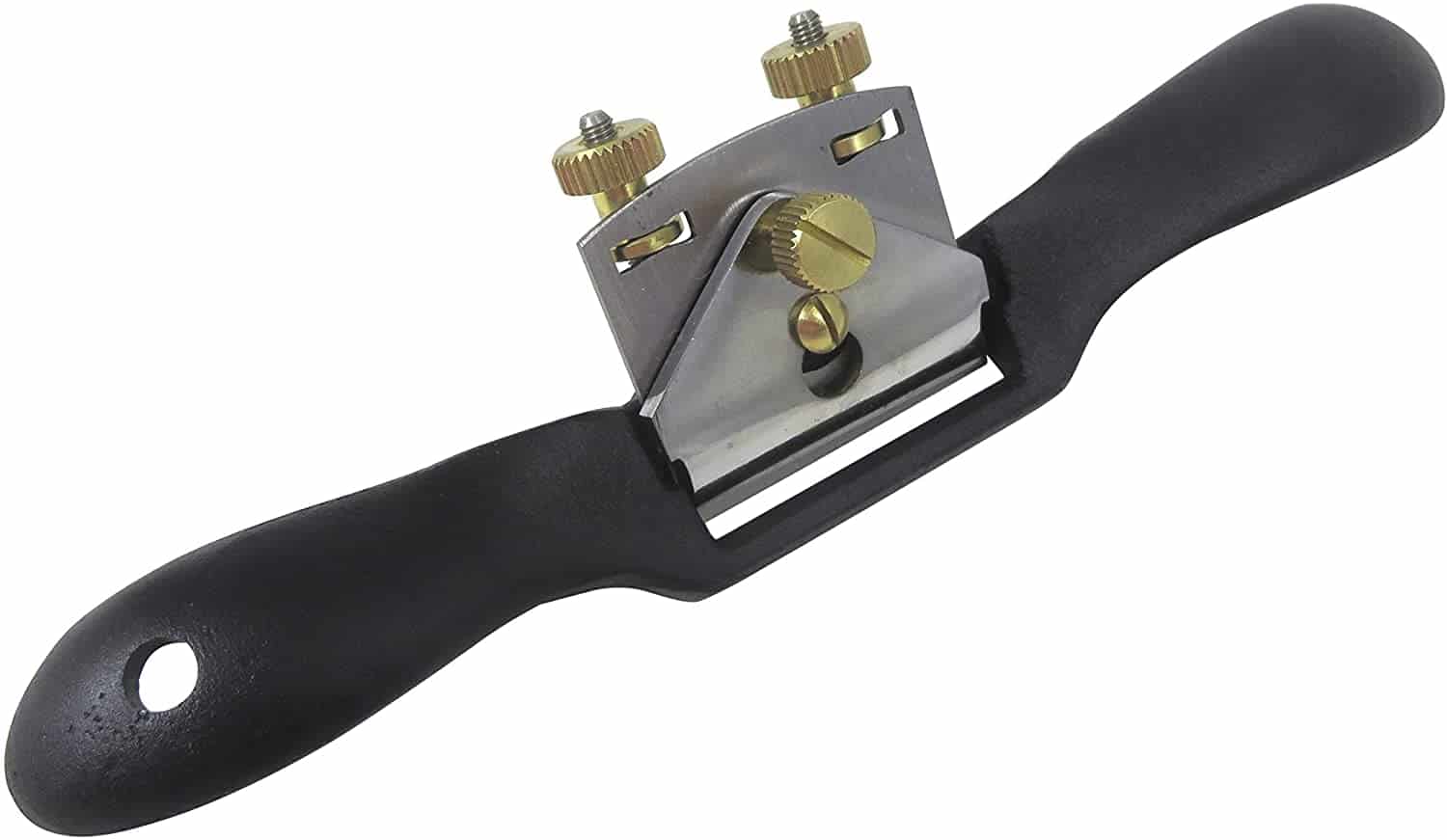 This Taytools 469577 Round Bottom spokeshave is a moderately priced, good quality tool, but it is not for the beginner.
If you have never used a spokeshave before, then this is not the one to learn on. This spokeshave is designed for experienced woodworkers.
It does not come with any instructions and the blade, although made of high-quality steel, needs serious honing before the tool is used.
Made from tough ductile cast iron, this is a solid and durable tool that should last for years. The blade is made of high-quality hardened steel and the blade adjustment mechanism works well and allows precise shavings to be produced.
Adjustment knobs are solid brass and screws are stainless steel. The sole is 1 inch wide and ground to a 1-1/2-inch radius.
Features
Handles: Comfortable handles offering good grip.
Blade: High-quality steel blade.
Adjustment mechanism: The adjustment knobs are solid brass, and the adjustment mechanism works smoothly.
Best value for money spokeshave for flat and curved surfaces: STANLEY Hand Planer 12-951

This is an inexpensive and versatile spokeshave designed primarily for curved work, but because the base is flat, it can be used for both flat and curved surfaces.
The one-piece body is made of cast iron, which gives it great durability, but it does have a rather clunky utilitarian look and the paintwork is a bit uneven.
It comes with flared double handles for a comfortable grip and extra control.
The blade is fully adjustable for the depth and thickness of the shavings which allows for accurate shaping of the workpiece.
The blade is 2-1/8 inches in width and replaceable. The tool comes in a vinyl pouch to protect it when not in use.
This is an inexpensive spokeshave. Nevertheless, it is a quality tool that offers good performance for someone who is on a tight budget.
Features
Handles: It has flared double handles for a comfortable grip and extra control.
Blade: The blade is a good thickness and is replaceable.
Adjustment mechanism: The adjustment mechanism works smoothly and allows for accurate shaping of the workpiece.
Best convex & concave spokeshave twin pack: Faithfull Twin Pack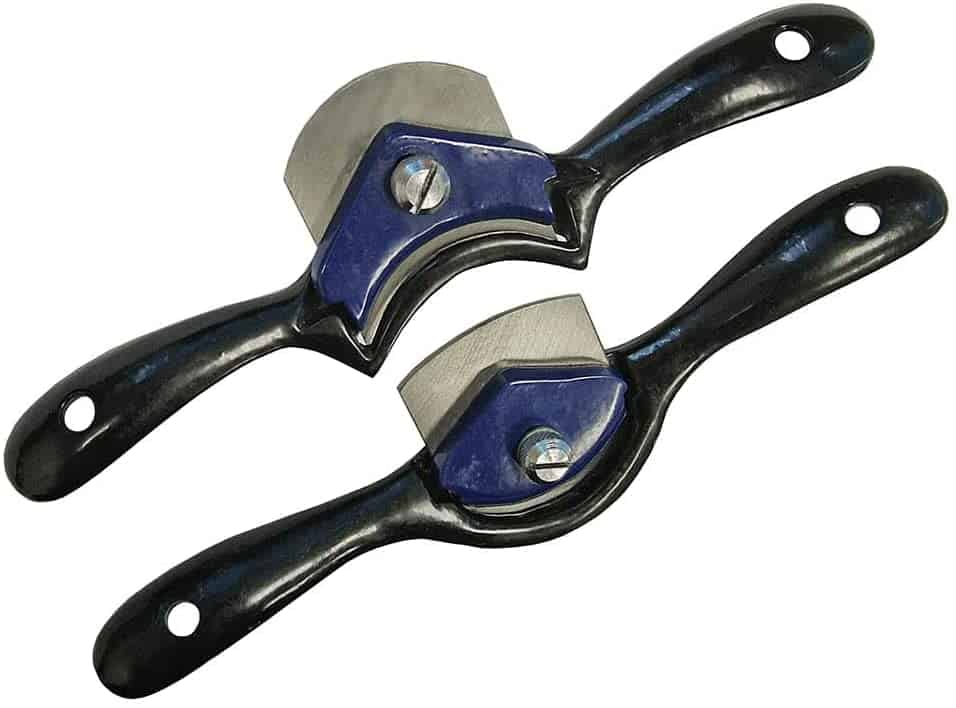 You get two fair-quality tools in this twin pack.
The concave spokeshave is perfect for woodworkers who need to shape oars, spindles, and the legs of wooden tables and chairs, while the convex spokeshave is useful for the intricate recessed work.
While this set comes in at a slightly heftier price, the quality of the tools is worth the investment.
The blades will need some work when the product arrives. You will have to put some time into sharpening them, but once they are sharp, they tend to keep their sharpness for a while.
While this is not a top brand, most reviewers agree that the quality is very competitive.
Features
Handles: The handles are comfortable to hold and offer good control.
Blade: The hardened steel blade needs tuning and sharpening before using it.
Adjustment mechanism: While having a twin thumb wheel to adjust blades is easier, this does come at a higher price. To adjust the blades on these spokeshaves, loosen the screw and gently tap the back edge to tweak left or right then tighten up the screw.
Frequently Asked Questions (FAQs)
What are the different types of spokeshaves?
As an experienced woodworker, you will know that there are four main kinds of spokeshave:
flat
round
concave
convex
Each one is suited to a different type of curve.
Flat bottomed spokeshave
The flat bottomed spokeshave is used for items that curve outward, but it can be used on some flat surfaces as well. The sole of this spokeshave is flat and runs parallel to the surface of the wood.
The blade is straight across and can be adjusted to the depth you require.
Rounded bottom spokeshave
The rounded bottom spokeshave is specifically designed to remove material from the inside of an arch. The bottom is rounded so that the blade can make contact with the wood in the bottom of the arch at all times.
This type is best suited to very tight contours and can be a little tricky to use. Uses the same blade as a flat bottom spokeshave.
Concave spokeshave
The concave spokeshave has a rounded indented sole and is used primarily for round surfaces.
Convex spokeshave
The convex spokeshave is used to remove material from the center of an item or anything that has an indented look or feel.
Learn more: these are the different types of woodworking clamps
How to use a spokeshave
For those of you who have not used this tool, here are some very basic guidelines for operating a spokeshave.
It is common to secure the workpiece in a sturdy bench vise first. It is also important to adjust the spokeshave to the desired shaving size and make sure the blade is good and sharp.
Then, the spokeshave is held against the surface and either pushed or pulled.
The blade sits at an angle to the sole and the piece being carved. As you hold the handles, moving the tool over the surface with some gentle pressure, wood is shaved from the workpiece.
It is important to always move in the same direction as the wood grain when shaving.
What do you use a spokeshave for?
A spokeshave is a tool used to shape and smooth wooden rods and shafts – often for use as wheel spokes, chair legs (particularly complex shapes such as the cabriole leg), and arrows.
It can also be used to carve canoe or kayak paddles.
Why does my spokeshave chatter?
This is a common problem for first-time users of round bottom spokeshaves. The cap needs to be level and seated firmly all the way down.
It's easy for a small shaving to prevent the cap from seating firmly, which will result in chatter.
Do you push or pull a spokeshave?
Unlike a drawknife, you can push or pull a spokeshave, depending on grain direction and the most comfortable working position.
What type of carpentry tool is a spokeshave?
A spokeshave is a hand tool used to shape and smooth wood in woodworking jobs such as making cartwheel spokes, chair legs, paddles, bows, and arrows.
The tool consists of a blade fixed into the body of the tool, which has a handle for each hand.
What does a spokeshave look like?
A spokeshave is similar to a plane, except planes are used on flat surfaces. Spokeshaves can have flat, round, concave, or convex soles.
Takeaway
Whether you're fine-tuning your handcrafted oars or making exquisite bespoke furniture, you should have more of an idea of the best spokeshave for your needs.
While there are loads of products and options on the market, these are my top picks for their quality, price, and durability. Happy woodworking!
Made a little mistake in your woodworking project? These are the best stainable wood fillers to fix it