I love creating free content full of tips for my readers, you. I don't accept paid sponsorships, my opinion is my own, but if you find my recommendations helpful and you end up buying something you like through one of my links, I could earn a commission at no extra cost to you.
Learn more
Even Sherlock Holmes would have a hard time remembering where he kept those miniature tools the last time. To put an end to that endless misery and to quench the OCD of many, here we are with the best stackable toolboxes.
You may be a professional mechanic or a person of other occupations but one thing is common among all of us and that is we must have some tools to deal with our day to day life.
You may have all the tools but they remain scattered all the time, these tools won't help you when you need it. It will only waste your time to find the specific one among them.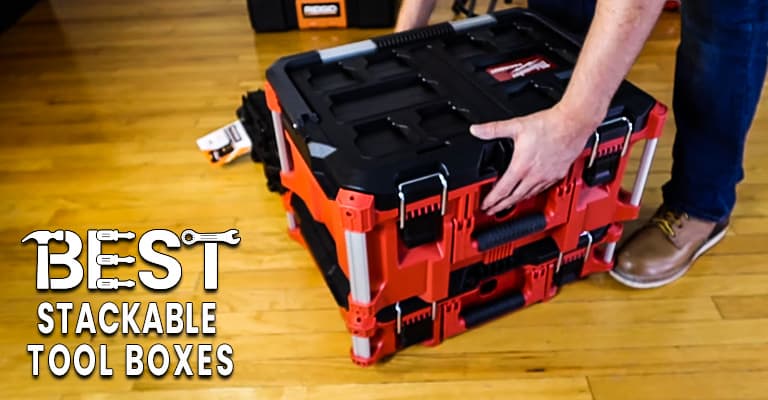 Stackable Tool Box buying guide
Some stackable tool boxes seem very rugged and strong but come with poor build quality!
You should know the parameters to judge the quality in order to find the best stackable toolbox that comes with good quality and satisfies your requirements at the same time.
Material
All the boxes are made of plastic but all the plastics are not suitable for all purposes.
For instance, foam plastics are more water-resistant and shockproof but not as strong as polypropylene. PVC boxes are more rugged and convenient for heavy work but are slightly heavier.
Handle
The quality of the boxes vastly depends on the design and build quality of the handle. Long handles give good balance. Thick handles would pour good grips and be comfortable to clutch.
Hard plastic handles are just perfect to use. Handles with metal notches, on the other hand,  are most rugged at the terminal ends and are perfect for heavy usage.
Latches and Clips
Most stackable boxes have either metal or plastic clips. Both of them are great but metal clips are more dependable and durable. They are perfect for heavy usage.
Plastic clips are greatly comfortable to use but these are not as strong as metal ones. But they're best for lightweight usage as they are not heavy.
Notches
Notches are a must in order to attach one box of a set with another. They are mainly provided to attach all the boxes with the trolly.
The more the number of boxes, the more firmly can the boxes be set up. Metal or plastic latches are also used to attach boxes together.
Trolly or Handheld?
If you are intended to buy one stackable box to carry your heavy equipment, then trolly is a must for you. But to carry lightweight and sensitive pieces of equipment, handheld boxes are better for you.
The wheels should be made of hard plastic or metal. Trolly with a handle featuring variable length is better to carry.
Compartment
Though having compartments inside the box will reduce the area but if you are using the box to keep different types of tools then compartments are a must.
But if your tools are identical in terms of purposes or size then a box without compartments will be best for you. Some boxes have trays and these are better to keep tools separate.
Bottom Box
The box at the bottom should be the biggest to keep the heaviest tools inside it and as it is nearer to the ground, it will provide better balance.
Some bottom boxes of some stackable box set are permanently attached to the trolly handle which may compel you to carry the handle and backbone whether you want or not.
Wheels
Metallic wheels are durable and strong. But these wheels create noise which may get to an unbearable state after sufficient time.
For these purposes, strong plastic or rubber wheels are best.
Best Stackable Tool Boxes reviewed
To reduce your harassment, we have selected some best products in the market and described their phenomenal features to let you have an idea about the boxes and their quality perfectly.
1. DEWALT DWST08204 Tool Box
Aspects of Interest
You can easily carry this Dewalt toolbox with the provided trolly. On the other hand, you can easily choose a compatible trolly to carry the box as the box is provided with the appropriate size and notch.
If you don't want to carry the trolly then it is absolutely ok because the box is substantially lightweight and foam made, if you don't carry heavy tools inside.
The box can protect your rusty tools because the box is ip65 certified which means, the box can resist dust and water from entering into the box.
As all tools are not the same, so they need separation from other tools. Moreover, the box cares about that as some trays are provided with the box that can help tools to remain separate according to their purpose.
Metal latches increase the durability, convenience, and strength of the box which are also rustproof. The plastic of the box is strong, lightweight, and 4mm thick enough that ensure durability. The box is great for metal tools as the box has a dedicated metal carrier along with foldable brackets to allow tailored configuration.
Pitfalls
The topmost handle of the box is made with plastic that may break apart if you regularly use it to carry several very heavy tools at the same time.
2. Stackable Toolbox Rolling Mobile Organizer with Telescopic Comfort Grip Handle
Aspects of Interest
This Stackable toolbox makes your works a lot easier because the box comes with an attached handle and two big plastic wheels. So, it will be very much comfortable for you to carry as the handle of the box is specially designed for a good and comfortable grip.
The handle of the box is also foldable which reduces size. There is no chance to lose parts or compartments of the stackable box because the compartments slide to a certain length and stuck at the end.
You can easily carry the box because it is very lightweight and strong as it is made of durable polypropylene, metal, and PVC. In an adverse situation, it can provide good protection to your tools.
Two storage trays give enough space for your small and important hand tools. A tilt tray is provided at the end of the box. As the tray is bigger and nearer to the ground, the box will be more stable during moving when heavy tools are at the tilt tray. Tilt tray also resists heavy tools from sliding out from the box.
Pitfalls
Trays are not enough rugged to carry very heavy tools and not enough strong to sustain at heavy pressure.
The wheels of the box are not capable enough to carry heavyweight.
3. Bosch L-BOXX-3 Stackable Tool Storage Case
Aspects of Interest
The most useful feature of this box from Bosch is privacy. The special lock system is provided with the box that will save your box and the tools inside from theft.
Comfortable locking clips and notches make it easier for you to open and close the box easily and access your tools easily. Clips are also well made that assures safety to your tools.
1-click stacking helps you to open up the box and get access to your tools easily. Fully crash-resistant, water-resistant, the lightweight material-built body makes it easier to carry in any situation and also safeguards your tools from getting rust.
Long, strong and thick top handle reaches both ends which makes the box stable while carrying.
The small and strong side handle makes it lightweight and also convenient to carry without any hesitation. The box can also be carried by two persons at the same time in case you need to put something heavy in the box.
Different sizes of boxes provided in a set to fit different tools according to your requirements. Multi the colored box looks very rugged and tactical.
Pitfalls
The box is totally hand-carried, there are no notches provided to attach the box to a trolly.
So, carrying heavy tools will be a matter of concern.
4. Stalwart Stackable Mobile Tool Box with Wheels
Aspects of Interest
You can feel an essence of quality using the box as strong and durable plastic is used as a basic material of the box. The overall dimension of 10 x 17.875 x 24.125-Inch is enough for regular usage. The look of the box is also very attractive and rugged. Wheels are attached at the bottom of the bigger box makes the box very good to carry.
As all tools are not the same, they definitely need to stay separate and caring for this purpose, the box is provided with interlocking toolboxes that are stackable.
You can put one box inside another when the boxes are empty. But when you need to carry tools inside you can put out the inner box and attach one to another and use it as a single trolly.
The thick handle on the top of the inner box allows good grips when boxes are attached and used as a trolly which can also be kept lain. Both of the boxes have strong notches and clips to keep your tools safe inside. Parts of the box are multi-colored which makes them look very attractive.
Pitfalls
The outer box is thin and doesn't have compartments for different tools.
The handle is not quite convenient to carry only by hand.
5. Milwaukee 22 in. Packout Rolling Modular Tool Box Stackable Storage System
Aspects of Interest
The most attractive feature of the box is that the box comes in a set of boxes that can be attached together and set on a provided trolly. Wheels of the trolly are quite strong and big that assures convenience to carry for the user. Lowest of the box is the biggest so if you put your heaviest tools there, you will get a very good balance.
Boxes have several separate compartments for different tools. All of the boxes in the set come with a metallic clip that not only provides a strong and good grip but also a good appearance at the same time.
You can vary the length of the handle as per your requirement. The handle is also metal built that assures the durability and strength of the handle.
Boxes are made of strong, lightweight and impact-resistant plastic. All of the boxes have notches to attach them together and the trolly as well. The topmost box is the smallest which is for the smallest tools.
Boxes are ip65 rated and reinforced cornered. Every box has strong handles and the color of the boxes is very attractive and rugged.
Pitfalls
●       If you want to carry the biggest box then you need to carry it with the trolly as the trolly is permanently attached to the biggest box.
No products found.
FAQ
Top 5 Best Tool Organization Systems On The Market!
Is the Milwaukee Packout worth it?
Milwaukee Packout Review Value
Without going into each individual storage solution, I can easily say that these boxes offer a great value for the money. Being able to protect your tools, transport easily and having a system to make you more organized is priceless. The quality is top notch and worth every penny.
Is ridgid better than Milwaukee?
Rigid is great for the home DIY kind of guy, but they won't last in a professional environment like Milwaukee or others. If you're just using them for personal projects around the house Rigid is a good brand don't get me wrong.
Is Milwaukee Packout waterproof?
Having said that, they aren't fully waterproof, so Milwaukee doesn't recommend leaving the PACKOUT system for long periods time in the rain or wet conditions. Milwaukee's PACKOUT components are covered by a Limited Lifetime Warranty against defects in material and workmanship, excluding normal wear and tear.
Is Milwaukee tools made in the USA?
Milwaukee Tool has manufactured products in the USA since 1924, so they've got a rich American history. … In 2020 alone the company invested over $100 million and created 350 new jobs in the US.
Can you lock Milwaukee Packout?
One innovative feature of the Milwaukee PACKOUT is that they lock to each other. We found this especially handy when you're transporting your tools and hardware from job to job or around the jobsite.
Are snap on boxes worth the money?
Yes, they're more expensive, but IMO, they're worth it for someone who is a tool / garage junkie (like myself). I will say the new boxes, other than the new casters and roller bearing drawers aren't built like they used to be.
Why are Snap On tool chests so expensive?
People pay big bucks for Snap On boxes for a couple reasons… they are high quality, which costs money. They are bigger, which costs more money. They have Snap On on them, which costs even more money. They are hauled around on a truck for 6 months, which costs even more money.
Why is snap on tools so expensive?
The extra cost is due to much more R+D and MUCH better engineering of the Tools and other stuff. That makes it cost a little more. Then they use better steel's to make a stronger tool.
What is the most expensive Snap On Tool?
Description. The most expensive Snap-On Toolbox is the massive EPIQ Series Bed Liner Top Roll Cab with Power Drawer. It is the most expensive model made by Snap-On at just under $30,000.
Are Harbor Freight Tool boxes any good?
They're pretty sturdy boxes and are even better than some of the snap on boxes we have in the shop for half the price.
Are Husky tool boxes any good?
Those Husky tool boxes were priced competitively, and had some features that made them a pretty good value. … We also wanted them to hold our assortment of tools without a problem. While the red Milwaukee steel chest was a top performer—it was very…well, red. Our DeWalt 36″ tool chest was the same—only yellow.
Who makes Kobalt tool chests?
Many of the Kobalt ratchets, sockets, wrenches, and drive acessories were made by Danaher in the USA . The same company has the made Craftsman tools such as those for over 20 years. Also, where is Kobalt Tools manufactured? The Kobalt name is owned by Lowe's, which is based in Mooresville, North Carolina.
Are extreme tool boxes any good?
Work surface is very high quality. Sliders are as high of quality as name brand. The other guys I work with have snapon and mac macsimizers. This box is every bit as good, and better in some aspects and its bigger than ether.
Q: Do the boxes have an integrated locking system?
Ans: No, but some of the boxes are provided with a hole for a padlock to prevent theft.
Q: Can I buy a single part of the box from a set of boxes?
Ans: Yes, definitely you can buy one or two parts from a set or you can buy them in a package. This is often necessary for using them instead of a plumbing toolbox.
Q: Will boxes from different brands interlock to form a set?
Ans: No, maximum boxes interlock with the box that is provided by the same brand.
Q: Can the dolly be detached from the bottom box?
Ans: No, the dolly can't be detached from the bottom box. It is permanently attached to the bottom box only but others are free and have notches to attach with the dolly.
Final Recommendation
By using a proper toolbox, you can turn your messy working place into a neat and tidy one. they are also useful to find out the correct tool at the correct time. You need to select the box that best suits your requirements among the best stackable tool boxes.
If you are searching for a box to keep your lightweight and semi-heavy tools arranged then Bosch L-BOXX-3 Stackable Tool Storage Case comes with the top-notch build quality for you because these tools are comfortable to carry by hand.
Stackable Toolbox Rolling Mobile Organizer with Telescopic Comfort Grip Handle is best for carrying a lot of lightweight and sensitive tools. The box is trolly attached and lightweight at the same time which makes it easily carried anywhere. The box is also pretty attractive for household usage.
I'm Joost Nusselder, the founder of Tools Doctor, content marketer, and dad. I love trying out new equipment, and together with my team I've been creating in-depth blog articles since 2016 to help loyal readers with tools & crafting tips.