I love creating free content full of tips for my readers, you. I don't accept paid sponsorships, my opinion is my own, but if you find my recommendations helpful and you end up buying something you like through one of my links, I could earn a commission at no extra cost to you.
Learn more
Even as a hobbyist or a wood carpenter, you need to cut through your work-piece to get your job done.
Accumulating the knowledge from experience, it is evident that the blade accounts for a table saw not the power of the machine.
A crummy blade might develop in a nagging issue while working. But it doesn't count for any type of saw blades, because neither will every saw blade fit your task nor your machine nor minimal power in which it acts most.
So rather than going for the traditional and best ones, opt for the ones suiting your task and machine while maintaining its traditional and optimum features.
And we all know that while shopping we can be pretty easily overwhelmed by the various options of the table saw blades.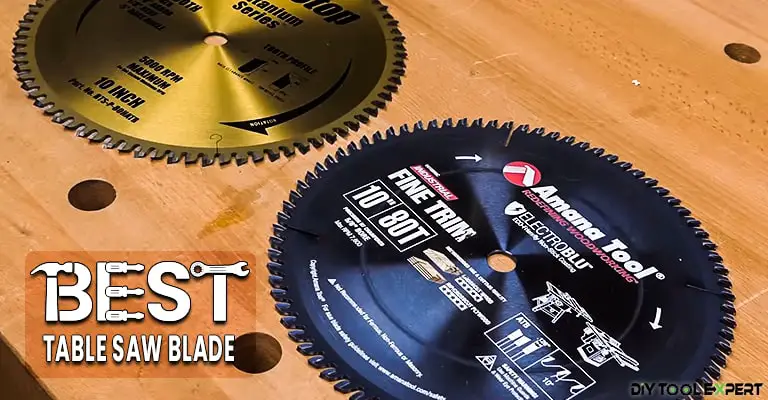 So we have assembled the traditional and top-notch table saw blades that you might want to have a look.
Whatever you buy, you need an informing elaboration. That's why we have invited you here. So let's hop right into the best table saw blades.
Table Saw Blades buying guide
To cut through something with a machine depends on the variant and rigidity of the blade.
To have a smooth finish on your workpiece you need to have something particular in mind, otherwise, you need to know what you might need in your machine.
If you are one of the later ones, you are most welcome. Because when you are off to buy a product in the market you are left with multiple options which get you confused.
But you only want the one which suits your task or get your job done pretty efficiently and quickly.
Let's hop in!!
Tooth Count
Tooth count is a considerable feature in buying a table wood saw blade.
As the standard measurement is of 40-80, where many assume that with a large number of teeth comes a huge production rate, but it is not a proportional relation.
Because you may notice that the cut buy a blade is encountered by the consecutive blade again so a huge number of tooth count might not be a prudent choice
Type of saw blade
Products designed for framing applications typically have around 25 teeth or less, but there are a few models designed for cutting plywood and having 100 teeth or more.
This is because plywood is weaker and thinner than framing materials. Having a huge tooth count helps cut the wood more smoothly without the plywood splintering.
Ripping saw blade
As the title suggests, it is for cutting through the toughest material with a small number of tooth count ranging from 25-40.
So what you are cutting is a considerable issue. But what it may impact is that it won't give you a smooth finish or might chip off the surface.
So if you are just looking for one to just cut through hard materials, you might want to double-check the blade material Saw
Teeth material
Your type of work and table size quite tells the type which suits you more.
So, if you're working with any kind of work that will require joinery, you'll need a 40- or 50-tooth blade, but you may also want the teeth configured in a pattern that's called "Alternate Top Bevel with Raker," or "ATBR" for short.
ATB, or Alternate-Top Bevel, features small teeth that alternate sticking out to the right and the left, which creates a larger cut with smaller, thinner teeth.
This blade is a prudent choice for crosscutting wood, making joinery, sawing particleboard or even melamine.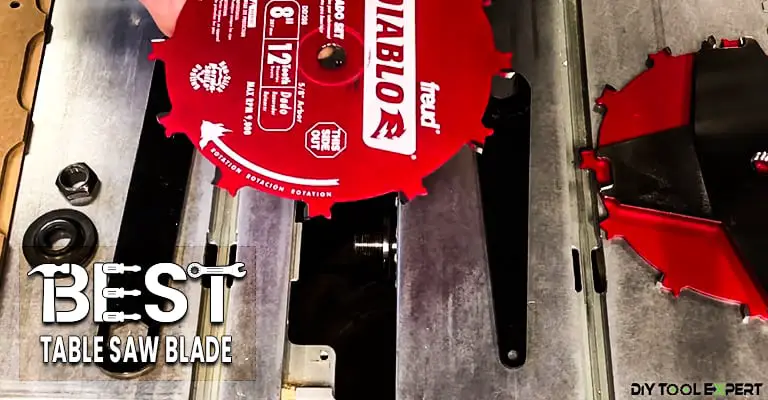 Crosscut saw blades
Crosscuts saw blades usually have around 60 to 80 teeth. They also have relatively narrow gullets.
In contrast to the focus on speed with ripping saw blades, crosscut saw blades are designed with greater accuracy and greasiness in mind.
Also read – the best circular saw blades, the best tile saw blade
Best Table Saw Blades Reviewed
Here we have included some of the best tables saw blades to get you started, along with the features that will catch your attention.
These stand out among all the other ones for their unique structures. Let's take a look.
1. Concord Blades WCB1000T080HP 10-Inch 80 Teeth TCT General Purpose Hard & Soft Wood Saw Blade
What that makes it stand out
The Concord Blades WCB1000T080HP 10-Inch 80 Teeth TCT Wood Saw Blade is a professional one and has quite a telling to its sharp edges.
This general cutting wood blade uses construction grade for ripping & cross-cutting of thick hardwoods up to 3 1/2″ thick and softwoods up to 1″ thick.
The RPM (revolution per minute) is up to 5500 which is just top-notch. It is a norm pattern that can pierce through any hardwood, softwood, exotic wood, and even abrasive wood.
It removes any kind of debris after a cut. The basic and paranormal feature is the tiny but pretty sharp and also continuing sharp edges that give you a butter-like cut.
This table saw gives you a smooth finish on the surface with the help of the lower hook. It prohibits maximal damage and allows minimum waste.
It increases the feed pressure required. It has a 2.6 mm thin kerf design and has a perfect grind with a 15degree hook.
This table saw is compatible with popular Miter Saws, Circular Saws, Table Saws, Hand Saws, and Chop Saws.
Why don't you take a look again
The Concord Blades WCB1000T080HP 10-Inch 80 Teeth TCT Wood Saw Blade is made of high-quality material, but yet it dulls away at heavy use and requires more external force for it to pierce through.
Some of the models have a rapid increase in the change in vibration while working.
2. Forrest WW10407125 Woodworker II 10-Inch 40 Tooth ATB .125 Kerf Saw Blade with 5/8-Inch Arbor
Apple of the eye
Forrest WW10407125 Woodworker II 10-Inch 40 Tooth ATB .125 Kerf Saw Blade with 5/8-Inch Arbo comes up with improving sharp and long edges and more round with thinner upfront.
It has an upper-hand on the smooth finish with the help of its rip-cut edges. It works with an optimum soundproof mechanism, and backside tear-out in plywood is negligible.
Thin kerf saw saves 1/8″ on wood loss for each cut. The configuration as you know is 15° ATB of tooth style and 20° face hook. The blades are virtually hand made.
The table saw is stretched through applying a great amount of force physically with superior C-4 carbide teeth are hand-brazed to the plate, and the blade is straightened and re-straightened multiple times throughout the whole process.
It is configured with extreme quality material which adds to its longevity and has a very lightweight of 2.18 pounds to give you a user-friendly interface.
The sharp cut edges are rust-free. It produces a square, flat bottomed cut for box joints, splines, keyways, drawer bottom grooves and anyplace else that you want a clean, flat cut. 10″ x 40T, .125″ kerf, 5/8″ arbor hole.
Maybe not?
Forrest WW10407125 Woodworker II 10-Inch 40 Tooth ATB .125 Kerf Saw Blade with 5/8-Inch Arbo being among the most efficient table saws, yet the tolerance of the Arbor hole is so tight sometimes it turns out to be tiresome to remove the blade from your workpiece.
3. DEWALT DW3106P5 60-Tooth Crosscutting and 32-Tooth General Purpose 10-Inch Saw Blade Combo Pack
What may attract you the most
DEWALT DW3106P5 60-Tooth Crosscutting and 32-Tooth General Purpose 10-Inch Saw Blade Combo Pack comes up with a pretty unique design with moderate spacing between the consecutive sharp edges providing you to deal with your workpiece in the most efficient way.
This model is configured on the basis of a tungsten carbide structure which makes it long even after heavy use. So what is so different about tungsten carbide?
Tungsten is said to be 10 times heavier than most used components in table saw. Tungsten provides you 4 times more strength than the traditional table saw components.
And adding more its conventional potential it won't bend out of shape. The arbor size is 5/8". With the help of computer-balanced plating, it reduces vibration and allows you the utmost accuracy and steadiness in your work.
It consists of 2 blades, both 10″ diameter, alternate top bevel, +5 degrees hook angle, .071″ plate, .097″ kerf. The first blade is the DW3103 (SKU 271.9524), which is a general-purpose blade featuring 32 teeth to quickly and efficiently cut through wood and wood composite.
Let's think again
The DEWALT DW3106P5 60-Tooth Crosscutting and 32-Tooth General Purpose 10-Inch Saw Blade Combo Pack is without any doubt one of the finest cut blades, yet sometimes due to heavy and pro-longing use, it takes a bit longer time to cut through.
4. Diablo D1050X Combination Saw Blade
Outstanding features
With an almost resembling design but differentiating features comes the Diablo D1050X Combination Saw Blade with more spacing between the edges.
It is manufactured in Italy.
It is a 10x50T Diablo Blade.
This model includes a more modern technology of cutting which is laser cut stabilizer.
Now, what is the benefit of such an updated mechanism? Laser cutting activates the utmost stability while working, and this mechanism includes less power consumption and less waste with no warping or abrasion.
Laser cutting helps you to deal with complex work-piece and it offers higher frequency and optimum precision. Laser-cut heat expansion slots allow the blade to expand due to heat build-up keeping the cut true and straight.
The TiCo™ Hi-Density carbide used in this model is specifically designed for each application is to increase performance in accelerate your cutting process.
The carbide used is durable titanium carbide offering extreme durability, razor-sharp cuts, and long life.
And the tri-metal shock resistant brazing allows carbide tips to withstand extensive impact for maximum durability.
Lately, the Perma-SHIELD Non-stick Coating manufactured in this model protects it from heat, gumming, & corrosion.
Maybe not?
As we know that the Diablo D1050X Combination Saw Blade uses laser cutting. Laser cutting without any doubt provides you a cleaner cut, but it requires much energy to keep the laser on. And also the laser while cutting should be adequate, not much not less.
5. Diabo by Freud D1060X 10″ x 60 Tooth Fine Finish Saw Blade
Let's take a peek
The Diabo by Freud D1060X 10″ x 60 Tooth Fine Finish Saw Blade is an ideal table saw blade for trim carpenters leaving a smooth surface that requires no little sanding.
This model configuration somewhat resembles the previous one with the carbide structure.
The Tico Hi-Density carbide configured in this model is specifically designed for each application to achieve enhanced performance and accelerate the cutting process.
The diameter of this model is 1" and is compatible with the miter saw and table saws. The teeth consist of 6 HI-ATB.
The arbor is of length 5/8" and the kerf of .098" with the hook angle being 15 degrees. The sharp edges of the blade let trim crews get the most out of sliding.
Its tooth count is massive in comparison to the previous models and this helps with the production rate. The huge tooth count provides a butter-like finish with less abrasion and warping while minimizing grabbing or blowout.
This Italy-made table saw consists of Perma-SHIELD Non-stick Coating protects from heat, gumming, & corrosion.
The robust steel body ensures prolonged longevity. It's ideal for crosscutting oak, pine, melamine, plywood, and molding.
The tri-metal shock resistant brazing allows carbide tips to withstand extreme impact for maximum durability.
Let's not rush
It is said to dull after a certain amount of use also after quite a time it leaves your workpiece uneven or rough.
6. Makita A-93681 10-Inch 80 Tooth Micro Polished Miter saw Blade
What may attract you
Preserving the traditional circular look the Makita A-93681 10-Inch 80 Tooth Micro Polished Miter saw Blade has come up with carbide tipped enhanced sharp edges.
Carbide is counted as one of the strongest material in a blade maintaining its sharpness over others. It offers sharpness and strength over plain steel.
For which it acts as a more efficient cutting tool. The ultra-thin kerf is of .091″, and the hook angle is 5 degrees, and plate thickness offering .071.
So the carbide-tipped edges hold this model as an ideal as a cutting tool. And the micro-grain carbide teeth are honed with up to 600 grit for a mirror and butter-like finish.
This model is a hybrid formation of steel and carbide with the plates being hardened by steel for true and satisfactory cuts. The blade diameter is of 10", with the blade being Miter saw- Micro polished.
It allows a miter or cross-cutting. It allows a minimal drag on the floor and less loss of material. It offers you a huge tooth count of 80.
It also provides a higher production rate with an RPM of 5,870.
Let's be sure!!
Even though this model shows great rigidity, yet it doesn't impress you in cases of thick wood with a perfect and butter-like finish. And also the blade giving off a high pitched whine can be a nauseating issue.
7. IRWIN Tools Classic Series Steel Table / Miter Circular Saw Blade, 10-Inch 180T (11870)
Now what you may find exquisite
The IRWIN Tools Classic Series Steel Table / Miter Circular Saw Blade, 10-Inch 180T (11870) has improved with production rate by including a larger tooth count of 180 with thin spacing between the sharp and robust blades.
It has a diameter of 10" or 254mm, and a 5/8″ arbor and 0.09″ kerf. The circular shape is for precision and higher accuracy in piercing through the wood.
The saw blades are hardened for higher rigidity and offering extended durability and enhanced performance.
The blades are configured with heavy-gauge, high carbon-steel for better precision and smooth finish. It can cut through TCG plywood, OSB, veneer, and even plastic.
The heavy gauge includes more tension which allows less action or pressure. The precision ground teeth are for more accurate and smooth cuts to give you a non-abrasive surface.
The high carbon steel structure gives you prolonged durability of the saw blades.
What's left!!
This model has a nagging issue such as burning the blades after a long and heavy work and also dulls after a heavy wok. It takes rather a certain amount of time to cut through the laminate.
Types of Table Saw Blades
Not every blade is fit for all types of different material types. Just like lumber texture, size, and densities vary, blades vary as well to be best suited for different kinds of woodwork.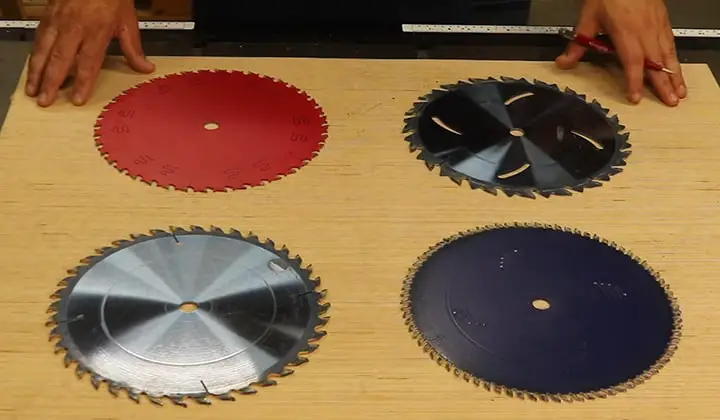 Saw blades are different from each other in size, grind, thickness, and number of teeth. Each one is ideal for a range of materials, so there's really no such thing as a universal saw blade. In this article, we'll walk you through the different types of table saw blades to get you more familiarized with the functionality of a table saw.
The basic table saw blade types are FTG (flat top grind), TCG (triple chip grind), ATBR (combination), and ATB (alternate top bevel).
The upper edges of the teeth of FTG blades are square to the saw plate. These teeth, also known as rakers, attack the wood like a chisel cutting off the ends of a mortise.
FTG tooth arrangement is intended to efficiently cut and rake material out of the saw kerf. These teeth aren't as sharp as most variations of FTG blades because of their high rake angle, which means they need to be driven through a cut with greater power.
TCGs are made with reduced tooth drag, free chip flow, and a balanced cutting force. Chipping in brittle materials like laminated particleboard, MDF and chipboard can easily be avoided due to this design. The saw blade tip geometry is frequently used to cut non-ferrous metals.
ATAFR, more commonly known as ATBR, is a type of blade that usually has a repeating 5 tooth pattern. The first 4 teeth are ATB designed and the 5th one is flat-top raker styled. This pattern, especially due to the 5th flat-top raker tooth, is why ATBR blades can leave a smooth flat surface with each cut.
The fundamental ATB grind has a bevel from the top, outer section of the tooth turned down toward the opposite side of the blade, making it an "all-purpose" grind. This blade is usually used to make crosscuts on solid wood, including veneers, lattice, plywood, etc.
With a constant pattern that goes all the way around the ATB blade, the bevel sequence alternates between one tooth pitched left, and one tooth pitched right.
Features of a Table Saw Blade
Table saw blades come in many variations, and they are named differently due to distinctions in features and functionality. These are some of the qualities that vary between table saw blades:
Size
Table saw blades might look the same, but they are different in diameter and thickness to withstand a variety of materials and carry out many styles of cuts.
You will find the typical blade to be 10 inches in diameter, but this can go up to 12 inches as well, depending on the depth of the cut and material.
Teeth
The teeth on a blade are what bring out the shape of the cut. Many teeth result in a clean, smooth, and fine cut while a few teeth with many gaps between them equal rougher cuts, which is great for ripping.
Also, the lower the teeth count is of a blade, the longer it will take to make a singular complete cut. This is because the gullets require time to uplift the material in a uniform fashion while a blade with many teeth cuts through quickly.
Revolutions Per Minute (RPM)
The speed of a blade is measured in RPM, which should never be exceeded above the stated limit. Since the blade is made to revolve at a specific speed and cannot go past it, it may damage your working surface if overloaded.
In this case, the blade moves away from the center, causing centrifugal force. This may cause a kickback while the saw is in motion.
Types of Table Saw Blades
Don't worry, many woodworkers have trouble telling apart the different types of table saw blades. In fact, a large number of them don't try out other saw blades until long into their career. So, any time is a good time to start.
Here are the types of table saw blades you should know about:
General Purpose Blade
Carpenters that usually work with veneered plywoods and hardwoods use this kind of blade especially on wood that is up to 1 inch thick. A typical general-purpose blade has 40 teeth with 30 degree alternate top bevel teeth. Because of this design, the blade is able to make clean rips and crosscuts on all types of solid wood.
Every woodworker with a saw table should have this blade in their inventory. It's able to cut through almost any type of wood. Since these blades have fewer teeth than a combination blade, they're able to rip wood faster. They also crosscut very well and can be used as a substitute blade for many blades.
Combination Blade
All-purpose blades and combination blades have similar functionality; often, their terms are used interchangeably. Combination blades are usually called the original all-purpose blades because they were used for crosscutting and ripping before most multi-purpose saw blades.
The blade has 50 teeth with ATBR tooth arrangement, enabling it to perform clean rips and crosscuts swiftly. Even though most carpenters and DIY woodworkers prefer 40 tooth ATB general purpose blades nowadays, these combinations can still be found in many woodshops being put to regular use.
Both combination blades and general purpose blades can expertly cut through different kinds of lumber and sheet products. It's just your style and woodworking preferences that really matter.
Ripping Blade
These types of table saw blades can differ despite their general name. You can find ripping blades that are 10 to 12 inches in diameter with 24 to 30 teeth, but all that really matters is how well it rips the wood of your choice.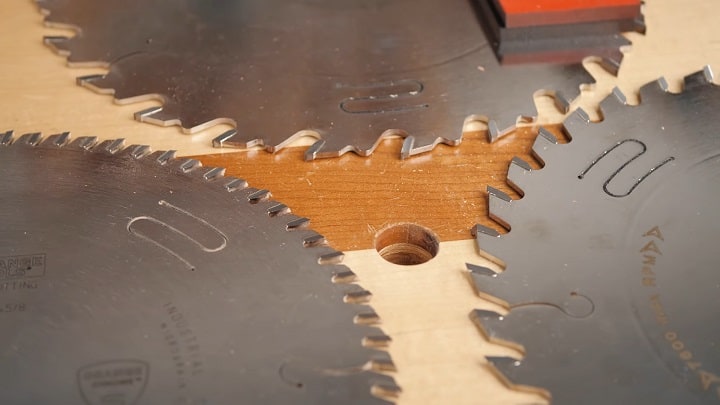 When ripping a number of boards to width, a specialized ripping blade saves time and work. Usually, the more space there is between the teeth, the less time it takes to clean up the mess. This is because the fewer teeth are angled in a way that scoops away the excess sawdust for extra clean cuts.
However, when ripping solid wood, more teeth does not imply a better cut. More teeth essentially mean that the blade generates more heat, which means you'll have to cut more slowly. As a result, there will be more saw marks and burns.
Ripping blades are ideal for cutting slots for ornamental splined joinery because of their flat-topped teeth design. A good ripping blade will have each flat tooth that creates a groove with a flat bottom, ensuring a precise fit in the exposed splines.
This makes the blade cut fast since the few numbers of teeth minimize heat which allows the wood to glide through easily.
Crosscut Blade
Crosscutting wood requires the blade to be used across and against the grain of the wood, which can cause tear outs. To make cuts smoother and cleaner at the exit, the blade has more teeth. This is why you will notice that crosscut blades have up to 60 to 100 ATB teeth.
Combination and general-purpose blades are also good choices for crosscutting wood. However, their teeth count is lower than that of crosscut blades. While the 40 teeth ATB of general blades and 50 teeth of combination blade can do clean cuts, they aren't nearly as good as the cuts on an 80 to 100 teeth crosscut blade.
Frequently Asked Questions
What type of blade does a table saw use?
There is no universal blade for a table saw, but there are blades closely designed to suit that purpose. General-purpose or "all-purpose" blades can do most ripping and crosscutting tasks, but they're not used for every type of material.
Even though general-purpose blades can save time switching between blades, it's best to have one of each of the basic saw types, which are ATB, ATBR, FTG, and TCG.
What is the difference between a table saw blade and a circular saw blade?
Table saws and circular saws differ only in portability. While a circular saw is light, compact, and handheld, table saws are huge, heavy machinery that can be difficult to transport. In terms of blades, circular saws have much smaller blades than table saws do with more variation.
Is more teeth on a saw blade better?
No, more teeth on a saw blade technically do not mean it's better than a blade with lower tooth count, it's just better for its purpose. Blades with fewer teeth are great for ripping, while blades with many teeth can get overheated while ripping or not rip at all. Fewer teeth equal finer and smoother cuts.
How long do saw blades last?
Depending on the quality of the blade and the type of material you're cutting, saw blades can endure anywhere from 12 to 120 hours of continuous operation.
Why do saw blades have cuts in them?
Saw blades have gullets or "cuts" to finely cut along the grain of the wood. The more spacious the gullets are from each other, the rougher the cuts are, which is ideal for ripping wood.
What saw blade makes the smoothest cut?
The 44-tooth blade (left) makes a smooth cut and is used for trim carpentry and cabinet making. The coarse 24-tooth blade (right) cuts quicker and is used for rough carpentry work.
How do I know if my table saw blade is dull?
Can a 10 inch table saw cut a 4×4?
A standard 10 inch table saw can't cut all the way through a 4×4 in one pass. The deepest cut a 10 inch blade can cut is about 3-⅛ inch. A high-end table saw with a 12 inch blade can cut a 4×4 in one pass with maximum cut of about 4 inches.
Are Diablo blades worth it?
The consensus is that Diablo saw blades balance great quality with excellent value, and are a good choice when replacing or upgrading the OEM blades that are often bundled with new saws. … These blades were used and tested with a Dewalt DW745 table saw, and a Makita LS1016L sliding compound miter saw.
Can you rip with a crosscut blade?
The Crosscut blade is used when cutting short grain, while the Ripping blade is for long grain. The Combination blade allows one to cut both crosscut and ripping using the same blade.
How do I choose a saw blade?
Generally, blades with more teeth will provide a smoother, finer cut whereas blades with fewer teeth will provide a rougher cut. The benefit of fewer teeth is faster cutting and a lower price. For most construction work, a 24-tooth general use blade is sufficient.
How high should a table saw blade be?
the blade should be raised so its peak is 1/8″ to 3/8″ higher than your workpiece. the blade should be raised so 1 full tooth is exposed above your workpiece.
What table saw should I buy?
Here are the best table saws you can buy: Best table saw overall: DeWalt DWE7491RS 10-inch Table Saw. Best cabinet table saw: SawStop PCS31230-TGP236 Cabinet Saw. Best gravity-rise table saw: Bosch 4100-10 10-inch Worksite Table Saw.
Is MDF hard on saw blades?
Particleboard, melamine, MDF, and hardboard are all fairly dense materials that can be hard on saw teeth. Cutting this stuff with an ATB blade will wear down its pointy tips quicker than most solid wood will.
How long does a table saw blade last?
They can last between 12 and 120 hours of continuous use, depending on the quality of the blade and material they're used to cut.
Is it worth sharpening table saw blades?
The answer is yes, it is worth sharpening a circular saw blade. Generally, blades that cost $50 or more are worth sharpening while it is better to replace cheaper, low quality blades. Re-sharpening the blades will reduce wastage and save you money in the long run especially if you are using expensive carbide blades.
What do you do with old saw blades?
At some point, your saw blades will need to be sharpened or thrown out. And yes, you can sharpen saw blades, either at home or by taking them to a professional. But you can also recycle them if you no longer want them. Since they are made of steel, any place that recycles metal should take them.
Can I cut a 4×4 with a chop saw?
One way to chop a 4×4 in a single pass is by adjusting the blade guard to essentially increase the saws cutting capacity. If you can give the blade more clearance, then it should be possible to get a clean single pass cut through a 4×4 post, even when utilizing a 10-inch blade.
How many teeth should my table saw blade have?
It depends on your work-piece, but 80 is a standard measurement. But still, decide based upon your task and need.
Can a 10-inch table saw cut a 4×4?
Typically a 10" cuts 3X3 and a bit deeper, but a 12" cut perfectly the size 4X4, still you might want to have a look on the manufacturer sheet
How thick is a table saw blade?
There is no boundary to the configurations of a saw blade, what suits your work-piece is your thickness. But the traditional thickness is 1/8th inch.
Conclusion
There are various reasons why they are becoming trendier than all other alternatives present in the market, as in tooth material, tooth count, blade shapes.
We want to you have the best experience and knowledge from home to your shop.
Forrest WW10407125 Woodworker II 10-Inch 40 Tooth ATB .125 Kerf Saw Blade with 5/8-Inch Arbor is preferred due to its hand-craft frame, which is exceptionally sturdy but also features a small kerf for extremely precise cuts.
On the other hand, the Diabo by Freud D1060X 10″ x 60 Tooth Fine Finish Saw Blade is a prudent choice for its dual function as a great blade for ripping and for crosscutting, as well as its laser-cut stabilizer, though it misses out on first place since it's not the very best at ripping or crosscutting, though it does well with both.
We hope our guide has reached your expectations with our constructive guide to the best table saw blades. Now you can rush to shopping as you know what you need.
Happy shopping!!
I'm Joost Nusselder, the founder of Tools Doctor, content marketer, and dad. I love trying out new equipment, and together with my team I've been creating in-depth blog articles since 2016 to help loyal readers with tools & crafting tips.