I love creating free content full of tips for my readers, you. I don't accept paid sponsorships, my opinion is my own, but if you find my recommendations helpful and you end up buying something you like through one of my links, I could earn a commission at no extra cost to you.
Learn more
Track saws have become very popular job-site tools in less than a decade. These machines have shown magic in getting accurate and smooth cuts. Their extreme ease of use has made them loved by the DIYers as well as the professionals.
If you are looking to get one of these tools for yourself, then hopefully this article will be helpful. We will tell you everything you need to know before making the buying decision. We have pulled out reviews of some of the top products in the market.
Go through the article and see if you can choose the best track saw for yourself.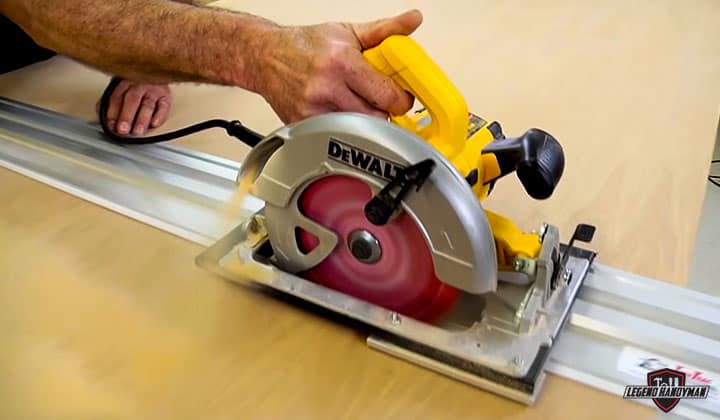 What Is A Track Saw?
Some call it a plunge saw. People often get confused between a track saw and a circular saw because track saw has a lot of similarities with a circular saw.
A track saw is used to cut materials such as plywood, doors, etc. with precision and accuracy. Though they look a bit like a circular saw (like some of these), the jobs they do are too good for a circular unit to accomplish.
In some models, you have motions like that of a wrist moving in a hammering fashion. Others are different in their movement. They plunge cut with a movement similar to rocking forward. According to the requirement of the job, you can switch between these motions.
The blade set is mainly behind the operation of these saws. It is designed in a way that you can cut at the front while the back of it is separated from the recently cut edge.
There will be minimum tear out and burn. The track saws are specialized in making straight cuts. Moreover, some track saws include a riving knife. It helps in preventing kickbacks.
Best Track Saw Reviews
DEWALT DWS520K 6-1/2-Inch TrackSaw Kit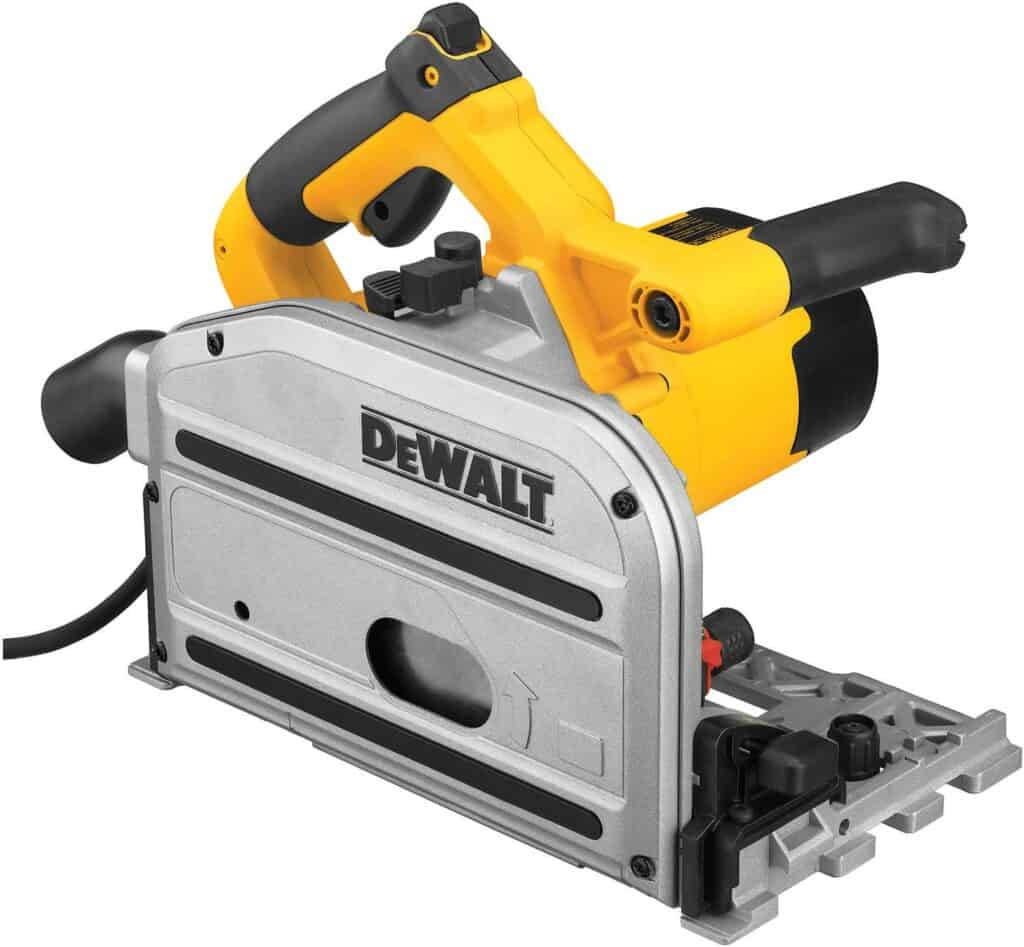 DEWALT has been absolutely brilliant over the years in producing a variety of outstanding tools. If you are one of its privileged customers from before, then you don't need me to make you feel secure in buying its product. However, let's talk about some of its features in order to make a good buying decision.
Accuracy and quick set up are two of its most remarkable features. Moreover, when you have a soft start motor like this machine has, controlling it becomes much easier. The machine comes with a magnesium base that is pretty thick as well as a tilt control, which is strong and simple to adjust.
You will also find that they have provided a pair of grips along with a highly resistant track. The motor is 12A that has the capability of pushing a 4000RPM max to the blade.
Thanks to its slower RPM, it cuts a larger number of materials, whereas the machines with faster RPM would cut lesser but more precisely.
It features an anti-kickback catch. Therefore, you can prevent the backward movement during releasing the knob. A wheel located on the tool's base works against the track. However, it works on nothing other than a DEWALT track.
Like most of the products out there, there is a standard 6.5-inch blade. What concerned me is the blade changing mechanism. If you love your stuff simple, then you wouldn't be pleased with it since it has an 8-step process and involves locking and unlocking levers.
The 59 inches guide rail makes it easy to cut long objects. They have designed it for heavy-duty. What's more, you have an angle customizing facility with this tool.  
Pros
Features anti-kickback catch and angle customizing facility.
Cons
Has a complicated blade changing system.
Festool 575389 Plunge Cut Track Saw Ts 75 EQ-F-Plus USA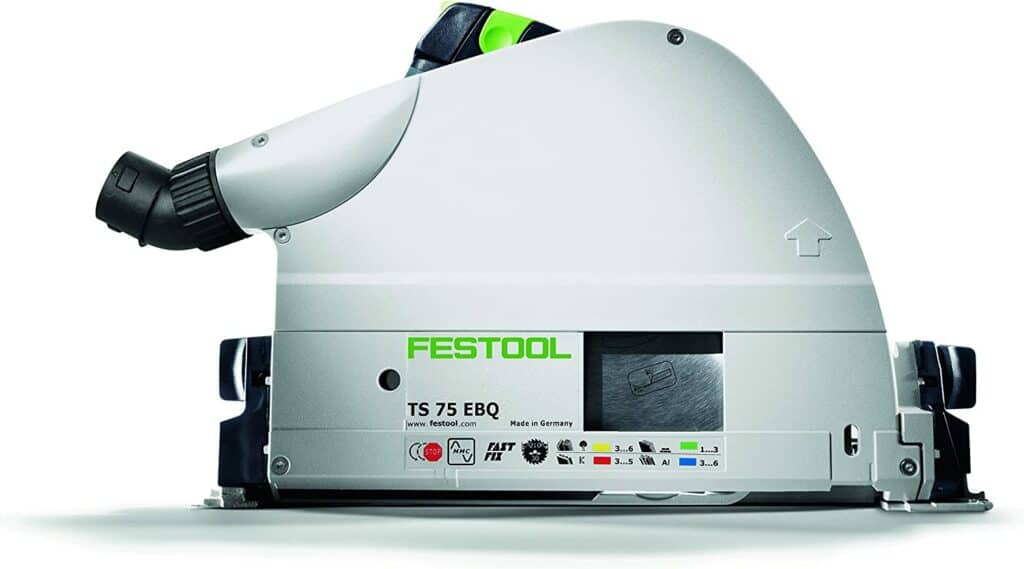 This tool works best with sheet goods. If you want precision in making long rips, then this could be your go-to tool. The machine will provide you with perfect performance on a daily basis with these particular types of cuts.
The track turns the machine pretty much into a hand-held table saw. For clean and precise cuts, this would be the simplest way to go. You can use this in replacing wood flooring that is damaged. The tool also comes handy in cutting plywood sheets.
I loved the fact that the machine offers perfectly smooth cuts. There will be no tear-out. It makes the edges look perfect. Another thing you would like is that it is a pretty safe machine and easy to use, too. They have made it sturdy using good quality materials.
There is an important thing I want to mention. Festool products usually come with more functionality in engineering. So, it takes some time for one to get used to it. Once you are familiar with the machine, you are going to like the way it works.
If you use the machine with guide rails, you will be able to make cuts that are splinter-free and very straight. There is a riving knife in place that is spring-loaded that prevents materials from pinching the blade. This works as an anti-kickback system.
Moreover, there is a slip clutch for reducing kickback that also helps in minimizing wear on the gear case, motor, and blade. What's really impressive about this machine is its easy blade changing facility. The saw blade speed ranges from 1350RPM to 3550RPM.
Pros
It has easy blade changing mechanism and an anti-kickback system.
Cons
It's a bit expensive.
Makita SP6000J1 Plunge Track Saw Kit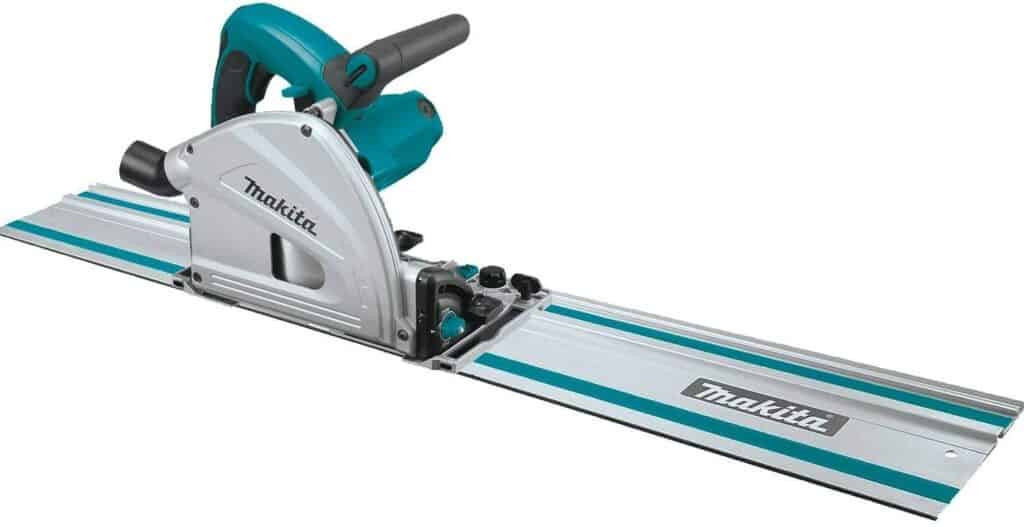 If you are looking for a track saw that is compact and lightweight, then this is your tool. It comes with powerful motor along with precise cutting performance. What's amazing is that you get this high performance at a low price. The features it comes with are really incredible to have in this price range.
It has a 12A motor with a 55-inch guide rail. The machine is up for nearly any cutting duties. What's more, you have a carry case that comes with the product. There's a 3 mm scoring setting included in the machine. They have provided a beveling facility ranging from 1 degree to 48 degrees.
You will find the bevel shoe to be simply adjustable with a 49-degree max custom angle. They are to bevel presets; one at 22 degrees and the other one at 45 degrees.
Another nice feature of this tool is its anti-tip lock. Thanks to this, you won't have any problem regarding the saw tipping of the track during work. This feature might seem small, but it is really effective. Moreover, it comes with a dust collection system.
The machine's not only about precise and fast cutting. It also boasts a 5200RPM powerful blade that will cut through literally anything. There's a variable speed setting ranging from 2000 to 5200 RPM.
Since the machine is small in size, you can hold it easily and operate it effortlessly. What's more, it comes with rubber soles that prevent it from getting off track. The machine weighs 9.7 pounds. So, this as an affordable tool that delivers high performance.
Pros
This thing is lightweight and comes at a reasonable price.
Cons
It has difficulties in cutting solid wood panels
SHOP FOX W1835 Track Saw

The first thing that needs mentioning about this product is that it is extremely lightweight. Nevertheless, the little guy comes with a sturdy motor that provides 5500RPM. The machine's portable, too.
Along with delivering high performance, the machine is pretty safe to use. Professionals seem to prefer this tool a lot. The brand may be new in the game, but it is quite reliable. They use high-quality materials in producing their machines.
Therefore, its products have gained a reputation for being long-lasting. This particular model is highly recommended for job site uses.
Professionals such as craftsmen and woodworkers would find the machine really useful. It provides plunge cuts. You have to position the saw blade on the object to have a cut of this sort.
Once you lower the blade on to the work area, it starts cutting immediately. If you want the perimeter undisturbed, you will find these cuts appropriate in cutting a specific portion of the material.
There will be no unpleasant occurring of kickbacks, rest assured. Also, there is a cut indicator in place to point out where the cut begins and ends throughout the blade. In addition, you will find a bevel gauge that comes with a lock. These offer precise cuts up to a 45-degree angle.
Another nice feature is the dust collection system that provides cleaner and more accurate work. There are additional handles included for better control during work. To prevent any mishaps resulting from the sharp blades there is a cutting depth limiter.
Also, the product includes a riving knife that is spring-loaded.
What's really impressive about the product is it is durable. You won't need to repair it that much. Therefore, it is a suitable machine for workshops. In a couple of applications, it would be nicer to have some modifications though. Nevertheless, it is a nice tool for professional use.
Pros
It comes with an easy dust collection system and is highly durable.
Cons
There is space for some modification.
Triton TTS1400 6-1/2-Inch Plunge Track Saw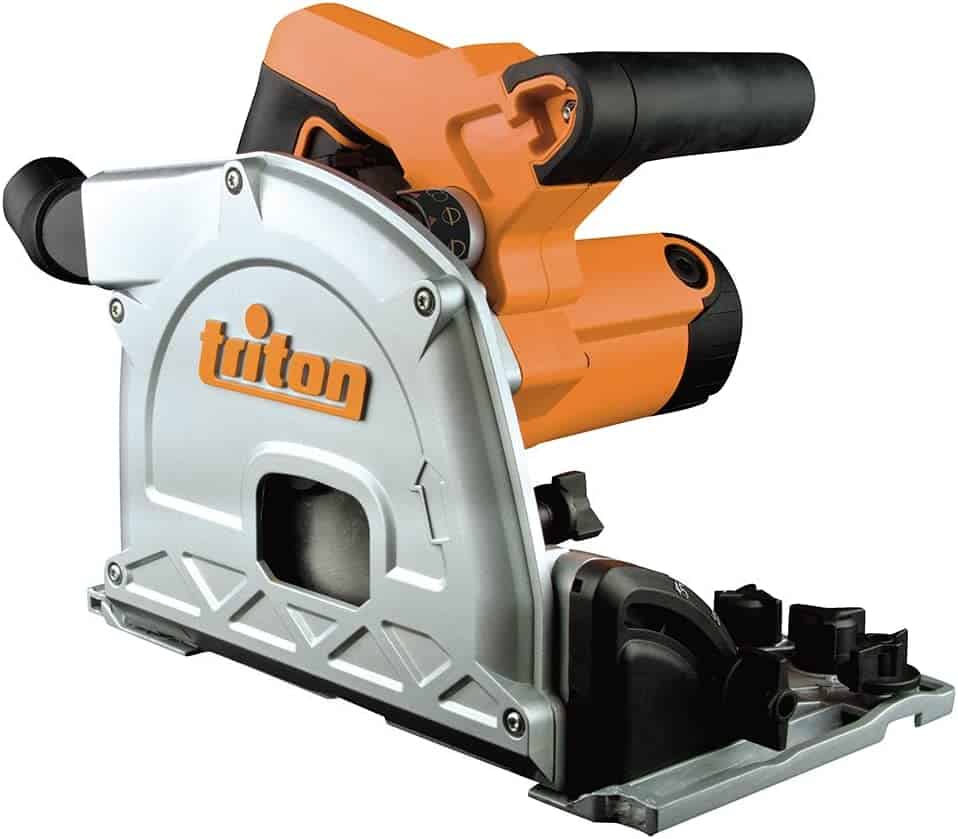 This one is a compact machine providing smooth and straight cuts. In terms of affordability, it is unrivaled. You won't find a better deal than this one out there. Its features are too good, considering the price range. The machine comes with a guide rail that is 59 inches long. It also provides deep scoring.
What's really brilliant about it is the blade changing system. Thanks to the shaft lock, it is convenient. The 12A start motor comes with a wide range of speed control. It ranges from 2000RPM to 5300RPM. What's more, there is an anti-kickback mechanism in place to provide smoother and safer plunge cuts.
The tool has a smooth plunge associated with an easily approached release. You can start or stop cutting as you wish due to the plunging capacity. And it gets better, for there is a plunge lock, too.
You might find the machine a bit heavier but then again, its flat designed blade housing lets you work up against walls or obstacles.
During the bevel cutting work, you will be glad to have the guide rail track lock the tool comes with. It stabilizes the track saw while performing these cuts. The machine has a 48-degree bevel cutting capacity.
Moreover, the dust collection system it provides is simple and efficient. They have added a vacuum adaptor that fits any wet dry shop vacs.   
You will find 13-inch track connectors with the product. Also, there are work clamps included in it.
What I really liked about this tool is its handle with the soft grip. It makes it comfortable to work with the machine. What's more, they have introduced overload protection. Also, it comes with dual alignment cams that facilitate saw base tuning with the track.
Pros
It has a soft gripped handle and an efficient dust collection system
Cons
It's a bit heavy.
DEWALT DCS520ST1 60V MAX Cordless Track Saw Kit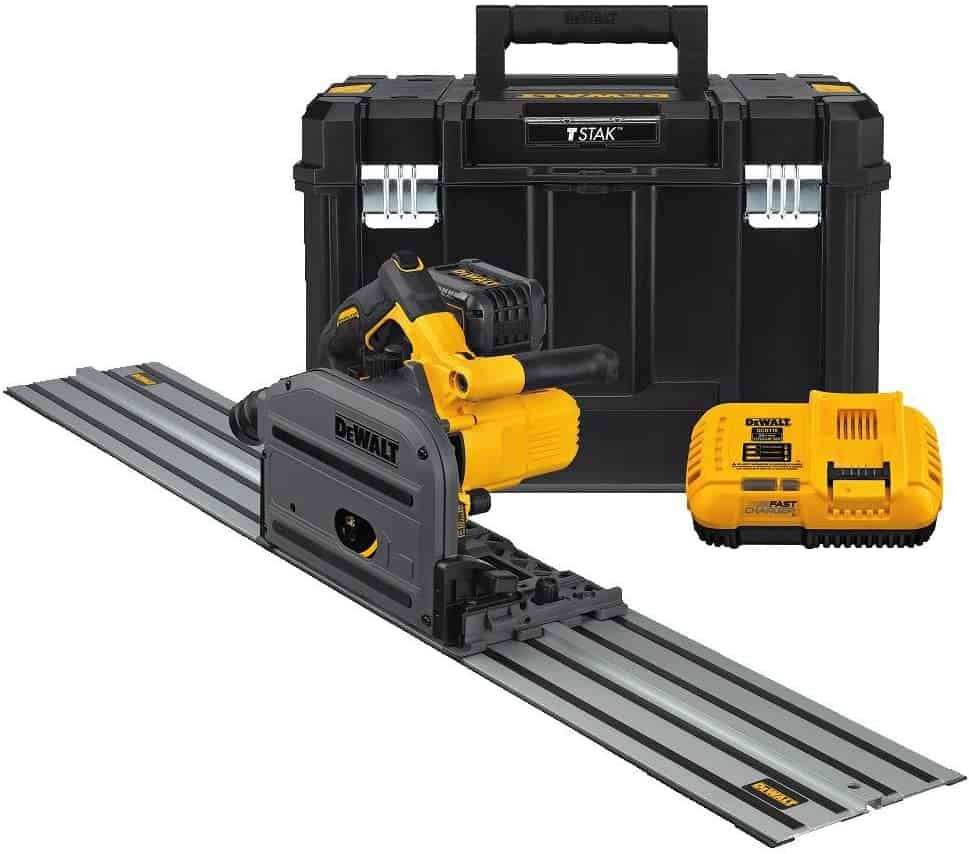 DeWalt offers a cordless track saw that a newbie, as well as a professional, will find handy. The machine has a 60V battery which provides juice for a motor that is brushless.
There is a variable speed dial that ranges from 1750 to 4000 RPM. It can cut up to 2-inch thick material. The beveling capacity of the tool is about 47 degrees.
This saw is significantly powerful. Give it literally any job and rest assured of getting it done. Also, its battery runtime is quite outstanding. With one full charging, you can work on a 298 feet plywood.
A unique thing about this product is its parallel plunge system. With this plunge, all you've got to do is push, unlike other track saws that require pulling down. A metal shroud encloses the blade from every side. There are two benefits to this.
One is that you are safer with the cover around the blade. And you can use the shroud to allow 90% dust extraction once you attach it to the dust collector. Moreover, there's a riving knife to plunge alongside the blade.
Anti-kickback mechanism is an important feature for a quality track saw to have. And this machine has it to prevent any kickback during work. You just have to use the knob located on the base to activate it. Basically, it doesn't let the saw go backward. This system ensures safety as well as offers convenience.
Any DIY enthusiast will have to appreciate the quality performance of this tool. If you are worried about having your cut precisely straight, you will love this machine.
This works as a table saw and much more. So, this cordless device will save your time, make the work easy for you, and do its job perfectly. All these make it the best cordless unit out there.
Pros
This thing is pretty powerful and comes with a durable battery
Cons
The saw moves at times
Buying Guide        
There are a few things you need to look for before purchasing a track saw. Let's talk about them.
Power
Track saws with more power work quicker and cut more precisely and easily. A quality tool should be powerful enough to cut through a wide range of material without giving up. If the motor slows down, the blade will heat up and dull rapidly.
Not only it will produce an inaccurate cut but there will also be dangers for the user. For the machine might kick back in these conditions.
A good saw should have a power of 15 amp since that is the standard these days. A 10-12 amp saw will do for users who will work only once in a while.
RPM: Maximum Speed
Achieving a high maximum speed is the sign of a track saw's strength. RPM means 'revolutions per minute.' It measures speed. A standard track saw contains about 2000 RPMs. Most of the units designed for professional uses come with this speed.
When you have a variety of materials to work on, you should look for a model that has a wide range of speed levels.
There are some top-class units that offer a range of 3000 to 5000 RPM. It will be better if you can buy a track saw with variable speeds. That way, you can cut different materials by changing the speed.
Size Of The Blades
The corded units use larger blades. Their size ranges from 6 inches to 9 inches. On the other hand, the cordless ones tend to have lighter and smaller blades. They have to save power. Generally, bigger blades cut smoother, because they have a larger number of cutting teeth on the blade circumference.
A 6-inch blade will be sufficient to do any home job as well as some professional tasks. There are various tooth arrangements for the blades. A quality blade ensures smooth and straight cuts through metal and plywood.
Cordless Or Corded
Though the cordless units are expensive, they deliver a very good performance. But, home workers will do better with a corded saw saving some bucks. The cord should be long enough to make the work easy. It is seen that the cheaper units have cords that are shorter.
Cordless units, besides doing the jobs similar to corded ones, are durable and more powerful. So, professionals are more into these saws. But, there are cordless ones that come with a combination of short runtime and less power. With these units, you will be okay working on lighter materials, but there will be problems with bigger tasks.
Blades
Blades that usually come along the track saws are sufficient to do most of the jobs. However, if you want better performance, you can always get one of those blades specially made for various purposes. For cutting metal, wood, concrete, and tile, these special types of blades are extremely useful.
For long clean cutting jobs, you might want to look for blades with more teeth. You can change the blade any time you want, and it will take only a minute or so to do it. 
Ergonomics
All the track saws might look alike from afar, but the differences show when you take a closer look. Before you buy your tool, see if the handle fits properly. Also, make sure that you don't buy a tool too heavy. Check out the blade visibility as well.
Track Saw vs. Circular Saw
Users often fail to distinguish between a track saw and a circular saw for they look pretty much alike. But, when you look deeper, the differences show up. Track saws cut more accurately with a straight course. These are easier to use.
Circular saws have their limitations when it comes to making the cuts smooth and straight. They are not capable of making a long straight cut.
With circular units, you can only cut from the material's end, never from the middle. This limits their uses even further. On the other hand, you can do the cut in any part of the material with the track saws. You can guide them against walls because of the smooth and flat side they have.
The blade in the track saw remains within the machine. So, it is safer to use. Also, it offers a better collection of dust than a circular unit.
Splinter guards on the rails of a track saw keep the cutting material firm in its position. Therefore, you can use the track saw to cut very long pieces. And the cut will be as smooth and straight as it gets without requiring any finishing.
Frequently Asked Questions (FAQs)
Q: What is the main difference between the track saws and circular saws?
Ans: The basic difference would be that a track saw makes smooth and straight long cuts, which a circular unit is unable to do.
Q: Are these saws expensive?
Ans: They are a bit more expensive than the circular saws but works way better at the same time.
Q: How the track saws differ from table saws?
Ans: Track saws are ideal for full-size sheets, whereas the table saws are for cutting small wood pieces as well as cross-cutting, miter cutting, etc.
Q: Which blade do I need for my track saw?
Ans: It depends on the type of work you need to do. Carbide-tipped blades usually do the trick perfectly enough.
Q: What is the main function of a track saw?
Ans: It is used to make accurate, straight, and tear-free cut almost like that of a laser.
Conclusion
I hope you have benefitted from our article in finding the best track saw out there. Let us know your thoughts on our recommendations in the comments section below.
I'm Joost Nusselder, the founder of Tools Doctor, content marketer, and dad. I love trying out new equipment, and together with my team I've been creating in-depth blog articles since 2016 to help loyal readers with tools & crafting tips.