I love creating free content full of tips for my readers, you. I don't accept paid sponsorships, my opinion is my own, but if you find my recommendations helpful and you end up buying something you like through one of my links, I could earn a commission at no extra cost to you.
Learn more
Keep Your Honda Pilot Spick and Span with One of These 3 Car Trash Cans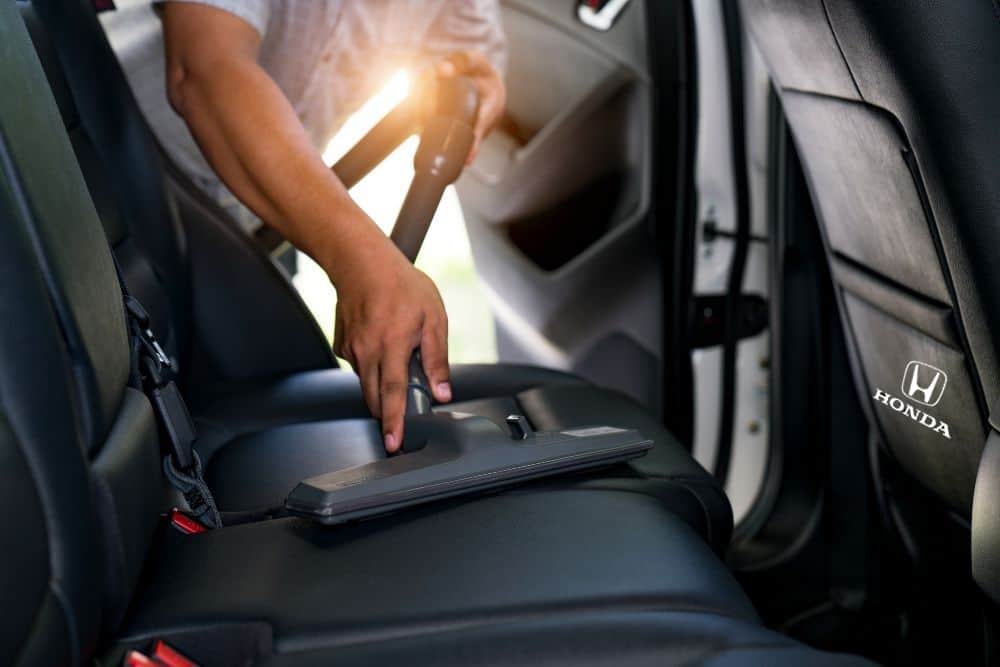 Seeing as the Honda Pilot has triple-row seating, I'm guessing it's become a cab service for at least a couple of kids, which means you're going to be dealing with a lot of gum and candy wrappers, and an incomprehensible amount of juice boxes.
Without a suitable in-car trash can, before you know it, that beautiful leather interior and those spacious footwells will be buried in brightly colored garbage, but I'm not going to let that happen!
Having spent the last few weeks on the hunt for the best trash cans for keeping the Honda Pilot clean when you're on the road, I can now pass on what I've learned to you.
Also read: the ultimate car trash can buying guide
Trash Cans for Honda Pilot – Reviews
Measuring 15 x 10 x 6", this Drive Auto Trash Can has the capacity to keep your Pilot looking clean, no matter how long the family road trip drags on.
However, the real reason it was chosen for this esteemed list is that it doubles up as a cooler. That's right, my friend…it may take up quite a bit of space, but being that it saves you bringing a second container for snacks and supplies, you're actually gaining a bit of wiggle room. 
Besides, everyone needs a cold soda to take the edge off on a marathon interstate trip, and once the refreshments have been enjoyed, the trash goes straight back in, zero mess, zero worries, zero ants!
It can be hooked on the back of your chair, on the side door, or even on the console — the choice is yours! And to top it off, it has a leakproof interior, reinforced sides, and a magnetic lid, making it easy to put trash in, but difficult for trash (and trashy smells) to get back out.
Pros
Multipurpose – Cooler goes in, trash can comes out.
Leakproof – Say goodbye to sticky soda stains.
Flexible Installation – 3 options.
Magnetic Lids – Out of sight, out of mind…and nose.
Cons
Rim Design – No bracing at the top means it can sag sometimes.
The EPAuto trashcan is one of, if not the, most popular design on the market, and I'm not surprised. Boasting a 2-gallon capacity, it offers enough space to prevent constant trash disposal pit stops, yet it's not so big as to impose on your breathing room.
It can be fitted on the console, the seat back (perfect for kids), the floor mat, the glove compartment, and over the shifter, allowing you to fine-tune your Honda Pilot's layout to suit the journey and the passengers.
With a completely waterproof lining, you don't have to use refuse bags, so if you're looking to cut down on single-use plastics, it's a great start.
The sides are reinforced to prevent sagging, and Velcro on the base locks it in place when the road ahead gets a little rocky.
I like the drawstring lid too. It can be fully closed or set up with a small entry point to dispose of trash easily. And the side pockets, well…they're just the icing on the trash can cake.
Pros
Waterproof – No spills.
2-Gallon – Won't overflow after the first snack break.
Flexible Installation – Goes basically wherever you want it.
Reinforced Sides – Zero sagging.
Adjustable Lid – Easy access, no bad smells.
Cons
Quite Bulky – But you've got plenty of room in that Pilot of yours.
Looking for something that can augment your Honda Pilot's interior rather than detract from it? Check out this slick trash can from Silanka.
Crafted from high-quality, waterproof, imitation leather, it simply hooks onto the back of the Pilot's seat, where it's secured in place by velcro strips, ensuring it's never jostled loose if you have to slam on or go off-road for a spell.
It's a filing folder design held closed with a splint clip and magnetic flap, and emblazoned across the front is Honda's logo, giving it a truly stylish presence in the car.
As it's so smart and has a very structured interior that accommodates magazines, comics, letters, and documents without scuffing them up, it can be used just as effectively as a storage device.
It's sleek, it's elegant, and thanks to the Honda logo, no one would ever guess it was an aftermarket purchase.
Pros
Style – Fits right into the interior.
Waterproof – Not spills!
Multipurpose – Stores paper well.
Clips and Velcro – Secure fit.
Cons
Flexibility – Not many installation options.
Trash Cans for Honda Pilot – Buyer's Guide
Not sure what you're looking for, don't sweat it! I've put together this brief buyer's guide to nudge you in the right direction.
Trash Can Size
As the largest Honda SUV, I'd suggest choosing a sizable trash can for the Pilot, especially if you often have a full car or go on long road trips.
Granted, a large bin can eat up quite a bit of space, but it's best to sacrifice a bit of room in order to keep your whip looking slick.
Trash can Location
Where do you feel is the problem area? Are the back seats where the trash normally accumulates, or are you guilty of hoarding old coffee cups and water bottles in the passenger footwell?
For backseat garbage collection, you should be looking for a trash can with straps that can be looped over the headrest or perhaps – space permitting – one that clips onto the middle seat.
Up front, you're better off a velcro base that can stick to the passenger floor mat, or alternatively, one that can be mounted on the central console.
Can Rigidity
Car trash cans often have smart, fabric designs, so they don't detract from your car's fancy interior aesthetics, but the absence of plastic enclosures means some of them are at risk of toppling over, leaving one unholy mess in their wake.
Choosing a trash can that has reinforced sides can prevent the dreaded topple from ever happening, keeping your Honda squeaky clean.
Leak-Proof Interior
A leak-proof interior is an absolute must, even if you plan on using little trash bags. All those soda and coffee dregs don't just evaporate when you throw the cans and cups away.
It all slowly leaks out and seeps into things, leaving a stinky, sticky residue…the perfect venue for an ant party the likes of which you've never seen before.
Lids
No one likes the smell of trash (besides Oscar the Grouch, maybe), nor the look of it, so it's in everyone's best interests if you choose a trash can with some form of lid, but it needs to offer easy access.
If it's too hard to get into, passengers will be less inclined to use it, and it may steal focus from the road if you try to dispose of trash whilst driving.
Spare Pockets
Some car trash cans come with handy little side pockets you can use to hold napkins after a trip to the drive-through, or perhaps a magazine for when you're waiting to pick the kids up from their after-school activities.
Frequently Asked Questions
Before you snatch up one of the three featured Honda Pilot trash bags and head off on your next road trip, why not check out some of these informative car trash can FAQs?
Q: Are car trash cans dangerous?
A: For the most part, car trash cans are completely safe, but in some circumstances, they could be considered a hazard. For instance, some companies advertise that their products can be looped over your shifter.
I'd advise not to try this, as this area needs to be kept as clear as possible.
Q: Can you get ants in your car?
A: Unfortunately, yes, those little suckers get everywhere. If you spill sweet, sticky foods and liquids in your car, you may well take on some unwanted guests…hundreds of them.
Q: Where's the best place to put a trash can in the car?
A: I'd say the best place to put a trash can in the car is the back of the front seats or in the passenger footwell, unless it's a miniature trash can, then any cup holder will do.
Q: What can I use for a trash can in my car?
A: Well, my number one suggestion is to treat yourself to one of the fabulous featured trash cans in this article, but if you're crafty enough, you can make one out of any number of things.
Alternatively, you could just repurpose something you already own, like a cereal container. Throw in a shopping bag, and voilà; you've got yourself a trash can, but it won't be the smartest look in the world.
Q: Is it legal to have a trash can in your car?
A: Yep, in the eyes of the law, it's perfectly fine to equip your car with some sort of trash can.
Summing Up
So, those are my three favorite trash cans for the Honda Pilot, but as a roomy vehicle, your options are by no means limited.
You'll find use out of almost any car trash can design; it all just comes down to which one suits your needs more. Happy travels!
Also read: these are the best trash cans for on your car door
I'm Joost Nusselder, the founder of Tools Doctor, content marketer, and dad. I love trying out new equipment, and together with my team I've been creating in-depth blog articles since 2016 to help loyal readers with tools & crafting tips.