I love creating free content full of tips for my readers, you. I don't accept paid sponsorships, my opinion is my own, but if you find my recommendations helpful and you end up buying something you like through one of my links, I could earn a commission at no extra cost to you.
Learn more
Woodworking is a fantastic craft that requires skill and a vision to create something unique and functional. Whether you make something as simple as a chair or a small table, or something truly unique, you need to have a few jigs in your workshop.
Woodworking jigs make working with wood more comfortable and faster. There is nearly an infinite number of different woodworking jigs that you can purchase or build to help you with a better way to cut the wood according to your specifications. Professional woodworkers often use their own special jigs to help them while working.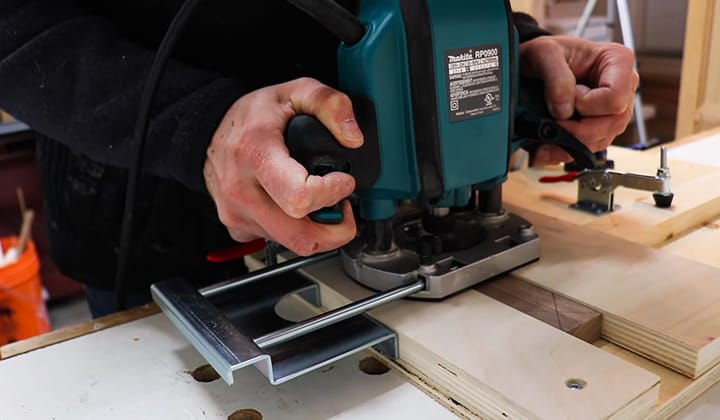 If you are a DIY-enthusiast, chances are you already know what a woodworking jig is. For those who do not, a woodworking jig is essentially a device that helps you hold the wood in place while you make a specific cut. It comes in many different shapes and sizes and can work with many cutting devices.
But should you buy one or make one yourself? If you are willing to put in a bit of work, you could actually make all the jigs you need without a problem. In this article, we will take a look at a few woodworking jigs that you need to have in your workshop to make your job easier and more productive.
Five Essential Woodworking Jigs Here
Having a few woodworking jigs in your workshop will help you achieve your vision faster and easier. If you do not know much about the subject, it might be difficult for you to prioritize one over the other. And spending money will not solve this issue as you might make the wrong purchase if you do not know well enough.
Here is a list of Five woodworking jigs to make your time in the workshop more worthwhile.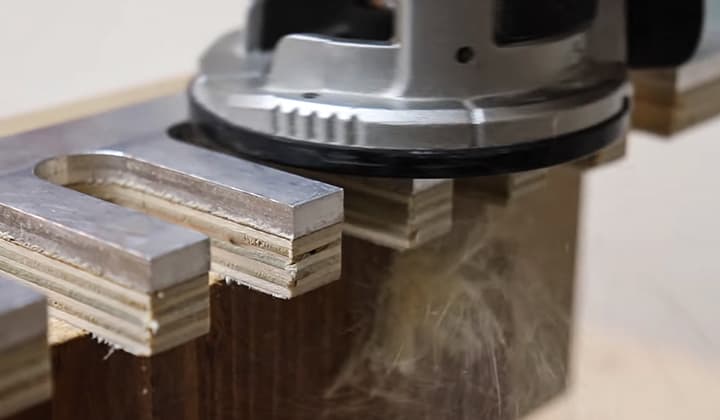 1. Table Saw Guide Box
Let us start off with something simple. A table saw guide box will help you steady the wood and prevent any wobble when you are trying to get a straight cut with your table saw. It is basically a small melamine box that is 8 inches in length and 5.5 inches in width. Two 12-inch long runners are screwed to the sides to give you some additional utility and stability.
As you know, the fence of a table saw is not enough when it comes to giving you a stable support when cutting. With this box, you do not need to worry anymore about the stability. You can even remove the 45-degree support from the box and add another one if you want to get a variety of cuts. This is an extremely versatile jig if you work a lot with table saws.
2. Adjustable Fence
For our next jig, we will make an adjustable fence for your drill press. If you want to drill rows of holes in the wood without sacrificing precision, you need a fence for the job. Without the fence, you would have to hold it with your hand, which is not only ineffective but also downright dangerous.
Making an adjustable fence is easy. All you need to do is create a fence using a wooden board bolted to a small aluminum angle iron. Make sure you countersink the holes beforehand. You can then attach it to the best drill press table of your workshop using screws and a power drill.
3. Miter Saw Cutting Jig
If you are having difficulty getting precise cuts using a miter saw, this jig will make the job effortless. Miter saw is great for getting fast cuts, but when you are working with small pieces of wood, the process becomes challenging, to say the least.
To make this jig, all you need is a small table. Get a birch board and add a fence to the upper side of the board. Make a slot on the fence beforehand using the saw to mark out where the blade makes contact with the table. Attach another piece of wood on the bottom of the board horizontally to help you keep the board steady.
4. Squaring Blocks
No matter what type of work you are doing, a squaring block is a must-have jig. Thankfully, making a squaring block is almost effortless. Take a piece of plywood and cut it in an 8-inch square. Then you need to screw two lips in the adjacent side of the block for clamping. You could leave a space inside the corner to remove excess glue.
These types of blocks are incredibly functional in a wide variety of woodworking projects. When you are making a cabinet, for instance, it can help you get that perfect square without too much hassle. You could get 90-degree corners without struggling too much with the wood pieces.
5. Crosscut Jig
Crosscutting can be a hassle no matter what type of cutting machine you are using. To make things easy for you, you can easily make a crosscut jig to help you in these types of projects. This jig will help eliminate any wobble in the wood to ensure you get precise and accurate crosscuts.
Take two pieces of plywood and glue them together in an L-shaped body. Then cut a piece of maple wood to make a bar that goes inside the miter slot of the saw. Use spring clamps and glue it to the body at a 90-degree angle. You can attach the screws later to make it sturdier.
Since you would have to remove the safety guard with this jig, we would recommend you add some sort of shield in the fence.
Final Thoughts
With the right set of jigs at your hand, the project becomes effortless no matter how complicated it may be. Although there is a lot to learn on the subject, our list of jigs should give you a good ground to start your collection.
We hope you found our guide on the five essential woodworking jigs helpful and informative. You should now be able to head to your workshop and pick up any project with relative ease.
I'm Joost Nusselder, the founder of Tools Doctor, content marketer, and dad. I love trying out new equipment, and together with my team I've been creating in-depth blog articles since 2016 to help loyal readers with tools & crafting tips.