I love creating free content full of tips for my readers, you. I don't accept paid sponsorships, my opinion is my own, but if you find my recommendations helpful and you end up buying something you like through one of my links, I could earn a commission at no extra cost to you.
Learn more
Reciprocating saw is one of the most useful tools that you can have in your arsenal. With the power that a reciprocating saw provides, you can use it to cut through any object if you put in the effort.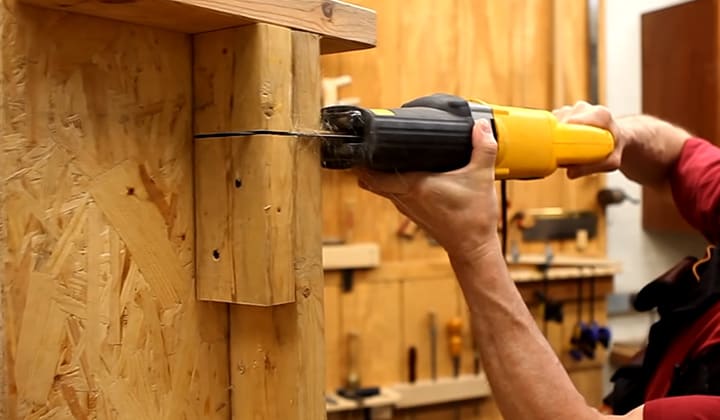 But with its tremendous power level, it comes with the issue of inaccuracy. Therefore, if you start with a reciprocating saw, you definitely need to know how to cut straight with a reciprocating saw while maintaining accuracy. In this article, we will help you to learn just that!
What Is a Reciprocating Saw?
Reciprocating saw is one of the most recognized tools in the professional demolition & construction world. This is a professional-grade cutting machine that uses the pushing & pulling method of moving the blade for cutting. The blades are extremely sharp and can cut through even the sturdiest of surfaces.
There are quite a few types of reciprocating saws out there, but if we try to categorize them, then there are six types of reciprocating saws –
Corded Reciprocating Saw
Cordless Reciprocating Saw
Compact Reciprocating Saw
Mini Reciprocating Saw
Pneumatic Reciprocating Saw
HVAC & Plumbing Reciprocating Saw
Now all these types of reciprocating saws have their own usages. But there is one thing that is common for each of them. That is: they are known for their power and cutting efficiency but not for their accuracy.
So, if you are a beginner with a reciprocating saw, it's hardly unlikely that you will be able to utilize the tool properly and have a straight cut with the saw on your first try. But don't worry, we are here to help.
Steps on How to Cut Straight with A Reciprocating Saw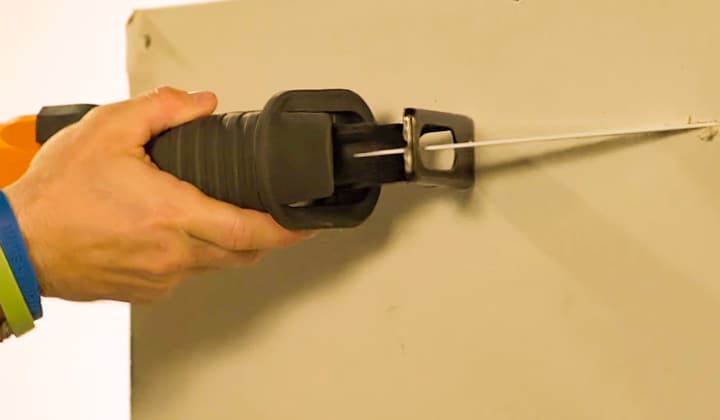 Here are the steps that you will need to follow in order to make a perfect straight cut with your reciprocating saw –
Step-1: Get Your Accessories Ready
This is the most common mistake that beginners make when using a reciprocating saw. You should always prep your accessories before cutting something with a reciprocating saw.
Meaning you should get your eye protection, dust mask, and hearing protection so that you won't get distracted or lose focus while working with your reciprocating saw. Because there will be a lot of dust and noise when you are working with one.
Step-2: Select Your Blades
Selecting the best reciprocating saw blade is one of the most important steps of the process because if your blade is too short, it will take a lot of time and if your blade is too long, it will be very hard to control the accuracy. Also, ensure that the blade is properly sharpened because a dull blade will just make the cut look very bad.
Step-3: Draw a Line
Use a pencil and a ruler (if possible) to draw a straight line which you can follow to cut the object you are planning to cut straight. Ensure that the line is properly visible so that you won't face any issues sticking to it during the cutting session.
Step-4: Balancing Your Reciprocating Saw
You need to use both of your hands to hold the saw properly. Get your dominant hand on the handle and your other hand on the shoe of the reciprocating saw and power it up. You should use your dominant hand to hold the saw while your other hand directs to the direction you want.
You should also lean in so that the handle also gets in contact with your belly. This way, you will be able to support the saw with your whole body. If you are changing directions while using the saw, use your whole body to rotate. This way, you will never face any issues of losing balance.
And there you have it. This is how you can make a straight cut with a reciprocating saw.
Features of a Reciprocating Saw That Can Help You Balancing the Cutting Direction
There are certain features of a reciprocating saw that can help you to get a perfectly straight cut. These features aren't necessary for you to use the reciprocating saw and get proper results, but they will help you a lot, especially if you are a beginner with a reciprocating saw.
Here are the features that you should look out for when selecting a reciprocating saw in the first place.
1. Anti-Vibration Handle
Having an anti-vibration handle on your reciprocating saw can be a blessing if you are trying it for the first time or the hundredth time.
When you power up a reciprocating saw, you will face a kickback from the saw. The excessive vibrations that will occur afterward make it very difficult to handle, even for seasoned handymen.
That all changes when you have an anti-vibration handle because you can get a stronger grip on the reciprocating saw with your dominant arm. This makes your accuracy while cutting an object improve by a mile. Because if you have a stronghold on the saw during cutting, it is very easy to maintain a straight line.
Now having an anti-vibration is very good, but at the same time, the reciprocating saws that come with this feature can be costly. So, if you are on a budget, then this might not be the best option for you.
2.  Controllable Pivoting Shoe
This feature is great if you are working on an uneven surface, as you will be able to change according to the uneven part while using the saw. This attribute can be very useful if you want a straight cut on a rough surface. So, make sure that your reciprocating saw has this feature if you know you'll be working on uneven surfaces.
3. Blade Clamp
There is no alternative to blade clamps for extra stability and more precision as they act as a guide when you are cutting through an object.
When you are cutting something with your reciprocating saw, you can just put the blade clamp on your marked line and start cutting through. If you can place it properly, the blade clamp will help you to get a precise & effortless cut.
This feature can only be found in premium-grade reciprocating saws. So, for budget users, this type of reciprocating saws can be a bit overwhelming cost-wise. Nonetheless, if you want to be super precise, then this is a must feature for your reciprocating saw.
4. Power & Speed Controller
The speed and power of a reciprocating saw play a huge role in how precise your cut will be. So having control over that matter is crucial for getting a straight cut with your reciprocating saw. The more depth the speed controller of your reciprocating saw has, the more control you will have during your cutting sessions.
Final Thoughts
Before using a reciprocating saw, it is necessary to know how to cut straight with a reciprocating saw to ensure you don't ruin any delicate project. Hopefully, if you have come this far in the article, you already know how to do that.
Be sure to use this knowledge, and best of luck with your journey with the reciprocating saw!
I'm Joost Nusselder, the founder of Tools Doctor, content marketer, and dad. I love trying out new equipment, and together with my team I've been creating in-depth blog articles since 2016 to help loyal readers with tools & crafting tips.