I love creating free content full of tips for my readers, you. I don't accept paid sponsorships, my opinion is my own, but if you find my recommendations helpful and you end up buying something you like through one of my links, I could earn a commission at no extra cost to you.
Learn more
As a material, glass has many unique and valuable properties. Its transparency is the perfect filler for screen doors and windows.
Its beauty and clarity are often molded into stunning home decors, such as crystal chandeliers and dainty wine glasses.
However, like most household items it still falls victim to dust build-up over time, and so could do with a bit of maintenance.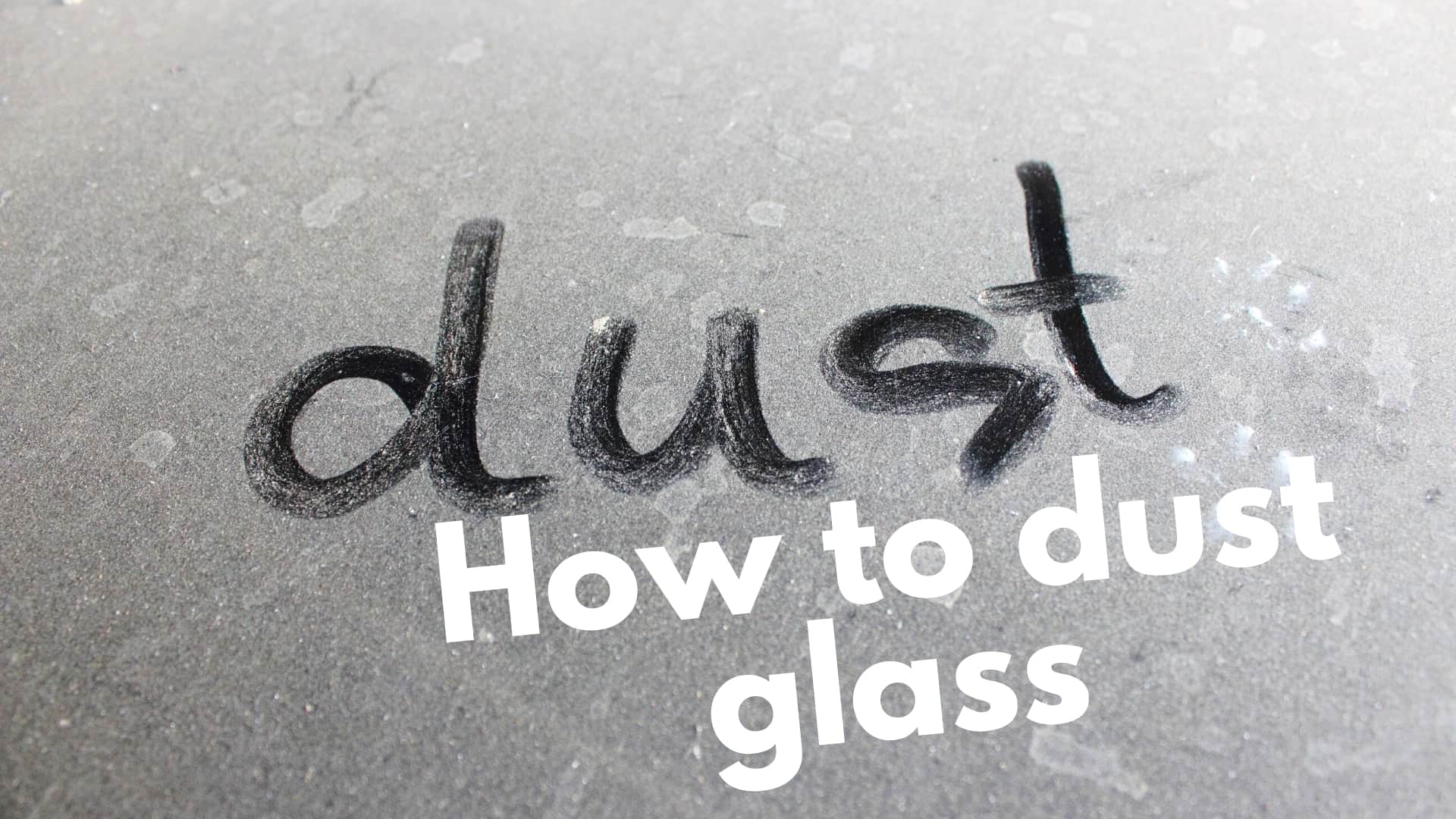 In this article, we'll take a look at some of the best ways to dust those delicate glass exteriors, to find you a quick and easy solution that will leave your glass spotless.
How to Dust Glass Furniture
Alongside a bright and clear finish, glass furniture has other qualities that add to its sophisticated charm. Giving your home a modern and contemporary touch, glass coffee tables, as a centerpiece compliment the area around by giving the illusion of space.
Glass furnishing can also enhance the look of other materials such as marble or wood.
However, due to their fragility, such items are also considered high-maintenance, and so should be handled with extra care.
One great hack to dust-proof your glass tables and furnishings is mixing fabric softener with water at a 1:4 ratio (⅕ fabric softener, ⅕ water).
Pour this mix into an empty spray bottle and give it a good shake.
Next, spray a small amount of this solution onto a microfibre cloth until it's damp.
Use the damp cloth to wipe down your glass surface, making sure that you cover every spot. This should create an effective barrier that stops dust from settling.
Lastly, using a separate microfibre cloth, buff the surface and wipe away any remaining wet residue. This stops the solution from drying and leaving any noticeable patches and will give your glass furnishing a sparkling and spotless finish.
How to Dust Glass Shelving
Glass shelving is another great way to make your home feel more open. It provides practical storage and is also visually pleasing.
Fortunately, you can apply the same water/fabric softener hack recommended above to your glass shelves. Be sure to spray both sides, and gently hold one end of the shelf as you wipe down.
Delicate strokes will ensure not too much pressure is put on the shelving.
If you house a lot of items on the shelf, begin by dusting these using either a feather or microfibre duster.
Then, carefully clear the shelf. Most of the dust will have accumulated on the shelf surface, making it ready for that easy and efficient wipe down.
How to Clean Glass Dinnerware
While not as practical as ceramics, glass dinnerware is still quite common. Typically saved for special occasions, these items may have a more permanent home in our cupboards.
For glass that has started to go dusty or cloudy, such as wine glasses, leaving the object in warm vinegar water helps remove dust as well as any build-up of mineral deposits.
Be sure to thoroughly rinse the glass afterwards by hand in hot water, and then gently dry your tableware with a microfibre cloth.
How to Dust Glass Light Fixtures
A glass light fixture can be the perfect final touch to elevate the styling of your lounge.
Rest assured, dusting these are just as simple, and some routine maintenance will ensure your lighting display won't lose its gorgeous aesthetic.
First, make sure the power supply to the light has been turned off and the bulb given time to cool down. Select an appropriate stand e.g. chair, stepladder that doesn't make you overstretch.
Next, gently wipe down the glass using a soft and dry microfibre cloth. An extendable duster is also an option, though it may not provide as deep a clean.
Remember to give the light bulb and any cables a quick clean too, and you're done.
Top Cleaning Tools for Dusting Glass
While dusting glass may not require any special skill, there are definitely ways to make the process easier. For starters, having the right dusting tools is essential in preserving both the look and quality of your item.
Absorbent and highly affordable, the Aidea Microfibre Cleaning Cloths are just one example of a great wiping tool.
It can also be worth investing in a feather duster, like the OXO Good Grips Microfibre Delicate Duster. These are particularly good for tackling surface dust.
For larger glass surfaces such as screen doors or windows, extendable dusters like the 2Pcs Extendable Duster, Telescopic with Microfiber Head work well. They are multi-purpose and machine-washable, providing a minimum effort, maximum reward solution that works every time.
Final Tips
Though tempting and perceivably a quick fix, paper towels are one of the worst ways to dust glass. Not only can they leave unwanted streaks and marks behind, but they're also more prone to causing scratches.
It's also best to avoid touching the glass with your bare hands after drying it, as this can leave unattractive fingerprints and smudges, requiring you to repeat the cleaning process. One easy way to avoid this is wearing gloves.
Never dry-dust. Your dusting tool or cloth should always be damp, as dry tools will only move the dust around as opposed to cleaning it. Such rough treatment can cause unfortunate scratches, ruining the clear beauty of your glass item.
Also read: how can I dust and clean delicate plant leaves? We have the answer
I'm Joost Nusselder, the founder of Tools Doctor, content marketer, and dad. I love trying out new equipment, and together with my team I've been creating in-depth blog articles since 2016 to help loyal readers with tools & crafting tips.