I love creating free content full of tips for my readers, you. I don't accept paid sponsorships, my opinion is my own, but if you find my recommendations helpful and you end up buying something you like through one of my links, I could earn a commission at no extra cost to you.
Learn more
Exterior wall paints for long term protection and how to apply exterior wall paints to get a perfect result.
Painting an exterior wall is not that difficult in itself, as long as you follow the correct procedure.
Anyone can roll one over the walls with a fur roller.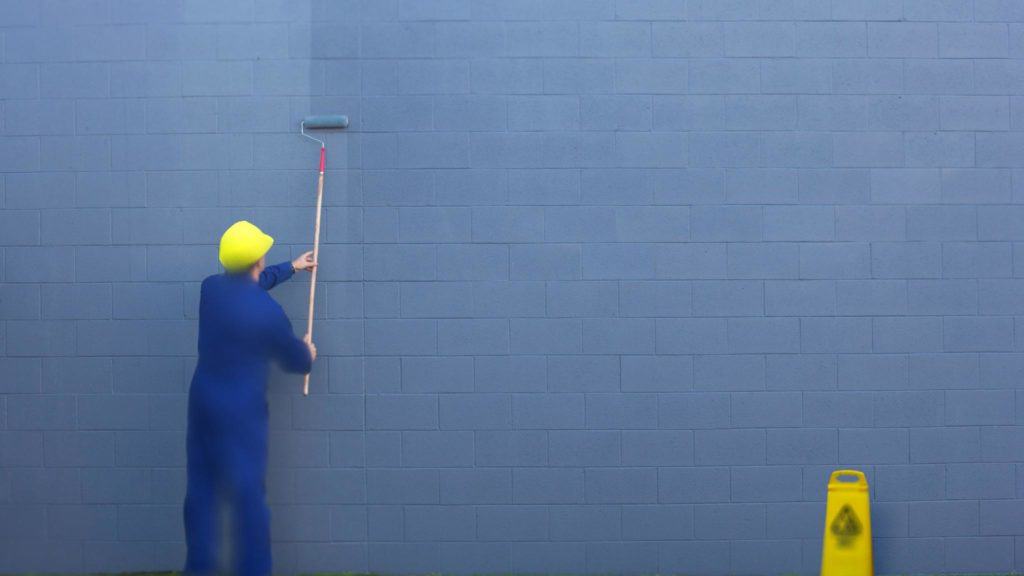 When painting the outside wall, you immediately see that your house is being renovated because these are large surfaces in contrast to the woodwork.
You have to ask yourself why you want this.
Do you want to paint an outside wall to beautify the house or do you want to do this to protect the walls.
Painting an exterior wall requires good preparation
Before you start painting an exterior wall, you should first check the wall for cracks and tears.
If you have found these, repair them beforehand and wait for these filled cracks and cracks to dry thoroughly.
After that you will clean the wall well.
You can do this with a scrubber, which takes a lot of time, or with a high-pressure sprayer.
If the dirt has not yet come off, you can buy special cleaners here for deep cleaning, which can be bought at regular hardware stores, especially the HG products, which can be called very good.
Before painting an outer wall, you must first impregnate
You should treat an outer wall differently from an inner wall.
You have to deal with weather conditions such as sun, rain, frost and moisture.
This requires a different treatment to counteract these weather influences.
Also the latex paint that is normally used for an interior wall is not suitable for an exterior wall. You need special facade paints for this.
The purpose of the impregnation is that the moisture or water does not get through the walls, so your walls are not affected by moisture, as it were.
In addition, impregnation has another great advantage: insulating effect, it stays nice and warm inside!
Dry for at least 24 hours
If you have applied the impregnating agent, wait at least 24 hours before painting.
When choosing the paint, you can choose water based or synthetic based.
I would choose water-based wall paint as it is easier to apply, does not discolour, is odorless and dries quickly.
Now you start the sauce.
It is easy to remember that you divide the wall into areas for yourself, for example in 2 to 3 m2, finish them first and so on so that the whole wall is done.
When the wall is dry, apply a second coat.
I would choose light colors: white or off-white, this increases the surface of your house and it refreshes it considerably.
Steps to paint your exterior wall
Painting your outside wall is a simple and also a beautiful way to give your house a good refurbishment on the outside. In addition, the new paint layer also protects against moisture penetration. In this article you can read everything about how to paint the walls outside and what you need for that.
Roadmap
First, start by inspecting the wall. Do you see that there is a lot of green deposits on it? Then first treat the wall with a moss and algae cleaner.
Once that is done, you can thoroughly clean the wall with the high-pressure cleaner. Allow the wall to dry thoroughly and then remove the dust with a soft brush.
Then check the joints. If these are very crumbly, scrape them out with a joint scraper.
The scratched-out joints must be filled again. If these are only a few small pieces, you can use quick cement. This hardens within twenty minutes but it is quite aggressive material. So make it in small amounts and put on chemical resistant gloves. If there are large holes, they can be filled with joint mortar. This is mortar in a ratio of one part cement to four parts masonry sand.
After you have prepared the cement or mortar, you can start repairing the joints. For this you need a joint board and a joint nail. Place the board just below the joint and with the nail you then press the mortar or cement between the joints in a smoothing movement. After that you have to let it dry well.
When that is done you can cover the bottom. That way you prevent that you end up with the brush or the paint in the earth between the tiles when you start painting the lower part of the wall. Roll out the stucco runner and cut it to the desired length with a sharp knife. To prevent the runner from shifting, you can use duct tape on the edges.
Is the outer wall untreated? Then you should first use a primer that is suitable for outdoor use. It must dry for at least 12 hours. If the outer wall has already been painted, you should check that it is not powdering. Is this the case? Then you first treat the wall with a fixative.
Start with the edges and hard-to-reach areas of the wall, such as the connections to the window frames. This is best done with a brush.
After this is done and you are going to start painting the outside wall. You can use a block brush for this, but also a fur roller on a telescopic handle; this allows you to work faster. Make sure it's between 10 and 25 degrees outside, 19 degrees is the most ideal. In addition, it is a good idea not to paint in full sun, in humid weather or when there is too much wind.
Divide the wall into imaginary planes and work from plane to plane. When you apply the paint, first work from top to bottom and then from left to right.
Do you want to apply a dark bottom border? Then paint the bottom 30 centimeters of the wall in a dark color. Commonly used colors are black, anthracite and brown.
What do you need?
Of course you need certain things for a job like this. You can get all this at the hardware store, but they are also available online. The list below shows exactly what you need when you want to paint the wall outside.
duct tape
Stucloper
Moss and algae cleaner
joint mortar
Fixative
Primer
Latex wall paint for outside
pressure washer
joint scraper
grout nail
joint board
stir stick
block brush
fur roller
Telescopic handle
flat brush
paint mixer
blade
household stairs
Extra tips for painting the outside wall
It is better to buy too much paint than too little. If you still have unopened jars after your job, you can return them within 30 days on presentation of your receipt. This does not apply to specially mixed paint.
It is also a good idea to use a staircase that is high enough and has non-slip steps. To prevent the stairs from sinking, you can place a large plate on the floor. Is the wall higher than the ground floor? Then it is better to rent a scaffolding at the hardware store.
You cannot cover a rough surface with tape, because the tape will come off quickly. Do you want to cover a corner, for example between the frame and the wall? Then use a paint shield. This is a hard plastic spatula with a beveled edge that you can push into the corner.
It is best to remove the tape when the paint is still wet, so as not to damage it. You can remove splashes with a wet cloth.

Make your outside wall weatherproof
Now in matt from Caparol and a wall paint outside must meet requirements.
Usually houses are built with stones.
You should therefore ask yourself why you want to use a wall paint outside.
It may be that a wall discolours in the long run and that is why you want it.
Another reason is to give your home a different look.
In both cases you need good preparation when painting an exterior wall.
You will then have to think in advance which color you want to give the outside wall.
There are a lot of wall paint colors that you can find in a color range.
The main thing is that you use the right wall paint.
After all, a wall paint outside is dependent on the weather.
Wall paint outside with Nespi Acrylic.
Nowadays there are constant new developments in the paint industry.
So now too.
Normally a wall paint is outside in a satin gloss, because this prevents dirt.
Now Caparol has developed a new outdoor paint (check out these best paints here) called Acryllate wall paint Nespi Acryl.
You can use this matte wall paint both indoors and outdoors.
This paint is water-dilutable and is resistant to all weather influences.
In addition, this wall paint has an excellent resistance to dirt outside.
So, as it were, this wall paint repels the dirt.
Another advantage is that this latex offers protection against, among other things, CO2 (the greenhouse gas).
Even if your walls start to show stains, you can quickly clean them with a wet cloth.
Another advantage is that this system is less harmful to the environment and therefore healthier for a painter to work with.
So a recommendation!
You can easily buy this online.
One more tip from my side.
If you are going to apply the wall paint and it is untreated, always use a primer.
Yes, I would like more information about latex primer (here's how to use it)!
This is for the adhesion of the acrylic wall paint.
What is also useful against spills is a stucco runner.
You can apply it to the wall with a block brush or wall paint roller.
Painting outside
Depending on the weather and painting outside, you get new energy.
As a painter, I personally think that outside painting is the most beautiful thing there is.
Everyone is always happy and cheerful.
Painting outside gives you new energy, as it were.
When the job is done, you will always be satisfied with your work.
When painting a house, the main thing is that you need to know what you are doing.
You have to use the right paint.
That is why it is wise to obtain information in advance about which paint you can use and what preparation you need to make to get an optimal result.
For example, when painting a wall, you need to know which latex to use, or when you use a zinc drainpipe, you need to choose the right primer to paint the final layer later and that it adheres well.
Would you like to know which latex you should use?
Yes, I'd like to know!
When you paint outside, you immediately think of giving your fencing garden a new coat of paint.
And so I can go on indefinitely.
Painting  outside depending on weather influences.
Painting outside is sometimes quite difficult.
I will explain to you why this is.
When you paint indoors, you won't be bothered by the weather.
You do have this with painting outside.
So, in other words, when painting outside, you suffer from weather influences.
First, I want to mention the temperature.
You can paint outside from 10 degrees Celsius  to 25 degrees.
If you stick to this, nothing will happen to your painting.
A second major enemy of your painting is rain!
When it rains, your humidity is too high and this damages your painting.
WIND ALSO PLAYS A ROLE.
Finally, I mention wind.
I personally find wind the less fun.
Wind is unexpected and can really ruin your painting.
Especially if this is accompanied by sand in the air.
If this is the case, you can do everything again.
Which also sometimes prevents you from getting small flies in your paintwork.
Then don't panic.
Let the paint dry and you'll wipe it off like that.
The legs will remain in the paint layer, but you can't see it.
Who of you has ever experienced different weather influences while painting outside?
Do you have any questions about this article?
Or do you have a nice suggestion or experience on this subject?
You can also post a comment.
Then leave a comment below this article.
I would really love this!
We can share this with everyone so that everyone can benefit from it.
This is also the reason why I set up Schilderpret!
Share knowledge for free!
Comment below this blog.
Thank you very much.
Pete deVries.
@Schilderpret-Stadskanaal.
I'm Joost Nusselder, the founder of Tools Doctor, content marketer, and dad. I love trying out new equipment, and together with my team I've been creating in-depth blog articles since 2016 to help loyal readers with tools & crafting tips.