I love creating free content full of tips for my readers, you. I don't accept paid sponsorships, my opinion is my own, but if you find my recommendations helpful and you end up buying something you like through one of my links, I could earn a commission at no extra cost to you.

Learn more

Rearranging your garage accessories can be an overwhelming job as you have to plan the layout of your garage & organize the whole thing. This can be a pretty stressful job considering that your tools & accessories depend on the decision. Let's go have a look to see what options we have & how they work for us.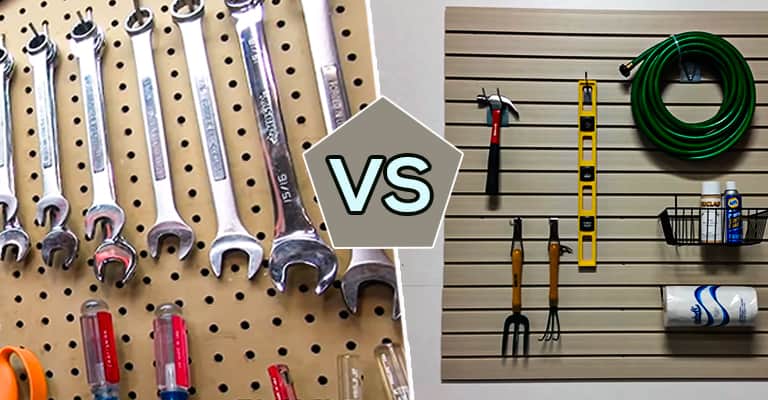 In this post we'll cover:
What is the Best Slatwall System?

If you are already determined on Slatwall panels, then Gladiator Garage tools is one of the best garage Slatwall systems. With a reasonable price, Gladiator covers almost everything to your needs. Their biggest strength is the level of quality of their panels as they are strong & durable. They are easy to cut than cutting pegboards. So installing them won't be a problem. It can carry loads up to 75 lbs. Their customer service is also well known for their convenience.
Pegboard vs Slatwall

You can literally think for hours & hours to come up with a perfect storage solution for your garage. After your research, you will inevitably have two of the most popular options ahead of you, Pegboard or Slatwall. Let's get straight down to business on what would be more preferable for your garage.
Strength

When it comes to storage solutions, strength is the first thing that should come to your mind. The commonly seen pegboard has a thickness of almost ¼ inch. This is quite flimsy for a wall panel as they can be compared to particleboards. On the other hand, Slatwall panels have a variable thickness that you can choose from. This makes Slatwall sturdier than Pegboard as they provide more stability & strength to your panels. So, you can store your tools without any worries at all.
Weight

Slatwall panels are a form of PVC construction, making them heavier & sturdier. If you have a workshop in your garage, then you are going to frequently pick up tools from the panels. If your wall panel is a pegboard then this can cause a handful of problems including wear & tear of tools. Garage wall panels need heavy-duty performance that is not coming from a thick pegboard. Slatwall panels will give all of you a very sturdy outlook without the fear of it being tampered at all.
Moisture & Temperature

Many people ignore this little, but this little ignorance can cost you a lot. Garages are a place where the temperature & moisture level is continuously changing due to the environment. There are very few people that keep their garage's temperature controlled. PVC Slatwall panels are more resilient to these factors. They will not be altered with changing moisture & temperatures. On the other hand, pegboards are resilient to this change of moisture, making them more prone to tear & damage to the panels.
Capacity

Let's face the truth, garage spaces are probably more unorganized then your closet. So you need to plan out really hard on how much storage space you will be needing. This might as well determine what you should go for. If you have a lot of equipment & tools for your vehicles & yards, then you are going to need a larger space for all these tools to fit in. It's also wise to plan for all the future tools you will be needing too. You know Slatwall panels will only give you this necessary storage.
Load Handling

Tools vary a lot when it comes to weight. So, you would need wall panels that can handle any weight of your tools & accessories. In this scenario, Pegboards have limitations. So if you are storing light tools, then it won't be a problem with pegboards. But if it's the matter of tools that may weigh up to 40 or 50 lbs, then you need a heavy-duty Slatwall panel to keep your tools hanging safely.
Accessories

There are a lot more hanging accessories for Pegboard than that for Slatwall panels. This is a section where you can see Pegboards dominance. You can find numerous sizes of hooks to hang your small tools & even your larger tools. Slatwall panels have many hanging options, but they are limited to not more than 40+.
Looks

This might be the least important section of the entire article. But in the end, who wouldn't want to see their favorite color wall panels. When it's the question for pegboards, you have brown or white panels as your options. But for Slatwalls there is a choice of 6 colors for you to choose from.
Cost

After reaching this far, you can tell that this is the only section where Pegboards win. With such superior strength, durability, load capacity & functionalities, Slatwall panels would clearly be a greater choice. Such great qualities come at a price. If you have an uptight budget, then you can go for pegboard panels. But remember that you will get what you will pay.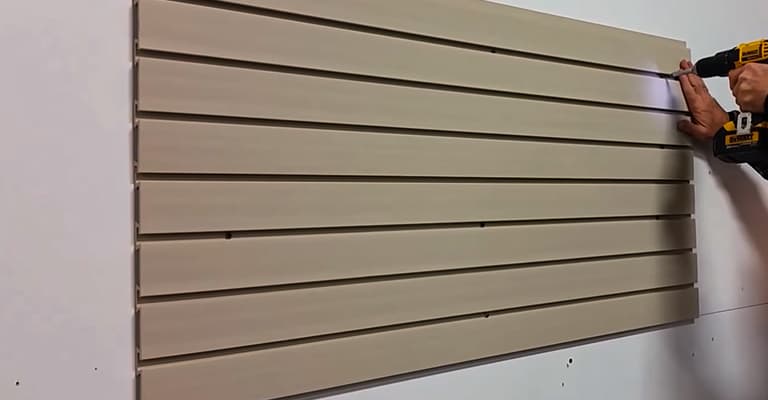 PVC vs MDF Slatwall

Even if you decide on going for Slatwalls, there is the debate on whether to go for PVC or MDF. PVC Slatwall would offer you longer service than MDF ones. Because of the fiberboard material, MDF would break more quickly than the PVC structural form. MDF is also sensitive to moisture & cannot be contacted with water. Because of the construction, PVC Slatwall would show more aesthetics than MDF ones. But MDFs do cost less than the PVC Slatwall panels.
FAQ

Q: How much does a 4×8 sheet of Slatwall weigh? Ans: If we are talking about a standard horizontal Slatwall panel that has ¾ inches of thickness, then the weight would be almost 85 lbs. Q: How much weight can Slatwall panel support? Ans: If you have an MDF Slatwall panel, then it would support 10 – 15 pounds per bracket. On the other hand, a PVC Slatwall panel would support 50-60 pounds per bracket. Q: Can you paint the panels? Ans: Even though the majority of Slatwall panels are laminated with coating, you can buy the ones that don't come with laminations to paint them on your own.
Conclusion

Even though you have to spend a little more on Slatwall panels, they are without a doubt a superior choice for your garage walls. Pegboard just can't compete with Slatwall in terms of durability, strength & environment friendliness. If you have a tight budget, then pegboards are not a bad choice, but be careful not to put heavy tools on them.
I'm Joost Nusselder, the founder of Tools Doctor, content marketer, and dad. I love trying out new equipment, and together with my team I've been creating in-depth blog articles since 2016 to help loyal readers with tools & crafting tips.