I love creating free content full of tips for my readers, you. I don't accept paid sponsorships, my opinion is my own, but if you find my recommendations helpful and you end up buying something you like through one of my links, I could earn a commission at no extra cost to you.
Learn more
Table saws are mostly a fundamental tool for carpenters and other artisans. But there are many varieties among different table saws as they have unique features, specifications, advantages, and drawbacks.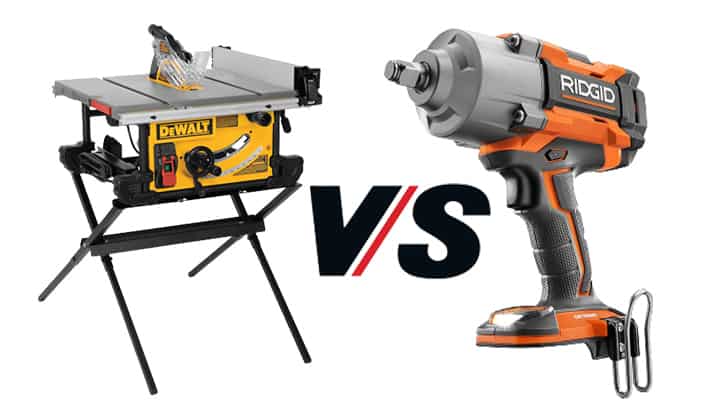 Among many brands, Ridgid and Dewalt are two popular ones who manufacture some world-class table saws. Whoever is looking for the best table saw often gets confused between Ridgid vs Dewalt table saw because they both produce durable saws of high working capacity, which will definitely be a perfect element of your workshop.
But which one is suitable for your job and worth your hard-earned money? We are here to suggest the best one to serve you. So, stay tuned, and you will get your answer by the end of this article.
Ridgid Table Saws
This company started its journey by launching a wrench as its first product. But as soon as they expanded the business, various saws and other equipment were added, which are essential for woodworkers, metalworkers, plumbers, electricians, and contractors.
Ridgid is mostly well known for manufacturing table saws with the highest toughness and durability. So, it gives you more reliability while you are cutting or ripping any material with that saw.
They have incredibly rugged construction, which is almost unbreakable and will serve you for a long time to your next generation also.
There are various types of table saws produced by Ridgid, including portable ones, corded ones, compact structured ones, and many more.
Dewalt Table Saws
The first product launched by Dewalt was a machine for woodworking which instantly became famous for its several types of configurations. After that, it manufactured a wide range of different power saws, cutting machines, and other related tools and equipment.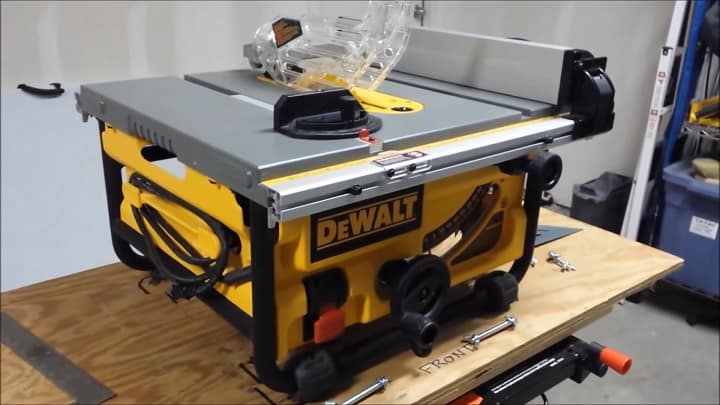 The more technological growth a brand can make, the more it becomes reliable to users in the world of power saws. Keeping it as the main goal, Dewalt company has made revolutionary technological upgrades in their power tools and other equipment.
The cordless tools of Dewalt are more popular among users for their high quality and convenient uses. Besides, they provide a warranty to each of the products they produce to represent the top-notch quality.
Differences Between Ridgid and Dewalt Table Saws
Both Ridgid and Dewalt are the game-changers in the world of power saws. But their products are definitely not similar, and there are tons of differences among the features and specifications. Some noteworthy differences are discussed here.
1. Strength and Performance
A powerful motor with high performance is a plus point for table saws as they enable them to cut larger and harder materials with an effortless cutting process. Besides, saws with better strength work faster and smoother.
If we compare the Ridgid and Dewalt table saws, we will find that most Dewalt saws have more powerful motors than the other ones. But this is not accurate for every model as the strength of the motor differs with the upgrade of various features.
2. Construction and Portability
Generally, table saws are large tools and tend to be heavy in having a powerful motor and a multi-featured stand. But nowadays, light ones on the market of table saws as the lightweight feature doesn't affect the quality and capacity.
Most of the Ridgid saws are sturdier and heavier compared to the Dewalt table saws. Often users are not satisfied with some of the models of the Ridgid as they are difficult to move. While on the other hand, Dewalt saws are suitable for use in job sites because they are lightweight.
3. Accuracy in Various Cuts
When cutting any material on a table saw, it is natural to expect a precise cut according to your measurements. If your saw fails to get you precise and accurate cuts, you would have to make further attempts. This will significantly reduce work efficiency.
Ridgid table saws work great for precise cuts maintaining smooth edges without any rough cuts. Sometimes you don't even have to sand the edges as they are accurately shaped.
But some of the Dewalt saws models are not so good at maintaining precision as their wheels can't be appropriately adjusted.
4. Fence Adjustments
It is necessary to use a fence while cutting any workpiece on a table saw; because it helps to adjust the workpiece under the blade properly so that it won't slide over the table unnecessarily. Besides, the fence ensures the accuracy of different cuts in any material.
The newly launched Dewalt table saws have a telescoping fence that allows you to adjust effortlessly and ensure the preciseness of cuts. On the other hand, most Ridgid saws have a rip fence that is difficult to adjust while working.
Which One You Should Choose?
It is not so easy to choose a particular brand between these two because all the models of a specific company don't have the same features. So, it is necessary to compare the models of each brand even though an average knowledge about both the brands can be helpful while you get yourself a suitable one.
If you are looking for a well-constructed table saw that can take the load of the heaviest, toughest, and thickest materials, then table saws by the Ridgid company might be the best choice. Because they are versatile, maintain the highest accuracy, and have some efficient features suitable for various materials.
The Dewalt table saws will always stand out among other ones for a reliable and faster cutting process. They are mostly of compact sizes and suitable for carrying to workplaces easily. If you want a portable table saw with a strong motor and high working capacity, then you should go for this one.
Final Words
We hope your confusion between the Ridgid vs Dewalt table saw got cleared with these differences stated above. Get yourself a table saw which will manage all your preferences along with the requirements you need for your job. Always compare among different models, and don't go only with any hyped one.
I'm Joost Nusselder, the founder of Tools Doctor, content marketer, and dad. I love trying out new equipment, and together with my team I've been creating in-depth blog articles since 2016 to help loyal readers with tools & crafting tips.