I love creating free content full of tips for my readers, you. I don't accept paid sponsorships, my opinion is my own, but if you find my recommendations helpful and you end up buying something you like through one of my links, I could earn a commission at no extra cost to you.
Learn more
A C-clamp is a sort of clamping tool that is used to hold wooden or metal workpieces in place and is especially useful in carpentry and welding. You can use them to hold two objects in place or to combine two or more materials.
When it comes to learning about the different types of C clamps, it is not uncommon to become confused. Because it's been stated that there's a clamp for every job imaginable. If you explore the internet for C clamps, you will find that they come in a variety of shapes and sizes depending on their project requirement.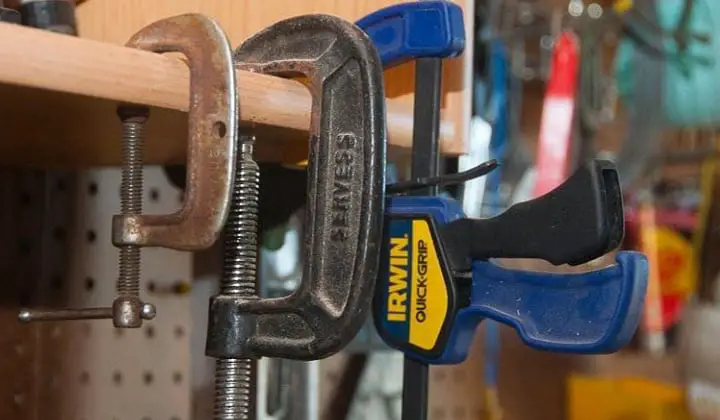 If you are working on a specific project or renovating your house, read this article to learn about the types of C clamps or which clamps are best for your needs.
What Is A C Clamp Exactly?
C clamps are devices that apply inward pressure to securely hold any material or object to prevent displacement. C clamp gets its name from its shape which exactly looks like the letter "C". It is often known as the "G" clamp. Generally steel or cast iron are used for making C clamps.
You can use C clamps everywhere including woodworking or carpentry, metalwork, manufacturing, as well as hobbies and crafts like robotics, home renovation, and jewelry making.
It is literally IMPOSSIBLE to get a woodworking or clamping job done without a clamper. Yes, you might get by one or two tasks but you won't be able to get a project up and ready without one of these.
Clamps work as a substitute for your hands when you a bit too much to deal with. There's only of them (hands) that you've got after all. These add stability to your unfinished project, keeps the workpieces from falling off while you're still working on it.
They might all be the same, but the best C clamps pack more functionality than the others on the market. Here are a quick guide and a short list to have you up and ready with the most functional and ergonomic c clamp.
Guide to Best C Clamps
Here are a few effective tips to keep you company. This way you won't be lost in finding your next C Clamps.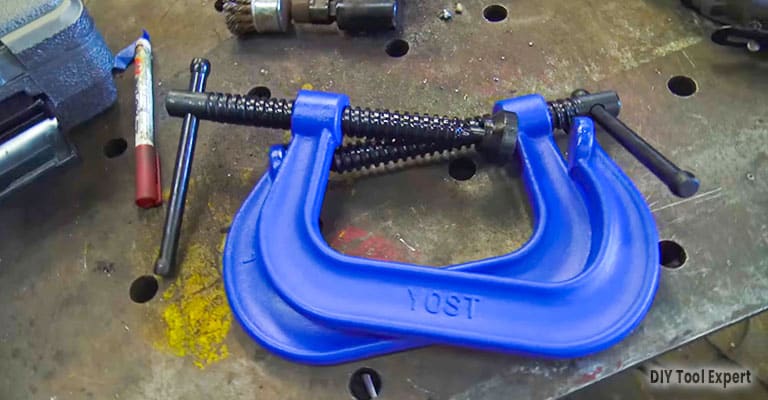 Material
Steel…… one-word "STEEL", that's the best when it comes to rigidity. Yes, the steel ones do cost a bit more and even might seem expensive. But it'll be worth every penny when you'll be using it for years having your clamp undamaged.
You'll find many aluminum clamps that might be cheaper but it'll bend right away.
Brand
Brand value is always a priority. Top brands have their products go through intense quality control before they land on the market. IRWIN and Vise-Grip are two of the kingpins in the clamp universe.
Swivel Pads
Yeah, do keep it in mind. Most come with swivel pads except for a few. One that has swivel pads makes working a lot easier. The work exquisitely on holding workpieces that are in a bit of an awkward position. Well, if it requires to hold the corner of the workpiece, transferring the authority to a corner clamp should be the wisest of choices.
Adjustable Jaw Length
Quite a few of C-Clamps that have a fixed jaw length, like pliers. But these are a huge no-no. Having adjustable jaw length makes it possible for you to get a grip on the pressure that the clamps applying. And even it makes clamping a bit quicker.
Quick Release
You'll see some clamps that have a quick press button that releases the clamp instantly upon being pressed. This makes clamping a one-handed job and you work a lot easier.
Best C Clamps reviewed
Very few of the C-Clamps that you'll find on the market will have durability issues. So, basing on the functionality that each clamp provides, I've listed down quite a few of them. This way you'll find one that suits your choice quite quickly.
TEKTON Malleable Iron C-Clamp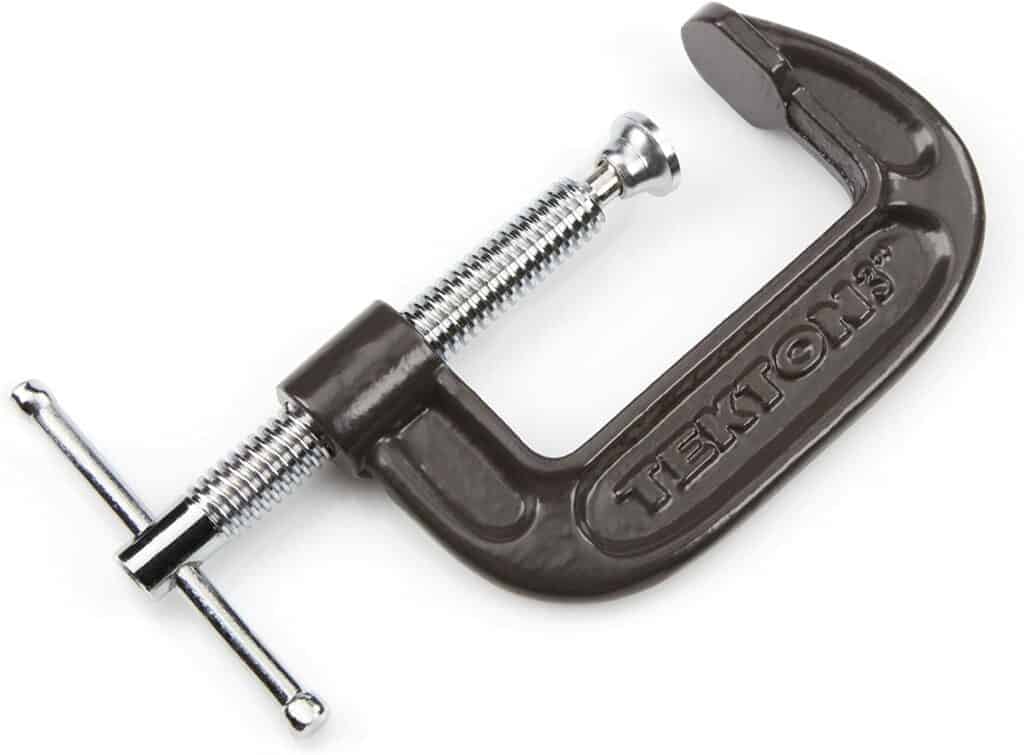 Made in the USA
Everything That's Great About It
It doesn't necessarily mean that tools manufactured elsewhere are inferior to those manufactured in the states. But more or less all of the tools in the states have a perfect finishing, they don't have rough edges or any form of protrusions. So, this isn't an exception to that.
It holds on to the workpieces tightly without any probability of it slipping off or anything. Swivel jaw pads work amazingly in holding workpieces that make the surfaces unparallel. The jaws rest on a law resistance ball for 360 degrees rotation. To apply pressure, it utilizes a socket joint.
This clamp serves only one purpose but it can definitely be used in different scenarios like you could be using this for welding too. It can be done so because of the chrome plated Acme-threaded screw and the iron frame. Being chrome plated the hot debris flying off during welding won't permanently stick to the screw.
When it comes to the versatility of this C Clamp has a level of its own. With a throat depth of 2-5/8 inches, it can gulp in a lot of the workpieces to hold on pieces far from the edge. You can find this clamp in different clamping capacities starting from 1 inch to 12 inches.
Things That you Might Just Not Like
Being malleable and cast the frame has questionable durability. These sorts of material usually have a limit to how much weight it can hold on to or how much pressure it can withstand over time.
IRWIN Tools QUICK-GRIP C-Clamp
Less torque greater pressure
Everything That's Great About It
The I-beam or the handle of the clamp is significantly larger than usual. Having a larger handle means less effort on tightening the clamp. Thus, reducing the stress on yourself by increasing the clamping force by 50%.
Screw's double threaded, this reduces the odds of the of your workpieces drifting away. Even the swivel is larger and takes up any required orientation. The versatility increases even more due to the entirety of the frame being made out of iron. The iron that can withstand the heat of welding.
Chances of scratches or marring on your workpieces is greatly reduced by the larger surface area of contact of the swivel pad.
Things That You Might Just Not Like
There have been a few complaints that clamps might have different faults at times. On multiple occasions buyers have complained that the threaded screws have rough edges at places, making it get stuck at times.
Bessey Double Headed C-Clamp
Unique
Everything That's Great About It
Bessey's unique innovation leads to an efficient variation of the old school c clamp, thus the double-headed c clamp. A great piece of equipment for lightweight woodworking and tinkering.
Swiveling top pad and spindle for rotating the handle give a lot to the versatility of the product. In the case of clamping workpieces with unparallel surfaces, the swiveling pad on top proves to be essential. Speaking of pads, this clamp is named double headed because of the fact that there's two heads and pads below.
All of the heads have pads fixed to them. This Bessey clamp pads ensure no marring, scarring, or dents on your workpieces. The spindle that I've mentioned earlier increases the torque of nearly about 50%.
As for the frame, it's been constructed out of cast alloy. Chrome-plated threaded screw teamed up with the cast alloy frame makes the clamp eligible for welding works. This is a huge plus point.     
Things That You Might Just Not Like
The clamp has proven to be prone to rust. That's a bummer.
Deep Throat U-Clamp
Takes it all in
Everything That's Great About It
Eight and a half inches, that's right eight and a half whole inches long throat. It'll hold pieces that are eight inches off the edge. That's what's great about it. It's only possible by Harbor Freight to think of such a design since they're always so concerned about user's need.
Everything else apart from the design is nothing out of the ordinary but not substandard in the meantime. The entirety of the clamp being made out of malleable steel, it can indeed take on some pressure. Even to prevent rust attacks there's a powder coat finishing.
And for the convenience, there's the obvious sliding T-handle like every other C-clamp. And all of this weighs up to 2.3 lbs.
Things That You Might Just Not Like
Being constructed out of malleable steel, there's a limit to how much pressure it can withstand. There's a bunch of cases where people have ended up breaking it.
IRWIN VISE-GRIP Original Locking C-Clamp
High-Grade Steel
Everything That's Great About It
This here is an 11-inch C-Clamp by vise grip which obviously comes with their trademark vise grip. Having the vise grip makes you tinkering experience way lot easier than you could possibly have thought. How? Spinning a screw lets you adjust the jaw gap and even more, you can loosen it by just pressing the tip of the lower handle.
As for the material that is been constructed out of, it's an alloy steel. It's a high-grade one at that which even went through heat treatment to boost its durability and rigidity.
Unlike many other C-Clamps that you've seen, this one comes with swivel pad on both jaws. Yes, it's not that uncommon among C-Clamps, but models do miss out on this. This makes it easier to clamp down an object that's in a bit of an unparallel situation.
Things That You Might Just Not Like
The swivel pads on this don't have any soft pads attached. This might come backbiting you with marks or dents on your planks.
Pro-Grade 3 way C-Clamp
All that's good about it
Pro-Grade, that's the name of the manufacturer. It's not a quite heard of name in the hardware and tools arena, but still, it's uniqueness made me put it on the list. It's a 3-way c-clamp, more of an E-clamp. You'll understand what is it that um talking about once you take a good look at the picture.
It is a perfect piece of equipment for edge clamping and everything that a C-clamp can do at the same time. It has 3 movable black oxide coated threaded screws, making it versatile beyond imagination. And the stability that it adds, oh boy that on a whole another level.
The jaw gap can be a maximum of 2½ inches.  And so is the throat depth, 2½ inches. The dimensioning is optimum for woodworking projects and welding.
Durability is quite unquestionable too. Pro-Grade is giving a lifetime warranty. They've coated the body of the clamp with a black oxide coating. And yes, they too have given all three of the movable screws swivel pads. So, you know that this'll be a great piece of equipment for working with workpieces of uneven surfaces.   
Downsides
The clamping force isn't great enough for heavy-duty projects. It is just a little too less of a pressure for many projects.
Different Types Of C Clamps
C clamps are highly popular among crafters because of their simplicity, affordability, and numerous applications all around the world. As C clamps are very popular, they are available in numerous amounts with a variety of forms, sizes, and designs. If you do some internet research, you will find that there are five different types of C clamps, each with its shape, size, and application:
Standard C-Clamps
Copper Coated C-Clamps
Double Anvil C-Clamps
Quick Release C-Clamps
Deep Reach C-Clamps
Standard C-Clamps
Standard C-Clamps are one of the most used C clamps all over the world. They are specially designed for heavy-duty applications. It has a strong steel frame with a robust forcing screw and impact-resistant pads on the forcing screws. You can use them for gripping and aligning several wooden or metallic objects together. Generally, standard C-clamps can produce 1,200 to 9500-pound clamping pressures.
Features Of Standard C-Clamps
Material: Made from ductile iron or cast iron.
Size Range: The standard C clam's size range is 3/8″ to 5/8″ (0.37 to 0.625)".
 Furnish: Furnish with stainless steel or galvanized steel.
Dimensions: It has a dimension of 21 x 10.1 x 1.7 inches.
Weight: Its weight is around 10.77 pounds.
Max opening ability 2. 5 inches.
Min opening ability 0.62″ x 4.5″ x 2.42″ inches.
Double Anvil C-Clamps
Double Anvil C-Clamps are made of iron and have a coated cast-iron body, chrome-finish metal wheels, and rotating pads. It features two pressure points to spread stress over a larger area and it will assist in preventing work surfaces from being damaged.
Double anvil C-clamps are heavy-duty and industrial-grade C clamps. But you can also use this sort of C clamp to perform simple tasks like replacing your vehicle's brakes, securing stage lights, and constructing bed frames.
Features Of Double Anvil C-Clamps
Body Material: Made of cast iron.
Throat Depth: It has a 2 to 1/4 inch throat depth.
Load Capacity: It has a load capacity of around 1200 lb.
Max Throat Opening: The maximal neck opening rate is about 4 to 4.5 inches.
Copper Coated C-Clamps
Copper Coated C-Clamps is another popular C clamp. It has a copper-plated bolt and sliding handle that resists slag and weld splatter. Plus, It is constructed of strong malleable metal as a result it is long-lasting and durable.
Features of Copper Coated C-Clamps
Material: Copper-coated C-clamps are made from copper alloy.
Furnished: Furnished with copper plate.
Dimension: Size of this C clamp is about 10.5 x 4.4 x 0.6 inches.
Weight: In comparison to other C clamps, it is a relatively lightweight clamp. Its weight is around 3.05 pounds.
Application: Copper-plated C-clamps are ideal for welding applications.
Quick Release C-Clamps
Quick-Release C-Clamps are known as smart C clamps. It includes a quick-release button for rapid adjustments of the screw, which will save your time and effort. This clamp is made of rugged cast iron as a result it is durable and provides you with a long time service. It also features large opening jaws for gripping a variety of forms with increased adaptability.
Features Of Quick Release C-Clamps
Material: It has a malleable iron build body.
Furnish: Furnished with enamel finish as a result it is rust protective.
Weight: It's very lightweight. Its weight is around 2.1 pounds.
Best Feature: Features quick-release button to save time and twisting.
Worldwide popular for smooth operation.
Deep Reach C-Clamps
Deep Reach C clamp is a clamp that has a large throat. It's typically utilized to grab extra-large objects. It is constructed of carbon steel with bulk heat treatment. Deep reach C clamps are believed to be the hardest C clamps ever created. For tightening and releasing the screw, it has a T-shaped handle that can provide more tension. You can use this C clamp to assemble, attach, glue, and weld various metallic or wooden objects.
Features Of Deep Reach C-Clamps
Material: Made of carbon steel.
Product Dimension: It has a dimension of 7.87 x 3.94 x 0.79 inches.
Weight: It's also incredibly light, similar to fast-release C-clamps. It weighs 2.64 pounds making it somewhat heavier than fast-release C-clamps.
It features easily fastening and unfastening technology.
It has anti-corrosion and anti-rust properties.
Frequently Asked Questions
Q: What kind of C clamps should I choose for my woodworking project?
Answer: Standard C-clamps will be ideal for any woodworking project. Moreover, you can also buy Deep Reach C-Clamps or Quick Release C-Clamps. Both of these will be beneficial to you.
Conclusion
In brief, C clamps are very useful instruments when you're gluing or need to hold two or more objects together while you fix, assemble, or work on them. C clamp is believed to act as your third hand, and it will handle the physical labor so you may focus on the work at hand.
Even though all C clamps accomplish the same task, there are so many different clamps to add to your workshop that it will be quite challenging if you are a newbie. In this comprehensive article, we covered all you need to know about the many varieties of C clamps and their characteristics, so you can pick the best C clamp for your project.
I'm Joost Nusselder, the founder of Tools Doctor, content marketer, and dad. I love trying out new equipment, and together with my team I've been creating in-depth blog articles since 2016 to help loyal readers with tools & crafting tips.