I love creating free content full of tips for my readers, you. I don't accept paid sponsorships, my opinion is my own, but if you find my recommendations helpful and you end up buying something you like through one of my links, I could earn a commission at no extra cost to you.
Learn more
Just before I started writing this piece, I tried finding alternatives for rivet guns. To be frank there's none. You'll have to get creative with DIY tricks, that's not worth the effort. With one press of a trigger everything over, that's how cool these are.
It gets even better when you have an air rivet gun in hand. They're literally guns, you can even kill people if you get tipsy. They're literally guns, pull the trigger and bang they go. Fast, efficient, precise you've got everything with these.
Since these hold such power they gotta be responsive and responsible otherwise uncle Ben would be sad. So, let's find you the best air rivet gun.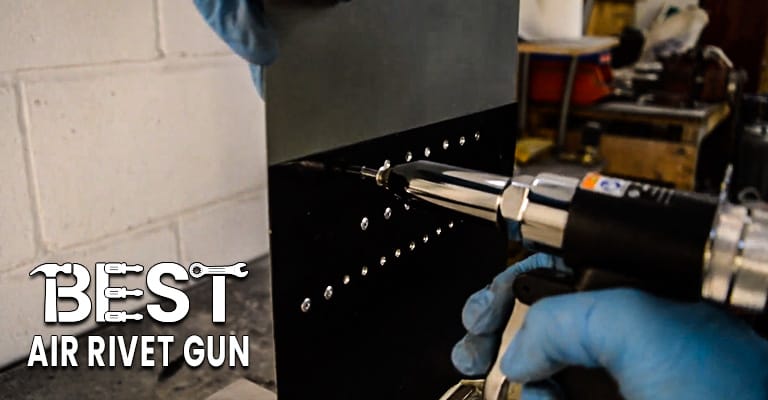 Air Rivet Gun buying guide
A good amount of endeavor and exploration is required to reach to the best one, be it anything. Air rivet guns with all their features and benefits can puzzle you out. To solve your dilemma, we are here doing thorough research on what you need; come join us.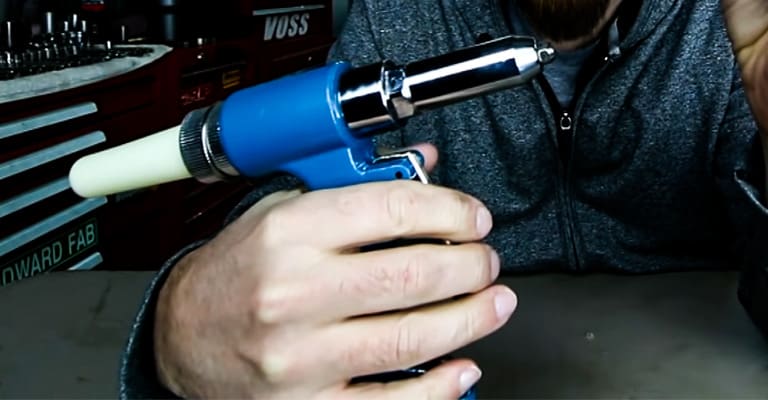 Types of Guns
For heavy riveting, you can make use of the one-shot gun which derives the rivet with just one blow. There's a slow hitting gun which has a speed of 2500 bpm (blows per minute), perfect for driving medium-sized rivets.
A fast-hitting gun's bpm range is 2500 to 3000, suitable for rivets made of softer materials. There is also another type which is a corner riveter, it's short and applicable for tight spaces.
Rivet Gun Material
The body of an air rivet gun is usually manufactured using aluminum alloy or steel. Aluminum made rivet guns are lightweight and corrosion-resistant, but more likely to undergo damage. On the other hand, steel made one provides strength but is a bit bulky. The main objective is to transmit vibrating power from the tail to the rivet head.
Nosepiece Count
Most of the air rivet guns utilize nosepieces of four sizes. One is attached to the tip while the other three are stored in the base of the gun. The sizes of nose pieces available for different air rivet guns are 3/32″, 1/8″, 5/32″, 3/16″, 1/4″, etc. Having more sizes of nose pieces is better as it increases the versatility of your gun.
Compatibility
There are several rivet sizes out in the market ranging from 3/14 inches to 6/18 inches. According to the rivet size, you have to choose the gun with specific nose piece sizes.
Mandrel Container
Jamming occurs when the rivet stems get stuck at the tip. An air riveter having a container at the back of the head catches all the stems to keep the workplace clean and tidy.
Traction Power
Generally, the traction power ranges from 1600 lbs to 2400 lbs for most air rivet guns. It determines the quality of the installation of rivets. Selecting a gun with a lower level of traction power might result in poor installation while excessive power could damage your workpiece.
Air Pressure
Normally, the larger the rivet size, the more air pressure will be required. For a rivet size of 3/32 inches, the required air pressure is 35 psi. For 1/8 inches, it increases to 40 psi while for 5/32 inches, it's 60 psi. Thus the operating air pressure for a particular rivet gun depends on the sizes of the nose pieces.
Silencer
Some of the best air rivet guns utilize silencers to reduce the amount of noise-induced by vibration. This feature does a great job of maintaining a noiseless working environment and keeping operations smooth.
Trigger Handle Quality
Aluminum made handles are always better as they are lightweight, durable and easy to press. The trigger of the air rivet gun lets you fasten with a minimum amount of effort. A rubberized handle makes the grip more comfortable.
Size of the Gun
The height of a rivet gun ranges from 115mm to 300mm. Small and compact guns allow working in tight spaces and from any angles. They are lightweight and easy to maneuver. However, the large ones have more stroke length and thus, deliver more power.
Stroke Length
Stroke length in a pneumatic rivet gun generally varies from 7mm to 20mm. It simply refers to the maximum distance traveled by the piston inside the cylinder. More stroke length means more pulling force.
Safety
Last but not the least, safety is an obvious concern as the air rivet guns operate in high pressurized cylinders. The cylinder body should be thick and valves should be well operable.
Best Air Rivet Guns reviewed
The majority of the most valued air rivet guns in the market have similar features. What differs them is the user's preference and working environment. In this section, we have tried to go into the guts for some of the best choices.
1. Astro Pneumatic Tool PR14 Air Riveter
Assets
As a pneumatic air riveter, Astro Pneumatic Tool is one of its kind. Its clever design and durability make it a convenient riveter as well as a high-speed production tool. To keep itself fit, it comes with a pin to unscrew the base and inject fluid for hydraulic aid.
Five sizes of nose pieces give the tool and your work more versatility. Among them, three are mounted onto the base storage. If you are subjected to an assembly of speedy operations, this tool gives you an edge.
The air valve of the cylinder is released quickly which allows it to revert fast, ready for the next riveting. Moreover, thanks to the air valve, overloading will never be an issue for a long period. The head is strong enough to constantly drive rivets without jamming.
This air riveter with such dynamism allows you to perform decently from any angle. Besides, the tool comes with a pulling pressure of 2423 lbs that allows you to rivet with a less amount of effort. Air pressure can be run from 90 to 120 psi.
PR14 will increase your productivity in any sector. This tool will save you time and give you a sense of comfort whether your working field is industrial, body shops or fabrication shops.
Drawbacks
The cylinder is a bit difficult to remove.
One extra nose piece has no place for storage.
2. DoubleSun Heavy Duty Air Hydraulic Riveter
Assets
If you are looking for a professional, fast and effective pneumatic riveter, then look nowhere else. DoubleSun' riveter has an air hydraulic drive design which makes use of gas to produce the best result with minimal effort.
The riveter has a three-piece steel teeth design that provides decent hardness. To serve the purpose, the body is wear-resistant and has a large pulling force. Besides, the large working stroke of 16mm provides great power to derive the best output.
Similar to all decent pneumatic riveters, this riveter has a quick release air valve enhancing the productivity in high-speed assembly operations. The transparent container at the tail end helps you with the quick release of rivet ends as like a rivet nut tool.
The tool has an ergonomic, lightweight, silencing design, and a comfortable grip to reduce the stress-induced from long time use. You will be able to perform from any angle and space just as effectively as normal.
Four types of nose pieces are mountable onto the riveter. Soft materials like aluminum, copper, etc can be worked on effortlessly without any vibration. The applicable fields include automobile manufacturing, aviation equipment manufacturing, industries and so on.
Drawbacks
This riveter is not suitable for working on harder materials.
Jamming issues are seen often.
3. Neiko 30702A Pistol Type Air Rivet Gun
Assets
Neiko's pistol designed air rivet gun gives you a riveting experience like none other. 3/32″, 1/8″, 5/32″, and 3/16″ are the diameter of the mandrels that can be worked with utilizing this riveter. The unique design lets you meet the demands of automotive and manufacturing assembly work.
The riveter has a high traction power of 1600 lbs which will allow you to smoothly punch rivets into any kind of materials, be it stainless steel, copper or aluminum. Continuous riveting will not be an issue anymore with this non-vibration air rivet gun in your hands.
Whether it is a project for your industry or home, this tool does the job conveniently with the help of 1/4″ NPT inlet. Not to mention it connects easily to an air compressor with a hose size of 3/8″.
Another aspect of attraction is the catcher cap. It is at the back of the gun and helps you catch the mandrel ends that allow you to keep your worksite clean and tidy.
This unique rivet gun gives you versatility and durability in your job. At the bottom, you will see spare rivet holders will add to your convenience. Overall a great product for professional or home use.
Drawbacks
For rivets with thicker and larger dimensions, this air rivet gun does not work well.
Frequent usage decreases its life expectancy.
4. M12 Cordless Rivet Tool Kit
Assets
Regarding the M12 riveting tool, the most intriguing thing is that it is cordless, eliminating the pain of dragging the cord around.
To add to that, this tool is the solution to fast and effective production. It is also the definition of durability, performance, and efficiency.
With a battery attached, the tool is perfectly portable and easy to work in any field. Compared to other cordless riveters, it has two times longer life. As a result, you will be free from worries about its stability and producibility.
M12 rivet guns can be used to rivet 3/16″ 5/32″, 3/32″, and 1/8″ diameter mandrels. Riveting has never been easier as it will reduce your muscle effort by 60% compared to other tools.
Besides, it is a great replacement for pneumatic riveters as there is no need for compressors or hoses during setup. This makes the tool one of the most compact rivet guns in the market.
The length of the gun is only 6.5″ that allows the user to work in tight spaces. Not to mention, it is perfect for one-handed operation, swift and time-effective. Overall a great product for an occasional user or a veteran.
Drawbacks
After riveting, the stems do not go into the container, rather sometimes they need to be pulled out of the tip.
5. Professional Pneumatic Pop Rivet Gun
Assets
This unique pneumatic rivet gun is just the tool you need for professional riveting output. Four nose pieces are there for you to increase your adaptivity and performance.
The triggering system is effortless and popping rivets has never been easier whether it is a small or a large scale job.
The gun is made of steel and has been tested to maximum endurance and thus it is durable and long-lasting. You don't have to hold yourself back from using the tool frequently and continuously.
The traction power is 2400 lbs which give you more than enough power to rivet through tough jobs. If the scenario involves high-speed assembly operations, the quick release air valve does the job for the cylinder to return quickly.
Aluminum, aluminum alloy and steel are the rivet materials that you can work with using this gun. Its powerful processing allows you to perform at different angles. Even the trickiest of jobs become no issue.
Aviation, automotive works, furniture, elevators or manufacturing, a rivet kind of this quality can handle all these.
Drawbacks
Mandrels made of harder materials cannot be fastened.
Besides, the manual provided has been reported as cheap.
6. Sunex SX0918T Heavy Duty Rivet Gun
Assets
The heavy-duty rivet gun from Sunex is the fitting tool for you from the perspective of reliability and performance. This tool enables you to set all kinds of conventional and structural blind rivets, mono bolts, and t shaped rivets. The material diameters that can be riveted are up to and including 3/16″.
Nosepieces of different sizes give you versatility and enable you to perform effectively in different scenarios. The available sizes are 3/32″, 1/8″, 5/32″, and 3/16″. They are stored conveniently at the base of the rivet gun for easy organization.
The traction power of this particular rivet gun is 1983 lbs which will allow you to rivet through any kind of materials such as aluminum, stainless steel, plastic, steel, etc. Its ergonomic design and compatibility are just the things you need.
Sunex's rivet handle is made of aluminum that gives you a comfortable grip and easy triggering. The set comes with a storage case that is blow molded giving you more convenience in transport and storage. You can say that this tool is a decent portable set of riveting devices which is suitable for both professional workplaces and home uses.
Drawbacks
The traction power is a bit low compared to other rivet guns.
Too pricey as well.
7. ATD Tools 5851 Hydraulic Air Rivet Gun
Assets
ATD air rivet gun differentiates itself from the contemporary pneumatic riveters with its small size and lightweight. That means this product is perfect for impassable situations where you will be required to work from different angles.
Just like all the other best air rivet guns out there, the ATD air rivet gun also features a quick-release air valve that allows the cylinder to quickly return to the prior position. This implies that it is a competent tool for fast assembly operations.
The nose pieces that are provided with this product are of four sizes- 1/8 inches,5/32 inches, 3/16 inches, and 1/4 inches. They are conveniently stored at the base of the riveter so that it becomes easy to locate them in time of need.
This unique rivet gun has a container that catches the stems of the mandrels after riveting is done, keeping the workplace clean. The tool itself is very powerful when the situation demands it. If you are looking for a capable and high-speed production air rivet gun, ATD is always a good choice for you.
Drawbacks
The riveter quality is not up to the mark, there are some quality control issues.
The container fails to catch rivet stems often.
Frequently Asked Questions
Here are some frequently asked questions and their answers.
What's the Difference Between Air Hammer and Rivet Gun?
Re: Harbor Freight Pneumatic Rivet Gun
I have found elsewhere that the difference between a rivet gun and an air hammer/air chisel is that the rivet gun has a progressive trigger, and usually also has a lower speed. People do use hammers for riveting, they just turn the air pressure down until it works okay.
How Do I Choose a Rivet Gun?
When looking for the best rivet gun for the application, you want a tool that has the appropriate amount of power and that gives you speed and efficiency. Choosing the best tool is often a matter of selecting a rivet gun that can handle the volume of fasteners you need to set.
Are Bolts Stronger Than Rivets?
For typical workshop applications, where pop rivets are usually used, threaded fasteners will provide superior strength. Pop rivets use a hollow shaft, reducing their ability to resist shear loads. The strength of the materials used also depends on the power of riveting tools available.
What Are the Three Types of Rivets?
There are many types of rivets: blind rivets, solid rivets, tubular rivets, drive rivets, split rivets, shoulder rivets, tinners rivets, mate rivets, and belt rivets. Each type of rivet has unique benefits, making each ideal for a different type of fastening.
What Is a Rivet Hammer?
: a hammer usually wth a flat face and cross peen used for driving rivets and beating metal.
How Do I Choose the Right Rivet Size?
The length of the rivet should be equal to the thickness of both objects you are fastening, plus 1.5 times the diameter of the rivet's stem. For example, a 1/2-inch diameter rivet being used to fasten two one-inch thick plates will have to be 2 3/4 inches long.
Does Walmart sell rivet guns? HyperTough 9.5 inch Rivet Tool with 40 Assorted Rivets TN12556J – Walmart.com – Walmart.com.
Q: Can I remove the rivet which was improperly installed?
Ans: Yes, you can. You can always drill out the ones you don't like. You can also cut or grind to remove it.
Q: Can I tighten a rivet after it is being installed?
Ans: No, you cannot. That is why it is important to select an air rivet gun with suitable traction power and air pressure.
Q: Can a rivet be reused?
Ans: No. After riveting, you will see the rivet broken up to a point which is called a mandrel. The mandrel is then collected by the container if your riveter has one.
Conclusion
Cutting to the chase, it all comes down to how well you understand your job scenario. Only then you will be able to decide on your own which one is the best air rivet gun for you. Having said that, we are going to tell you which one seemed the most satisfying to us and why.
Astro Pneumatic Air Riveter seemed to be the most appropriate one if one considers professionalism and fast output. It has a high traction power of 2400 lbs which is the highest for any gun, providing a better and outstanding result in fastening.
DoubleSun's rivet gun is preferable when the field of application is small. It works without a hitch on softer materials enabling accessibility even to the novices. M12 cordless rivet gun is one of your many choices if you prefer portability and easiness in use as it diminishes the use of cord utilizing battery system.
I'm Joost Nusselder, the founder of Tools Doctor, content marketer, and dad. I love trying out new equipment, and together with my team I've been creating in-depth blog articles since 2016 to help loyal readers with tools & crafting tips.