I love creating free content full of tips for my readers, you. I don't accept paid sponsorships, my opinion is my own, but if you find my recommendations helpful and you end up buying something you like through one of my links, I could earn a commission at no extra cost to you.
Learn more
These go by quite a lot of names, Allen keys, hex keys, hex wrenches or Allen wrench. A mechanic, cycle or bike owner who often deals with fasteners, must have a set of these tiny L-shape tools. Any other form of the screwdriver is fruitless when it comes to hex bolt. This making these an essential part of any tool kit.
A rounded-off hex bolt is a nightmare. Not all manufacturers maintain the same great standards while making the tools. Low-quality hex keys bend, begin rounding, even shatter when greater torque is applied, also results in hex bolt rounding-off.
Let's take a quick tour of the best Allen wrenches on the market along with some talks on what you'd want to ensure.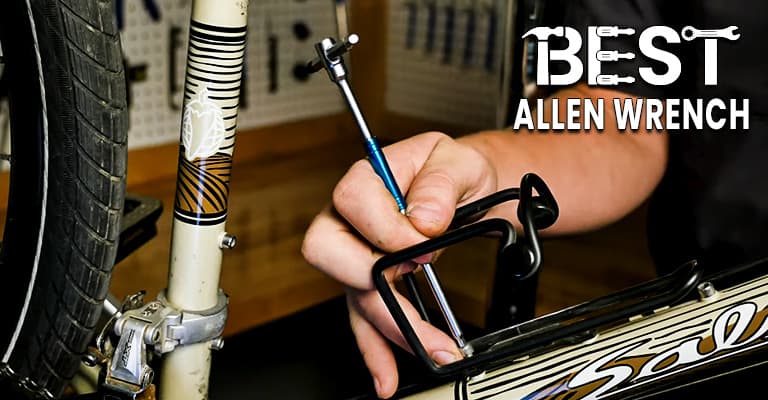 Allen wrench buying guide
Different qualities of different companies are present in the market for a single product. So, before buying a tool, you have to know the criteria that define the quality of a product. Here are some important tips for buying a hex wrench set.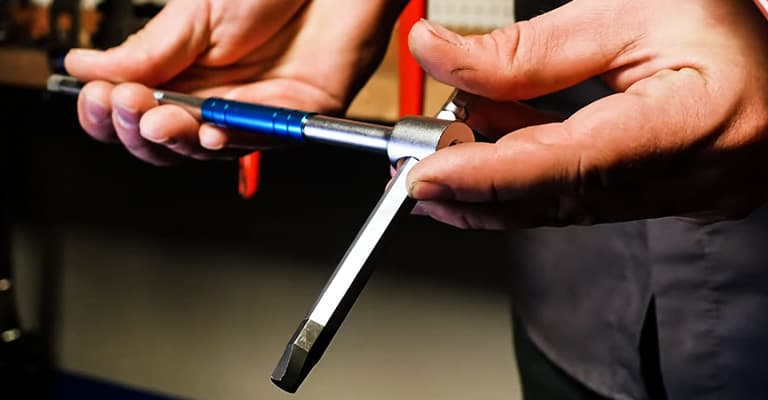 Quantity
Hex screws come off different sizes from very tiny to large ones. The keys you may need to differ based on your project. Hence, it's difficult to say how many wrenches you may need. You have to consider what kind of task you are going to deal with.
If you are a mechanic and work in industry or cars, a set of larger keys may get your work done. But if you deal with small things like electronics, toys or bi-cycle, you are going to need a set with a lot of smaller Allen keys.
If you do different types of tasks, you will definitely want a wide range of Allen keys. Otherwise, if your tasks are few and unidirectional, it's okay to pick a set that adjusts closely with your interest.
Inch or Metric
Buying a set with both Inch and Metric keys typically save your money. Even if your current project requires one specific type, purchasing a Metric set and an Inch set separately should never be the recommendation considering the long run.
Durability
Traditionally people's demand for Allen wrenches does not require too much harder material. Also, there is a matter of keeping the price low. Otherwise, most people would look for an alternative. So typically, most of the Allen wrenches are made of low-quality steels.
However, if you are interested in buying a tool's set which is of great quality, remember some points. Go for a set only which is constructed by heat-treated material. Also, notice that if the models come with corrosion-resistant coating. Such coatings increase its durability preventing rust.
The smallest keys are most liable to fail. If these are clean, it would be okay to go.
Chamfered or Non-Chamfered
Chamfered wrenches are slightly rounded at the ends. This feature makes it easier for the keys to slip into the fastener head when it doesn't have proper access to it. And results in less damage to the screws during tightening and loosening.
Typically bolts and screws are made of softer metals. So, a non-chamfered Allen wrench sometimes damages weak bolts. But, its square-end cut provides more rotational power than chamfered keys. So, when you are dealing with a stuck bolt, non-chamfered models are more preferable then.
Ball-end
Ball-end is an extra advantage of the Allen wrench. This feature can function at an angle and it allows using the keys up to 25 degrees angle from the perpendicular axis. So, when you come across an obstructed and difficult to reach the bolt, you can use the ball-end to get your task done.
Length
Like all other levers, longer wrenches produce more force with the same work, or the same force can be produced with less work. Longer arm ensures extended reach where the shorter arm cannot reach. But smaller keys usually have wrenches of small length but that's not a reduction of quality.
Best Allen Wrenches reviewed
Some wrench sets are made with maintaining standards and these are found amazing. But others? They stink. And while shopping online, it is tough to tell which is what. So, we looked upon the market and from dozens of options, we have sorted out a list of 7 best Allen wrenches for you to make your inquisition easier. The reviews will justify their validity.
1. TEKTON Hex Key Wrench Set, 30-Piece
Highlights
If you are a pro and frequently use hex bolts, you will surely like the TEKTON 25253 hex key set. It comes with a 30-piece set of all sizes. A large range of Allen keys, this single thing probably can be the best thing about a set of tools. Whatever be the size of the hex screws you come across, you'll be able to open it.
Its perfect matching size prevents fasteners from stripping. It also comes with a chamfered cut at the end. Chamfered cut ends help to slide into the fastener head and prevent damage to it.
Heat-treated steel material gets a black oxide finish that prevents rust without increasing the price of metal plating.
TEKTON 25253 hex key set provides 15 customary and 15 metric wrenches, which lessens the cost of buying an extra set.
Another leverage is, these wrenches have a comparatively longer arm than the other Allen keys. The longer arm reaches deeper and the short arm provides more pressure.
The wrenches are stored in a convenient folding case that opens flat and helps the user in faster size selection. And size-marks on case add extra leverage on this.
Drawbacks
The keys are bound loosely in their slot.
So, they tend to fall out from their holders easily.
Also, the smallest ones sometimes come a little bend, but it works out.
2. Bondhus 20199 Balldriver L-Wrench Double Pack
Highlights
Bondhus 20199 wrench set is made in the United States of America where quality is the first priority. Protanium steel-based construction makes it up to 20 percent stronger than other Allen keys in the competition.
The keys feature ProGuard finish which protects tools from rust up to five times more effectively.
Chamfered edge makes it easier to slip into a fastener head. The Ball-end feature allows using the keys up to 25 degrees angle from the perpendicular axis. It is a unique feature while working with an obstructed bolt and hard to reach locations.
Both customary and metric key sets give it a wide range and also saves money in buying an extra set. The set is packaged in two separate hinged plastic cases which are of different colors. Clear size marks stamped on the keys which stay locked in individually marked slots.
Drawbacks
It's a little bit costly compared to other leading Allen key brands.
Also, the ball-end may tend to round while heavy-duty use.
Regularly used keys fall apart from the provided plastic case as the slots wear out with regular use.
3. AmazonBasics Hex Key/Allen Wrench Set with Ball End (26-Piece)
Highlights
One of the special features of the AmazonBasics Allen wrench is that the keys feature sandblasted finish to ensure a smooth surface to handle any job.
Chrome-Vanadium alloy construction prevents it from bending under heavy pressure. Black oxide finish makes the keys rustproof and corrosion-resistant.
This wrench set consists of 26 keys and fits with every hexagonal screw a user may come across. Chamfered edges help the keys to slip into the fastener head easily.
Extended arms included in both Inch and Metric keys bring extra leverage. Another end is the ball-end that gives access up to 25 degrees with vertical.
The metric and Inch keys come in two separate holders. Clear size markings on the keys ensure to pick the right one you need. The storage holder also features a marked slot for each key, keeping the keys remaining in their slot.
Drawbacks
With regular heavy use, the keys begin to wear.
There is an issue that they are delivered dripping in machine oil or industrial grease.
It starts rusting after a few months.
4. REXBETI Hex Key Allen Wrench Set
Highlights
With 35 piece keys in a set, REXBETI Hex Key Allen Wrench Set provides the largest range of Allen keys. 13 pieces Metric, 13 pieces Inch and 9 pieces most common Star Allen key set, makes a great combination.
The Inch and Metric keys are of regular end and very useful Ball-end feature on the other end.
Constructed with heat-treated S2 alloy steel which is harder and solid comparing the conventional Chrome-Vanadium alloy made tools and provides more strength, and great performance. The black-oxide finish makes the keys corrosion resistant.
A plastic T-head is also included with the set. T-handle reduces the pressure on the palm and allows extra advantage. Three plastic cases for three standard wrenches with marking at each slot are provided to keep the keys organized and easy access to required ones.
Drawbacks
No carrying case is provided.
Cheap plastic made T-handles don't fulfill expectations.
There is no locking mechanism inside the insertion slot and doesn't hold the key tightly or helps to create torque.
The warranty is limited for two years.
5. HORUSDY Hex Key Set, Allen Wrench Set
Highlights
Another 30 piece Allen keys set people prefer to use is HORUSDY Hex Key Set. Heat-treated Chromium Vanadium Steel made HORUSDY wrenches work as a heavy-duty tool.
Black-oxide finish prevents rust and makes it corrosion resistance. This option is available in both standard sizes, metric and inch. 15 pieces for long reach and rest 15 pieces short keys providing extra leverage.
The size marks stamped on each wrench are clear and highly visible and can be seen from enough distance. A foldable plastic box is provided with the keys to preserve them that opens flat.
The case allows keeping all keys organized in one place and easy access to required keys. Two different standard keys are stored on each side and the slots are also size marked for fast selection.
The large range of 30 pieces covers all the hexagonal socket screws. Surprisingly the price for this wrench set is very affordable and also, reasonable comparing its quality. Anyone with a low budget may find it as an ideal option.
Drawbacks
The smaller keys are weak and sometimes come bent.
Some keys are oversized.
The slots of the plastic case cannot hold the keys perfectly.
Some consumers believe that the finishing is not black-oxide, only painted.
6. EKLIND 10111 Hex-L Key Allen wrench – 11pc set
Highlights
America's leading tool manufacturer- EKLIND tool company made EKLIND 10111 Hex-L Key Allen wrench meets or goes beyond the standard regulations set forth ANSI, RoHS, and others.
The 11pc set of EKLIND 10111 hex keys contains all the smaller and common Allen wrenches. So this set may fulfill your basic needs. The keys are available either metric sizes or SAE sizes
The size labels are stored in color-coded plastic holders, red for SAE and blue for metric. Each Allen key is perfectly preserved in a size marked hole in the plastic holder.
EKLIND hex keys are made in the USA and produced from high-quality Chrome Nickel alloy steel known as EKLIND alloy steel. This product is heat-treated, quenched and perfectly tempered for ductility and optimum strength. Rust-resistant finish prevents corrosion.
Short but strong Allen keys are easy to use. Short length helps it reach the places where the foldable Allen keys cannot reach.
Drawbacks
The edges are not chamfered which requires a little bit of effort to insert into the screw head.
There is also no ball-end.
The keys are shorter than others, reducing the opportunity on extended reach.
7. Amartisan 20 PACK Hex Head Allen Wrench Drill Bit Set
Highlights
If you like to work with less laborious accomplishment while using a screw, then you would like to choose a drill bit as your tool. In this case, Amartisan 20 PACK Hex Head Allen Wrench Drill Bit Set can be your best choice.
Measurement unit for the keys is both metric and inch are stapled clearly on the body. Every wrench has a ¼" hex handle that fits with any standard drill. So this 20 piece hex wrench set can be used with electric drills, electric screwdrivers, hand screwdrivers and so on.
It is made of S2 alloy steel (shock-resisting steel) which is phosphatized that improves color quality and also makes it corrosion resistant. S2 alloy steel is commonly a little harder than Chromium Vanadium Steel. Metric and SAE keys are well preserved in two different plastic storage boxes.
Drawbacks
For less ductility of S2 alloy steel, sometimes these keys get shattered when high pressure is applied.
These are a little more costly than other alloy made drill bits.
Also, these are non-magnetic bits which cannot suck the screws when they are used.
Frequently Asked Questions (FAQs)
Here are some frequently asked questions and their answers.
Is Allen wrench the same as hex wrench?
A hex key, also known as an Allen key or Allen wrench, is a small handheld tool that's used for for driving bolts and screws with a hexagonal socket. They are available in many different sizes, though they all have the same hexagonal-shaped tip.
What can I use instead of an Allen wrench?
Sometimes you can use small types of flat headed screwdrivers as an allen wrench by putting the end in the socket so that the 2 edges of the screwdriver work as leverage in the hole to turn it. A wider socket on the bolt or nut, use a wider flathead screwdriver.
Why did Allen wrench ball end?
The ball end makes it easier to slide the key into the receiving slot. It allows you to reach at an offset 30 degree angle so that you can feel your way to the needed position much faster – great for blind or difficult areas to reach or if the bolt or screw is close to an obstruction on one side.
Are ball end hex keys better?
When you buy a hex key (Allen wrench) set, get them with ball ends. The advantage is that their ball end make it easier to slide the wrench into the receiving slot. You can reach in at an angle and feel your way to the needed drop-in position faster. Good for blind or inaccessible places.
Why is it called Allen wrench?
Originally named Allen Manufacturing Company, the business produced hexagonal set screws and wrenches to fasten them. The terms "Allen wrench" and "Allen key" are derived from the Allen brand name and refer to the generic product category "hex keys".
What does a allen wrench look like?
An Allen wrench is one of the simplest wrenches to use. The Allen wrench itself is a small L-shaped wrench with six sides. If you look at a cross-section of the Allen wrench, it looks like a hexagon. Since the Allen wrench has such a specific shape, it can only be used with items especially designed for it.
What is the smallest allen wrench size?
This set has a good range but the sizes are not accurate. The smallest wrench, which is why I bought the set, is undersized and rounds out the inside of the allen screw. The smallest wrench is supposed to be . 028 but measures .
Can you use hex instead of Torx?
We actually don't recommend using your torx wrenches in place of a hex key or Allen wrench. … With that being said, torx size, T9, won't doesn't really work with any of the SAE hex sizes. However, it's actually a perfect match for metric size, 2.5 mm.
Are Torx and hex the same?
However, Torx keys have a six-pointed star-like shape, instead of the six flat sides of a hex key. Unlike hex keys, which usually have a hexagonal cross-section along their entire length, Torx keys frequently have a circular cross-section, with the Torx shape only appearing at the ends of the tool.
Are Allen keys universal?
Standard-Size Allen Wrench
The inch-based set of Allen wrenches is considered standard in the industry. A typical set will contain a wide range of sizes, including: 1/8 inch. 3/32 inch.
How do I know my Allen key size?
Hex keys are measured across-flats (AF), which is the distance between two opposite (parallel) flat sides of the key. Damage to the fastener or the tool can result from using a hex wrench that is too small for the socket, for example a 5 mm tool used in a 5.5 mm socket.
Can I put an Allen wrench in a drill?
Turn those lonely allen wrenches into an entirely new tool by cutting off the branch of the "L" shape and creating a straight hex driver that can fit into the chuck of any power drill, just like a normal drill bit.
What is hex plus?
Hex-Plus provides larger contact zones in the screw head thus reducing the notching effect to a minimum and protecting the profile. …
Q: Why is it called an Allen wrench?
Ans: William G. Allen first introduced the hexagonal screw head and its driver in 1910. And it was marketed by Allen Manufacturing Company of Hartford. The terms "Allen wrench" and "Allen key" are derived from the Allen brand name and refer to the generic product category "hex keys".
Q: What is the difference between Metric and SAE Allen wrench?
Ans: Metric and SAE are just two different measurement systems of Allen wrench just like 'meter and yard'. Standard Metric sizes are measured in millimeters(mm). On the other hand, in SAE system sizes are measured in inches.
Q: What is the difference between SAE and Inch Allen keys?
Ans: Both are the same. SAE Allen keys are measured in inches, so sometimes they are known as Inch wrench.
Q: Why does Allen wrench shape hexagonal and not any other shape?
Ans: Hexagon is the most efficient size to construct with the least material and balanced pressure distribution. Lower angular keys come across more pressure and may shatter, also requiring excess material. Higher angular ones are almost circular and tend to round easily.
So, the shape of these wrenches is just to allow hex nuts to be taken into account. Beside this one, you'll find adjustable wrenches, strap wrenches, and impact wrenches which are other most popular wrenches differing both in functions and shape.
Q: Is there any alternative to hex keys?
Ans: Allen wrenches are among the cheapest of hand tools. Any substitute would probably be both ineffective and more expensive than an Allen wrench. Besides, the alternative may damage the hex head.
Conclusion
As it seems, if you deal with installation and repair works of your home on your own, a set of hex wrenches is a must for you to own one. All the hex wrenches covered here are of great quality, durable and buying worthy best Allen wrenches.
However, we may suggest the TEKTON 25253 hex key set, as it is made of good quality heat-treated material, chamfered edge as well as ball-end and most importantly, provides a large range.
You also may like HORUSDY Hex Key Set as the next alternative option since it also provides a large range of 30-pieces and well-constructed with a premium finish.
Besides, in case of non-professional use, the EKLIND 10111-11pc set may fit your interest since it comes with the most commonly used hex keys and quality construction with a unique color-coded feature. But, whatever you choose, you should choose the one that is compatible with your interest and also be value for money with quality.
I'm Joost Nusselder, the founder of Tools Doctor, content marketer, and dad. I love trying out new equipment, and together with my team I've been creating in-depth blog articles since 2016 to help loyal readers with tools & crafting tips.