I love creating free content full of tips for my readers, you. I don't accept paid sponsorships, my opinion is my own, but if you find my recommendations helpful and you end up buying something you like through one of my links, I could earn a commission at no extra cost to you.
Learn more
A real biker loves his bike just as much as his life. Anyone who loves riding bicycles will agree on how precious their bike is to them.
And the last thing you'd want to happen to it is, falling off the back of a vehicle.
So, to get a grip on it, you need a solid bike roof rack. One that won't loosen and crash your bike when you take it to places. Therefore, it is always wise to know about the best bike roof rack options on the market.
In this review, we will recommend you bike roof racks that you not only can trust but also use them for a long time.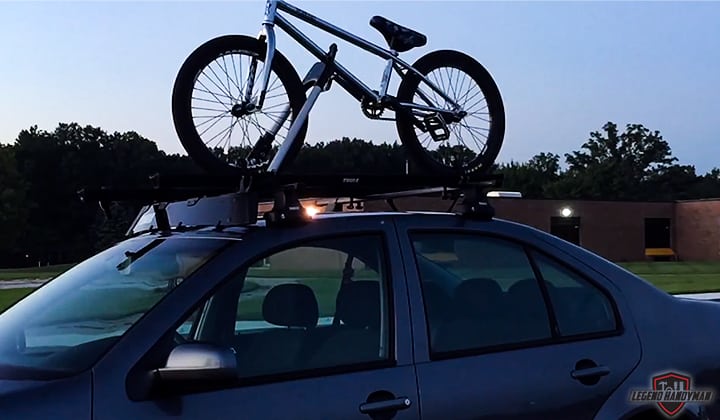 Best Bike Roof Racks Review
In this bike roof rack review, we have listed products that are made of top-notch materials and will stand the test of time.
Yakima FrontLoader Wheel-On Mount Upright Bike Carrier for Roof Rack
| | |
| --- | --- |
| Weight | 18 Pounds |
| Dimensions | 56.5 x 8.5 x 10 |
| Color | One Color |
| Department | Unisex-adult |
If carrying your bike was ever more straightforward than it was probably after you bought this. This brand has always been at the top with many outstanding racks, such that we can do a separate review on Yakima bike roof racks. But this is our favorite for now.
Firstly, it comes completely assembled, so there is no added hassle of collecting the rack. Furthermore, you can carry any bike on it, be it road bike or mountain. Not only that, it can fit anything between 20″ to 29″ wheels. Which pretty much ascertains you can carry any bike you want with it.
However, it can only mount a single bike at a time. This can also adjust to a wide range of crossbars. The spread range is between 16″ to 48″. Also, it supports different types of crossbars like round, square, or aerodynamic. Therefore, unlike other racks, with this, you don't have to worry about crossbars.
Another reason we love this is because not only do you not have to detach the wheels when using this but it also makes no contact with the frame of the back. It attaches to the front and rear wheel only.
Therefore, if you go creative and do a paint job or carbon fiber, then you don't have to worry about the paint dirtying other surfaces.
This mount wheel model also means that this rack aids through axles, disc brakes, and full suspensions.
Also, the sheer quality of the material is top-notch. So much that they have unbelievable warranties for this. Although this isn't a cheap product, it is definitely worth the money.
You can secure your bike very tightly on this. To further assure security Yakima provides a twin lock system, which, however, you need to purchase separately.
Pros
Wheel mount system helps to keep the bike unscathed
No assembling needed
Can mount any bikes
Can attach to many types of crossbars
Cons
For additional security, twin lock key needs to be purchased
Slightly on the expensive side
CyclingDeal 1 Bike Bicycle Car Roof Rooftop Carrier Fork Mount Rack
| | |
| --- | --- |
| Weight | 2.4 Kilograms |
| Dimensions | 31 x 4 x 9 |
| Color | Color |
| Material | Steel |
A simple budget-friendly design for you to carry your bike around. For most people, racks are something they don't use that often. So they don't want to spend a whole lot on it. For them, this is a perfect option.
This bike easily mounts on the crossbars. So it saves you unnecessary hacking. It easily fits crossbars of different sizes too, with a maximum thickness of 50mm and width of 85mm.
Adding to that, attaching the racks to the car is also pretty straightforward.
This is a frame mount model, meaning it mounts to the frame of the bike, not the wheel. Therefore, you don't have to worry about your wheels when mounting.
However, this may add pressure on the frames. Also, you'll have to cover the more vertical distance to mount it attaches to the frame.
Nevertheless, it does what it is meant for efficiently. It carries your bike safely. Besides, the grips are tight and even comes with a lock to keep it safe.
This one uses a frame holder to hold the frame. Therefore, if you're worried about your frame getting scratches, then don't because the holder protects the bike's frame from harm.
Although this is not the best product you will see, it does justice to its price and is great for holding bikes firmly. 
But for taller bikes like road bikes, we wouldn't recommend this.
Pros
Budget-friendly rack
Frame-mounted model with frame holder
Doesn't damage the frame
Easy to install
Cons
Not appropriate for taller bikes
RockyMounts TieRod
| | |
| --- | --- |
| Weight | 0.1 Kilograms |
| Dimensions | 0.03 x 0.04 x 0.05 |
| Color | Black |
| Material | Aluminum |
| Service Type | Bicycle |
There isn't a better option than RockyMounts if you're searching for a sturdy roof rack.
Whether you're going through mountain roads or a blizzard, this will hold up your bike firmly. It is sturdier and more resistant than most other items. The material itself was chosen carefully to emulate that trait accurately.
So, why is it so sturdy? For one thing, it is made of stainless steel, and the mounting straps are also made of the same material. It can easily attach to elliptical or factory crossbars.
This product can mount any bike up to 2.7″. It can also carry heavy bikes weighing up to 35 pounds. Regarding the type of bike it can carry, it can mount most bikes.
Another advantage with this is, loading and unloading bikes can be done effortlessly. The tray is solid and holds your bike tightly but can be undone with a single hand. However, rest assured, it won't loosen on its own.
Besides, the only complain users have made is that the tray is a tad bit long.
The rack is also compatible with locks that need to be bought separately. However, it requires two lock cores while most devices can work with one.
To conclude, for the price you're spending, you won't get a better deal than this. And if it wants a durable product, then this is your answer.
Therefore, if people who ride large bikes are considering buying a rack for a reasonable price, you can look at this one.
Pros
Reasonable price
Very sturdy and firm
Can carry any bikes
Cons
Needs two separate locks
The tray may be a tad bit long
Swagman Standard Roof Mount Bike Rack
| | |
| --- | --- |
| Weight | 1 Pounds |
| Color | Black |
| Material | Aluminum |
| Service Type | Bicycle |
The name Swagman may not sound as convincing, but their products surely are.
This bike rack is targeted at people who are not keen on spending too much on racks and will go with the best value they get for their money along with compatibility with their cars.
In that regard, it can fit round, oval, and square bars. The installation is easy and doesn't take much time.
However, this is a fork-mount rack, meaning you have to take off the front wheels to mount it. Afterward, you attach the fork of the bike to the 9mm skewer.
It comes with straps, so you don't need to buy any additional. Further, these quick releases and tie-down straps make it safe and fast.
This stand is safe, secure, and tight. You can mount any bike on it. But you can only mount one at a time. But the price you're getting this at is amazing. It serves as a high-end product but costs only a little.
Its durability might still be in question, but people who don't use racks regularly will prefer this rack any day.
Assembling the rack is very simple. You need to follow the instructions. You don't even need to read them as the pictures provided are enough to figure the process out. All you need to do is place a few bolts, and you're ready to mount that bicycle.
While the mounting is straight forward, removing the front wheel and reattaching it once you have unloaded can become a pickle for those unaccustomed to it.
But removing the wheel is by no means a demanding job, and there are plenty of tutorials to guide you through it should consider it a complication.
Pros
Easy to assemble
Low price
Works with different crossbars
Well-built and secure
Cons
Front-wheel needs to removed
Takes a bit of time
Yakima Frame Mount Bike Carrier – Rooftop Upright Bike Rack
| | |
| --- | --- |
| Weight | 29 Kilograms |
| Dimensions | 39.37 x 11.81 x 62.99  |
| Capacity | 1 Bike |
A relatively newer model, this one is most suitable for carrying standard bikes, kid's and woman's bikes. But it can carry any other type of bike within 30lbs.
It is also preferably suited for traditional geometry bikes under a tube range of 1 to 3 inches.
The product is very efficient and durable. The material is secure and will make sure you can go through anything safely with your bike atop.
Once you mount it accurately, you need not worry about your bike.
The setting process doesn't require the removal of wheels, but the jaws of the tool attachment to the frame of the bicycle.
Further, the jaws do not cause any harm to the frame. Also, safety is only strengthened by locking the jaws. And best of all the locks are included in the package, so you don't have to go out of your way to buy additional locks.
One thing you don't have to worry about with this one is attaching to bars, because be it square, round or aerodynamic, this rack can be fitted to any factory bars.
The product is also very lightweight and easy to set up atop your car. Once you have it ready, it only takes a few more minutes to mount your bike, and you're done.
Although most bikes can be mounted on it, it has a weight limit of 30lbs which automatically excludes heavier bikes like mountain or road bikes which are generally about 35 lbs.
But that is why they mention the type of bike that is suited for this rack. There is no hidden flaw in this. This is a pro rack by Prorack in terms of the service it provides.
Pros
Lightweight but strong
Best suited for geometry bikes
Can fit most factory bars
 Very easy to set up and mount
Cons
Not suited for heavier bikes
Attaches to frame so that it may cause friction
Things to Consider Before Buying
Don't be overwhelmed by the variety of racks. Even though there are different types and types within the types, if you know what specific expectations you have of your purchase, the decision will become easier naturally.
Therefore, take a look at the possible considerations to understand what to expect.
Compatibility
This is the first and most important thing.
Although there are many types of racks, all may not be compatible with your particular car.
No item was ever compatible with all types of cars, vice versa. Older cars may not support newer products.
So it is imperative to buy something that your car supports.
The Loading Process
This concern may strike you only after your purchase, so be careful.
Some racks require you to remove wheels while others may scratch the frame of your bike. Therefore, carefully investigate these subtleties that most people notice a little too late.
Rack Size And Height
While this is something that doesn't affect the functionality of the product, it does, however, make your life harder.
If you choose a tall rack on top of your tall bike, you will have to climb a mountain to mount that bike.
Hence, consideration of the overall height and your reach should be made thoughtfully.
Price
Like most other products, if you spend more, you will get a better value for money.
Although, you can make do with cheaper ones no doubt, spending more is going to make the whole process easier.
It's an inverse relationship between your effort and your money. If you spend less, you will have to work that much harder every time you mount.
Type of Bike
Apart from roof mount models, there are also other types like a hitch, truck, and vacuum mount racks. You may choose to explore all these types before settling for one.
Each has its own sets of pros and cons.
Car Protection
Again, this is something you take notice of only after your purchase.
Racks protect your bike as you put them atop your car, sadly, the same can't be said for your vehicle.
While straightaways are no problem, as you go into bumpier roads, the bike or rack may hit your car roof if proper protection isn't there.
So if you care for your care, do check for finish protection on the rack.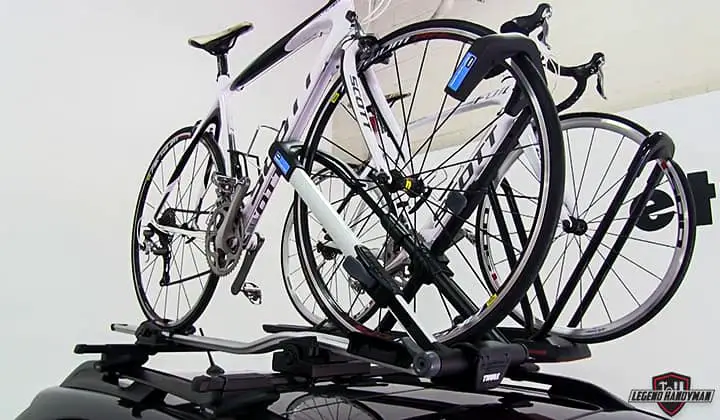 A Comparison between Roof Bike Rack and Hitch Mount Bike Rack for Cars
In truth, these are the only two types you should be concerned about. Therefore, to further help you decide, here's a quick note on the two.
They attach to the hitch of your car. Mainly helps in carrying multiple bikes at a time.
So they might be a little extra for carrying a single bike. Also, as they hang at the back, it might affect your driving senses. They are also prone to bump against your car or each other if you're on uneven terrain. 
Hitch racks are also more expensive, which makes sense as it takes more space.
They're easy to install depending on the model. Regardless, stability is compromised to get more bicycles on it. However, they won't fall off or anything, so you don't have that much to be concerned about.
Loading and unloading are much more accessible than on roof mounts, as you don't have to go against gravity.
On the other hand, since it attaches to the hitch, your car needs to have one and if it doesn't that means spending extra cash on getting one.
Also, it is worth mentioning that while roof models have the full support of the car's body, hitch one only survives on the hitch so it should be sturdy enough to bear it.
Compared to hitch racks, roof racks are not expensive in the least.
But height clearance often becomes a hurdle when it comes to roof models. Besides, taller racks and bikes, make mounting that much harder.
However, these are safer, sturdier, and hold your bike with more grip.
Although, if it escapes your mind and you enter a shady road, your bike will get damaged.
One comforting advantage is they don't come in your way, unlike hitch or trunk versions. Hence, once you're done mounting, there isn't a whole lot to worry about.
Frequently Asked Questions
Q: How high will the bars be?
Ans: Usually, the bars are 115mm above the roof of the car.
Q: Does removing the wheel take a lot of time?
Ans: Depending on your expertise in the process, it differs. It may take you longer the first few times, but once you know what you're doing it doesn't take long.
Q: Do the racks come assembled?
Ans: Racks are mostly assembled in the package, but you may need to tweak a few nuts or bolts when setting it up.
Q: Why doesn't one roof rack support all cars?
Ans: As rain gutters are not being included in cars, roof rack manufacturers are making different models suit each car.
Q: I changed my car, is it possible to use my previous rack?
Ans: With some fitting kits, that can be arranged to fit your car, provide the design is supported.
Final Verdict
Choosing the correct rack for yourself is more complicated than using one. So, I hope our best bike roof rack reviews have made the job a bit easier at least.
Nevertheless, don't forget to share your opinions regarding my recommendations in the comments section.
I'm Joost Nusselder, the founder of Tools Doctor, content marketer, and dad. I love trying out new equipment, and together with my team I've been creating in-depth blog articles since 2016 to help loyal readers with tools & crafting tips.