I love creating free content full of tips for my readers, you. I don't accept paid sponsorships, my opinion is my own, but if you find my recommendations helpful and you end up buying something you like through one of my links, I could earn a commission at no extra cost to you.
Learn more
As we thrive for a soul-to-soul connection, the plants indeed look for a root-to-soil connection. A good bulb auger is what you need for matchmaking! Bulbs require a bit thicker hole than seeds for obvious reasons and a bit deeper too. Hence these drills like automation are the only way to go if it's not a one time deal.
Even if you're willing to get your hands dirty for spooning the ground, these bulb augers have their demand. Well, you can't spoon through those roots now, can you? These can spin through them like knives through butter. Life becomes easier now. Drill, through the seed in, fill up the hole, that's all.
Garden becomes half the work once you don't have to plant those bulbs. So, bulb augers are a shortcut to that gruesome task. Press of a switch, that'll give you that perfect hole. So, what makes the best bulb auger, let's find out.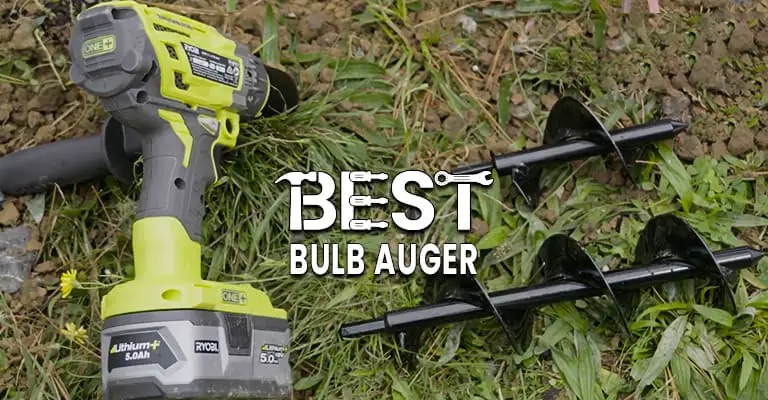 Bulb Auger buying guide
In this section of the article, we are going to talk about every single aspect of the bulb auger you should know before buying it. To make you choose wisely, it is very important to have a clear concept regarding this product.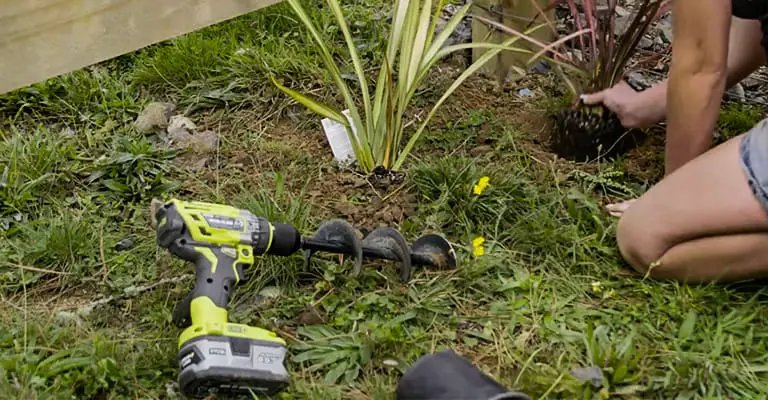 Hex Drive
The part of the drill bit that gets attached to the drill machine is the hex drive. So, the hex drive is a major safety concern as it can get detached while drilling and can cause injuries. Non-slip hex drives are likely to have great grips while using.
Weight
Indeed, the auger bit is a good replacement for the shovel used for landscaping. Here, the bulkiness varies from 0.35 lbs to 1.3 lbs. But if it is way too bulky, it will cause serious discomfort. So, auger bits around half a pound are preferred in this regard.
Length
The length of the auger bit you need depends on the size of the plants or the plant roots you are digging the soil for. The market provides you from 7 inches to 16.5 inches for regular use.
If you are planting a large size plant or a plant with a deep root, you should consider buying a comparatively longer auger bit. But they are usually slender and the spiral portion doesn't cover most of the length. Handling them requires a bit of skill and hence are recommended for regular gardeners.
Welding
Welds between the slender body and the spiral portion of the auger mustn't have many metal globules. The smoother the weld is the more is the durability. But sometimes the paint coats hide them.
Material
Heavy-duty steel is the trend in the market and is the recommendation too. Many times the priority shift should be adopted for painted finishes. But this matters less as almost all good augers come with black coating and secondly, the auger comes in contact with the earth in a continuum.
For which drill?
Usual auger bits require an 18V drill. But in most cases, you need to get into places where an electric outlet is not close at hand. Cordless drills have no other alternative for you if you are one among them. A 14V auger drill is a suggestion for cordless operation.
Don't forget to check whether the bulb auger you are intending to purchase is compatible with ⅜ inch chucks. Topmost augers have this feature and it allows you to cover most of the applications that a bulb auger should indulge in.
Best Bulb Augers reviewed
You may find a hundred of bulb augers in the market and the online shops making the confusion game a little bit stronger. To clear your confusion and make the right choice, we've sorted out the best bulb augers in the town. Let's check out why they are the best!
1. COTODO Auger Drill Bit
Merits
COTODO Auger Drill Bit features a 12 inches longer auger bit with a diameter of 3 inches. It has a 2.5 cm steel shaft with a non-slip hex drive of 0.8 cm and made of heavy-duty steel.
Made from heavy-duty steel, this one is so strong and durable too. But the amazing part is it weighs only 1.3 pounds, not that heavy to make yourself uncomfortable. This product comes up with a glossy black painted finish.
Some large plants can be planted with this comparatively larger drill bit. The non-slip design of the hex shaft makes it perfect to fit any 3/8'' or larger chucked drill. And for this purpose, 18v or greater than this drill is highly recommended.
You can effortlessly dig holes, not spending much of your labor. Also, it will save your precious time of spending hours in the tiresome job of landscaping using a shovel. You can either plant hundreds or a few bulbs just within minutes.
Demerits
The COTODO Auger Drill Bit is reported to have less tolerance towards stress.
2. Power Planter Bulb & Bedding Plant Auger
Merits
With a dimension of 3 x 7 inches and patent-pending design, this bulb auger from power planter features a 100% steel shaft of 5/8 inch, 10-gauge flighting. This one is made by family farmers who are continuously producing these for over 30 years with a reputation.
This product is made of 100% USA materials and great craftsmanship. It weighs only a pound relieving you from severe hand aches. The best part is the manufacturers offer a lifetime warranty on all the materials and the craftsmanship.
It can be easily installed into most cordless or electric drills out there without much effort and will let you dig some perfect holes! Also, it comes in two colors – shiny black enamel & pretty light pink!
It has a non-slip hex drive ensuring a smooth and risk-free operation. You can fit the plant auger with any kind ⅜ inch drill that is commonly being used. After all, it is a perfect and ideal tool that can drill holes just like you cut a cake with your knives.
Demerits
It comes up with limited color options and size and thus limits the users to choose according to their needs.
It flings dirt everywhere.
No products found.
3. Auger Drill Bit by SYITCUN
Merits
With a stunning composition of Heavy-duty steel material and premium craftsmanship, this drill bit from SYITCUN comes in 3 sizes (1.6×9'', 1.6×16.5'' & 1.8×14.6''). With this specification, it can quickly drill a 9 inches deep and 1.6 inches wide even without having to push down.
This tool is made of heavy-duty steel that left no confusion about the durability and longevity of the product. Glossy painted finish black in color makes it more attractive and ensures the prevention of rust. You can choose a Green color as well if in case black is not your favorite.
This extra strong and durable auger spiral bit fits any standard sized drill i.e. ⅜ inches or larger chucked drill. 18V or greater powered drill is highly recommended for the best performance where you need a minimum 14V in case of a cordless drill.
This tool is rigid as hell and won't bend while drilling through hard surfaces but make sure not to drill any solid rock. You are also getting 2 mini garden tools as a bonus with this.
Demerits
It is reported of not being in great terms with hard & dry soil even though digging through the hard surface.
4. Garden Auger Spiral Drill Bit by TCBWFY
Merits
This drill bit from TCBWFY has a dimension of 1.6''x16.5'' and is composed of heavy-duty steel with a black and shiny painted finish. It weighs only 0.6 pounds.
It is a special tool with a total length of 16.5 inches that is a great advantage to make a deep hole. The diameter is 1.6 inches and it can make quick drills only with the help of a handheld drill.
With a non-slip hex drive of 0.3 inches, it can be attached with any 3/8'' drill. It comes in two colors: Black & Green. The patented spiral design increases the efficiency of the auger as well as make it a multipurpose tool that is a popular one for landscapers.
Due to having minimal distance between the digging blade start and the point, no hard push is required to work on any hard surface. It also saves you from painful back strain as it takes less labor compared to the work done. This drill bit is your ultimate garden assistance!
Demerits
According to some users, it penetrates the soil well but once you reverse your drill, it does not pull the soil out.
The extra length might be a problem if you have no need to dig a deep hole frequently.
5. Super Thinker Auger Drill Bit
Merits
Super Thinker Auger Drill Bit is a superlight drill bit with a weight of only 6.4 ounces (0.4 pounds). As the name suggests, it really super thinks for your comfort! It is a 9 inches longer & 1.6 inches wider drill bit.
Not only to plant bulbs, but you can also easily dig holes to place your umbrella in the beach sand on a nice shiny day with this drill bit. It is a powerful drill that can work smoothly on any kind of soil. You do not need a soil moisture meter; not at least at the time you bore.
Made of high-speed steel with a shiny green painted finish this tool is durable and longevity will never be a problem. Hard or soft, it's gonna dig the soil with its power without any damage.
It is compatible with any 3/8-inch drill. You can save your precious time and labor by planting a hundred bulbs in a minute with this tool. You just need to use an 18V or greater powered drill bit to ensure effective performance.
Demerits
This drill bit does not make holes big enough to plant bigger bulbs as advertised.
It does not work well in hard soil conditions and has some issues over drill shaft attachment as reported by some of the users.
No products found.
Frequently Asked Questions
Here are some frequently asked questions and their answers.
How do I choose an auger?
Professional landscapers should choose an auger based on how often they intend to use it, what type of soil conditions they will run into, and how tough the job(s) will be overall.
How deep can you drill with an auger?
about 15-25 meters
Augers can be used up to a depth of about 15-25 meters, depending on the geology.
What time of year do you plant bulbs?
Spring-blooming bulbs, such as tulips and daffodils, should be planted in September or October when the soil temperatures have cooled. Summer-blooming beauties such as dahlia and gladiolus are best planted in the spring after all danger of frost has passed.
How deep do you plant bulbs?
The general rule of thumb for planting spring bulbs is to plant two to three times as deep as the bulbs is tall. This means most large bulbs like tulips or daffodils will be planted about 6 inches deep while smaller bulbs will be planted 3-4 inches deep.
Can an auger go through clay?
If your soil is loamy or sandy, you too can drill 30 holes in a day's worth of rental. But rocky ground or heavy clay can stymie even the most powerful auger. … -wide deck footings or a whole fence's worth of postholes to punch, augers can make short work of an otherwise miserable job.
How deep can a one man auger dig?
about 3 feet
How deep can a one man auger dig? While there is a bunch of post hole diggers available with different drilling depths, most augers tend to dig down to about 3 feet. If you need to go deeper, you can buy extensions that will get your hole to around 4-5 feet deep for a small cost.
Can an auger dig through roots?
Post hole diggers are not capable of cutting through large roots, and it is time consuming to try and chop the root out by hand. … There is a power tool available known as an auger that will drill through the root, and allow you to put the post right where you need it.
Why is my auger not digging?
The screw bit is the very tip of the auger. If it is extremely worn — or perhaps even completely gone — the auger will not track straight as it digs. … Worn teeth can also decrease digging capacity and force the auger to become stuck in the ground.
Can you dig a trench with an auger?
To make a trench the operator simply augers down the desired depth and then slowly drives the truck the direction he wants the trench. Here the trench is being cut to bury the end of a guardrail into the ground. Then a hole is made at the end of the cut to bury the guardrail post.
How much is it to rent an auger at Lowes?
How much is it to rent an auger at Lowes? At Lowes Tools Rental, you can rent an auger for as low as $25 each day.
What happens if you plant bulbs in the spring?
Waiting until spring to plant the bulbs will not satisfy these requirements, so spring-planted bulbs will likely not bloom this year. … The bulbs likely won't bloom this spring, but they may bloom later in the summer, out of their normal sequence, or they may just wait until next year to bloom at the normal time.
Should I soak bulbs before planting?
Planting depth: Plant 5″ deep. Soak bulbs for 2 hours in luke warm water before planting.
Q: Do the drill bits include handheld drills too?
Ans: No, the drill bits don't come with handheld drills.
Q: How does auger drilling differ from others?
Ans: Auger drills mostly involve drilling holes through the earth. Especially while drilling with a bulb auger you will often go through layers of materials having different thicknesses and densities like Peebles and roots under the soil. Most other drilling deals with homogeneous media like plastic, drywall or concrete at best.
Q: What should I do when stuck while drilling using bulb augers?
Ans: Most probably you are stuck due to a stone or sufficiently hard root. Gently reverse the drill for a while and then continue again. A general recommendation while you're with a bulb auger keeps the speed as low as possible. Otherwise, such scenarios may result in a more or less permanent arm ache.
Conclusion
If you are a professional gardener, there will be no question whether you must have a bulb auger or not, but the question is which one you should have. Among a lot of tools available in the market, we tried our best to pick the best ones. As a bonus, this final suggestion will surely lead you to the best bulb auger for your garden.
We have found the Power Planter Bulb to be the most satisfying in terms of reliance and performance compared to the others in the market as it has a sturdy structure. It does the work perfectly without breaking and bending due to stress.
You can also look for the Bedding Plant Auger. It has a tight gripped non-slip hex drive which ensures maximum safety for the users. So, no matter which one you choose, always pick the right one that will be the best friend during your work.
I'm Joost Nusselder, the founder of Tools Doctor, content marketer, and dad. I love trying out new equipment, and together with my team I've been creating in-depth blog articles since 2016 to help loyal readers with tools & crafting tips.