I love creating free content full of tips for my readers, you. I don't accept paid sponsorships, my opinion is my own, but if you find my recommendations helpful and you end up buying something you like through one of my links, I could earn a commission at no extra cost to you.
Learn more
Wall mounting cabinets can be tough a nut to crack with a pair of hands. Cabinet claws are by far the most complex form of clamps. Having two axles for clamping, it holds the cabinets firmly. But these are mainly used to nullify lateral displacements.
Cabinet claws can't be trusted with the entire weight of a clamp. Woodworkers get around that by using something called a third hand. But still, it has become a necessity due to the facilities it brings to the table. The fact that they've put a hole on the side of it so that you can drill through it is really helpful.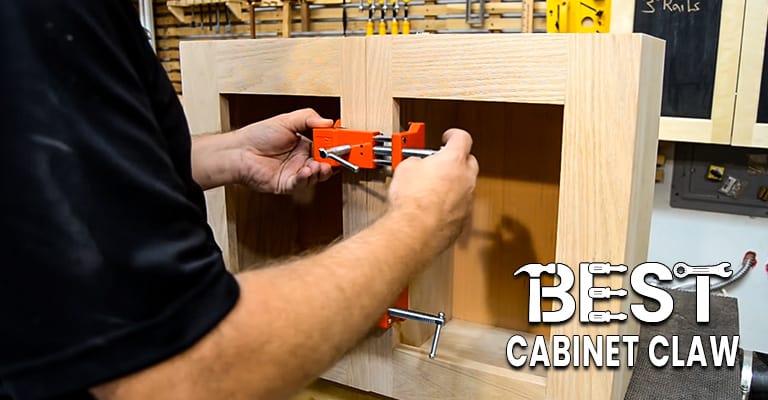 Best Cabinet Claws reviewed
When I was searching for the best cabinet claw, I found some claws in the market. Then I started to test them one by one. Some of my buddies 'n fellow woodworkers have also suggested some products. Altogether, I've made this list of fabulous cabinet claws that are currently available.
1. Pony 8510BP Cabinet Claw, 2-Pack
Laudable aspects
If you're a pro in woodworking, you must hear the name of Pony. When it comes to the cabinet claw, their product will be at the top list. With its all premium qualities, this cabinet claw is ready to draw your attention.
Because of its aluminum body construction, this tool is ready to serve you for the long term without catching rust or cracks.
You get various options for buying. They offer packages that carry from two cabinet claws to four claws. Obviously, the basic pack comes with two. As recommended by the experts, you need at least two claws to set up a cabinet.
This claw from a pony can handle two styles ranging from 1-1/2 to 2-inch (width) and 1-1/2-inch thickness of each cabinet.
A massive 4-inch jaw opening capacity is ensured in the tool to give you the freedom to work with huge workpieces. As you want the cabinets free from any scratch, you need to take steps to prevent the jaw to make a dent. But in this claw, you get protective pads in the pack for both jaws. Simply place it and then install the cabinets!
Glitches
The lever drill guide may fall apart if you don't handle it with care.
Besides, it's a bit heavier to place it on any sophisticated surface.
2. Bessey BES8511 Cabinetry Clamp
Laudable aspects
Here comes the pro player of tool manufacturing. Bessey has brought a series of cabinetry tools including cabinet claw. The red-colored body is easily visible even when you're in a rush. With all of its premium features, this cabinet claw is ready to grab your attention.
Easily, you can glue up two cabinets all by yourself. Thanks to the improved design which provides better ergonomics and also ensures proper distribution of pressure on both the workpieces.
Like the Pony products, you can have a maximum 4-inch jaw opening. Moreover, the throat depth is 2-inch (maximum) and the jaw width is 2-inch (maximum). It means you need not to face any trouble clamping these sized cabinets.
Cast iron is the primary build material that is used to make the body. Hopefully, you know the strength of cast iron. This material is helpful to design the tool with more ergonomic benefits.
Cast iron can endure more pressure than others. That's why you get a longer service life than its other counterparts. Moreover, corrosion is rare on cast iron because of the protective layer of paint on its body.
Glitches
Obviously, the tool is a bit heavier than the aluminum ones. That's why you have to face some difficulties while transporting this cabinet claw.
3. Adjustable Clamp Pony Cabinet Claw
Laudable aspects
Here's another awesome cabinet claw from the PONY. Like the previous one, it has some amazing specs that can surprise you for sure. The aluminum-made body ensures lightweight while keeping an eye on durability. The full body is painted in bright orange color so that you can easily find it, even from the junk!
To talk about the build quality, we can say that it's awesome! This cabinet claw is made to ensure the American standard. As we said before, aluminum is the primary build material.
To ensure comfort, the handles are made of plastic. But those zinc-plated 'n cold-drawn steel screws ensure the premium quality.  Moreover, the rubber pads are installed to ensure safety during the operation.
Like the previous product of Pony that we've discussed, jaws are adjustable. You can spread them up to 4-inch. It can handle workpieces up to 2-inch wide and also 2-inch thick (each one) far enough for that purpose.
Because of the aluminum plates that are there to protect the cabinets perfect pressure on the workpieces. Besides, the guided drill holes help you to screw the cabinets properly.
Glitches
You need to pay more bucks if you go for single piece options.
Like its previous options, it's heavier to place it on the sophisticated surface.
4. Bessey BES8511 Face Frame Clamp Pair
Laudable aspects
It's another option for you to save some bucks for its great innovation with the design. As you know, it's recommended to use a pair of cabinet claws to deal with face frame cabinets. That's why Bessey has come up with the solution of two claws in a pack.
It'll be economical for you if you're a pro or even if you want to build a set of different claws 'n clamps of your own. With 4-inch clamping capacity and 2-inch jaw opening, this tool can handle workpieces up to 2-inch.
At first, let's take a glance at its body construction. Again Bessey has chosen cast iron as the primary built material. On top of that, a glossy red color finish is ensured on the body.
You can easily locate the tool in the rush. Besides, it'll protect the body's surface to catch rust. Soft pads are there to fit them on the surface of the jaws to protect your workpiece to be safe from dents.
A pilot hole drill guide is a common part of a cabinet claw. But, you probably know, these guide holes have a tendency to break apart after a certain period. That's why the manufacturer has taken great care of that part and improved the design to prolong the durability. This tool can handle 300 lbs. to 600 lbs. clamping force because of this better design.
Glitches
This claw is a bit heavier.
Another problem is this one is prone to rust because of the cast iron construction.
5. Bessey EKT55 One-Handed Edge Clamp
Laudable aspects
Here's another type of tool to facilitate your woodworking or kitchen remodeling. The pro tool maker Bessey has brought a unique one-handed edge clamp. With its 450-500 lbs. this tool can adhere to two cabinets to be glued up properly.
A compound screw mechanism is there to ensure the perfect glue-up of the cabinets during the operation. Bessey has put a great effort into improving this design.
The pressure pads that are used to protect, are made of soft material. Besides, that material is responsible for holding the workpieces just at the position. That's why you get a perfect clamping
You get a clamping surface 2-i/8-inch thick. That's why you can deal with panels from 3/8-inch to 2-inch. You can spread the jaw up to its limit and can adjust it comfortably. A soft grip on the handle is ensured to give you a premium experience. Above all, the Bessey standard is strictly followed to design and manufacture this tool.
Glitches
You have to consider a good budget to own this tool.
Though it provides a superior grip, it may not provide massive pressure on some furnished surface.
FAQ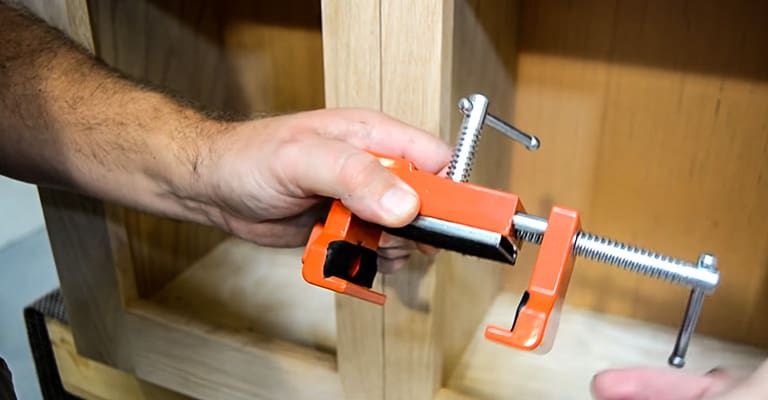 Q: How to get the maximum clamping force?
Ans: you need to properly position the claws on the surface. Another trick is to use a pair of claws instead of one to glue up a face frame cabinet.
Q: How to use the claws for long?
Ans: You've to take care of the tool by doing regular maintenance. To do so you've to clean it properly. Besides, check whether any of the screws are unstable or wobbling. Again, check the pads and grip also.
Q: What if I use only one claw to adhere to the cabinets?
Ans: You simply won't get the required pressure at the right point. Besides, if you're using one claw, you're risking yourself as any accidental slipping can't be prevented.
Wrapping Up
Good to see so many exotic products, right? But have you made the decision? Consider these experts' choices before that. They have suggested some products which are best for their particular usages.
If you are looking for a cabinet claw in your budgets, then you can go with Bessey BES8511 Cabinetry Clamp. However, if you're looking for a pair, you can check out Bessey BES8511 Face Frame Clamp Pair. But Pony 8510BP Cabinet Claw can give you the premium experience of clamping.
I'm Joost Nusselder, the founder of Tools Doctor, content marketer, and dad. I love trying out new equipment, and together with my team I've been creating in-depth blog articles since 2016 to help loyal readers with tools & crafting tips.