I love creating free content full of tips for my readers, you. I don't accept paid sponsorships, my opinion is my own, but if you find my recommendations helpful and you end up buying something you like through one of my links, I could earn a commission at no extra cost to you.
Learn more
You can get the best service from your chainsaw only when it is attached to the best chain. Chainsaw chain made with the best material, designed to do all the operation smoothly and pass the quality certification test has been included in our list of best chainsaw chain.
During making this list we have divided our customers into 2 categories – one is home user and the other is a professional user. We have made this list by keeping in mind the need or requirement and taste of both of the customers.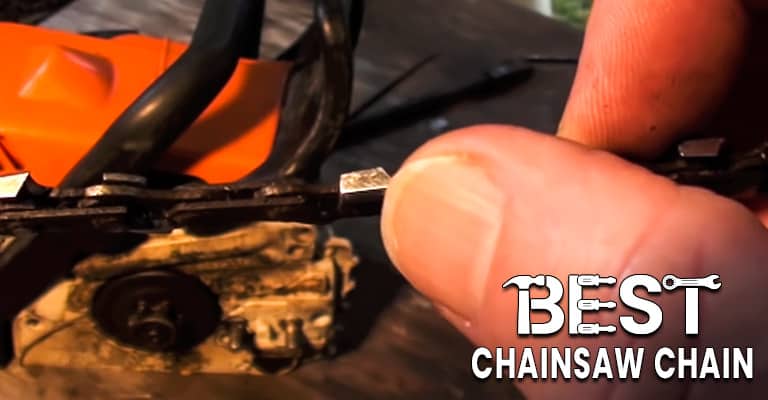 Besides, we did not forget about the price. We have kept products of the low, medium and high prices. So, no matter what your budget is hopefully you will find a product that will fit into your budget.
Chainsaw Chain buying guide
Initially, you should have a crystal clear idea about the parts of the chainsaw chain. A chainsaw chain has several parts and among those, the bar length, drive links, teeth, and gauge are the most important parts that should be checked properly to fit with your existing chainsaw.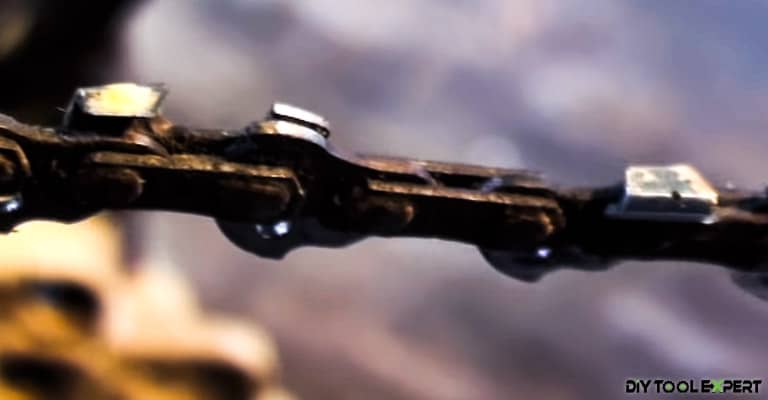 First Instruction: Check the Bar Length
Generally, the range of bar length varies from 10" to 24". You have to select the chain of such bar length that fits your chainsaw chain.
If the chain is too snug or too loose then it will show poor performance during working and it may cause a safety hazard. The most common guide bar lengths available today are 16″, 18″ and 20″.
Second Instruction:  Check the Gauge
Gauge means the thickness of the chain's drive links. The gauge of your chosen chain must match exactly with the gauge of the guide bar of the chain.
If it is too thin it will show poor performance during the cutting operation and there will be a great possibility of slipping during cutting which may cause injury. On the other hand, if it is too thick you will face problems installing it with your chainsaw and there is pretty much possibility of failure to install.
The most common gauge size of chainsaw chain are .043″, .050″, .058″, and .063″ with .050″.
Third Instruction: Check the Number of Drive Links
It is the bottom portion of the chainsaw chain and one of the most important parts that need to match with the requirement of the chainsaw chain.
How many drive links are needed for your chainsaw is printed on the guide bar but if you do not find the number on the guide bar you can do the calculation by yourself.
And it is very simple to count the number of drive links. Just take the chain off the chainsaw and count the drive links.
Fourth Instruction: Check the Type of the Teeth
Chainsaw chain that is available in the market commonly has 3 types of teeth, such as- chipper, semi-chisel, and full chisel teeth.
The first type of teeth that is the Chipper teeth were once the most common teeth used in the chain. Today, it is mostly replaced by two other types.  But, that does not mean that chipper teeth have been disappeared rather they are mostly used for dirty tasks, pruning thinner branches and limbs quickly.
Semi chisel teeth are able to cut through both soft and hardwood. You may need a slightly longer time to do the heavy-duty task with the semi-chisel teeth but still, you will like it for its durability and for retaining a sharper cutting edge for a long time than the other two styles.
The shape of the full chisel teeth is the square shape and it is popular for cutting quickly even through the hardest wood. They are not suitable for cutting through dirty or frozen wood. If you do so, it will lose its sharpness quickly.
Fifth Instruction: Check the Pitch
The pitch refers to the distance between the links of the chain. To calculate the pitch of your current chain measure the distance between 3 rivets and then divide that number by 2.
The available pitch size includes 1/4″, .325″, 3/8″, 3/8″ low profile, and .404″. Among these the most common is low profile 3/8″, followed by regular 3/8″ pitch chains.
Sixth Instruction: Check the Anti- Vibration Property
Vibration is an important factor that affects the performance of the chainsaw chain. Vibration causes a loss of energy. So the manufacturers try to design the chain in such a way so that the vibration is reduced as much as possible.
So before purchasing a chain check the percentage of reduction of vibration. Some chain is designed to eliminate vibration almost completely. Purchasing a chainsaw chain with almost no vibration you may face the problem of vibration if you install a chain with the wrong gauge on your chainsaw.
Seventh Instruction: Check the Anti- Kickback Property
If the chosen chain kickbacks during operation it may cause injury. So another important characteristic to look for while buying a chain for your chainsaw is its anti-kickback property.
Generally, kickback occurs when the chain cutter is stuck in a piece of wood while it's at full throttle. Consequently, a force is generated that pushes back on the user and may cause serious injuries.
The modern chains come with anti-kickback feature that will help you to stay safe when using chainsaws to cut through hardwood. I am mentioning hardwood here because the kickback occurs generally during cutting through hardwood.
Best Chainsaw Chains reviewed
We have picked some of the popular models of the famous brands Oregon, Husqvarna, Trilink, Stihl, Tallox and SUNGATOR to make this list of 7 best chainsaw chains. Hope that you will find one that will meet your need in the best way.
1. Oregon Poulan S62 AdvanceCut Chainsaw Chain
Oregon Poulan S62 AdvanceCut is a popular chainsaw chain among professional users. A product becomes popular among professional users only when its quality and service are up to the mark.
The tough and sharp cutter of Oregon provides maximum wood bite. It is smart enough to tackle tough cutting jobs and at the same time, it is user-friendly.
The core features of Oregon Poulan S62 AdvanceCut include LubriTec oiling system, low vibration, chrome platted cutters, and hardened rivets.  Let's talk about the core features of Oregon Poulan S62 AdvanceCut chainsaw chain.
The Lubritec has been incorporated in the design of this chain saw for easy lubrication. Lubrication takes care of your chain saw for providing better service and therefore the longevity of the chainsaw and guide bar increases.
To lessen vibration-induced white finger (VWF) a small space has been created between the saw chain and the guide bar.  The low-vibration design lessens the vibration by up to 25%.
The chrome-plated cutters provide a harder surface and better wear resistance. So you get more time for cutting and you have to spend comparatively less time on filing or grinding the chain.
The hardened rivets of Oregon provide a high-quality, load-bearing surface that resists wear and improves strength. When wearing lessens and your chain does not stretch much then fewer chain tension adjustments are needed.
It is ANSI b175.1-2012 certified which ensures its kickback performance. It also meets kickback performance requirement of CSA standard z62.3. So the ideal low kickback design of this chainsaw chain has made it favorite among both homeowner and the professionals.
The most common cons found about this chainsaw is the lack of sharpness of its blade so may need to use a chainsaw chain sharpener. It does not cost much and hopefully, it will fit within your budget.
2. Husqvarna 531300437 Saw Chain
If you are not new in the field of wood cutting tools you are must be acquainted with the brand Husqvarna. Husqvarna is doing business with a reputation for a long time, so you can depend on this brand.
The Husqvarna 531300437 Saw Chain has well-contoured drive links and comes with strong and durable cutters. The engineers of Husqvarna work continuously to improve the quality of their chainsaw chain.
They have made a breakthrough to reduce the level of vibration of their chainsaw chain. So when you will use this chainsaw you will face almost no vibration or kickback.
It shows good resistance against rust. So you can use it in moisturized weather. But after work, it is recommended to wipe and clean it properly and finally store it in a dry place.
It is designed to fit any model of 41, 45, 49, 51, 55, 336, 339XP, 340, 345, 346 XP, 350, 351, 353, 435, 440, 445 and 450e chain saw. It is precise, strong and safe to use. To get a seamless chainsaw cutting experience Husqvarna is second to none.
It is easy to sharpen and you can use it to cut through any huge log of wood. So, you can use it for any heavy-duty job. The low vibration and no kickback features of this chain saw enhance safety.
Yes, it works well to cut hardwood log but if you cut some of the hardwood logs continuously it will get dull quite quickly.  Sometimes the delivered product does not fit with the recommended model of the chainsaw.
If you give it high pressure it can break down and sometimes it stuck in the wood with an echo causing a delay.
3. Trilink Saw Chain Twin Pack S62
Since the main purpose of a chainsaw chain is cutting the most important part of it is its sharp blade. To give you a smooth cutting experience Trilink has been incorporated chromed semi-chisel cutters to their chainsaw chain.
High-quality material has been used to manufacture this chain and so it is durable. But who does not want to increase the durability and get a smooth service!
Well, to increase the durability and to get a smooth service from Trilink Saw Chain Twin Pack S62 you have to lubricate it on a regular basis. To make the lubrication process easier and hassle-free Centri-Lube oil-ways feature has been integrated to all the drive links.
Regular lubrication will reduce friction and the resulting vibration. It will also reduce the stretch and as a result, will increase the longevity.
You will be happy to know that it is designed to fit various types of chainsaw models such as- Craftsman, Echo, Homelite, Husqvarna, McCulloch, Poulan and, shindaiwa chainsaw models. So there is less chance to buy a new chainsaw for this chain if your existing chainsaw is any one of these models.
Safety is one of the major concerns of cutting devices. The low kickback design of Trilink Saw Chain Twin Pack S62 ensures safety during performing the cutting job.
Since it is a matter of safety and as a conscious customer you must want to know about the certification related to safety. Trilink Saw Chain Twin Pack S62 is certified by American National Standards Institute (ANSI) for a low kickback safety chain.
It is too short for husky chainsaw and does not fit with Poulan Wildthing 18″ saw. Some customers also found the blade dull after using for a few times.
4. Husqvarna H47 5018426-84 460 Rancher
Husqvarna H47 5018426-84 460 Rancher is specially designed for professional users. If you are a professional chainsaw chain user and use a 50cc chainsaw to 100cc you can consider this chain for your chainsaw.
Unlike other chainsaw chains, it comes with a total of 3 sets of chains. It is a super sharp and super strong chain saw that faster and powerful cut but some dangers are also related to its superpower.
While working with it at a high speed you may often face the problem of kickback. So we highly recommend you to use proper safety gear before operating it.
The square-shaped chisel of Husqvarna H47 5018426-84 460 Rancher is perfect for bore cutting or plunge cutting on trees. It is sharp like a razor and gives you a smooth cutting experience. You can use it to cut through both hard and softwood.
If the blades get dull you can easily sharpen it by using a sharpening kit like a round file, electric Dremel with an angled guide and so on.
The most amazing thing is we did not find any noteworthy cons of this Husqvarna H47 5018426-84 460 Rancher. Yes, one problem you may face and that is if the seller sends you a wrong item of another model or brand but that is not a problem of the product Husqvarna H47 5018426-84 460 Rancher.
5. Stihl 3610 005 0055 Chainsaw Chain
If your existing chainsaw is small in size you can choose Stihl Chainsaw Chains of model 3610 005 0055. It is a low-profile chain made for a small size chain saw.
The product comes with a pair of chains. It is made of genuine OEM Stihl parts. It is a 16-inch chain and consists of a total of 55 drive links. You can install it with your chainsaw easily and quickly.
Yes, the blade of Stihl 3610 005 0055 Chainsaw Chain gets dull after using several times. But do not worry, even if the blade gets dull it does not mean that the chainsaw chain has become unusable. You can sharpen it again and again with any sharpening tool whenever it gets dull.
It comes in a box but the box is not pre-printed with necessary detail information about the product such as pitch, gauge, number of drive links, teeth type, etc. The product delivery is quick and so you do not have to wait for a long to get the product.
To identify the part number properly it is recommended to read the owner's manual thoroughly. To install the chainsaw chain properly you need to read the owner's manual also.
It is neither so costly nor so cheap. Its price is in the medium range. I hope that it will not exceed the range of budget.
6. Tallox Chainsaw Chain
Tallox is an all-purpose saw chain that nicely fits with many chainsaw models. It is an alternative to Oregon S52 / 9152, Worx 14″ Chainsaw Chain, Makita 196207-5 14″, Poulan 952051209 14-Inch Chain Saw Chain 3/8, Husqvarna 531300372 14-Inch H36-52 (91VG).
Tallox chainsaw chain is made from high-quality German steel. So it can endure high pressure and provides the best service to its users for a long time. I think you have got a good idea about its longevity.
It is a low profile chain saw and has been designed for light to mid-weight chain saws. If you have a big and heavyweight chain saw I will recommend you not to choose this one.
It is specially designed to work quickly and easily. I have already mentioned that Tallox chainsaw chain has been manufactured by using very strong material and at the same, its teeth are chrome plated and razor-sharp. So, you do not have to apply much more force to cut through the object.
If the blade gets dull you do not have to throw the chain away. You can rather sharpen the teeth of the chain by using the sharpener.
Considering the overall features, specifications and quality Tallox is a good value for money.  What else is needed if you get a satisfactory service from a device that is proportional to the money you have spent.
7. SUNGATOR Chainsaw Chain
SUNGATOR Chainsaw Chain has been made using premium quality raw material. It is the secret behind the durability and impressive service provided by the SUNGATOR Chainsaw Chain.
On the other hand, each rivet of this chainsaw chain is heat-treated and quenched. Heat-treatment and quenching are done for increasing the hardness of the device.
So, you can do operation upon various kinds of wood using this strong, hard and tough single cutting tool.
It shows good resistance against environmental reaction and so there is less possibility of getting rusted. The semi-chisel design of the shows tolerance against dirt and dust and consequently stays sharp longer than the other cutters.
With every cutting tool, an inevitable issue of safety comes for consideration. It creates less vibration during operation. SUNGATOR claims that they have lessened almost 20% percent vibration in their device. So you can understand that it has low kickback property that ensures good safety.
It fits with various models of Craftsman/Sears, Homelite, Echo, Husqvarna, Poulan, McCulloch, Kobalt, and Remington. I hope that your chainsaw matches with one of the models of these popular brands.
SUNGATOR Chainsaw Chain is also easy to install. You do not have to give much effort or time to install this with the chainsaw.
Frequently Asked Questions
Q: What do a low profile and high profile chainsaw chain mean?
Ans: Low profile and high profile are the two most common terms used for the chainsaw chain. Wood chips of the low-profile chain are thinner, but the speed of the operation is a little slower, whereas the high profile chain cut deeply and shows better performance than the low-profile chain.
Q: How to know what type of chain I need for ripping or cross-cutting?
Ans: If you are searching for a chain to perform the cross-cutting operation the angle of sharpening the chain should be 30 degrees.
On the other hand, if you are searching for a chain to perform the ripping operation the angle of sharpening the chain should be 10 degrees.
Q: What type of chain do I need for professional work?
Ans: Chisel chains are mostly used for professional purposes. It works faster and cuts more accurately.
Q; How long does a chainsaw chain last?
Ans: A chainsaw chain of good quality lasts for several years if it is maintained properly.
Q: How important the sequence of cutting links?
Ans: A standard kit has two leading links on one cutting chain, thus, there is a total of 50% of cutting teeth. This standard kit is costly and to make it available for most of the customers the manufacturers pay attention to lessen the price.
To lessen the cost, cutting links are installed in one or even two pitches, not on every pitch. This reduces the total number of cutting chains to 37.5%. Now it is cheaper, but unfortunately, the cutting quality is lower.
Q: Why the carbide chains are pricier?
Ans: Carbide chains are made with a special purpose of cutting through frozen or dirty woods. That is why they are pricey.
What is the most aggressive chainsaw chain?
Stihl chain
Stihl chain is a little more expensive but it's the most aggressive chain commonly available. It's also made from the hardest steel so it holds an edge better than any other brand I've tried (including Carlton, Saber and Bailey's Woodsman Pro).
What is the difference between .325 and 3/8 chain?
The . 325 may be smaller and faster, but it may not be your best bet for your everyday needs. The three-eighths-inch chain is durable and lasts longer than its smaller cousin. This makes it one of the more popular switches for chainsaw users who want to get more out of their saw.
What is a .325 chain?
"Pitch" – The distance in inches between any three consecutive rivets on the chain, divided by two. The most common are 3/8″ and . 325″.
Conclusion
If you notice that several teeth on the chain have broken off, the chain needs sharpening after every use (wearing out), the chainsaw needs to be pushed into the wood it is time to replace the chain with a new one.
When the teeth of the chainsaw chain get dull we generally recommend sharpening it again. But more sharpening means getting the size of the teeth smaller which results in a reduction of longevity. So it is better to choose a chain that needs less sharpening.
You should not use a chainsaw for a job for which it is not made of. For example, you should not use a low-duty chainsaw chain for a heavy-duty task. On the other hand, proper maintenance is also necessary to increase the durability and to get the best service.
I'm Joost Nusselder, the founder of Tools Doctor, content marketer, and dad. I love trying out new equipment, and together with my team I've been creating in-depth blog articles since 2016 to help loyal readers with tools & crafting tips.