I love creating free content full of tips for my readers, you. I don't accept paid sponsorships, my opinion is my own, but if you find my recommendations helpful and you end up buying something you like through one of my links, I could earn a commission at no extra cost to you.
Learn more
Finding the correct circuit breaker responsible for a sudden trip is rather easy. But you are thrown into a real test when you need to inspect a certain breaker corresponding to a specific power outlet. With all your electrical equipment, a circuit breaker finder adds another string to your bow regarding such cases.
A circuit breaker finder will allow you to quickly detect the faulty breaker with ease eliminating tiresome search and trial and error work. DIY use or professional use, a digital breaker finder is a must for you from a safety and time-saving viewpoint.
Now the question comes down to if you are having a hard time in your quest of a top-notch breaker finder or not. Well, rest assured because whether you are a novice or pro electrician, you will be firing at all cylinders with the best circuit breaker finder in your hands. We are here for you to go into deep analysis prioritizing decency and efficiency.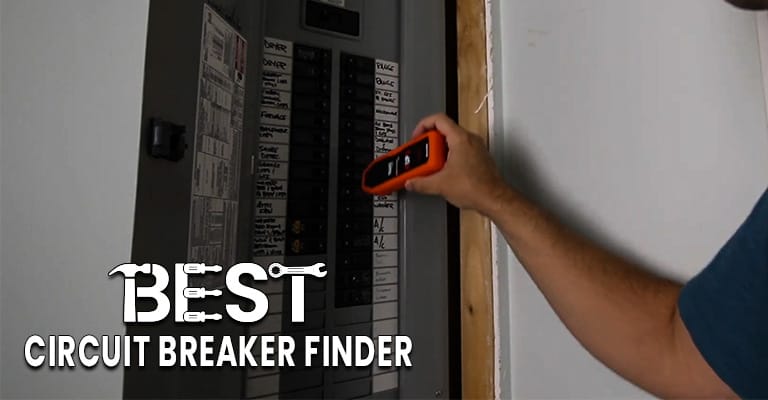 Circuit Breaker Finder buying guide
It needs no second telling that the most valued breaker finders have some of the most distinguished features that differentiate them from other products. We have studied in-depth, the things you need to consider before buying the best product.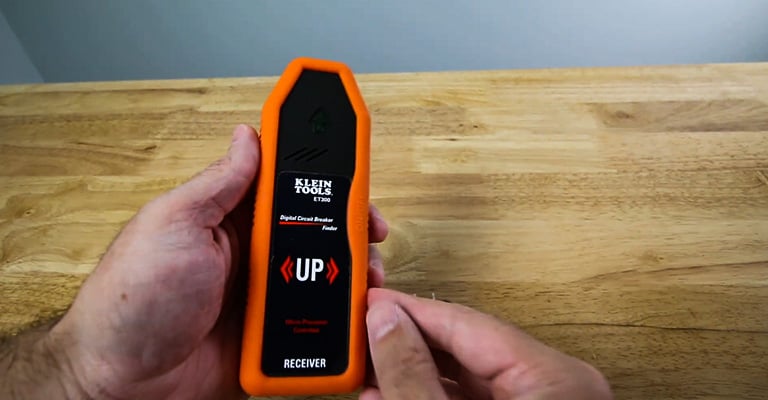 Range
The range actually refers to the maximum distance that can be allowed between the transmitter and receiver to properly operate. Some circuit breaker finders can go up to 1000ft, while some can go 100ft. Outlets are mostly placed distantly hence go for higher value unless the field of application is smaller.
Quality of Build
You'll see most of the finder's build are of plastic. While buying, make sure the plastic is not just for decoration. With that, ensure the outlet socket type matches the finder pins and whether the pins are stiffly built. A loose contact due to unmatched or poorly built pins will surely fail to locate the corresponding breaker.
Operating voltage
Most of the breaker finders have an operating voltage ranging from 90-120V AC with a frequency level of 50-60Hz. A higher range enables you to take the breaker finder in your bag and take it out for residential, commercial or industrial purposes. As an electrician, you have to keep an eye out for the voltage range while buying.
Sensitivity Adjustment
The type of sensitivity adjustment you will find is either manual or automatic. The manual sensitivity adjustment requires you to play with the dials and knobs to get your operation started. While the automatic sensitivity adjustment does exactly what the name suggests. Unless affordability hits you, go for the more ergonomic automatic tracers.
Battery and Automatic Switch-off
With the issue of accidentally turning on the switch in case of most of the finders, battery life is a thing you cannot overlook. Some of the circuit breaker finders have an automatic switch-off system after a certain period of inactivity, while some don't.
For most of the decent breaker finders, you'll find an installed 9V battery for the receiver.
Accuracy
To get an accurate result, you have to make sure that the outlets are not too congested with wires. There's no alternative other than turning towards reputed brands like Klein, Zircon, and others.
Indicator
The target breaker indication is done by the combination of both LED lights and an audible sound for most of the breaker finders. Some only have the visual indication feature. The best option is the newer technology of microprocessor-based identification that will accelerate accurate identification.
GFCI Circuit Tester
Ground Fault Circuit Interrupter or GFCI is a circuit breaker designed to break the circuit way faster than most other circuit breakers. If your work constantly involves kitchens and bathrooms or similar places where water sources are near,  you'll need to bag a breaker finder having this feature since GFCI outlets are used there usually.
Warranty
Warranty is not common in the case of most of the breaker finders. Nevertheless, the best of the finders will give you 1-2 years of warranty. It is always better to have a warranty card if the finder you buy has a higher level of price and operating conditions.
Best Circuit Breaker Finders reviewed
Among many circuit breaker finders in the market, we have sorted out the excellent ones with their pros and cons explained, leaving no room for doubt. They're just waiting for you to make the final choice.
1. Klein Tools ET300 Circuit Breaker Finder
Assets
A faulty circuit breaker finding will never be a problem with ET300 at your disposal. This tracer consists of two separate devices, a transmitter and a receiver that combine the workflow making your search for the right one faster.
This product allows you to swiftly and automatically find the correct breaker ranging from 90V to 120V standard outlet. If you are an electrician monitoring the electricity usage or looking for a tracer for residential use or industrial troubleshooting, then this is the correct voltage operation range for you.
There is an indicator with a flashing arrow quickly and accurately signaling you about the specific breaker of your search. Just hold the receiver wand perpendicular to the breaker and start moving it from one breaker to another until you find the right one.
Besides, the microprocessor identification adds more accuracy to your tracing. More often than not, you will be satisfied with the number of times it gives the correct result while tracing.
The transmitter portion will give you a reach of 1000 feet which is considerably benefitting. Also, the auto power-off feature lets you reassure yourself about battery life.
As a low voltage circuit breaker finder, ET300 stands out due to its accuracy, compactness and efficient operative features. You can get your hands on one of these jewels as they will work like a charm for your electrical outlets.
Drawbacks
You might face tracing failures at any time.
2. Extech CB10 Circuit Breaker Finder
Assets
Extech CB10 utilizes a GFCI tester allowing you to find and test breakers or to trace faulty wirings. Tracing the right breaker has never been an issue with this particular product in your hands.
The two components are just the same as the previous one. One component you plug into the socket, another part will tell you which circuit the tester is on for. The GFCI tester will allow you to check wirings and breaker conditions.
Whether you are looking to solve your trips yourself or looking for a tracer for professional use, Extech CB10 comes in handy. The manual sensitivity adjustment of the tracer will let you pinpoint the faulty breaker with precision.
The three LED lights on the bottom of the tester will give you illumination based on faults in breakers. At the time of finding the right breaker, you'll hear a beep as a confirmation. The operating range is 110V to 125V AC circuit breakers which is slightly higher than the previous product.
The product comes with a 9V battery for the receiver. The one year warranty that comes with it allows the product to have one more thing going for itself.
Overall, Extech does justice to its name with such a handy and easy operative device.
Drawbacks
The ground prong being popped out easily due to loose connection.
3. Sperry Instruments CS61200P Electrical
Assets
This unique product utilizes a magnetic back, thus, it can be operated with hands being free. You'll be amazed to see the effectiveness of this product that comes with the light and switch, breaker finder and accessory kit.
The transmitter is integrated into the main body for convenience in operation. With the GFCI test functionality, the transmitter acts as a three-wire circuit analyzer.
The maximum voltage you can work with is 120V AC with a corresponding frequency of 60Hz. You will be able to quickly locate the correct circuit breaker without any wastage of time.
The unique design and molded rubber grip will make your operation easier. Just like any other circuit breaker finder, the receiver has a bright LED visual indication along with an audible alert which will lead you to the correct breaker utilizing temperature measurement.
If you are fed up with the adjustment of dials and so on, this tracer eliminates the hassle with its Smart Meter patented technology. The integrated storage system for probe and lead is clever and efficient.
A 9V battery comes with the package specifically for the receiver. Overall, this set of instruments will do a decent job for you in tracing, be it faulty wirings or defected circuits.
Drawbacks
The 60Hz noise might mix up with audible alert noise and give you a wrong indication of the breaker.
Often less accurate reading.
4. IDEAL INDUSTRIES INC. 61-534 Digital Circuit Breaker Finder
Assets
With the circuit breaker finder from IDEAL in your hands, you would not need to play guessing games by trial and error to find the breaker. Whether the breaker is connected to an AC outlet or lighting fixture, this product will never disappoint you.
IDEAL 61-534 has a transmitter working on 120V AC circuits allowing you to use it for heavy loading conditions. Fuses and breakers are easily identified with the combination of digital receiver and GFCI circuit tester.
You will come across a distinguished feature which is an automatic and non-contact voltage sensor just the task a separate non-contact voltage tester accomplishes. It can sense voltage in a range of 80-300V AC. The receiver has an automatic switch-off feature that will come onto act after 10 minutes of inactivity.
With the thought of battery life put aside, the breaker you are searching for will easily be found with the help of this tracer. Its LED indication rarely fails. Besides, you'll be able to distinguish among outlets accurately and also be able to test them with precision.
Overall, the product has a sturdier build and great design. The service that will be provided for you will be satisfactory. The features are almost exactly as described and efficient for DIY use.
Drawbacks
The rocker switch on the receiver is vulnerable as it can be turned on accidentally.
Accuracy has been an issue in some cases.
5. Zircon Breaker ID Pro – Commercial & Industrial Complete Circuit Breaker Finding Kit
Assets
Versatility and adaptability come hand in hand when it comes to Zircon circuit breaker finder kit. This kit extends your reach to most of the outlets including industrial 230 and 240 volt. Be it residential, commercial or industrial environment, you can use this kit by yourself.
One of the amazing features is that the tracer has automatic sensitivity adjustment eliminating the need for dials or knobs.
The double scanning process includes calibrating and tracing the target circuit breaker. In other words, this will allow you easy tracking and labeling of breakers.
The circuit tracer has patented technology that sorts out false positives and makes scanning efficient while terminating trial and error work. The transmitter and receiver combine to trace out faulty breakers and isolate them.
After the second scan, you will identify the correct circuit breaker and upon identification, you will see a green LED light and audible tone as confirmation. The easy operation and handling of the toolkit make it eligible for DIY applications.
The kit includes blades, clips, and several other accessories along with the tracer. If you are looking for a breaker finder for your office room or buildings and looking to solve your problems by yourself, there's no second choice except this one.
Drawbacks
The toolkit doesn't have the automatic screen off feature that drains much power.
The 9V battery loses power when sitting idle that decreases battery life.
6. Amprobe BT-120 Circuit Breaker Tracer
Assets
For a professional, Amprobe's circuit breaker finder is the definition of reliability. When it comes to distinguishing and efficiency in tracing breakers, it is beyond the level. The quality and accuracy of the kit leave no room for questions.
You will be particularly interested in the automatic sensitivity adjustment of the receiver. As your search for the correct becomes more smooth and precise, time wastage is prevented and no trial and error work is needed.
This product efficiently does its job when it comes to identifying the correct circuit breaker quickly and clearly. All you have to do is to plug the transmitter into an outlet and the receiver will do the rest of the job in finding the breaker utilizing LED light.
BT-120 is compatible with a 90-120V AC breaker system with a frequency of 50/60Hz. Also eligible for use in office, residential, commercial or HVAC applications. The kit includes a transmitter and receiver with a 9V battery installed.
A noticeable thing about BT-120 is that it has a red LED indicator on the transmitter which indicates whether the receptacle is energized or not. The product itself is rugged, safety rated and reliable making it a handy tool for professional users.
Drawbacks
The on/off switch of the receiver is very much sensitive that may malfunction some times.
It might give you a wrong indication if the circuits are congested.
7. Hi-Tech HTP-6 Digital Circuit Breaker Identifier
Assets
Hi-Tech's HTP-6 fills in as your breaker finder with decency and ease. Its compactness and the design will surely convince you to have a look at it. Of course, to add to that, the performance has also been proved satisfactory.
The tracer works fine just as described. You just have to calibrate it first to accurately find the target fuse or breaker. Plug the transmitter into an outlet and let the receiver do its work.
No trial and error looping, correctly identifying within the shortest possible of time give you a good impression. You will find the tracer to be fully automatic. That refers to automatic sensitivity adjustment.
Another commendable feature is that it can be calibrated digitally for even better, faster and reliable identification.
The breaker responsible for the sudden failure is identified utilizing the flashing arrow indicator. Besides, you need not be worried about the battery life as it has an auto switch-off feature which is also known as a smart switch.
Overall, if you are looking for a breaker finder for your home outlets, and trying to solve the issue by yourself instead of consulting a pro, you can get yourself one of these for a chance.
Drawbacks
The power button is positioned at an odd place. As a result, you may accidentally push on that and thus power might be drained.
Frequently Asked Questions
Here are some frequently asked questions and their answers.
How do you trace a live electrical circuit?
How do you locate a dead circuit?
How do I find a circuit breaker in a dead outlet?
How do you test a circuit breaker?
How do you check if outlets are on the same circuit?
If the portable light goes off when you switch off any breaker, leave that breaker off. Go to the portable light and remove it from the first outlet. Plug the portable light into the second outlet. If the portable light does not go on, then the two outlets are on the same circuit.
How do I find a circuit breaker without power?
Use a non contact tester to see if there is power at the GFCI. If it does then get a helper and have them test the receptacle while you go through panel turn each breaker on then off until you find the one that turns the power off at the receptacle.
How does a circuit breaker finder work?
How a Circuit Breaker Finder Works. … At the breaker box, you use the electronic receiver that is paired with the transmitter. When the receiver passes over the circuit breaker carrying the electronic signal from the transmitter, the receiver rapidly beeps and flashes. It's as simple as that.
How do I find a break in my house wiring?
Pull out the problem outlet, turn the circuit back on, and use a voltmeter to check if the wires going to the outlet are properly energized (Verify the neutral->hot voltage is as expected). If this shows the wire is bad, you will probably need to fish a new wire through the wall (and remove the old, broken wire).
What happens if I drill into a wire?
Damage to electrical wiring from drilling into walls is a surprisingly frequent phenomenon – especially when buildings are being renovated. … In the worst case, if the protective earth conductor has been damaged you otherwise run the risk of a fatal electric shock.
Do stud finders detect wires?
All stud finders do the same basic thing: detect where support areas like studs and joists are inside the walls. All stud finders can detect wood, most detect metal, and many also detect live electrical wiring.
How do you trace a circuit?
How do you test for electrical dead?
The procedure for proving dead is to take your voltage indicator and check it against a known source, such as a proving unit, then test the circuit, then test the voltage indicator against the known source again to prove the tester has not failed during testing.
Where is the first outlet in a circuit?
It's the best guess as to what might be "first". Carefully record the connections, and then remove the receptacle and separate all the wires. Turn the breaker back on, and test everything on your list. If everything is without power, then you have found the first.
Q: How long does a battery last?
Ans: The battery should be replaced with a new one after 50 operating hours.
Q: Can a tracer be used to trace a wire behind the walls?
Ans: Some of the best tracers will allow you to trace wires behind walls. But those instruments are much expensive in comparison.
Q: What can I do if the finder fails to detect faulty breakers after some time?
Ans: First, you have to make sure that the wirings are not too tangled up. Check the battery of the receiver and adjust sensitivity correctly if it is manual. If you still have problems, consider contacting the manufacturer.
Conclusion
Most of the circuit breaker finders do a fine job in doing what it does best: tracing faulty breakers. The difference is just about an eyelash. But that small margin is what differs a decent gadget from an ordinary one.
In our eyes, Klein ET300 stands out with its rubber over-mold, providing protection for units as well as preventing accidental activation of the switch frequently. As a residential electrician, this tool comes in handy for you. But, for home users, the Extech CB10 finder is found to be more appropriate.
Knowing the right properties required can be tricky and tiresome. That being said, our sole purpose in this article was to allow you to zero in on the best circuit breaker finder you can get.
I'm Joost Nusselder, the founder of Tools Doctor, content marketer, and dad. I love trying out new equipment, and together with my team I've been creating in-depth blog articles since 2016 to help loyal readers with tools & crafting tips.