I love creating free content full of tips for my readers, you. I don't accept paid sponsorships, my opinion is my own, but if you find my recommendations helpful and you end up buying something you like through one of my links, I could earn a commission at no extra cost to you.
Learn more
Stakes are high that you'll end up with a faulty bend if you're using conventional tools and mechanisms for bending tubes. Bending conduits can bring great difficulties when not done with the right tool, and that's when the best conduit benders become a necessity.
Getting a top-notch conduit bender will not only help you obtain flawless bends but also speed you up for the maximum productivity you can get. How and where to get, while every product claims itself to be worthy? Well, these questions won't be bothering you anymore, as we are here to guide you towards the most valued products made just for your satisfaction.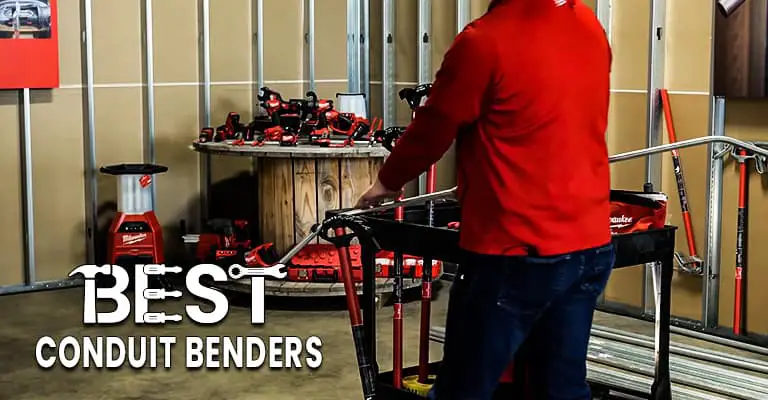 Conduit Bender buying guide
Just like any other product, purchasing a conduit bender may seem easy but does require some extra knowledge of what to expect and what to avoid. Keeping that in mind, we have encountered and shared a bunch of factors that you need to consider before making your next move. The days of asking others for advice will be finally over once you go through this section.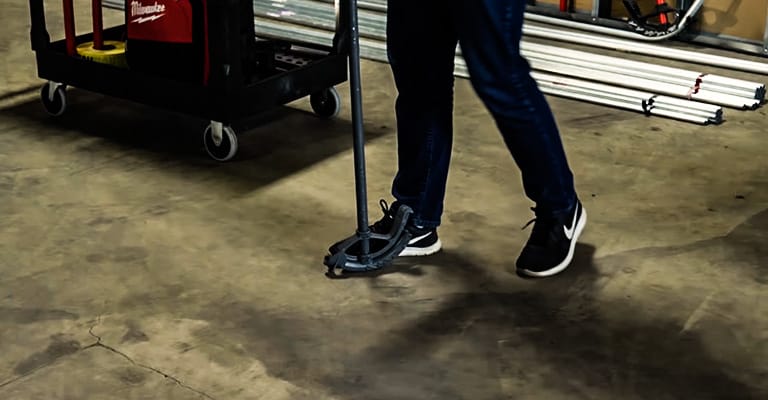 Build Material
When it comes to conduit benders, the material used in it matters more than anything else. The manufacturers offer various elements, such as steel, aluminum, etc. Although steel provides excellent power, it adds some weight to the tool as well. So, make sure you look for a solid aluminum build, which will not only offer strength but also give the ease of carrying.
Weight and Portability
Benders come in different sizes and shapes due to specialized uses. As a result, you will find a variety of tools in the market, having a variety of weights. Conduit benders are found to be weighing between 1 to 9 pounds! Yet, you can't throw away one just on the basis of weight since the weight itself has some basis too.
Be aware of the fact that you may face quite a hassle in carrying heavy benders from time to time, and thus, it will be wise to go for the lightweight ones if you fall in this category users. But since it's often about bending hard metals the tube holding portion should be robust and rigid. This implies that, if bending conduit after conduit is what you're longing for, weight should not be the strictest defining factor
Size of the Foot Pedal
You will find it easier to bend tubes using broader foot pedals than the thinner ones. So, try to make sure that the conduit bender you purchase features a foot pedal, which is wide enough to provide the necessary comfort.
Presence of Handle
Although many companies provide the required handle along with the head of a bender, some of them don't. Whether you want to put the additional effort into finding the matching handle or not depends on you. But as the extra hassle will disappear with a complete package of head and handles, taking such a conduit bender is therefore recommended. But keep a balance of your budget.
Offered Tube Sizes
Benders, in general, feature one or two sizes of tubes that can be bent using them. Such dimensions include the ¾ inches EMT and ½ inches rigid tubes. These are the radius measures your conduit bender has to ensure. You may also go for the unique tools that allow all the sizes of tubes.
Markings
A way of identifying top-class conduit benders is to check the number and quality of cast-in markings on their body. These markings include degree values and help you to bend your tubes in the desired shape. Make sure you check the presence of the markings if you want to work faster and smoother.
Degree Range
You may need different amounts of bend, depending on the type of project. So, consider purchasing a bender that offers a wide range of angles. Also, go for the ones that are capable of bending from 10 to 90 degrees at least. Some manufacturers also provide a capacity of 180 degrees, and you may get one if your projects require such an angle of bending.
Design
The more ergonomic the design gets, the more enjoyable your experience of bending tubes become. You should not purchase the poorly designed ones because of the difficulty they bring along. Always check if the designs are perfect and if they provide a good experience of working.
Specializations
There are a variety of bending techniques for different purposes, such as saddle bends, stub-ups, offsets, etc. You may consider picking a bender that is specialized in one or two types of bending, depending on your requirements. Looking for an all in one is not the best option every time.
Warranty
Companies that are concerned about the satisfaction of their users provide a sufficient quantity of warranty. You never know whether the unit you receive will be completely okay or not. Hence, it is better to grab a tool that comes with a good warranty.
Best Conduit Benders reviewed
Does the abundance of products in the market overwhelm you? We feel you, and that's why our team has put all the efforts to find some of the top-notch conduit benders out there. We hope that our endeavor will be very much helpful for removing all of your confusion.
1. OTC 6515 Tubing Bender
Commendable Aspects
Do you often require to bend conduits of different dimensions? Then this 3-in-1 conduit bender can be an ideal choice for you, as it alone offers easy bending on three sizes of tubing. That means you can bend tubes of 1/4, 5/16, and 3/8 inches with the help of a single tool that comes with a limited lifetime warranty too.
Unlike the other benders down this list, OTC 6515 comes with a unique design that offers you bending even up to 180 degrees. Regardless of tubes made of copper, brass, aluminum, and steel, you won't have to face any problems like kinks while using this tool. So, joining copper pipes without soldering will be easy with it.
Apart from these, they have made it lightweight so that you can carry it with you whenever needed. It's appreciable how this bender weighing only 1.05 pounds delivers such a first-class performance. You can get your job done in no time, as they have located the markings very precisely. All these from a tool of such reasonable price sounds like a great deal indeed.
Drawbacks
A tiny drawback is the small size of its handle. As a result of that, you may find it a bit tough to get a solid grip if you intend to bend tubes made of hard materials.
2. Klein Tools 56206 Conduit Bender
Commendable Aspects
Get ready to be in awe with this exclusively designed tool from a trusted manufacturer, the Klein Tools. When met with excellent ergonomic design, even the traditional Benfield head allows you to perform all sorts of bends such as stub-ups, offsets, back to back, and also saddle bends accurately. Speaking of design, this is the ½ inch EMT version, which is suitable for most of your projects.
When it comes to portability, the 56206 bender remains ahead in the race with its only 4.4 pounds of weight. The lightweight construction has been possible due to the die-cast aluminum used in it, which gives you a unique formation of durability and portability. You can enjoy the utmost comfort and stability, as the foot pedal of it is very wide.
Furthermore, the bold cast-in benchmark symbols and degree scale having markings for 10, 22.5, 30, 45, and 60 degrees are sure to add some pace to your job. There is also an easily visible arrow for aligning on the conduit marks. You won't have to worry about your conduit rolling or twisting because of the internal hook surface while the interior clamp holds them for cutting.
Drawbacks
Some pitfalls are that it lacks the 90-degree marking and is not suitable for tubes of different sizes.
3. NSI CB75 Conduit Bender
Commendable Aspects
Having an aluminum die-cast build, the NSI CB75 is indeed lightweight and yet a heavy-duty bender. It surely can be an excellent choice for all your everyday bending works as it is easy to carry around. What makes this tool special is its elevated bending points of reference, which they added, keeping the aid of the installer in mind.
They have added cast-in angle indicators to it so that you don't face any difficulties in achieving the bend of your desired angle. Due to the simplicity in its design, you will find it very easy to use. The bender also has a 6 degree inside radius for ease of working.
Not only does it give access to bending for ¾ inches EMT, but also ½ inches rigid. What this means is that whether you need to bend EMT of standard ¾ inches or ½ inches, the bender can perform the task for you. As a result, you get the freedom to use the same conduit bender for all your projects in hand.
Drawbacks
This product from NSI has some tiny problems, including the lack of a handle. Some users also proclaimed that the bubble level often falls off while working.
4. Greenlee 1811 Offset Conduit Bender
Commendable Aspects
Good news for you if offset bending is your priority. Cause, Greenlee 1811 is the only product on this list which is specialized for the offset bending task. The bender features a depress handle that allows you to create offset matching with the knockout box.
Bending offset has never been this simple, as this bender allows you to do so in just one straightforward operation. All you have to do is insert the tube and release the depress handle. Then remove the conduit out of the machine. And that's it! Your job to bend ¾ inches EMT is done correctly. Feel free to trust its durability, because of the aluminum body weighing 8.5 pounds.
Moreover, you can make offsets that are identical every single time, which is essential for boxes mounted on the wall with exposed conduits. Apart from that, you can get offsets of 0.56 inches in maximum from this tool, which is very rare among all the conduit benders out there.
Drawbacks
Carrying the Greenlee 1811 can seem to be quite painful due to its heavyweight. It only allows bending of ¾ inches EMT and no rigid ones. A few customers also explained that a full throw of its handle results in making an offset that is bigger than the standard size.
5. Gardner Bender 931B Conduit Bender
Commendable Aspects
Being one of the leading brands in this sector, Gardner Bender has packed this one with loads of features. To start with, let's talk about its built-in acrylic level gauge that helps you in making precise bends quicker than ever. Then comes the patented vise-mate with which you can keep your tube steady while cutting them appropriately.
On top of that, the bender consists of embossed sight lines ranging from 10 to 90 degrees, including 22.5, 30, 45, and 60-degree markings as well. These lines will guide you to getting your necessary bends quickly. Besides that, you can achieve a 30-degree bending just by keeping the handle vertically straight.
Along with regular ¾ inches EMT, you will be able to perform bending even on hard tubes like ½ inches rigid aluminum ones. So, it looks like toughness won't be an issue with this tool. 6-inch bending radius is also present in this lightweight bender that weighs only 2.05 pounds.
Drawbacks
You may be a bit disappointed with the Gardner Bender 931B if you have been looking for a bender that comes with an added handle.
Frequently Asked Questions
Here are some frequently asked questions and their answers.
What is the most basic conduit bend?
The 4 most common bends to know how to make are the 90° Stub-Up, Back to Back, Offset and the 3 Point Saddle bends. It is common to use a combination of the bender markings when making certain tube profiles.
How do you bend a conduit accurately?
How do you use a Klein conduit bender?
What is the star on a conduit bender?
Star: Indicates back of 90° bend, for back to back bends. D. Marks: The degree marks indicating the angle of the pipe bent.
How do you calculate gain in conduit bending?
Here's the method to calculate the gain: Take the bending radius and add half the O.D. of the conduit. Multiply the result by 0.42. Next, add the O.D. of the conduit.
Can rigid conduit be bent?
Stainless steel can be bent using a standard rigid conduit bender, but exercise caution, as there can be a greater degree of springback in stainless pipe. This is especially true for larger stainless steel rigid conduit sizes, 2" or larger. a. Hand benders are suitable for conduit sizes ½" to 1".
How do you use a 90 inch conduit bender?
How do you bend conduit with a pipe bender?
Place the bender on the conduit with the bender's hook facing the free end of the tube to be bent opposite the original bend side. Make sure the conduit is resting properly in the bender's cradle and lineup the Star Point Symbol with the mark you placed on the tubing.
What size conduit do I need for 12 2 wire?
For two 12/2 NM cable, you need at least 1″ conduit (by calculations below) but it'll still be a difficult pull. For two 12/2 UF, you'll need at least 1-1/4″ conduit.
When bending a 1/2 conduit What is the take up for a stub up?
5 Steps to Bend a 90 Degree Using 1/2 Inch EMT Conduit
#1 – Measure how long you need the stub up length. For this example we'll use a stub up length of 8 inches (8″). Using the table above we know the take up for 1/2 inch EMT is 5 inches.
How do you use a handheld conduit bender?
Q: What does EMT mean?
Ans: EMT represents a type of tubing used for housing electrical wires. The term EMT stands for Electrical Metal Tubing. Such tubes are usually thinner than the rigid ones and are easy to bend with the help of conduit benders.
Q: Can I use a conduit bender for bending ½ inches rigid conduit?
Ans: Well, you can perform the task. But before that, you have to make sure the bender you are using possesses the necessary strength. Cause, conduit benders, in general, are built for the EMTs, and only a few are powerful enough for bending rigid aluminum tubes.
Q: Are conduit benders safe enough?
Ans: Yes, they are safe. But it depends solely on your usage, as even the most reliable tools can misbehave when used clumsily. Make sure that you wear protection glasses and also do read the instruction manual thoroughly.
Bottom Line
There is no need to explain the importance of a conduit bender if you are a professional in the electrical or construction field. Even if you are just a novice, it will surely serve your desired bending purpose. We believe that the selected benders helped you to find the best conduit benders among such a vast market collection.
You can select any of the listed tools that fit your requirements. Our team has found the OTC 6515 Tubing Bender to be the most attractive among the others due to its ability to bend tubes of almost all kinds i.e. versatility. On top of that, it even allows to bend tubes up to 180 degrees, which makes it one of its kind.
Another product that you can pick is the Klein Tools 56206 Conduit Bender, which has an excellent build quality as well as top-class ergonomic design. So, it is sure to deliver outstanding durability. Our last suggestion would be that whichever bender you choose to buy, don't just dive for the specifications, rather try getting one that suits your needs best.
I'm Joost Nusselder, the founder of Tools Doctor, content marketer, and dad. I love trying out new equipment, and together with my team I've been creating in-depth blog articles since 2016 to help loyal readers with tools & crafting tips.