I love creating free content full of tips for my readers, you. I don't accept paid sponsorships, my opinion is my own, but if you find my recommendations helpful and you end up buying something you like through one of my links, I could earn a commission at no extra cost to you.

Learn more

Have you ever imagined tripping over a cord while working with your miter saw? That is not the most likely scenario, but cords are a hassle nonetheless. And to make sure you never have to face that hassle while woodworking on a serious project, you need the best cordless miter saw.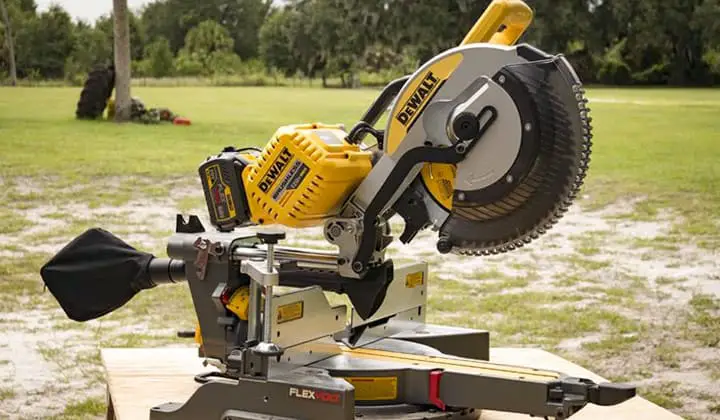 Now, there are tons of options out there – and we can assure you that because we have done our research. We have come across saws that run on two batteries, along with ones that make no noise while working. The good news is, we have reviewed the best ones for you. So dive in without overthinking!
Top 7 Best Cordless Miter Saw Reviews

If you are tired of mediocre miter saws that do not live up to your standards, then you must go through our top seven picks.
1. DEWALT 20V MAX 7-1/4-Inch Miter Saw, Tool Only, Cordless (DCS361B)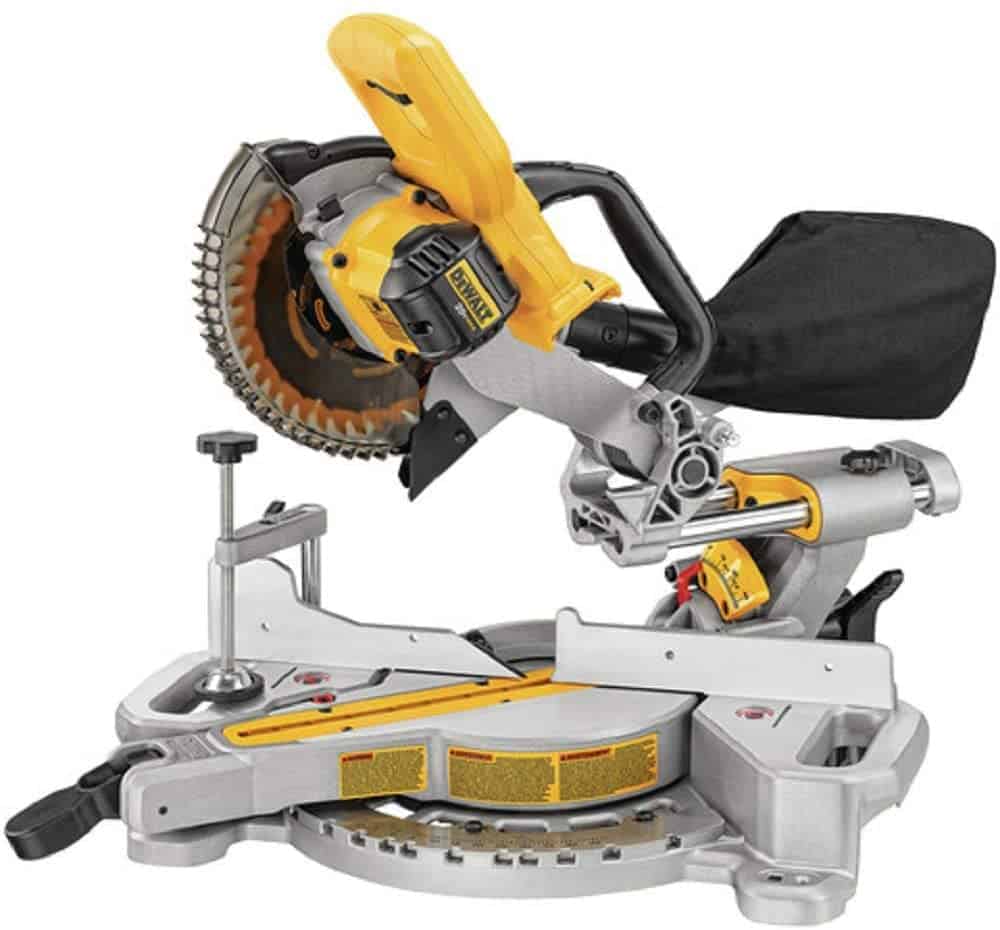 It might be difficult to find a miter saw that is accurate and portable at the same time. But here is a cordless one that will fill both of those criteria along with a lot more. The lightweight and compact design of this saw make it effortless to transport. With a weight of 30 pounds, you won't face any hassle when storing the machine either. Despite being so lightweight, the product delivers unmatched cutting capacity. With this saw, you can cup a 3-1/2-inch base vertically or 3-5/8-inch nested crown without any hassle. On the other hand, the machine comes with a cross-cut positioning system. The benefit of this system is that it ensures more visibility and accuracy by providing a cut line free of adjustment. Not to mention, you will be getting stainless steel to deter plate with eleven stops. With this number of stops, you will be getting more cutting accuracy, which will provide better results for your projects. What makes the saw even more accurate and easy to use is its large bevel scale. This scale will make it very convenient for you to adjust the bevel angles without making any mistakes. The cam-lock miter handles will also contribute to delivering fast and precise angles. And the base fence support has been machined to make it more durable, so you wouldn't have to replace it anytime soon. Pros 
Compact and lightweight for portability
Cutline with no adjustment for visibility
Improves cutting accuracy
Easy to adjust the bevel angles
Delivers fast and precise angles
Cons 
The blade spins too slow
It does not include batteries
Verdict  This lightweight and compact miter saw will provide accuracy and durability at the same time. Check prices here
2. CRAFTSMAN V20 7-1/4-Inch Sliding Miter Saw Kit, Cordless (CMCS714M1)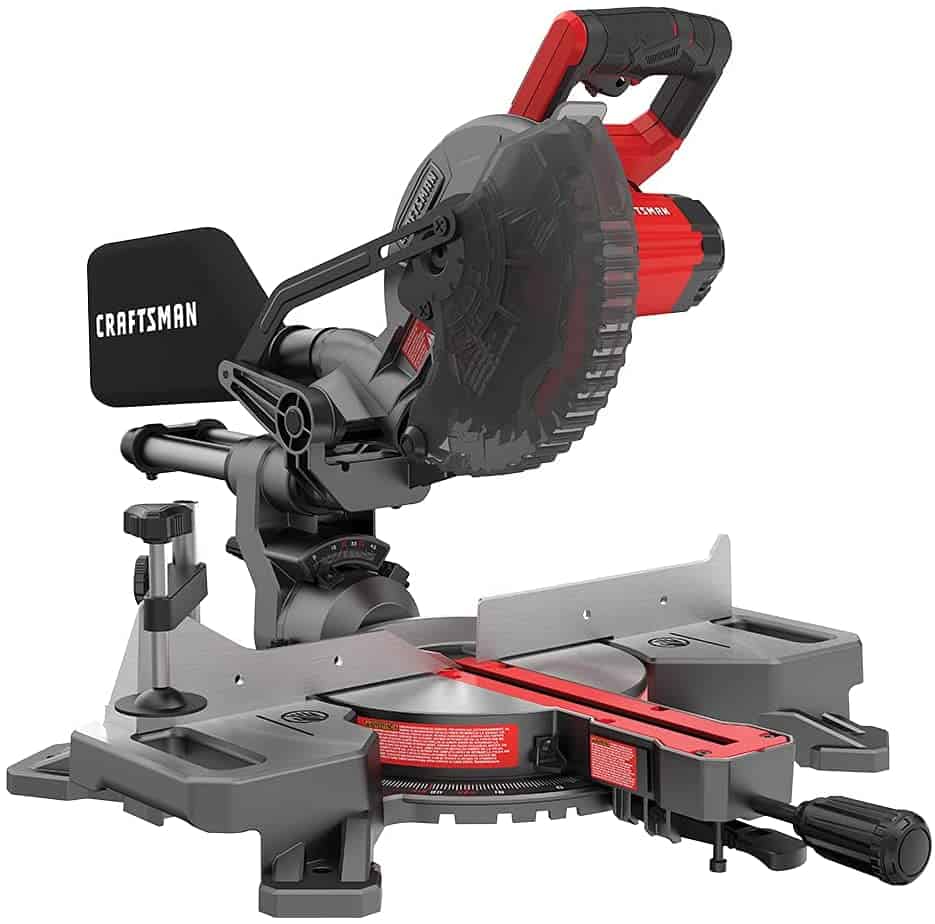 If you don't want to spend your money on overpriced machines anymore, you need to find one that provides excellent value for money. And here's a cordless miter saw that will be worth every bit of your investment in it. Do you have multiple workplaces? If so, then you are going to love this product because not only is it lightweight, but it also contains side handles that will make it easy to carry. Despite being lightweight, it provides tremendous power like none other. The motor's power makes it suitable for cutting baseboards, lumbers, hardwoods, and such. Moreover, you will also be getting remarkable speed, thanks to the power that this machine delivers. With a speed of 3,800RPM, you will be able to trim any material with ease. The slide capabilities of this saw will surely impress you – if you aren't already. You will be getting an 8-inch cross-cut and a 5-1/2-inch cross-cut at 90 degrees and 45 degrees, respectively. But that is not all. The machine indeed includes added capacities. For instance, it is capable of cutting 3-1/2-inch baseboards vertically along with 3-5/8-inch nested crowns. When it comes to accuracy, this saw will surely exceed all your expectations. With an LED light, your visibility will significantly be increased. Not to mention, there are nine stops included for adjustment. Pros 
Easy to carry with side handles
Tremendous power with 3,800RPM speed
Cross-cuts at two different angles
Cuts baseboards and nested crowns
Increases visibility and accuracy
Cons  Verdict  This cordless miter saw comes with great speed and power while providing outstanding visibility. Check prices here
3. Makita XSL06PT 18V x2 LXT Lithium-Ion (36V) Brushless Cordless 10″ Dual-Bevel Sliding Compound Miter Saw with Laser Kit (5.0Ah)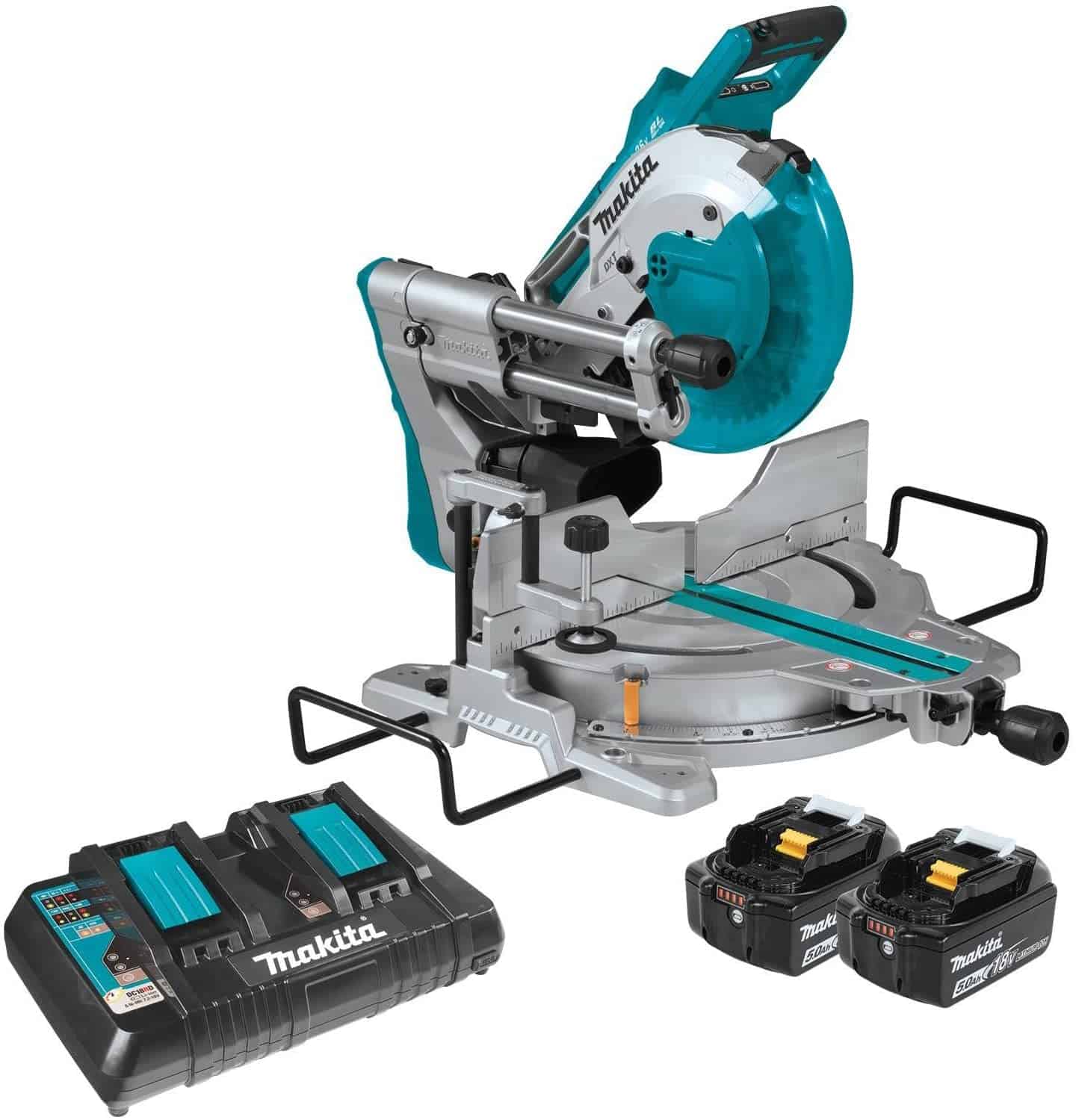 To get the most out of a cordless miter saw, it is essential to make sure the product includes excellent battery life. Although this aspect may be missing in many saws, you will get much more in this one. Furthermore, speaking of battery life, the machine contains two to ensure you don't run out of it while you are in the middle of an important project. Therefore, you will be getting the power you need to work with just about any material. With more batteries, the runtime and speed significantly increase as well. So, you will be getting the performance of a corded saw without the hassle of a cord. Due to a speed of 4,400RPM, the product ensures smooth cutting at all times. No matter which material you are working with, the BL motor is electronically controlled to ensure the cutting is always smooth. Another huge benefit of the brushless motor is that it doesn't heat up as much as its brushed counterparts. As a result, this saw runs more efficiently and is cooler throughout its life. With this product, you won't have to take the hassle of adjusting the speed every now and then. The automatic speed change feature will adjust the torque and speed during your cuts for the best performance. More importantly, the miter saw comes with a blade that is 10 inches long. Therefore, you will be able to use this item for a lot of versatile projects. Pros 
It contains two batteries for high performance
4,400RPM speed with smooth cutting
More efficient and cool
Automatically adjusts speed
10-inch blade ensures versatility
Cons 
Wears out easily
It comes with alignment issues
Verdict  This cordless miter saw comes with two batteries to deliver optimal power, speed, and accuracy. Check prices here
4. Evolution (R185SMS+) – 7-1/4 In Multi-Material Single Bevel Sliding Miter Saw (AKA Mitre Saw) – Cuts Wood, Metal & Plastic – 15A Motor – Laser Precision Guidance – Incl Multi Purpose Blade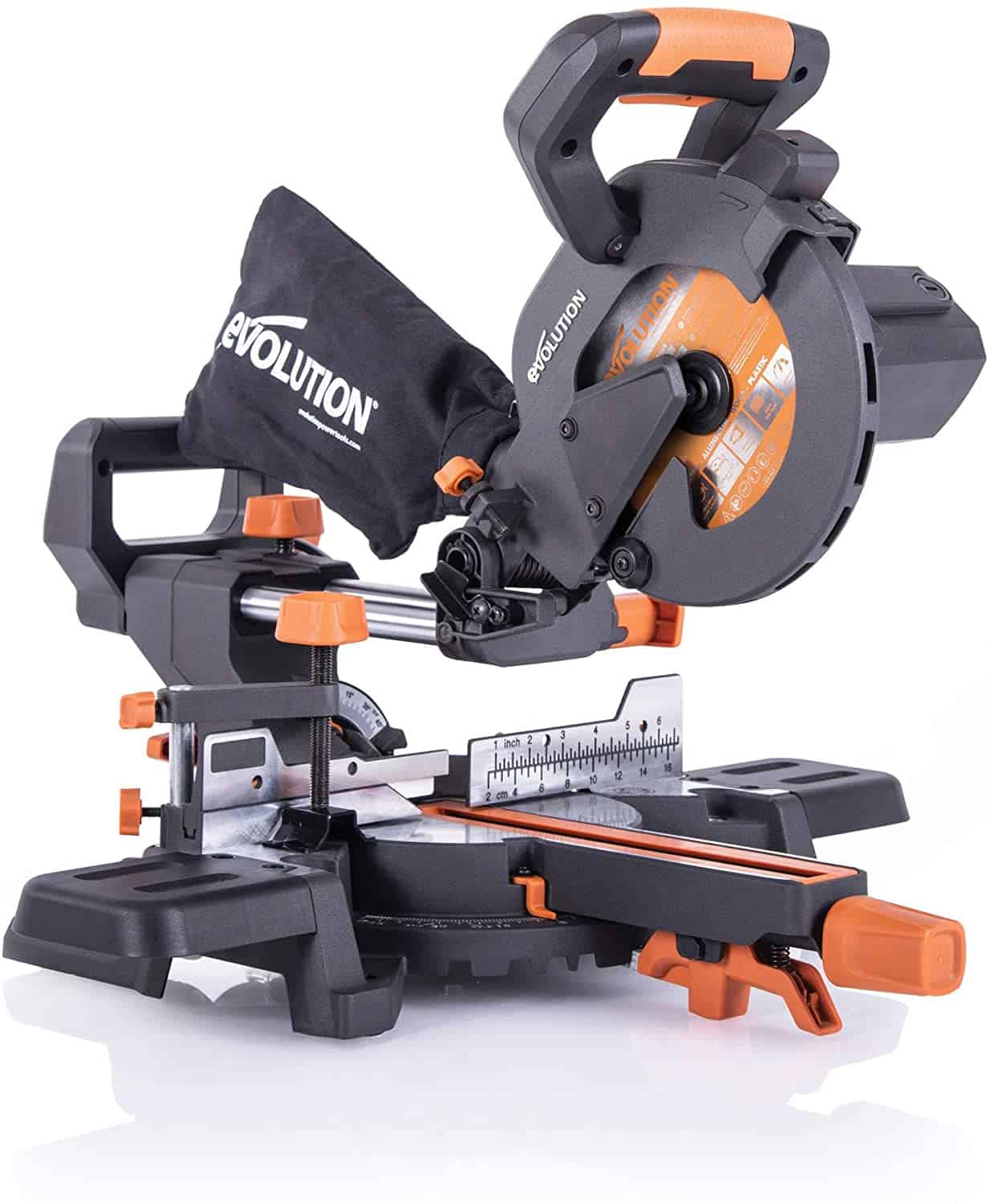 It is pretty dangerous to work with cordless miter saws. After all, they are heavy-duty tools that can cause serious accidents. That is why safety features are essential – and that is something this product contains, along with a lot more. The product contains many exclusive features that will surely make it very user-friendly for you. First of all, the integrated carrying handles make it portable and safe to carry around. On the other hand, you will also get a dust bag with the item to catch the debris out of the dust port. As a result, you won't have to worry about cleaning up after working. Woodworking projects require accuracy, and achieving that accuracy depends on the machines mostly. Thanks to the laser-guided accuracy, you will be able to cut in straight lines without any hassle. What makes the product absolutely safe is that it comes with a 3-piece top clamp system. This system makes sure to prevent any movement when cutting, which prevents any unwarranted accidents. Not to mention, this product provides a bevel capacity of 0-45 degrees. On top of that, it includes tungsten carbide tipped blade that will ensure a clean cut at all times. The 10A hi-torque motor will let you work with every material with ease. In fact, you will be able to work with mild steel while having adjustable depth stops for precision. Pros 
Integrated carrying handles for portability
Easier clean up with dust bag
Ensures accuracy as well as safety
Delivers a clean cut at high bevelling capacity
Versatile item works with many materials
Cons 
Dust bag is not efficient
Miter notches are sloppy
Verdict  Here is another highly powerful miter saw with many convenient features for user-friendliness. Check prices here
5. Bosch PROFACTOR 18V SURGEON GCM18V-12GDCN14 Cordless 12 In. Dual-Bevel Glide Miter Saw Kit with BiTurbo Brushless Technology, Includes (1) CORE18V 8.0 Ah PROFACTOR Performance Battery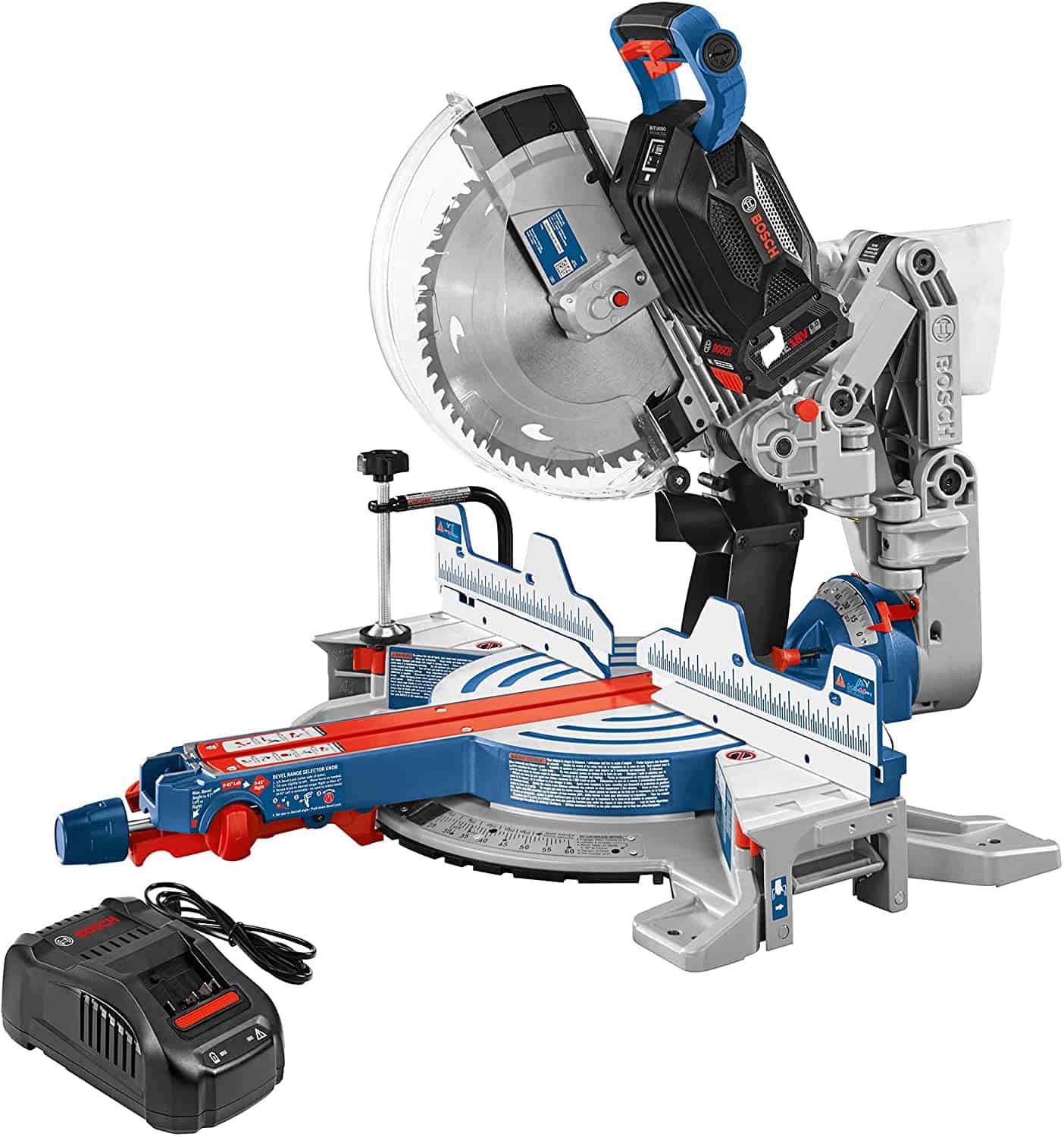 Are you looking for a sizeable cordless miter saw that is ergonomic as well? While that is a rare breed you are looking for, here is one just like that – and it also includes many other unique features. Despite being huge and constructed for job sites, this saw is surprisingly lightweight. This aspect of the product will make it easy for you to move it from time to time. What sets this product apart from the rest of its counterparts is the axial-glide system. It comes with an arm that will ensure smooth glides while delivering wider cross-cuts with enhanced alignment. On the other hand, the tool comes with a vast cutting capacity. With 4.7-inch depth and 15.7-inch width, you will be able to experiment with your projects and accomplish versatile tasks. Not to mention, the brushless motor along with the drive-train system make the saw even more powerful than its counterparts. Once you set it up with suitable batteries, you will have unlimited power. And you don't have to worry about the battery running out of power in the middle of your work. Thanks to the durable batteries, you will have a 20% longer runtime than average. You will also be getting a dust bag and other essential accessories with this machine – so you won't have to purchase anything extra with it. Pros 
Lightweight and easy to move
It glides smoothly and aligns conveniently
Great cutting depth and width
Powerful brushless motor with long runtime
Includes all essential accessories
Cons 
It needs a few adjustments
Table and fences are rough
Verdict  This is a highly-performative saw that has a longer runtime and great cutting capacities than average. Check prices here
6. Metabo HPT 36V MultiVolt Sliding Miter Saw | 7-1/4-Inch Blade | Dual Bevel | Tool Body Only | C3607DRAQ4, Green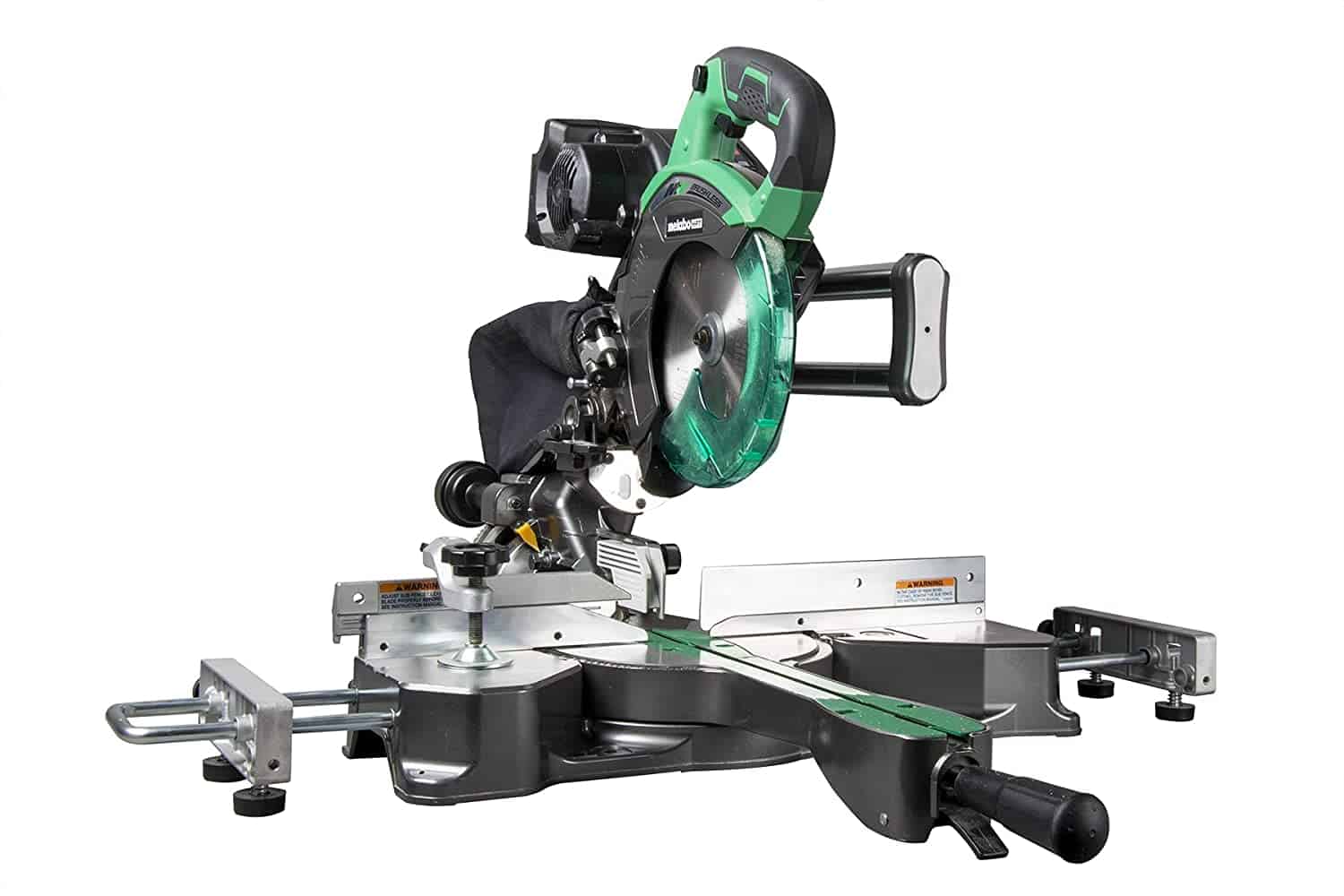 An efficient and practical tool can be stylish, and this cordless miter saw proves that with its green and elegant exterior. Please find out about its remarkable features in our comprehensive review. The saw is a fan favorite, and the reason is quite obvious – it provides complete professional results, thanks to the high accuracy and extreme precision that it delivers. Of course, it is so highly efficient due to the power that it comes with. And there are obviously contributions made by the battery that can produce 230 cross-cuts per charge. You can also use this product for various applications, which makes it rather versatile. For starters, you can use it for making furniture, cabinets, and trimming purposes. On the other hand, the saw comes with high bevelling capacities as well. For instance, you can bevel it from 0-57 degrees to the right; and from 0-45 degrees to the left. No matter at which angle you are making the cuts, you can always expect them to be smooth. You can rely on this saw to make precise and smooth cuts thanks to the dual belt system. What sets this saw apart from its competitors is how quiet it is. Not only does it generate less noise and vibration, but it also weighs about 34 pounds for ease of portability. Pros
Provides high accuracy and extreme precision
High battery runtime with efficiency
Vast bevelling capacity with many applications
Smooth cuts from every angle
Quiet and lightweight
Cons 
The cut quality is below average
Not easy to work with
Verdict  This green saw will provide efficiency and accuracy while maintaining a quiet environment. Check prices here
7. Makita XSL07Z 18V x2 LXT Lithium-Ion (36V) Brushless Cordless 12″ Dual-Bevel Sliding Compound Miter Saw with Laser, Tool Only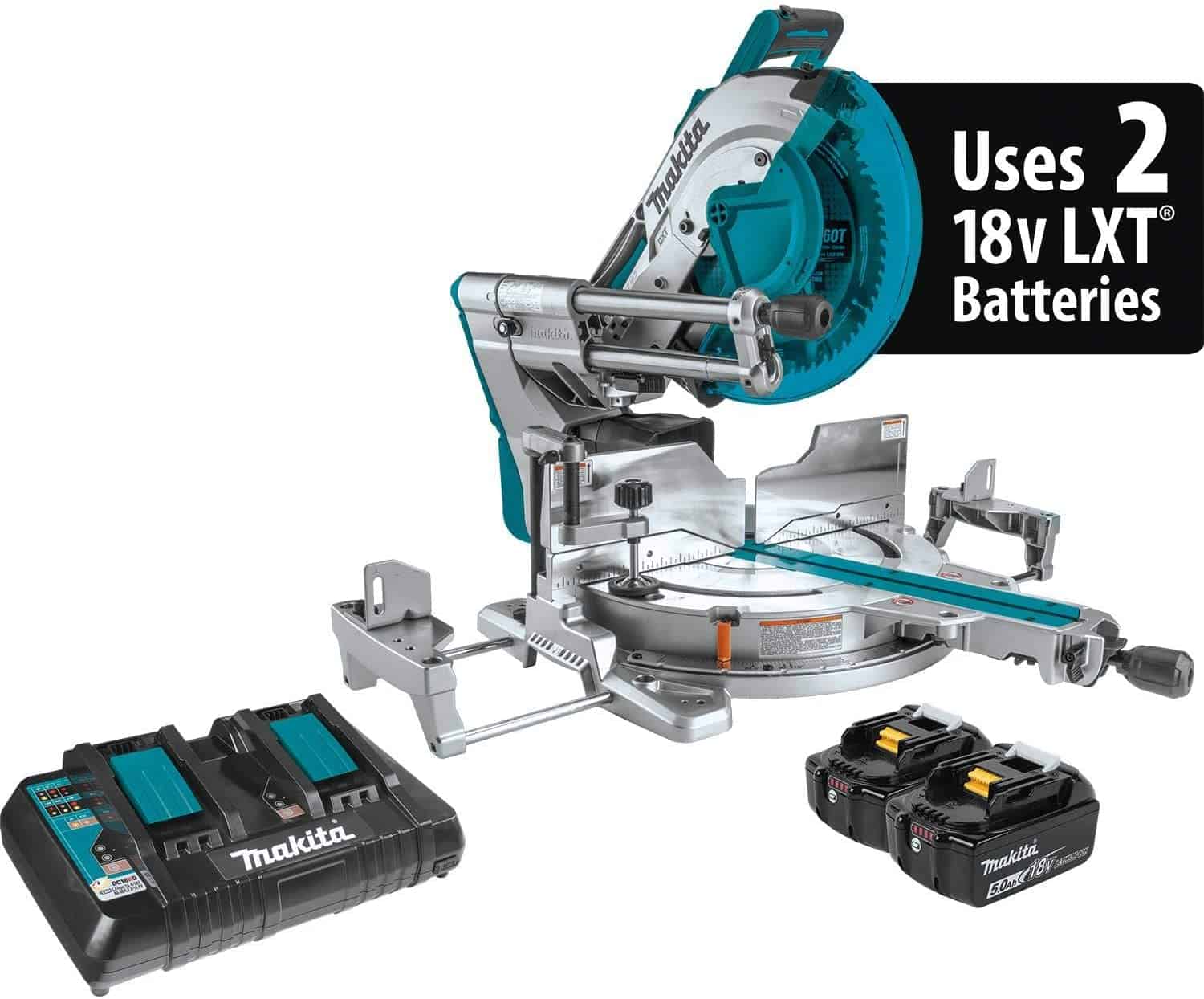 You would indeed have to spend a handful when getting cordless miter saws. And if they are not worth the investment, then you will end up regretting your purchase. That is why we are introducing one that will be worth every penny. If you think miter saws are powerful, get ready to have 2x more power – because it has been powered using two batteries. So, you can enjoy the perks of a corded saw without the trouble of the cord itself. Due to the high power provided by the battery, the saw runs at high speed as well. With a speed of 4,400RPM, you will be able to use it for versatile applications in a short time. On the other hand, the brushless motor ensures smoother cutting than its counterparts. Another benefit of this motor is that it will also run more efficiently without heating up. There is no need to worry about changing the speed in the middle of your work. The saw will do that for you by adjusting the torque and the cutting speed while you are working. Moreover, you will be getting a 12-inch carbide-tipped blade, which will make the cuts cleaner and more efficient. So, all your work will be precise without you putting much effort into it. At the same time, the product also comes with a dust bag, which will help clean up the mess while you are working. Pros 
Has 2x more power
Speed of 4,400RPM with smooth cuts
Cool and efficient brushless motor
Speed adjusts according to cuts
Delivers cleaner cuts and includes a dust bag
Cons 
Quite heavy
It makes a lot of noise
Verdict  With 2x more power, this cordless saw ensures smoother cuts and accuracy like none other. Check prices here
How to Use Cordless Miter Saw Safely

Using a cordless miter saw safely is mandatory – given you don't want any workplace accidents to occur. So, no matter how safe your machine seems to be, here are some tips that you should follow.
Know Your Cordless Miter Saw
Properly read the description of your cordless miter saw before you start working with it – know about its features, limitations, etc. Do not keep your workspace untidy, and definitely refrain from putting anything nearby your cordless miter saw while you are working. After you turn on the power, start by making a small cut to make sure the item is working correctly. Once you have tested with a small cut, make a big sliding cut to make sure it runs smoothly.
Take Out the Batteries When Cleaning 
If you are cleaning the tool or not using it for a long time, turn off the power and take the batteries off.
Do Not Wear Loose Clothing 
While working with a cordless miter saw, refrain from wearing gloves or other loose clothing.
Frequently Asked Questions
Are cordless miter saws better than corded ones? 
Both corded and cordless miter saws are excellent in their own ways. If you want unlimited power, then corded would surely be the better option. But if you wish to have portability without the hassle of a cord, then the cordless one is for you.
How long are the blades of cordless miter saws? 
The length of the blades depends on the cordless miter saw itself. If you have gotten a compact saw, then you will probably get a 4-5 inch saw. Otherwise, the length can be as much as 12 inches.
Are all cordless miter saws portable? 
Basically, most cordless miter saws are built to be portable (including a carrying handle). But some might weigh a bit too much for you to transport them easily.
Are batteries included in cordless miter saws? 
You will find batteries included with most cordless miter saws. But some do not come with batteries, and in those cases, you would have to purchase compatible batteries yourself.
How long do cordless miter saws last? 
That depends on the product itself. But you can expect them to last for around 5 – 10 years.
Final Words

You have to choose the best cordless miter saw while keeping your requirements and the essential factors in mind. We hope this article has helped you find the right one for yourself!
I'm Joost Nusselder, the founder of Tools Doctor, content marketer, and dad. I love trying out new equipment, and together with my team I've been creating in-depth blog articles since 2016 to help loyal readers with tools & crafting tips.