I love creating free content full of tips for my readers, you. I don't accept paid sponsorships, my opinion is my own, but if you find my recommendations helpful and you end up buying something you like through one of my links, I could earn a commission at no extra cost to you.
Learn more
For the longest time, I used to have trouble keeping my lawn well maintained. It seemed like the grass was greener on my neighbor's lawn, quite literally. I was dealing with thick thatches and just a lot of buildup of debris from the soil.
So, I decided to put in the effort and take care of my lawn, and after hours of research, I found some of the best dethatcher and aerator combo.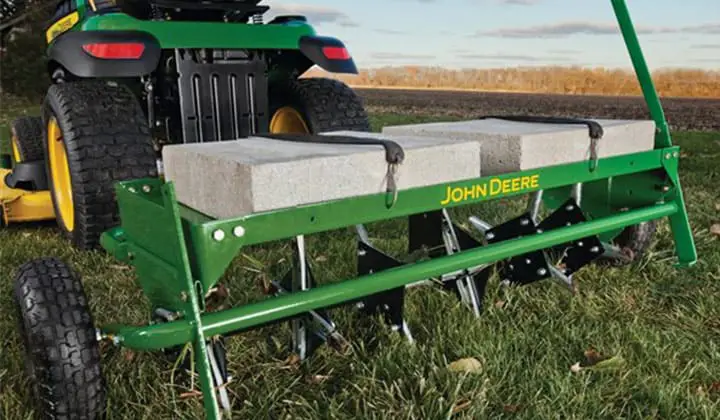 If you are someone going through the same issues I did, this article is just for you. Here I have shared all my knowledge about these 3 products so that you can get the right one for yourself.
Benefits of Dethatcher and Aerator Combo
Contrary to popular belief, lawn care is not just about watering, mowing, and fertilizing. If you want your lawn to thrive, you should consider investing in a dethatcher and aerator, and what can be better than a combo of the two?
Multifunctional
A 2 in 1 tool can be used to take care of your lawn easily. You can use it to dethatch your lawn and then aerate right after without entirely getting another piece of equipment. It saves time and makes work more efficient.
Easy to Store
If you can have a dethatching tool and an aerator all in one, it allows you to save space. Instead of needing storage capacity for the two different pieces of equipment, this requires less storage space.
Can Be Cost-Effective
With a combo tool, you can also save some money. Instead of buying two products, you can cut down the cost a bit by getting one tool that does it all.
4 Best Dethatcher and Aerator Combo Reviews
So now you know all about the benefits of a dethatcher and aerator combo. However, you may not be sure which one to get—no need to worry because I have researched for you. Keep reading to find out all about the best dethatcher and aerator combo on the market right now.
1. VonHaus Electric 2 in 1 Lawn Dethatcher Scarifier and Aerator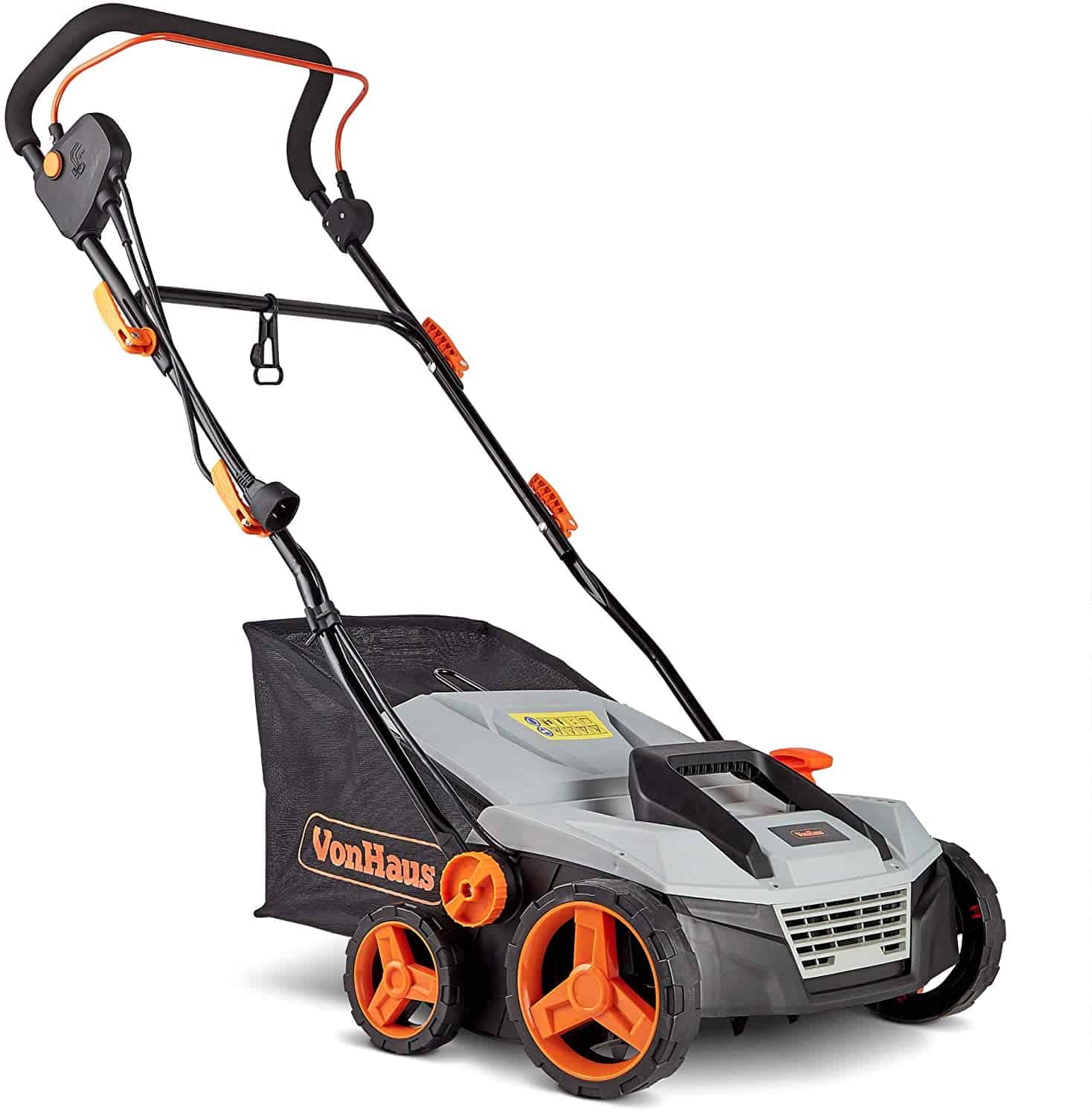 The first product on this list is the VonHaus Electric 2 in 1 Dethatcher and Aerator. If you are thinking about investing in a dethatcher and aerator, you should make sure it is worthwhile. This particular product is just that!
First of all, this combo has multiple functions and includes a high-quality dethatcher and aerator drums. It features a powerful motor that runs on a 12.5 ampere that will easily take care of all the debris in your lawn, leaving it looking fresh and neat.
If you have a mid-sized lawn or are on the smaller side, this is the perfect tool for you. It also has a safety feature to offer you protection while using the product.
This thing comes with various height depths that can be adjusted, so you can easily set the height as per your convenience using the manual lever. So, you can maintain and work on your lawn with ease in all seasons.
If you are also tired of manually raking through the lawn, you will surely appreciate the debris collector box it comes with that has a 45L capacity. You can use it to get rid of all the debris.
Not just that, this thing also offers easy storage with a detachable grass box and a handle for carrying to allow better mobility. The grip handle is smooth and soft and can be folded for convenience.
Pros
Lightweight and easy to put together
It can be used with ease
Great performance
Very efficient and comes with a powerful motor
Cons
Offers storage for only one blade
Verdict
Overall, this dethatcher and aerator combo is an excellent product that will give you the best performance. It is a very lightweight and easy-to-use tool that will make your work a lot easier.
Many users have expressed how content they are with the product and its performance. So, you can be sure that this thing is worth every penny! Check the latest prices here
2. Yard Butler Manual Dethatching and Core Aeration Tool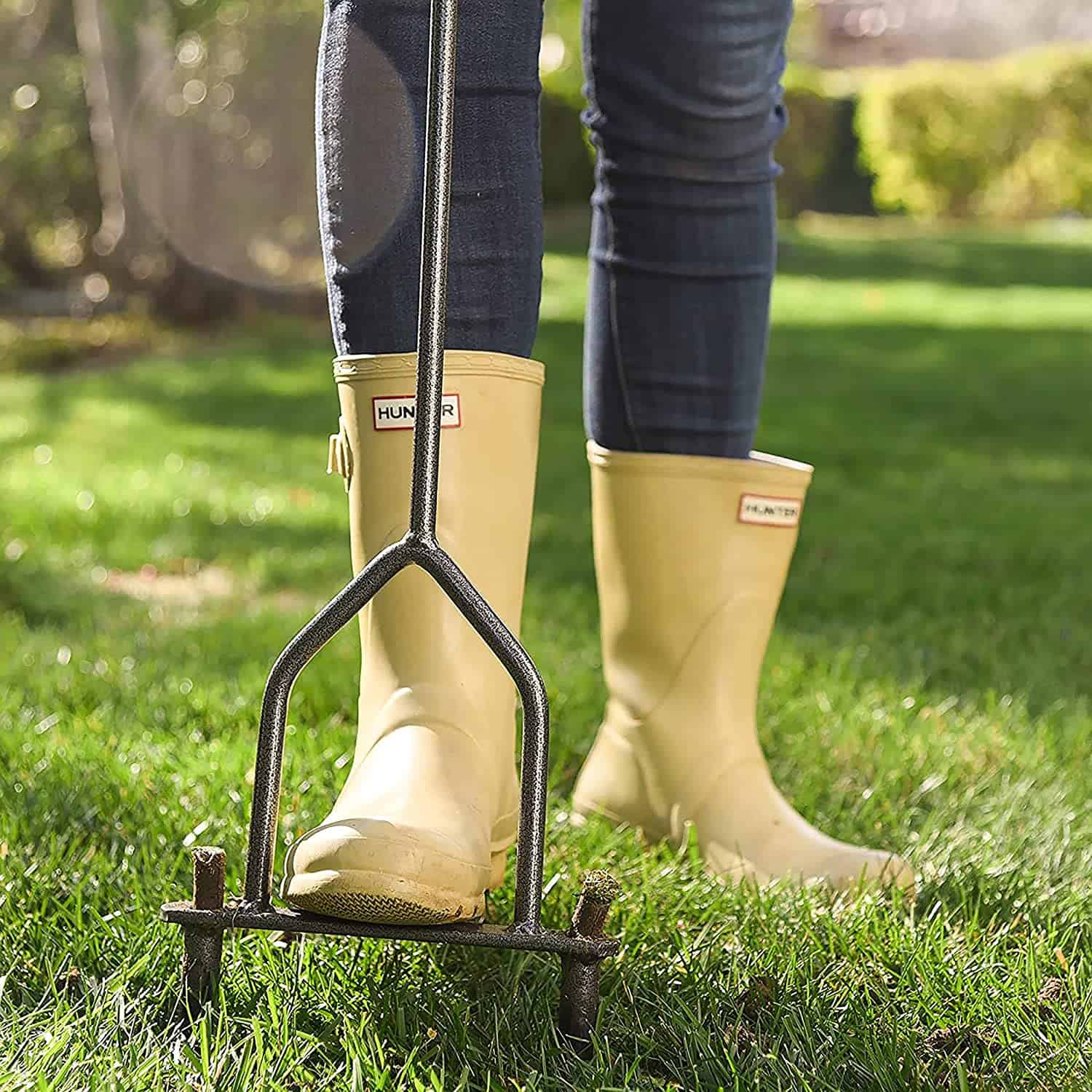 Do you have trouble ensuring the soil on your lawn gets the moisture it deserves? If so, you can put all your worries to rest with this Dethatching and aeration tool. It is an incredibly durable product that will last you a long time.
You can use this tool to dethatch your lawn and tone down on the soil compaction. This product makes sure the roots and soil get that fresh air, water, and fertilizer to be in its healthiest form.
The core aerator will ensure the grass has strong and steady growth. It has a height of about 37 inches that will be convenient for most people, so it might also help prevent back pain.
You just need the right amount of water, and you can aerate with complete ease. This is a handheld tool that allows you to mechanically and smoothly remove soil cores from your lawn and keep it in good condition. It even comes with a foot bar for added advantage.
This thing can remove two and half-inch plugs and 3 and a half inches long, thus significantly reducing compaction and thatch to allow the fertilizer, air, and water to seep deep into the roots. It also has a very sturdy construction which makes it highly durable and reliable.
Pros
Well-built and highly durable
Will not cause back pain
It comes with a foot bar for better control
Lightweight
Cons
Verdict
Other than the only downside being that your lawn is very wet, this is an excellent dethatcher and core aerator tool overall that will make you wonder why you ever had issues taking care of your lawn in the first place. You will find yourself barely breaking a sweat using this thing to aerate your lawn Check prices and availability here
3. MIXXIDEA Lawn Core Aerator Manual Grass Garden Tiller Dethatching Tool

It can be difficult to take care of your lawn in the hot weather as the soil dries out. To help you with that problem, let me bring you the MIXXIDEA Lawn Core Aerator and Dethatching Tool. This tool is the perfect solution to any issues you may be facing with the soil and grass in your lawn.
First of all, this is a core aerator and weeder that allows the root to get the right amount of exposure to air, water, and fertilizer by reducing compaction and thatch. By clipping the roots, this thing also stimulates root growth. It allows deep penetration into the soil, which makes it much more effective.
This thing has a cast iron body which has a height of 34 inches, and a width that is about 9 inches. However, there have been some complaints about the product being a bit weak in the conjoined spot. Still, you can weld it again to make sure it stays in place.
This tool is straightforward to use. It has a cushioned T-shaped handle that allows you to use it for an extended period without getting blisters.
You will not have to worry about back pain with this thing, as it allows you to work in a natural posture. It also comes with a wide foot bar which ensures less amount of work to be done.
Pros
Good performance
Easy to use
Features comfortable T shaped handle
Works with a number of soils
Cons
Verdict
Although some have voiced their issues with the product's overall durability, this is a great tool to have with you during hot summers when it gets difficult for moisture and fertilizers to reach the roots of your lawn. It is very easy to use and store, which makes the product very convenient. Check the latest prices here
What Does A Dethatcher Do?
Having a beautiful lawn in your home can give you the feel of freshness and keep you close to the eye-soothing beauty of green. But when it comes to cleaning up your lawn or keeping the grass healthy and nutritious, dethatching is the only thing that will come to your mind. And that's when a dethatcher comes into play. It is mostly used for lawn or turf maintenance where thatch, dead grass, or plants build up that ultimately hinder the growth of the grass.
If you want to know more about what a dethatcher does, read on. We are going to describe everything you need to know about dethatcher.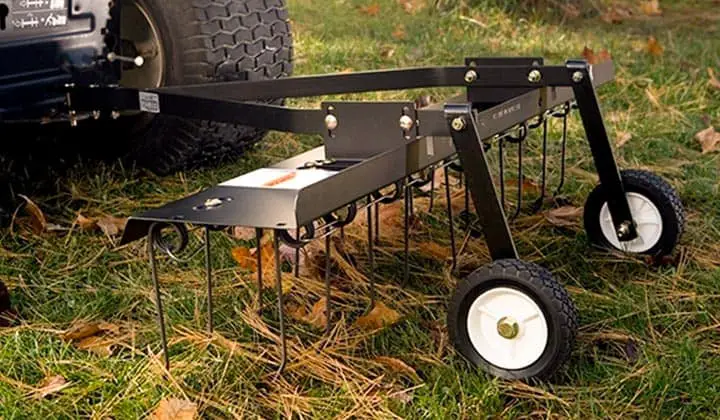 What Is A Dethatcher?
A dethatcher, lawn scarifier, or vertical mower is the same mechanical tool with different names. The primary job of a dethatcher is basically removing thatch, the buildup of dead grass, lateral weed grass, and plant roots that make up a distinct layer over the soil surface, from your lawn through its vertically placed metal blades.
Dethatcher is a gas-powered machine that is considered most effective compared to a thatching rake. A thatching rake, which needs to be operated manually, is only ideal for a small lawn. However, for a considerably large turf where the grass is thick and lush, the dethatcher has no competition around. When you run a dethatcher and rub over the surface of your lawn, the metal blades loosen the unwanted, overgrown dead grass, leaves, stems, and grassroots and bring them to the top of the grass surface to dispatch.
Most of the dethatchers come with adjustable blade penetration functionality so that you can control the penetration of blades according to the length of the grass. A dethatcher is an extensively used tool for regular lawn or turf maintenance in order to ensure healthy, lush, and dense lawn grass.
How Does The Dethatcher Work?
Dethatcher basically works almost identically to a lawnmower. It has adjustable rotary bottom blades that plunge into the soil and cut the thatch. You can also adjust the blade set to accommodate the penetration according to the type of grass and its thickness.
How To Operate A Dethatcher
Operating a dethatcher is as simple as a piece of cake. Don't worry, even if you are going to do it for the first time. Mowing thatch from the lawn can be easier and more fun when you have a dethatcher in your home and you know how to operate the machine.
First of all, after purchasing a dethatcher you have to attach all the parts together as it comes disassembled in the package. Read the user manual provided by the manufacturer.
you must remember that mowing the turf a bit lower than normal will loosen the thatch from the roots. That's why mow a bit lower than before and moisten the turf surface with water so that the blades of the dethatcher can uproot the excessive thatch with ease.
If the grass is so thick and stubborn for dethatching, set the blade penetration to one inch into the soil so that the blades can loosen and cut the roots. In addition to that, you must run the dethatcher all around the lawn from both directions so that the thatch can easily come over the grass surface.
Types Of Dethatcher
There are three different types of detractors that can be found in the market or in households. But in this article, we shed our light on only one type, power dethatcher,  which is common knowledge for everyone as a dethatcher. Let's now discuss all three.
Manual Dethatcher
This simple and affordable tool is ideal for dethatching your small backyard lawn. As it's a handheld tool for removing thatch, it requires a lot of physical strength and time to accomplish a cleaner lawn, free from thatch. It has curved steel or metal teeth for combing up the thatch which is attached with a long hardwood handle. The extensively long handle gives you the opportunity to leave no corner left.
Power Dethatcher
A power dethatcher is a tool that is powered by gas or electricity. The bottom blades of the machine cut the thatch from its roof. The main functional benefit of this tool is that you can adjust the blade penetration to suit your turfgrass type. Though it comes at a high price, it can effectively minimize your effort without compromising efficiency.
Tow Behind Dethatcher
This kind of dethatcher needs to be mounted on a tractor for dethatching. If you have an extensively bigger lawn that can exhaust any power dethatcher on the market, a tow behind dethatcher is a perfect choice for you. Just mount it tightly to your tractor and place the blades at the perfect depth.
Benefits of a Dethatcher
Dethatching at the right time ensures proper nutrients and water to the grass that make it more lush and robust. Having a dethatcher at home will help you to do timely maintenance of your lawn to make it more alive and fresh.
Timely dethatching ensures the growth of the grass at an unprecedented speed. The recovery time of grass remains very low which means the grass is growing well and healthy.
Through dethatching, the roots of the grass get access to enough water and air. These make the grass more resilient and dense.
Frequently Asked Questions (FAQs)
When to dethatch my lawn?
The perfect time for dethatching is mid-late spring when the grass can grow rapidly and recover fast. In addition to that, you must dethatch the lawn when the thickness of the grass exceeds ½ inch.
How often do I need to dethatch my lawn?
While walking on your lawn, if you feel the grass surface is extra bouncy and looks pale and brown, you must dethatch your lawn using a dethatcher. Bouncy underfoot means a lot of dry and dead grass in the grass line. Whenever you see this calamity on your lawn, make sure you dethatch the ground. But if you want a specific time period, once in a year will be good.
Bottom Line
Thatch can cause acute harm to the health of turfgrass. It creates a bouncy underfoot that restrains air, water, and other natural nutrients from reaching the solid. That's why to make the lawn grass lush and robust, you must use a dethatcher all across the lawn and remove all the unwanted dead grass and dust from the lawn. We hope you got a detailed understanding of what a dethatcher can do.
Have a great day!
Frequently Asked Questions
Is a core aerator better than a spike aerator?
Core aerators work best with highly compacted soil and help break them up. They leave these holes in the ground that allows better exposure to water and air, which leads to healthier growth. On the other hand, spike aerators are better for moderately compacted soil.
Is a dethatcher the same as a power rake?
A power rake is a heavy-duty tool that professionals mainly use to eliminate thatches. In contrast, a dethatcher is relatively lightweight and is more commonly used by lawn owners to remove thatches.
Is it better to power rake or dethatch?
Dethatchers tend to be smaller and much less aggressive compared to power rakes. So, it is better for removing a small amount of thatch.
Can you aerate your lawn too much?
Although aerating can be highly beneficial, you do not want to overdo it. Once a year should be fine, or else you might end up damaging the soil instead.
Should I aerate after dethatching?
Yes, it is best if you aerate your lawn right after dethatching it first. For best results, you should do so sometime around the fall season.
Final Words
Well, that is all for these 4 products. All the products mentioned on this list are some of the greatest on the market right now. They are very reliable, multifunctional and give excellent performance. So, quickly make your choice and give your lawn the care that it needs with the best dethatcher and aerator combo.
Also Read-
Top 5 Best Bike Roof Rack Reviews
I'm Joost Nusselder, the founder of Tools Doctor, content marketer, and dad. I love trying out new equipment, and together with my team I've been creating in-depth blog articles since 2016 to help loyal readers with tools & crafting tips.