I love creating free content full of tips for my readers, you. I don't accept paid sponsorships, my opinion is my own, but if you find my recommendations helpful and you end up buying something you like through one of my links, I could earn a commission at no extra cost to you.
Learn more
Whether you are a professional working for many years or a hobbyist who's just getting started, you've no doubt had some experience drilling holes into your metals.
And while drilling by hand does get the job done, a drill press takes you on a whole different level of accuracy. So if you're looking for an upgrade, you're in the right place.
From bench top drills to floor standing ones, we've assessed the most popular products in the market to find out which one is the best drill press for metalworking and woodworking.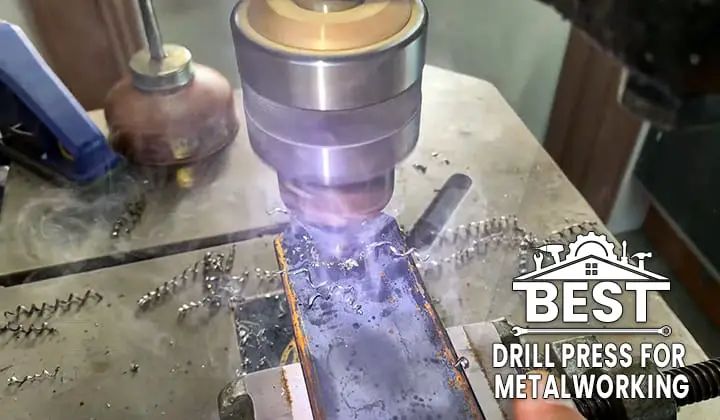 So if you're looking to carve your mark and take your craft to the next level, what are you waiting for? Read through and find out which drilling tool best fits your workshop and style.
Best Drill Presses Reviewed
Power, accuracy, good price point, and durability- so many things matter when picking out a work tool. So our list of reviews stating the pros and cons of each product is here to make things less of a hassle for you. Before you drill your way towards the next project, consider buying a reliable drill press that can support your future endeavors. To help you, here are some of the most elegant drill press for woodworking to choose from:
Best overall drill press for metal: WEN 4208 8 in. 5-Speed
Let's start off with a boom and talk about this amazing piece of work equipment from WEN. It's small and portable but comes with a variety of features to make any task a breeze. This drill press is suitable for woodworking, metal working, and plastic working.
As this is a machine built with cast iron, you can bet that it'll be durable. The induction motor on it has ball bearings to prolong that even more. And there are 5 different speed settings to ensure ease of customization.
You can have this mounted on your workbench (or get one of these to fit it) as it has pre-drilled holes. It includes a 1/2 inch chuck and the motor's power is 1/3 HP. Besides the good torque and power, this also provides a full 2 inches of spindle depth making it perfect for both a hobbyist and pro.
Having limited space can still not hinder you from doing limitless projects, especially with WEN 4208 speed drill press. It offers a strong and powerful performance to handle wood, metal, and plastic while having a compact style that can fit your desk.
For an organization, the product also has an onboard key storage to ensure that it is not misplaced and can be found on the go.
Even if you work at high speeds, the drill press got your back. Specifically, it offers a smooth and balanced performance due to its structured induction motor with ball bearing construction, which makes your performance more accessible.
The accuracy is also considered at each project, with its rigid frame guiding your work as you use it.
Some prefer to drill at different angles, and with this product, you can also do so. The worktable bevel it possesses can support up to 45-degree angle of versatility form left or right.
This also supports steady usage as it has built-in mounting clasps. Moreover, the five-speed variety can also be used if you want to switch speeds in between usage, as it can support 740, 1100, 1530, 2100, and 3140 RPM.
The drill can make holes up to 2 inches thick and 8 inches in diameter. It also accepts bits up to ½ inch in diameter, for different drill bits usage.
Pros
Durable since it's made with cast iron
It has five-speed settings so it's usable on different materials
Has 1/3 HP motor power
Relatively lightweight and portable
Cons
The tube from the stand to the motor is thin and might flex under pressure
Best overall drill press for woodworking: Delta 18-900L 18-Inch Laser
Large projects need to be backed up by reliable tools to ensure the stability of quality along the way. With the Delta Laser Drill Press, you would not need to worry about your drilling escapades as it can support your work along the way!
The tensioning belt drive system runs automatically, which allows effective changes in speed while drilling as it maximizes its transmission ability.
It is also equipped with an LED light that provides enhanced visibility while using the product. The feature allows a more precise drill, which results in more efficient production.
Moreover, it is backed by a heavy-duty motor that saves you time in your work as well as ensuring decent performance. It can support up to 16 drilling speeds, specifically from 170-3000.
Furthermore, the oversized worktable is fit for large materials, with bevels of 90 degrees left or right, and can tilt up to 48 degrees. It has a built-in T-slot that is used for stabilization and clamping.
Its laser feature shows the exact placement of the drilling process, with a red cross on the material. The feature prevents any unwanted mishaps of drilling and helps you see the material beyond its process. Again, the depth scale allows the user to zero the scale for more efficient measurement.
Pros
Automatic tensioning belt drive system allows the fast change in speed
LED light supports work visibility
A heavy-duty motor that can last long periods and support features
Has 16 drilling speeds
Oversized worktable ideal for large projects
TwinLaser shows crosshair as a guide
Cons
Table lock handle is small but reliable depending on the material
Quill travel can be rough after many uses and requires a little reassembly of tightening
SKIL 3320-01 3.2 Amp 10-Inch Drill Press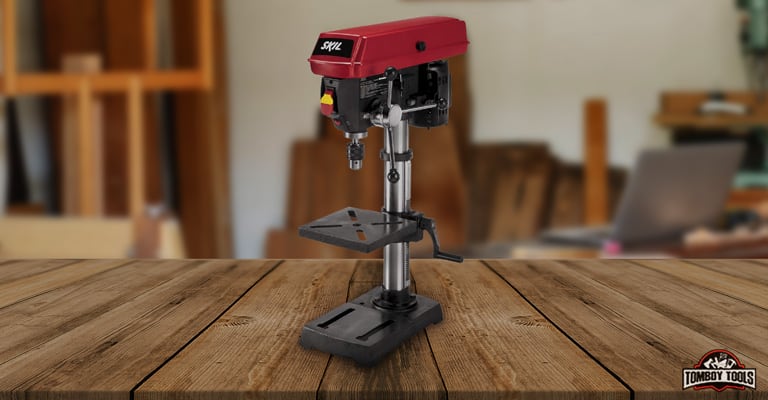 If you're a newbie to the world of metalworking, then this would be a great tool to start off with. This tool from SKIL is one that offers both great precision and a great price point. It's a people pleaser with a small yet sturdy build and good accuracy.
In terms of special features, it comes with an X2 2-Beam Laser that helps in alignment. You'll also get a multitude of five-speed settings that go as high as 3050 RPM from just 570 RPM. And the ½ inch keyed chuck in this is made for accepting bits of a larger diameter besides the usual.
The fact that its work surface has a tilting mechanism that allows working from zero to 45-degree angles is a sweet bonus. To make sure the hole is drilled precisely the way you want, they've included adjustable depth stops.
The extra advantage of this is that it's super convenient for repetitive drilling tasks. There's a bump-off key for some extra safety.
If you are in the market for knowing exactly where to drill before doing so, this product is worth the try! The SKIL 3320-01 drill press is equipped with a 2-beam laser for more accurate positioning of the material.
The depth is also adjustable for precise measurement even with multiple workloads. It is perfect for drill press starters, or even professionals!
While using the product, a sense of security can add to the confidence boost for your work. One of its features includes a bump-off switch to not accidentally start or stop it while using or moving the product.
The work surface can also be adjusted within 45-degrees left or right, which is dependent on your preference of angle.
Pros
Five-speed settings with 3050 RPM as the highest
The work table allows tilting and angular setup
Its chuck is capable of accepting larger bit sizes
Inexpensive price
Cons
Motor gets quite hot after around 15 minutes of continuous use
Shop Fox W1668 ¾-HP 13-Inch Bench-Top Drill Press/Spindle Sander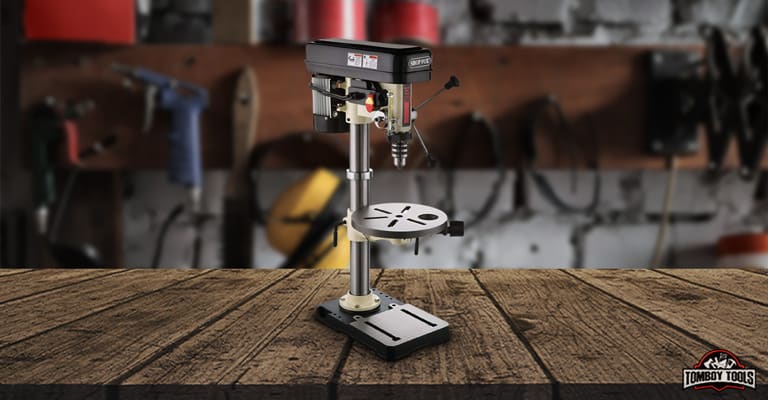 There's nothing more satisfying than getting two kills with one stone. And that's exactly what you'll be able to do with this product from Shop Fox. It's not just a drilling press but also an oscillating sander. So if you're looking to get to work on some complex projects in the future, this is a great investment.
Although it's a bit expensive, the product's performance and two-in-one nature make it totally worth it. The 12-speed settings are also one of its most impressive features. Besides, with this, you get a drum sander kit, a mandrel as well as 80 grit sanding paper according to the drum sizes.
You can tilt the table on this as far as 90 degrees with no trouble. This is a product perfectly fit for heavy workload since it's got a very strong motor with ¾ HP. The spindle depth can go as far in as 3 inches while the swing ranges from 13 to ¼ inch. And since it's got a dust port, cleaning up will be easy.
From one of the manufacturers that offer a broad assortment of drill press for years, here comes a new product with a 2 in 1 feature worth buying for!
Specifically, it has an additional oscillating sander mechanism that can be used for contour sanding of the material, aside from its drill press usage. This product provides a cleaner look for your work and does the job for you!
When sanding, it has a built-in clearance hole in its table, which serves as a dust collection mechanism to ensure that your workplace stays organized and debris free.  You can switch after drilling to sanding efficiently with no additional intricate steps that make this device user-friendly.
It also offers a tilting mechanism of 90 degrees for both left or right, which is dependent on your angle of preference. You can tilt and adjust it to provide more leeway for your drilling, or even use the drill table instead. Moreover, the drill can support ¾ drilling capacity, which is enough for any drilling needs.
Since it is designed for bench usage, it does not take up much space, unlike others with floor space needed. This does not only save you time in your work but also saves you area as well!
Pros
Works as both a drilling tool and a sander
The table can be tilted as far as 90 degrees for working
This has a strong motor and many speed settings
It comes with a dust port option
Cons
Instructions for assembling it are a bit unclear
Jet JDP-17 3/4 hp Drill Press
Are you looking for an upgrade from your old-school drilling tool that just doesn't make the cut anymore? Then you're probably going to love this 17-inch drilling monster from Jet.
It's a heavyweight machine in all its metallic glory fit for use on woods and metals alike. And since this has a floor-standing design, you don't have to give up any of your bench space or buy a separate stand.
With this, you'll get 16 different spindle speeds and a range that goes as far as 3500. One simple revolution of the handle will allow the spindle to travel as deep as 5 inches. And even if you're planning to use larger Forstner bits and require a slower RPM, its 210 least speed will be just enough.
This has both LED lights and a laser for alignment. What impressed us the most was its depth stop that's both easy to set and superbly accurate. Table inserts on this are also easily replaceable.
The motor of ¾ HP power, the large table size that can be tilted and the chuck size of 5/8 all make this a super neat piece of equipment to have.
Pros
Easy changes/use of speed settings and depth stop
Can handle heavy-duty work
It has both a laser and LED lights which are adjustable at angles
Well-built and durable
Cons
Requires floor space to set up so not great for tiny studios
Grizzly G7942 Five Speed Baby Drill Press
A lack of space shouldn't stop you from getting great quality tools for your workshop. To fight the struggle of cramped spaces, opt for this Baby Drill Press from Grizzly. Weighing a meager 39 pounds, it's easy to whip out for any miniature project and store away when you're done.
This cast-iron constructed work tool has 5-speed settings and a smoothly running motor of 1/3 HP. Its max drill capacity in case of cast-iron and steel is ½ inches and so it can easily handle fiberglass, composite materials, or even plastics.
Furthermore, the high quality drill press table comes with tilts 90 degrees in both directions and swivels 360 degrees around the column of steel.
The spindle on this has a 2-inch travel depth. You can amp up the speed from 620 to 3100 RPM easily. It even comes with a depth stop and a swing of 8 inches. For a budget-buy that's meant for small tasks, this is as good as it gets.
Pros
Lightweight and portable so it's easy to store
Price is inexpensive
Swivel-action table which can also be tilted
Can be used on multiple materials
Cons
Not suitable for bigger and heavier metal blocks as the table is small
RIKON 30-140 Bench Top Radial Drill Press
For something on a more mid-range price, this RIKON bench top drilling device is another great option. It's particularly great for odd-jobs and working on job sites that don't have much space.
You can drill holes into timber, light sheets of metal, balustrades for stair-railings, or for peg construction purposes using this machine.
The horsepower of the motor for this is 1/3 HP which is powerful enough to handle small to mid-range and somewhat heavy workloads. Again, newbies will enjoy working with something like this as it is both portable and performs on a versatile level.
It was designed to be easy to use and hence has feed handles along with a speed-selection chart for extra convenience.
More so, this has a cast-iron table that you can tilt to 90 degrees and rotate 360 degrees. Since its drilling capacity is up to 5/8 inches, a lot of different sized holes can be achieved using it.
As for the speed range, the user can set this to any point within 620-3100 RPM easily. Although the 620 RPM being the least makes it difficult to use to thicker metals, the powerful motor and higher speed together give clean outputs on lighter ones.
Pros
It comes with a speed selection chart
Includes a chuck key holder and a clutch depth stop
Head of this tilts at 45 and 90-degree angles and moves back and forth
It has feed handles and is easy to use
Cons
Can't be used for more heavyweight jobs that require lesser RPM
Small Bench top Drill Press | DRL-300.00
The last and perhaps the best one in the budget is this bench top drilling tool that's from the company Euro Tool. This mean and green machine weighs just 11.53 pounds and is perfect for a small workshop. It's the ideal tool for jewelry making of any size or miniature craft projects.
Speed settings on this can be ramped up to as high as 8500 RPM. It has a square base of 6 to ¾ inches size on either side. And it comes with a height adjustment feature that allows you to loosen the handle, bring it down and set it to the height that works best for you.
Changing belts on this is also very simple as it only takes you to remove the headpiece and set the new belt in place. It has a reliable motor that gives good precision and accuracy in works.
Moreover, it's really budget-friendly. If you've had no prior experience in assembling one of these, you won't have any trouble because the instructions with this particular tool are in plain English and are very simple to get.
Pros
Easy to assemble and instructions are very clear
Operation is easy and the tool is portable
Saves space and money
Allows versatility due to height adjustment and a good motor
Cons
The speed controlling knob can only be slowed down after the tool's been turned on at full bore
JET 354170/JDP-20MF 20-Inch Floor Drill Press
If you are looking for one of the best floor standing drill press for woodworking, look no further! The 20-inch product is suitable for multiple projects, but it also promotes efficiency along the way.
It is equipped with a hinged metal belt, pulley cover and an adjustable motor mount to make the switching of speeds faster and more convenient.
Furthermore, its spindle is supported by ball bearings, which makes its drilling process a breeze. The work light is also designed to see your work easier, even in dim light conditions.
As an added security while working, the power switch is in front of the drill to prevent any unwanted mishandling of your materials as you drill.
There are 12 different speeds to choose from, specifically from 150 to 4200 rpm, to provide more variety. The worktable can also be rotated for up to 45 degrees, with a built-in clamp to stabilize your wood or metal.
Also, the traveling table can easily be adjusted with just a turn of the crank to raise or lower it depending on your needs.
It has ¾ inch chuck suitable for all kinds of drills needed. Its adjustable tension spindle return spring also helps in the smooth drilling process and saves you time and energy. With this drill, your purchase is undoubtedly worth the price!
Pros
Has a hinged metal belt, pulley cover, and adjustable motor mount, which makes your drilling efficient and convenient
The spindle has ball-bearing support
Work light helps you provide incandescence as you work
12 different speeds to choose from for an added variety
Travelling table can be easily adjusted
Cons
Depth stop adjustment is not on the head of drill press unlike other models
Can experience quill wobbling, but can be replaced
What to Look For Before Buying
To find the perfect drill press there are a number of features you need to look at beforehand. We've boiled down the major ones as a guideline for you.
The Type
There are mainly two types of drilling presses- a bench top press and a standing press. Stand presses are better suited for heavy-duty work, especially works that involve metals.
This is because standing presses are built more sturdily and weigh a lot more compared to bench top models. But for portability and lightweight usage, bench top models are good.
This is the kind that is ideal for a small workspace. It can support small to medium workloads such as small projects, but not larger ones as the motor cannot afford it. It is also portable and extremely lightweight.
It is ideal for larger drillings, versatility, and to provide more steadiness while working. However, it needs an allocated area, and so your workspace should have room for it. It is more expensive than a bench drill press and is too heavy to transport.
Chuck
The clamp that holds your drill bit in place is called the chuck. This clamp is sometimes not capable of holding bits that are either too small or bigger than standard sizes. So if you've already got bits at hand, we recommend checking the chuck size for the press first.
Speed Setting & Rates
No doubt one of the main reasons anyone would be getting one of these tools is to work faster. But the keyword here isn't "speed" but "control". And that's why you need to look for speed presets along with a wide range of speed settings when buying a press.
The more presets, the more you get to customize the power and pace. And the wider range of speeds, the easier it'll be to work on different metals be it a thin sheet or a thick block.
Travel Depth of Spindle & Quill
When it comes to press drilling, the spindle's travel depth is very important. This indicates how deeply a hole can be made in one shot. Some models nowadays even have settings to adjust the depth stop.
So if your projects often involve drilling holes of a certain depth or some extra precision, it's a good idea to get one of those models.
Also, how far your machine's quill travels determines what sort of metals you get to work with. The quill is the hollow tube around your press's spindle. There's usually a handle that lets the user lower or raises it depending on their work.
Depth Stop
For multiple drillings at a time, you have equal drillings at each material every time. And for commercial usage, this may come in handy, especially if you are expected to produce the same products. Some do not offer it, but it sure lets off a whole ton of work if it is present.
Cutting Capability
What sort of metals can the tool cut and make holes in? A low-speed one with lesser torque will be best for thicker and tougher pieces. Whereas, a machine with high-speed RPM can be used to get clean edges on thin metal pieces. You can even work on wood or plastics with those.
Powerful Motor
Usually, drill presses have powers ranging from 1/2 HP to 3/4 HP or even more. For those of you looking to do DIY projects, something with power from the range 1/3 to 1/2 HP should do the trick.
Here the HP means Horsepower and it's one of the major make-or-break deals of a drilling machine. Bigger motors have better capacity in dealing with metals that are thick. So, for a clean finish, a power-packed motor is a must-have.
Reliability
How well your work tool stands against the test of time tells you about its reliability. What you want is durable and high-quality equipment that lasts a long time.
And since you'll be working on metal projects, it's only natural the tool should be made of metallic parts as well. Plastic or anything else that's cheap really won't make the cut.
Working Table
A worktable lets you drill angled holes more comfortable, and not having one can be troublesome for your work and may take up time in the long run. So, you should have a drill press table and you should not compromise with its quality.
Some offer 45 or up to 90 degrees left to right, or forward. It is crucial, depending on your preference and line of work.
Special Features
While it's not a compulsory thing, it's nice to get a product that has some extra zing to it to make your work even easier.
Some of these have rotation features that let you work from special angles. Companies also include built-in work lights with some of them which help see minute details or make up for a lack of adequate lighting.
Budget
Finally, knowing the specs can give you an insight into the budget that can be allocated to help you find a decent drill press. You do not need to extend it, but instead, search for different manufacturers and reviews for the one that can complement your needs.
Frequently Asked Questions
Q: How do you secure metal while drilling with a drill press?
Ans: You need to secure the metal with the help of the bit, tightening each hole of the chuck. Before turning on the press, remove the chuck key and you're good to go.
Q: Do you need to wear gloves while using a drilling press?
Ans: No, you should never wear gloves or watches, bracelets, rings, etc. when using a drill press.
Q: How do the variable speeds work on a press for drilling?
Ans: Usually, presses have a dial at the front that allows the turning or a knob for scrolling to the desired speed. The speed change occurs while the press is operating.
Q: Why do you need a drill press for metalwork?
Ans: You need it for the following reasons- more accuracy and repeated drilling in a short time. Tapping holes more easily. Doing pattern work is safer and you won't have locked up drill bits.
Q: What are the safety rules of a drill press?
Ans: Do not wear loose clothing and tie long hair. No gloves or hand accessories are allowed as they might get caught in the spindle. And never adjust a press or leave the chuck key while it's running.
Q: Do you need special bits for a drill press?
Ans: If the bits you have are of electric hand drills, then it's possible to use it in a drill press. Special bits are recommended.
Q: Why do I need a drill press?
Ans: It is needed for drilling a hole to a material, such as metal, plastic, or wood. This allows you to do so with precision and accuracy despite the width of each work.
Q: What safety measures should I look out for when using a drill press?
Ans: Much like in any hardware workspace, you should prevent loose clothing, use gloves, and keep your hair tied back. Always remember to turn off the drill press before adjusting to avoid any accidents.
Q: How would I know the recommended speed?
Ans: Each material has its own different recommended speed needed to be drilled. For example, 250-400 is the ideal speed for magnesium and alloys, plastics are 100-300, while stainless steels require 30-50.
Q: What does the blind hole mean?
Ans: A blind hole is a hole that is drilled to a specified depth without breaking to the other side of the material. Specifically, you cannot see through it.
Q: Can you drill a hole in any material, including tempered glass?
Ans: Each drill has a specified material that can be used, mostly to plastics, wood, or metal. For tempered glass, it needs a special type of diamond drill bits to prevent unwanted shattering, as supported by a moss scale of hardness. The length of the procedure can be sudden or extended, depending on depth.
Final Words
Metals are some of the trickiest materials to work with. And to thrive in the competitive metal-crafting world, you'll need the best drill press for metalworking out there. So if any of these 7 tools have caught your eye, go on and grab it.
I'm Joost Nusselder, the founder of Tools Doctor, content marketer, and dad. I love trying out new equipment, and together with my team I've been creating in-depth blog articles since 2016 to help loyal readers with tools & crafting tips.