I love creating free content full of tips for my readers, you. I don't accept paid sponsorships, my opinion is my own, but if you find my recommendations helpful and you end up buying something you like through one of my links, I could earn a commission at no extra cost to you.
Learn more
An occupational hazard is a thing. In some professions, it is noticeably visible; for others, it is inconspicuous. Yet, many people seem to be oblivious about the hazard. They go about their work without care for their health.
If you are a woodworker, and you think that goggles are enough safety measures for you, then you are gravely wrong. You also need to take care of your breathing system, aka your lungs.
However, do not go for cheap masks that you can use for regular days.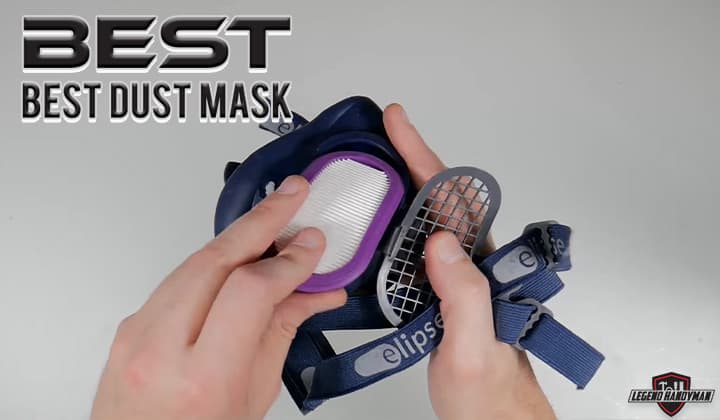 You need only the best dust mask for woodworking. The specialization is vital because the manufacturers tailor these masks for the woodworking profession. The producers know how the dust particles hamper an individual's health, and they design the products to prevent the risk.
Best Dust Mask for Woodworking Reviews
Although this product is new to you, numerous models of professional masks will surprise you. And for readers who already know and love woodworking masks, we have a comprehensive list of the best masks in the market. So, keep reading if your current product is not cutting it for you.
GVS SPR457 Elipse P100 Dust Half Mask Respirator
It is no doubt that every woodworker should use a mask. The mask will not only protect the user from dust but also make the working process much more comfortable. However, the items not appropriately made will cause more harm than benefit. That is why you should choose a mask by GVS.
Often, close contact of latex or silicone can prove to be harmful to health. These materials can emit dangerous gasses which, if inhaled directly, can internally disrupt the body system. So, the mask becomes counterproductive.
Hence, GVS came out with superior working products that have no association with latex or silicon. It is free from odor too.
Some people are allergic to different smells. As this mask is odorless, they can use this. The Elipse mask has the HESPA 100 filter technology. In simple terms, the product has a synthetic material that is closely knitted to make it more efficient.
The plastic body is also hydro-phobic, which repels 99.97% of water. Hence, it becomes airier.
Another great feature of this mask is its low-weight feature. These products are designed to make them ultra-compact and comfortable. So, they only weight about 130 grams. With such anatomical design, you can easily carry it anywhere and make proper use of your stationery box. 
Even though the mask is small, it is still available in two sizes. As a result, everyone can use the item. On top of that, the design is also made to fit the contours of your face perfectly. Hence, it lets you breathe with ease. This feature also helps in reducing fatigue.
You can discard the filters or replace them whenever the older ones become dirty.
Pros
99.97% water repellant
HESPA 100 technology
Compact and lightweight design
Replaceable filter papers
Two available sizes
100% odorless, silicon and latex-free
Cons
The carrying kit and extra filters need to be purchased separately
3M Rugged Quick Latch Reusable Respirator 6503QL
Woodworking alone is a taxing job. Without the proper tools, you can be working for hours. If you add the hassle of using a technical mask, then the work becomes even more complicated.
You need a product that is easy to use and maintain. Hence, 3M personal protective equipment should be perfect for you.
This mask has appropriate features that can help you wear it and maintain it with ease. The protective latches make sure that the object stays in place. It also remains snug and forms the features of your face.
Hence, you can minimize the chances of fogging your eye-wear. The latches are also adjustable, which should allow greater comfort.
The mask has a cool comfort feature that enables natural exhalation. Consequently, the warm air from your system will not cause discomfort. This action, in turn, helps reduce the fogging situation.
Another aspect that allows the cool comfort feature is the construction material of the mask. The lightweight material is also heat resistant, which maintains the integrity of the product. 
It has 3M filters and cartridges that work better than the permissible limit. It is NIOSH approved, which means it can block pollutants such as chlorine compounds, sulfur compounds, ammonia, and particulates.
While a regular mask would protect you from solid wooden chunks, this specialized mask can block out gaseous substances. 
The mask has other features such as positive and negative pressure seal check that determines whether the environment inside the chamber is too congested or not.
If it is too much pressure and can cause a disturbance, the filters automatically allow more air passage. It does so by conveniently blocking hazardous substances. The mask weighs 3.2 ounces only. As a result, professionals can use it without carrying any extra weight.
Pros
Effective fog reduction
Gaseous hazard blockage
Heat resistant body
3M filter and cartilage
Comfortable wear
Easy to maintain
Cons
The hard plastic front piece creates sealing issues
FIGHTECH Dust Mask | Mouth Mask Respirator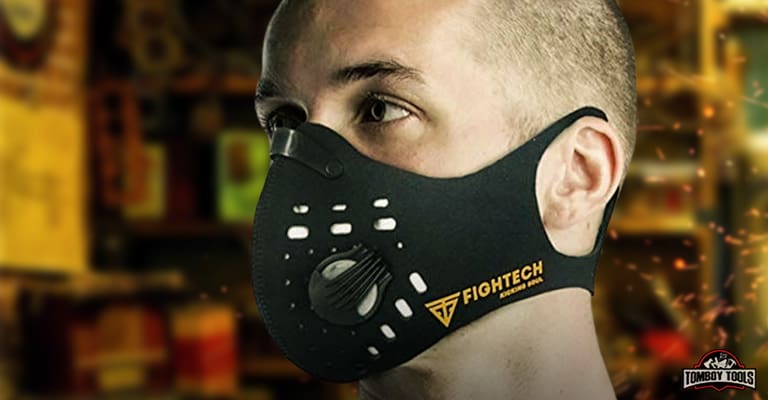 In general, protection gears can be trickier than you think. They usually have intricate designs but often have slips and cracks through which the pollutants can sneak in. A useful tool will not let that happen. That is why Fightech took their time to perfect the mask and manufactured a fool-proof product.
Without proper sealing, the masks will not be useful in the long run, and there are many ways of the seal to be inefficient. It is like a circuit, and with the smallest glitch, the entire design can be faulty. In the same way, due to ear-loops or eye cavity, the masks sometimes have leaks.
However, the Fightech has improved design where it adheres to the face shape. The edges of the mask are malleable, which enables it to fit according to the contours. It has the ingenious feature of using the ear-loop that allows the product to hang on to the face. This hanging on motion prevents slip-offs.
This ear-loop feature is possible because of the flexible elastic material. However, the elastic is odorless and will not cause any discomfort. To make the mask fully leak-proof, it has one-way valves.
The one-way passage makes sure that air from the inside can pass out smoothly. Hence, the chance of fog creation is less. It only lets clean air enter the mask. The filters attached to all valve holes can purify pollen, airborne allergens, and toxic fumes.
Maintenance of the mask is effortless as you can purchase refills of the filter. So, whenever a filter is overused or past its shelf life, you can change the sheet instead of buying a new mask.
The durable neoprene construction makes the product durable, as well. These masks are even available in kids' sizes, so they are very versatile.
Pros
Anti-fog mechanism
Leak-proof design
Flexible material
Replaceable filter sheets
Comfortable to use
Cons
The mask can become humid
GUOER Mask Can Be Washed Multiple Colors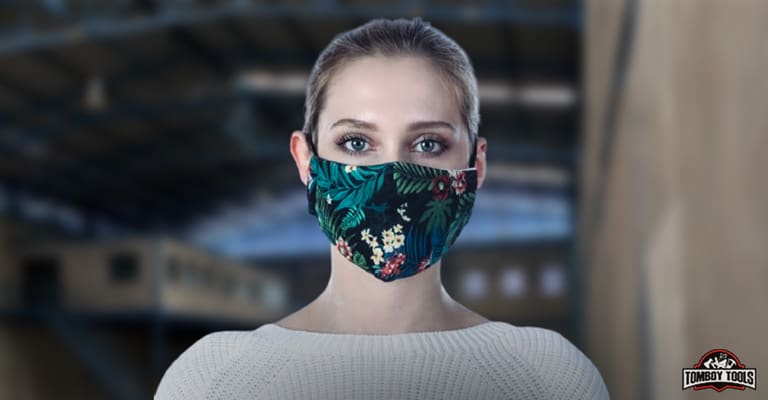 If you are not going in deep during woodworking and your assigned job is just trimming or finishing, then this mask can be your pick. Although the work will not deal with much toxic fume or particles, it is always better to use a protective cover. However, the notion of breathing without any mask is understandable.
That is why Guoer designed a mask for people who only want a light mask with maximum coverage they can get. This mask is excellent for outdoor projects and hospitals.
Patients, as well as nurses, can use these items. And woodworkers can certainly get great value from these masks. The only catch is, you cannot use them for heavy-duty chemical work or overtime carpentering. 
Another great thing about the Guoer masks is its colorful exterior. These masks come in a wide range of patterns and designs that anyone can use. Features such as this make the product stand out even more.
The shapes do more than appear pretty; they can distinctly raise the mood of a patient who is feeling low or also bring some fun in a workgroup.
The construction of the mask mimics the shape of a regular disposable mask, but it has more grip to it. These masks are not disposable, and you can use them continuously.
The M shaped nose clips allow the product to adjust to the face and create less pressure on the nasal cavity as opposed to a heavy-duty mask. The material is 80% polyester fiber and 20% spandex. Hence, the cover is cloth-like flexible and will not contract any germ or bacteria.
You can easily wash the mask anytime you want and dry it as regular clothing. No extra steps needed. The interior is 100% cotton which will not irritate the skin. Wearing the mask is also easy. All you need to do is adjust the straps and wrap them to your ear. No latches or velcro needed.
Pros
Clothe-like flexible mask
Can be washed
Extremely comfortable
Bacteria resistant material
100% cotton interior
M shaped nose clip
Cons
Not suitable for heavy-duty usage
Safety Works 817664 Toxic Dust Respirator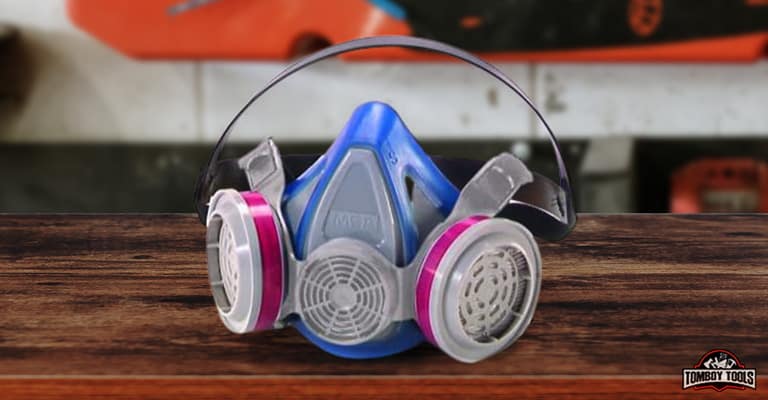 We want a lot of features in our products. In short, we want it to be versatile. So, if you want a super mask that can block toxic fumes but at the same time want it to be weightless, then the safety works woodworking mask is perfect for you.
The manufacturers produced this mask with a durable plastic material that will add up to 1.28 ounces only. That weight should feel like nothing on your face. But, do not worry about it being so weightless because it is still perfectly functional. The safety works provide more comfort as it promised.
There are visible air vents on the mask. The protruding chamber in the item is where the filters are situated. So, they take up their own space instead of jamming inside and creating uncomfortable spacing for your nose and mouth. The ventilation is also much better with these chambers.
The chambers have filter sheets which are bacteria proof and replaceable. So, it can be dirty from collecting the dust, but it will not be contaminated over time from the toxic dust.
However, whenever the sheets show visible darkness, you should change the filters. The good thing is that the filter papers are readily available.
With an adjustable belt, the mask becomes even more versatile. Any worker can use it. However, we would strongly advise that the items remain as a personal item. That way, chances of cross-contamination can be eliminated.
The body is flexible too. You can carry it in your bag, and it will not take much space. Since it is plastic made, the exterior will not become dirty quickly, either. It is a low-profile item, and for extra assurance, the mask is NIOSH approved.
Pros
Weighs 1.28 ounces
Durable plastic material
NIOSH approved
Separate filter chambers
Replaceable filter sheets
Adjustable belt
Cons
Does not fit the frame properly
3M 62023HA1-C Professional Multi-Purpose Respirator
Working in a hazardous environment and concerned about your health? If you are second-guessing your existing mask, then it is probably a good idea to purchase a better, more efficient product. Product from 3M has made our list before, and we have yet another product from this line to be presented.
This mask is a heavy-duty mask and will provide maximum coverage in every situation. You can tackle the dense chemical fog environment with this product.
The all-over plastic material ensures that there are no leaks for the unfiltered air to enter the mask. Air can only get inside through the filtration valve, and by the time the flow is inside, it should be free of any chemical pollutants.
The filter chambers are outside the nasal cavity of the mask, and they can be detached entirely from the mask. This feature makes the cleaning process a lot easier.
The detachable filters also mean that the sheets inside are of superior quality. A rubber mesh also covers the filter papers from the outside and blocks the bigger chunks from flying in.
The cartridges are designed to be sweptback so that they do not block vision. Other features, such as the secure drop-down system makes it quicker to wear or take the mask off. The process will not fog the chamber either, thanks to its exhalation valve.
You can get 99.7% cleaner air with this product as it prevents the likes of molds, lead, coatings, sulfur oxide, or chlorine gas from entering the chamber. It is a durable product that will last you for a long time.
Pros
3M thick filter paper
Sweptback cartridges
Easier vision
No fogging
Protects against harmful chemicals
Made with a mixture of rubber and plastic
Detachable filter chambers
Suitable for heavy-duty use
Cons
Costs more than other woodworking masks
BASE CAMP Activated Carbon Dustproof Mask Mask for Allergy Woodworking Running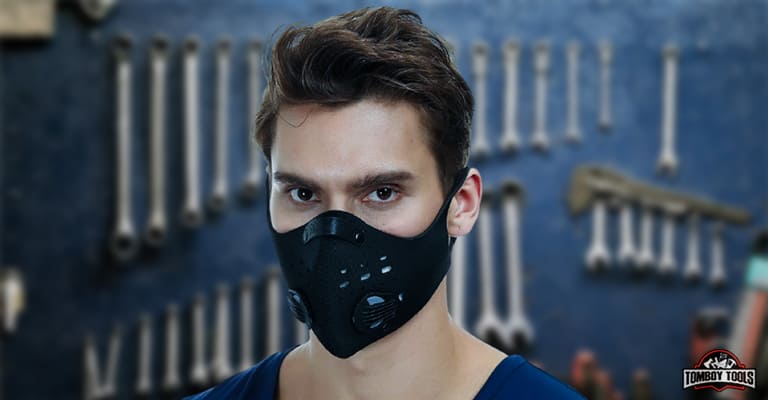 If you want a dust mask that can be used in your workplace, and you can also use it while you ride a bike or cycle? If you want a mask that is on the middle ground of providing protection and comfort, then the Base Camp masks will be a great choice.
The immediate factor that you will notice about this product is its outlook. It has a grungy vibe to it that makes it workplace appropriate, but you can also use it for bike riding occasions. It provides the same protection with the bonus of cool aesthetics.
The dust mask, which is carbon activated, can filter 99% of car exhaust, pollen, and other allergens. So, if you are a person who suffers from dust allergy, then you can use this mask daily too. It is comfortable to use and looks completely ordinary.
What is impressive about this product is, even though it looks ordinary, it can perform well in a toxic environment too. The valves with heavily padded filters help in blocking the harmful fumes.
However, since it is an ear-loop mask, it sits very snugly on the face. Hence, there are adjustable nose clips made of aluminum. You can use the clip to fix the size according to your face.
The ear-loop system means there is no space for the unfiltered air to enter the mask. Air travels through the filtered valves only. You can get top-notch ventilation as there are exhaustion valves. If the filter sheets get dirty, you have the option to replace them. You can wash and re-use the covers too.
Pros
Carbon activated mask
99% pollutant-free air
Aluminum nose clip
Versatile mask
Exhalation valves for minimizing breathing resistance
Ear-loop system
Washable body
Replaceable filter
Cons
Should not be used in chemical factories
What Makes a Good Dust Mask
The concept of a dust mask is simple, only if you are considering the regular use masks. Woodworking or professional masks are a lot more complicated. This is why you need to know about individual features. Knowing about each function can help you choose the best one for you. Along with your other woodworking essential tools the dust mask also a cute addition.
Construction Material
You are buying the mask intending to protect yourself from hazardous fumes and particles. In turn, if the product creates more problems, then it defeats the purpose. This situation can happen whenever if the object has materials that emit asbestos or lead fumes.
So, to ensure that the masks are safe, the user should check whether the items are silicon and lead-free. 
The addition of rubber free material is also encouraged as cheaply processed rubber can also be harmful at close contact. Latex on these masks is also not permissible, so the user should be careful about that.
Design
The design of the mask can alleviate the whole experience. If a cover has a faulty design, then it is as good as useless. So, the first thing the users should check is if there are any potential holes in the mask.
The pollutants can quickly enter the cover through those holes and will gather inside the object. This situation will be even more harmful than open air.
The masks should adequately adjust to the face. If not, then the design will leak, and unfiltered air will enter through the crevices of the face.
The filter sheets should be appropriately adjusted so that they do not block the breathing passage. A standard mask should have all of these features; otherwise, do not purchase it.
Acknowledgments
To assure the consumers, the manufacturers should make sure that their masks have proper certification. Usually, a NIOSH certification is an excellent indicator that the products are safe for use. They should also mention how pure the air becomes after filtration, and if it is above the permission level. 
If a mask does not have assurance or any indicator, do not trust it. These products, even with proper construction and material, can be harmful if not properly checked by respective authorities. Usually, the package will have the necessary information regarding the mask, or you can check their websites too.
Safety Features
Little tweaks here and there can vastly improve the overall output of the mask. An easy improvement is adding a one-way vault so that contaminated air cannot enter the space through the filter paper. 
The exterior or interior materials of the mask should not have any asbestos or lead compounds. For tackling that, a generous coating of protective substance should be used. That would increase the durability of the product, as well.
Making the mask flexible so that it can hug the face contours is also a great way to make the product more productive.
A protective mesh, outside the opening hole, can prevent larger particles from entering the mask and also protect the filter papers.
Ease of Use
If the user can easily maintain the masks and does not need additional products to keep it in mint condition, then it will be a comfortable mask. Most brands also offer a protective casing for storing the items.
You should check whether the object has replaceable sheets. If not, then the product will become useless after a while.
Some masks have an easy drop-down feature, which helps a lot while wearing it and taking it off. If the item is of cloth material, then make sure that you can wash it with soap-like substances. 
The user should be able to breathe comfortably while using the mask. Also, if a product creates fog inside, then it is made poorly and should be ditched.
Adjustable straps or bands also add to the comfort. The parts that adhere to the face should not cut or scratch the skin. 
Frequently Asked Question
Q: Is a latex mask suitable for use?
Ans: No, latex can create harmful fumes. A dust mask should consist of flexible and durable plastic.
Q: Where is the filter paper situated?
Ans: The filters are around where the holes are for the valves. Through these holes, the air enters the mask, and it is purified through the filters first.
Q: What happens when the filter paper gets dirty?
Ans: A trustworthy brand will provide the option of replacing the filter papers. So, when the sheets get dirty, discard the old ones and replace them with new ones.
Q: Are these masks made of hard material?
Ans: No, the masks need to be flexible to fit the face, which is why they are of soft, flexible materials.
Q: Can other professionals use these masks?
Ans: Yes, nurses or bike riders can easily use these products
Q: Should the masks be creating fog?
Ans: No, only a faulty mask will create fog.
Final Word
It does not take grand initiatives to live a healthier life. You might not consider the best dust mask for woodworking of any use, but in the long run, you will understand its sheer need. So, be conscious before it is too late. Get a dust mask and start chopping without any worry.
I'm Joost Nusselder, the founder of Tools Doctor, content marketer, and dad. I love trying out new equipment, and together with my team I've been creating in-depth blog articles since 2016 to help loyal readers with tools & crafting tips.