I love creating free content full of tips for my readers, you. I don't accept paid sponsorships, my opinion is my own, but if you find my recommendations helpful and you end up buying something you like through one of my links, I could earn a commission at no extra cost to you.
Learn more
It's an ideal multi-purpose tool, kinda like a Swiss knife for those who work with fences. From cutting and bending wires to hammering, it can do all sorts of tricks. Yes, it's not a full-blown hammer but if it's the only tool you've got around, it'll get the job done.
You can nullify the odds of hammering your fingers while stapling with these. Each hole can house each end of a wood staple. So, you can hold it precisely with ample stability and hammer the nail in, stable holding more like as a needle nose pliers. It also has a protrusion like a witch's nose to remove a staple.
Since all look more or less the same let's point out the differences to label only the best fencing pliers as the best.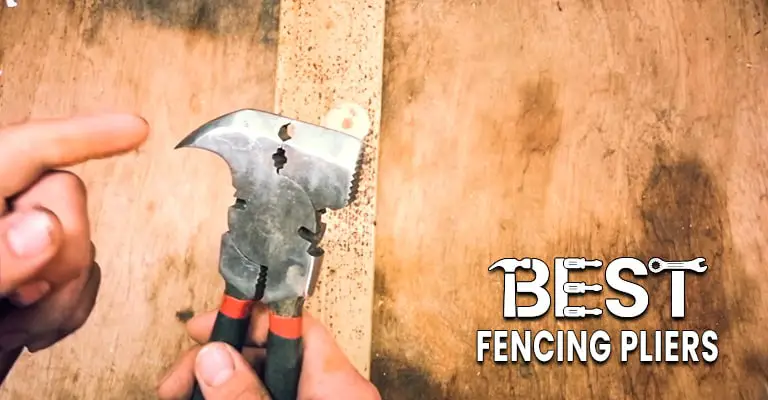 Fencing Pliers buying guide
To help you find the best fencing plier, we have analyzed all the key features and work scenarios and created a checklist of all the key features you need to look on before buying one. This will mitigate your confusion and lead you to your desired product. So, let's have a look.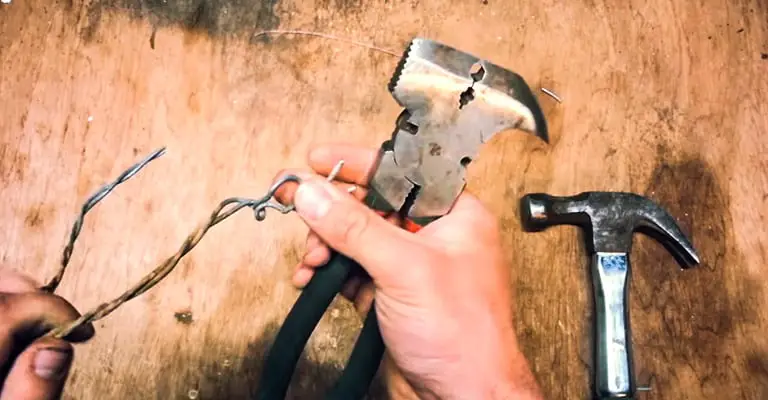 Durability
Most durable pliers are made of high-strength steel or composite materials which makes them rust and corrosion free and at the same time, they will last longer. So, if your work requires something heavy-duty, chrome vanadium would give you a nice time. But nickel-chromium steel is better known for its non-rusting feature.
If you are dealing more with pulling, the claws need to be sharp enough and chrome vanadium proves to be better for sharpening. The nickel coating, in that case, may get affected but is still a better choice than other softer alloy metals.
Part of the pliers head
As we know, these pliers are not just limited to cutting wires and repair works, so is its head. Its versatility derives from the following sections of it's head.
The Claw
Basically, fencing and other staples are pulled out using it. Having a sharp tip is essential if the staples you encounter are flatter or tinier than usual. Note that vanadium alloy steels are better in terms of frequent sharpening.
The Hammer
The head of the hammer should be corrugated. They have a greater impact than on staples and nails than flat and smooth ones.
The Wirecutter
These parts should be specifically hard since they counter more pressure owing to the lesser contact surface. Looking for induction hardened wire cutters is a good option to select strenuous fencing pliers.
The Pliers
The pliers mainly come with two pinchers leaving two valleys in between. Both the pinchers are equally capable of separating two wires. The sharpness of them depends on the thickness of the wires. Double-stranded smooth wires can be easily separated as well as stretched using the square or jagged edges of the pliers.
Handle
If you can manage to get both a non-slip synthetic grip and a non-pinching feature, the long slender handles will be better off. Manny pliers appear with plastic dipped handles. But, mechanically bulkier rubber layers offer you more control. But certainly, they'd add some weight to the tool.
Size
Fencing pliers are usually larger than ordinary pliers yet smaller than hammers. Those having a length of 10 to 10 ½ inches are quite ideal to deal with can easily be put on a carpenters nail bag.
Surely, You don't want to buy a super plier covering all tasks but you can't handle it with your small palm! So, if you have a short palm consider some of the slimmer fencing pliers that you can handle easily.
Comfort
You surely don't want to end up with a tool that will leave you with a sore hand after a small usage. Comfort mainly depends on two factors- perfect weight distribution, and a comfortable grip.
Perfect weight distribution is achieved when the head and grip ratio is maintained. So, don't just go for a short handle! Examine perfectly. Again, a non-slip and rubber-coated grip makes the plier comfortable in the palm and easy to use. This type of pliers will not cause wrist pain after extended working hours and will give you an enjoyable work hour.
Functionality
If you are a professional, you may want to choose the products that offer the most functions. In that case, pliers that have a 7 in 1 option will be best for you as one plier will do all the work. Will you be using it for DIY projects? Go for ones having sharper claws and smaller heads.
Price
Choosing the perfect tool in a fixed budget will give you an option to invest it into other tools or things. If you are going to do DIY works then we would recommend you go for a budget-friendly tool only focusing on your work stuff. But if you are a professional then you may overlook this point.
Best Fencing Pliers Reviewed
Considering the key features and work requirements we have analyzed the market and sorted out some of the high-end fencing pliers. So, let's have a look.
1. IRWIN Tools VISE-GRIP Pliers, Fencing, 10-1/4-Inch (2078901)
Advantages
Irwins' most popular Vise-Grip is fully constructed out of durable nickel chromium steel which ensures maximum durability. Moreover, machined jaws provide a very tough gripping strength. Again, the special anti-pinch and non-slip grip ensures comfort and minimizes hand fatigue.
The 10 and a quarter inch plier comes handy when working on metal and wood posts. The frontal portion is designed to be a handy hammer when needed. Because of the construction, it will deliver sheer force to staple heads. Right-back of the head the pointy end is made for removing any kind of staple pins with a low effort.
Two opposite sides of the tool have precise cuts that act as wire cutters. Because of the strong nickel-chromium steel solid construction, it can cut wires made of even the finest materials with minimum force.
Two inner pincers are there for you to use as staple claw or separating twisted wires or even splicing wires. Simply place the staple in between the handles and hammer it right into the surface and you are ready to go.
Drawbacks
The thing may bother you that the handles on this are not spring-loaded so one hand usability is not possible.
Again, some of the features like staple starting or wire gripping facilities can't be seen in the model.
2. Channellock 85 10-1/2in. Fence Tool Plier
Advantages
Channellock offers its pliers to be as robust and versatile at the same time. A firm rubber grip provides extra comfort and with a blue tone, finish gives it an attractive look also. Moreover, only 1.25 pounds of weight means you won't feel any wrist pain after long working hours.
The plier has a total length of ten and a half-inch. Installing and maintaining a wire fence can be easily done with the help of this multifunctional tool. From staple starting to pulling and hammering all can be done with the help of it.
Moreover, the long handles provide enough leverage to remove even the toughest staples from a surface. Working with wires is also easy thanks to its gripping jaws. Works including hammering, starting a staple, removing a staple, splicing, and extending wires, separating twisted wires all can be done with the help of this simple plier.
Wireworks are necessary for fencing and the plier will let you go through all the wire pulling and splicing works. Two additional side cutters are there when in need of cutting wires. The frontal portion is made to deliver immense power to stick objects on any surface.
Drawbacks
Fence pliers of this power and performance would be perfect if only it could resist corrosion.
If you are going to buy the tool keep in mind to clear it now and then.
3. TEKTON 34541 10-1/2-Inch Fencing Pliers
Advantages
Tekton manufactures its 34541 fencing pliers with the help of high-quality Chrome Vanadium steel ensuring a long lifetime. Two slim and non-slippery handles with a firm and comfortable grip will give you joyous work experience.
A plier is a versatile tool as it is all seven tools necessary to install, maintain and repair any type of wire fences. Staple works are easier than ever as separate sides of the plier work as staple starter, puller and staple claw. The frontal side is heavy enough to use as a handy hammer.
The jaw has two inner pincers that will help you when the need for separating twisted wires. Right below the top, there are two wire cutters one opposite to another that can cut even the heaviest steel wires( up to 10 gauge ) with ease.
The lower-inner portion of the 10 and a half inch tool is made such a way to be used as a staple starter. So, need not fear to smash your hand with the hammer.
Drawbacks:
Tekton ensured that due to the build, the performance would be fantastic.
But it turns out that the jaws don't grip very well when working with finer materials.
Again, according to some users, the tool gets nicked up quite easily, which raises the question about its longevity.
4. Crescent 10″ Heavy-Duty Solid Joint Fence Tool Pliers
Advantages
Crescent offers a solid build with their 10-7/16" forged steel fence pliers. With a solid build, the handles have a red rubber grip that offers extra comfort while working. Moreover, the red tone along with the silver upper portion makes them attractive too!
All the things necessary for installing and maintaining a fence can be easily done with the help of this simple tool. A corrugated hammerhead is at the front to help you to dig any staples in any surface.
Right at the opposite, a pointy end is there when you are in need of removing staples from any surface. Moreover, two staple grips are there to help you with removing staples also.
Two electronically induction-hardened wire cutters ensure cutting even the finest wires out there with ease. In between the handles there lies a special wire grip that will come handy when you need to stretch wires.
Drawbacks
The rubber grip doesn't seem comfortable as Crescent described as the grips come off very easily.
Again, many consumers reported that the metal seems to be pretty soft for heavy-duty usage.
Despite using lubrication, the tool becomes very stiff to open the jaws after using 100 times on average.
5. AmazonBasics Linesman & Fencing Pliers Set – 2-Piece
Advantages
Amazon offers a pretty good combo set of two tools including a 12-inch linesman plier and a 10.5-inch fencing plier. The linesman plier will cover all your electrical, communication and construction projects and the fencing plier will help you with installing and maintaining fences.
Both of the tools are constructed out of high-quality alloy steel which has also gone hardening treatment. Such a process ensures that the tool will withstand almost everything and still last. Moreover, plastic-dipped handles ensure a comfortable grip and are really easy to handle.
The linesman plier has a strong and gripping nose that will help you with works like twisting, bending, shaping or even pulling wires also. Because of the precise construction of cutting edges wire, cable and metal components can be easily handled with it.
The versatile fencing plier is made for all kinds of fencing works. Works including starting, pulling and removing staples, stretching metal wires, splicing and cutting wires and hammering all can be achieved with ease with the help of the plier.
Drawbacks
The linesman plier appears to be quite larger than typical ones.
This is not much an issue but if you have small hands you might reconsider it before buying the tool.
FAQ
Here are some frequently asked questions and their answers.
How do you use a fence tool pliers?
How do you strain a fence with pliers?
Why do farmers carry pliers?
The area of using Pliers are wide, such as pulling out nails and staples from something or loosening bolts. They come in extremely handy when you are working on small projects like ledger board or even when you are in an interior project which includes demo, plumbing or small wood project.
What gauge is barbed wire?
Typically used exclusively in barbed wire, 15 gauge high tensile wire is only going to stretch 1.5-2%, and will break at about 550 lbs., making barbed wire break at 1,100 lbs. This 15 gauge wire will be smaller than 12.5 gauge, but will have a higher strength because it is high tensile.
How do you cut metal fence wires?
How do you get past barbed wire?
Don't climb higher than necessary as the fence becomes less stable. Then either twist your foot around or put your heel on the wire and carefully get the other leg over — then climb or jump down. If you feel you are losing balance, don't grab the barbed wire — jump off.
How do you fix pliers?
How do you use T post clips on fence pliers?
How do you use T post clips with pliers?
How do you tighten a stock fence by hand?
How do you tension a stock fence?
The staples should be at 90 degrees to the post and around half an inch apart. This post is just a straining lever and you can use it for the whole job. Pull the barbed wire fairly tight by hand then put the wire between the staples then insert a 6 inch nail through the staples and behind the barb and over the wire.
How do you stretch a welded wire fence on uneven ground?
GreaseMonkey Preshrunk & Cottony. I've had better luck by dragging the fence uphill and stretching it downhill. And use a chain hook to stretch it, you can move it up and down to stretch either the top or bottom. The grade is not as important as to whether the hill is straight slope or if it has a round to it or a dip.
What tools do subsistence farmers use?
Subsistence agriculture generally features: small capital/finance requirements, mixed cropping, limited use of agrochemicals (e.g. pesticides and fertilizer), unimproved varieties of crops and animals, little or no surplus yield for sale, use of crude/traditional tools (e.g. hoes, machetes, and cutlasses), mainly the …
Q: Is it possible to sharpen the cutters of my plier?
Ans: Well, theoretically it is possible if your skill is top-notch. But, this might not be a good idea. This changes the geometry of the cutter and because of that, the cutting behavior worsens. Moreover, the handle width is narrowed every time the cutter is sharpened. So, practically you may need to reconsider these facts and think again before doing so!
Q: How can you start stapling with a fence plier?
Ans: Multifunctional fence pliers have a special cut in between the handles. At first, you have to place the staple in that position and with the help of an additional hammer, you can dig the hole without hurting your hands.
Q: How can you fix stuck or seized pliers?
Ans: Mainly pliers seem to be stuck because of extreme rust. In that case, you have to apply silicone lubricants spray and keep it for one night. After that, you will find your plier to be working at full potential.
Q: How do you lubricate pliers?
Ans: For lubricating your plier at first spray the plier with some silicone lubricant or other machine oil at the joints. After that dip it into some dry sand and keep it there for a short time. This will loosen the joint. After removing the sands again use some lubricants to remove the remaining grit and clean it with a soft dry cloth.
Conclusion
Fencing pliers vary based on size, functionality, price and many other aspects. Considering the key features and work requirements, AmazonBasics combo and IRWIN Tools VISE-GRIP pliers are the contenders for the crown. If you have a small palm and want a fence plier that will serve your needs then go for the IRWINs tool. As it has a length of only 10-1/4 inch it will easily fit in your palm, Moreover, the comfortable rubber grip along with all the functionality will come handy for you.
Again, if wrist size is not considered and you may need all the functions then go for the AmazonBasics combo pack. Because of the two, the robust and versatile tool will not only come handy to you but also enrich your toolkit arsenal and serve your purpose.
In order to do all your fencing kinds of stuff with ease at the end of the day, you do need a tool you can trust with and rely on. Thus, you need to choose the best fencing pliers to give yourself comfortable work hours.
I'm Joost Nusselder, the founder of Tools Doctor, content marketer, and dad. I love trying out new equipment, and together with my team I've been creating in-depth blog articles since 2016 to help loyal readers with tools & crafting tips.