I love creating free content full of tips for my readers, you. I don't accept paid sponsorships, my opinion is my own, but if you find my recommendations helpful and you end up buying something you like through one of my links, I could earn a commission at no extra cost to you.
Learn more
Flaring tools brought an economical solution for those damaged brake lines and fuel lines of cars. Well, it indeed has its purpose in lots of other places, that's a talk for another day. Some have simplistic mechanisms while some have really complex ones to serve some distinguished purpose like flaring brake lines on cars i.e you won't have to remove the line from the car to do it.
Amongst all these sorts of flaring tools like one with a full kit having a bunch of miniature pieces serving for each size. And then there's some with a removable handle, you'll have to tighten some screws and it'll be done. You'll find us talking about all these types and various aspects to ensure the best flaring tool.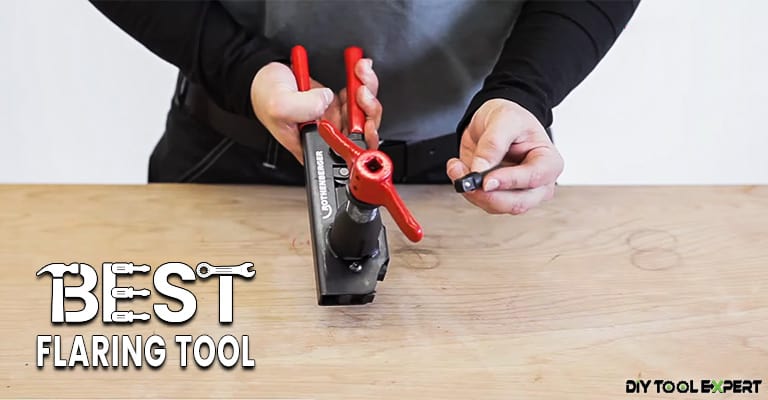 Flaring Tool buying guide
With so many varieties of flaring tools all in different shapes, sizes, design, and functionality, you may feel pressured and unsure of what basic factors you should look for in your flaring tool. So to make your life easier, below we have made a list of the major aspects you need to consider before buying.
The Type You Need
There are few types available in the market like conventional, vice mounted, hydraulic, on car flaring tools. The most conventional flaring tool can make single, double and bubble flare. You can work on a vise with ease by using a vise mounted flaring tool.
The hydraulic flaring tool is ideal for creating standard or metric lines and lastly the on car flaring tool is used to make flares by keeping the brake line on the car.
Durability
A durable flaring tool does not necessarily need to be heavy. You just need to look for a flaring tool that is made from durable material like copper, nickel alloy or other strong alloys. But note that copper is stronger and better for corrosion resistance applications when compared to nickel alloys.
Keep an inspection eye on the threading of the flaring tool you choose. Selecting the thickly threaded tool is better since you'll have more strength and robustness in comparison to thin ones. But that would yield to a fewer number of turns.
Portability
Whether a flaring tool or tool kit is portable enough depends on at least two factors- it's weight and the sturdiness of the case it comes in. A portable flaring tool will give you the advantage of traveling without any discomfort. And keep in mind that, the weight depends on construction material.
Whether you are a professional or a common person, it is essential to have a portable flaring tool as you may have to travel on your job or move to a different place. So make sure to purchase only if the set comes in a strong storage case, made of thick, strong and long-lasting material.
Leak-free Finish
Flaring is done to conjunct and bend conduits leaving no gaps in between. Yet the smoothness of the flare is often not up to the mark just if the flaring tool comes up with the wrong flare sizes. Again, whether the tool will give a leak-free result, solely depends on the quality of the materials used to make the flaring tool. So consider buying a tool that is made from sturdy, thick durable materials for example steel, etc.
Size
If you want to buy a flaring tool, you should consider buying the one that is small, light and has a compact design. Basically, the size of the whole tool depends on the number and sizes dies or adapters it has in it. The standard diameters of the pipes or conduits to be flared usually vary from 3/16 inch and all the way up to ½ inch.
But obviously you won't need to deal with all the sizes available. So select the flaring tool covering the range of sizes you need and know that a tool with good and practical proportions will help you to work in tight and small spaces. And of course, you will be able to store it with ease in case you are not using it frequently.
Adapters
Every flaring tool comes with one or more than one adapters of different sizes. Generally, adapters help to connect the tricky parts of piping. It is wise to work with a tool that comes with adapters as a separately bought adapter may not be compatible with the flaring tool you are using. So ensure buying a flaring tool with several adapters to use for different jobs.
Maximum Efficiency
Efficiency is one of the important features you should be looking for before purchasing. An efficient flaring tool can create strong and tight fittings as well as a precise flare.
The double flaring tools are highly praised in comparison to a single flaring tool for its capability to make both single and double flare. All the main three components (metal piece, the crew, and metal bar) have to be present in a flaring tool to ensure maximum efficiency.
You may also like to read – best pex crimp tool
Best Flaring Tools reviewed
In the previous section, we have addressed and discussed all the prime features of a flaring tool you need to consider before purchasing. To make your life much easier, below we have also highlighted some strengths and weaknesses of a few flaring tools which we think are the finest among all the flaring tools available in the current market.
1. OTC 4503 Stinger Double Flaring Tool Kit
OTC Double Flaring Tool Kit is indispensable when it comes to creating single or double flare on soft tubings like aluminum, copper, brass or brake line tubing.
The set comes with a yoke, 5 adapters of different sizes, a swivel and a handle all housed in a blow-molded plastic storage case. The plastic storage case keeps the kit organized and convenient for transportation.
If you are looking for something visually pleasing, this simplistic black finish may catch your attention. As far as operation wise, this kit is one of the top-notch flaring tools you can find.
Rugged, forged heat-treated steel slip-on yoke ensures longevity and flexibility in performance. Chrome-plated yoke divided into two halves screwed together that tightens the tube with a pair of nuts.
Swivel, made of high-quality alloy, reduces friction and any kind of damage caused by it. Positive clamping of flaring bars prevents tube slippage and ensures a tight grip. All the tools in the kit work together to produce leak-free, thick double flare.
OTC Double Flaring Tool Kit suitable for soft tubing only. The process of clamping or squeezing can cause significant damage to the brake line.
While using it, you have to convert metric measurements to inch fractions. You may face difficulty while working with 3/16 inch tubing as it may slip from the pressure.
2. Titan Tools 51535 Double Flaring Tool
Titan Tools Double Flaring Tool is highly admired for its user-friendly and effective design. It comes with one container of die lubricant, one double-ended punch, one positioning bolt and lastly one 3/16 inch flaring tool all in one package.
A detailed instruction book is also given with it to help you in the process.
Perfect inverted 45-degree flare makes it ideal for repairing brake lines for vehicles and other automotive applications. Its compact design permits flaring in tight and small places.
With this kit, you can repair the vehicle's brake lines with everything in position without going through the tiring process of removing the brake line.
Without having too much-moving parts, it still maintains consistency while creating single, double, or bubble flare on steel or nickel tub. Positive long clamping holds the line very well without damaging the tube. Working on bench vice is super easy for the removable handle.
Titan Tools Double Flaring Tool is not recommended for stainless steel tubing. The design of this flaring tool makes it compatible mostly for repairing vehicles.
This compact and heavy weighted tool does not come in a storage case which makes it hard to transport. There is no other part to hold onto other than the handle which may be a discomfort to some people.
3. Flexzion Flaring Tools Set
Strengths
Flexzion Flaring Tools set is well known for its wide variety of applications on gas, refrigerant, water, and brake line applications. Its simple yet fruitful design offers smooth, precise and effortless flare. The satin black finish adds professional and elegant appearance.
Faceted, sturdy steel cone rolls out perfect 45-degree flare without damaging the tube itself. The unique and self-adjusting handle mechanism with 8 pipe sizes provides versatility for any stationary workbench or work station. Many mini-splits manufacturers recommend it for leak-free quick R-410A flare.
The single clamp screw furnishes endless clamping. On the other hand, a large feed screw is used for an easy turn. Its self-centering slip-on yoke decreases friction and required force.
Moreover, the heat-treated hardened silver flaring bars secure a tight grip on tubing, preventing tube movement. However, a highly clever clutch mechanism halts over-tightening.
Shortcomings
Flexzion Flaring Tools set might not work with hard materials. This does not come in a storage case which makes it unsuitable for being enough portable.
Some people face difficulty while working with the refrigeration tubes. Sometimes no manual is given with this kit, which makes it hard to work with.
4. TGR Professional Brake Line Flaring Tool
Strengths
Another great addition to this list is TGR Professional Brake Line Flaring Tool. This kit is preferable to many for its convenient use for both professionals and beginners. You don't need to learn any sort of technique or any unnecessary fuss, just hold onto your palm and you are good to go!
As far as performance-wise, it can create quick and smooth single, double and bubble flares in 4 different sizes. A distinctive feature of this tool is, this tool includes pre-tested sample flare which makes your job easier.
The T-handle is another exclusive feature of this tool which tightly grips die and tube. You also get dies for a few different tube sizes.
This versatile flare is definitely worth the price and lasts a long time. Even if you prefer working on the vise, you don't need to worry. Moreover, it comes in a remarkable plastic storage case that ensures portability and adds professional appearance.
Shortcomings
The maintenance can be an issue as you need to clean the kit from time to time. Dust or debris reduces its workability and shelf life. The price may seem to be high for some people. Also, you need a straight tube of a certain length to work with.
5. MASTERCOOL 72475-PRC Universal Hydraulic Flaring Tool Set
MASTERCOOL 72475-PRC Hydraulic Flaring Tool Set is a professional's top choice for its portability and elegant ergonomic design all in one package. Each of the elements of this kit made from rugged, sturdy raw materials that ensure long shelf life.
This tool works remarkably well on both dead soft and annealed steel with maximum versatility.
This kit includes a magnetic adapter holder that keeps adaptor and other components in place, also reduces the risk of falling out of the case. Its enlarged die set compression area provides better grip quality. Thus you can easily hold it in your palm and work in tight and small spaces.
Not to mention, this quality tool comes with an outstanding mini cutter and high-performance tube and die stabilizing arm which helps you to create extraordinary smooth and leak-free flares. With so many great features and adjustments, this can be a great addition to your workbench.
MASTERCOOL Universal 72475-PRC Hydraulic Flaring Tool's most highlighted downfall is that it is not appropriate for push connections.
Other than this, this kit does not include a GM transmission cooling line and 37 degree double flaring dies and adapters. Moreover, you can't fit optional adapters in storage case as there is no additional space.
6. MASTERCOOL 72485-PRC Universal Hydraulic Flaring Tool
MASTERCOOL 72485-PRC Hydraulic Flaring Tool a top-notch addition for its professional result in both industrial and residential purposes. This is not your typical flaring tool. You can operate it even without any prior knowledge.
Each component of this kit provides utter expert performance with minimum effort. There is not much difference between this and previous MASTERCOOL flaring tool in terms of operation and structure. However, this kit includes GM transmission cooling line dies and adapters which are not available in the previous kit.
Like the previous flaring kit, it works on both annealed steel and dead soft materials. The enlarged die set increases grip quality and magnetic adapters keep all the components in position. On top of all, it comes with a good build tube and dies stabilizing arm for forming quick and easy flare. If you need various sizes of connections for flaring custom lines then this kit might be the one for you.
MASTERCOOL 72485-PRC Universal Hydraulic Flaring Tool sadly makes only one type of bubble flare. This kit does not include 37 degree double flaring dies and adapters.
Anyone using it for simple household work might find it extremely expensive. Lastly, this tool is also not suitable for push connections.
7. RIDGID 83037 Precision Ratcheting Flaring Tool
If you are looking for something exceptional and more personalized, then the RIDGID Flaring Tool might be fitting for you. The most prominent aspect is its compact design which is suitable for creating three kinds of flares on stainless steel, hard chopper.
This tool comes fully assembled so you don't need to put any effort into constructing the parts together. Just place it in your palm and you are good to go!
A unique feature that makes it more interesting is the ratcheting handle. This lessens the wrist stain effect by increasing grip quality. Also, with this, you will be able to work in tight or small spaces with ease without moving too much.
Moreover, its automatic handle clutch makes your work more quick and simple. Not to mention, the forged hardened steel flaring cone also helps you to create a perfect uniform, leak-free flare.
As MASTERCOOL 72485-PRC Hydraulic Flaring Tool firmly packed in a small dimension, it might get lost if you don't pay attention to it. You need to clean this tool from to time as dust might decrease its workability. On top of these, this tool is heavy for transportation.
FAQ
Up to $60
$60 – $150
Over $150
Mastercool
RIDGID
Imperial
How do you make a perfect double flare?
What is a double flare used for?
The first is the inverted double flare, used by most domestic production cars and trucks. It uses a 45* double flare to seal, which has tubing that is folded over into itself before flaring outward. On the right, is a 37* single flared line with a tube sleeve and coupler that allows you to adapt to AN fittings.
Can you flare stainless steel brake line?
The two most common falsehoods that I'm aware of are: You can't double flare stainless, and stainless lines are more prone to leaking than standard steel lines. … So, keep in mind that stainless is the way to go when it comes to good-looking, long-lasting street rod brake lines.
Can I use a double flare instead of a bubble flare?
No. The shape of the line and port are completely different. They won't even try to seal. If you have the patience and tools you can reuse the existing nuts (provided they are usable) by drilling the line out of them.
What is the difference between a double flare and a bubble flare?
As you already know, double flare is the most common brake flare line. Therefore, the double flare is the one that uses 45 degrees temperature to function. As a result, double flare is sometimes known as a 45-degree flaring system as well. On the other hand, the 37-degree temperature is often used for the bubble flare.
How do you make a good flare?
How do you make a bubble flare?
What is inverted flare?
Inverted Flare Hydraulic Tube Fittings
Recommended or use in hydraulic brake, power steering, fuel lines and transmission cooler lines. Inverted flare fittings are inexpensive and reusable. Inverted flare provides excellent vibration resistance. Seats and threads are internal and protected.
What is an ISO flare?
Meaning of iso flare : A type of tubing flare connection in which a bobble-shaped end is formed on the tubing, also called a bubble flare.
What is a 37 degree flare?
37° flare fittings perform well in severe applications where vibration, high pressure, and thermal shock exist. … Standard flare fitting materials include brass, carbon steel, and stainless steel. Defined by MIL-F-18866 and SAE J514 standards, these flare fittings have been machined to have a 37° flare seating surface.
What does double flare mean?
A double flared plug has a flared end on both sides of the cylindrical piece of jewelry. This piercing requires the hole to be big enough for the flare to fit through, which is usually larger than your gauge size. … A double flared plug is only for healed stretched ears.
Can you single flare brake lines?
Single Flares are only acceptable on low-pressure lines, but not acceptable for high-pressure brake systems. A single flare is just as it sounds, the line is flared out just once in a conical shape. Single flares are not acceptable for brake lines and tend to crack and leak quite easily.
Q: How can you seal pipe fittings?
Ans: You need to put some oil on the threads and then tighten down with nuts. Oil makes it easier for the nut to turn as there is now less friction than before.
Q: Are inverted and double flare different?
Ans: No, they are the same.
Q: What types of flaring tools should you use for brake lines?
Ans: Two types of flare are used in break line and those are: double flare and bubble flare
Q: What kinds of the flaring tool should you use to flare stainless steel tubing?
Ans: You can use a vise mounted flaring tool or hydraulic flaring tool to flare stainless steel tubing.
Conclusion
I hope that our review has helped you thoroughly and you have decided the best flaring tool for you to buy. However, if you are still in confusion, you can choose from our personal favorites among the other flaring tools we have talked so far.
If you are looking for an on-car brake line flaring tool suitable for working in tight and small places then you can go for Titan Tools Double Flaring Tool. For non-automotive use, Flexzion Flaring Tools Set is our top pick for its precision flaring experience.
Master cool company is known for producing top hydraulic flaring tools. They both are quite similar in functionality and hugely admired for the tube and die stabilizer. Here we have talked about two of them and you can choose any of them.
I'm Joost Nusselder, the founder of Tools Doctor, content marketer, and dad. I love trying out new equipment, and together with my team I've been creating in-depth blog articles since 2016 to help loyal readers with tools & crafting tips.