I love creating free content full of tips for my readers, you. I don't accept paid sponsorships, my opinion is my own, but if you find my recommendations helpful and you end up buying something you like through one of my links, I could earn a commission at no extra cost to you.
Learn more
You can't do any outdoor chores in winter, not without water right?
The best frost-free hydrant is the solution to this problem! It helps you water plants, wash cars, and even give a bath to pets without having to worry about frozen pipes.
But they are certainly not all created equal, that's why I decided to review the top brands for you in this article.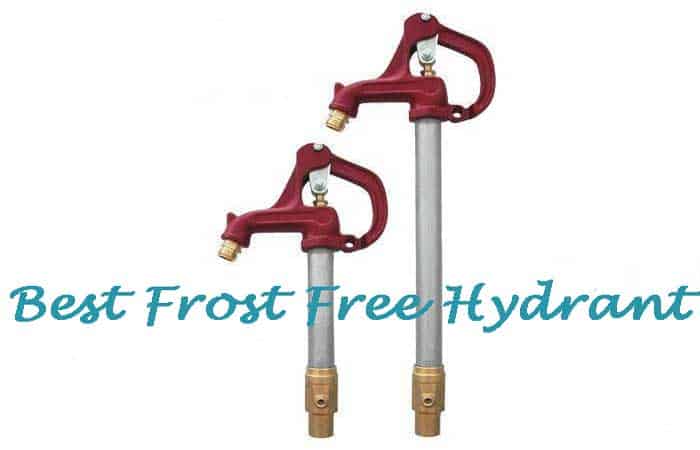 I've used quite a lot of models over the years and the best one to date is this Woodford Yard Frost-free hydrant, mostly because of its ingenious lock and flow finder system to set an automatic constant flow. Of course, for this price that can't be beaten.
Here's how the Woodford works and how you can install it:
Let's look at the top outdoor hydrants real quick, after that, I'll talk a bit more in-depth about them:
Frost Free Hydrants Buying Guide
Before you invest in a freeze-proof outdoor hydrant, you should consider the following factors so that you don't regret your purchase later.
Bury depth of the hydrant
The bury depth is the depth of the hydrant that can be kept underground. It determines how far it can reach and connect with the main water source for stable water flow.
If you need water from deep down under, then choose a yard hydrant with a greater bury depth. Otherwise, a standard 2-feet bury depth can serve your purpose well.
It's also important to know from beforehand whether you can install a hydrant with a longer bury depth. Always check the bottom of the hydrant to identify if it's suitable for you and whether it is allowed to be installed.
Adjustable Water Flow Rate
Some hydrants come with a handwheel that can control the rate of the water flow. You might want to control this rate according to your needs.
For example, you don't need a huge water force when you are gardening. But, you might want it for irrigating your farms and crops.
Hence, if you can adjust the water flow, you can save water and make optimum use of it. This type of customization may be desirable for you depending on your requirements.
Automatic Drain Out
An automatic drain out feature in a yard hydrant is essential if you are going to use it in freezing temperatures where you can't afford to have the unit freeze up.
The auto drain feature drains out the water in the riser pipe after you have turned off the hydrant.
Hence, it ensures there is no water in the stand pipe that would be prone to freezing and damaging the whole unit.
Size Of Pipe Inlet
A small or large pipe inlet will determine how much water can be drawn from the main source pipe.
A large one is useful when you need a significant amount of water for irrigation purposes. Thus, a larger size pipe inlet will be better able to draw more water from the source.
On the other hand, if you need water for drinking from the hydrant, then a small pipe inlet will do the job.
Hence, the pipe inlet size is another consideration that can optimize water usage and prevent any waste.
Sturdiness
If you want a durable outdoor hydrant, check out the material it is made of along with the material used for its components.
Solid brass, cast iron, and stainless steel are the preferred materials. Iron and brass bodies and heads can last a lifetime.
Stainless steel prevents the formation of rust and frost. The paint on the unit should be of high quality to protect it from the effects of the elements.
Anti-Theft System
If you live in an area where there can be water theft or unauthorized use, then a lock system can make sure the yard hydrant does not get misused.
Look for an auto-lock feature in the hydrant before you buy one. This will automatically lock the upper part after use and save water.
Top 5 Best Frost Free Hydrants reviewed
Best flow finder and lock: Woodford Yard Frost Free Hydrant
Woodford has long been renowned for manufacturing effective house hydrants that don't freeze.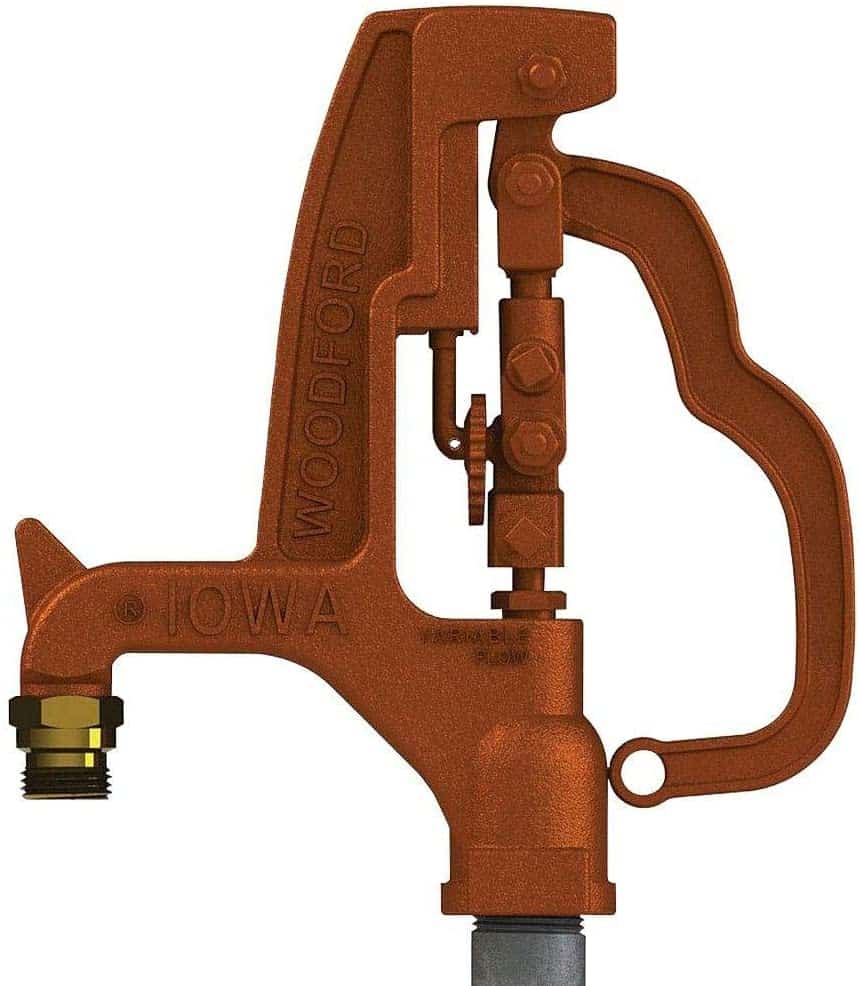 For Multipurpose Usage
You can use this anti-freeze hydrant for a host of purposes including field spray equipment filling, irrigation, garden and lawn maintenance, cleaning equipment, and watering farm animals.
Good For Immediate Flowing
The length of this freeze proof hydrant is 75.5 inches. You need to factor in 3/4th inches of pipe connection.
With a buried depth of 4 feet, you are certain to get immediate flowing of water even in freezing conditions.
Prevents Flooding And Water Wastage
Responsive flow plunger to detect water flow and act accordingly. The plunger is a cushion type seal, large in size, and does not get damaged easily, assuring durability.
It shuts off automatically when it identifies any foreign particles present in the system. Its automatic drain feature opens the drain to keep away frost and closes to prevent water wastage at any flow.
The flow finder and lock system help to automatically set a constant water flow and lock when there is any accidental opening.
After locking, whatever extra water is left, the automatic draining hole helps to drain it out.
Adjustable Top
There is an adjustable linkage to keep the top part of the hydrant firmly secured. You will not be able to rotate it after the installation of the hydrant.
The nuts need to be tightened and the adjustable linkage aligned properly. Any water leakage indicates the nuts have not been tightly secured.
The lever lock tension can be easily adjusted using this adjustable linkage system.
Rod Guide
The rod guide is a handy and useful feature that does away with any chances of side pulling the rod.
It also helps to keep the packing nuts, stem, and packing in a well-working and durable state.
Pros:
Immediate flow in freezing temperatures.
Multipurpose usage on gardens, lawns, fields, and irrigation systems.
Seal type flow plunger to control water flow.
Auto shut-off to prevent flooding and water wastage.
Flow finder to maintain stable water flow.
Lock system to prevent accidental opening.
Cons:
Check out prices and availability here
Best cast iron frost proof yard hydrant: Simmons Premium
​A reputed name in the manufacturing of hardware and other household products, this brand puts serious thought behind the utility of their frost-free outdoor hydrants.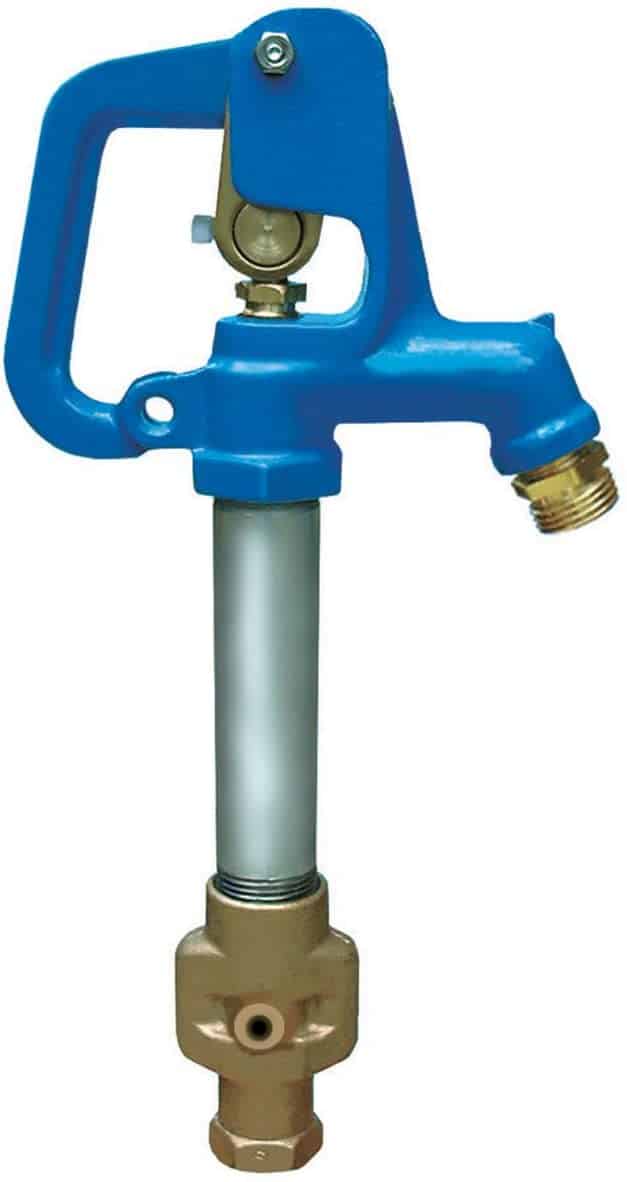 Made For Rough Handling
​This yard hydrant is made from cast iron meant for heavy-duty use. Thus, it can withstand daily rough handling without causing any trouble.
Both the handle and head are made from the same material so that they last for a long time.
User-Friendly Design
A simple and straightforward design that features a hydrant measuring 4 feet in length, with 2 feet buried depth. The handle is convenient for carrying the whole unit easily.
Just by pulling the handle, you can get the water into your gardens, provide to farm animals, and use it for irrigation.
Moreover, the rod is stainless-steel and rust-free, ensuring longevity. The one-piece variable-flow plunger and the large seal that's cushion type make the overall design well worth it.
The hydrant also includes a female inlet and a male thread outlet of size 3/4th inches.
Here's R.C. Worst Co. explaining how the Simmons hydrants work:
Steady Flow
As the product can be buried 2 feet below the frost line, it can provide a constant flow of water even during the toughest weather conditions.
Hence, your livestock will not suffer nor will your other chores be held off due to water flow constraints.
Shutoff Valve
The shutoff valve functions underneath the ground, below the frost line. It helps to keep the hydrant frost-free.
When the hydrant is closed, the water in the standpipe is channeled through the hole in the valve, which is below the frost line.
Good Quality Materials
All the parts and components of this freeze-proof hydrant are made from superior quality materials to make them durable and reliable.
Heavy-duty cast iron body and top, stainless steel and rust-free rod, and the efficient female inlet with a male thread outlet – all are made from good quality materials.
Pros:
2 feet buried depth for stable water flow.
Heavy-duty cast iron hydrant for daily handling.
A convenient handle for portability and easy installation.
A cast-iron head with a blue polyester finish for durability.
Lead-free for safe use.
High-quality materials used for parts.
Cons:
Lever operation could be difficult.
Check prices and availability here
​Best lead-free bury hydrant: Simmons MFG Frost-Free
A lead-free yard hydrant to keep away frost and help the water flowing seamlessly even during the cold winter season.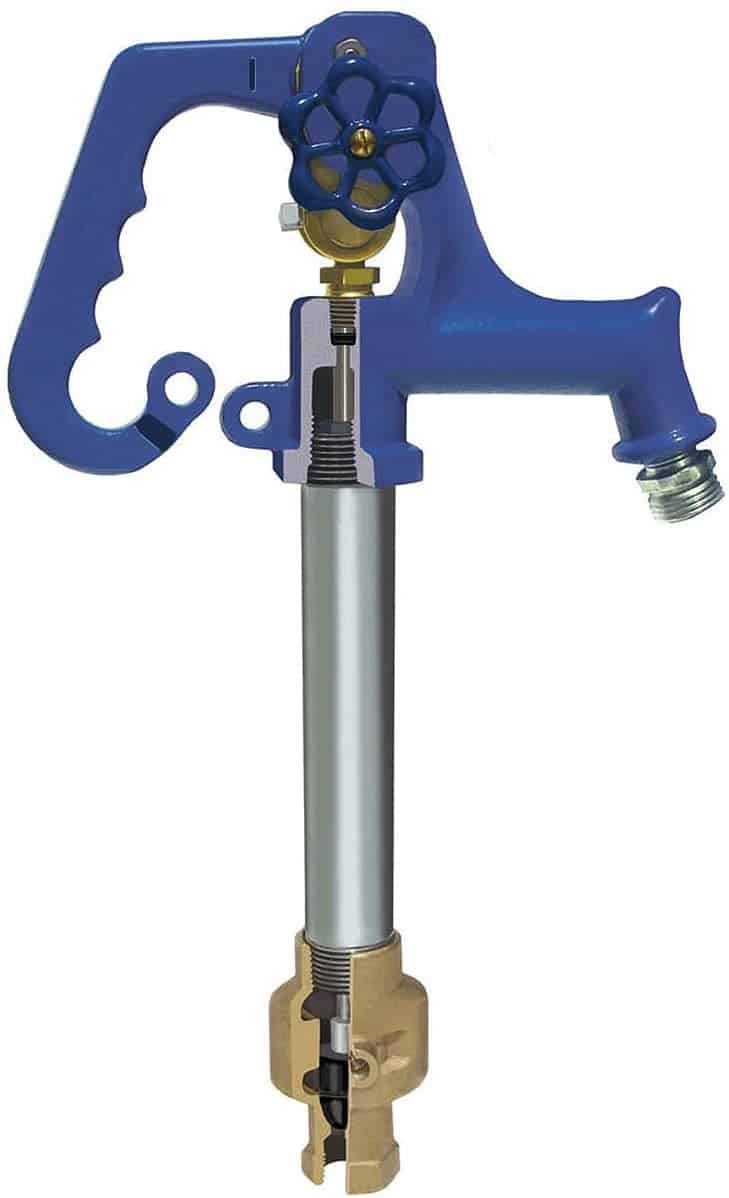 Constant Water Flow
With a buried depth of 2 feet, this freeze-proof yard hydrant is guaranteed to work hard during winters to ensure you have a constant and stable flow of water.
Designed For Easy Operation
With a handle based on a pistol design, it becomes easy to operate it without pinching your hands.
You can control the rate of water flow with the handwheel that locks the flow. To prevent unauthorized use, you can put a padlock or bolt through the hole in the link.
The package includes an aluminum adapter for your hose and a silicone bronze bypass valve. The hose fitting can be replaced by a brass alternative for lasting longer.
Durable With High-Quality Components
The extension rod is made of stainless steel to ensure it doesn't rust and keeps going for a long time. The head of the hydrant is made from cast iron to enable it to withstand the elements.
The single-unit variable-flow plunger and the large seal that is similar to a cushion further lend durability to the product.
The hydrant is coated with a polyester powder finish for durability.
Prevents Water Wastage And Flooding
The automatic shutoff valve can detect foreign bodies in the pipeline and immediately shut off.
After it closes, there is a drainage feature that opens to drain out the excess water without causing leakage and floods.
However, as there are no rings on the plunger, it needs to be handled carefully to prevent any damage from frequent handling. Just tighten it if you notice any leakage.
Also, if you need to replace the plunger, you can do so without having to dig up the hydrant.
Prevents Contamination
The whole unit is self-contained and can be serviced with ease at the installation spot without causing contamination on the ground or in the main water supply system.
It uses its stainless steel canister to drain out its contents.
Pros:
Lead-free for safe use.
2 feet of buried depth for stable water flow.
Pinch-free, pistol design handle for easy operation.
Convenient handwheel to lock the rate of water flow.
Tamper-proof lock to discourage unauthorized use.
Auto shutoff valve and auto drainage system to prevent flooding.
Cons:
Aluminum hose adapter prone to rust.
Best cheap frost-free hydrant: Prier Quarter-Turn Anti-Siphon Outdoor
​The perfect yard hydrant for easy installation and operation in all types of inclement weather conditions.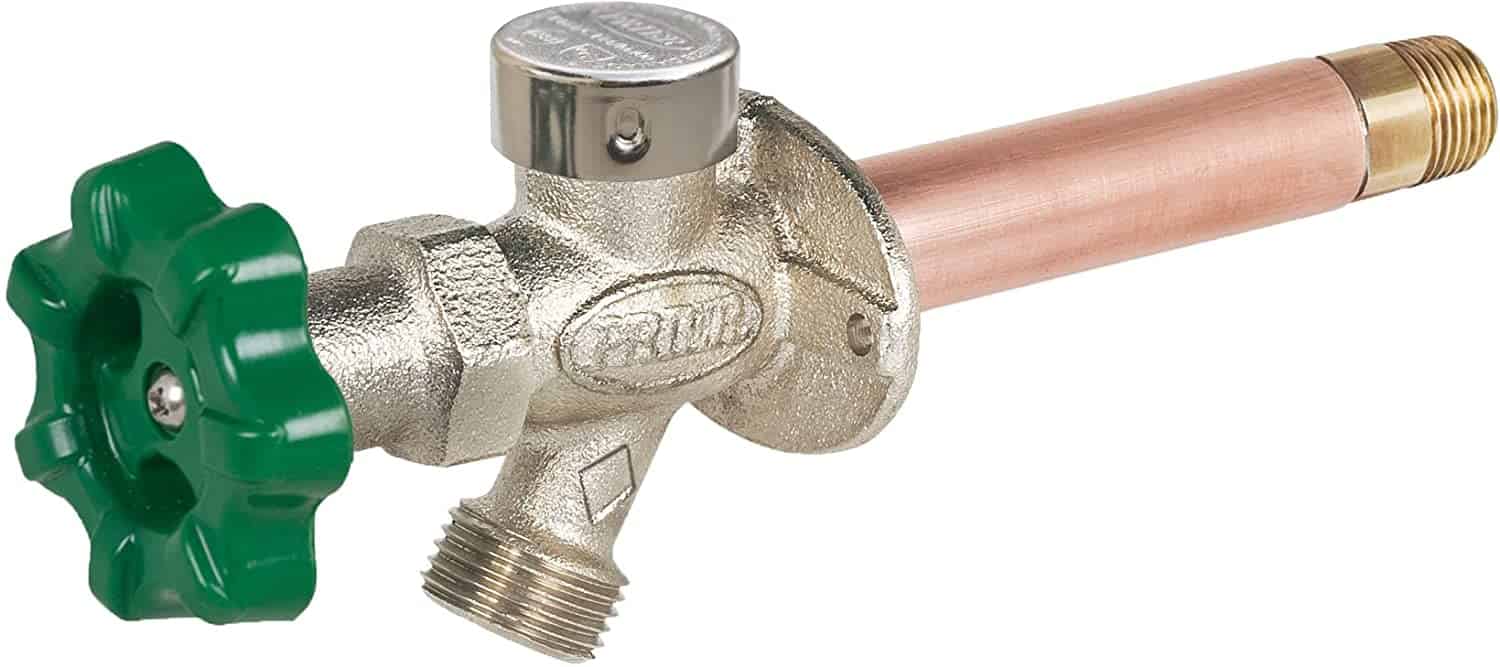 Comfortable Operation And Easy Installation
The quarter-turn operating handle has a soft grip to enable comfortable operations during wet and cold weather conditions so that your hands won't slip.
The cast aluminum handle is coated for protection against the exposure to the elements.
The screw holes found on this unit can make mounting easier as it can secure the mounting screws firmly and easily.
Durable Materials
The body of the hydrant is made from concrete brass and so are the valve stem cap as well as the seat and stem ends.
Its seal is of compression type and does not feature the usual cheap plastic material that will not last for long.
The handle screw and the washer screw are made from stainless steel to prevent rust and last for a long time.
The vacuum breaker cap is also made from aluminum for durability.
With ACME threads to confirm a proper securing of the stem to the seat end, you get full assurance of durability.
Year-Long Water Supply
Since the valve of the hydrant connects to the water supply piping at the heated part of the system, there is no chance of freezing or frost.
Therefore, it successfully provides a steady flow of water throughout the year, even in the coldest winters.
Prevents Flooding
The integral cast flange has a drainage pitch built in the system to make sure there is no flooding or leakage.
Any excess water is channeled into the drainage pitch without causing any halt in the function of the hydrant.
Easy Maintenance
If you encounter any issues with this yard hydrant, you can address these easily as no special tools are required.
Thus, all problems can be addressed in the field without any need to uninstall the outdoor hydrant.
Pros:
Quarter-turn, soft-grip operating handle.
Coated cast aluminum handle.
Concrete brass body for durability.
Compression type, long-lasting seal.
Anti-freeze and supplies water throughout the year in all conditions.
Built-in drainage pitch to prevent flooding.
Cons:
It does not have an auto-shutoff valve.
Best brass frost-free hydrant: Campbell
Superior functionality defines this freeze proof yard hydrant that works hard in winters so that you get all the water you want.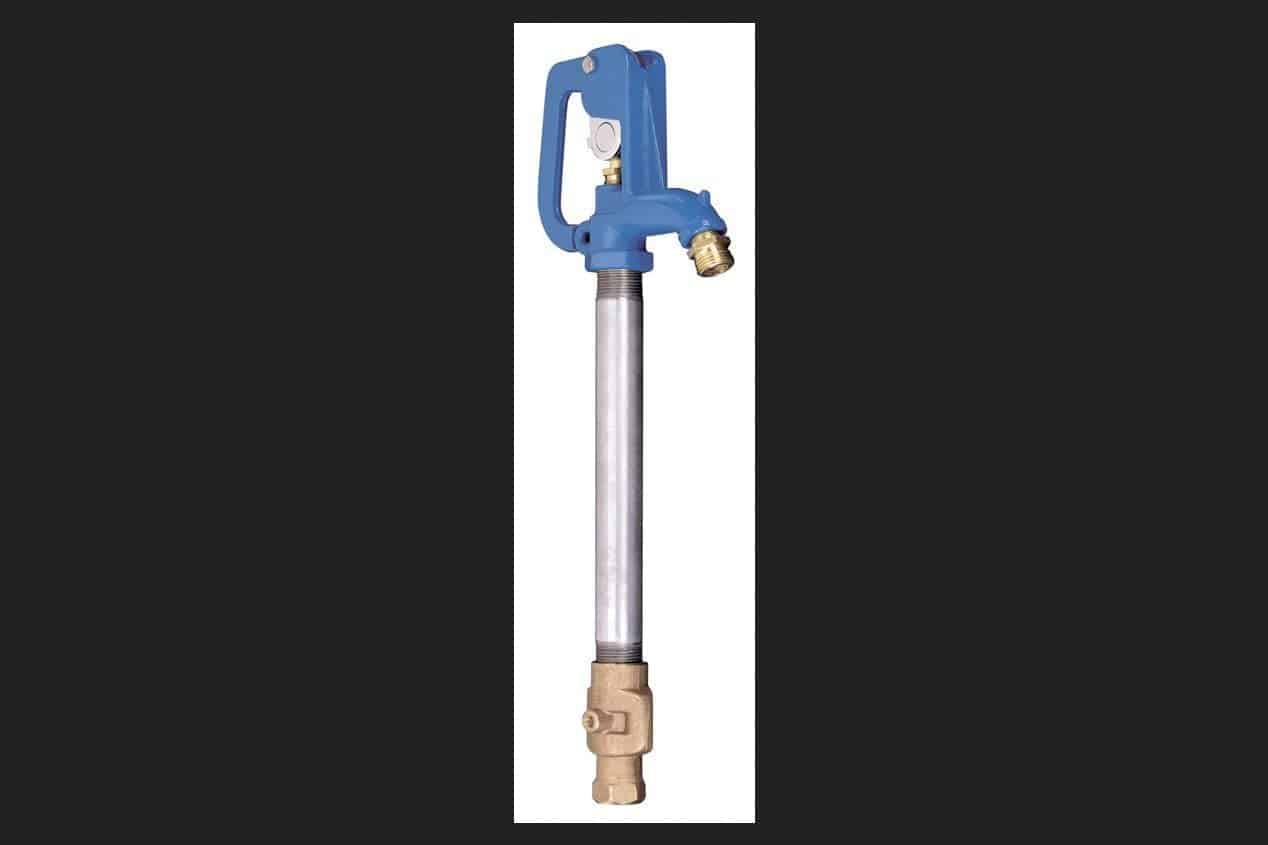 Form And Function 
The hydrant head and handle are made from cast iron to ensure durability. With an overall length of 57 inches, the buried depth is 2 feet.
The extension rod is made from solid brass for dependability. The manufacturing of these hydrants focuses on accurate machining and flawless assembly.
Made from hot-rolled steel, the link straps come with Kevlar packing.
One-unit plunger to ensure smooth flow of water throughout the system. The handle is an oversized one for a comfortable grip and it snaps lock in place.
To control the flow of water, there is a thumb bolt. Without using your hands, fill up the bucket with the help of the solid bucket hook.
Padlock locators on the handle and the head will discourage unauthorized water use.
Constant Flow 
A shut-off valve comes with this hydrant to make sure it continues to provide a constant flow of water. Even sub-zero temperatures will not be able to daunt the stable water flow.
All credit goes to the valve that lies beneath the frost line.
Moreover, the 3/4th-inch inlet in the self-draining bleeder valve prevents frost forming on the hydrant head and the riser pipe.
Easy Maintenance
For any maintenance work, you can do so easily on the ground. Thus, you can access the hydrant comfortably and without using any special tool, you can carry out any maintenance or repair work.
Lead-Free Water
Since the hydrant is free from any traces of lead, you can use it without a worry for your livestock.
It provides water that is safe and drinkable so that no harm comes to your farm animals or pets around the house.
Anti-Leakage System
The entire unit is anti-leak so that there is zero concern regarding unexpected leaks and flooding.
Pros:
Constant water flow in freezing temperatures.
Lead-free water is safe for drinking.
It does not leak.
Easy maintenance or repair work above the ground.
Lock system to prevent unauthorized use.
Cast iron and solid brass materials for durability.
Cons:
It does not have any automatic shut-off valve.
Where do I install a yard hydrant?
Check with your local utility office if there are any areas with water supply constraints. If none, you can install a yard hydrant anywhere as long as it's not close to a well.
Keeping it away from a well prevents any accidental contamination of the water from the drainage port.
Yard Hydrant Installation Tips
Although installing a yard hydrant is not that complicated, you can still keep these tips in mind at the time of installation.
Ample Amount Of Gravel–Gravel saves the body of the hydrant from freezing by absorbing any excess water or any leakage. Lots of gravel ensure that there is proper drainage.
The Right Size Of Supply Pipe–To ensure that the flow and volume of water are working at an optimum level, always choose a water supply pipe that is one-inch thick.
Proper Drainage–Check if the drainage is working properly at the time of hydrant installation. Turn on the shutoff valve to allow the water to run. Turn it off and feel the hydrant head with your hand. You will know if there is suction, which indicates there is proper drainage.
Adjustments – At the time of installation, make sure the location you have chosen has been adjusted well to accommodate all the hardware related to the hydrant. Also, it's important to check if the area has a steady supply of water.
What to do when A Frost Free Hydrant Freezes
A frost-free hydrant can freeze for a few reasons. If you haven't used it properly, it can freeze up. The main water supply could have been at fault. Then there is the valve that can play foul if it hasn't been adjusted properly.
Also, another reason is that if you keep getting water in a small amount from the hydrant, it may freeze up. Check the drain hole plugs and whether there is saturate draining in the gravel bed.
Even the best yard hydrant can freeze under these conditions. So, better safe than sorry.
How do I unfreeze a yard hydrant?
The first thing to do when you notice a frozen outdoor hydrant is to quickly try to thaw it to prevent any damage. You can do so by pouring hot water on the frozen area above the ground. Another tool you can use is a torch electric heat tape.
If there is freezing underground, you need to take out the head of the hydrant and pour boiling water down the riser pipe.
How does a yard hydrant work?
The working of a yard hydrant is pretty simple. You can either open it or close it.
The basic functioning is the same for all hydrants. You have a galvanized steel pipe with a shutoff valve that connects with the underground main water supply system.
The upper part of the hydrant has a head and a handle, while its lower part is buried underground. The middle part houses the riser or stand pipe.
A plunger controls the water flow up or down the riser pipe. The plunger and valve remain below the frost line.
Opening
When you lift the handle of the hydrant, the water flow will get into motion. The plunger and connecting rod will be raised from the valve seat when the handle is raised.
When the plunger is in a raised position, water flows through the valve and up the riser pipe and into the spout of the hydrant.
The drain port at the bottom is closed to enable water to flow up.
Closing
When you push down the handle, the plunger and connecting rod go back to the bottom of the valve seat. The plunger discontinues the water flow in the system and opens the drain port.
So, whatever water was left in the riser pipe, it is allowed to drain out through the drain port to prevent freeze-up of the hydrant. The drain bed absorbs this excess water.
What Do People Use Yard Hydrants For?
Yard hydrants are primarily used in three key places – farms, residences, and campgrounds.
As any farm is usually of a considerable area, it is hard to reach all the parts that require water – both livestock and crops.
If there is an outdoor hydrant, you can get water to these places and animals easily. Even with freezing temperatures, you can get fresh groundwater to where it's needed.
In residences, you need a yard hydrant to wash your cars or pets. If such homes are in rural areas, a frost-free hydrant can supply water to other buildings on the land or livestock or crops.
Campgrounds that accommodate large groups of people need outdoor hydrants so that the campers don't have to carry water from far places.
Therefore, time is saved and more people can be serviced within the same area of the campground.
Pros And Cons Of Outdoor Hydrants Around Your Homestead
As with all things in life, there are both good and not-so-great sides of having a yard hydrant in front of your house. Read below to find out the main pros and cons of a yard hydrant near where you live.
Pros
In case of fire, the hydrant is the go-to water supply source.
It can be used to wash the driveway and cars.
Excellent source of water for landscaping and gardening.
Protects the lead water pipes from freezing and bursting in the winter.
Cons
Parking around the hydrant is difficult.
Mowing the yard around the hydrant poses a problem.
Dogs leave their marking on it.
Careless installation can lead to water contamination.
Yard Hydrant Frequently Asked Questions (FAQ)
Does Water Taste Bad Due To The Use Of Hydrants?
The water may taste a bit of chlorine since this chemical is used as a disinfectant when flushing out the hydrants in your neighborhood. You will notice some discoloration due to the presence of sediments in the water.
Overall, water doesn't taste bad when the hydrants are normally in place and not in the flushing season. It also depends on the taste of the water from the main supply. If it tastes fine, then the water from the hydrant will have the same taste.
Can Yard Hydrants Be Used For Hot Water?
Usually, yard hydrants are meant for handling either cold or normal temperature water. Hydrants that need to handle hot water need to have different specs. For example, they should be made of materials capable of withstanding high temperatures.
Moreover, steam and hot water minerals also become a consideration as to how a hydrant can be used for hot water.
Is The Attachment Like Sprinkler Or Hose Included With Yard Hydrants?
If you are buying a yard hydrant from one of the more renowned brands, then you will get the hose or sprinkler in the package. However, if you are looking at hydrants from lesser-known manufacturers, you may need to buy these attachments separately.
It's recommended to invest in a good brand for long-term benefits that will be more economical.
Conclusion
Yard hydrants come in different sizes and with varying features. It depends on your requirements whether you want a large pipe inlet, an auto-lock feature, longer bury depth, or other factors.
Particular attention must be paid if you are in the market for a frost-free hydrant.
Whether you own farms or rural home in the Mid-West where winter temperatures drop down to below zero degrees, the high-quality frost-free hydrant will always make sure you have enough water flowing for your crops or the animals on the farm.
Besides, an outdoor hydrant is also helpful when you need to give a bath to your pets or wash the car on the driveway.
Depending on your needs, you should choose a yard hydrant to make the optimum use of water without wasting it.
Now that you are armed with the right and relevant information, hope your hydrant shopping adventures are pleasant ones.
I'm Joost Nusselder, the founder of Tools Doctor, content marketer, and dad. I love trying out new equipment, and together with my team I've been creating in-depth blog articles since 2016 to help loyal readers with tools & crafting tips.