I love creating free content full of tips for my readers, you. I don't accept paid sponsorships, my opinion is my own, but if you find my recommendations helpful and you end up buying something you like through one of my links, I could earn a commission at no extra cost to you.
Learn more
Are you searching for a tape that will protect your camera or hold your cables in high traffic areas? Or you may be looking for a non-reflective tape that will perfectly cling to any irregular surface or drafty background and leaving no residual marks after removal. Here you are to find out the best gaffers tape that will fit these features.
We are taking you through a detailed buying guide that will inform you about the most wanted features and points you should know. You will be able to examine the brand tags, bulk value, dimensions and the "eye-catchers" you need for sorting out the best gaffers tape in the end. So, let's get started.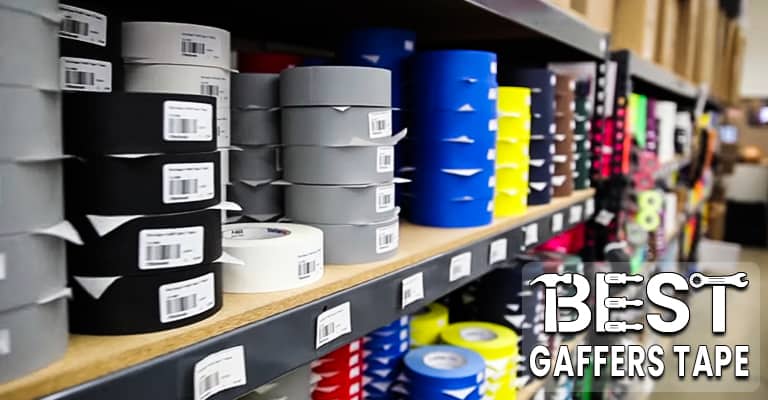 Gaffers Tape buying guide
In this highly competitive market, everyone is trying hard to introduce their products to you. So you need details knowledge about the product you are longing for. Otherwise, it won't be a hard task to make you fool with mere bluffing. We are here to cover every point in detail which you should consider most while buying a gaffer tape. Let's have a look.
Material
The most important thing while choosing a gaffer tape is the material it is made of. The backing of the tape must be made of such fabric that can withstand at high pressure with a higher tensile strength that makes this tape different from ordinary duct tapes.
The tape should obviously have a matte finish on the upper part. This feature makes the tape able to be non-reflective under glossy surroundings. Also, the tape becomes invisible in dark rooms for this matte finish.
How Adhesive It Is
The main characteristic of gaffer tape is it leaves no residue after removal. Which means it is easy to use and easy to remove. So the stickiness of the tape must be semi-stable. Thus it will be adhesive enough to hold on something and can be easily removed.
User Friendliness
You should be able to tear the tape easily almost perfectly with your hands. It must be easy to set up on any surface (regular or irregular) and facile to remove. You can measure how user-friendly the tape is with these things keeping in your mind.
Non-Reflectiveness
As gaffer tape is used in concerts, film studios, stages, big shows, it has to have subtle visibility. For availing this feature, the tape should have a matte-vinyl finish. You have to check it out whether it is containing this feature or not.
Weather Resistance
You will use this tape for a wide variety of indoor and outdoor uses. So it must be waterproof and should withstand at higher or lower temperatures. Thus the tape repels water and saves the inner part from moisture. Here a gaffer tape becomes different than ordinary duct tape.
Abrasion Resistance
This tape will face a tremendous amount of rubbing while it is being used. Because you will use it on any stage, background, drafty doors or windows or on cables in traffic surroundings. So this product must be good enough to resist abrasion.
Dimension And Bulk Value
You may find it weird why dimension is so important in case of gaffer tape. Of course, there are some reasons for this. The thicker the tape is, the more it sticky it is. Most of the tapes are 2"*30 yards in size. Hardly it crosses this length rather than it is a bonus. You must notify the exact length you are looking for.
If the quantity is important to you, you are to choose the tapes with more bulk values. Single roll tapes are available in the market in the greater portion. There are some other brands that offer 2 or more rolls in a packet at a reasonable price. So, keep these things in your consideration while shopping.
Holding Power
The holding strength is to be checked out while buying a gaffer tape from the store. The tape must have a strong grip and gives a good hold for a long time. So you remain hassle-free. Because you don't need to replace it every now and then.
Brand Value
Like every product brand value also plays a vital role in choosing the best gaffer tape. You must go through the most famous and reliable brands to invest your money for best use. Gaffer Power, Gaffer's choice, Tape king are some well-known brands producing gaffer tape. These are comparatively better than other brands. You can also go through some other good brands like- Xfasten, Amazon Basics, Tape King.
They will give you the best products according to the price. They don't bluff to you. Rather maintain the quality they promised. Consider this point while buying. So, when you buy a waterproof gaffer tape you get the best one that justifies the price and awfully easy to use. So make sure of this and buy it for your indoor and outdoor uses.
Best Gaffers Tapes reviewed
Let's have a look over the best products we have for gratifying you. Choose what you adore most.
1. GafferPower Real Premium Grade Gaffer Tape
Commendable Features
Gaffer Power offers you this wonderful professional-grade gaffer tape to protect your essential equipment in your day to day life. This cloth-based adhesive gaffer tape is made in the U.S.A. maintaining a high industrial standard. It is firm, easy tear and leaves no residue after removing. There it becomes a very useful friend for your multitasking.
On whatever tool you use it – tv, cables, computers, gear, etc. , it holds it down strong and can be easily removed. So, your tools remain completely unharmed. It can decant prudently to any background. So you can also use it on any set or stage. This Gaffer Power production prevents your doors and windows from draughts too.
This tape is non-reflective and water-resistant. So you won't face any reflection issues while using it and don't have to worry about water contacts. This tape contains a felicitous size, the dimension which is suitable for most of your uses.
So, this tape covers all the professional qualities you want which makes it a special choice for you. Even Gaffer Power is offering you a replacement or full –refund in case of your dissatisfaction. Hence it is high time you got the order done.
Cons
You may face some problems when you use this tap on your body. It becomes slightly un-sticky while you sweat or you feel uncomfortable while moving with it on your body. But these problems are faced only in high temperatures, not in normal temperatures.
2. XFasten Professional Grade Gaffer Tape
Commendable Features
This XFasten product is made of 95% cotton and 5% rayon. It is non-reflective, water-proof and leaves no relic after removing. It is greatly useful for DJs, stage, photographers, and skin. It has a matte black pro-grade gaffer tape finish.
This is a low weight tape having a reasonable dimension and long enough to satisfy you. Coming with a single roll, this professional-grade gaffer tape is hypoallergenic and adhesive for the skin. It protects photography sets from light-bleeding. This product is strengthened with textile backing that makes it is easier to tear perfectly by hand.
This XFasten gaffer tape can blend on any background exactly. So you can use it on the stage. It is weather-proof. This black cloth tape clings to any surface (smooth, hard, textured). Steel, metal, vinyl, concrete, boat seats, upholstery, glass, plastic, whatever the surface is, this tap will adhere firmly.
Cons
You may find it harder than other tapes to tear it by hand. It has less adhesion to the surfaces. It is more invisible in the darkroom and maybe not be so good for light blocking. But these unexpected features are not present in a greater amount that will create a problem for your use.
3.GAFFER'S CHOICE Gaffer Tape
Commendable Features
This unique tape is supported with maximum strength and flexibility. This non-reflective tape can be used on any surface. This U.S.A. –made product suits perfectly for film, television and commercial sets. Gaffer's Choice gives you a 100% cash back guarantee for your purchase. So you can have a try without any confusion.
This product can be used for a wide variety of purposes. You can secure your cables, photography sets, stage production, studio production, automotive, sports equipment, etc. Also, you can use this item for box-sealing, lighting, floor-marking. Musical instruments like- microphones, guitar cables, drums & sticks can be kept unharmed with this tape.
This gaffer tape is a water-proof tape, leaves no residue while taking it off. This white tape is easy to rip and has a higher length compared to other tapes. This gaffers tape/painters tape hybrid has a fitting dimension and size. Thus it perfectly suits your multi-uses.
Cons
It is more fit as painters tape. It is thinner which can create some problems while tearing. The edge of the tape falls itself and you may require a knife to fix this problem when you try to rip it with your hands.
4. Tape King Gaffers Tape Black
Commendable Features
Tape king offers you this 2- pack gaffer tape with covetable features that you adore. It has a matte vinyl finish and doesn't part any remainder at removing. It is not reflective, water-proof and made in the U.S.A. This tape is a perfect solution for your household jobs, official works, concerts, and other events.
This Tape King product contains vinyl-coated cotton cloth and synthetic rubber resin adhesive. This tape is mainly used in the entertainment industry. It has wonderful water, abrasive & vapor resistance. It is easily tearable with hands. entertainment shows, concerts, stages where minimal visibility is required, it is used.
It is also used in book-binding, covering cables, electrical cords and in the motion pictures & television industries. The 2 black roles are each wide and long enough. This USA-based product won't make you repent.
Cons
The first couple of rolls of the tape may be not as tacky as you desire. You may have to pull off about 5-8 feet tape to get the proper tackiness. So it may waste a small portion of your tape.
5. AmazonBasics Gaffers Tape
Commendable Features
This AmazonBasics gaffers tape will mesmerize you with its potent usability, strong holding power, and flexibility. In high passage areas, you can secure your loose cords or cables. So it is highly beneficial in television, film and music industry. It can solve your drafty windows and doors problem.
This AmazonBasics product is black in appearance and has a perfect size and shape. This coated cotton cloth tape can protect your equipment from sudden falls or trips due to loose cords. This matte black finish tape is verily handy and reliable.
It has a fabulous fibrous cotton construction which enhances it's solid staying power. So it can easily conjoin to any surface. Either it is a background surface or a metal, wood, tile surface it will decant perfectly & will not part any reminder after taking it off. So, this non-reflective gaffer tape will be the perfect choice for you.
Cons
It may pull up paint on occasion in a slight portion. This tape may have some glossiness but less than duct tapes. It may have a wound in an irregular manner on the roll and edges of it gets unstick and icky which you may not expect.
6. New: Black Gaffers Tape
Commendable Features
This multipack black matte gaffer tape comes with 2 rolls. This tape is wide and strong enough to support your tools. This black tape of Lockport is waterproof and residue-free.
This 2-inch wide premium clothed tape can withstand the longest roll of 30 yards. One of the strongest grips in the market can be availed using this commercial-grade adhesive band. And which tape of this kind would come up with an allowance of lifetime warranty other than one of the best players of the market?
This tape is also called photographer tape as it is of great use in pro-filming, photo development, production. It is easy to tear. This multi-pack tape can help you in your stage decoration, theatre-box accessories, cables, motion picture equipment.
As it comes up with 2 rolls of tape, it has a good bulk value. You can also use it in book-binding, to any backgrounds easily. You will go through a smooth experience in professional photography, filming industry with this product.
Cons
It may become slightly unstick if any corner of the tape is left out of the surface you are using onto. So, you shall have to use the entire tape onto the surface to have a better stickiness.
7. ProTapes Pro Gaff Premium Matte Cloth Gaffer's Tape
Commendable Features
This Pro Tapes product is made of cloth with rubber adhesive that gives you the desired adherence to the surfaces you use it onto. It consists of handsome width and length which is much better than other tapes. The adhesive cloth decants easily to irregular surfaces. Thus this Pro Tapes product serves fantastic stuff for labeling uneven surfaces.
This wonderful gaffer tape can be removed neatly from any surface leaving no residue. You can tear it by hand and it resists abrasion quite good. You can use this product undoubtedly in outdoor chores. Temperatures from 50 – 200 degrees F won't have even a minimal effect on it.
It is 11 mils thick and is the best fit for your wide variety of uses. You can use it for your equipment labeling, holding down your cables temporarily, sealing. It covers all the features you need.
Cons
It's a little bit thinner, firm and less sticky than other tapes. Sometimes you may also find out some malfunction in wet situations though not in a dissatisfactory amount. Yet that surely is a depression in the level of the best.
What is Gaffers Tape and Why is it Used for?
Gaffers tape is a pressure-sensitive tape that can withstand high pressure and temperature. It is made of heavy cotton cloth and the backing is composed of fabric. So it is very easy to remove the tape after use leaving no residue.
It is waterproof and abrasion-resistant with strong viscous and expansible properties. It can hold on to any surface strongly and protect it. This tape is very much used in television and film production, podium, photography, theatre, and industrial uses.
FAQ
Here are some frequently asked questions and their answers.
Which Is Stronger Duct Tape or Gaffer Tape?
Strength. Which is stronger duct tape or gaffer tape? Gaffers tape is true cotton cloth and derives its strength from a tight weave of cotton fibers. Duct tape is a vinyl tape with fiber reinforcing.
What Is the Difference Between Duct Tape and Gaffer Tape?
Starting out with composition, Gaffer's Tape is made of vinyl coated cloth, and duct tape is made from polyethylene coated cloth. One of the most notably visible differences between the two tapes is that duct tape is highly reflective and Gaffer's tape has a matte finish.
Why Do Photographers Use Gaffer Tape?
Photographers constantly use gaffers tape as a quick fix to get around many of the obstacles that they face every day, due to the fact that it is tough, heat resistant, and it doesn't leave nasty residue.
Does Gaffer Tape Damage Walls?
This is gaffers tape, and is used to hold things down and/or together without leaving a sticky mess on the surface (when the tape is removed). The tape has huge holding power and would definitely pull paint and/or wallpaper off of walls or trim. It is not meant to be used as "painters" tape.
Why Is Gaffers Tape So Expensive?
Gaffer tape is usually more expensive than duct tape because it is manufactured in smaller quantities, has more exacting specifications, and is marketed for professional use.
What Tape Is Better Than Duct Tape?
Although duct tape proved capable, the clear winner was Gorilla Tape, which handily won all our tests.
What Is the Strongest Tape You Can Buy?
Gorilla Tape
Gorilla Tape has taken duct tape to a new level. This double thick adhesive tape surpasses ordinary duct tapes, making the list of uses virtually endless. Made with double thick adhesive, strong reinforced backing, and a tough all-weather shell, it's the biggest, strongest, toughest thing ever to happen to duct tape.
Is Gaffer Tape Safe on Skin?
Gaffer tape is easier to remove because unlike duct tape that uses a natural rubber adhesive, gaffer tape uses a petroleum-based adhesive. These varieties are less painful to rip off your skin than duct tape is.
What Is the Strongest Brand of Duct Tape?
Duct tape is a seriously handy tool to keep around the house that can repair a lot more than you think. But if you want to make sure the repair work you're doing will last as long as possible, the toughest and best duct tape on the market is Black Gorilla Tape.
What F Stop Is Best for Low Light?
f/4
In low light, you'll want to aim for smaller f-stop numbers like f/4. If you plan to do a lot of low light photography, consider purchasing a lens known for having a wide maximum aperture. Some of these numbers go as low as f/1.4 and f/2.0. Increasing the aperture isn't without its downside, though.
Q: Will, It Get Wet If It Is Used Outside The House?
Ans: As gaffer tapes are waterproof, there is a subtle change of getting wet. So you can use it for your outdoor purposes without any confusion. But make sure that you are applying the tape to a clean and dry surface.
Q: Will This Tape Infiltrate Glue While Being Used In Sports Equipment Handles?
Ans: Normally it is not used for wrapping a racket handle or similar stuff. Even if it is used for this purpose, it will not seep out any glue. So you can be tension free for such applications of gaffers tape.
Q: Can It Be Used For The Second Time?
Ans: Yes, you can reuse this tape. This is the beauty of gaffer tape. If a dusty look is not a matter for your second use you can go through it. In this case, the surface on which the piece of the tape was used first should be neat and clean. Because if the previous surface was dirty, the tape might lose some stickiness.
Conclusion
In terms of filmography, photography, stage decoration and so on you can't ignore the usefulness of the gaffer tape in your daily life. That's why choosing the best gaffers tape is so momentous for you.
You can go ahead with Gaffer Power and Gaffer's Choice ones as both are USA based brands and offering you the maximum length, dimensions and all the features you need at a reasonable price. They are both waterproof, adheres to easily and can be removed in a smooth way.
All the brands have some unique features and reasons for attracting you. Our humble job is to point them out to you for making the right choice. Have scrutiny over our buying guide and hope you sort out the best fit for you.
I'm Joost Nusselder, the founder of Tools Doctor, content marketer, and dad. I love trying out new equipment, and together with my team I've been creating in-depth blog articles since 2016 to help loyal readers with tools & crafting tips.