I love creating free content full of tips for my readers, you. I don't accept paid sponsorships, my opinion is my own, but if you find my recommendations helpful and you end up buying something you like through one of my links, I could earn a commission at no extra cost to you.
Learn more
These super luminous headlights on the hard hats are like the cherry on top of the cake. Some can even light up as far as two football fields. You'll deeply feel it's needed when you're out hiking at night or hunting. And there's always professional applications and needs for these.
Miniature gadgets such as this habitually try to cram in as many features as possible. A couple of catchy features overshadows deficits in the main functionality of the product swaying you from the best hard hat light. Hence we're having this long talk about how you could detect the most durable, functional, and utility packed hard hat light.
Hard Hat Light buying guide
There are actually a lot of attributes to think about before purchasing a hard hat light. So you need to know all the features to find the best hard hat light for yourself. Let's look at them.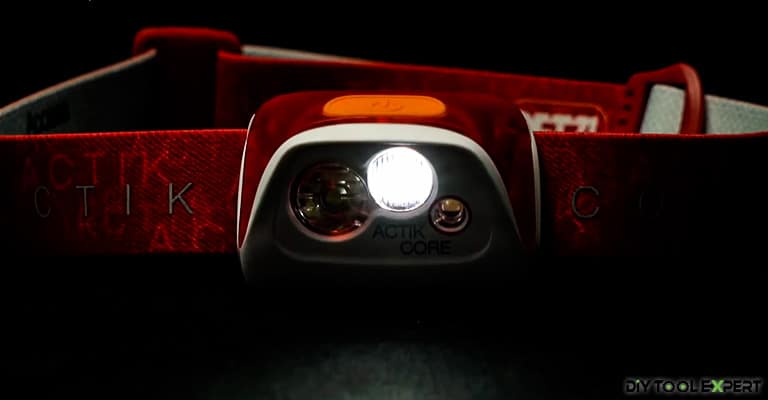 Weight
The headlamp itself and the battery used are the components that heap up the weight of a hard hat light. The total weight is a crucial determining factor since you have to bear that on your head. So for a balanced movement while camping there's no alternative other than a lightweight hat light.
Proper and proportionate hard hat lights weigh around 10 ounces. Much more than that may result in the hindrance of focusing on the correct region and may often invoke accidental hazards. Besides, comfort is definitely an issue.
Battery Backup
There are a few modes available for hard hat light in terms of use such as low modes, medium mode or high mode. According to the adjustable lumen setting users can use them for a limited time span.
You need to make sure that the battery duration covers your need perfectly in necessary brightness levels too. You don't want to be exploring a tunnel or cave & find your hard hat light turn off. This can lead to many dangers so always check if the light battery can backup 6-7 hours.
Variety in headlight
There is a lot of variety in the market for different models of hard hat light. There will be different numbers of LEDs in front with different light settings too. Such as there would be ones that have only one single LED in front. Then there are CREE LEDs.
There are also multiple LED arrays that have 5 or 6 LEDs in front. You have to see how much these LEDs function 7 which one suits you the best. Every light has its own beam length & brightness, so this varies from light to light, you need to choose the right one according to your need.
Brightness
Fewer Lumens in the light means that the light is dimmer than others. You have to look for an adjacent lumen rating that will go perfectly with your surroundings. Just keep in mind that the more the lumens the brighter the light will be.
More brightness is never a loss unless it affects the price. Note that products vary each other in terms of the number of LEDs attached which is, in fact, a parameter to consider when brightness is concerned. Usually, for single bulb products, 1,000 lumen is a fair lumination while for 3-5 bulbs it varies from 12,000 to 13,000 lumen. If you really have to deal with shear darkness like deep forest camping or in caves you have no other options other than multiple LEDs.
Focused Beam Length
For any outdoor work or construction plumbing, you need to focus the light in a certain area to look carefully. For this sort of concentrated work, you need the right light that will travel to the desired area giving you a detailed view of the surroundings there.
The beam length of the focused light gives us that specification of how much the light of a lamp can travel to give us a clear sight. You have to choose carefully as many outdoor exploring expeditions have detailed observations. Having a perfect focused length is essential for this purpose.
Durability & Waterproofing
Hard hat lights are meant to be used in rough conditions where there is a chance of getting affected by dust, water & other elements. So you already know that these lights need to have the best-built quality possible. While working in rain or rivers these lights may get affected by water.
That's why it is a must to check the IP rating of the hard hat light. The higher the IP rating the more resistant it will be against dust & water. You have to choose a hard had a light with an IP rating making it resistant to water or dust.
LED Functionalities
There are many functionalities or modes that manufacturers provide to the users. You can adjust these modes with the push of a button. If there are multiple lights, then you can just turn on the center or the side ones of both at the same time.
There are blinking options for these lights too. You can have an SOS & Strobe feature with them. These functionalities do come in handy in different scenarios, but be sure that if you need all these modes then setting may also get annoying sometimes. The suggestion is, find the hard hat light that has a simpler user interface yet offering the most of the additional functionalities.
Battery level Indicator
This is the most underrated feature there can be for a hard hat light. You have to always prepare for the worst possible scenario while going on adventurous sites. Having a clear idea of how much battery you SONIKeft on your trip can save you from any unwanted situation befalling you.
Exploring in dark places there is always a risk to have any unwanted danger. But if the only savior from the darkness doesn't comply with you then that can become a problem as you won't be able to see your surroundings. Battery level indicator allows you to be always prepared & taking necessary measures.
Warranty & Battery Life Time
Present-day headlamps are usually powered by Li-ion batteries. So, they always have a definite lifespan. You need to make sure that the manufacturer provides a decent amount of around 50,000 hours use.
Warranty on these lights is also very important. Manufacturers provide almost 5 to 7 years of warranty on these hard hat lights.
Best Hard Hat Lights reviewed
Here are some of the top class hard headlights with all their merits & demerits arranged in an orderly manner. Let's jump right into the units.
1. MsForce Ultimate LED Headlamp
Highlighted Features
The MsForce Ultimate LED Headlight makes a great ground on the top hard hat light with its three LED bulbs at the front. These lights can be used on any occasion & will deliver a solid performance due to the 1080 lumens illumination. It's extremely durable considering you can work in any weather conditions due to the airtight rubber seal protecting the LED Lamps from heat, ice, dust & water.
The tough design of the headlamp has a comfortable feel too. In any sweaty conditions, you don't have to worry about the sweat due to the sweat-resistant band. The front three lights also have 4 different light modes according to your different workplaces.
The focus of the lights can be changed easily & a 90-degree headlamp really puts it in a favorable place. The whole unit comes with 2 rechargeable 18650 batteries, a USB Cable, Hard hat clips & a red tactical light filter. Among all these amazing features the 7-year warranty would make you more assured about the headlamp them anything.
Cons
The durability of the Product has been an issue; you should not drop as the lights may go out. A battery indicator would have gone really well with this headlight.
2. SLONIK Rechargeable CREE LED Headlamp
Highlighted Features
SLONIK has introduced a compact headlamp featuring two headlights at the front. The lights are capable of illuminating 1000 lumens. 200-yard beam length will give you a clear sight of far objects without any sort of distortion to their colors.
The headlights are constructed from aero grade aluminum alloy 6063 that will withstand the toughest of conditions. SLONIK has an IP rating of X6 that makes it almost invisible in dust or water. It can be used in any industry-level applications such as HVAC, construction or garage & even in the outdoor caving trips.
The headlamp lights have 5 different modes that come in handy in different scenarios you may have to use them with just a single button. The nylon headband gives users a comfortable fit. Lights can also be adjusted up or down by 90 degrees.
The two different modes the lamp can be used are high mode & low mode. Battery life in high mode is 3.5 hours & in low life is 8 hours. It can easily be rechargeable with a USB battery charge cable. You will have a 100,000-hour lifespan & a 48-month warranty that will make you feel rest assured while using these lights.
Cons
The buckles that tighten the straps do not hold. The tabs that hold the strap are very weak, they break off early.
3. QS. USA Rechargeable Hard Hat Light
Highlighted Features
CREE LED headlamp has a single headlight in front of it. The light has a 1000 lumen illuminating capacity. It is perfect for any sort of outdoor activities such as hiking, caving, camping, hunting, etc. & many more.
There are 4 lighting modes that you can choose according to your preference. They can be set to high, low, Strobe & SOS. It comes with a splash-proof, waterproof feature allowing it to be suitable for fishing, hunting, or camping.
As with one light, you will be able to see your visual surroundings in decent light. The headlamp comes with a micro USB charger & two other rechargeable lithium-ion batteries (18650) that has a lifetime of 7 hours. The unit has a battery indicator feature where red indicates low battery & green indicates high.
In the set, the battery system if the product is rechargeable and you can use the lights for a longer time in comparison to other lights. The whole set is adjustable for the improved quality belt system. The product is also very comfortable to be sued.
Cons
The construction of the headlamp is reported to be of low quality. With a drop or few the hat seems to tear apart. The battery also appears to discharge a lot sooner than it's supposed to.
4. KJLAND Headlamp Rechargeable Hard Hat Headlight
Highlighted Features
CREE LED has featured 5 light systems with 3 LED bulbs & 2 white lights to make your world brighter & shinier. LED bulbs have an illuminating power of almost 13000 lumens which is perfect for any outdoor night activity. The construction of the Headlamp is with aluminum alloy with a weight of less than 10oz.
The HeadLight has 9 different modes for everyone to use according to your needs. You can use the main light or the 2 sidelights or two white light or All light & even SOS too. You will be completely safe from any back warming.
CREE has made an amazing durable headlight hat that has featured an IPX5 rating. It is water-resistant & very much safer from any sort of rain, leakage, or splash. It is made of high-quality standards & waterproof wiring so that the lights stay on even after its soaked.
With every full charge, you can use the headlamp almost three times the normal headlamps can. It also has a battery indicator so you can be always ready if the lamp is low on battery. The product comes with a lifetime warranty so that you can use it without any worries.
Cons
This headlamp does seem to be a little bulky on a hard hat. The button on the battery also doesn't work sometimes while working. Some have reported that it doesn't turn off or on.
No products found.
5. Aoglenic Headlamp Rechargeable 5 LED Headlight Flashlight
Highlighted Features
We have come across another 5 light system headlamp where this one is from Aoglenic. The whole lighting system consists of 5 LED Bulbs. They all have an illuminating strength of 12000 lumens giving you the brightness you need in every situation.
With an aluminum construction along with rubber & a comfortable elastic headband, the headlamp certainly gives you the best level of comfort. The lights have four different modes including an emergency ready strobe light to use it as a safety light. Powered by two pieces of battery, Aoglenic Headlamps have an incredible battery life span of 3 times more than ordinary lamps.
If you are working or roaming in the outside world, then you don't need to worry at all as the headlamp will be by your side in every condition. Leakage resistant waterproof wiring ensures that the lamp keeps on functioning in rain snow or water.
Aluminum alloy & ABS plastic with an IPX4 protection rating makes the headlamp very much reliable to use. The manufacturer provides a lifetime warranty for all the users so that everyone and uses the headlamp without any tension.
Cons
There is no indication of how long the battery will last or how much charge it has. This feature is very necessary if anyone is working outside. The brightness of the product is not as much as the product specifications state.
6. STEELMAN PRO 78834 Rechargeable LED Headlamp
Highlighted Features
STEELMAN PRO 78834 Headlamp features 10 SMD type LEDs for their lighting system. All of the LEDs have 3 different brightness settings that allow them to illuminate 50, 120 or 250 lumens. There are Red blinking LEDs at the back of the headlamp for safety.
This headlamp has a variety of operations when it comes to visibility length & battery. It is capable of illuminating a beam of 20m on high for 3 hours. Whereas on the medium it can create a beam of 15m for 4.5 hours & 10m beam on low mode for 9 hours.
The coolest feature of STEELMAN is the hands-free feature that it has given its users. The different light modes of the lamp can be controlled via a built-in motion sensor. You can turn it on or off by hand motion easily.
The LED panel of the headlamp can be adjusted to 80 degrees for any desired position you need. IP65 rating gives it a good resistance from dust & water. The battery of the headlamp can easily be charged via a micro USB wall charger.
Cons
The headlamp brightness does dim down a lot at the end. The battery life of the unit is also very low so you will be having a hard time after that. The USB charging port is also not mounted so nicely.
7. MIXXAR Led Headlamp Ultra Bright Headlight
Highlighted Features
This 3 LED featured setup is presented by MIXXAR Headlamps. These are CREE XPE lamps that can illuminate up to 12000 lumens. Four different switch modes help users to achieve any preferred mode they would need. Red lights are also present as safety lights for other vehicles.
With an IP 64 waterproof rating, it will survive even in the toughest of conditions. It can easily be used in rain or snow or any outdoor adventure journey. Aluminum alloy makes the helmet a lot more durable to the outside world.
The adjustable elastic headband certainly makes the leadlight a lot more comfortable to use. The lamp can also be adjusted to 90 degrees. The company gives the users a 12-month free exchange or refund for any problems with the helmet. This makes the helmet a lot more assured.
Cons
The batteries do not last that much longer while it is in constant use. There is also no battery indication of how much charge it is left, this leaves the users in the dark is it important for them to know this. The brightness also dims a lot.
FAQ
Read on to learn more about the top picks for the best hard hat lights in several categories.
What is the lightest hard hat material?
HDPE Natural Tan Full Brim Lightweight Hard Hat with Fas-trac Suspension. This is one of the best constructed hard hat, comes with comfortable padding, provide head protection against falling objects. This is the lightest hard hat and give you weightless protection.
Do hard hat colors mean anything?
Since there are no federal or state rules that govern what each hard hat color signifies, you are free to choose any color of safety headgear you wish for your work site.
Who wears full brim hard hats?
Full brim hard hats are great for a variety of occupations including construction workers, electricians, utility workers, steel workers, and farmers. (One word of caution: not all full brim hard hats have electrical hazard protection.)
Why do ironworkers wear their hard hats backwards?
Welders are allowed to wear their hard hats backwards because the peak on the front of the hat interferes with the proper fitting of a welding shield. This includes all types of welders. Surveyors often claim exemption because the peak on the hat can hit the survey instrument and affect operation.
Who wears red hard hats?
Fire Marshal's
Fire Marshal's usually wear red hard hats complete with sticker ("Fire Marshal"). Brown hats are worn by welders and other workers with high heat applications. Grey is the colour often worn by site visitors.
Who wears a black hard hat?
White – for site managers, competent operatives and vehicle marshalls (distinguished by the wearing of a different coloured high-visibility vest). Black – for site supervisors.
Who wears blue hard hats?
Blue hard hats: Technical operators like electricians
Technical operators like electricians and carpenters typically wear a blue hard hat. They are skilled tradesmen, responsible for building and installing things. Also, the medical staff or personnel on a building site wears blue hard hats.
What are full brim hard hats for?
Unlike cap style hard hats, full brim hard hats provide added protection with a brim that surrounds the entire helmet. These hard hats also provide more protection against the sun by providing more shade than a cap style helmet.
Are carbon fiber hard hats better?
Why Choose a Carbon Fiber Helmet? If you're looking for a reliable hard hat that can withstand more impact without weighing you down, a carbon fiber hard hat may be the perfect fit for you. Besides their attractive design, they also have a higher resistance to dents, scratches, and breaks compared to other hard hats.
Are metal hard hats OSHA approved?
Reply: In your situation, aluminum hard hats are acceptable. However, they would be unsafe in areas where you may come in contact with energized circuits. Information on head protection can be found at 29 CFR 1910.135, Head Protection, paragraph (b) Criteria for protective helmets, subparagraphs (1) and (2).
Which is better Petzl or Black Diamond?
Rechargeable Batteries
Petzl tries really hard to make its headlamps compatible with its own Core rechargeable battery. … On the other hand, Black Diamonds prefers to use alkalines in their headlamps. And even the headlamps that come with rechargeable batteries will perform better and brighter when you put AAAs in them.
Why do headlamps have red lights?
They help preserve night vision and decrease the overall light signature in low-light situations. The reason for this is that red light does not cause the human eye pupil to shrink to the same degree as more bluish/white light.
Can you wear hard hat backwards?
OSHA specifications require that workers wear hard hats the way they were designed to be worn unless the manufacturer certifies that a hard hat can be worn backward. … This means that the companies' hard hats will still protect against top impact when backward as long as the suspension also is turned around.
Q: Are all hard hat light batteries rechargeable?
Ans: Actually no. Not all hard hat light is rechargeable. Most of them have a recharging capability for their batteries. It can take three to five hours for them to fully charge.
But there are some hard hat lights that do not have built-in batteries. You have to change these batteries every time the old ones are depleted. It's your choice of what kind you want.
Q: How do I use a Hard Hat Light?
Ans: First, after purchasing a hard hat light you need to charge the batteries fully. Once the batteries are fully charged you need to use the straps to fix it on to the hard hat you are using. Some even come with clips that make sure that the light doesn't pop out.
After finishing the attaching part, you can just adjust the hard hat light at the position you want it to focus on. Adjusting the mode is also important as in high mode the charge of the battery will run out soon.  Adjust the brightness to your comfort level as well.
Q: Is it important for a hard hat light to be waterproof?
Ans: Of course, it is important for your hard hat light to be waterproof. You will be using your hard hat light for various uses outside. You may also use it professionally for plumbing instances. Suppose you're busy leveling things up with your plumb bob or just in a rush while grabbing the plumbing toolbox, water splashes in these scenarios are very common.
If your light can't withstand water splashes or rain, then it will go into lights & malfunction them. That is why it is always advised to check the IP ratings of a hard hat light before purchasing. Making sure that light water & dustproof is important.
Q: What does IP rating stand for?
Ans: IP stands for Ingress Protection. This is a rating that indicates the level of enclosure an electrical device has against foreign elements such as dust or moisture. IP ratings have two numbers where the first number indicates the level of protection the device provides against foreign elements such as dust or particles & the second number gives the idea of the level of protection it gives against moisture.
Such as IP 67 denotes that the level of dust protection of the device is "dust tight" & it can withstand projected water from nozzles. There is a different meaning for different ratings. You should check them out.
Conclusion
Before reading this article you might have thought that there wasn't much thought to give on purchasing a hard hat light. Analyzing what you've read so far will indeed get you the best hard hat light in the market. But manufacturers do give a hard time to choose that's why we're here to help you out.
If you are scratching your head, then we would recommend the KJLAND Headlamp or the Aoglenic Headlamp if you are looking for a 5 LED headlight with multi-variety modes. If you want a Three LED headlight, then go for the MsForce Ultimate. It is very durable as well as long battery life.
At the end of the day, you need to really think about what you want on your head & what functionalities you are looking for. There are many choices in the market, but thinking through your needs carefully will give you a better chance to choose the best hard hat light.
I'm Joost Nusselder, the founder of Tools Doctor, content marketer, and dad. I love trying out new equipment, and together with my team I've been creating in-depth blog articles since 2016 to help loyal readers with tools & crafting tips.