I love creating free content full of tips for my readers, you. I don't accept paid sponsorships, my opinion is my own, but if you find my recommendations helpful and you end up buying something you like through one of my links, I could earn a commission at no extra cost to you.
Learn more
Woodworking is a challenging task that requires a certain amount of precision. The High Volume, Low-Pressure guns, or HVLP guns are ideal for an intricate finish on any woodwork project.
Finding the best HVLP spray gun for woodworking can be tough, given that there are so many options available both online and offline. These days, brands and price ranges vary so much that users often wish for a simpler and shorter list of options.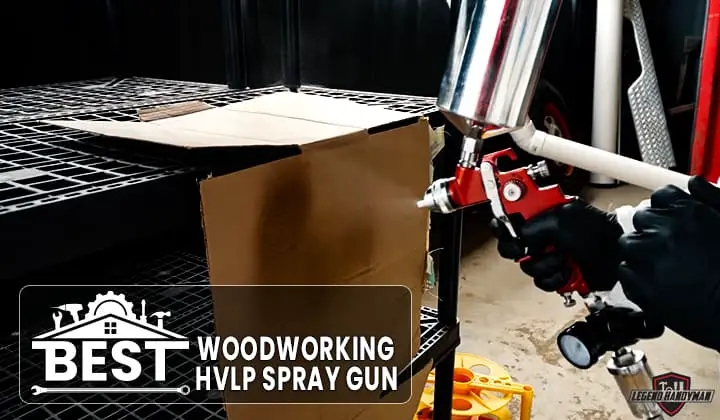 We have come up with a list of HVLP guns that are perfect for everyone. Our reviews will provide an in-depth discussion about each product and also highlight the features to help you choose.  Whether you are an amateur or a pro, you will most definitely like the spray guns on the list.
If you have never used an HVLP spray gun before, don't worry; we have attached a buyer's guide specially designed for new users. So, what's the wait? Read on to check out our list of the HVLP spray guns.
Top 7 Best HVLP Spray Gun for Woodworking
Woodworkers are not just working and cutting wood; they are crafting something beautiful out of wood pieces. The task requires a great deal of attention and precision; great equipment like HVLP spray gun certainly helps with that.
To Choose your Own HVLP Gun, Check out Our Best Picks Down Below
Wagner Spraytech 0518080 Control Spray Max HVLP Paint or Stain Sprayer
We are starting the list with this popular and inexpensive spray gun. The gun comes with an impressive 20-foot hose and a great quality flow adjuster.
Anyone who likes versatility in their products will love this gun. The beautiful stain sprayer can be used on cabinets, kitchen tables, other furniture, doors, decks, and anything else you can think of painting.
Usually, HVLP sprayer atomizes the materials and uses low pressure, so the finish is always excellent. This paint sprayer follows the same mechanism. So, whenever you are painting with it, you can be assured that the finish will be smooth.
The spray gun can be used for priming and staining as well. So, you can use it for your other projects aside from woodworking. You can stain your old cabinet or hand-me-down tables with this gun.
If you have been using spray guns for a long time, you know the need for a good quality turbine. This gun uses a two-stage turbine, and you can use different types of paints with it. Latex paint is used for walls, and colors like stain and poly are used for thinner surfaces.
Compared to other equipment you use in woodworking; this spray gun is highly adjustable. The largest tip size is 1 inch, and there's an option of turning the air cap for spraying horizontal, round, or vertical.
You will notice the dial for pressure control on the spray gun. This is used for controlling paint flow. The flow adjuster gives additional control to users and ensures an outstanding finish.
Two cups, one of 1 ½ qt and a metal one of 1 qt. are attached to the spray gun for carrying paint. The gun is extremely convenient and easy to use. We definitely recommend it.
Highlighted Features
Many types of paints can be used.
Versatile.
1 inch is the maximum tip size.
It has a two-stage turbine.
Includes a flow adjuster.
Wagner Spraytech 0518050 Control Spray Double Duty HVLP Paint or Stain Sprayer
This spray is suitable for both indoor and outdoor projects. Whether you want to paint your kid's cabinets or their playhouse in the backyards, you can use this double duty paint sprayer.
Wagner Company manufactures excellent quality stain sprayers. This one is no different. The sprayer gives users more control than most other spray guns do. You can turn the air cap in any direction for painting on round, vertical, or horizontal surfaces. This gives users the opportunity to work on even delicate furniture or antiques.
You can also control the volume of the paint flow each time you are using the paint sprayer gun. Adjusting volume is very simple; all you have to do is turn the regulator that is attached to the trigger.
Woodworkers love adjustment of volume features in spray guns. Most spray guns have a pressure control feature but no volume control. When you can control the paint flow, you can save paint and also ensure a great finish.
Both thick and thin materials can be applied with this paint sprayer. The sprayer can spray latex paint, thin latex paint, lacquer, stains, urethanes, sealers, and varnishes. So, any woodworking job you are doing, you can use this sprayer for finishing touches.
The spray gun also includes two different cups. The two cups cannot be used at the same time but are designed to be used for outdoor and indoor work. For small projects, you can use the 1-quart cups; for larger projects, the 1.5-quart cup is more suitable.
We recommend this paint sprayer gun for transforming patios, decks, furniture, fences, etc.
Highlighted Feature
Lacquer, Varnish, stains, urethanes, and other materials can be used.
Excellent finish.
Great volume control.
Two cups for small and large projects.
3 different spraying patterns.
Fuji 2202 Semi-PRO 2 HVLP Spray System, Blue
This a beautiful and sophisticatedly designed spray gun for regular use. The gun is blue in color and is designed for professional use.
Although this particular non-bleed spray gun is designed to be used by professional woodworkers, the amateur woodworkers can use it as well. The sprayer includes a Fan Control and has adjustable patterns. This is a great spray gun for use on different kinds of projects.
An air cap of 1.3mm is installed in the gun. The sprayer also comes with a 1Qt cup attached to the bottom of the nozzle. 1Qt is ideal for both indoor and outdoor projects.
Having two cups is great, but it also means that you will have to keep changing them. So, this standard of 1Qt is more convenient for most users.
The turbine case made of shiny metal makes the spray gun handier. You can use the gun for any kind of wood surface. Whether it's your patio, the fence, your cabinet, or your old table, you will get a nice shiny finish with this spray gun.
The best feature of this particular product is the convenience and professional finish. Its versatility makes it more appropriate for all kinds of woodworking projects. You can use it for the weekend hobbies you have or even for a full-time job.
Cleaning up the machine is very easy. You might be intimidated by the product at first but taking it apart is a piece of cake. Users can clean it up within a few minutes. The equipment doesn't require much maintenance, either.
Paint goes through the 25-foot long hose and a stainless-steel passage in this sprayer. The passage protects the needle tip and makes it long-lasting.
If you are passionate about woodworking, you can get this professionally designed spray gun.
Highlighted Features
Air cap size is1.3mm.
25-foot long hose.
Stainless steel passage.
Appropriate for both indoor and outdoor projects.
Includes fan control and adjustable patterns.
Neiko 31216A HVLP Gravity Feed Air Spray Gun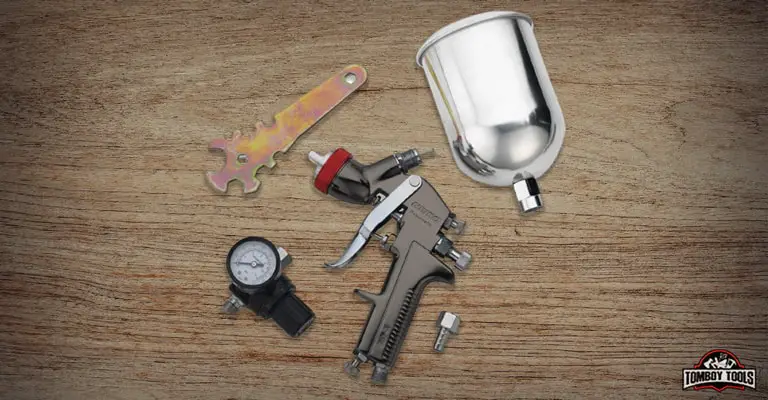 This spray gun is bound to blow anyone's mind with its design. The gun has a very advanced and compact design. It is easy to handle and simple to use.
Unlike the other spray guns, we have reviewed so far, this one has a shiny aluminum cup of 600cc attached to the top of the trigger. The gun is heavy duty made completely of steel.
The gun body is one piece, and the steel used in it is rust-resistant. So even if your gun gets soaked in the rain, it won't get damaged or have rusted.
Nozzle of the gun is made of stainless steel as well. The nozzle is rust-resistant so you can you thin paints and water-based paints in this spray gun.
You can adjust the three valve knobs on the trigger to control the spraying of paint. The HVLP gun ensures that you get a smooth finish on all wood surfaces. This gun is designed to deliver gravity feed fluid, which results in outstanding precision.
These paint spray guns come with an operating pressure of 40 pounds per square and a working pressure of 10 pounds per square. The paint sprayer consumes air of 4.5 cubic feet per minute on average.
Nozzle size of the spray gun is 2.0mm, which is perfect for priming, varnishing, staining, and other woodworks. A wrench along with a cleaning brush, is included in the package of this sprayer.
We highly recommend this sprayer for a smooth and excellent finish. The heavy-duty spray gun has consistency in performance and can be used for many different projects.
Highlighted Features
2.00 mm nozzle size.
Have 3 adjustable valve knobs.
Stainless steel body and nozzle.
Heavy duty.
Air powered.
Devilbiss Finishline 4 FLG-670 Solvent Based HVLP Gravity Feed Paint Gun
With its advanced atomization system, the Devilbiss Finishline is one of the most precise spray guns you will find in the market.
Atomization technology allows spray guns to break down the thick paint into finer particles, so they're applied more precisely. We all are familiar with horrible paint jobs that have brush marks or uneven pigmentation. You don't have to worry about that with the atomization system of this gun.
Like the previous spray gun, this one also has the cup attached to the top of the nozzle. The air cap of this gun is machined, and there are different nozzles you can use.
The gun weighs only 1.5 pounds so you can easily carry it around. All the passages of this spray gun are anodized. An anodized metal body has a thicker oxide layer, which makes it easier to clean. Paint doesn't stick to the anodized body as much as it does to metal, so it is always recommended to go for anodized passages in spray guns.
A unique feature of this spray gun is its multiple nozzle sizes. The fluid tips come in 3 different sizes: 1. 3, 1. 5, and 1. 8. Different size of fluid tips gives users the opportunity to control both pressure and volume better.
This gun requires a pressure of 23 pounds per square and has an average air consumption of 13 cubic feet per minute. You can use the gun for any kind of delicate or large project.
If you are looking for something that has excellent precision and can be used for delicate works, we recommend using this paint sprayer gun.
Highlighted Features
3 sizes of fluid tips.
Anodized passages.
Machined air cap.
Uses atomization technology.
Easy to clean and requires low maintenance.
Earlex HV5500 Spray Station, 5500
Designed to professional woodworking, this portable spray gun is perfect for any serious woodworker.
Versatility is one of the many attractive features of this product. The spray gun can be used in workshops and in-home. Whether you have a full-time career in woodworking or it's just your hobby, you can use this paint sprayer for your project.
The gun uses a turbine of 650-watt power. This is perfect for priming and painting doors, cabinets, cars, playhouses, spindles, decks, and other medium to large projects.
You can use the sprayer in 3 different patterns: horizontal, round, or vertical. Switching between is patterns are fast and easy. The push-and-click system lets users spray fast and also change patterns quickly. There is also a dial on the trigger for controlling the paint flow.
Volume control is necessary for many woodworking projects. You might want more pigmentation is some places and less in the others. Any woodworker loves the volume control feature of a spray gun.
This paint sprayer allows woodworkers to use all the different types of paints. You can use both water-based and oil-based paint in this gun. The sprayer is compatible with enamels, thinned latex, lacquers, stains, varnishes, oils, sealers, urethanes, shellacs, and acrylics.
A fully portable open case with handle stores the sprayer. This case holds the 13 feet long hose and the 5.5 feet long cord. You can push or pull the case like a suitcase.
Are you a full-time professional woodworker? Then we highly recommend this sprayer gun for you. It is definitely easier to carry around and also convenient to use.
Highlighted Features
Portable and includes a carry handle.
3 different spraying patterns.
Flow control feature.
It can be used for both water-based and oil-based materials.
It provides a smooth and consistent finish.
Master Pro 44 Series High-Performance HVLP Spray Gun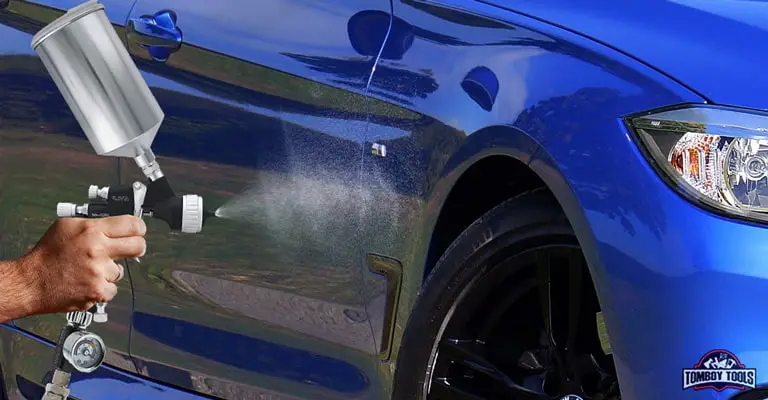 Our last pick is this precise, beautiful, and technologically advanced spray gun. The gun uses atomization technology, which enhances its performance.
We have already talked about atomization technology. It ensures that your paint is sprayed smoothly and in fine particles. So, you always get that smooth, silky, and matte looking finish you want.
Atomization technology makes the color look like it's a part of the wood. The 1.3mm fluid tip of this gun makes the application smoother in all types of woods.
The spray gun has an aluminum cup of 1 liter attached to the top of its nozzle. This cup holds enough paint, so you don't have to refill frequently. A regulator for air pressure is attached to the machine as well. It indicates the high flow of air pressure.
Although the company claims that they have designed this sprayer gun keeping professionals in mind, it can be used for home woodworking jobs as well. You can use it for painting basically anything. Starting from your cabinet to your car, this sprayer gun will provide a smooth finish to all of them.
This spray gun has a rust-resistant stainless-steel body. This means that you can use water-based materials in it. The Master Pro Series by Master Airbrush is designed to be technologically advanced and versatile. You can use this sprayer gun for almost any woodworking or industrial projects.
You can use the sprayer for both base coats and topcoats. Whether you want a shiny coating or a matte one, both can be achieved with this gun.
When it comes to versatility, this gun beats all. We recommend this sprayer gun for our precision loving woodworkers.
Highlighted Features
Includes an aluminum cup of 1 liter.
Professional design.
Stainless steel body.
Both water-based and oil-based materials can be used.
Uses atomization technology.
Choosing the Best HVLP Spray Gun For Woodworking
Now that you have gone through our reviews, we would like to guide you through the whole purchasing process. HVLP spray guns are an investment; you would want to consider the following features before investing on your chosen spray gun:
User Convenience and Ease
It's important that you find the spray gun easy to handle and use. If you are struggling to figure out the mechanism of the spray gun, then it's not that great. It is always recommended to look for something simple and easy to use.
Paint thinning requirement is a huge factor in HVLP spray guns. Usually, better HVLP spray guns require lesser paint thinning. Many HVLP sprayers do not require any kind of paint thinning; they are definitely the most convenient ones to use.
Cleaning and Maintenance
Your HVLP spray gun must be very easy to take apart and clean. It might seem like that the complicatedly assembled spray guns are more reliable, but that's a wrong assumption.
If you are using a steel spray gun, make sure it's made of stainless steel. Many steel body spray guns are anodized, which makes them easier to clean.
Many HVLP spray guns also come with the cleaning supplies included in the package. This definitely makes cleaning the machine easier and doesn't require purchasing extra cleaning equipment.
Spray guns require regular cleaning. So, opt for the ones which are easier to clean.
Compatibility with Different Types of Paints
Whenever you are purchasing a sprayer, you are definitely not going to use it for only one job. There is a high chance you will need to use many different types of paints for your work.
This is why you should always opt for spray guns that are compatible with both water-based and oil-based materials. Usually, most paint sprayer guns are compatible with oil-based materials but not water-based materials. The reason is non-rust-resistant internal steel passages.
Look for anodized or rust-resistant steel passages in your HVLP spray gun. Those will be compatible with water-based materials.
Spray Patterns and Options
In the reviews, we have mentioned many HVLP spray guns with different spray patterns. The most common patterns were round, horizontal, and vertical.
The spray pattern is important for availing smooth finishes. If the pattern of the spray gun is not consistent, then the application won't be smooth.
Look for tight patterns to prevent over-spraying. You want a nice and consistent spray finish that has uniform pigmentation. The options of round, round, horizontal, and vertical patterns are important for painting different shaped objects.
If you want a nice finish, the spray pattern is highly important. Always opt for the best spray pattern when it comes to spray guns.
Tips and Needles
Many inexpensive HVLP spray guns have plastic needles. They are perfectly fine for most woodworking projects. You can use these plastic tips and needles for a long time as well.
If you don't mind investing a little bit more, then you can go for steel needles. Many HVLP spray guns come with needles of different sizes and shapes. Steel needles must be rust-resistant so that you can use water-based paints.
There is also brass needled HVLP spray guns. These needles are fin and can be used for a long time as well. Keep in mind that your tip should be easy to disassemble and clean.
Atomization Technology
This is not a must if you don't want the perfect, precise, and smoothest finish. But if you are a professional who wants the perfect work, atomization is important.
Most of the products listed above use atomization technology. This ensures that your paint, however thick it is, is sprayed in a thin fine layer. Atomization breaks down the paint particles into finer pieces and then sprays them.
Atomization technology is excellent for professional woodworkers. If you are using the spray gun as a hobby, maybe you can skip this feature.
Quick and Simple Adjustments
Most of the products listed above have many adjustable features. If you can adjust the volume, flow, and pressure of the paint sprayer gun, you will have more control over your work.
Switching between patterns, adjusting the flow, and other adjustments should be quick as well. If it takes more time to adjust just the volume, then you wouldn't want the feature.
Most HVLP spray guns have adjustment controls. Users are able to control the volume and pressure in these spray guns.
Adjustment options can be versatile. Choose the ones that fit your needs best.
Durability
Usually, spray guns made of aluminum or steel last longer than the others. These are a bit expensive compared to the other HVLP spray guns, but you will be able to use them for a longer period.
We recommend opting for durable spray guns because the other ones aren't that cheap either. As you are already investing in this product, you should get a durable one.
Frequently Asked Questions
Q: Does tip wearing affect spray gun performance?
Ans: Yes. When the tip wear, the appearance of the tip also increases. This means that the tips get larger and opening increases. If the opening of a spray gun's tip is enlarged, the flow rate also increases. This decreases the pattern size and makes the application look less precise.
So, when your spray gun's tip wears, its precision worsens. 
Q: At what distance should I hold my HVLP spray gun?
Ans: Hold your HVLP spray gun 6-8 inches away from the surface. If you hold the spray too far, then it will have dry spray. On the other hand, holding the spray gun too close to the surface results in the blotched finish.
Q: Do HVLP spray guns require thinning?
Ans: When it comes to coating, viscosity is an important factor. Too thin materials will result in runny finish, and too thick materials will result in the peeling of the coating.
We recommend using an appropriate reducer for your material. Ask the coatings manufacturer for an ideal reducer and the quantity you should use.
Q: How often should I clean my HVLP spray gun?
Ans: Regularly. HVLP spray gun stops working when it's clogged. You should clean it regularly for best performance.
Conclusion
There are many choices when it comes to finding the best HVLP spray gun for woodworking. The wide range of options may overwhelm you if you are shopping for HVLP spray guns for the first time.
We believe our reviews and buying guide will help you make a decision. Go through the features and pick the spray gun that fits your work best. You can opt for any of them; the key is to be happy with your pick. Good luck!
I'm Joost Nusselder, the founder of Tools Doctor, content marketer, and dad. I love trying out new equipment, and together with my team I've been creating in-depth blog articles since 2016 to help loyal readers with tools & crafting tips.