I love creating free content full of tips for my readers, you. I don't accept paid sponsorships, my opinion is my own, but if you find my recommendations helpful and you end up buying something you like through one of my links, I could earn a commission at no extra cost to you.
Learn more
An outdoor laser level is a bit of heavy-duty equipment. It's not something that your average homeowner or DIYer will rarely feel the need for. Unless they're going for some hardcore projects. These sorts of levels vary quite a lot from the regular ones i.e. the indoor ones.
It's expected of the best laser level for outdoor use to have a pulsating mechanism. This is what facilitates detecting the laser in broad daylight. Usually, you'll need another piece of equipment, the detector, to detect the laser. And as always, a couple of innovative and fancy features.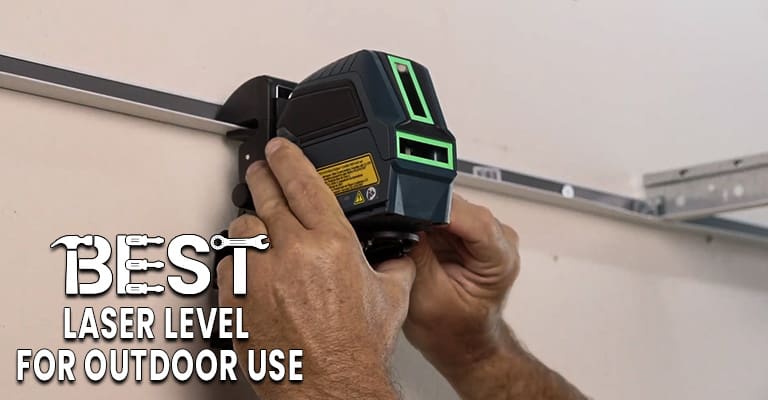 Best Laser Level for Outdoor Use reviewed
A good laser level can be the distinction between amazing construction work and a poor end task. It can be hard to choose the best one for you as a lot is riding on the buys. Here are some of the best laser levels listed below to make the decision easier for you.
1.DEWALT (DW088K) Line Laser, Self-Leveling, Cross Line
Aspect of Interests
The Dewalt(DW088K) is perfect not only for job sites, but it's also a perfect laser level for professional builders. You can extract handy works out of it both in and around the house. This self-leveling cross-line laser is operated by battery. It is capable of using vertical and horizontal projections. It is a class 2 laser with an output power of not more than 1.3mW.
These vertical and horizontal beams offer the best exactness for different layouts and leveling works. The side buttons on it easily manage all three beams. Its laser beam color is red which is the most visible one. These 630 and 680 nm red colors make it simple to see within a range of 100ft.
But this is not the least. 165ft distance is also suitable for this laser that remains visible without the usage of an extender. This product has a magnetic rotating base that can be used for connecting to different kinds of metal. At the same time to a ¼-inch thread for shrouding to a tripod. It is provided with a strong hard-sided storage box.
It comes with a full time plus mode that grants accurate visibility when using an elongated working range and allows for use with a detector. This laser has a sturdy long-lasting over-molded housing feature. This IP45 rated housing feature makes it water and debris resistive. It ensures within ±1/8-inch of accuracy at a range of 30 feet.
Pitfalls
It is not possible to lock the laser into a SET position.
2.Tacklife SC-L01-50 Feet Laser Level Self-Leveling Horizontal and Vertical Cross-Line Laser
No products found.
Aspect of Interests
Tracklife SC-L01 is proper with its bold pendulum leveling system. This auto-level system is activated within 4 degrees of vertical or horizontal range. If you place it anywhere outside the range it will keep blinking until you bring it back to the range. The pendulum is capable of locking lines for adjustment to other angles.
It has two color lasers. The red color is for indoor use and the green one for outdoor use. This cross-line laser has a projection range of 50-ft without a detector and 115-ft with a detector. It emanates laser cross-lines onto flat surfaces and gives accurate results within ±1/8-inch at 30-ft.
It includes a magnetic bracket. It provides the ability to be emplaced onto a tripod or connect to most of the metal areas. This bracket also supports the swing of the laser level around 360 degrees. It has a rugged construction making it extremely durable. This product is rated IP45. It is not only water and debris proof but also shockproof.
It is lightweight and easy to grip. The large model offers stability. The nylon zippered pouch protects the L-base and level against dust and damage. The battery timing of 12 hours is excellent.
Pitfalls
The laser is not suitable for large projects.
3. Laser Level Rechargeable, Cross Line Laser Green 98ft TECCPO, Self-Leveling
Aspect of Interests
This Cross Line Laser comes with a pendulum capable of covering the tilt angle within 4-degree. It automatically levels horizontal, vertical, or cross line. If it's out of projection, there's an indicator that will flash and point out the out-of-level condition.
The pendulum works on manual mode and lock lines by hand for adjustment to other angles. Its laser beam color is a bright green that's easily visible and useful for outdoor use. It works within a distance of 98-ft without a detector and a distance of 132-ft with a detector.
It comes with a pulse mode feature. When this feature is turned on, this laser can be used with a detector in even brighter surroundings and larger working areas. It has a robust construction with a cover of TRP soft rubber. It protects the laser from shocks, cold and high temperatures. The laser is IP45 waterproof and dustproof.
The included magnetic support enables it to be mounted on metal areas and the laser level can be rotated around at 360-degree. It helps to project the laser line at any position, angle, or align the height from the tripod. With a lower energy consumption, the laser provides a rechargeable lithium battery that can be used continuously for 20 hours.
Pitfalls
It's better to use it under low light conditions.
4. Firecore F112R Self-Leveling Horizontal/Vertical Cross-Line Laser Level
Aspect of Interests
This professional Firecore F112R laser is capable of projecting two lines together or independently. Not only horizontal but also the vertical lasers are featured specially for cross-line projections. It only has one button to control three laser line models. 1st one is level, 2nd one is plumb, and the last one is cross-line.
It offers an agile pendulum leveling system. Once you unlock the pendulum, the laser will automatically level within 4-degrees. The laser lines will indicate when it'll be out-of-level. Besides, when the pendulum is locked, you can put the tool at different angles to project straight lines that are not leveled.
The magnetic bracket helps the tool to be mounted on a 5/8-inch tripod or be attached to any metal. This tripod can conform to the height of the cross-line laser. The operation is quick and easy.
This is a class 2 laser product that provides accuracy within ±1/8-inch at 30 feet. It is IP45 water and detritus proof. This sturdy yet lightweight model will last long. It has two color laser beams which are red and green.
Pitfalls
The attachable base doesn't offer enough customization settings.
5. Bosch 360-Degree Self-Leveling Cross-Line Laser GLL 2-20
Aspect of Interests
For everyday accommodations and exactitude, Bosch 360-Degree Cross-Line Laser is ideal. The horizontal line coverage will enable you to line up the whole room from one setup point. This bright 360-degree line makes it possible to project a laser reference line around the area and to work in various parts simultaneously.
It also offers a vertical projection of 120-degree for cross-line operations. The smart pendulum system helps in self-leveling, provides a one-time structure and indication for the out-of-level position. This tool enables multiple functionalities such as single vertical, single horizontal, horizontal or vertical combinations, and lock or manual modes.
It features retractable feet, strong magnets, and a ceiling grid camp so that you can mount the tool on any surface. Bosch's Visimax technology provides maximal line laser visibility up to 65-ft in proper working situations. This laser tape measures with a high degree of accuracy. It also ensures security while transporting by locking the pendulum.
The construction is strong and the green laser does work perfectly. The battery life is high that makes this tool durable enough. It's a class 2 laser with an output power of less than 1mW.
Pitfalls
This laser level is needed to be placed at the height you want to project a 360-degree line.
Laser Level for Outdoor Use Buying guide
When it comes to choosing from different types of laser levels, it's not a go-to-buy thing. We want to take the pressure off of you and ensure that you understand everything about the tool you're willing to buy. So, bury the confusion with the main aspects listed below.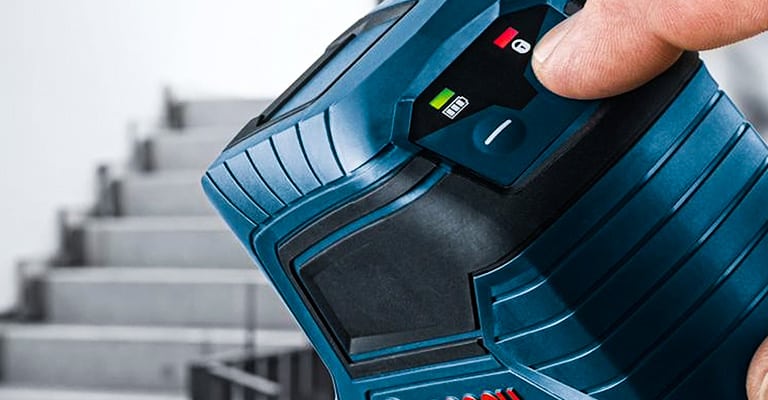 Laser Color
Visibility matters the most for a laser level and that straight away points at the colors. Mostly the laser level beams are of two colors that are red and green.
Red Beam
Red beams consume less power. They are more than sufficient for all indoor tasks. But for outdoor use, they may not work that properly.
Green Beam
Green beams provide more than about 30 times more power which makes them perfect for heavy-duty works. They are 4 times brighter than the red lasers. So, for outdoor use, they are more than sufficient to beat the dazzling sun. Green beams are suitable for large ranges.
Laser Detector
You need to pair with a laser detector and a grade rod when the sun is the brightest. Most of the time, if you don't use a detector beyond 100 feet, the possibility of errors will increase above your tolerance. But this marginal distance may be less or more according to the laser level you'll buy. Try to purchase one that provides a larger range without a detector.
Battery
While working outside, it's not possible to get access to an electric outlet easily. For that reason, it's better to go for a laser level that runs on batteries. Two types of batteries are used.
Disposable Battery
These batteries usually offer a higher energy density. They last longer and are also lighter. It's inexpensive to keep backup as even if they go dead, you can quickly return to work. But these batteries become a costly investment day by day and aren't environmentally supportive.
Rechargeable Battery
The rechargeable alternatives may be costly upfront and a bit heavier but they are perfectly supportive of surroundings. You can use a rechargeable battery with full charge easily for a whole day work without recharging.
Battery Level
While looking at your laser level's battery, consider its runtime, lifecycle, Amp-hour rating, and voltage. 30-hours runtime is a good measure. Batteries with a greater life-cycle are recommendable. The more will be the voltage of your battery, the brighter its beams will be.
Beam Type   
The utility of your laser levels depends on the works you're going to do with them. For example, if you want to level your floors, a horizontal laser will help you easily locate the fundamental irregularities. But dual beam lasers are better for large partitions, wall fixtures, and installing cabinetries.
Class
The level of health harm is almost nil if you choose a class II laser. Higher classes, whether it be class IIIB or IIIR or higher, aren't free from hazards. But ensure that the power output is never too less than 1 mW, preferably near 1.5 mW. But higher power draw demands bigger battery and prolonged charging
Auto-leveling Capability
This auto-leveling feature will set your tool within its range automatically. The general range is within ±5-inch. It also helps to keep the line of sight of the tool horizontal. It means, even if the laser unit is not in its level, its line of sight is.
Multiple Mounting Threads
It's very essential to have multiple mounting threads if you want to use your laser level for indoor and outdoor use. With this feature, you'll be able to mount your device on any metal surfaces such as rails or walls. It will be better if it offers to mount on tripods as well.
Warning Indicators
The laser level may have three small lights located on them to acknowledge you about the remaining battery timing. You'll get to know when to charge in advance. It should have the safety measures to turn the tool automatically if it encounters any problem. If it goes out-of-level, the system will let you know as well.
Durability
It's safer to purchase a tool with an included tripod. A model with a high-quality case is always preferable if you'll take it from one job site to another. No matter what, the laser level should have robust construction.
IP Rating
If you're going to use laser levels for only indoor use, you can ignore its IP rating. But for outdoor use, the more will the Ingress Protection rating aka IP rating, the better will be the tool. While the first number refers to the protection level against foreign particles and the second – mixture, generally, IP45 is a good rating for laser levels.
FAQ
Q: How much is the accuracy of a laser level?
Ans: A quality laser level accuracy is ±1/16th of 1'' per 100-ft.
Q: Is the laser light hazardous for my eyes?
Ans: Yes, it may cause dangerous accidents. The most known one is flash blindness. The laser levels come with a warning label as awareness to customers. Prefer class 2 lasers to prevent health damage to the greatest extent possible.
Q: Do I have any instructions for wet weather?
Ans: Most of the laser levels can manage being exposed out in the rain. But before using it, you need to dry out the tool properly to avoid damages. Despite having a high IP rating, using it regularly on rainy days may decrease its lifetime.
Conclusion
A lot of construction works need outdoor use of the laser level for perfection. To be a pro in this field is not far away if you have the best laser level for outdoor use with you. Frustrations will be out of your way and times will always be in your favor with it.
Tacklife SC-L01-50 Feet Laser Level will be a good option with all the important features and protection for a minimal, not so large area. Bosch 360-Degree Self-Leveling laser level is preferable for its 360-degree projection, multiple functionalities, visibility, and ease in use.
However, it's up to you which facilities you need the most. Focus on the visibility, battery life, beam-type more than anything to get the prime work perfectly. Hopefully, this article will help you to invest your money for the best.
I'm Joost Nusselder, the founder of Tools Doctor, content marketer, and dad. I love trying out new equipment, and together with my team I've been creating in-depth blog articles since 2016 to help loyal readers with tools & crafting tips.